You're sitting next to each other in a crowded bar. Your elbows touch, and the subsequent eye contact sets off fireworks in your brain. Somehow, all you're thinking about while staring deep into this person's eyes is how nice it would be to kiss them. Could it be sexual tension you're experiencing? 
And if it is, are the feelings mutual? In your own world, you're probably convinced it's mutual. When you're looking deep into their eyes, it feels like the rest of the world doesn't exist, right? (No, it's not just your little "secret". Your friends are already gossiping about you on the group chat).
So, are you feeling sexual energy from someone? What do the signs look like? Will it amount to something, or is it just one of those fleeting crushes that you'll soon forget about when the next subject of your infatuation comes along? Let's talk about everything you need to know about sexual tension. 
What Is Sexual Tension And What Causes It?
Right off the bat, let's address the biggest component of sexual tension. By definition, sexual tension is mutual. If you're looking at someone across a crowded coffee shop, waiting for them to make eye contact with you, it doesn't usually qualify as what we're talking about. 
It's an electrifying, stomach-turning, more-than-a-crush feeling that you get when two people want to have sex with each other, but can't. In some cases, it's positive, when it arises because you're both single and willing, but you can't get your hands on each other since you're at work.
And in others, it may be negative, when your best friend's boyfriend won't stop making eyes at you, and you don't exactly want him to stop either, but oh-my-goodness this is so wrong!
Research suggests that you know the kind of relationship you want to have with someone the second you meet them. So if there is any sexual tension, some level of it is bound to be there from the start. 
And now that you know that liking 10 of his Instagram posts in a row doesn't amount to sexual tension (that's just kinda creepy), let's take a look at intense sexual chemistry signs. 
Sexual Tension: 17 Signs To Watch Out For 
On their way back from clubbing on a Saturday night, Brad, Cindy, and Jacob shared a cab. For Brad and Cindy, the ride back seemed normal, even though they did indulge in a little bit of shared laughter and a little bit of flirting with the eyes.
Brad and Cindy thought this palpable energy they shared between them was a sort of "secret," as though Jacob was oblivious to it. They continued to exchange giggles, touch each other a bit more, laughing away at their inside jokes. Their assumptions came crashing down when Jacob said, "Get a room, you two," when they locked eyes for the fourth time. 
So, just like Brad and Cindy, are you completely unaware of just how obvious the signs are, yet find yourself reading this article? Let's find out. 
Related Reading: Sexual Compatibility – Meaning, Importance And Signs
1. You're flirting every chance you get 
"You guys go ahead, we'll be right there," you say, as you two are finally alone, so you can continue talking about how cute they look today. 
A clear example of sexual tension is if you two are flirting with each other literally every chance you get. Sometimes even in front of people, which obviously seems obnoxious to your friends. 
2. Your friends can feel it
And when you flirt in front of your friends, they're going to catch up on the energy you two have between you. Though it may feel like nobody in the world matters, your friends definitely know – and they're probably gagging mentally. 
The electricity between a man and a woman (or between any two people, frankly) is usually visible from a mile away. If your friends are nice, they'll probably say something like, "You two will be so good together", but if you're hanging out with a best friend, they're probably going to say, "You guys are gross."
3. You're always trying to be alone with them
If you're feeling sexual energy from someone, all you're going to be looking forward to is being alone with them somewhere. Rest assured, the minute your friends go out for a smoke, all you're going to be thinking about is kissing this person.
You two might even end up forming your own private conversation space when out in groups, creating some "alone time". Cute? Maybe. Obnoxious for your friends? Definitely. 
4. There's no better intense sexual chemistry sign than physical touch
Undeniably, one of the best intense sexual chemistry signs is the way you find any excuse to touch each other. An accidental touch here, a suggestive, flirty hand on the lower back there.
But hold on, platonic friends touch each other too, right? The difference here will be the intention and the energy behind the touch. A touch charged with sexual tension will be a few Mississippi's longer.
Plus, you don't feel electricity running down your veins when you touch a friend, do you? Needless to say, this person is sending shivers down your spine if they touch your neck provocatively.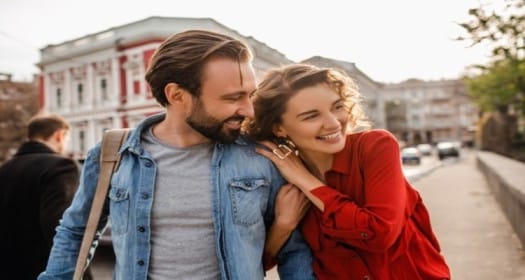 5. You've been diagnosed with a severe case of butterflies
Increased heart rate, sweating and an insatiable urge to impress? No, you're not having a panic attack; you just really like this person.
You're both probably trying to put your best foot forward. And especially when you have sexual tension with someone you can't have? – well, you're going to make sure you do all you can to leave a good impression. Just make sure your infatuation doesn't lead you to ignore any obvious red flags.
6. Suggestive and flirty eye contact
When you feel electricity with someone, do they feel it too? The answer, my friend, lies in their eyes. The eye contact you make with each other will tell you all you need to know about sexual tension. 
Sure, you make eye contact with multiple people every day. But this, this one's going to feel different. You're not just looking at each other for the sake of it; an intense yearning that's screaming out but also being pushed down inside of you, is evident. If they're flirting with their eyes, you'll probably be able to tell because of that giddy feeling you get.
7. If it feels taboo/secret, it's an intense sexual chemistry sign
Remember when you successfully managed to sneak out of your house at night and sneaked back in when you were a teen? Or that time you hopped the fence to get to a private pool. The thrill made it feel exhilarating, didn't it?
The electricity between two people who are into each other will feel just like that. Locking eyes with each other, you're probably letting out a wry smile that indicates the forbidden thrill of it all. This is especially the case when you feel sexual tension with someone you can't have. PS: It isn't as "secret" as you think it is. The energy is palpable; everybody knows about it. As Jacob said, get a room!
Related Reading: When You Feel Attracted To Someone Do They Feel It Too? 7 Signs They Do!
8. Making each other laugh is at the top of your to-do list
Who knew you were now suddenly a stand-up comedian? As if you're blitzing through you're a-grade material and funniest stories, trying your best to make her laugh. And your friends are painfully aware of how hard you're trying. To them, your jokes aren't funny, but the oh-so-obvious way you're head over heels for this person is hilarious!
9. They're leaning in or removing physical barriers between you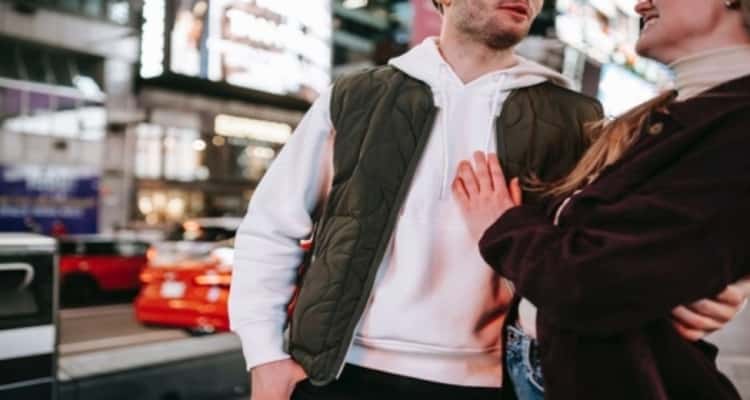 Removing barriers and leaning in towards the other person is almost a subconscious way in which your body responds to something you like. As a way of saying, "I'm interested, tell me more," the sexual tension will end up making you close the distance between you two.
And before you know it, you're close enough to kiss each other right there. That's probably right about the time when they say something like, "Is it me or is it getting hot in here?" in the movies.
10. Positive body language can point to sexual tension
Positive body language as a whole can be a sign of sexual tension, though in some cases, it might just be because someone likes you as a person.
Look out for the things you might try to spot in your first date's body language: are they displaying open gestures? Are they leaning in, increasing the intimacy? Are they giving you a playful smirk? Their arms aren't crossed, right?
11. You're both visibly happier around each other
Picture this: you've been invited to a house party, and you're not expecting this person to show up. But when you see them walking through the door, the entire world around you ceases to exist and you're probably over the moon.
One of the best sexual tension examples is when you're both noticeably happier around each other. You're suddenly all smiles and jokes, and, of course, the playful touches aren't stopping any time soon.
12. There may be a bit of awkwardness
Did you say everything you possibly could about that recent trip you took to Brazil? And now you're stuck in a "Ha-ha… yeah… So, what's up?" loop? But your brain is probably screaming out, "Just kiss me already!"
Congratulations, that's sexual tension. Unlike what all the other signs may suggest, it doesn't have to look like a palpable surge of energy flowing from both of you. Sometimes, it can just be an awkward smile.
13. There's an elephant in the room and its name is sexual tension
It's like you're playing a game of chicken where you both know the other person wants to kiss you, but you're also not completely sure. What if you lean in and make a fool of yourself? But those suggestive eyes that won't stop looking at your lips are telling you otherwise.
You both feel it, you're both walking on eggshells, and everyone pretty much knows what's up. If you're wondering about the question, "When you feel electricity with someone, do they feel it too?" just ask that elephant lingering about in the corner. It'll know.
Related Reading: 23 Signs Your Soulmate Is Thinking Of You – And They Are All True!
14. You seek each other out in group settings
When you're feeling sexual energy from someone, you're definitely not going to spend time with anybody else but them. Why would you want to hear about your friends' dating app tirades when you could flirt with Cindy, who's been making eyes at you anyway? 
And when your friends all take notice, they'll probably leave you two to it. Sometimes, they probably won't even have an alternative, considering how you two always manage to gravitate towards each other sooner or later.
15. When there's sexual tension, your voices will probably change
You might not have noticed this, but think about it though; you don't talk to this person the same way you talk to all your other friends, do you? Your voice is probably a lot cheerier, the pitch is definitely higher and let's not forget all the jokes you're trying to crack. If he's fighting his feelings for you, you may just see him trying to be uber-cool with the fakest deep voice ever.
Studies prove that when you're talking to someone you've got the hots for, your voice definitely changes. This may just be the perfect person to sing a high-pitched duet with. Now that's a date just waiting to happen!
16. You keep finding reasons to meet each other
Did they just get a bonus? That calls for a celebratory glass of wine, right? Perhaps their lamp isn't working. You better go check it out immediately, after all, it's an emergency!
The point is, when you're feeling sexual energy from someone, you're probably doing all you can to meet this person. When you find yourself rushing to put on your shoes the second this person texts "Come over?", you're in far too deep. 
17. Sex eventually comes up in your conversations
Or something along those lines. When things really start heating up, you're probably talking about steamier subjects too. Kinks? Fetishes? Best sex you've ever had? Those conversations are bound to lead to something more.
One of the best sexual tension examples is when conversations around steamy subjects are mixed in with physical touch and eye contact. And if you still can't tell what's going on, you're either just a man or very, very imperceptive.
What To Do About Sexual Tension
Now that you know what causes sexual tension as well as the signs, hopefully, you won't misjudge what's going on in your situation. Time to move on to the next step: what you should do about it. 
When push comes to shove, you have two options here: You can either pursue things to see where they lead, or you can back off, which might be the right thing to do when you're feeling sexual tension with someone you can't have.
When you want to see it through 
When the situation feels right and nobody's cheating on anybody by taking it forward, go ahead and let the sexual tension build. The magnetic attraction between you will take care of those awkward silences. 
As is the case with any other relationship, be respectful, communicate with this person, and make sure you don't send mixed signals. A few good dates, a few more intense sexual chemistry signs, and you'll eventually reach a place where it'll be impossible to keep your hands off each other. 
In the meantime, you probably shouldn't "go and spoil it all by saying something stupid like 'I love you!'" Just saying. 
Related Reading: 12 Creative And Impressive Ways To Tell Your Crush You Like Him Over Text
When there's sexual tension with someone you can't have
When you find yourselves at a crossroads such as this, the most important thing you can do is set boundaries about what you're comfortable with and what you're not. Among other things unique to your dynamic, you must keep the following in mind: 
Communicate honestly and bluntly about what isn't okay
Set clear boundaries
Don't be afraid to distance yourself if things get out of hand
Stand your ground and don't get persuaded 
Establish the no-contact rule if required
Feeling sexual energy from someone is an exhilarating experience. More often than not, you're confused by the whole thing, but still looking forward to holding this person's hand any chance you get. Hopefully, with the help of the signs we listed out for you, you won't end up misreading the situation.
FAQs
1. What does sexual tension feel like?
Ever had butterflies in your stomach, a sweaty scalp and/or palms, all while envisioning kissing the person in front of you? That's pretty much what it feels like. It's a strong urge to have sex with a person and usually results in you having erotic dreams or fantasizing about them.
2. Is sexual tension usually mutual?
By definition, sexual tension is supposed to be mutual. If it's one-sided, it's more of a crush than sexual tension. If your advances of physical affection and flirting have been met with cold responses, perhaps it's time to back off.
3. How to stop sexual tension?
If you'd like to stop sexual tension, the best thing you can do is distance yourself from the person. Set clear boundaries about what you're comfortable with and what you're not, and don't be afraid to call them out if things get out of hand.
How To Impress A Girl On A Date And Make Her Want To Go On More