You have been in a smooth relationship but there is still something bothering you. Perhaps, it is the "Ex" factor that is still haunting your relationship. He might be in a relationship with you but he hasn't got over his ex and you can see it. Have you noticed him still referring to his ex in conversations, talking to her when you are not around and seeming lonely even though you are with him? Is he still in love with his ex-wife or ex-girlfriend?
According to a survey1 done by 93.1 FM Wzak, – 71% of people say they think about their ex too much; narrowed to singles, the figure goes up to 81%.
Don't take your suspicions lightly, they might be right and these signs will confirm it.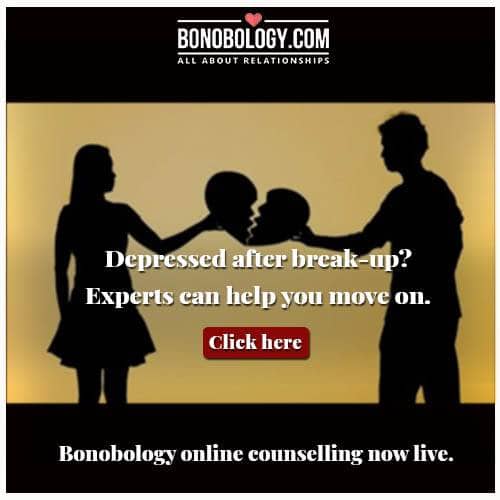 10 signs he is still in love with his ex
"I think my boyfriend still has feelings for his ex". How many times has this thought occurred to you? Being in a relationship with a person who still clings on to his ex makes you question your position in the relationship. You even begin to question whether this relationship is going to stick.
Confronting him without knowing for sure will just portray you as a jealous and suspicious girlfriend and will make him compare you with his ex. Here are 10 signs he misses his ex wife or girlfriend.
Related reading: How do I cope with my husband's deep friendship with his ex-wife?
1. Relationship over, but he still talks with her
Your boyfriend and his ex might have ended their relationship on a good note and they are still on talking terms. You catch him texting her when you are not around. You try to make yourself understand that it's not a big deal but his conversations don't seem to end. Being still friends with his ex doesn't give your boyfriend a free pass to talk to her endlessly. There have to be some boundaries.
2. He hasn't removed her pictures from Social Media
Your boyfriend still has his cozy pictures with her on social media and hasn't removed them yet. On asking, he tries to stall you by making excuses like – "It's a good picture", "She's just a friend now" or that "It will look rude". How many cozy pictures of you both does he have on social media?
3. He brings up her name in conversations
Whether you both are on a date or spending quality time together at home, he somehow brings up his ex. His ex seems to be in 60% of his conversations and this puts you off many times. Some way or the other, there's something that makes him remember and refer his ex. Even when you both are hanging out with his friends he will talk about the fun episodes he had with his ex. It is as if you are still an outsider to him.
Related reading: 15 signs YOU are being a clingy girlfriend
4. You've caught him stalking her online
You just sit beside him while he is on his phone and he gets all jumpy on you. You check what he was checking and there it is the profile page of his ex, staring at your face and mocking you. He tries to give excuses but you know what's going on. He has been stalking his ex! Your boyfriend still misses his ex because he is still in love with her.
5. He sometimes calls you by her name
"I take thee Rachel". Remember what happened to Ross from Friends when he said the wrong name at the altar? It was so embarrassing for Emily. Imagine if your boyfriend calls you by his ex's name at a party. Has this already happened to you? If yes, then it means that in his mind she still is his girlfriend and you are there to fill her shoes. If this has happened to you more than once then you need to rethink about your status in the relationship.
6. You don't feel like you are in a new relationship
You don't feel that rush and excitement of being in a fresh relationship. It is as if the honeymoon period in your relationship ended before it started. The entire time you think whether he is cheating on you with his ex and you both are already behaving like old couples talking about regular stuff and doing boring things.
Related reading: My girlfriend brings up her ex during intimate moments
7. He still has her stuff
You open his closet and find an old outfit of hers. You ask him about it and he just talks about how forgetful he is. The truth is that he still has her stuff because he is not ready to let go of her and her memories. He has her things because they are too precious for him to throw away as they are the only things that will connect him to her and he doesn't want to let go of that.
8. He hasn't told his parents about you
It's been quite a few months now and you still haven't met his parents. His parents don't even know that you exist as a friend. Did it take this long for him to tell his parents about his ex too? If no, then it's because in his mind he feels that his old flame was the one for him and is still unsure about what he feels about you.
9. He compares you with his ex
Whatever you do for him, whether it's cooking for him or taking him to new restaurants, he will mention how his ex would do it. He will always compare your actions with her and tell you how special she made him feel. Imagine you cooked him his favourite dish and he talks about how well his ex made it for him. It's like he wants you to be her.
10. He speaks about his ex during intimate moments
During intimate moments he might tell you to do some new moves and on asking him from where he came to know about them, he will name her. This might not be the worst disaster. Imagine him saying her name during climax. You may be able to forgive him for comparing your cooking with hers but imagine him inside you and calling her name instead of yours! Are you willing to forgive him thinking about his old love while having sex with you?
Related reading: Even after discovering that her husband was sexting with his ex, she didn't lose her cool
My boyfriend still loves his ex and loves me too
"I think my boyfriend still has feelings for his ex"
"My boyfriend loves his ex more than me"
If any of the above thoughts have come into your mind, you aren't becoming a crazy girlfriend. You have reasons to feel so and the above signs prove it. Sometimes, when you confront your boyfriend he will tell you that he loves you but still misses his ex. He tells you that he needs time to get over her. Men are still in love with their ex at times because they jump into the next relationship too soon. It doesn't give them time to heal and thus they can't move on. In such a scenario the person who suffers the most is you, the current girlfriend. Your current relationship becomes unstable as it still stands on the history of the previous relationship. Sometimes, the ghosts of their previous relationships make it harder for men to move on. They get into a fresh relationship but most of the time it's a rebound.
In such a scenario what men need is a friend rather than a confronting girlfriend. Help your boyfriend move on from his ex but don't keep your hopes high about your relationship. Be there for him and get him to see how much you are willing to risk for him. Rather than making the ex an obstacle of your relationship, treat her as the key to saving your relationship by helping him move on.