Everywhere you get advice on all the things you should do on a first date but have you ever been told what not to do on a first date? First date mistakes could cost you dear. You could have really liked that guy but you never realised why he ghosted after the first date. Could be that you ended up saying some of the worst things on your first date. Example: Maybe talked too much about the ex.
We go on dates. It could be a blind one. Or one set up through Tinder or even Facebook. We decide a time and place and rendezvous there. We meet, we eat and we talk. At the end of it all, we try and decide whether this is going to continue or if we have had enough. And this is exactly why the impressions you make matter.
The red flags that you notice on a first date could be deal breakers. But if you avoid doing a few things you could be all set for the second date.
If you keep going on first dates that never turn into a second or a third, you might be doing something wrong or something that's putting them off. But do not fear! I am here to tell you exactly what are the big 'No's' when it comes to first dates. Avoid them at all cost. Or you might end up stuck in a loop of only first dates forever.
Related Reading: What Are Some Good First Date Questions To Get To Know Someone?
15 Things You Should Never Do On A First Date
Jane liked the guy immensely. They had met at a friends party, exchanged numbers and she readily said "yes" when he asked her out. But sitting at a fancy restaurant when he only spoke about his obsession of the paranormal, Jane didn't know where to hide. Ghosts were something she was scared of all her life, she couldn't sleep that night and never met the guy again. And if you ask her to tell her worst first date stories she would immediately come up with this one.
The worst things to say on a first date are to keep rambling about your own interests and obsessions like a megalomaniac. This is an instant put off.  So we will tell you what not to do on a first date – ever.
1. Not arriving on time
I swear to God this is so important on a first date. Imagine this, you have decided on a place and time with this person like a hundred times already. You two like and are anxious to meet each other.
And then that person arrives two frigging hours late and gives an excuse like "Oh, I had to shave my beard properly" or "My hair was a bit messy". Realise one thing now, people hate waiting. Be it anything, for food or for other people. They don't like it at all. It shows slack and disinterest and can perfectly put off your date.
Moreover, think of it this way, maybe your date planned something or had someplace to go after the date got over. But you waltzed in like one who can do no wrong a whole hour or two late and then you expect a second date?
No way! There is a window period – you can be late for at the most fifteen minutes, maybe five more if it was an important meeting you are coming from. If there's an emergency, make sure to update your date and don't just leave them waiting alone. That's just rude and the worst thing to do on a first date.
2. Try to avoid scratching different body parts
And you know what I mean, scratching your hand or neck is one thing – don't go doing that to your crotch. It is rude and people, especially your date, does not want to see that at all. In any case, if you have a problem like this – go to the washroom, scratch everything, pick and clean your nose while you're at it.
Clean your hands and go in there like a free man with nothing to fear. Though many people can't control it, do not bite your nails as well. It shows nervousness and your date doesn't need to realise that so early. But a little is okay, I guess. Sometimes a bit of slack can be adorable.
3. What not to do on a first date – be self-obsessed
Yes talking about the self is pleasurable and we know you have a lot to say but if you only keep talking about yourself then that is the worst thing to do on a first date.
We know you have  a great job, a recent apartment you bought, you like to travel the world but you don't have to say everything at one go. That would put off your date instead of making them interested. What not to do on a first date – stop  being a megalomaniac.
4. Do not overdress
Some people have the tendency to do that. Be it men or women they want to put their best foot forward on a first date and end up overdoing the clothes, the make-up, splash too much cologne and they end of looking like a mannequin in the shop window.
That is the first thing you should avoid on a first date. Wear something that makes you comfortable and keep that make-up to the minimal. That mascara looks good on your fluttering eyelashes but too much also creates ugly clumps. Remember that.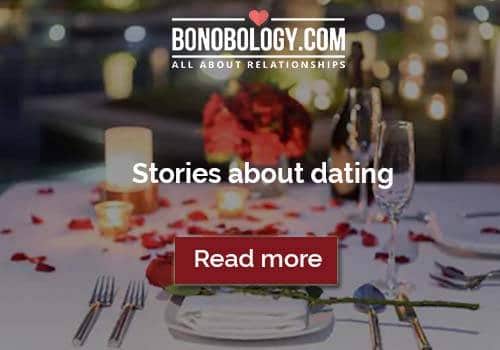 5. Stop being giggly
You could be a bit nervous on your first date and there might be a tendency to smile more, laugh more and giggle more. Ever thought how unnatural you become when you do that.
You should avoid that put on laughter and the constant giggle on the first date.  These are first date mistakes most people make – trying to laugh or smile too much.
6. If you don't have a sense of humour let it be
While some people have a sense of humour that comes naturally and your date might be absolutely digging that but if you are the kind who believes that humour is a must because articles in various relationship websites say so then it is the cardinal first date mistake you are making.
If you don't have a sense of humour let it be. You don't need to look up jokes on the net and try to be funny. Your date might find that absolutely yuck.
Read more: 7 amazing first date ideas
7. Don't keep on drinking water
It will just make you want to pee and make your date probably think that you want to end the date too quickly. Plus, you can't really get to talk to a person and know anything about them if you are at the urinal like sixty per cent of the time.
For all you know, that person could be a serial killer! Just kidding. No one admits to being a serial killer just on the first date. But you don't need to make the washroom your home either.
8. Don't hog the food
What not to do on your first date? Eat like a glutton. I am sorry if you think this is too much for you, but I have heard and read people who complain that their date or some person at their table was stuffing food in their mouth as if that was the only thing they were able to see.
We realise that you love food, and food should be loved, but that is not what you are there for, are you now? Enjoy the food, yes, but don't eat like it's your last meal.
9. Do not ask private or personal questions
What not to say on a first date – ask personal questions. Avoid that by all means. Most people know better of course! But there are some who might not.
See the thing about personal questions is that you should never ask them. There are actually some questions that you must ask and some questions you should never ask. It is just not your business to know whether they are a virgin or how many girlfriends they have had etc.
These questions show two things – you have no respect for someone's privacy and you have no interest in that person but their past.
This person won't give you a second date and might even make sure that you don't have first dates with some other people. So beware and don't let curiosity get better than you.
10. Do not look down on them
If they order pasta and you don't like it, order something else instead. Don't judge them or keep asking why they like pasta so much. It is plain sad and shallow.
Try and not to be judgmental about others' choice of drink, food, music or movies. Anything really. It is seriously none of your business. If something makes them happy, who are you to take that away from them?
Related Reading: Dating etiquette- 20 things you should never ignore on a first date
11. Do not go on talking about your ex
What not to do on a first date, keep talking about the ex. It's actually horrible to do that. Your date is going to be so put off about this. Talk about your childhood, the cities you have visited, favourite television shows or movies.
If you do keep talking about your ex, it's only going to portray that you aren't over them. And after that? No chance of a second date. No one wants to get into a complicated relationship. This is a first date mistake many people end up making and you should avoid at all costs.
12. Don't bring out a questionnaire
We know you want to ask a lot of things and it's good to be ready with a few questions to know your date better. But we know people who have actually jotted down the questions and brought it out like it's a quiz show.
If your date wanted to be in a show like that then they would have gone to Who Wants To Be A Millionaire and not sat opposite you in a restaurant. Avoid doing something like this.
13. Don't ask how much they earn
We know you are dying to know your date's pay pack. That would tell you a lot about them and if things go right what kind of a life you could be having with them.
But don't just blurt it on the first date. It would not say much about you. The chances of a second date would actually go down the drain.
14. What not to do on a first date- keep asking for a second
Don't keep asking,  "When are we meeting next?" That's the worst first date mistake you are making. It would make you come out as clingy and needy.
Enjoy the first date while it is on. If things go great your date only will call or text you later and hint on a second one. till then you stay put.
15. Do not avoid splitting the bill
Be it guy or a girl, don't expect the other party to pay the whole damn bill. You enjoyed this equally and you should end this equally too. It's going to show that you are woke and a no-nonsense person. So just split the bill. 
And now you know what not to do on a first date. So, don't worry. It will be all right. Calm down, take deep breaths and go for it. Also, don't be late.
Excuse me, Miss, main hoon hero! Top flirting mistakes that guys make
I botched 11 first dates in a row to learn how to leave a good impression on the lady
Abhi na kaho pyaar hai: Saying 'I love you' too soon can be a disaster