Imagine it's the weekend tomorrow and you are with your partner. The clock strikes 1, and being night owls, there is no possibility that the two of you will embrace slumber anytime soon. Now, you both are wondering what to do when bored at night. Neither of you can come up with spontaneous things to do in a relationship when bored to tears at night.
So, getting busy with your phones seems to be the last resort. But why scroll through irrelevant videos when there's so much you can do to turn your dull night into an interesting one? From creative and romantic to fun and productive, there's a plethora of things to do when you're bored at night. Whenever you feel time is dragging, our list of fun stuff to do at night will come to your rescue.
What To Do When Bored At Night? 25 Fun Activities To Try With Your SO
Dinner's done. You're through with your household chores too. You are also done scrolling through social media. Now what? Fighting boredom in relationship is the last thing you would have imagined while entering into the relationship. However, here's life giving you a reality check.
You might feel that the humdrum of everyday life has extinguished the fire and spark of the initial days of your relationship. But, that's not true. After being together for a long time, there are no 'firsts' left, and that's the reason you are struggling to fight boredom. But remember, there are plenty of spontaneous things to do in a relationship.
When you are unable to figure out what to do when you can't sleep and are bored at night, just put a bit of effort into going through this list specially curated for you. You can thank us later.
1. Have a board game night
If you both are board game geeks, then what are you waiting for? You can easily kill time with a board game night. Explore the competitive side of you and your partner without getting out of the comfort of your home. Get some wine or any beverage from your fridge and roll the dice. There are also plenty of card and board games available that you can enjoy with your significant other. It is undoubtedly one of the best things to do when you're bored at night.
Related Reading: 40 Cute Things To Do With Your Girlfriend At Home
2. Take a shower together
A relaxing shower or bubble bath can help you regain drained energy. Decorate your bathroom with petals, and candles. Add a tinge of pleasant aroma. One of the sexiest things to do at night at home, especially if you are trying to spice things up a little with your partner, is shower foreplay, and we know you don't want to miss out on it. However, make sure the bathroom is clean and the water temperature is adequate before you zero in on this idea.
3. Cook your favorite dish
Do you like cooking but are unable to do so because of your hectic schedule? Well, now that you have ample time, you can prepare something special for a romantic date night at home. So, instead of spending money on ordering food through apps, prepare something delicious at home. Here's a tip: make it a joint effort, because as you know, couples that cook together, stay together.
4. Read a book for each other
What could be the best late night things to do if you both are bibliophiles? It's simple. Just grab your favorite book. And instead of reading it for yourself, read to your partner. To add a dash of romance to the book-reading session, pick up a romantic novel, switch on the reading lamp, and get cozy with your partner under a blanket.
5. Chalk out future travel plans
So, what to do when you can't sleep and are bored at night? Plan a vacation or a romantic getaway. Chalking out future travel plans is one of the best uses of free time. You can mutually decide your destination and the kind of holiday you want, be it an adventure vacation, one filled with romance, or a no-frills backpacking trip. Accordingly, you can decide on your budget and the leaves that you may need.
6. Indulge in a spa night
One of the many amazing things to do at night at home is indulging in self-care. So, why spend money when you can have relaxing spa sessions at home itself? It is one of the best things to do at 3 a.m. or whenever you are free. Create a vibe with scented candles, incense sticks, and dim lights. Pour essential oils all over your partner's body and massage gently. Go with the flow and spice it up in different ways.
Related Reading: 21 Romantic Yet Unique Things To Do For Anniversary Celebration
7. Dance together
One of the most romantic late night things to do with your partner is to dance with them. Why go to nightclubs when you can dance your heart out in your cozy little room itself? Dancing is hands down a fun stuff to do at night with your partner at home.
So, what's your mood tonight? Waltz or salsa? Set the music as per your choice and get ready to hit the dance floor. As your bodies come close together, grooving to the beat, there comes the moment you have been waiting for. No doubt it's an awesome date idea for a Friday night if you have nothing planned!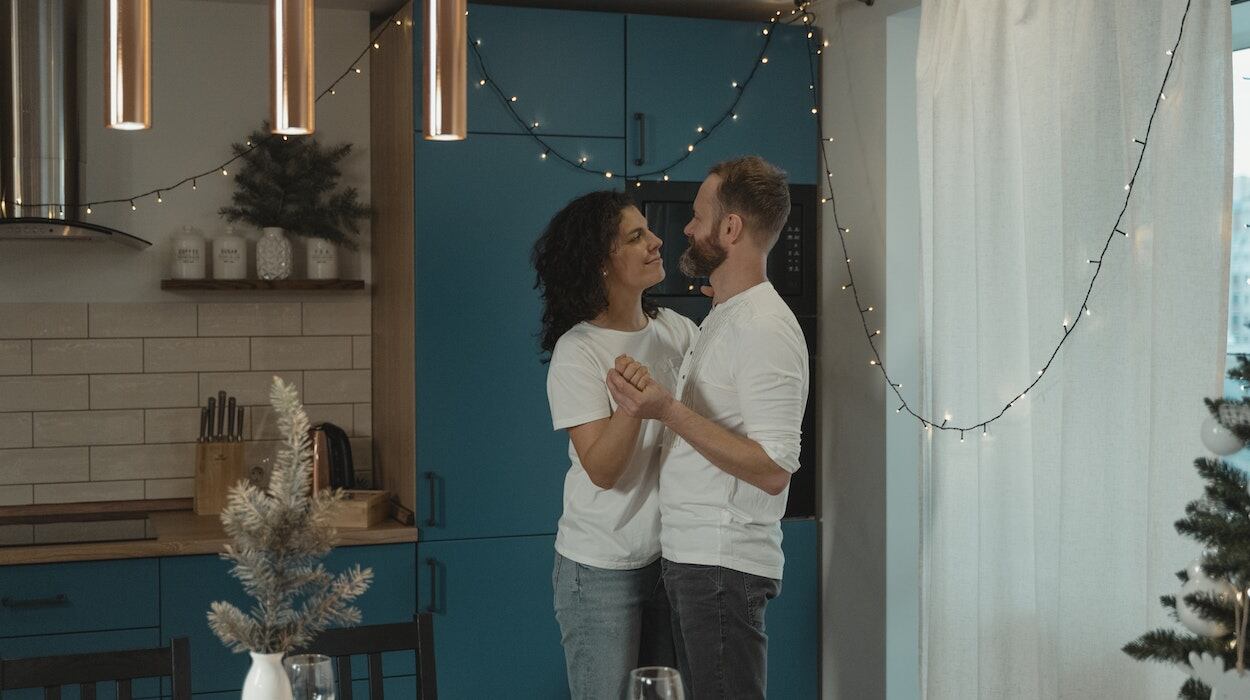 8. Watch shows or movies
What is one of the simplest yet best things to do at 3 a.m.? Switch on your TV or laptop and kill time easily. You have Netflix to your rescue whenever you are bored. Get some beer, wine, smoothies, snacks, or whatever you want to have. Switch off the light to set the right mood.
You can either watch a new series that has earned some rave reviews or just stick to your good old drama or movie. But, please don't immerse yourselves in it so much that you skip exchanging warm hugs, cuddles, and gentle kisses. Just in case, you are stuck at home during the monsoons or on a snowy night, here's your perfect rainy day date night idea to feel closer to each other.
9. Enjoy stargazing
Don't want to Netflix 'n' chill? Not in the mood for cooking or playing games either? So, what to do when bored at night? Well, you can spend time stargazing, as it is one of the most relaxing and romantic things to do with your partner. A blanket, pillows, and a mat — that's all you need. You can grab some beverages if you want. While the world is fast asleep, enjoy the serenity of nature and the calmness of the moon with your most precious one.
Related Reading: 33 Most Romantic Things To Do For Your Wife
10. Write love letters
You have to trust us when we say that those old-school love letters will never go out of fashion. If you both are old-school romantics, then write love letters to each other when you are bored at night. Pen down your feelings for each other, likes, and dislikes, or complaints if you have any. After you are done writing, give the letter to your partner and let them read it to know the intensity of feelings you have for them.
11. Take online personality tests
Thinking of spontaneous things to do at night? Why not opt for online personality tests, couple quizzes, and compatibility tests? These are the fun things you can do online with your partner to combat boredom. Through these quizzes and tests, you can assess how well you know each other and which aspect of your partner still remains uncovered. Who knows you might discover something surprising about your partner while enjoying these quizzes.
12. Play Truth or Dare
Truth or Dare never fails to disappoint even if you know your partner in and out. When played with the naughtiest intentions, it can be as engrossing as bedroom romance. So, the next time you are looking for fun ideas to fight boredom at night, convince your partner for a game of Truth or Dare. You can subtly ask them about something that has been bothering you lately or give them a dare that guarantees just what you want.
13. Go through old photo albums
Everyone loves a good old photo album, as it triggers nostalgia and brings up numerous topics that were never discussed. The fun multiplies when you walk down memory lane with your partner. Spend a few minutes on each photo and talk about the memories it brings up. As you go through the photos, you can discuss life events and tease each other all night.
14. Plan a confession night
If you are still confused about what to do when bored at night, why not plan a confession night to pour your heart out? Skeptical of telling something to your partner? A confession session is the solution to your problem. Well, it doesn't have to necessarily be a deep and serious session. You can make it fun in your own ways. Make sure this conversation doesn't lead to any heated argument when you go for deeper confessions.
15. Play video games with your partner
Nothing helps you fight boredom as much as video games. Plug in your gaming console and challenge your partner to a video game. They are addictive enough to keep you up for an entire night. Unlike other late-night activities, video games offer you a chance to place a bet with your partner and fulfill your fantasies if you manage to win.
Related Reading: 10 Crazy Things People Do When They're In Love
16. Spice up the night in the bedroom
There are countless new and exciting things to do in bed if you two are bored at night. You can take foreplay to a different level with role-playing games. Don't be shy to tell your partner about your fantasies and see them come true. Enjoy heightened pleasure as you experiment with new places around the house, such as your couch, kitchen cabinet, or study table. You can also consider card games with sexual rewards for the winner. Interesting, right?
17. Go for a late-night drive
A late-night drive is pure bliss, as you don't have to worry about being stuck in traffic. Get some fresh air, gaze at the night sky, and spend quality time with each other as you both enjoy ice cream or a cup of coffee. While late-night drives are undoubtedly romantic, they also offer time to contemplate the bond you two share. You can discuss future plans, your expectations, and the areas that require self-improvement.
18. Try the 'don't laugh' challenge
If you have tried all the fun things to do at home with your partner, give the 'don't laugh' challenge a try. Challenge your partner not to crack up as you tell them the silliest of jokes. It is amusing to see how long your partner controls their laughter. It can be one of the best chill things to do at night, especially if the last few days have been stressful for both of you. It can pave the way for some wild activities too.
19. Plan a date night on the terrace
A date under the night sky on the terrace is one of the most romantic late night activities at home. You get a chance to soak up some fresh air, eat good food, dress up without any occasion, and most importantly, express your love. You can even save money by not going outside and eating home-cooked food instead. You can ask your romantic partner to help you in the kitchen. Cook a new recipe that you came across on Instagram a long time back and didn't get time to try out.
Related Reading: 10 Cheesy Things Couples Do In Relationships But Don't Admit To
20. Try DIY craft with your partner
One of the most creative things to do with your partner is making DIY crafts. Impress your partner with your art skills as you make something cool for your home. Make a decorative piece, a wall hanging, or candles for your living room and proudly flaunt it before your guests. You can even make some unique DIY gifts separately and present it to each other.
21. Engage in wall art
If you are immensely interested in art and are looking for creative things to do with your partner, then do consider wall art or wall painting. Use the wall to let your creative juices flow and make it your labor of love. Before you reveal your artistic side, play some calming music to set the mood. Do not miss to spray paint on your partner to tease them and channelize your wild side. Follow it up with a relaxing shower with your 'bae'.
22. Make a 'before we turn 40' list
'Before we turn 40' is an intriguing activity you can do at night to get to know each other better. It will not only help you seamlessly communicate your desires and goals but also help you exchange a long-term to-do list. You can discuss and note down things you want to cover on your couples bucket list, a new language, a new skill, or an online course. You can even plan an early retirement. This list will give you constant motivation to achieve your goals.
23. Bake a cake together
Baking a cake with your partner is the most fun way to fight boredom and break monotony after a tiring day at work. We think it's one of the things every couple should do together once in a while as a fun bonding experience. Search for an easy cake recipe and make sure that you have all the required ingredients available at home.
You can also connect to a friend or family member on video chat to learn a tried and tested recipe. Since you are baking the cake together, one can remind the other if they miss out on any step or ingredient. Happy baking!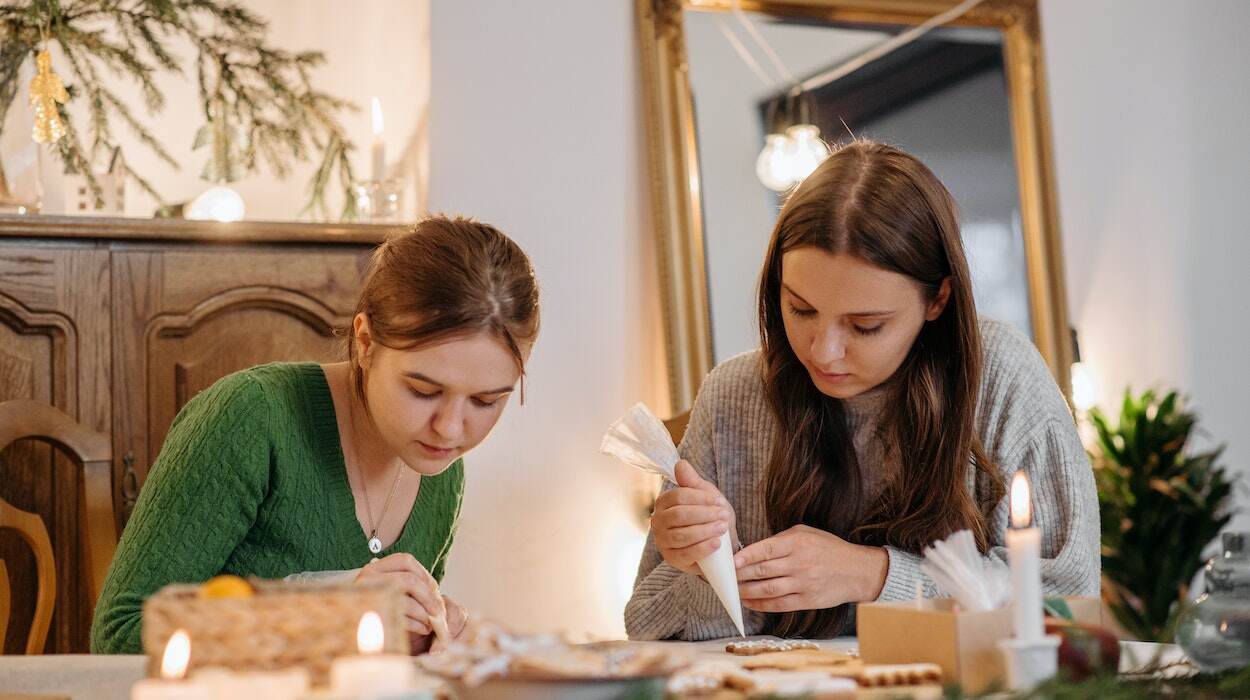 24. Plan a living room picnic
My friend Stacy once called me at 2 a.m., as she was wondering what to do when bored at night. As I had just woken up from a deep sleep, I gave her a silly suggestion to go on a romantic picnic. She said, "A picnic this late?" I replied, "Yes! If a call this late makes sense, then a late-night picnic is fine as well." I hung up the phone.
The next morning, when I logged in to Instagram, I was pleasantly surprised to see the pictures of the picnic she had planned with her boyfriend in their living room the previous night. A lightweight blanket fort, strings of fairy lights, drinks, snacks and what not! You should definitely give it a try next time you are bored at night.
Related Reading: 30 Things To Do To Make Your Girlfriend Happy
25. Create a collage of your memories
Another fun way to spend quality nighttime with your partner is by making a photo collage or vision board. It will help you kill free time in the best way possible. Making a collage brings couples closer and allows them to recall the best memories created together. You can also choose to create a vision board that will help you motivate and inspire each other to achieve goals.
They say there's never a dull moment with your loved ones. That's partially true, because boredom can hit anyone at any time. But, from now on, you don't have to worry when you are bored at night. The fun activities to do at night mentioned in this article will make sure that you spend your free time with your partner in the most engaging, productive, and creative way possible.
How To Plan The Perfect Romantic Scavenger Hunt – 11 Tips and 7 Ideas
How To Revive A Relationship – 14 Tips To Get The Spark Back
Ask Our Expert
You must be Logged in to ask a question.