College is supposed to be the most happening time of your life. It's the first time you're truly away from your family and have control over your life. Not only do you get to learn a bunch of new things but you also finally get to taste what independence really is. You have the opportunity to get out there and explore the world! And when in a new city or a new campus, the first step that most people take with their newfound freedom is dating. It truly makes for the perfect meet-cute! That's why this list of the best online dating apps for college students is a must-read for anyone who has flown the nest and is ready to spread their wings. 
Finding your soulmate in college and just knowing that you're meant to be together… Who doesn't want that to be the story they tell their grandkids? But sadly, as you walk into campus hoping to bump into the love of your life, all these expectations actually get crushed. Dating and college life just aren't easy to balance. Managing studies, being homesick, and having an identity crisis all at once… There just isn't enough time or energy to roam around trying to find the perfect person to date. 
This is where college dating apps can help you out. In your downtime, while you're eating, or even during bathroom breaks — what if we told you that you could indeed find the love of your life without having to go to every single frat party on campus? With some of the best free college dating apps, you can find your ideal match in a matter of minutes. 
12 Best Dating Apps For College Students
Dating in college can be tough. Juggling studies and a relationship is just as complicated as it sounds. Most college students don't have time for anything more than a casual relationship and who can blame them!? Statistics show that college students are more into hookups than committed relationships. Campus Explorer says that by senior year, 72% of students have hooked up.
According to a survey conducted by Facebook, 28% of college sweethearts end up getting married. Most college students can be divided into three categories: First, there is the commitment-centric, long-term relationship type. Then, there are the students who don't have time to sustain a relationship but would like to keep things casual and see where it goes. Finally, there are those looking exclusively for one-night stands and no-strings-attached connections. 
You'd most likely be interested in dating people who fall under the same category as you. This is where online dating can work wonders! But there is still another question that follows. What social apps do university students use? To help out in your quest for love, here is a list of the 12 best dating apps ranked for graduate students:
1. OkCupid – Best online dating app for a prejudice-free dating life
This online dating app was launched on January 19, 2004. Since then, it has had many upgrades, which have increased its user base exponentially. It has over 50 million registered users and an average of 50,000 "Wanna get drinks?" dates per week since its launch. This is one of the best dating apps for students looking for compatible people to meet and hang out with. 
Features:
Liberal-minded crowd: OkCupid is popular for its primarily liberal-minded crowd which it attracts by asking some pretty unique questions
Interesting questions: Unlike other online dating apps which require you to kind of just give a short introduction of yourself when creating a profile, OkCupid asks questions like "Would you rather share a kiss in a tent or a kiss in Paris?", "Would you rather go to a music festival or sporting event?" or "Do you like to make your bed every morning?". These may seem goofy but they establish your preference patterns 
A great algorithm: These questions help the app's algorithm find the ideal match for you and they also make your profile fun and insightful. This is why OkCupid is one of the best dating apps
Safety: When it comes to conversations and matching, the app does not allow random people to text you. Only those with whom you have been matched are allowed to communicate with you. This eliminates all the unwanted attention that gives online dating a bad name 
No prejudicial barriers: Here's the coolest thing about OkCupid: It has no prejudicial barriers like gender, religion, race, etc. As of today, the app offers 13 gender identities, 22 sexual orientations, and a dedicated space on your profile for preferred pronouns, so no one is forced to conform to a stereotype they're not comfortable with 
The app also has many controversial and political questions that make it an ideal college dating site. You can register with your email id or with your Facebook account. 
Available on: Google Play Store and The App Store 
Paid/Free: Free registration for basic use. You can become a paid member to use extra features. 
2. Tinder – Perfect app for casual dating
If you're looking for the best free college dating app, you must have heard of this one. Tinder is the ultimate dating site if you're looking for casual relationships or hookups. Besides, it also has a great feature just for students!
Features
Ease of use: The basic idea is that you create a profile using your Facebook account. You just answer a few questions, add a few photographs and Tinder gets the rest of your information from your Facebook account. Then all that's left is for you to start swiping 
Finding the right match: If you right swipe, that means you like the profile and if you left swipe, then you've rejected the profile. If someone you've right-swiped right swipes you back, then you're in business. You'ret free to text them!
A special feature for students: Tinder has launched the new Tinder U, which is specifically designed for students. This version of the app helps you meet students online based on your interests, your college, and your proximity to them. This means that it matches you with people who are either in your university or nearby 
Available on: Google Play Store and The App Store 
Paid/Free: Free registration for basic use. You can become a paid member to access extra features. 
Related Reading:The Ultimate Funny Online Dating Questions
3. Bumble – The safest app for female students
Bumble is the most women-friendly and one of the best dating apps to meet students online. This is because it allows women to make the first move, ensuring a level of protection from creeps, perverts, and online dating scams out there. This app uses a basic carousel/swipe system. When two people swipe right on each other's profiles, they get matched. When it comes to vetting good dating apps for college students, safety is a prime concern, but with Bumble, all of that is sorted!
Features
The 24-hour feature: The point where Bumble is different from other dating apps is that each match on it only lasts for 24 hours. This gives women that much time to initiate the conversation. This also helps the guys on the site because this way they don't get strung along by their matches 
You can easily make friends too: Another cool feature of Bumble is that it gives the option of 'Date or Friend'. This means that before you start looking at profiles you get to decide if you just want a friend or are looking for a relationship. This is what makes it one of the better college dating apps for students because sometimes students are just looking for a familiar face in the crowd. Bumble helps them find that by making a friend instead of dating randomly to fill the void
Available on: Google Play Store and The App Store 
Paid/Free: Free registration for basic use. You can become a paid member to avail of extra features. 
Related Reading: 35 Cute Questions To Ask Your Crush While Texting
4. S'more – The newest college dating site
Known for being one of the better hookup sites for college students, it's possible that a lot of people on your campus are already using this one. The S'more dating app was created by Something More Inc. and was launched on 1st January 2020. American fashion publisher V magazine reported that the S'More app encouraged the development of deep relationships amidst the pandemic but has now also become famous for casually hooking up. It is one of the latest dating apps and is perfectly suited for students attending college. 
Features:
Regulating matches: S'More is listed among the best dating apps for young adults because it regulates the number of matches you get every day. You will receive 8 to 12 matches per day based on your preferences and activity on the application. 
Choosing matches: The real kicker is how you get to choose your matches, which truly makes this a fun dating app. All you get are a person's write-ups on themselves and their voice notes answering questions like "What do you like?", "What do you do?", or "What's your ideal vacation?". You can even listen to some of their favorite songs but you won't get to see their pictures. At least, initially. The more you interact with your matches, the more their pictures will become visible. 
It's the perfect setup to achieve a meaningful long-term relationship, something that goes beyond looks, or even just someone to share a fun night with.
Available on: The App Store
Paid/Free:  Free registration for basic use. You can become a paid member to use extra features.
5. HER – The perfect app for all hers out there looking for a life partner
This online dating app is for the LGBTQ community. It's for all the lesbian, bisexual, and queer women and other non-binary people out there. You can sign up using your Facebook or Instagram account. This is a great college dating app for students, looking to find their own community and those with similar interests.
Features
A great layout: The profile layout is pretty simple. You choose a label that works for you such as lesbian, fluid, pansexual, bisexual, etc. Then you upload your photographs and write a very brief bio 
A place to discover your sexuality: The best quality of this app is that it is designed only for women, so you know you'll find the right type of crowd here. Additionally, if you're someone who's just recently come out of the closet or are trying to understand your sexuality, then this is a pretty good place to start
You'll be able to meet students online who are exactly like you and are looking for something meaningful. Finally, as the proverbial cherry on top, HER connects you to all the LGBTQ events that are taking place in the area.
Available on: Google Play Store and The App Store 
Paid/Free: Free registration for basic use. You can become a paid member to access extra features. 
Related Reading: 10 Best BBW Dating Sites For Plus-Size Singles
6. Hinge – For those who are looking for a balance between casual and serious
Steering away from the traditional photo-specific swipes-and-likes system, Hinge chooses to focus on flaunting a person's personality and that's what makes it one of the most popular college dating app. In your profile, you will be asked to enter basic data (location, hometown, height, etc.) and indicate whether you smoke, drink, and want children. Then, just like OkCupid, the app also asks you to answer a few goofy questions and choose three that will appear in your public profile.
Features
Refining your search: Hinge allows for multiple filters to refine your search. There is also a "deal-breaker" option to further narrow down the search. For example, if you're someone who wouldn't even think about dating someone who doesn't read books, then you can set it as a "deal-breaker". This way, Hinge won't even bother to show you people who aren't bibliophiles 
A fun way to start a conversation: Once you come across a profile you like, instead of 'liking' the entire profile, you have to choose one thing (whether it's a photo or an answer to a question) to try to match 
It's Covid friendly: The most mind-blowing aspect that made us put Hinge on our list of best dating apps for students is the adjustments it made to accommodate the pandemic situation, adding the option of "date from home". It also collaborated with popular restaurants like Chipotle and delivery services like Uber Eats to encourage the users to have a good time while being mindful of the COVID-19 protocols.
Available on: Google Play Store and The App Store 
Paid/Free: Free registration for basic use. You can become a paid member to avail of extra features. 
7. Coffee Meets Bagel – One of the most unique and best dating apps for graduate students
Coffee Meets Bagel is different from your average swipe-right-swipe-left dating app. It focuses more on quality than quantity. Every day at noon, the app selects some male profiles for female users, based on their preferences, resulting in high-match potential. The ball is now in the woman's court. She is free to reciprocate the interest and like the profile of her match.
After being matched, the app provides a 7-day window to start a conversation along with a fun ice-breaker! The reason this app is on this list is that it has the unique feature of commenting on profiles and photos of other Coffee Meets Bagel users, even those with whom you haven't been paired.
Available on: Google Play Store and The App Store 
Paid/Free: Free registration for basic use. You can become a paid member to avail of extra features. 
Related Reading: How To Get Dates On Tinder – The 10-Step Perfect Strategy
8. Friendsy – A student-only dating site
Those looking for dating online ought to try Friendsy for sure.
Features
Good verification: The great thing about this college dating app is that it requires a '.edu' email ID to create an account. So even if someone wanted to, they couldn't join the app unless they were a student. How awesome is that? This increases your chances of meeting someone of your age. 
Filters based on one's major: Additionally, this app allows you to set filters based on your choice of major. So, you can choose to exclusively date people who are pursuing Psychology or Finance. 
You get to pick and establish the dynamic: The reason this is among the most popular dating apps for graduate students is that once you've right-swiped someone, you get to choose between being friends, dating, or hooking up, and only if they choose the same as you, is your match complete. That's when you can start talking to each other. 
This is one of the best free university dating apps to meet students online, it cuts through the nonsense and connects you only to people that you will actually get along with. 
Available on: Google Play Store and The App Store 
Paid/Free: Completely free!
9. Zoosk – One of the best dating apps for college students
Zoosk is an easy-to-use online dating app for graduate students with a very user-friendly interface. Just like many other dating apps, you create your account using your Facebook account and Zoosk takes information about your interests from it. The next step is to create your profile and write a few lines about yourself. Then, we get to the matching part. 
On Zoosk, you get to find a match in three different ways. You can use the classic carousel with your right and left swipes or dive into the pool of profiles and add filters to narrow your choices down. Secondly, you can view the list of people who have liked your profile and choose one from them. The third and final option is to click on the "see who's online" button to instantly meet someone. 
Zoosk's recommendation feature is what places it among the better dating apps for university students. This means that apart from the filters that you put in, Zoosk also helps you find people who will fit your romantic type. This feature obviously gets more and more accurate as your activity on the app increases.
Available on: Google Play Store and The App Store 
Paid/Free: Free registration for basic use. You can become a paid member to avail some extra features.
10. Match – The only app that takes responsibility for your love life
What dating apps do college students use? There is no way you have not heard of this one. Match is one of the best dating apps for those who are looking for a serious relationship. So if you're looking for hookup apps, scroll down because this one is not it.
Features
You can send winks: Free users can create an online profile, upload a few photos, then flirt and "wink" to win new online matches every day 
More features than regular apps: A wider range of features, like to see who checks your profile and likes your photos, can be unlocked with your Match.com subscription
The company guarantee: Match guarantees that you'll find someone, and the best part is that if things don't work out, then you get to keep looking for another six months for free 
Even better is their "Missed connection" feature: This feature uses your location to match you with people you've already crossed paths with in real life, making it perfect for college students. You'll be able to meet people who are from your university
Available on: Google Play Store and The App Store 
Paid/Free: Free registration for basic use. You can become a paid member to use the extra features.
Related Reading: The Best Online Dating Advice For Men & Women
11. Happn – The best way to meet people near you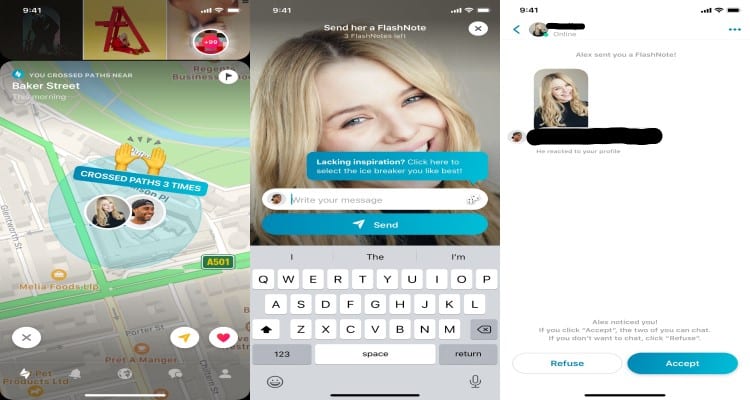 Happn is one of the best dating apps for students because it puts you in touch with people with whom you've crossed paths before. Innovative, fun, and different — this app is definitely a class apart. How cool is it that you'll be able to connect with people who are close enough for you to meet IRL?
Features
Meeting people in the vicinity: The app requires you to keep your location on so that it can cross-reference it with the location of other Happn users. It doesn't matter what you're looking for; something casual or a serious relationship, being matched with people who are around you is always a plus point. 
Easy to approach your matches: You can like the profiles that you're interested in and the app will put you in touch with them. The paid version provides you with the feature of saying "Hi" to other profiles which basically sends them a notification that you're interested in them.
Available on: Google Play Store and The App Store 
Paid/Free: Free registration for basic use. You can become a paid member to access the extra features.
12. Grindr – The ideal app for all the people who identify with he/him pronouns
A dating app for college students has to be inclusive. This is why, Grindr is the best dating app for students who are gay, bisexual, or men who are looking to understand their sexuality. Creating a profile on Grindr is easy enough. You upload profile pictures, choose usernames, answer a few simple questions, and finally select a "tribe" to describe your preferences. 
Features
It is free: Grindr is free to use but it has ads
A premium version: The premium version, Grindr Xtra, has ad-free browsing along with other features such as adding multiple tribes and advanced search filters 
STD information: Grindr has a unique feature which lets you show your STD information
What are the notable drawbacks? For one thing, unlike other dating apps, message push notifications require subscribing to Grindr Xtra. Also, Grinder is known to be a bit hypersexualized and more focused on a no-strings-attached type of relationship. So, if you're looking for a more meaningful relationship, it may not be the best choice. But it is the best place to experiment and explore, It has the unique option of displaying your STD information, making it one of the best hookup apps for graduate students. This feature is unique to Grinder.
Available on: Google Play Store and The App Store 
Paid/Free: Free registration for basic use. You can become a paid member to access some extra features.
Well, that brings us to the end of the list. Now, you are familiar with the best dating apps for graduate students. However, online dating can be rough, so be cautious. But that doesn't mean you shouldn't have fun. Go out there and enjoy your college life. Don't let the circumstances dictate how you live. All the best!
FAQs
1. Is Tinder good for college students?
It certainly is! Tinder has a wide user base of youngsters, making it a great place to meet like-minded individuals in college.
2. How do I find people to date in college?
Of course, there are the normal ways of meeting people to date. Finding someone in your class, meeting someone at a football game or in the library. But if none of that is working, you can try a cool dating app for college students that could help you meet someone.
Top 10 International Dating Sites To Find Love Around The World
31 Funny Ways To Start A Text Conversation And Get Responses!
Online Affairs Reshaping The Idea of Fidelity In Modern Marriage