To those who know the ache of being apart and feel the unyielding bond of affection, there is nothing better than poetry to express your feelings. All of human history has evidence of what a major role poems play in relationships, especially the ones where partners live apart. Do you and your partner love poetry too? You might be eager to send love poems for him long distance, but are wondering what will capture your sentiments effectively. There's so much to choose from: From writing long verses in letters to sending heartfelt text messages, long-distance love poems have come a long way.
Love poems that give words to your longing have been the way for people to feel connected to their long-distance lovers for centuries. Some people like to write them, others like to read and add to their collections, and some share them with their lovers. With our collection of long-distance love poems, you'll be able to capture the essence of longing, hope, and the enduring power of love. Each carefully woven verse is a testament to the strength and resilience of long-distance relationships that endure the trials of separation.
Long-Distance Poems For Him — 25 Gems To Keep Your Love Strong
A study published by Pew Research Center found that 1/4th of long-distance relationship couples still use email to share wholesome things like homemade videos, songs, stories, and of course, poems. If you've been searching for deep, meaningful love poems for him long distance, we have compiled a beautiful collection that will suit your preferences and bring a tender smile to your lover's face.
Embrace the vulnerability of distance and allow these verses to heal, inspire, and ignite the flame of your love. Let this compilation be a beacon of hope, guiding you through the toughest days. Love knows no borders, and we hope these poems about being apart from a lover are a gentle reminder of the same.
1. If You Were Coming In The Fall
There is no better way to start off than with the global favorite and a classical poet, Emily Dickinson. This poem is about love, time, and separation. It is written for and about someone who is away. Someone she wishes she would meet again, and soon.
Related Reading: Separation Anxiety In Relationships – What Is It And How To Cope?
If You Were Coming In The Fall
By Emily Dickinson
If you were coming in the fall,
I'd brush the summer by
With half a smile and half a spurn,
As housewives do a fly.
If I could see you in a year,
I'd wind the months in balls,
And put them each in separate drawers,
Until their time befalls.
If only centuries delayed,
I'd count them on my hand,
Subtracting till my fingers dropped
Into Van Diemen's land.
If certain, when this life was out,
That yours and mine should be,
I'd toss it yonder like a rind,
And taste eternity.
But now, all ignorant of the length
Of time's uncertain wing,
It goads me, like the goblin bee,
That will not state its sting.
2. One of the best 'miles apart' poems
You don't have to be a famous poet to write poems about being apart from a lover. The internet has become a great outlet for people to share their art with the rest of the world. One such outlet is for long-distance poems, such as this gem shared by a Reddit user:
Miles apart, yet one in love
I wait patiently and pray to above
How long til the time I next see your face
I can't wait for us to be in the same place
Looking to the countdown I mark each day
My heart skips beats as zero comes our way
By plane, by bus, by foot, by car
It really makes no difference how far
I would travel this distance daily to you
But if you can wait then I can too
With Skype we make our dates together
I know that this distance won't be forever
Dearest know, I promise to be true
I will always, always love you.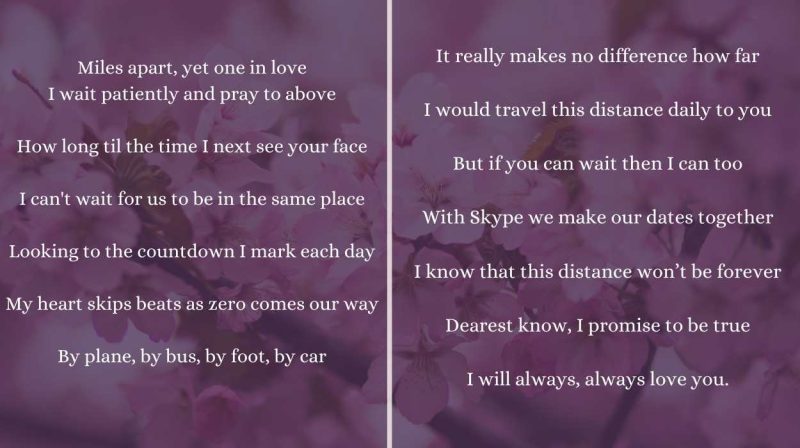 3. Poem For Haruko
Long-distance relationships are hard but worth it. There's an old saying that goes "absence makes the heart grow fonder." This famous poem about long-distance love embodies the essence of that quote.
Poem For Haruko
By June Jordan
I never thought I'd keep a record of my pain
or happiness
like candles lighting the entire soft lace
of the air
around the full length of your hair/a shower
organized by God
in brown and auburn
undulations luminous like particles
of flame
But now I do
retrieve an afternoon of apricots
and water interspersed with cigarettes
and sand and rocks
we walked across:
How easily you held
my hand
beside the low tide
of the world
Now I do
relive an evening of retreat
a bridge I left behind
where all the solid heat
of lust and tender trembling
lay as cruel and as kind
as passion spins its infinite
tergiversations in between the bitter
and the sweet
Alone and longing for you
now I do
4. What Christmas Means To Me
Being in a long-distance relationship is difficult as is, but celebrating festivals when you're soulmates separated by distance can be tough. Are you thinking about your lover and feeling blue? Here is one of the deep, meaningful love poems for him long distance that might bring both of you some comfort.
What Christmas Means To Me
By Shelagh Bullman
You're what Christmas means to me
You're the bright lights that sparkle,
On my Christmas tree,
You're the soft snowflakes
that floats through the air,
Bringing me happiness,
with songs of good cheer.
You're the loving words on my Christmas card,
You're my Christmas spirit
when missing you gets hard.
You're my Christmas joy, and the reasons I'm glad,
But baby Christmas without you is a little bit sad
You're the feeling of giving and receiving,
And baby you're why Christmas is still worth believing
You're my special Christmas gift wrapped up just for me,
Filled with love only I can see
You're my joy of the holiday cheer
But I miss you so much and wish I was there,
I would need no presents just you in my sight,
Cuddled up warm on a cold winter's night.
But for now thought I miss you and love you so dear,
I wish you happiness and lots of good cheer.
Merry Christmas
Related Reading: 21 Best Last Minute Christmas Gift Ideas That Will Receive On Time
5. Love poems about missing someone
Reddit page r/LongDistance has a huge community of people in long-distance relationships, sharing updates about their lives and loves. It is also a great outlet for people to share art dedicated to their lovers, like this poem for boyfriend long distance shared by this Reddit user:
I have missed people before.
I have missed friends that only stayed for seasons,
I have missed family while I've been far away,
I have even missed you before.
But I have never missed a part of me.
I've never missed so hard that my body hurts.
I have never missed until my brain tells lies.
I have never missed like this.
Missing you makes me sick.
It makes me do stupid things just to feel something again.
It reminds me of how lucky we were when you were here.
And it makes me terrified that our future will slip away while you're gone.
So I grow accustomed to the aching in my chest.
A tolerable companion.
Not necessarily wanted but somehow necessary.
Because I would rather carry the weight than let it be forgotten.
I will not let you fade away.
Because missing you is what keeps me alive.
And every word from you is like a breath of fresh air,
Knocked out of my lungs as soon as you hang up the phone.
Missing you forces me to trust.
To feel your love in new ways every day.
To grow a stronger heart than I ever knew I needed.
Missing you is worth it for the days I will never have to.
Related Reading: 44 Unique Birthday Wishes For Husband To Convey Your Love
6. Happy Birthday Sweetheart
Not being able to visit and celebrate the birthday of your partner in a long-distance relationship can bring such pain. Here is a poem about being apart from a lover on special occasions. Send it to your partner to make them feel loved:
Happy Birthday Sweetheart
By Lyndee A Champion-Ivey
It's that one special day created with you,
When wishes rain in for the year coming new.
You'll gather this year which traveled too fast,
Weed out the regrets of time reaped by the past.
Harvest the days God planted with blessings,
Your health, your family, and valuable life lessons.
Although we're apart on your day of the year,
With faith and God's love our hearts bloom without fear.
This wish I have picked for my heart's only love;
A garden of happiness and tending from above.
7. Love Online
In the age of technology, people have found many successful long-distance relationships online. But the usual downside is having to stay long-distance for a while, with no end date in sight. Here is one of the poems about trust in a relationship established online:
Love Online
By Jeremy
How did this happen, I continue to ask?
As I get online waiting for time to pass
You are now fast asleep half a world away
This distance is nothing, I mumble away
I never loved another who was so very sweet
I look forward to rubbing your feet
The smell of your skin, the warmth of your touch
Is all I want and so very much
As I ask permission to view your cam
My heart beats heavy; there is sweat in my hand
To be with you is my only dream
As the time passes I can't help but scream
Pulling my hair and stomping the ground
Please turn on your cam to see my frown
My frown turns around as I see you smile
Yes, I know baby, you leave in a while
Long-distance love is hard to grasp
But our love for each other will surely last!
9. Love Apart
Emotional poems about love can bring back many memories for people in long-distance relationships. It can be such a comfort to remember the good times when reading separation love poems that remind you of your partner.
Love Apart
By Rhonda L. Luther
Even though we are miles apart,
You are never far from my heart.
I loved you then,
I love you now.
It's always when
And never how.
Take me back to yesterday,
All the wonderful things you had to say.
I loved you then,
I love you now.
It's always when
And never how.
I see your eyes,
I feel you near,
Although you're not
Really here.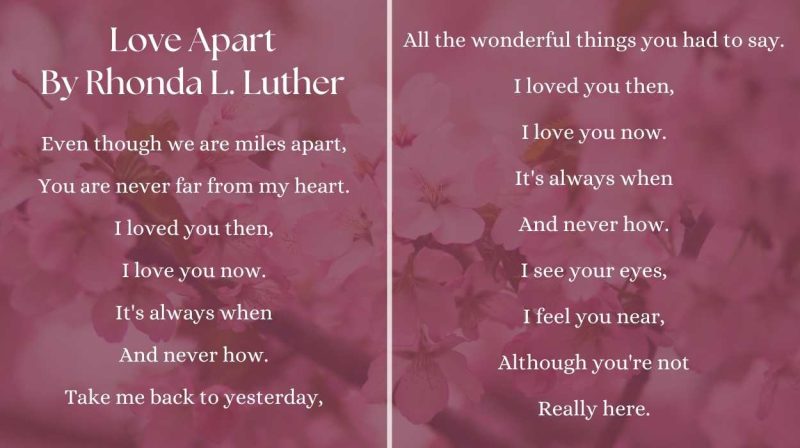 8. Morning
Another one from our collection of love poems for him long distance, this one is by the famous poet, Frank O'Hara. It's about how hurtful physical distance can become in an LDR sometimes:
Morning
By Frank O'Hara
I've got to tell you
how I love you always
I think of it on gray
mornings with death
in my mouth the tea
is never hot enough
then and the cigarette
dry the maroon robe
chills me I need you
and look out the window
at the noiseless snow
At night on the dock
the buses glow like
clouds and I am lonely
thinking of flutes
I miss you always
when I go to the beach
the sand is wet with
tears that seem mine
although I never weep
and hold you in my
heart with a very real
humor you'd be proud of
the parking lot is
crowded and I stand
rattling my keys the car
is empty as a bicycle
what are you doing now
where did you eat your
lunch and were there
lots of anchovies it
is difficult to think
of you without me in
the sentence you depress
me when you are alone
Last night the stars
were numerous and today
snow is their calling
card I'll not be cordial
there is nothing that
distracts me music is
only a crossword puzzle
do you know how it is
when you are the only
passenger if there is a
place further from me
I beg you do not go
Related Reading: Broken Heart Syndrome: When Your Heart Breaks, Quite Literally
10. Something
Some love poems for long-distance relationships talk about how it feels to yearn for even a little time together. Remembering good times is never enough; you need to be around your partner more than anything else in the world. This is one of the love poems for him long distance that captures that raw emotional need.
Something
By Constantine
I wish I could capture this moment forever
not with a camera but something far better
something that would enable me to remember how you taste
without my lips going near your face
something that would let me gaze at your eyes
even if we were below different skies
something that reminded me of the beauty of your scent
even if it was a place we never went
something that would make this fantasy true
something that connected me back to you
11. Fire Of Our Love
Amy Finley's famous poem about long-distance love tells you that love is many things, regardless of the distance between two lovers. This is an 'I love you poem' for boyfriend for those moments when you want to reach out to each other physically.
Fire of Our Love
By Amy Finley
The connection between us
Is perfectly forged
and is so strong
I feel it always
No matter how far apart we are.
The deep spark of our love
Is brighter than ever
And every thought I have about you
Seems to make the distance
Appear smaller
And smaller.
Until –
One day soon
That distance will disappear
Completely
And we'll be free to let our love's bright spark
Burn into a wildfire.
Related Reading: The 10 Second Texts That Will Make Him Smile For Hours
12. My Love, Though We Are Apart
Roper's love poems for long distance describe what it's like to experience true love in just four lines. Also a great poem to send to your lover if he's just getting into poetry.
My Love, Though We Are Apart
By Kelly Roper
My love, though we are apart,
My own heart abides with you,
Since it became yours the day we met
And with each beat, its love is renewed.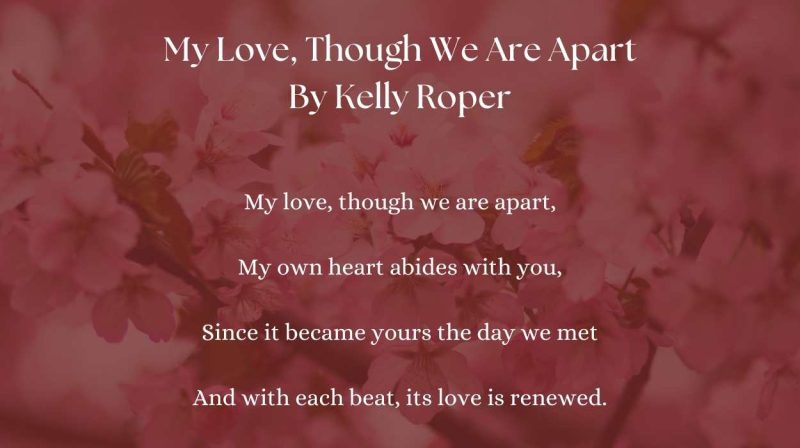 14. Love As One
This is a cute poem for your boyfriend who lives long distance. Tell him how much your time together means to you.
Love As One
By Angela Fernatt
Sleepin' in your arms
Feelin' safe from harm
Impatiently I wait for the day
That I don't have to see you go away
Years have come and gone
Yet our love has held on strong
The time has come
For us to finally be one
You are my true lover and best friend,
My soul mate and companion to the end
I hope to keep you happy
Never getting too serious or sappy
Your eyes that sparkle and shine,
That excites me knowing your love is mine
We both have hurt and cried
The love for each other never died
I promise with my heart to be true
Keeping my love, only giving it to you
From today forward, I promise this…
Our vows, our life as one, will be
Forever sealed with a kiss.
15. Happy Birthday My Soul Mate
Celebrating milestones, like a partner's birthday, when you're in an LDR can be a difficult phase to go through. This poem beautifully captures the reassurance and love that people share during such moments. Share it with your loved one and bring a beautiful smile to their face.
Happy Birthday My Soul Mate
By Manisha Shejwal
Though at the moment
we are poles apart
in my thoughts, in my actions
you are in my heart…
Each moment I think of you
though you are not near
Here come my wishes
to pray for you, my dear…
In your life ahead
may all your dreams come true
And you learn something
special and new…
May your worries
all fade away
And every happiness
embrace you each day…
May you always get
love and peace of mind
and togetherness with
the one of your kind…
May your each day ahead
end with a bliss
And what's more,
with a good night kiss…
Yet another year,
now has passed
Giving you the wisdom
little and vast…
Forty three years
have fallen behind
Next many and more
in a row are aligned…
Wishing you a Very
Happy Birthday my soul mate,
To count the years ahead
May the God forget!
Related Reading: 18 Long-Distance Birthday Gifts To Make Your Partner's Birthday Special
16. Secret Garden
Sometimes, love grows on you when you're away from your partner. With ample time for introspection and reflection on your feelings, you might realize your love for them has deepened more than you could have imagined.
Secret Garden
By JTH
You have planted a seed in the secret garden of my soul,
that I will water every day and give it love to grow.
I will nurture it and take care to give it all that it needs,
and grow a symbol of our love from this sacred seed.
As I watch it blossom I think of you here with me,
and dream of the blessed day when together we shall be.
If you are ever lonely or sad and blue,
step into our secret garden where I wait for you.
Come share in the splendor that our love has grown,
and in my arms by this rose let our secret be known.
13. Exile
Living far away from your beloved can be the toughest time in one's life. We present another famous romantic poem for missing someone; it feels intimate and sad at the same time.
Related Reading: 7 Tips To Make It Through The Hardest Months In A Relationship
Exile
By Harold Hart Crane
My hands have not touched pleasure since your hands,
No, nor my lips freed laughter since 'farewell',
And with the day, distance again expands
Voiceless between us, as an uncoiled shell.
Yet, love endures, though starving and alone.
A dove's wings clung about my heart each night
With surging gentleness, and the blue stone
Set in the tryst-ring has but worn more bright.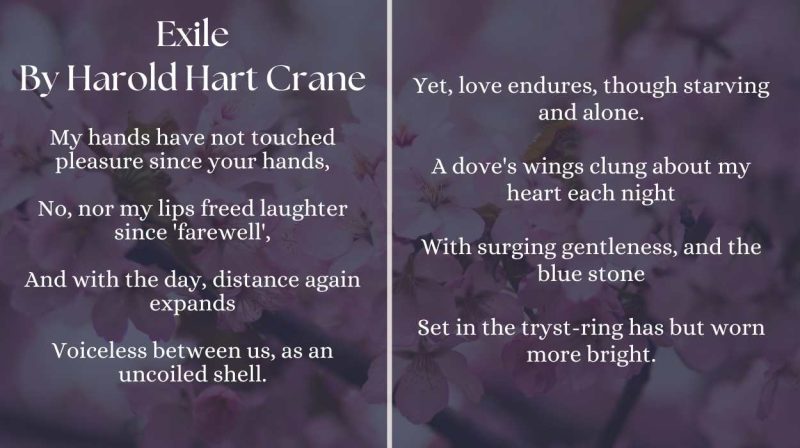 17. Long-Distance Love
The last of our Reddit gems, an anonymous poet posted this piece that outlines the longing, hoping, wishful thinking, and holding on for love that people do in an LDR.
Long-Distance Love
When it hurts so bad,
Why does it feel so good?
I wish this all made sense,
I wish I understood.
Not having you here with me is tearing me up inside,
but I can't stop thinking about you no matter how hard I try.
You know how I feel about you, and I know I want to spend the rest of my life with you,
but it's so hard to do when I can't even be next to you.
Why does it gotta be so complicated?
Loving you feels so right,
but at the same time,
knowing I can't have you keeps me awake at night.
I just want this to be simple,
I just want you here with me,
to look into your eyes,
be held in your arms … then I'd be truly happy.
Right now this distance between us is out of our control,
but I'm still hoping one day soon
I'll get what I'm wishing for.
18. Far Away Lover
This poem describes how it feels when even with seas of distance between you and your lover, no one else is closer to you than them.
Far Away Lover
By Janna Rutty
I lay in my bed and think about you.
I love you so much, I don't know what to do.
I feel your warmth at my side.
The pain in my heart moves to my eyes.
So far away, yet always so near.
You are the reason I am still here.
I await the times when we can talk
I await the times we can finally hold hands and walk.
To feel you for real … so close to me.
The happiest person in the world is what you would make me.
Your eyes shine like a million suns.
You shine more brightly than anyone.
Your smile so sweet can't help but make me smile.
It stops my world, even for a little while.
I await the time when my hand is in yours,
To hear you say those 3 little words.
There are still no words I can say to describe.
My heart, it aches; and my eyes, they cry,
But when we talk, my heart flies.
You always wipe away the tears I cry.
Even though you aren't here,
And I miss you so much, my dear,
I'll love you forever and ever.
I'll always love you, my far away lover.
Related Reading: 69 Romantic Miss U Messages For Your SO
19. Someone
Here is another one of love poems long-distance relationship that shows the strength of the bond shared by two partners. It's also a great LDR poem to confess your feelings for someone if you're wondering how to tell someone.
Someone
By Owain L. Derbyshire
Words simply can't describe
My feelings for you,
For my feelings are so many,
But words, they are so few.
Encouragement you give me
And a connection that is true.
I'm glad while reaching out
I found someone like you.
You give your love so sweetly.
I am lost if you are away.
You have me so completely.
I cherish you night and day.
You make me laugh
When I want to cry.
You make me happy
When you don't even try.
Your laugh makes me smile.
You make my life a better place.
I love everything about you.
You're someone I could never replace.
It's you that keeps me up all night,
The one getting me through the day,
And so it seems to me that there
Is only one thing left to say.
I don't know how to say it
To make it sound so true,
So I'll say it how I feel it.
I'm in love with you.
No distance can keep us apart.
You are someone I can't forget.
You will always be in my heart.
I know I'll be with you yet.
I will tell you from my heart
We will never drift apart.
You keep me from being blue,
And I love you for being you…
20. Thinking About You
When all you can do is think about your long-distance lover every waking moment, the day gets longer and longer. Here is one of the miles apart poems that puts figments of wishful thinking into words.
Thinking About You
By Gary R. Hess
When I ate today at noon
All I could think about was you
I wish you were here to do what you do
I wish I could feed you with my spoon
Hoping someday I will see your smile again
I do not know if I can take all this pain
Knowing that I am here and you are there
Thinking about the times we had and will not have
You are the best there ever was and will be
There is nothing to explain to you but lovely
Even when I was sad, you made me happy
I do not know what to do
I can only hope that one day I will get to see you!
21. Every Moment
Out of the many love poems for him long distance, this one expertly portrays how even the smallest moments are spent thinking about your long-distance partner. It talks about how your heart aches for a moment together.
Every Moment
By Amy Finley
As each star comes out to shine
As the wind rustles across the land
As the moonlight sweeps across the room
I'm thinking of you.
When the sun burns its morning greeting
When the birds chirp and swoop through the sky
When the leaves of the trees dance through the air
I'm thinking of you.
During the haze of late afternoon sun
During the smooth swirl and flow of the clouds across the sky
During the fade of the bustling day
I'm thinking of you.
While the twilight shadows begin to fall
While the evening air begins to chill
While the crickets begin their sweet evening chorus
I'm thinking of you.
Just as the darkest hour of the night falls
Just as the world is hushed and silent
Just as dreamland beckons,
I'm thinking of you
Every day
Every hour
Every moment
I'm thinking of you through the miles
and loving you.
22. My Gorgeous, Handsome Soldier
Sometimes, people inevitably have to watch their relationships transform into long-distance relationships. A spouse/partner joining the armed forces can be one of the reasons. Below is a reassuring poem that shows the strength and vulnerability of the poet toward her partner in the army.
Related Reading: 10 Best Military Singles Sites To Try In 2022
My Gorgeous, Handsome Soldier
By Beki Coxon
Today my heart is aching
For a man that's far away.
I would give anything to hold him,
And any ransom I would pay.
I find my mind just wanders
To a sandy barren hell
And pray that my loving thoughts
Find my soldier safe and well.
Each night before I go to bed
I look up to the skies,
And the moon brings me comfort
As my tears brim in my eyes.
Despite the miles between us,
We still share the stars and sun,
So I gaze upon them often.
It helps me know we are still one,
So as I lie down on my pillow,
I close my eyes and think of you.
Not only in my waking moments,
But you are in all my dreams too.
My gorgeous, handsome soldier,
I love you with all my heart,
And the hardest thing I've ever done
Is have to accept we had to part.
But our love is so much stronger
Than any force I've ever known.
In the short time we've been together,
It's amazing how much it's grown,
So until we are reunited,
Please stay safe and strong.
My heart is yours forever.
With you is where it belongs.
Think about me often,
My gorgeous, handsome man.
To wait for you forever
Is my battle plan.
23. A Long Distance Love!
After a long time of wanting to see the precious sight of your loved one coming toward you, waiting becomes restless. Such relationship poems display the raw emotions when lovers want the distance between them to end as soon as possible, a sign of their eternal love.
A Long Distance Love!
By Jessica Andress
A thousand kisses will never be,
Enough to satisfy my craving heart's plea,
Tomorrow will be the day I love you more,
Than today or yesterday or ever before,
Words and phrases will never do,
What my heart feels so deeply for you,
The deeper and deeper my feelings go,
My head is spinning to and fro,
I want you here forever and more,
For our hearts to join and explore,
Our hearts beat and beat as one,
Feel what I am feeling, as it has only begun,
Yet, slowly my desire turns to rage,
My heart feels as though it is within a cage,
You are so close, yet so far,
At times like this, I wish upon a star,
I wish you were here and not over there,
Yet life is hard as well as unfair,
All I can do is wish and wait,
Until we meet again, as that is our fate,
I love you more than my words can say,
And forever, my love will grow with each passing day,
Until the day I gently hold your face,
Kiss your lips in a candle lit place,
Hold you close and feel you near,
Kiss your cheek and whisper in your ear,
Feel your soft skin beneath my hand,
Feel your energy inside expand,
I will wish for that moment as I always do,
And I have wished upon a star, so my wish will come true.
24. I Can't Stop Thinking Of You!
It is true. Someone in love can hardly think of anything or anyone other than their beloved. These love poems for him long distance depict exactly how it feels to be living separately from him, and not being able to stop thinking about him.
Related Reading: 25 Ways To Show Someone You Care
I Can't Stop Thinking of You!
By Jennifer
I look at the clock,
It says 1:41,
I know thinking of you, I will never be done.
You run through my mind,
and occupy all my time,
Wondering why you are gone and why you are not mine,
I think of you constantly,
For some reason, I cannot stop,
Knowing that for always,
You will forever have my heart,
My days go by so slowly because you run through my head.
I said I love you forever,
Is that not enough to say,
You also haunt my dreams, if you know what I mean,
I wake up often with sweets and creams.
Why do I sleep by myself,
I am alone in my bed,
I know I will be thinking of you,
Till the day I am dead,
Now, still all this thought,
Just run through my brain,
I cannot stop thinking of you.
I think I am going to be insane!
25. Ache of Longing
We're ending this compilation on a bittersweet note. Here's a sweet token of appreciation for poems about distance between lovers.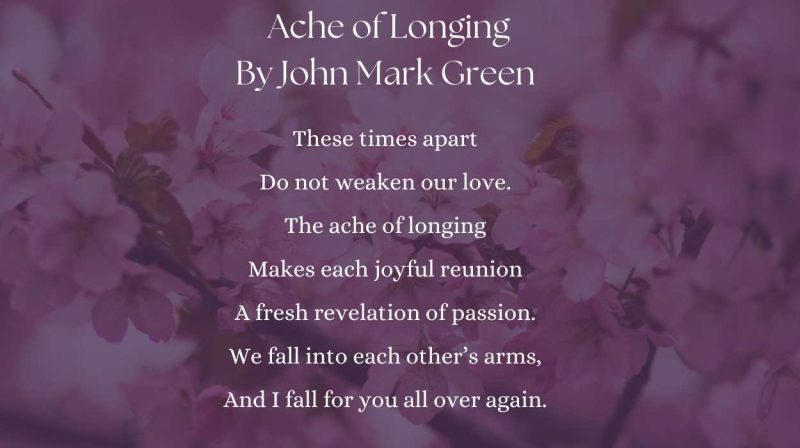 Ache of Longing
By John Mark Green
These times apart
Do not weaken our love.
The ache of longing
Makes each joyful reunion
A fresh revelation of passion.
We fall into each other's arms,
And I fall for you all over again.
Key Pointers
Express your feelings for your long-distance partner by sending romantic love poems to him. We've compiled a list of 25 such beautiful poems
As you immerse yourself in this anthology of emotions, you will discover verses that mirror your own experiences, bringing comfort and solace in knowing that you are not alone in your journey
Whether it's a handwritten letter sent across oceans, a late-night call under starry skies, or a virtual embrace shared through screens, these poems honor the little moments that make the wait worthwhile
We hope, dear readers and lovers, that your heart has been carried away by these relationship poems. Together, let us celebrate the bond that blooms despite the miles, the faith that whispers through the winds, and the sweetest love that shines brighter than any constellation in the sky. We hope our collection of verses conveys the indomitable spirit of long-distance relationships.