So, it's all set! The surprise birthday party, the gift, the birthday shopping list, the prep work for the birthday cake you have decided to whip up in the kitchen. You have ordered the flowers and selected the wine. You have done everything you could. Finding the right birthday wishes for husband would be the cherry on the cake of this perfect day you have planned for him.
Your husband is a lucky man. You have given your time, thought, and energy to making your beloved husband's birthday memorable. And we are sure he is going to be so grateful for all your efforts. Now all that remains is a beautiful arrangement of words – a string of pearls – a sentence or a few to convey your deepest affection for your soulmate.
Allow us to bring to you 44 one-of-a-kind, absolutely original, funny, romantic, witty, artistic, but most importantly heart touching birthday love notes for husband. These will go extremely well inside a greeting card, as a love letter to a loving husband, a love note to go with your gift, a text message, an email, inside a diary, or even akin to the reading of your wedding vows. If your husband has a lyrical soul, we also include love poems for your husband. And if your husband is away this year, we have that covered too!
Simple Birthday Wishes For Husband
These love messages for husband on his birthday are straightforward. If you don't think of yourself as the wordy sort, you will feel comfortable using these. Here we ditch flowery prose and labored style, and focus on the message. These messages are all heart and their sincerity will surely reach his soul.
1. I say these three words with 3 thoughtful deep breaths. I. Love. You. And I mean it most sincerely. Happy birthday, beloved husband! Hope you have a wonderful day.
2. To my awesome husband, I might not say it every day but I wake up each day forever grateful that you were born. Have the best and happiest birthday today. You are such a wonderful husband and you have given me such a blissful life. I love you.
3. To the most handsome man, Oh! What would I do if I didn't have you? Thank you for being born. Thank you for existing. I am praying for our everlasting love. A very happy birthday my love. Yours forever, Wifey
4. Dear Love, I will take this opportunity to tell you that you mean the world to me. I feel like the luckiest person alive. I wish we celebrate many, many birthdays together in the years to come. Have the best day today, dearest husband. Happy b'day! I love you!
5. My darling husband, it's your birthday today. We can't wait to cut your birthday cake with you, clink glasses together, and wish you a healthy, wealthy, and bright future. HBD! Love, me and the kids.
6. Words won't be able to describe how special and perfect you are to me. How generous and kind and giving you have been in our life together. What a perfect marriage we have. I just want to say I love you so much and I hope you have a very happy birthday sweet husband.
7. Being able to share this life with you is my biggest blessing. Growing old with you is what I look forward to. Many birthday kisses, love! Yours forever.
8. With every new day, my love for you only grows. At every birthday, I feel I need more words to tell you how much more I have begun to love you. I hope my words do justice. Have a happy day today. May you get everything you desire. With love forever, _____ (pet name)
9. My dearest ________ (name), happy birthday my sweetheart. I look forward to celebrating your day with you. I pray to God that we get to celebrate many more birthdays, yours and mine, together in the future. Birthday kisses, ______ (name)
10. To my significant other, it's your birthday! I couldn't be more excited to celebrate the man you are today. Let's make this one special. Many happy wishes to you on this day, love. Happy b-day!
11. Here are some lovely birthday wishes for you, a dear partner in crime. Hope you have a joyful birthday and an even more joyous year ahead. May you spend your day with the people you love. May you be blessed with perfect health and peace of mind. I wish this and much more for you. Happy Birthday.
Related Reading: 35 Questions To Ask Your Husband For A Heart-To-Heart Conversation
Unique Birthday Wishes For Husband
Don't want to stick to the usual format? Bored of love quotes for husbands? Want to ditch happy birthday card messages this year? Looking for crazy and unique ways to wish a happy birthday to your husband, but still want to put your feelings in words? Let us look at a few unique birthday wishes to convey your love to your husband.
12. Looking for love poems to the husband but want to keep it classy? Take help from literary greats and borrow a few lines. Play with them and adapt them to your lovely husband. How about this wonderful poem by Christine Rosetti?
What we did here: We changed alternate lines. Odd lines are Rosetti's original while even ones are by yours truly, meant especially for you. Take the poem as it is. Or play a little with the words and make them your own.
My heart is like a singing bird
It can't stop singing. Oh, shoot!
My heart is like an apple-tree
Well, that's your favorite fruit!
My heart is like a rainbow shell
That we picked up when we went to sea;
My heart is gladder than all these
Because _____(name), my love is come to me.
Because the birthday of my life
has come, my love has come to me.
Related Reading: 10 Best-Selling Relationship Books Couples Can Read Together
13. Dear husband, I could look at your name and think of all the qualities you possess and it would all be true. Look:
P– Passionate
E – Enigmatic
T – Thoughtful
E – Emotional
R – Responsible
Love, J- Just yours
14. Dearest husband, I will take one adjective I attributed to you from our wedding vows and share it with you every birthday. This time it is ____ (fill with an adjective you like, eg. kind-hearted). You can't imagine my joy when I see you grow into an, even more, kind-hearted (an adjective of your choice) person every year. I hope you like my romantic gesture.
15. Write a letter to the almighty instead, thanking them for creating your amazing husband and sending him your way. If you are a nonbeliever but still spiritual, you can address it to the Universe. Or to the One Above All, if you are a fan of the Marvel multiverse. Here is an example:
Dear husband, I thought of writing to you today but felt I should write to the almighty instead.
Dear Universe/God, 40 (your husband's age) years ago, you brought a star onto this Earth and made it possible for me to meet him one day and have the honor of his companionship. Thank you for bringing my husband into this world and giving me a chance to know what love is. Yours ever grateful, Annie.
16. You can get creative with your birthday wishes for your husband. Instead of putting pen to paper, send him a colorful, heartfelt birthday wish and get him to date an artist in you. Pick up a few colored pencils or colored felt tip pens and fill in a mandala design. Write to him the following text to go with it:
My love, you are such a wonderful husband but most importantly an amazing person. I did not know how to express it to you yet again in another form. Art is meditative, they say. So, I kept all distractions aside and filled this picture in with colors all the while thinking of wishes and prayers for your good health and happiness. Hope you like it! Love, (name)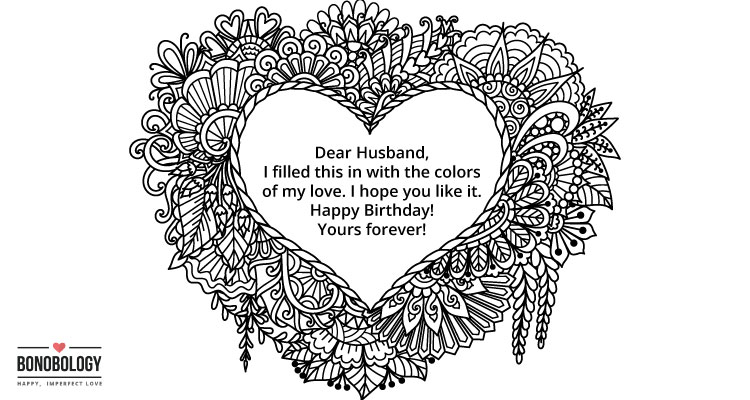 Romantic Birthday Wishes For Husband
You love your beloved husband with all your heart and would like to pour out those bubbling, gurgling, oozing feelings of love and gratitude. Words can help you do just that. We bring to you just the kind of words that can wish a happy birthday to husband and tell him how much you love him and how glad you are to celebrate with him the anniversary of his birth. Here are some romantic birthday wishes for the love of your life. Write it inside a card or as a letter to a loving husband.
17. Dear ______ (name), Remember when you were a child? Today, I want to bring back that child-like excitement and remind you how special your birthday is, not just for you, but for all of us in your life. Thank you for being in my life. Yours, _____ (name)
18. Dear Hubby, you don't ask for much. You never do. You are so generous and kind. But this is your day. Allow me to cheer you up on your special day. Allow me to tell you how much you mean to me, and how thankful I am that you were born. Love, ______ (name)
19. Happy birthday to the special someone I care about more than any other person. Happy birthday to my best friend, my life partner, and my husband. These birthday wishes carry my love, with every word sincere and deep from my heart. I am so grateful for the deep soul connection we share.
20. Dear beloved, you are the one for me. And I have known that right from the day I met you. Since then, I have only loved you more and more. My heart is filled to the brim with love for you and yet my feelings for you continue to deepen and grow. May you have the most beautiful day, my love. Happy birthday, hubby!
21. You are the only person in this world for me. I am the only person in this world for you. Maybe you were forever meant to be my special person since the day you were born. I love you, my love. Have a happy birthday!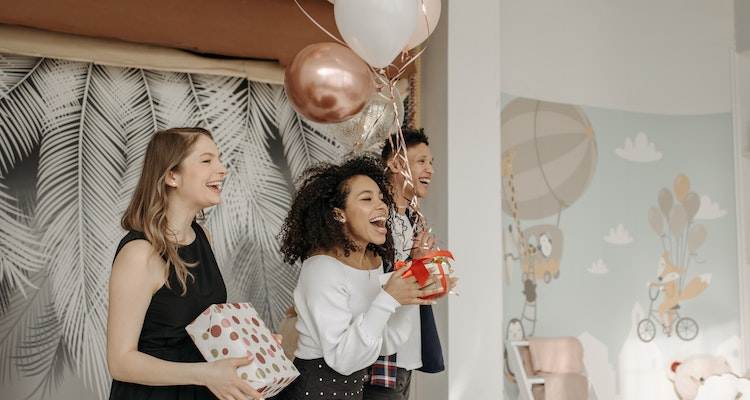 22. I wanted you to have a perfect birthday. I got you a gift, baked you a birthday cake, and said a prayer for you. I did these because I am no poet. I hope these small gestures can convey how much you mean to me. I hope my actions speak louder than these words. I love you. Happy birthday, hubby!
23. Hey baby, you are the kindest husband. You have the most contagious laugh and the most beautiful eyes. Life with you isn't just a fairytale, romantic but elusive. My life with you is a living testament to what happiness, understanding, and partnership are. I feel blessed to have you. This is why today is a special day for me too. Have the best birthday.
24. You are not only my husband, my best friend, you are my lover. The chemistry between two people couldn't be more sizzling. But more than everything, you are genuinely the nicest, kindest, person I know! That is why this day is so special not only for you but also for me. Happy birthday, lover.
25. Being in a relationship with you has been the gift of my life. It has been truly life-changing. And none of it would have been possible if not for this day ___ (husband's age) years ago.
Today, let us celebrate you, my dear!
26. I wish we didn't need one day in a year to celebrate your presence on earth. I wish we could celebrate with you every day. I wish I could tell you every day that your presence in my life is nothing short of a miracle. You are such a handsome man, the perfect husband, (with the warmest smile, a contagious laugh, and kindest eyes), that my skin hurts from pinching myself! Many happy returns of the day, ____ (name). I love you with all my heart.
27. The earth took another turn around the sun, and with it has come your birthday. You are my sun, my star, and I the smitten planet revolving around you basking in the warmth and aura of your personality. You are my everything! HBD sweetheart!
Related Reading: Is Unconditional Love In A Relationship Really Possible? 12 Signs You Have It
Love Notes To Husband To Go With His Birthday Present
Got him a pretty amazing meaningful gift but can't think of equally meaningful words to accompany the box? Happy birthday card messages sounding too repetitive? Here are a few love quotes for husband and other romantic things to tell him, that you could write on the accompanying card. They would go perfectly well with that thing you have got for him, translating your love into words.
28. Every birthday of yours reminds me how grateful I am for the gift of your companionship. No birthday gift can compete with that but I still hope you like this little something I handpicked for you!
29. I looked through the world but couldn't find anything that could hold my love for you. I still went ahead and bought something. It's nothing compared to what I actually want to give to you but I hope it's something and that you like it.
30. I spent weeks thinking of the perfect gift for you but everything seemed to fall short. So here is an empty box full of my love. Just kidding (or am I?)! There's only one way to find out. Happy Birthday!
31. I tried to wrap my heart in a pretty felt paper for you but that would mean missing out on living this beautiful life with you by my side. Which is why I had to do with this little something I got for you. Hope you like it! Here's to hoping our honeymoon phase never ends. Cheers!
32. When I saw it sitting on the shelves, I felt it was meant only for you. I am glad I found it (just the way I am glad I found you). And I can't wait for you to tear it open and enjoy what it contains. I love you, handsome husband! I wish you all the happiness in the world. Happy Birthday!
(Sexy and) Funny Birthday Wishes For Husband
Your husband is not only your love but also your best friend, your buddy. You flirt with your eyes, now flirt with your words. If your relationship thrives on friendly banter and flirtatious remarks, these flirtatious, teasing, funny birthday wishes for your significant other may just be what you need to laugh with your sexy husband on his special day.
33. Let us celebrate your birthday the way you arrived in this world. Warm, wet, naked, and screaming! *wink* Happy birthday, honey!
34. Here are some awesome birthday wishes. May you grow old, sexy, and strong. May you always have a wonderful wife to celebrate your special day with. May you have the most romantic birthday with her. Happy birthday, dear husband!
35. I spent the entire day looking through the internet for nice birthday wishes for husband, and in the process, missed throwing you a party! "Happy birthday, baby!" is all I've got for now, and let me make it up to you later.
36. Good days become joyous and bad days become bearable because of you. I know for sure that your companionship is my gift. I hope my companionship is yours. Because I forgot to get you a present! I wish you all success and happiness. Hope you have a fun birthday.
37. Hey honeybun, let us spend today envisioning our future together. I don't want us to be bothered by the present (because I forgot to get you one. Jeez!) Haha. Happy birthday, sweetheart
38. Hi Mister! I have a huge bone to pick with you. Can you do anything right? You even suck at looking old! Happy Birthday, handsome!
39. Life with you is a hoot…and you are the owl! Life with you is a carnival…and you are the joker! Happy birthday from the craziest woman alive. Crazy for falling in love with you? No! Crazy for you!
Long-Distance Birthday Wishes For Husband
Are you two separated by distance? Has the husband been away for work? Have you had to shift to a new city for that new job? When you are away from the one you love, words are all you have to contain the ocean of emotions. Here are a few lines to help you ace that long-distance relationship by wishing your husband a happy birthday from a distance, and special happy birthday poetry for husband who is blessed with another year in his life.
40. On your special day, my heart is longing for you, my handsome lover. But I tell myself that the distance between you and I is only skin thin. I put my hand to my chest and touch you. You live in my heart. I hope you have been having a happy birthday, my awesome husband. I can't wait to say it to you in person.
41. You are far away, my love. I'm counting down the days until we meet. Hopefully, the sun will shine brighter then and the days will seem less grey. I miss you so incredibly much, words couldn't carry that weight. I love you with all of my heart and am sending my heartiest, warmest, coziest birthday wishes to you. Happy birthday, dear hubby!
Related Reading: 23 Virtual Date Ideas For Long-Distance Couples To Feel Closer
42. I take this distance between us as a challenge that we can easily overcome. That's how powerful and eternal love is. Even though I can't be with you today, I hope the people around make it special for you. I hope my love reaches you through the warmth you are surrounded with. Happy birthday, honey! I wish you all the happiness.
43. You are miles and miles away,
but it is still your special day!
We are spending your birthday apart,
But you are still in my heart!
I'll do everything I can from here,
To pray for you and bring you cheer!
I hope you enjoy your special day,
My dear husband, have a happy birthday!
44. Dear husband, you and I may be far apart but we have many shared things. The sun that rose from the horizon and shone on you is also here outside my window. Tonight, it will be the same moon that looks upon both of us. Drench in its light and soak in all my love and wishes. I love you, dear husband.
We hope these love messages for your husband are capable of holding the weight of your enormous love. We hope these words can do justice to the life you two share. Don't forget, your love is one of the best birthday gifts you could ever give to your husband. He is as lucky to have you as you are to have him. How can we sign off without wishing the best for you and your beloved partner! Happy birthday to your husband!
18 Long-Distance Birthday Gifts To Make Your Partner's Birthday Special