Looking for reviews of the Upward dating app to decide whether you want to join the platform or not? Then this article is for you as we're going to look at its different aspects in detail. But how does Upward dating app work differently from the other apps? Let's look into this, and more, so you can make a better decision. 
In this modern world where it's hard to find a partner who matches your preferences and tastes, it's even harder for religious individuals to find love. It's because they'd not only want a serious and committed relationship but also someone who shares their faith. Therefore, dating apps such as Upward are lifesavers as they help bring together a group of people from the same religion. 
You don't have to depend on church congregations anymore to find someone because through this app, you can choose from a large number of people who share your values. We're going to explore the different sides of the Upward dating app reviews in the subsequent sections so that you have a better idea about the platform, and see if you want to join it or not.
What Is Upward?
And how does Upward dating app work? It's for those who want to make their faith and commitment to their partner the utmost priority in their dating life. It's centered around Christians between the ages of 18 to 35 and is open to all the different Christian communities, whether one's a Catholic or non-denominational. Through this article, we'll see how to use Upward dating app and other features of this platform to give you a holistic perspective on this platform. 
Is Upward dating app legit? To answer that, let's read one of the Upward reviews, "I liked that it was simple, easy to use, and didn't have especially lengthy bios. You only chatted with people who were also interested in you and it felt like you could pretty quickly and easily get a sense of if it could go somewhere with that person. It worked for me, so I definitely have to recommend it!"
The dating site is largely populated by members looking for serious and long-term relationships. So if that's what you're looking for, this might just be the platform for you. Through Upward dating app reviews and our experience on the app, we will give you a better idea of whether this platform is the right fit for you or not.
Related Reading: Elite Singles Reviews
How To Sign Up On Upward Dating App
It's very easy to create a profile on the Upward dating app. Just follow the steps given below and your account on the Upward app will be created in no time. The information asked in the different steps of this process is meant to help you find more relevant and compatible partners, so answer them to the best of your capabilities. 
"It's a great platform, great idea, the features that they have in the dating profile are excellent, concise to the point. Love that they have a bio and a spot to share about faith," a user wrote about the app.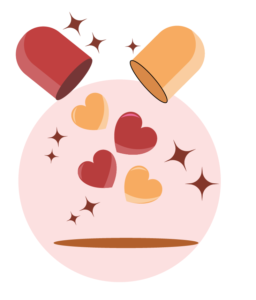 Get your dose of relationship advice from Bonobology right in your inbox
Let's now look at the different steps of the Upward app signup process:
You have to first register with your phone number. This is because this Christian dating app is only created for mobile platforms, which is why your phone number is compulsory
After your number, you'll be asked for some basic information such as your name, gender, and Christian denomination. You'll also be asked for your profile picture
In the above step, you also have the option to write about your faith and yourself in separate spaces. It's recommended that you fill these in as much detail and thought as possible
In the next step, you have to select your preferences. What is it that you're looking for in a partner? This will help filter the accounts on the platform and provide you with specific profile recommendations for more compatible matches
And that's it. You can start using this Christian dating app once you've gone through all these steps. You can take the premium membership if you so prefer, or you can browse the platform using free features
Related Reading: HUD App Review – The Full Truth
Pros And Cons
In this section, we're going to look at everything good and bad about this platform in one place. Through all the pros and cons of the Upward Christian dating app, you'll be able to make a better decision about joining this platform. These different pointers have been taken using several Upward reviews as well as our experience of using this app.
| | |
| --- | --- |
| Pros | Cons |
| Perfect for Christians looking for a serious and committed relationship in their faith | It's a new app in the dating world, which means the number of profiles is limited |
| App interface is very similar to Tinder, which is easy for most users | Not many search filters are available |
| Profiles are verified by the platform  | Not available for desktop users |
| Welcomes all Christian affiliations | You can only sign up via your phone number |
Quality Of Profiles And Success Rate
If you're looking for what kind of profiles Upward Christian dating app has, this section will help you with that. You can look at the different matches by clicking on the 'matchup' menu where you can either 'like' a profile or 'pass' them by. You can also get more details about a profile before making a decision by clicking on their picture.
Information for each profile, such as their bio and religious affiliations, can help you make a better decision. Since it's a new platform, the success rate of the Upward dating app hasn't been measured. But judging by the quality of profiles and user experiences, it's a great platform to choose a life partner of your preference who shares your faith. If you have questions like "Is Upward dating app legit or not?", you can go through the numerous user reviews about the platform.
"We have no doubt that God used this app to bring us together. We have been married for almost 6 months now and continue to have a blast every day. He is truly my best friend and I cannot thank the Lord or Upward enough for sending me the man of my dreams! We are so grateful for you and cannot wait to continue our journey together!" one user wrote.
Related Reading: Zoosk Reviews: A Balanced Analysis Of The Popular Dating App
Upward Dating App's Best Features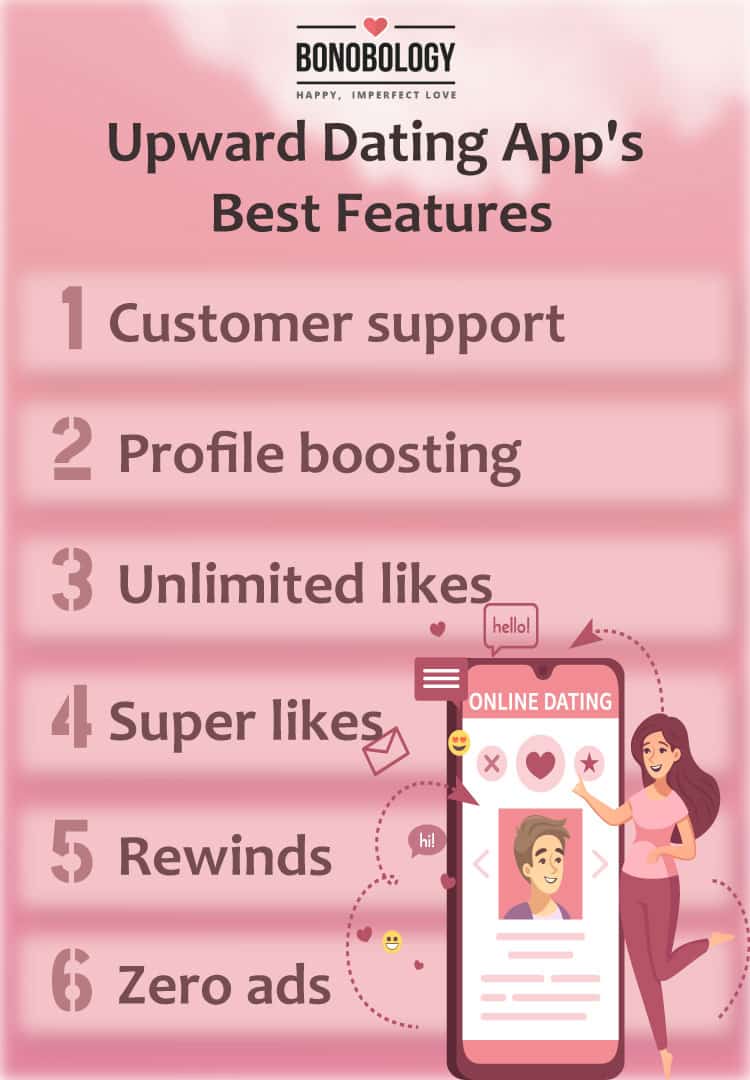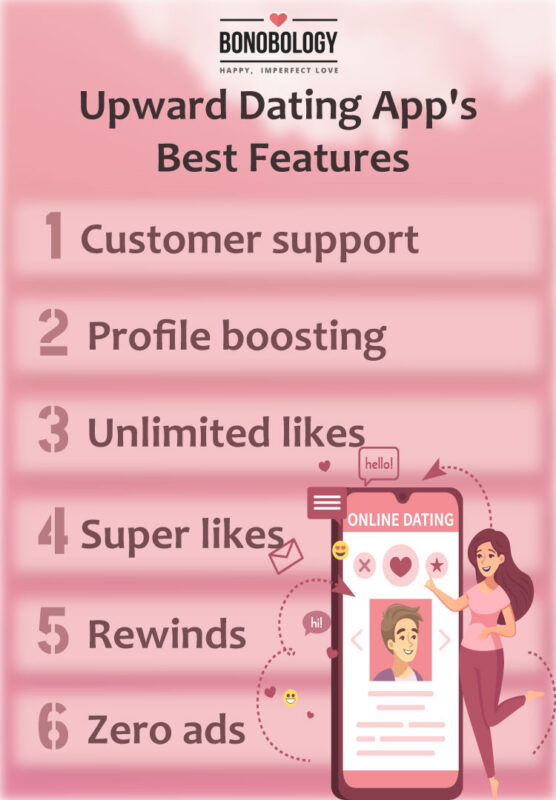 This section will highlight the best features of the Upward dating app. By having an overall idea of what the Upward app provides, you can make a better decision on whether you should go for their premium membership or not. It's because you have to purchase their paid plans if you're serious about finding a partner on the Upward Christian dating platform. These features help you date online successfully to find your ideal partner.
1. Super likes
Every Upward Christian dating platform premium member gets five of these super likes every day. When you super like any profile, they get directly notified of it and you also appear in their matches. This means that you have a much higher chance of matching with someone you think suits your preferences.
Related Reading: SilverSingles Review – What You Need To Know
2. Rewinds
There's a good probability that you will left-swipe a profile that you like while left-swiping several profiles one after another. But you don't have to worry about that while using the Upward dating app. It's because of the rewind feature that allows you to bring back the profile you accidentally swiped left on. And what's more, you have unlimited rewinds available!
3. Zero ads
Some platforms showcase ads even after you have purchased their premium membership. Not with the Upward app! There are zero advertisements on the website after you get one of their paid plans. This ensures a more distraction-free browsing and dating experience.
4. Unlimited likes
While you get only the five super likes every day, you can 'like' any number of profiles. This ensures that there's no restraint on your browsing experience on the dating site. Each day, you can like as many Upward dating profiles as you wish to.
5. Profile boosting
Want to ensure your profile is in the top few results when someone searches in your area? With profile boosting, you can do just that. This implies that if you're a potential matchup for someone in your region, your profile will be shown in the top few search results on the Upward dating app. This feature is available once a month for every user to ensure fair use.
Related Reading: Coffee Meets Bagel Review – Everything You Need To Know
6. Customer support
It's very easy and convenient to contact Upward dating customer care. You can contact them by going to the 'contact us' tab under the settings menu. Alternatively, you can send your queries and comments to their helpline email address. The resolution is usually quick and effective, making sure you have a smooth experience on the platform. The FAQs section on the app usually helps solve most of your queries.
Subscription Pricing
Now that you've gone through the Upward app reviews, in this section, we're going to look at the different pricing options available on the Upward dating app. This will help you decide if you want to go forth with the paid membership options or not. There are two paid membership options available on the Upward dating app, Premium and Elite.
With the Premium package, you can see who has liked your profile and, thus, revert back if you'd like to. To get most of their attractive features, however, you'll have to purchase their Elite membership which gives you unlimited swipes and likes, zero ads, and daily super likes. It also gives you unlimited rewinds and free profile boosting every month. The pricing options here are quite affordable relative to other dating platforms out there.
| | |
| --- | --- |
| Package | Price |
| 1-month Premium membership | $9.99 |
| 1-month Elite membership | $19.99 |
| 3-month Premium membership | $14.99 (comes to $4.99 per month) |
| 3-month Elite membership | $29.99 (comes to $9.99 per month) |
| 6-month Premium membership | $23.99 (comes to $3.99 per month) |
| 6-month Elite membership | $47.99 (comes to $7.99 per month) |
Our Verdict
If you're looking for a Christian dating platform that's also easy to use, the Upward dating app is a great option. There are members from various Christian denominations on the app that makes sure you find a compatible partner as per your preferences. It provides you with a range of features that help you get noticed by relevant profiles for an easy matching process.
In our Upward app reviews, we've seen these features and how they can assist in making your dating experience smoother and better. The paid membership options are affordable in comparison to several popular apps and the features offered are worth the price. The app is quite easy to use because of its swiping feature that's similar to Tinder and has a decluttered appearance.
In this review, we've gone over how to use the Upward dating app, its pros and cons, and other aspects of the app. Through these Upward reviews, I'm sure you've got a better idea of how the app works and if it's a right fit for you or not. For those looking for a serious relationship within their faith through an easy-to-use app, the Upward dating app is a great place to be.
One of the Upward app reviews stated, "If you're the kind of guy who's struggling to get attention on other apps like Tinder or Bumble, and you're also a Christian, this one might be a little better for you."
Final rating: 8.5/10
FAQs
1. Is Upward a good dating app?
Yes, Upward is a great dating app for Christian singles looking for a meaningful relationship in their own faith. With its affordable membership options and simple interface, it ensures a great dating experience. 
2. Is Upward a free dating site?
You can talk to other members via the free membership option on the platform. But if you are serious about dating and want to access most of the features of this platform, taking a premium membership is recommended. With these features, you have a better chance of finding a partner on this platform.
3. What does green star mean on Upward dating app?
The green star appears when someone uses the Super Like feature on the Upward app. It helps them boost their profile to the top, for the profiles they've liked, and provides a better chance of matching.