upward dating app
Looking for reviews of the Upward dating app to decide whether you want to join the platform or not? Then this article is for you as we're going to look at its different aspects in detail. But how does the Upward dating app work differently from the other apps? Let's look into this, and more, so you can make a better decision. 
More than just a matchmaking tool, the Upward Dating App cultivates a community where kindred spirits gather to explore the intricate realms of companionship, romance, and faith. Recognizing the challenges that modern Christians face in finding partners who resonate with their spiritual values and the shortage of quality Christian dating apps, Upward offers a safe and welcoming environment to interact, ensuring that faith remains the focal point of every conversation.
You don't have to depend on church congregations anymore to find someone because, through detailed profiles that highlight the individual dedication to faith, interactive communication tools that facilitate genuine conversations, and an overall ethos that celebrates Christian values, Upward empowers users to forge connections that align with their deeply held convictions. We're going to explore the different sides of the Upward dating app reviews in the subsequent sections so that you have a better idea about the platform, and see if you want to join it or not.
Who Can Sign Up On Upward?
The Upward dating app is for those who want to make their faith statement and commitment to their partner the utmost priority in their dating life, and hence it is open to a niche community. Let's take a look at who can join the Upward app.
Anyone between the ages of 18 to 35.
Must be a Christian. The app is open to all the different Christian communities.
Legally qualified to enter a binding contract with Upward and meet all their terms of use
Live in the United States or Canada
The Christian dating site is largely populated by members looking for serious and long-term relationships. So if that's what you're looking for, this might just be the platform for you. Through Upward dating app reviews and our experience on the app, we will give you a better idea of whether this platform is the right fit for you or not.
Is the Upward dating app legit? To answer that, let's read one of the Upward reviews, "Looking for authenticity can be difficult in our society, but Upward provided an unexpected opportunity for love! Finding someone who loved Jesus and had a real relationship with him and could carry on a deep conversation was something new for me to experience"
Related Reading: Elite Singles Reviews
How To Sign Up On Upward Dating App
The Upward dating app makes it incredibly simple to build a profile. Simply follow the instructions outlined below, and your Upward app account will be created in no time. The information requested in the various rounds of this procedure is intended to assist you in finding more relevant and compatible companions, so respond to the best of your abilities.
"It's a great platform, great idea, the features that they have in the dating profile are excellent, concise to the point. Love that they have a bio and a spot to share about faith," a user wrote about the app.
Let's now look at the different steps of the Upward app signup process:
Mobile Gateway: Begin with your phone number – the key to this faith-centered dating app designed exclusively for mobile platforms.
Foundational Details: Share your name, gender, and Christian denomination – the building blocks of your profile's essence.
Portrait of the Soul: Don't just share an image; let your profile picture reflect not only your appearance but your spiritual presence.
Words That Echo: Fill in spaces meant for expressing your faith and your individuality, letting your beliefs resonate with potential matches.
Guiding Preferences: Define your partner's preferences to navigate toward meaningful connections rooted in shared faith.
Embark on the Journey: With preferences set, step into the realm of connections, where profiles aligned with your desires await.
Choice and Exploration: Choose between premium membership and free features, then delve into conversations and discovery.
Related Reading: HUD App Review – The Full Truth
How Does Upward Dating App Work?

The Upward dating app operates in a manner similar to many other dating apps, allowing users to connect with potential matches based on their preferences and interests. On the Upward dating app, you'll encounter profiles one by one. If you're intrigued by someone, you can swipe right to express interest or swipe left to indicate you're not interested. This simple gesture serves as the initial step in showing your attraction to potential matches. Upward also offers a "Super Like" as a premium feature
When someone whose profile you liked also swipes right on your profile, a match is formed. This mutual expression of interest unlocks the ability for both of you to engage in conversations through the app's messaging platform. It's an exciting moment indicating that the interest is mutual. The messaging feature enables you to have meaningful conversations, share more about yourselves, and explore whether there's a genuine connection. It's where you move beyond profiles and begin to get to know each other better.
Upward offers premium features through subscription plans. With these plans, you can gain insights into who has liked your profile before you even match with them. Additionally, you might enjoy unlimited swiping, a more streamlined experience without ads, and a daily allotment of super likes, enhancing your chances of standing out.
Pros And Cons
Let's bring together the highs and lows of the Upward Christian dating app under one roof. By exploring the pros and cons, you'll gain a clearer perspective on whether this platform aligns with your intentions. These insights are drawn from a collection of Upward reviews and our personal experience navigating this app.
| | |
| --- | --- |
| Pros | Cons |
| Ideal for Christians seeking a genuine and devoted relationship | Because it is a new dating app, the quantity of profiles is limited. |
| The app UI is very similar to Tinder, making it simple for most users to utilize | The swipe-style of matching doesn't utilize personality algorithms. |
| Profiles are verified by the platform  | Not available for desktop users |
| Welcomes all Christian affiliations | You can only sign up via your phone number |
Quality Of Profiles And Success Rate
If you're curious about the types of profiles you'll find on the Upward Christian dating app, this section offers valuable insights. Explore potential matches through the 'matchup' menu, where you can either express interest by 'liking' a profile or decide to 'pass' on it. For a more in-depth look, click on a profile picture to access additional information.
Each profile provides essential details like bios and religious affiliations, aiding you in making informed choices. Even though Upward is a fairly new app, its success rate has been stellar, with stories of couples finding their perfect match available on the website. User feedback suggests it's an excellent platform for selecting a life partner who shares your faith. If you still have questions like "Is Upward dating app legit or not?", one only needs to read the user reviews
"When we met on the app we pretty much hit it off right away and we had so much in common with our spiritual values and many of the same interests. God had his perfect timing to work it out between the two of us, here we are today loving the life that God has provided us and I am so grateful that God put us together and that this app was very helpful in that aspect.' one user wrote.
Related Reading: Zoosk Reviews: A Balanced Analysis Of The Popular Dating App
Upward Dating App's Best Features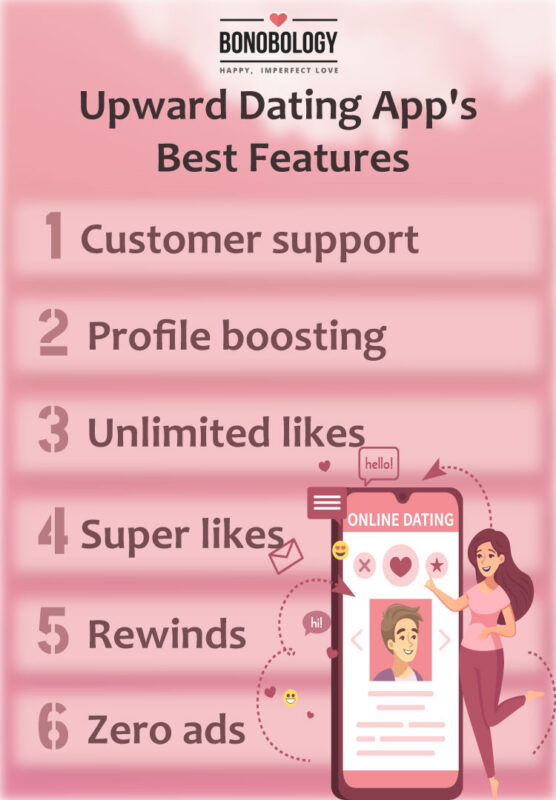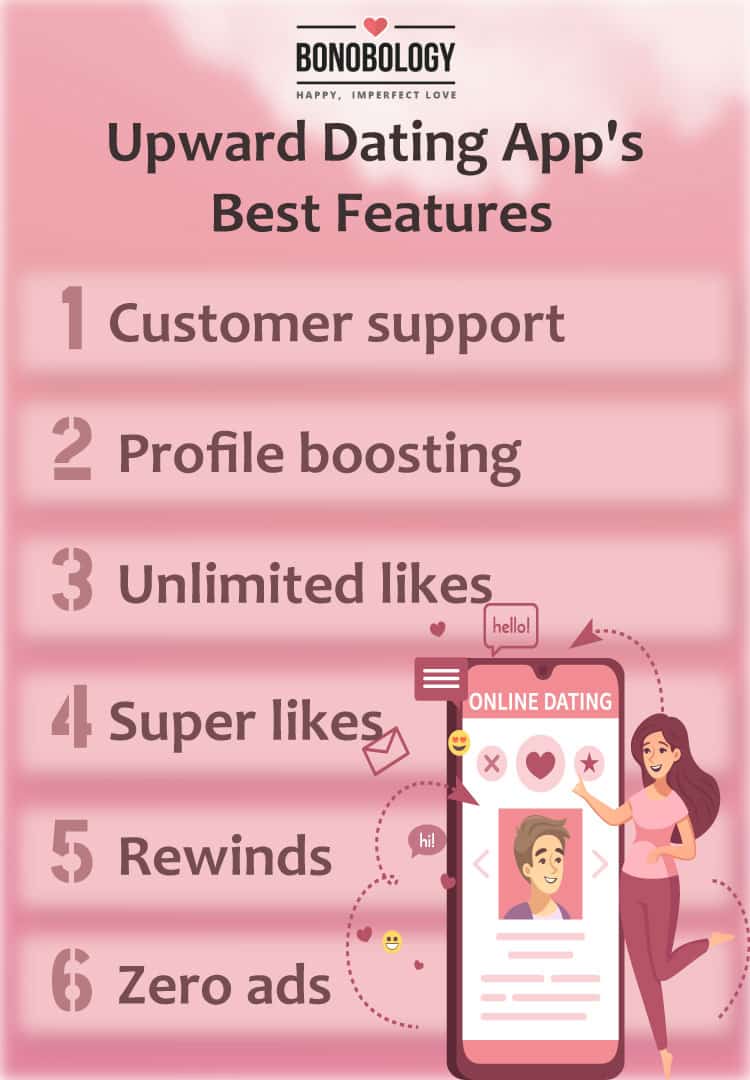 In this section, we'll highlight the unique features of the Upward dating app. Understanding the app's offerings as a whole will enable you to decide whether upgrading to their premium membership is worthwhile. This option is significant because investing in their paid plans is critical if you intend to actually seek a spouse on the Upward Christian dating platform. These features help you date online successfully to find your ideal partner.
1. Super likes
Each day, Upward Christian dating platform's premium members receive five 'super likes'. When you super like a profile, the recipient is instantly notified, and you're also prominently featured in their potential matches. This significantly enhances your likelihood of connecting with someone who aligns with your preferences.
Related Reading: SilverSingles Review – What You Need To Know
2. Rewinds

It's highly likely that you might accidentally reject a profile you're interested in while quickly swiping through multiple profiles. However, on the Upward dating app, this isn't a concern thanks to the rewind feature. This feature lets you retrieve a profile you mistakenly swiped left on. The best part is, you have an unlimited number of rewinds at your disposal!
3. Zero ads

Unlike certain platforms that continue to display ads even after you've subscribed to their premium membership, the Upward app takes a different approach. Once you opt for one of their paid plans, you won't encounter any ads on the website. This commitment guarantees a dating and browsing experience that's free from distractions and interruptions.
4. Unlimited likes

While you're limited to using just five super likes daily, you have the freedom to 'like' an unlimited number of profiles. This approach ensures that your browsing experience on the dating site remains unhindered. Each day, you're able to express interest in as many Upward dating profiles as you desire.
5. Profile boosting
Do you want your profile to appear towards the top of search results when someone searches for matches in your area? You can accomplish this by increasing your profile. This implies that if you're a possible match for someone in your neighborhood, your profile will appear in the top search results on the Upward dating app. Every user has access to this functionality once a month, ensuring equal usage.
Related Reading: Coffee Meets Bagel Review – Everything You Need To Know
6. Customer support
Getting in touch with Upward Dating's customer care is a hassle-free process. You can reach out to them by navigating to the 'Contact Us' tab located within the settings menu. Alternatively, you have the option to forward your questions and feedback to their helpline email address. Their response time is typically swift and their solutions are efficient, ensuring a seamless experience on the platform. Additionally, the app's FAQs section often proves helpful in resolving most of your inquiries.
How Much Does Upward Cost?
After reading the Upward app reviews, we'll look at the various pricing options accessible on the Upward dating app in this part. This will help you decide whether or not to proceed with the paid membership alternatives. The Upward dating app offers two paid membership options: Premium and Elite.
By opting for the Premium package, you gain the ability to view who has shown interest in your profile, allowing you to reciprocate if you wish. For a more comprehensive experience with a range of appealing features, the Elite membership is recommended. This membership provides you with unlimited swipes and likes, a complete absence of ads, and a daily quota of super likes. Additionally, you'll benefit from unlimited rewinds and receive a free profile boost each month. Notably, the pricing options for these memberships are reasonably priced compared to other dating platforms available.
| | |
| --- | --- |
| Package | Price |
| 1-month Premium membership | $14.99 |
| 1-month Elite membership | $29.99 |
| 3-month Premium membership | $22.49 (comes to $7.49 per month) |
| 3-month Elite membership | $44.99 (comes to $14.99 per month) |
| 6-month Premium membership | $35.99 (comes to $5.99 per month) |
| 6-month Elite membership | $71.99 (comes to $11.99 per month) |
Upward Package Plans
| | | | |
| --- | --- | --- | --- |
| Package | Price of Upward | Price of Mingle | Price of Match |
| 1-month Premium membership | $14.99 | $42.99 | $50.71 |
| 3-month Premium membership | $22.49 (comes to $7.49 per month) | $74.99(comes to 24.99 per month) | $104.97(comes to 34.99 per month) |
| 6-month Premium membership | $71.99 (comes to $11.99 per month | $119.99(comes to 19.99 per month) | $149.94(comes to 24.99 per month) |
Upward vs Other Apps
Safety and Security of Upward Users
Take note that Upward collects your personal information in order to assist you in finding suitable partners. Location, images, videos, personal information, messages, financial information, device IDs, app activity, and performance information are among the personal data collected
The Upward dating app takes your security and safety seriously. The site encrypts all data in transit, and your data gets transmitted through a secure connection to prevent access by unauthorized third parties. The app developers also allow you to delete your data when you leave the platform as part of the safety measures to ensure it doesn't linger on access points where third parties may acquire it.
Furthermore, Upward has hassle-free Customer Service that will help solve all queries. You can report any concerns about suspicious behavior from any profile page or messaging window through the app or write an email.
Our Verdict On Upward Dating App
If you're looking for a Christian dating platform that's also easy to use, the Upward dating app is a great option. There are members from various Christian denominations on the app that make sure you find a compatible partner as per your preferences. It provides you with a range of features that help you get noticed by relevant profiles for an easy matching process.
Upward is a stellar dating app, that combines simplicity and sophistication into a user-friendly interface that lets you effortlessly explore potential matches. Its ad-free environment ensures an undistracted voyage in the world of dating, allowing you to focus on forging genuine connections.
What truly sets Upward apart is its ingenious features: profile boosting propels your profile into prime visibility, while the rewind function lets second chances become a reality. With Upward, you're not just navigating a dating app, but embarking on a journey where compatibility and convenience intersect.
One of the Upward app reviews stated, "If you're the kind of guy who's struggling to get attention on other apps like Tinder or Bumble, and you're also a Christian, this one might be a little better for you."
Final rating: 8.5/10
FAQs
1. Is Upward a good dating app?
Yes, Upward is a great dating app for Christian singles looking for a meaningful relationship in their faith. With its affordable membership options and simple interface, it ensures a great dating experience. 
2. Is Upward a free dating site?
You can talk to other members via the free membership option on the platform. But if you are serious about dating and want to access most of the features of this platform, taking a premium membership is recommended. With these features, you have a better chance of finding a partner on this platform.
3. What does the green star mean on the Upward dating app?
The green star appears when someone uses the Super Like feature on the Upward app. It helps them boost their profile to the top, for the profiles they've liked and provides a better chance of matching.