We know it's not a pleasant feeling when you discover this but the signs your partner is cheating are always there in their behaviour. Most of the time we ignore these signs of cheating because we don't want to let go of the cocoon of trust we revel in. But reality is somewhat different.
The subtle signs that you are being cheated are there but most often you ignore those because you are scared to confronting the reality.
Richard Dawkins, one of the founding philosophers and evolutionary biologists of modern times, debating the evolution of humanity over the existence of an intelligent 'God' said humans are genetically polygamous. That, however much we may try to drill ideas of loyalty, fidelity or the moral superiority of being a monogamous person, human beings by virtue of their genetic makeup will remain polygamous in their heads.
Or rather, in their blood and guts. But clearly, that's not what we want and that's not what we would like to believe in when it comes to trusting our partners. In our eyes and hearts, their love is an equivalent function of their sexual loyalties to us.
But is your partner really trustworthy? Is there some way you can check your partner's behaviour to discover if they're cheating on you? This is in no way to say that you should keep suspecting your partner and the rode the trust you have but there is no harm in keeping your eyes and ears open.
Related Reading: 22 Sure Signs Of A Cheating Girlfriend
How Do I Know If My Partner Is Cheating?
One thing is for sure their behavior will change. Not completely though, but there will be small, small indications that you will keep noticing.
Bethany and Ralph (name changed) had been married for 8 years and had two children. Bethany was a homemaker, a doting mother and an extremely caring wife. Her life revolved around her family and she always said she didn't need anything more to make her happy.
In their marriage, weekend grocery shopping was like a ritual that Ralph and Bethany always followed. They took the kids along and ended it with lunch or coffee. But Ralph started noticing the change when Bethany drove out alone midweek to pick up some more groceries.
That was still fine but the need to pick up groceries started increasing and when Ralph wanted to go along she always made some excuse and said she needed some space.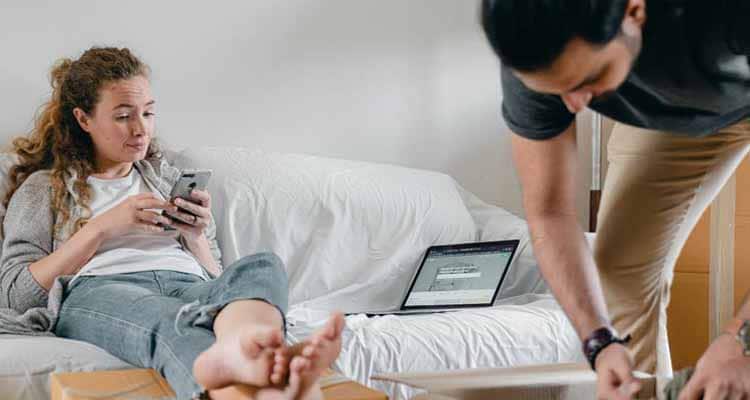 Otherwise, everything was going fine. She continued to be that great mom and caring wife. Ralph didn't want to suspect his partner of cheating but he started becoming curious about her frequent grocery-shopping trips.
And then when he started suggesting that he would pick up whatever she needed on the way back from work, so that she didn't have to drive down all the way, she started becoming angry. She refused to allow Ralph to pick up anything for even once.
You could think what connection could this have with cheating? She could just want her me time. But no. As we said it's the small things that go off routine that are the red flags. Ralph soon found Bethany had met someone online and her grocery trips were meant for meeting him.
So in the end if you follow your instincts then you will know your boyfriend, husband or girlfriend, wife is cheating on you. You will know the surefire signs that you are being used by your partner.
What Are The Surefire Signs Of Cheating?
In the age of technology we live in cheating is far more easy than you can imagine. And the temptation to do so is always there because of the constant technological interactions over Smartphones that people keep having in the workplace, at friends groups and with strangers online.
The popularity of dating apps and the concept of  hooking up just for the thrills have complicated the situation more. So the possibilities of wavering from a steady relationship become manifold. But if you look carefully the signs your partner is cheating on you are always there. We list five warning signs of cheating.
1. The devil wears the smartphone!
Yes, call it the invasion of digital media or the social network negative feedback loop, you have to spot your partner who seems to be on his or her phone 24×7.
We live in a time and age where our smartphones are nothing less than appendages to our hands and limbs. For some of us they are definitely parts of our souls – like the horcrux in the world of Harry Potter.
But then, within couples the phone may become an important marker for fishy things going on in the backyard!
If you happen to find your partner or lover on the phone all the time, even when he or she is with you – maybe on dates or on romantic getaways – hardly paying attention to what you're saying or trying to convey and replying to you in monosyllables, it might be a sure shot sign of cheating-in-progress and it could be an emotional affair. Keep a check for that!
Check if your partner is doing these things:
a) Phone is password protected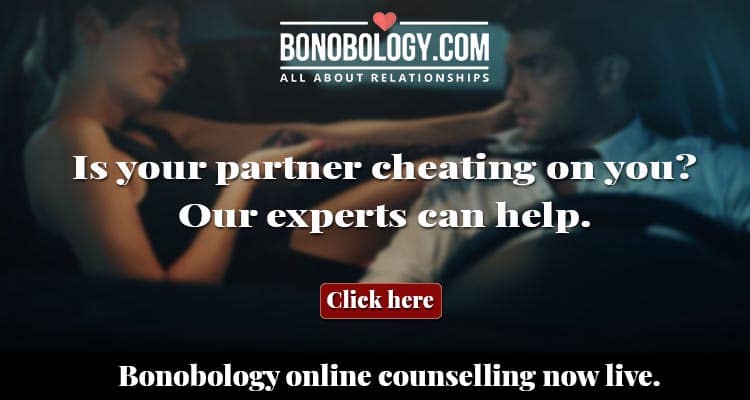 If you partner has suddenly put a password on the phone then this is a surefire sign that they have something to hide from you.  And there's no way you would be able to check their phone. 
b) Carries the phone to the washroom
When they are in the washroom, if you could hear them having conversations then be sure that they wouldn't be talking to their boss or a work colleague sitting on the pot. 
If it's someone intimate and someone who needs a hushed conversation that will only happen in the washroom.
c) Wakes up at night to chat
You could have seen then waking up suddenly at night and frantically typing on WhatsApp. When you asked they said it was a work colleague from another time zone.
But if this is happening everyday then you have a reason to suspect your partner.
d) Can't imagine switching off the phone
You suggest a Sunday phone detox by switching it off all day and going for an outing but your partner becomes ballistic at the idea. That's a warning sign your partner is cheating on you.
Related Reading: What Is Micro-Cheating And What Are The Signs?
2. If they're turning into a fighter-cock
They were fine earlier. In fact silent, peace loving people they were. But now, whenever they come home from office or from work, all you see on their face is a scowl!
Even when you smile at them, they seem to be irritated all the time and try to pick fights on the slightest pretext. This is a surefire sign your partner is cheating on you.
They want to get their way all the time and not one day passes when they aren't screaming at you, passing a sarcastic remark or throwing things at the dining table without a concrete reason.
This is an important sign for you to step back and see what must be channeling this kind of a reaction in your partner. Nine out of ten times, it's an affair happening outside your knowledge.
Check out for these signs:
a) They use hurtful words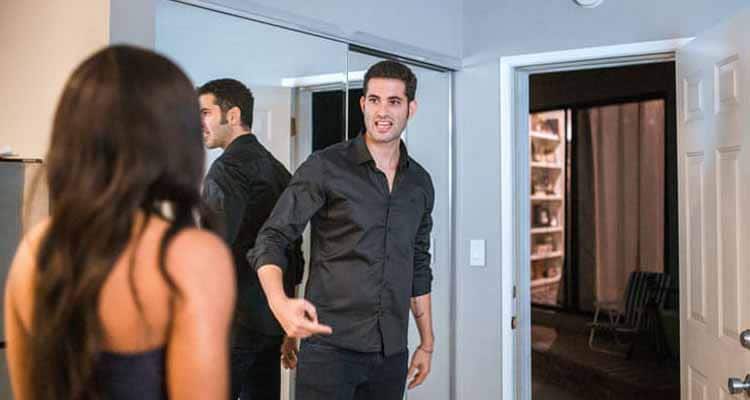 They know you well enough to know what will hurt you most so they they use the most hurtful words in a fight and keep on screaming to vent out their anger.
b) Rake up the past
They could bring up your ex or your past relationship, your past mistakes or something that you did in the past that was a mistake. They would keep harping on that and create negativity in the relationship.
c) Fights could turn ugly
Fights in any relationship is normal but if these turn ugly then there is something seriously wrong. They could turn abusive also and their anger becomes uncontrollable.
d) Silent treatment
After every fight they build a wall around them and do not interact with you for days. They could be stonewalling you because interacting with you could mean your asking them questions about their behaviour which they don't want to answer.
This is one of the absolute signs your partner is cheating on you.
3. They do the vanishing act
One day they are smiling, happy with you. They go out with you, spend the entire day and night, have drinks, make merry and spend the sweetest possible time. But next day, they just disappear. They don't return your calls, don't text. They only tell you they are busy and don't come back home.
And this sort of repeats itself, twice or thrice a month. Sometimes in some kind of a periodic rhythm too. It is important to look beneath this pattern.
They may eventually come back to you and tell you how much they love you, buy gifts for you, and take you to the best of places for lunch or for dinner, but that might just be guilt propelling them.
They maybe finding it really hard to tell you the truth and the guilt instead might be bringing in the outpourings of love on such days.
Check out for these signs:
a) They don't return calls
No matter how busy a person is if they care for someone they would return a call or a text. If he doesn't text first but returns it always, still it is okay.
But saying, "Oh! I forgot to call back" is a sign your boyfriend, girlfriend or partner is cheating on you.
b) They ghost you
If your partner has the habit of disappearing for days without you having a clue where they are it is sign that they could be spending time with someone else in that time.
If they are ghosting you and coming back every time saying they were on a hiking trip up in the mountains just don't buy it.
c) No contact on work trips
If they are going on work trips saying they can't keep in touch and if they can't give you the hotel address or number where they are staying then these are surefire signs your partner is cheating on you.
d) They cancel dates
If they are making a habit of cancelling dates in the last moment, citing reasons like work  meeting, conferences or family emergencies there isn't much left to the imagination right.
Related Reading: Indian Wife Affair Stories: He Made Me Feel Cheated, Used And Helpless
4. You don't know what's on their mind
This is when they may suddenly start telling you to go out, meet new people, gather new experiences. Their reason for doing so may be that if you start meeting new people, they can do so too.
Sometimes, they may even push the idea of a third one in the bedroom in the name of adding spice to your sex life or for the sake of experimentation. or even suggesting an open relationship.
You never know to what level that may go up to. Saying a simple NO may not be helpful in such situations. It is imperative that you cross question the intentions of your partner thoroughly and read between the lines. They may be planning something completely different in their heads.
a) They are not interested in sex
This is one of the classic signs that your partner is cheating on you because they are getting their dose of sex somewhere outside.
b) They are overzealous in bed
If they suddenly become overactive in bed then that could mean that they are learning about new positions somewhere else and want to try it out with you.
Before becoming super happy about their enthusiasm look beyond it. These are surefire signs that you are being used by your partner.
c) They don't show their body
Suddenly they are very shy in front of you and never change clothes or loiter around the house in their towel in front of you. Could be that be they are trying to hide those hickeys?
d) They go through an attitude change
They could be whistling all the time in happiness or sulking at the dinner table. They could be telling you to  meet up your girl gang and have your own life  and he could be talking about how much he enjoys the bar nights. These are signs your partner is cheating on you.
Related Reading: An Indian Loo, Bikini Wax Or Sex-Starved Mom Can End An Extra Marital Affair
5. What's all that sweating about?
They may look anxious almost all the time. Cheating perhaps has drained out their energies and they may find themselves at constant battles in hiding things from you.
The energy of it eventually becomes very nervous and unstable. So, whenever both of you are together, they seem to be quite nervous as if between wanting to tell you things and hiding them away.
Check these signs:
a) You catch their lies
You suspect a partner of infidelity when you suddenly see something as simple as her saying she was out with her friends last week but it does not match with her version that she said this week that she was at the salon. You are confused about why she had to lie about something as simple as that.
b) They are always jumpy
There is a nervous energy around them and you could be asking something very innocuous but they could react adversely.
They could get lost in their thoughts but look at you with a start when you talk to them as if they returned from another world.
c) Perpetually stressed out
You may also find them repeatedly checking their phone. Or at times, not answering certain calls when both of you are together.
When you ask, they may tell you that's stress at work, but try to look for the hook. It might be of a different kind of secret that's making them nervous.
d) They avoid your eyes
This is one of the warning signs that your partner is cheating on you. Their perpetual guilt do not allow them to look straight into your eyes when they talk.
The signs of infidelity start with small things but as the affair takes shapes they signs become more and more clear signals that your partner is not into you. You have to perceptive and read these signs to know the truth.
FAQs