Writing cute notes for him is the most romantic way to tell your man that you love him and are thinking of him. Leaving a post-it note in your hubby's office bag, on his lunch box, or inside your boyfriend's laptop bag is a great way to connect with your SO throughout the day.
Keeping the romance alive after marriage is a difficult business. Juggling between your career, household management, raising the kids, investing for retirement and taking care of aging parents, romance takes a backseat as we don't find the time to plan surprises for each other. This is where the post-it notes come in handy.
To plan the surprise you don't have to do something really elaborate; leaving a post-it note here and there throughout the house could be a great way of expressing affection. It has a nice personal touch and takes up less than a minute to write a note.
Your partner will love it for sure. You might be thinking, what can I write in a cute note to my boyfriend or husband? Check out these 50 cute notes for him which you can write down on post-it notes, in letter pads, or on the laptop screen when he takes a break.
50 Cute Notes For Him That Would Surprise Him
Ivan (name changed) was in high school then and madly in love with a girl in his class. They were dating. While she was returning from school on her cycle, she held out a note when she found Ivan walking with his friends on the sidewalk. Ivan took the note and his heart melted.
The note read: Everything I do, I do it for you. (Bryan Adams)
It's been 30 years since then and their high school love didn't survive the test of time… But to date, Ivan feels that was the most romantic gesture from a girl he ever dated.
Related Reading: 55 Unique Ways To Tell Someone You Love Them
So how do you melt a guy's heart with words? Just jot down a song, a few words, or a secret that belongs to the two of you and leave it in cute notes for him. Where should you leave it? Allow us to tell you.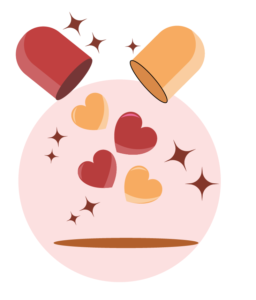 Get your dose of relationship advice from Bonobology right in your inbox
1. What was that thing you did last night? My heart is still skipping a beat…
After a steamy night, imagine the look on his face when he finds your note on the bathroom mirror. He'll spend the rest of the day trying to wipe the silly grin off his face. Post-sex cuddles might be great, but post-sex love notes are in a different league altogether.
2. Life is 10x easier with you by my side
You can leave this adorable note for him on the refrigerator. When he wakes up and stumbles into the kitchen groggily, this is the first thing he'll spot. Coffee is a good start to the day, but a surprise note for boyfriend is even better. Little things like these are the way to build healthy relationships.
3. You are my sunshine, my only sunshine
Yes, these beautiful lyrics by Johnny Cash make for splendid creative notes for boyfriend. He'll hum this song all day, and think of you. The perfect place to leave this would be the window of your room.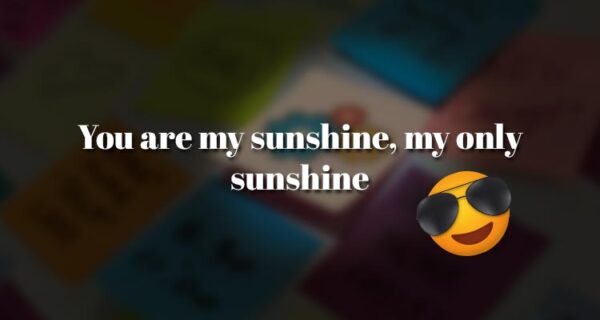 4. I'd trade the world for you
Awwww. Here's one of the best love notes for him from the heart. How wonderful he'll feel when he learns that you prioritize him over the world. This note is something you can stick to his planner. It will be a lovely message to read before he dives into the stressful work for the day.
Related Reading: 15 Compliments For A Man's Smile To Make Him Smile More
5. I can't imagine starting my mornings without you
This sweet romantic gesture will make him happy. Stick this note on the coffee tray as you bring him a steaming mug. Your morning will become special in a moment when this note catches his eye.
6. Roses are red, and the stars shine bright; do me a favor and hug me tight…
Now the ideal place to leave this note would be the wardrobe. The correct time would be somewhere before bed. What will start off as a sweet embrace is bound to escalate into something hotter. Notes like these never let boredom creep in your relationship.
7. I can't believe I get to come home to you
If your boyfriend leaves for work before you do, you could attach this note on the countertop before you go to work. It will be a lovely thing to come home to for him.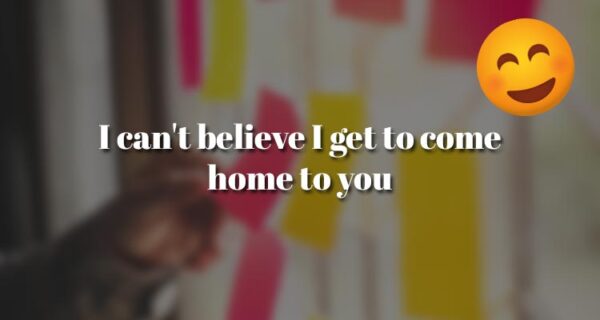 8. You make my world go round
This is a personal favorite in surprise notes for boyfriend. I like how the message conveys the intensity of love. Drop this note between the pages of a book he's reading, and remind him of the most important story there is – your love story.
Related Reading: 10 Proven Ways To Show Someone You Love Them
9. You're the whole package babe
Something as simple as this can be the highlight of your man's day. He'll feel quite flattered, and compliments are quite appreciated by men too. He might blush on receiving this note, or laugh nonchalantly, but I promise it'll make an impression.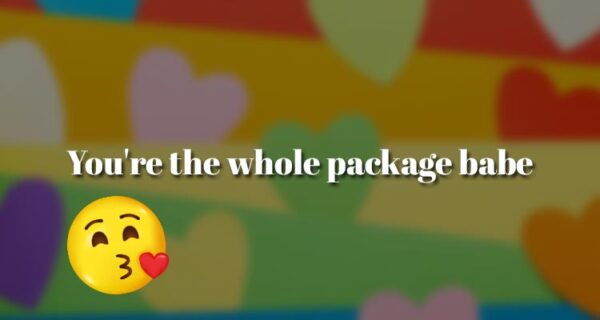 10. Butt, where are you?
Where to leave this? Keep it in his intimate-wear drawer for full effect. This is one of the wittiest creative notes for boyfriend that I've come across. It's the right mix of goofy and sexy. Imagine his surprise when he pulls out a note from the drawer.
11. I think you're the best blessing of my life
A sure-shot way to flatter a man is by throwing the divine in the mix. Plus, this super sweet note will leave him with red cheeks. I think an ideal place to stick this post-it would be on his laptop.
12. Can't take my eyes off you hon
He's going to whistle when he reads this one, I promise. Keep this note on the car bonnet so he can find it as he steps out of the house. Complimenting someone on their attractiveness is a very good way of making sure they think of you.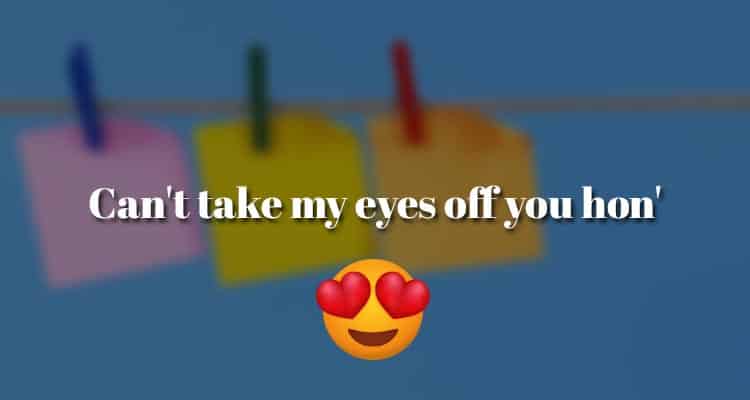 13. You leave me tongue tied
This is one of my personal favorites in creative notes for boyfriend. This is because I love the phrase 'tongue tied'. It's much more unique than 'speechless' and conveys a very romantic vibe. This would be the perfect note for a special occasion.
Related Reading: 30 Compliments For Men That Make Them Happy
14. You're on my mind at any given time of the day
When we love someone deeply, we're always thinking of them. And it's quite lovely to tell them so every now and then. Who wouldn't like to hear they're this important to you?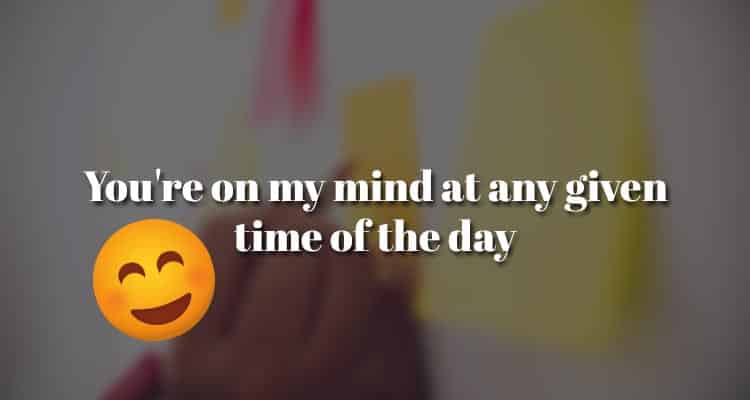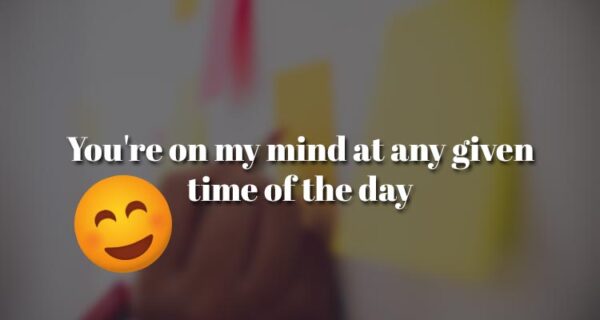 15. Ice, ice baby!
This old song by Vanilla Ice might just be one of the cute notes for him that you can leave inside the freezer. When he goes to get some ice for his drink he will know how hot you are feeling (do we need to say the rest?).
16. You drive me crazy with your smile
This right here is one of the cutest lines you'll come across. And words like these make for wonderful love notes for him from the heart. Write this down on a little chit, and keep it in his coat pocket. The best surprise? I think so.
17. How are you not tired? You've been running on my mind all day
Life is so much better with the presence of our partner. This note is a great way of telling him how much he means to you. I think you should stick this on the mirror and watch the look on his face as he reads it!
Related Reading: How To Flirt With Guys Over Text? 17 Tips To Do It Right
18. I can never stop loving you
If you are thinking about how to melt a guy's heart with your words, then this is the perfect answer. Getting a surprise note like this with a lunch box would be amazing…Cute lunch notes for boyfriend are always winners.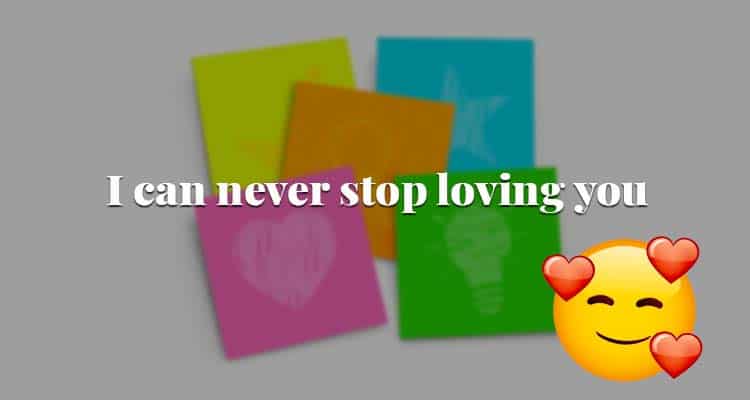 19. Have a day as bright as your smile
So ridiculously cute! We all know that 'have a good day' is too plain and done with; here is a unique style of saying the same thing! It's a sweet way of showing you care. You can stick this note on his phone case for a wow moment.
20. I will never let you leave the house hungry or horny
What to say to your boyfriend to make him smile? This one definitely will make him smile and after reading a note like this he could actually end up not going to work. I love cheesy cute notes for boyfriend like this one.
21. Oops you're in the wrong place…come to me right away
No matter where you keep this note, it will do the trick. He will come rushing to you when he reads this note, and scoop you in his arms. Cute notes for boyfriend like these make the recipe for picture-perfect moments.
22. That mark on my neck is turning blue. Can you make some fresh ones?
This is a fun note to write but is filled with passion and excitement. Notes like this can turn a night into a dream. You know that by now. Don't you?
23. You're the human version of the heart emoji
This is such a Gen-z thing to say. You can always incorporate some text message lingo in these creative notes for boyfriend. It can be abbreviations like 'lysm' (love you so much), or emoji references like the one in this line.
Related Reading: 21 Best Romantic Gifts For Couples | [Cute and Cozy At The Same Time] | 2020
24. Can't wait to be in bed with you
This note never specifies sex or cuddles and that's why it has won my heart. A good place to leave this note would be the front door. He'll walk into the house reading how you love being in bed with him. This is one of the best surprise notes for boyfriend.
25. You are my last thought at night and first thought when I wake up
If you are thinking of long love notes for him from the heart, this is really romantic. This does happen when you deeply love a person, so you should let your boyfriend or your partner know that. Good communication and expression are key to being a better girlfriend.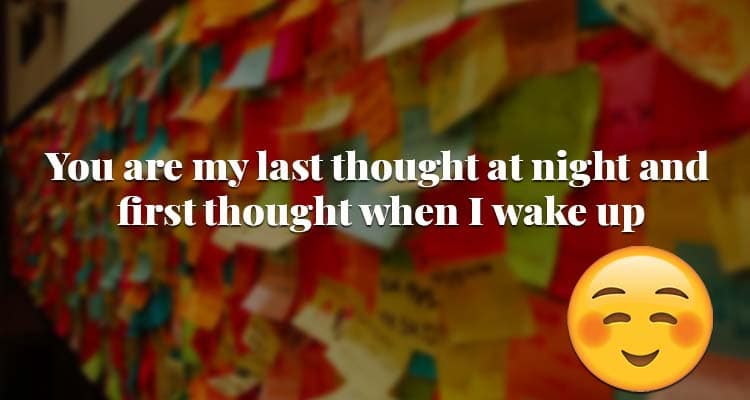 26. All I wanna do is hold you in my arms
Sweet and simple. This note conveys unconditional love; it will melt the reader's heart in one go. Keep this note somewhere around the house, and he will have an 'awwww' moment when he finds it.
27. Each day is better than the last with you
Because love is a journey, and you're in the passenger seat of the ride you both are taking. Love notes for him from the heart will tell him how much you cherish your time together.
Related Reading: How A Woman Should Treat A Man – 21 Ways To Do It Right
28. I feel the kisses all day
This is one of the cute notes for him that will make his heart do a somersault. He feels your kisses too when you are not around…so when he is with you, no points for guessing how he feels.
29. All I need is a hug from you
Hugs are the absolute best. And telling someone you need a hug from them specifically is even better. Drop this note in his wallet, and wait till he embraces you. (We really need more cheesy cute notes for boyfriend.)
30. I was thinking of love notes for my husband and then I got drowned in the feeling
A little dramatic for sure, but cheesy cute notes like this one can often work wonders. You should keep this note under his plate when you both sit down to dinner. You'll get a close-up view of his reaction!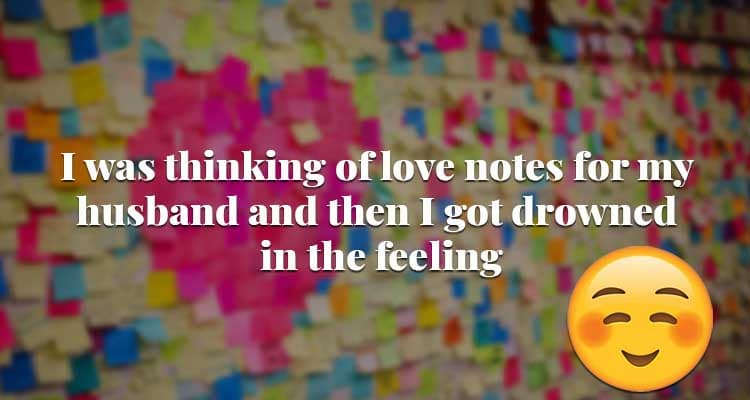 31. No one can match up to you
I know they say that comparisons are a no-no, but calling your partner the best is the perfect gesture. He's a class apart from everyone, and reading this note will give him a self-esteem boost through your romantic words.
Related Reading: 15 Things Guys Like Their Girlfriends To Do
32. Go forth and conquer (just like you've conquered my heart)
This note accomplishes two things in one go; it motivates and romances. Your man will feel like he can take over the world, but he'll also blush at the thought of conquering your heart. Stick this note on his coffee mug for an early morning cute moment.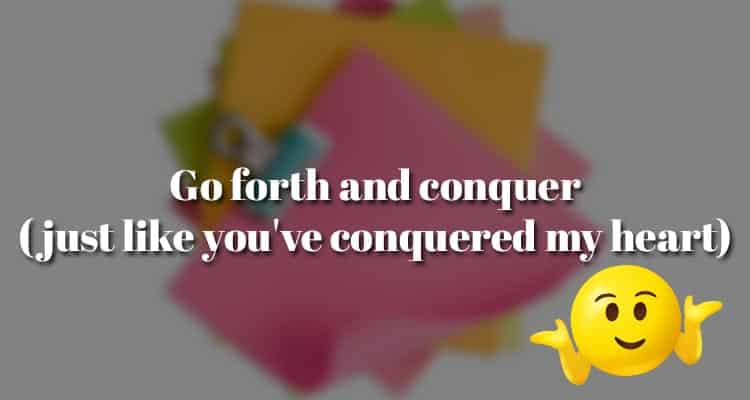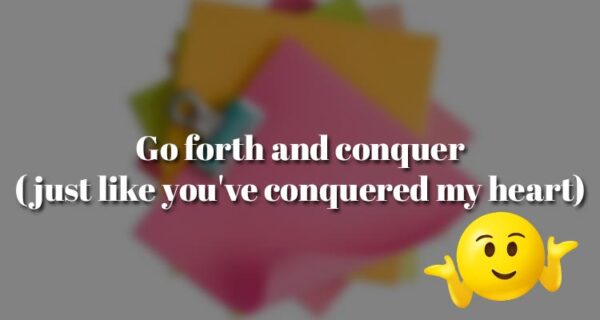 33. You're my number one
FAVORITE! We all love knowing that we are someone's top favorite, or number one priority. You can tell your man what he means to you with one of the best creative notes for boyfriend.
34. Relax, you got this!
In the middle of a hectic day and work stress, he will open this note and get that much-needed reassurance. You believe in him, and he is in control of things. Such beautifully supportive and cute little notes for him.
35. You are my happy place so I always come along with you
If you are looking for caring words for him, this will do the trick. If he finds a note like this in his office bag, he would be in the best mood throughout the day.
36. Being with you is the best part of my day
Honest and loving. I approve. While we all lead busy lives, our partners are the ones we come home to. And the time we spend is the best part of our day. Tell your husband how important those hours are with this love note.
37. I'm a fan of the shirt you're wearing
Simple compliments like this can have such a big impact. Don't be surprised if you see him wear that shirt more often after reading your note.
Related Reading:  7 Steps To Reconnect With Your Spouse And Strengthen Your Bond
38. Don't know what I'd do without you…
Most couples don't know how they'd get through life without each other's presence. Being with each other physically is not a must, but even the fact that they are there means a lot. Tell this to your boyfriend with a sweet note.
39. The person reading this is the cutest guy ever
If someone wrote me a note like this, I'd laugh out loud. Yes, it's that cute. This is one of the most creative notes for boyfriend that compliments him.
40. Thank you for loving me without make-up and with my love handles
When he gets ready for work in the morning if he spots a note like this stuck to the mirror his heart would make a happy dance. How do you melt a guy's heart with words? Like this.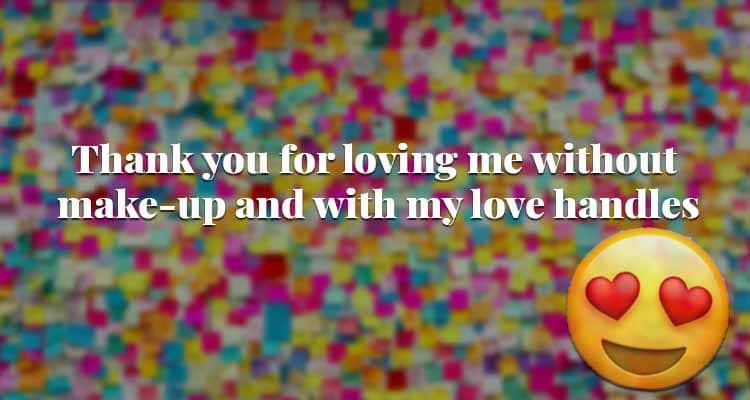 41. Wish we were together right now
Missing someone gets frustrating after a while, and all you want is them. But you can express your longing with a nice note for your boyfriend. He'll be thinking of you too. Put this on his coffee flask so that he gets reminded of the fact that he is being sorely missed. Cute lunch notes for boyfriend rock!
Related Reading: 12 Ways To Get Your Husband In The Mood
42. There's nothing you can't do, love
Love notes for him from the heart can do a very nice job of motivating him. They can give just the push he needs. So hand him this note as he's about to leave for work, and he'll feel like there's very little he can't do.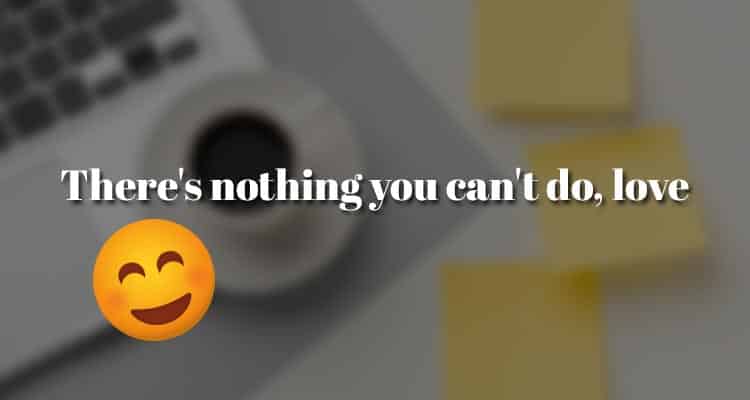 43. I have been alone with you inside my mind…
If you are thinking of leaving beautiful notes for him, then a line from a cult song is always a good idea. In the cute notes for him, you can leave love songs often.
44. Check your watch. It's miss me 'o' clock!
This note is quite funny and adorable. It's the sort of message that would make you giggle. He'll always remember this note you've written because of the humorous rhymes and cute text.
45. When you are in the shower call me!
This could be one of the funny love notes you leave for him but the impact of these few words could be…well a lot of action in the shower. The note works. Doesn't it?
46. Hey, hottie, see you tonight
Ooo mama! That's a hot note right here. You're literally building up to the moment when you'll be together. He'll get excited at the prospect of going home quickly.
47. I believe in you!
Words of affirmation are priceless gems. More so when they come from partners. He'll be so happy to know that you place faith in him and his capability. Very wholesome and lovely.
48. Heaven begins with you
Top tier compliment incoming. This is a very short note with a very big impact. You can leave cute little notes for him like this one on his desk; it will be a superb start to his routine.
49. You keep me coming for ya…
These lyrics from the hit song Senorita are a surefire way to win his heart. Trust Camila Cabello to come to the rescue when you're aiming for romance.
50. If the way to your heart is through your stomach, where should I start?
If you are thinking, "What can I write in a cute note to my boyfriend?", this could say a lot of things. He would love the fact that you want to cook something he likes or he might just focus on the pun, more. Don't blame us if he clears the kitchen tabletop…
You have been thinking, what can I write in a cute note to my boyfriend? Hope you got your answer. Try these beautiful words that would melt his heart and let us know how it all worked.
21 Best Romantic Gifts For Couples | [Cute and Cozy At The Same Time] | 2020