As a wife, you must have faced the situation where your husband is not in the mood to have sex whereas you find yourself craving intimacy. Then you must have wondered if there is something you can do to turn on his mood. And indeed, there are ways in which you can awaken the sexual desires of your husband and this article is going to help you get familiar with those ways. Getting your husband in the mood when you want him is quite easy! How to get your husband to notice you sexually? There are answers. So keep reading.
Why your husband may not be in the mood?
Before we move on to list the ways to get your husband in the mood, it is essential that you understand why your husband may not be in the mood. It, you know the reasons or can figure the offsets, it will be much easier for you to get your husband in the mood and attract him physically.
Remember, if he is unable to give you attention it does not necessarily mean that he does not love you or is having an affair with someone else.
Your husband might be physically distant from you because of the following reasons:
He might be distracted due to work pressure
He might be longing for some alone time
If you have kids, then they might have become the centre of his life
Your husband might be going through performance anxiety and therefore avoiding you
His self-esteem and confidence in his looks might have declined
He might be bored with the way you both have sex. So it seems like a routine to him
He might be genuinely tired or stressed
Whatever the reason, if you are feeling horny and want to indulge in some lovemaking, you have to get him in the mood so that he is at his best. You have to help him rediscover his lost sexual desires and allow him to explore his desires in the best possible manner. You can help to turn on your husband by just making a little effort.
Related reading: 20 Easy Yet Effective Ways To Make Your Husband Happy
12 Ways To Get Your Husband In The Mood
You must notify the changes in your husband's sexual drive after marriage and take the necessary steps to make sure that your husband can get in the mood, especially when you want his attention. Here are the 12 sure shot ways to get your husband in the mood conveniently and smoothly.
1. Take the sexual initiative
Do you simply wait for your husband to take the lead? Well, it can get boring for him to always take charge and seduce you to be physically intimate with you. turn the tables sometimes. Your husband may not say it outright, but he will surely appreciate it if you take the initiative to become physically intimate with him. If you take charge in the bedroom and create a sexy atmosphere around him, then he will feel aroused and attracted to you. Women become irresistible if they take the sexual initiative and proudly display their affection towards their husbands. There are several ways to tell your husband that you wish to have sex.
2. Become his sexy masseuse
When you notice that your husband is not in a mood, then wear a new bra and panties to convert yourself into a sexy masseuse and create a spa-like environment in your bedroom. Dim the lights, play light music, light some candles and help him relax. Use hot oils to give him soothing massages all over his body. As tension releases from every part of his muscles, he will become ready to sexually devour you most memorably ever.
3. Keep instilling ideas in his mind
One of the simplest ways to sexually arouse your husband is by helping him picture in advance the whole sexual encounter between the two of you. Make noises, whisper sweet and sensual things into his ears, let him know what you expect in the bedroom from him and what he can expect from you, etc. Keep on pinging his phone with sexy messages that he can barely resist to have you in his arms. Playfully drop hints and tell him something you may have learnt about sexual positions or orgasms. All this will help him get in the mood for sex with you.
4. Bring radical change into your appearance
Instead of wearing loose-fitting and comfortable clothes at home, you should try to slip into something that accentuates the curves in your body and highlights your assets. Put on some light makeup and look comfortable yet sexy. You can even change the way you style your hair to get your husband's attention. Any kind of radical transformation in your appearance is bound to be noticed by your husband and he will get attracted to you.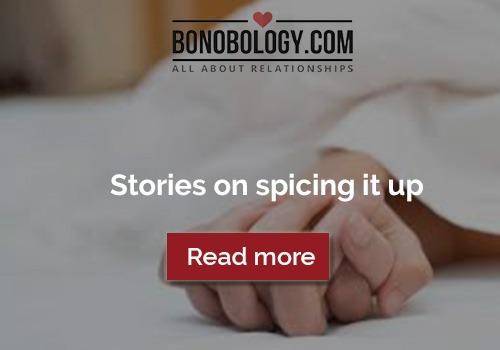 5. Surprise him in the shower
There is something steamy and sensual about the whole idea of having sex in the shower and men usually prefer sexual encounters in the shower. Therefore, quit the boring sexual routine in the bedroom and heat things in the shower. Surprise your husband in the shower, slipping in with just a shirt and tantalise his sensual fantasies. Kiss him, move your hands all over his body and in no time he will get in the mood.
6. Flirt with him through text messages
All through the day, you can keep sending your husband suggestive yet subtle text messages to let him know what is on your mind. Flirt with him through text messages, sound as naughty and dirty as possible so that he can anticipate about the moves you have in store for him. Even if he is not in a mood, your text messages are surely going to make your sexual advances alluring and persuasive to him.
7. Frankly talk about your sex life
If you often find your husband avoiding your advances, then you must find the time and talk to him about your sex life frankly. By talking to each other, you both will be able to understand each other's desires and needs. After that, you both can decide on new sex positions that you both can try out and can even think about role play to make things more exciting in your sex life.
8. Take advantage of porn videos
A variety of porn videos are available online these days. So what you can do is, according to the fantasies of your husband, you can create a collection of porn videos which your husband and you can watch together. Watching the porn together will sexually arouse your husband and you both can even try the moves that you both are watching in the videos to make the whole experience more adventurous.
9. Use body language to reflect your desires
You should make it a point to attract your husband using your body language. You must appear sensual and sexually appealing to him. Give your husband an affectionate and long hug, give him a long kiss on his lips, bite his ears, play with his hair or play with your hair in front of him, make sexy eye contact with him and so on. All these attempts will help get your husband in the mood.
10. Show affection to your husband continuously
Sometimes your husband may not become physically intimate with you because he does not feel confident about his appearance. Thus, as a wife you have to remind him continuously that you love him the way he is, you find his body hot and irresistible. Keep giving him kisses, cuddle him as and when possible and verbally keep showering him with compliments to boost his self-esteem. All this will ultimately make him feel desirable and he will also desire you.
11. Use food items to up the ante
Prepare a lavish dinner for your tired husband and make sure you cook the food items which are his top favourites. Good food will lighten up your husband's mood and you can eat the food in a sensuous way to grab his attention. Food items like chocolate, cream, fruits, etc. can be used imaginatively to induce passion into your love making.
12. Maintain your hygiene level
You must make sure that you are always ready for physical intimacy with your husband by maintaining optimum hygiene levels, especially down there, smelling good, wearing clean clothes, looking refreshing, etc. When you look hygienic to your husband, then only he will think about getting dirty with you.
Do not let your sex life after marriage slip into a dry spell and do not consider sex as a routine. You have to unleash the sexual power within you to get your husband in the mood and enjoy your sex life to the fullest.