Marriages are scary affairs, and we are all apprehensive about life after the wedding. The whole affair is clouded in secrecy; though we have heard whispers from our friends. We hear all about the sexual fantasies, the red roses and the beautiful cutlery around the house, but, no one really talks about marriage.
I myself had to source this out by bribing my married friends with chocolates and by smothering them with love. They had a lot to say but they only blushed. Slowly and steadily bits of truth was revealed and it was amazing to know the truth. Well, do you want to know too? Then here it goes.
What Happens After The Honeymoon Stage?
They don't say the "honeymoon phase is over" without a reason. Till the honeymoon phase lasts you are at your best self. You try to be guarded about your emotions, about your habit of sitting in the bathroom for hours, about leaving the bed unmade and the closet in shambles.
But as soon the honeymoon stage gets over you start revealing yourself bit by bit – warts and all. Your life starts off in its new phase when you are going back to work after the long holiday. Now as a newly married couple you have to decide on the mundane things like who makes the tea in the morning, who makes dinner at night, how to share the finances and how to do the household chores. 
What changes once you get married? From wedding bells the wedding blues set in and life after the wedding settles into a rhythm where you often miss the excitement that was there before you tied the knot.
Related Reading: 10 Things Nobody Tells you About Marriage After The Wedding
Life After The Wedding – What They Don't Tell You
If people are sharing tips for newly married couples they inevitably focus on the serious things like money management, they talk about the best contraception to use and also the adjustments newly married couples need to make to make their relationship work.
But life after the wedding could be really fun and fulfilling when you do all the silly things together, find a comfort level that allows you to be yourself with your partner. Here are 5 things that you discover about yourselves after the wedding.
1. The sex is more fun than intense
Most of my friends agree that unlike their pre-marital days, post-marriage coitus is more about intimacy than intensity. You do not have to force yourself to be the woman of his dreams anymore. There would be a lot of loving in being with him by his side in the night as the whole thing passes you by.
You breathe and you have him hold you near when you have had a nightmare. Plus, you feel a lot more comfortable about all those little noises and smells. You laugh about the small things and sex becomes that much more interesting.
Read more: 7 Common Sex Problems Newlyweds Face And Should Know How To Deal With
2. Little pleasures matter more and more
A friend told me that the moment she sees her husband making tea in the morning, she feels loved. Love has evolved for her. Most of my friends know their anniversaries not as the days of diamond earrings but, the days when their hubbies give them that much more time, that much more love.
Sometimes it is not the big proposals but, the way they hold your hand before they let go, the way they laugh when they see you fuming over the smallest mistakes.
You know love by the times when he has pulled the strand of hair away from your face when you are working rather than when he has gifted you the world in a box. In your life after the wedding the little pleasures become all important.
3. Love becomes a way of life
You are familiar with their sweat, the way they love, and the way they smell after a long day. You kind of start loving the feeling of him in those shirts, knowing that for the length of forever, those shirts are yours to treasure.
Plus, most days the men help in their stupid ways, bringing in the heavy water buckets, turning on and troubleshooting the washing machines. Those days are love. You realise there is love in doing the household chores, cooking together, going for a walk and you feel a discipline in your love. A routine that becomes a part of your system.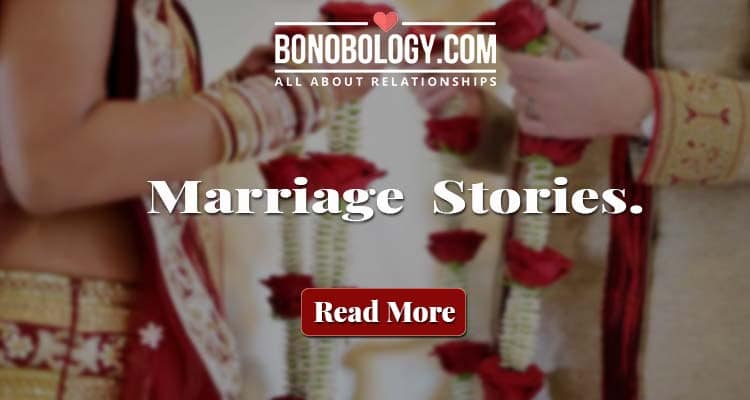 4. You share toilets, yes that's life after the wedding
Working couples share toilets. You kind of get used to him showering while you rush into poop. Nudity stops being exclusive to the bedroom, and becomes a more intimate thing that you share between you. There are crazy things couples do when no one is watching.
This also means that often times you start sharing the strangest texts about poop, and all those weird things without care for other people. My friend says that she knows love through the times when her husband would ask her about these inane adventures instead of asking about work. I can't define love, but, for me, that comes close.
Related Reading: 25 Marriage Lessons We Learned In Our First Year Of Marriage
5. You have your little secrets
A friend of mine constantly complained about how her boyfriend would not dance at all. Two months after marriage she told about how they danced through the day. Apparently, he dances everywhere at home, when they're alone.
She loves it when he suddenly listens to some Hindi tune and starts jiving around. It is perfect and it is sad at the same time because she cannot show off this particular side of herself and her husband. But she loves this cute little secret that they have. Life after the wedding is not about getting into an identity crisis but it is about finding a new identity as a couple where you have your small secrets that you only know.
Marriage is not the answer to all our problems but, some days it just comes close with little titbits of love. Love becomes small instead of growing and becoming this huge thing that we can only dream of. As a friend muses, "Marriage is difficult for me, but, I don't know if I could live without it either."
These 9 rules for a happy marriage will make you go "That's it?"