There are so many things to do for anniversary of every kind. Be it your wedding anniversary or long-term dating anniversary or the anniversary of your first kiss, celebrating that milestone can be important for all kinds of couples. An article published by Harper's Bazaar lists the traditional way of giving anniversary presents. It recommends gifts of paper for one year, gifts from wood for five years, and a crystal-based surprise for 15 years of togetherness.
However, if you are a non-traditional couple or simply want to do something unique, we have just the list for you! Many a time, we focus on conventional gift items to suit the special occasions of anniversaries and end up buying something awfully expensive that fails to impress or melt your partner. So, let's look at some thoughtful yet special gestures for your big day.
21 Romantic Yet Unique Things To Do For Anniversary Celebration
To celebrate, you can take your partner to where you had your first date. The best places to celebrate anniversaries are, after all, the ones that hold meaning for both of you. We even have ideas for you if you just want to escape your routine and are looking for relaxing activities for couples.
One of the things to do for anniversary celebrations is this – When deciding to add personal touches to your milestone anniversary, remember that you don't have to make it expensive, only special. With that, let's dive into the list of special things to do for anniversary:
1. Homemade open-air theater
A study claims that watching movies with your partner can improve your bond. It says that discussing the film afterward can help you explain your own perspective about on-screen relationships and understand the other's point of view in a better way as well. Now, imagine doing it under the open sky.
After all, open-air theaters are a big hoot with people of all ages. And what better than your own home and cozy backyard as one of the best places to celebrate anniversaries? Just because it's your backyard doesn't mean it can't be completely transformed into an open-air theater with the help of your kids or friends. Here are some tips to make it work:
Get a budget projector
Set up a 'screen' using a big, plain white sheet
Do a sound check of the speakers you have
Use a streaming stick or download the movie on your laptop
Make sure the WiFi reaches your backyard or wherever you decide to set up the theater
Put up some fairy lights
Surround yourselves with blankets, pillows, and mattresses covered with rose petals
Arrange food items that both of you love
An open-air theater can be very affordable yet one of the most romantic things you can do for your spouse. It's a great idea for a surprise for anniversary night. After all, nothing beats spending quality time with your partner on an outdoor movie night.
2. Plan a hike
Taking a sunrise or sunset hike together and witnessing the breathtaking view can be one of the best ideas for cute anniversary dates. You can also bring your cameras along and make it a mutual project to take photos of each other in the sunset/sunrise at your hike destination. Frame the best photos you took in each other's company and make the rest into an anniversary album. This is one of the things to do for a first anniversary that could turn into a ritual in your years together.
Related Reading: 17 Romantic Camping Ideas To Cozy Up To Your SO
3. Two special things to do for anniversary – spa and mimosas
Booking a couple's spa day at a well-established chain is arguably one of the best relaxing activities for couples. It is also a great surprise for your anniversary partner if they've been wanting to visit a high-end massage parlor but have had no reason to. Well, your big day is the perfect excuse. It is one of the most fun day activities for couples, where you can both indulge in the following:
Getting a couple of separate spa sessions
Foot massages
Sweating it out in the saunas
Relaxing in a jacuzzi or hot tub with fruits and champagne
4. Take notes, leave notes
Write love notes and hide them in places your partner will discover throughout the day. You can write anything in them, from amazing memories to just things you like about your partner in your everyday life together. Leave the notes in places you know your partner will easily find them, like in their work bag, in between pages of the current book they're reading, on the bathroom mirror when it's their turn to get ready in the morning, on the refrigerator.
Draw your partner a refreshing bubble bath with rose petals and leave a note on the edge of the tub. Finding a sweet note every now and then throughout the day is something lovely to look forward to, isn't it?
5. Make your anniversary an adventure
If you want ideas on what to do for 2-year anniversary with boyfriend or girlfriend or spouse, here are a few adventurous ways you can celebrate:
Take a romantic boat ride at a local park lake or river, complete with a gourmet picnic on board for the perfect lazy afternoon
Plan a surprise weekend getaway to a cozy cabin in the mountains or by the beach
Plan a scavenger hunt to find the best hidden food spots in the city for a delicious breakfast or a fancy dinner
Have a romantic evening at a private beach bonfire with marshmallows, blankets, and stargazing
Plan a camping trip to a destination you've both always wanted to go to
Sign up for a niche dance class and learn a dance form neither of you knows
Find out the highest point in your city and plan a romantic candlelit dinner overlooking the dreamy city lights at night
Search for the nearest place where you can book a hot-air balloon ride for you and your partner
Related Reading: Travel For Two: Tips To Be Ready For Adventure Vacations For Couples
7. Couple that cooks together…
Take cooking classes together and learn how to prepare a special meal for each other. It is a great chance to bond in a new way if you and your partner are usually too busy to cook together on a regular basis. You don't necessarily need to sign up for classes; you could also hire a private chef to teach you and your partner in the comfort of your home. This way, you get undivided attention from the chef and have a lovely meal by the end of the day to celebrate your anniversary.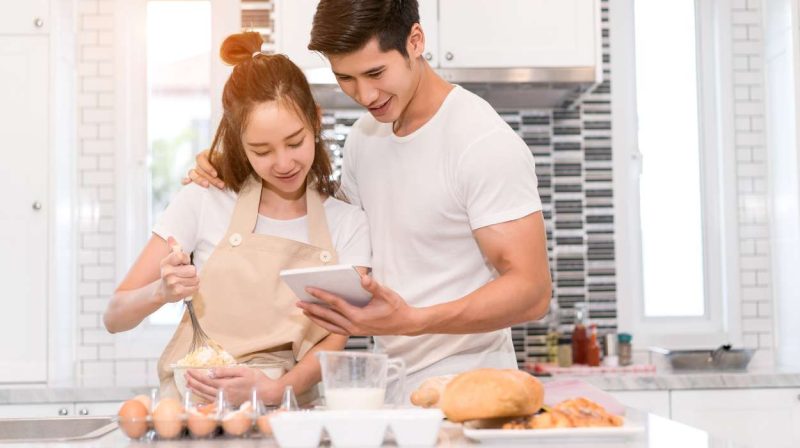 6. Send care packages for long-distance relationships
It can be tough figuring out what to do for your anniversary if you're spending that time apart. But it's not impossible to make each other feel special even from a distance. Putting together a care package can be one of the romantic 1-year anniversary ideas if you're long-distance.
Talking about the best gift their long-distance girlfriend gave them, a user on Reddit writes, "I'm in a long-distance relationship. About a month ago, my girlfriend sent me a small package with an anime-themed bean bag die, her class ring (which I looped a thread through and wear as a necklace), and a small note that smelled of her perfume. Best Gift Ever."
Include things in your care package that remind your partner of you and your special time together. Things like old photos, a letter reminiscing your first date, and other homemade gifts.
Related Reading: 18 Romantic Long-Distance Relationship Anniversary Celebration Ideas
8. Romantic things to do for your anniversary – picnics and brunches
Book a wine tasting session and ask the vineyards if they can arrange for you and your partner to have a private picnic at their venue or garden, along with champagne and your favorite foods. If the vineyard has a kitchen, ask if they could arrange brunch and mimosas for a lazy afternoon of anniversary celebration. No matter the time of the day you plan this, remember, it's always wine o'clock somewhere.
9. Good ol' days
A study states that romantic nostalgia is closely related with greater relationship satisfaction in long-term couples. This is a great idea for people who have been married for a long time, and are looking to make special occasions, like celebrating 25 years of marriage or so, even more special. Some of the romantic things you could do are:
Related Reading: 15 Best 25th Wedding Anniversary Gift Ideas For Couples
Plan a surprise date night where you recreate your first date(s) and reminisce about your journey together
Revisit your childhood homes, and the cities you and your partner grew up in by planning a road trip to those destinations
Make a compilation of music that you and your partner consider "our songs" from the early days of your relationship
Upgrade your old albums into new picture books and relive the memories
10. Give your partner the gift of experience
Gifts don't always have to be things to be meaningful, they can also be experiences such as signing up for a dance class or cooking class together. A user on Reddit agrees, "For me, this could be flying a plane, skydiving, race-car driving, parkour, etc. For others, this could be instrument lessons (coupled with an instrument for serious power), swimming, knitting, or whatever his interests are."
Planning to gift an experience is one of the most romantic 1 year anniversary ideas. It will give you a chance to make beautiful memories together.
13. Go old school – Write romantic letters for each other
Some might call it cheesy but expressing your feelings in letters is a very popular choice of gifts. You can each write a love letter to the other and exchange them during a romantic dinner at home. Writing love letters can never go out of style as a thoughtful and deeply emotional gift for your partner. There is something so intimate about a written declaration of someone's love for you that beats just about every other experience you can think of.
If you're looking for breakfast ideas for anniversary celebrations, then you can do this in the morning too. After an intimate night, bring your favorite breakfast items to your bed, and talk to each other in this light-hearted glow you find yourself in. Then write each other a love letter. You may have to take a leave from work if this idea goes 'really' well.
Related Reading: How To Write A Love Letter | Tips, Ideas And Examples
11. Get crafty
Create a 'Reasons Why I Love You' jar filled with heartfelt messages. Homemade gift ideas work the best. Here are some tips to help you create new memories with the homemade anniversary gift project:
Get either a beautiful glass or ceramic jar with a lid
Add a ribbon and a little card to label what the jar is for
Write down the reasons you love your partner in small notes or paper strips and fold them to conceal the message inside
Use paper of different colors to make it more crafty and fill the jar with these colorful notes
Add another layer of excitement by making it a scavenger hunt for your partner to find the jar
12. It's time for fun and games
Create a scavenger hunt leading to meaningful locations from your relationship. It is one of the unique and romantic things to do for wife or husband. Here are some tips to put together an exciting treasure hunt for your anniversary:
Decide a final location at the beginning
Map out a route to the final location and include several spots, but not too many
Trace through your meaningful relationship milestones at each stop
Plant small gifts or clues or a mix of both at each stop
These stops can be where you had your first date, where you got engaged, where you got married, a place you both go to on special occasions, your favorite food spot, your favorite spot at the local park, etc.
Go on and enjoy the hunt together!
14. Prepare a gift basket as an anniversary present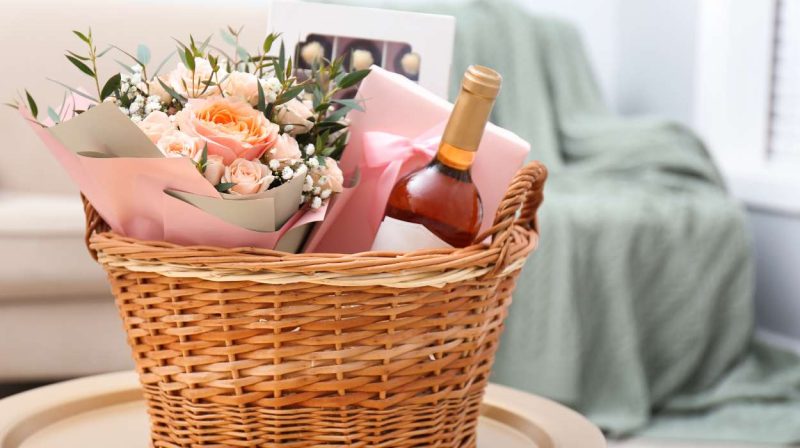 Whether it's a 2-year anniversary with girlfriend or boyfriend or you're celebrating 20 years with your spouse, preparing a gift basket is a great idea. Just bear in mind that you shouldn't overdo it. With an elaborate answer on the best gift he got from his girlfriend, a user on Reddit gives us a list of things to consider. He says he would "go wild for a gift basket" with things like:
Beef jerky, or premium preserved meats
Many different craft brews (fancy beers)
High-end coffee beans
High quality nuts
Dark chocolate
Colognes
Fine tobaccos
Some scotch, or other high-end spirits
Photo album (not digital)
A very large USB pen drive (we can always use another)
Related Reading: Best Chocolate Gifts And Boxes To Express Your Love
15. Dress your best for your bae
Arrange a surprise dinner date at a restaurant, get ready for your date night or dress each other up and enjoy a romantic evening. Ask a couple of friends or co-workers for a list of trusted places to take your wife for anniversary dinner if you want to have a private yet safe time together. Going for a dinner date night is one of the best tried-and-tested things to do for anniversary celebrations.
You can also go for a high-end fine dining restaurant. Just make sure they have a well-lit ambiance, good music, and good food. Book a table well in advance to avoid any hiccups. You can book a live performance show if that's what you and your partner like. Whichever place you choose, you can't go wrong when you have a chance to dress to the nines, eat great food, and enjoy each other's company.
16. Find out what your city has to offer
Let's get you to do something out of the box for your anniversary night without you having to leave town. It is one of the most fun, spontaneous things to do if you don't want to go to regular restaurants, theaters, or parks. Here are a few last-minute anniversary outing ideas for you:
Organize a surprise candlelit rooftop dinner with a panoramic view of the city
If you live near a water body, take your partner on a romantic boat ride during the early evening hours
Arranging a private star-gazing experience in a quiet location away from city lights is one of the most amazing anniversary night ideas
Visit a fancy museum or art gallery at night and get your photos taken within the beautiful architecture of the establishment
Related Reading: 5 Reasons Why You Should Travel With Your Partner
17. Hit the dance floor
Another one of the unique ideas for anniversary celebrations is to sign up for a dance class and learn a romantic style like salsa or tango. A study published by Scientific American points out how dancing together can increase bonding between couples. If you and your partner don't usually dance together, this can be a great way to introduce new chemistry in your relationship. Not only does learning how to dance gracefully boost confidence, but both of you will release feel-good hormones when you hit the dance floor. Maybe you and your partner are a few moves away from relighting the spark in your relationship; why not sign up and find out for yourself?
18. Make it personal
If you are looking for low-budget ideas to celebrate anniversary, where you have time to prepare the gift but not a lot of money, here are a few things you can do:
Make a board game out of your partner's favorite characters for a personal game night
Take all the pictures and videos of your partner that you love and compile them into a long video as a gift
A Reddit user describes the best gift he ever got from his girlfriend, "Audiobook of my favorite novel, Huckleberry Finn, read by her. All 10 hours."
You can also prepare or record a personal audiobook or voice-over video for your partner as a thoughtful anniversary gift
19. Put together a DIY memory lane scrapbook
Dig through your old cameras and files. Look for photos you took on trips, occasions, intimate celebrations, and any other special photo that you haven't printed yet. Create a personalized photo album or scrapbook filled with your favorite memories.
Or create multiple small albums for each memory if there are enough photos. Make a trivia night and ask specific questions to your partner about the stories related to those photos. This is one of the best anniversary things for couples to do at home and relive the old days.
Related Reading: Here's Why Making New Memories is Important
20. Hit refresh – Renew your vows on your anniversary day
You can opt to get your wedding vows renewed for a milestone anniversary. If you've been married for long and want new ideas on how to celebrate 20 years of marriage, this is it. Reaffirm all that you are to each other while reliving your wedding day and your long love story. This is something you can do privately or make it an event by inviting family and friends to celebrate with you.
That being said, you can also write new vows to each other if you're not Christian. Wedding vows are a great way to express your devotion and commitment to each other regardless of your religious affiliation.
21. Make your partner's childhood wish come true
For some, this is the best way to celebrate an anniversary. You can ask your partner about one of their childhood wishes that they would have liked to happen. Here are a few things to choose from if you get no clue from them:
Going to an amusement park like Disney World or The Wizarding World of Harry Potter could be one of the best anniversary outing ideas
You can cosplay as your favorite characters at comic con
Dress up and go for a Broadway show like Wizard of Oz (remember to book tickets in time)
Relive your teenagehood and go for bowling
Key Pointers
Remember, one of the most important things to do for anniversary celebrations is to tailor them to your and your partner's preferences. Some people love surprises, while others may prefer to have a say in the planning process
The effort and thoughtfulness you put into planning the anniversary celebration will make it truly special and memorable
Sometimes, being practical happens to be one of the most romantic things to do for an anniversary. So, take factors like budget, location, time, distance, etc. into account and don't overextend your financial means or mental resources
Reflect on your journey and any significant milestones you've achieved together. Consider adding elements that symbolize these milestones of your relationship
Some of the best anniversary ideas are paying homage to your first date and other happy memories, creating a treasure hunt, setting up a home theater, getting dance lessons together, or simply writing an elaborate love letter to each other
Whether you're celebrating 25 years of marriage or just one year of your relationship, anniversaries are important and give you something romantic to do for your loved one. Make sure you take factors such as budget, location, time, and setting into consideration. Add personal touches to the celebration, like sentimental items, inside jokes, or special surprises that hold meaning within your relationship.
Our comprehensive list has given you plenty of things to do on your wedding anniversary or a dating milestone. Choose the best option that works for both of you and remember to have fun with it!
How To Make Up For Forgetting Your Anniversary – 8 Ways To Do It
12 Best 10 Year Anniversary Gift Ideas For Couple To Celebrate Decade Of Togetherness