When you get into a relationship, the second best thing to happen afterward is the celebration of your anniversary. Now, dating anniversary gifts have become very crucial these days. If you are here, chances are that you are already puzzled about what to get your partner. However, you have nothing to worry about as we've got your back.
It is not about going to a store and picking up just about anything for your partner. The gift has to be a perfect blend of emotions and utility. If you choose a gift that they do not feel attached to, it won't work out. Keeping these things in mind, we have put together a list of the best dating anniversary gifts to give to your partner.
Dating Anniversary Gifts For Her & Him
As special as you and your partner's dating anniversary is, it is equally important to have something ready beforehand to make each other's day. Are dating anniversary gifts mandatory? Definitely not.
However, it does showcase the celebration of a milestone. And that is special for sure. So whether you are looking for 6 month anniversary gift ideas or one year anniversary gifts for her or him, this list should come in super handy. Let us dive right in, shall we?
1. A set of mugs for couples
What's better than taking a sip of your favorite beverage together from cups that are symbolic of your love? This set of couple mugs exists to serve that purpose in the most adorable fashion. So if you are looking for 6 month anniversary gift ideas or one year dating anniversary gifts for him or her, this is an excellent option!
Microwave-safe
Made of high-quality stoneware ceramic
12 oz each
Related Reading: 20 Best Relaxation Gifts For Her To Relieve Stress
2. T-shirt set for couples
Just like the mug set, this t-shirt set will celebrate your dating anniversary in the most romantic way. Being a bit cheesy in love can definitely be hilarious and wholesome. This t-shirt set is also super comfortable and passes as one of the best dating anniversary gifts. Matching couples gifts are adorable and this t-shirt embodies all the cuteness of it.
Made of 100% cotton
Machine and hand-wash
Contour fit for women and loose fit for men
3. Customized song lyrics frame
Next up, we have a song lyrics frame. So, what exactly is it? Whether there is a song that the two of you love listening to together or if it's your partner's favorite song, you can use the lyrics to customize the frame with it. Romantic, right? Moreover, you can customize your names on the frame too. Hands down, one of the most creative dating anniversary gift ideas.
Made of high-quality waterproof paper
UV ink used for print
Custom-sized
4. Anniversary picture frame
This big picture frame is unique in its own way. It is not just the picture of you two that it showcases. There is this handmade 3D heart-shaped string that adds to the overall 'anniversary' feel. Definitely one of the most thoughtful one year dating anniversary gifts for her and him.
3 x 3 in photo
Frame is made of wood
Comes with a flexible rotatable switch
Related Reading: 33 Best Valentine's Day Gifts For Her | Gift Ideas For Girlfriend
5. Anniversary sundial compass
'
Moving on, we have a premium sundial compass to make your partner's day. This is not your regular compass. The lettering engraved on it celebrates your anniversary. Moreover, this is the best way to tell your partner that if they ever lose their way, you are right there to help them out. Yes, you can get a bit poetic in love if you want. If you are running out of 6 month anniversary dating gift ideas, look nowhere else. To make things extra special, you can also pen down an amazing anniversary wish with this compass. This is easily one of the best dating anniversary gifts out there.
Measures 2.8 x 2.8 x 1 in
Made of high-quality brass
Comes in a mango wood case
6. Funny anniversary beer glass combos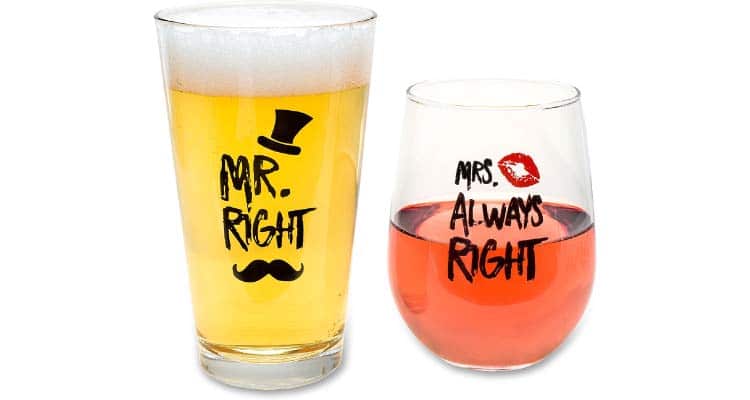 Couples who drink together, stay together. A very wise person said this once and we are going to abide by it! This beer and wine glass combo is all that your beloved drinking and life partner needs on your anniversary. One of the funniest dating anniversary gifts for sure.
Comes with capacities of 16 oz and 17 oz
Beer pint glass and wine glass combination
Funky "Mr. Right" and "Mrs. Always Right" lettering on the glasses
7. Wholesome keychain
A keychain is a very underrated, everyday gadget that everyone needs. Moreover, when the keychain says, "Thanks for swiping right", it immediately becomes extra special for your partner. If you two met online and hit it off, this is one of the best one year dating anniversary gifts for him or her. This is one of the most sentimental gifts for him and her that you can come across.
Measures 1.77 x 0.79 x 0.08 in
Made of stainless steel
Comes in a beautifully-designed gift box
Related Reading: 30 Gift Ideas For Women Who Have Everything – Unique Gifts For Her
8. Romantic anniversary special rock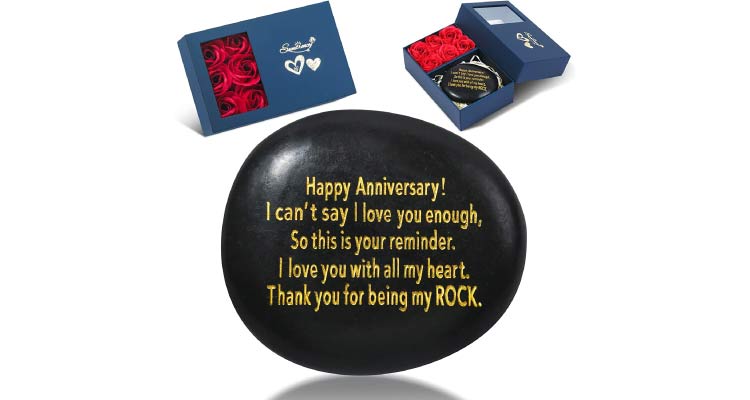 This gift is an incredible testament to the fact that when you think hard enough, you can come up with something entirely unique. This rock is symbolic of everything that pulled the two of you together in the first place. Moreover, the way it is presented is just way too special. Definitely one of the most creative anniversary dating gifts for your partner.
Comes in a beautiful blue box
Six red roses and 'love you' card inside the box
Natural rock used in the product
9. Funny scented candle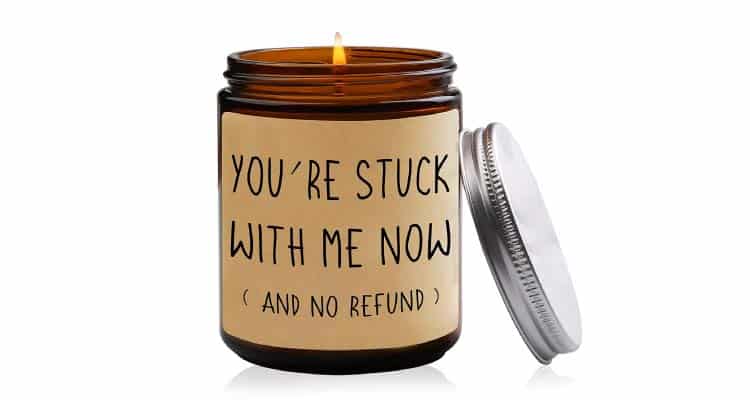 This candle is the perfect blend of much-need aromatherapy and a quick giggle. The candle comes with the lettering, "You are stuck with me now" on the glass jar. Funny, yes. But very useful too, after a long day at work to ease your partner's nerves and help them be at peace. All in all, one of the most thoughtful dating anniversary gift ideas, if you ask us.
Citrus essence
Up to 35 hours of burning time
Made of 100% soy wax and cotton wick
Eco-friendly
10. Romantic night light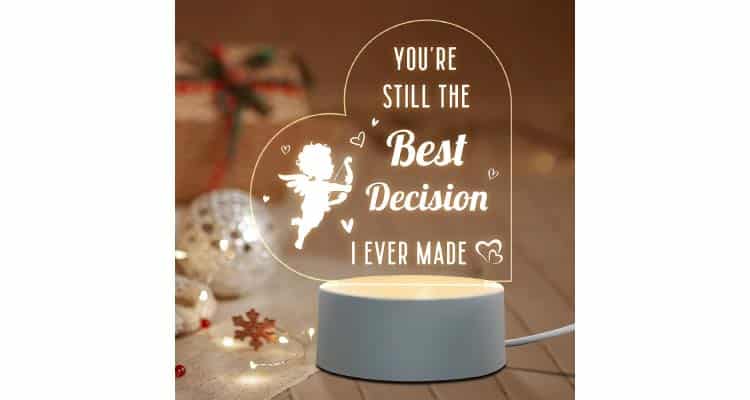 Did Cupid strike an arrow to pull you two together? Well, you can get your partner this night light to remind them of it. Yes, there is a Cupid and yes, there is some really romantic lettering that reads: "You're still the best decision I ever made". One of the most romantic and unique one year dating anniversary gifts for him and her.
Dimensions of 3.8 x 5.5 x 6.6 in
Made of acrylic
Environment-friendly
Related Reading: 16 DIY Gifts For Girlfriends — Homemade Gift Ideas To Impress Her
11. 'I love you' customized frame
Customized gifts are always special and this designer frame is a great choice. The elegant design, dreamy lettering, and overall presentation makes it one of the best one year dating anniversary gifts for her and him.
Measures 20 x 13.74 x 0.47 in
Can be customized with up to 25 characters
Wood grain finish
12. Romantic moon lamp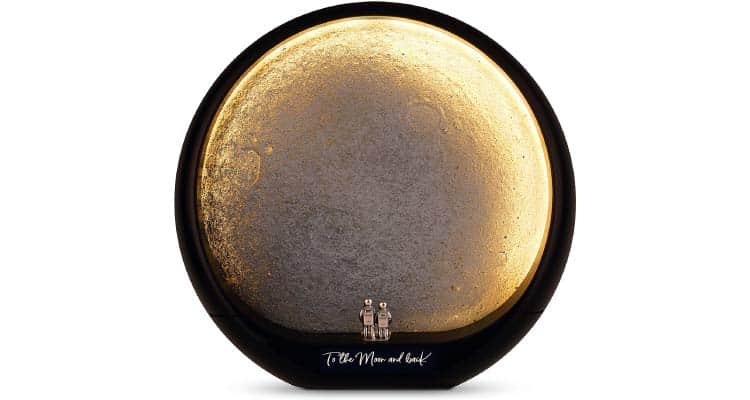 The moon has always been considered to be a romantic and loyal companion. With this moon lamp, your partner gets a miniature version of the real one. The lamp is finely detailed and once you turn off the lights, it is a sight to behold. This moon is a no-brainer if you are looking for romantic anniversary dating gifts.
Comes with dimensions of 3 x 6.69 x 3.15 in
Made of Acrylonitrile Butadiene Styrene
3 color modes to choose from
13. Bonnie and Pop chocolate gift basket
No matter what, chocolates are NEVER going to be overrated gifts. This is primarily because they are the best stress-busters and tasty anti-depressants. Additionally, this Bonnie and Pop chocolate gift basket is a blessing in disguise if your partner loves milk chocolates. Quite literally one of the 'sweetest' dating anniversary gifts. Rest assured, your search for the best chocolate gifts to express your love ends here.
Consists of toffees, pretzels, and chocolate balls
Comes in a beautiful Bonnie and Pop branded tin
Kosher dairy
Related Reading: 15 Best Zodiac Gifts For Him And Her – Astrology-Themed Gift Ideas
14. Couple's tumbler set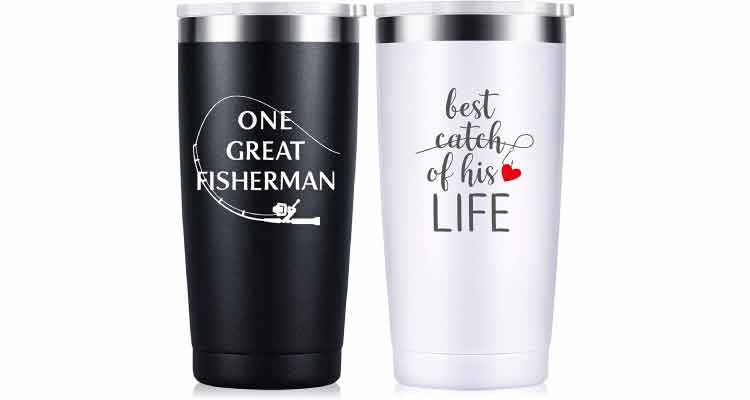 A tumbler is the best and the most eco-friendly way to carry your favorite beverages. Not only does this set of tumblers allows you to keep your drinks warm or cold for long periods of time, but they also come with the letterings "One great fisherman" and "Best catch of his life". This just had to enter our list of the best dating anniversary gifts.
Tumblers come with a straw and lid
Made of food-grade stainless steel
100% BPA-free lid
15. Adventure book photo album
Are the two of you very outdoorsy and often take trips together? Then, that is probably one of the biggest reasons to travel with your partner frequently. This adventure book is definitely what your partner needs then! You can store so many photos in this album. Plus, it looks like something straight out of a romantic animated movie. Yes, we are talking about Up. So, if you are looking for anniversary dating gifts, this is a great option to consider.
Album measures 11.8 x 9.4 x 1.4 in
80 pages
Holds up to 160 photos
Related Reading: 40 Best Valentine's Day Gifts For Him | Gift Ideas For Boyfriend
16. 'Happy anniversary' figurine
This is not just any figurine that your partner is going to keep in the cupboard for display all year. They're definitely going to take it out multiple times to think about how special you are to them. The absolute stunner that this figurine is, it is equally romantic and surely one of the best one year dating anniversary gifts for her or him.
Dimensions of 3.5 x 1.5 x 3.5 in
Uses precision-cut Matashi crystals
Comes in a velvet pouch packed inside a gift box
17. Romantic candle holder
This is an LED candle holder that offers the flickering light effect of a candle as well. So, your partner can actually use it forever and not worry about running out of wax. Convenient, eh? Besides, it looks absolutely beautiful and makes for one of the cutest dating anniversary gifts!
White, clean texture finish
Measures 3.85 x 4 x 8.5 in
Made of resin
Related Reading: 32 Birthday Gifts For Fiancé – Romantic Gifts For Him And Her
18. Hand-casting kit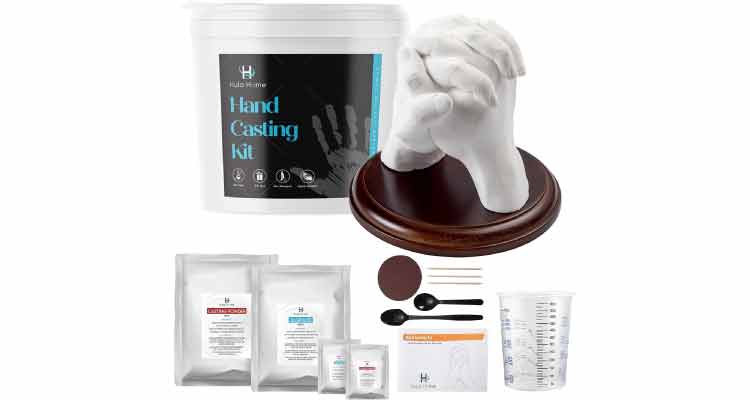 At this point, you have probably come across hundreds of adorable hand-casting videos circulating social media. Trust us, when you actually use them, they are not overrated anymore. What better way to mark your anniversary than with this lovely gift that will immortalize the day. This casting is for you both to keep forever. You don't have to go all out to be romantic. Sometimes, gifts like these are the simplest and easiest ways to be romantic.
Kit includes 680 g molding powder and 900 g casting powder
The bucket included is reusable
Easy-to-follow instructions
19. Matching bracelets
At first glance, these may seem like two ordinary bracelets. However, there is more going on than meets the eye. These are not your regular bracelets and come with magnetic straps to attach them to each other. Besides, these are not regular stones, but healing stones. With this, you can actually help your partner be at ease and even recover from stress or anxiety attacks. One of the most thoughtful dating anniversary gifts for your partner who is dealing with such issues.
Made of stainless steel
Black, handmade, textile wax rope used
Waterproof and durable
Related Reading: 35 Useful Travel Gift Ideas For Men – Best Gifts That He Will Love
20. 'I love you' decor lamp
Sometimes, it is in the most subtle presents that one feels the essence of love. This lamp fits the description of such a present. It is a decor lamp, with a twist. There is this beautifully engraved flower and the words "I love you". If this does not scream romance, we don't know what will. This is surely one of the simplest yet best dating anniversary gifts for your partner. You don't need a whole lot of ways to make your girlfriend happy. When it comes to women, attention to detail is all you need. Just remember your anniversary date and gift this. That's all you need.
High-quality K9 crystal used
Advanced 3D laser engraving technology used
6 lighting modes to choose from
100% non-toxic, ABS+PVC material used in making it
So, this was our list of some of the best dating anniversary gifts for you and your partner. We hope this helps you find the right gift for your loved one. Just know this, no matter what you give them, let it come straight from the heart. Trust us, the beautiful feeling of love is going to radiate without you having to be overly cheesy. Also, a very happy dating anniversary, reader!
Thinking Of You Gifts For Your Partner – Ideas For Him And Her