Looking for the best 25th wedding anniversary gift ideas? Well, you've come to the right place because we're going to spoil you with choices here. These gifts are suitable for everyone, be it your partner with whom you're observing your anniversary, or a couple you know. These gifts have to be something special. After all, it's not every day that you see a silver jubilee, do you? It's a truly special occasion and it's worth celebrating in all its glory, for a life and relationship well-lived.
Therefore, you must ensure the gift you pick is something unique and wonderful, just like the occasion at hand! And don't worry, the 25th wedding anniversary gift ideas presented here are certainly going to work their charm on the recipients.
25th Wedding Anniversary Gifts For The Silver Year Celebration
Choosing the perfect gift from the plethora of silver wedding anniversary gifts out there can be a little headache in itself. What do you choose that doesn't come across as generic while also caters to your partner's preferences? What to choose that you haven't already gifted? What kind of present would make them feel special? 
Many such questions are sure to go through your mind when trying to browse through different 25th wedding anniversary gift ideas. Luckily, the products listed here are all unique in themselves, and it's going to be easier for you to decide upon that one gift you want to purchase for them. 
25th Wedding Anniversary Gifts For Wife
When purchasing 25th wedding anniversary gifts for your wife, you should take care to avoid something that might come across as uninspired and cliched. The present should be something that can reflect your love and admiration for her. Through the gifts listed below, you should be able to find something that's suited to her taste as well as this commemorative occasion.
1. Soundwave-customized art print
When deciding on 25th wedding anniversary gifts for wife, why not give her something that reminds her of a moment that's special to the both of you? It might be your wedding and the way you silently danced together, or it can be the day when you proposed to her. No matter the occasion, there's often some music attached to them. Through this gorgeous art print, you can gift her that song as well as that moment in a luxuriously designed print. Each song has its unique pattern, and so does yours.
The frame is made of pine wood that's both light and durable
Comes in 7 different colors, including silver and bronze
You can record your voice for the art print as well
Related Reading: 15 Unique And Useful Wedding Gifts For Older Couples
2. Crystal heart marriage keepsake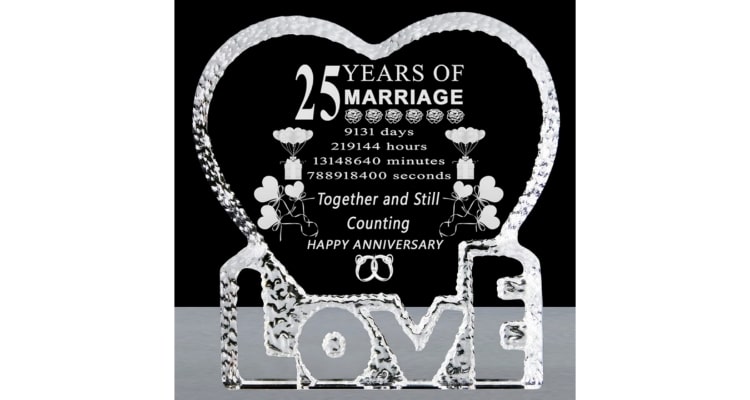 People who've spent this much time together don't realize this, but 25 years is a long period! And to represent the gravity and beauty of it, this keepsake is the perfect piece to go for. When browsing through options for 25th wedding anniversary gifts, remember, that a simple thing can go a long way. Just like the love between you two, the words on the keepsake are permanent – they are carved on a crystal. The keepsake improves the aesthetics of any place and would be perfect for any room in your house.
Made of premium crystal
Comes in a gift box so you don't have to pack it again 
Its size is perfect for it to be kept anywhere, be it your bedroom or your work desk
3. Enchanted real rose with a heart necklace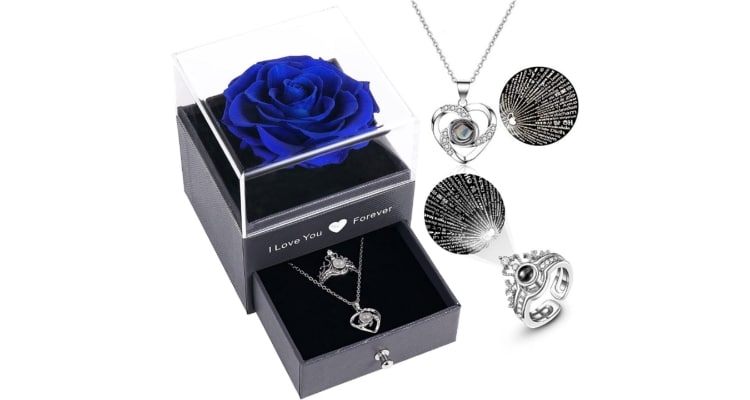 If you're running out of unique 25th wedding anniversary gift ideas and afraid of whether your wife will like the present or not, this is a safe and gorgeous piece to fall back on. If kept in ideal conditions, the rose remains preserved in its box forever, just like the love between you two. The necklace head has 'I love you' written in 100 different languages to represent your love in all its different forms, and it's guaranteed to charm her heart.
The words on the necklace are printed using nanotechnology
The rose should be kept in cool conditions for a longer life
Available in 7 different colors
Related Reading: 12 Trendy Wedding Gifts Your Groom To Be Will Love
4. 'Two peas in a pod' silver wedding necklace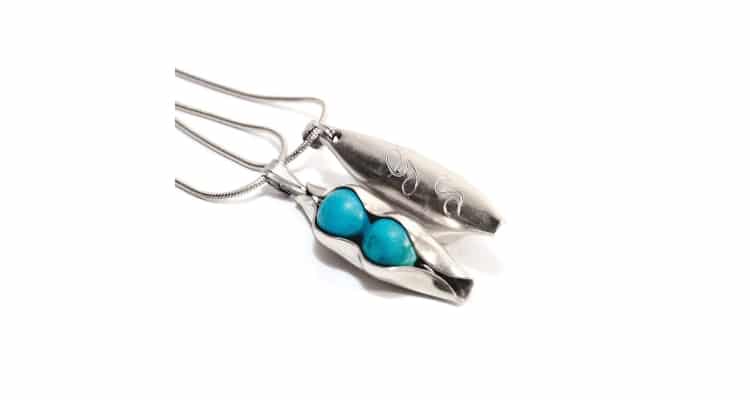 There are plenty of reasons that this is one of the most adorable and unique 25th wedding anniversary gifts for wife. It allows you to choose two different birthstones that it wraps in a piece of sterling silver (to represent your silver jubilee). You can also have your initials engraved on the back of the pea pod. Moreover, you can also add a handwritten letter for your wife that goes in the gift box. Talk about a stylish and personalized gift!
Comes in a gorgeous gift box 
You can add up to 4 pods in one necklace
The pendant comes attached with a snake chain made of sterling silver
5. Personalized night light
Why not go for something romantic when choosing silver wedding anniversary gifts for your wife? Something that shows how much you love her and how much she means to you? With this night light, which has a beautiful illustration with some heartfelt words for your wife, you can do just that. The light can also be used as a bedside lamp that shall always remind you two of the everlasting flame that is your marriage. Perfect, isn't it?
Made of wood and acrylic
The LED bulbs provide a faint but steady light
You can use USB power supply methods as well as an electric cord to light it up
Related Reading: Online Gifts For Her – Gift Ideas For Women That She Will Love
6. Bedroom decor wall art with a kissing couple
If your wife is an art lover and has a fancy for abstract and minimalistic designs, this wall art would be just about the perfect gift for her. The product goes with any space, be it your living room or the bedroom. Every aspect of the frame and art has been manufactured with extreme attention to detail. Therefore, not only will the piece attract more than a few eyeballs at a family event, but it's also certain to last for a very long time.
Available in three variations
Made using metal 
Waterproof and UV resistant, so you can be sure of its durability
7. 25th-anniversary wooden frame
Something that reminds you of the journey you've taken together all these years would certainly make the list of the best 25th wedding anniversary gift ideas for couples, right? This exquisite wooden frame shows two pictures – of you and her – one from the time of your marriage, and one from the present day. The wooden look lends the frame an old, classic look that further reflects all the time you have spent together.
Can be hung on the wall or kept on a surface
Made of fiberboard of medium density
Has a rustic wooden finish for a vintage appearance 
Related Reading: 12 Useful Gifts That Keep On Giving – Gift Ideas For Him And Her
8. 25th-anniversary couple figurine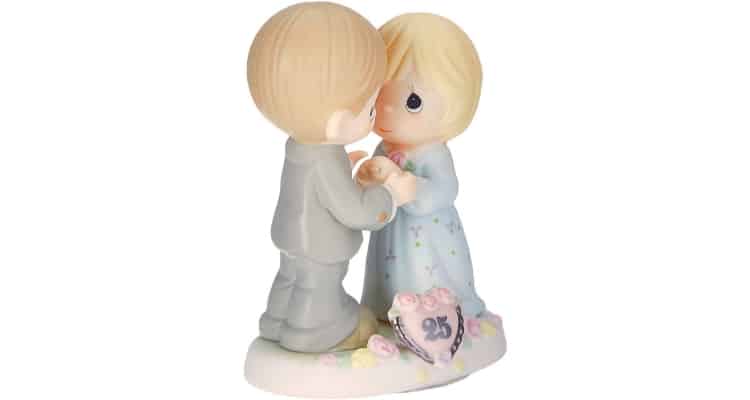 They say it's all in the eyes, and so it's true for all the lovers out there. In the eyes, one can see all the hurt and joy and love of their partner, and through the eyes and their meeting, love is born every day and every second. Show your love for her through this figurine of a couple looking at each other's eyes with intent and passion. She's certainly going to fall for this adorable little gift piece.
The figurine is silver-colored to signify your silver anniversary
Made of bisque porcelain 
Each piece is unique as they're hand-painted
25th Wedding Anniversary Gifts For Husband
Trying to get the most unique 25th wedding anniversary gifts for him? The gifts listed below should provide you with sufficient ideas to pick a gift that speaks to his personality as well as expresses your love toward him. The gift would not just be to him, but would be an ode to your long-standing relationship. Let's now look at some of the best silver jubilee gifts for your husband.
Related Reading: 30 Romantic Gifts For Him [Sentimental Gifts For Men]
1. World map wall art for living room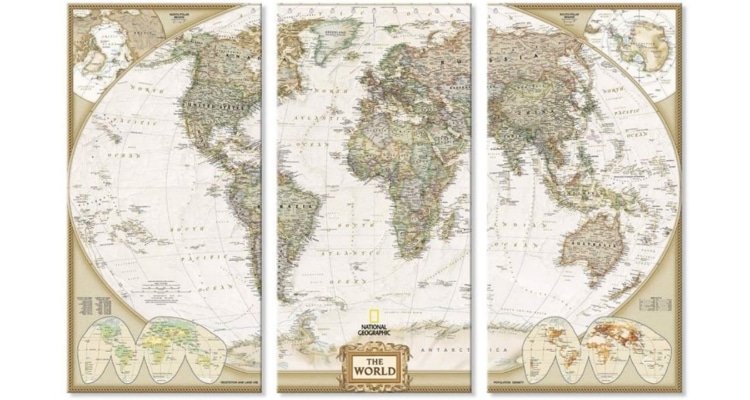 One of the better 25th wedding anniversary gift ideas for couples is to find something that charts your journey together through all these years. And what better way to do that than an actual map that traces your journey through the globe? That city you moved from, that country you two loved roaming around in, that waterfall you both admired, pin them all on this gorgeous wall map. Even if you don't wish to pin it, the map works as a great piece of home decor by itself and can be displayed anywhere.
Printed on premium quality canvas for a long life
Can be easily hung on a wall
Has resistance to water and fading, which adds to its durability
2. Wedding anniversary champagne flutes
If you want 25th wedding anniversary gift ideas for someone who likes their wine, this might just be the perfect gift. You two can enjoy a quiet moment with each other, remembering all the times you've shared, as you enjoy some fine beverage. They are engraved with the words '25th anniversary' – this shall always remind you both of the occasion and the significance attached to this pair of flutes.
Each flute can hold up to 8 oz of beverage
Made of glass
Comes in a romantic, luxurious gift box that can be used directly for gifting
Related Reading: 20 Best Relaxation Gifts For Her To Relieve Stress
3. Wedding signature picture frame display
If you're looking for 25th wedding anniversary gifts for him that serve as a reminder of the family and friends he has, and if you wish to bring some beautiful memories to his mind, this frame display is perfect. Not only does it allow you to ask your mutual friends and loved ones to pitch in and scribble something to make the gift more special, but it also lets you use your wedding picture in the frame. This creates a very unique gift that you both shall cherish for the next 25 years to come!
Made of glass
The frame is built using engineered wood
The frame used is gallery-like to preserve your photos and provide a clear view
4. Stainless steel whiskey stones and glasses
Is your partner an admirer of a well-brewed beverage? Then this would be a great product to give him on your anniversary. These 25th wedding anniversary gifts for husband are undoubtedly going to bring a smile to his face. Not only do these stones keep your drink colder for a longer time, but you can also look more stylish drinking it in those premium whiskey glasses. And the accompanying greeting card conveys your feelings of love and affection for him.
Comes with a hand-crafted pine box 
The complete set includes crystal glasses, granite rocks, a gift bag, a greeting card, a pouch, and tongs
Each whiskey stone is resistant to rusting and corrosion and holds a cold temperature for long durations
Related Reading: Thinking Of You Gifts For Your Partner – Ideas For Him And Her
5. Da Vinci Code mini-puzzle box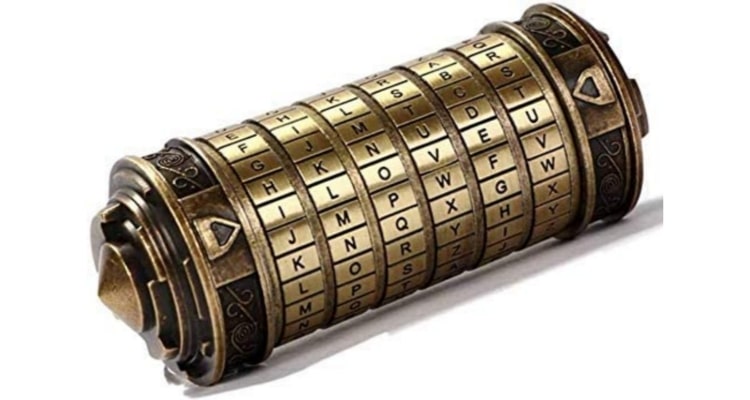 Do you have a partner who loves mysteries? Then why not choose something mysterious when searching for the best 25th wedding anniversary gift ideas? The puzzle box comes with the default password of ILOVEYOU, which you can keep as it is, and give them hints till they unlock it. The box can be used to hide something small, like a ring, key, or some secret note telling them how much you love them even after all these years. This product is the best way to bring out feelings of adventure and mystery while gifting them something profoundly romantic.
Available in 3 colors
Can also be used as a puzzle game for children and adults alike
The product is inspired by The Da Vinci Code by Dan Brown
6. Personalized bobblehead portrait sculpture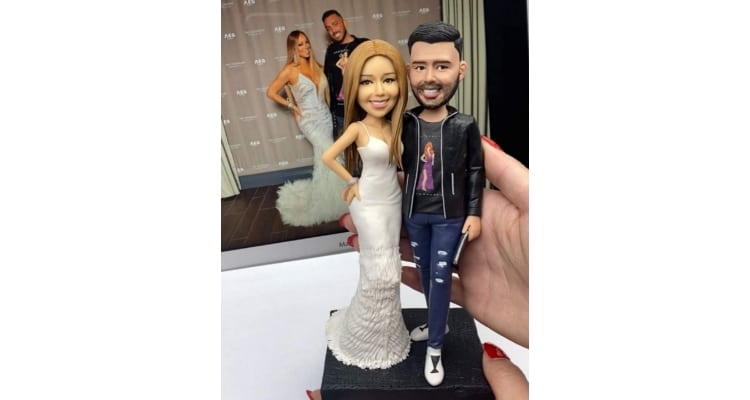 Confused even more after browsing through multiple 25th wedding anniversary gifts for husband? Go for something simple yet very specific to you two, like this adorable bobblehead figurine. Created using your pictures, these sculptures bring you both to life and make for some truly special gifting pieces. It's also a great gifting option for partners who have a sense of humor and can have a laugh over these cute bobbleheads.
Made with polymer clay which is more ductile and plastic than resin
The bobbleheads are sculpted by a craftsman using any picture of you and your partner
Their size makes them perfect to be kept on bedside tables or work desks
Related Reading: 30 Matching Couples Gifts – Cute Matching Gifts For Him And Her
7. Personalized and engraved leather journals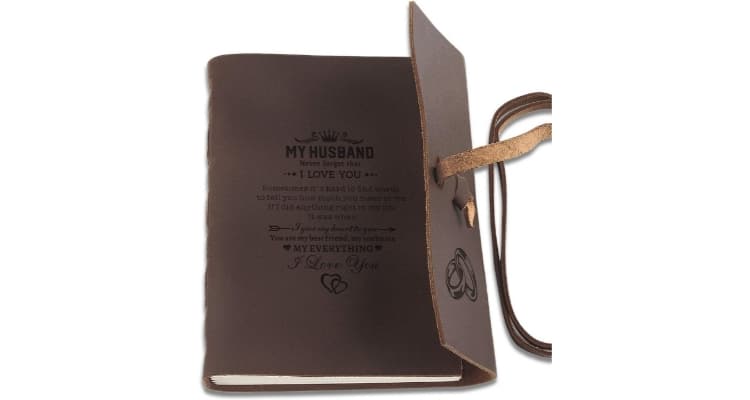 If your partner finds his solace in the world of words, then go for this premium journal without a doubt. Created using premium-quality leather and paper, the craftsmanship of this product ensures he'll write as much as possible. You can engrave your choice of text on the cover and write all that you want to tell him on this 25th anniversary of being together. The straps and the hand stitching on the cover further provide it with a vintage look that adds to its aesthetics. 
Comes in 5 different variations
Made of brown water buffalo leather
Each paper sheet is unlined, cream-colored, and crafted using recycled cotton
Not only would these 25th wedding anniversary gift ideas bring joy to your partner on the occasion, but they're also going to cherish the love and care you put behind choosing them. These gifts have been listed keeping in mind the different tastes and preferences your SO might have. I hope you found something that suits both you and your partner. Alright then, let's get shopping, shall we?
FAQs
1. What is the traditional 25-year anniversary gift?
The answer to the question lies in its name. How so? Well, what's the other name for a 25th anniversary? Indeed, the traditional 25-year anniversary gifts are silver products. It can be anything, as long as it's made of silver. Pick a gift that is of silver color or is made of silver.
2. How do you celebrate 25 years of marriage?
It all depends on what you prefer. Do you both like a large gathering consisting of your friends and family? Or do you prefer a quiet night together with some good food and wine? Do what pleases the two of you. After all, it's a special day for you both, and if you're not happy, then what's the point?