10 years is a long time to be with someone. It's a milestone that deserves to be celebrated. Throw them a grand party and look for the best 10 year anniversary gift ideas for couple who have been through all the ups and downs together. It takes a lot of love, communication, respect and support from both the people in the marriage to keep the relationship going strong.
Every year of marriage must be celebrated because living with someone is not only difficult but also tiresome at times. But what makes it worth all the trials and tribulations, is the pure act of giving and receiving love. It's true what they say – love wins! And to commemorate this love, it brings us so much joy to share this list of 10th wedding anniversary gifts for couples because that's what we do. We, at Bonobology, love to celebrate love.
12 Best 10 Year Anniversary Gift Ideas For Couple 
If a relationship has survived for 10 years, it must be because of the efforts both the parties have put in and make it work. To celebrate the benchmark, here's a list of the best 10 year anniversary gift ideas for couple who tackle marriage problems one day at a time with grace and poise. 
1. Tin rose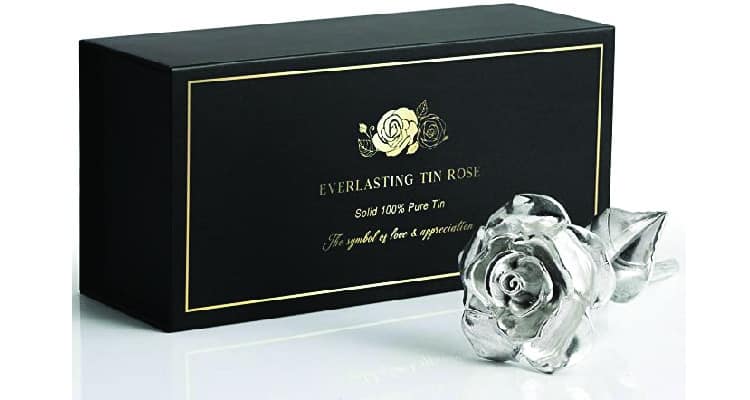 The 10th year of marriage is marked by tin or aluminum. The materials represent endurance and durability, which are needed to sustain a loving union. This lovely tin rose is one of the perfect gift ideas for couples celebrating their Tin year anniversary. 
Detailed single rose, exquisite in every detail
Realistic stem that can be bent with your hands
Solid cast from 100% tin, not dipped or plated
Related Reading: 15 Last-Minute Hostess Gifts Ideas | Inexpensive Hostess Thank You Gifts
2. 10th anniversary date night dice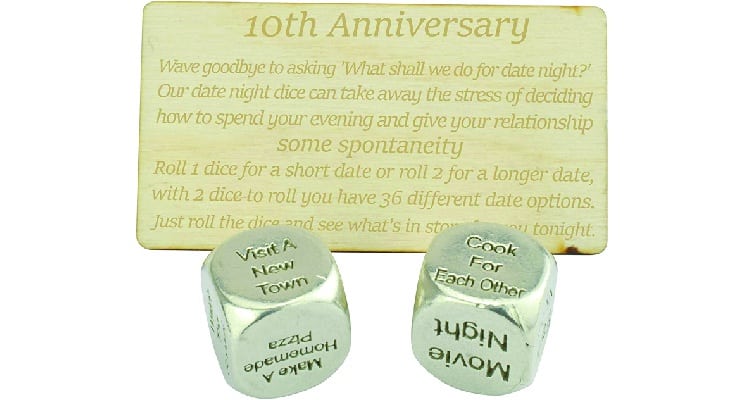 Do you want to help the couple decide what to do on date nights, to keep the romance alive? Well then, this date night dice will do the thinking job for them. All they have to do is roll the date night dice and let fate decide what they will be doing. This is one of the best 10 year anniversary gift for couple because with 2 dice, they can get a mix of 36 different variations for date night. 
Solid 100% pure tin
Comes with a little slip explaining about tin and why it is given for the 10th anniversary
Packed in  velvet bag with instructions
3. Throw blankets with pillow cases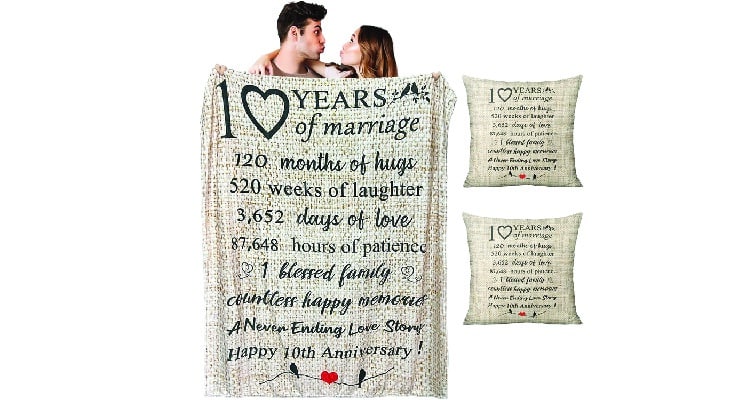 This is one of the best 10 year anniversary gift ideas for couple who love to snuggle together while watching movies. The text on the blanket reads, "10 Years of Marriage, 120 months of hugs, 520 weeks of Laughter, 3,652 days of Love, 87,648 hours of Patience. 1 blessed family, countless happy memories. A never ending love story." You just said, "Awww!", didn't you?
Soft, silky and warm blanket
Machine washable and has anti-pilling flannel 
Pillow covers have hidden zipper design
Skin-friendly and the print is on only one side
4. Memory keepsake booklet
This 10th year anniversary booklet is a great gift for the couple celebrating a decade of love. The booklet is fun, sweet and extremely easy to fill out. It is filled with romantic quotes and blank spaces for the couple to fill out together. This  is one of those 10 year anniversary practical gift ideas for couple is rather unique and personalized too, minus the fact that you have to break your head over what to write on each page. That's for the love-birds to do.
24 beautifully illustrated 8×8" pages 
Some pages this booklet contains — our love in numbers, the day we tied the knot, thoughts for each other, etc.
The scrapbook is thick and eco-friendly
Related Reading: 12 Creative Gifts For People You Don't Know Well
5. Couple sculpture
One of the best 10th anniversary gift for couples as it's a beautiful reminder of love, kindness and mutual respect. This is a simple and sweet couple figurine who are kissing and holding each other with the promise of a happy and strong future together. This romantic figurine portrays the power of intimacy and love.
Elegant, artistic and contemporary in feel and design
Symbolizes harmony and emotional support between man and woman
Size: 6.2'' H x 3.5'' L x 2.2'' W 
Ready to display on shelf, table or mantel 
6. Rustic picture frame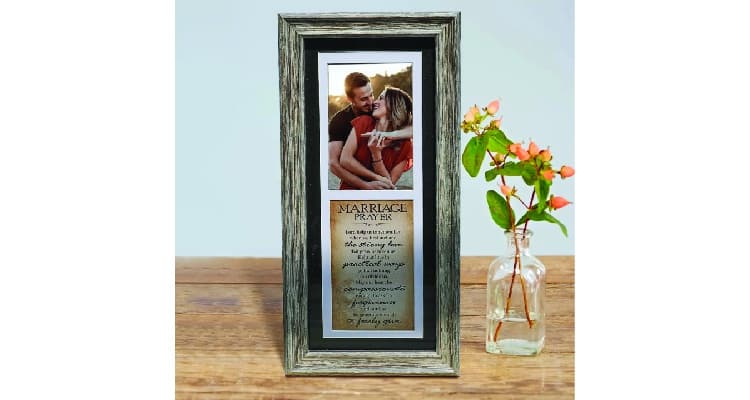 This rustic picture frame is the perfect 10th anniversary gift for couples who wish to receive God's blessings every day. It has a marriage prayer engraved on it. It reads, "Lord, help us to remember when we first met and the strong love that grew between us. Help us love in practical ways so that nothing can divide us. May our heart be compassionate enough to ask for forgiveness and our love be generous enough to freely give." Truly a touching gift that will show the couple how much you value their love and togetherness.
Dimensions: 16.5″ L x 8.5″ W
Made of 100% real wood
Tempered glass to protect picture
Durable backboard to hold picture firmly in place
7. Couple drinking glasses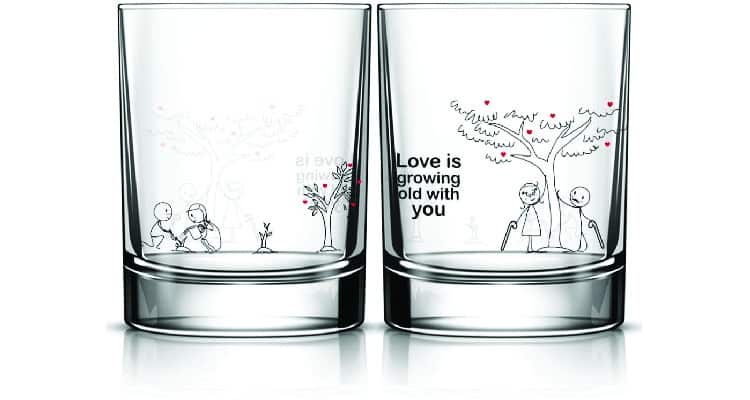 This "Growing Old With You" couple glass set is a lovely way to pour the couple celebrating their 10th anniversary some love and whiskey. These 10 year anniversary gift ideas for couples will remind them of their bond and the shared good times.. 
Playful take on classic whiskey glasses: Clean lines and rounded shape with whimsical stick figure characters
Dish-washer safe
Heavy base and highball glass make them durable 
Complete image on each glass 
8. Wooden calendar with tin figurines
This is the cutest gift from this list of gift ideas for couples who are celebrating 10 years of togetherness. Tin is a symbol of strength and durability which perfectly represents one decade of marriage. This warm and beautiful gift features a family made out of  tin aluminum alloy sitting together and under the same roof on the solid, wooden blocks that make up the date.
Can be customized by any date
Perfect combination of solid wood and metal
This walnut wooden house-shaped art piece can fit the decor of any room in the house
Related Reading: 15 Unique And Useful Wedding Gifts For Older Couples
9. Ceramic mug set
"Tin Anniversary" and "10 wonderful years" with silver lettering and silver hearts are printed on this pair of ceramic mugs. This is one of the best 10 year anniversary gift ideas for couples. They can have coffee dates at home and drink to their happiness every morning with their favorite brew in the new favorite mugs thanks to you. 
Packaged in beautiful box with "On your wedding anniversary" printed on top
"Happy Anniversary" on all four sides of the box
Both of the mugs are fully dishwasher safe and also microwave safe
Each mug measures approximately 4″ H x in 3" D
10. Candle holder statue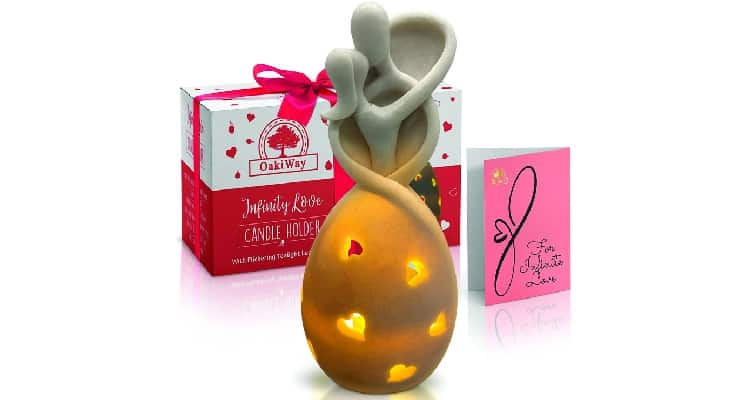 Another heartwarming statue as a 10 year anniversary gift ideas for couples. A great deal of thought went into the design of this Infinity Love Candle Holder as it has a strong meaning: it portrays a couple hugging and creating an infinity shape. Because love is forever!
LED candles, batteries and votive cup also included 
Shines like a real candle; light comes out of the small hearts on the lady's dress, creating a warm, relaxed and romantic atmosphere 
Made of high quality resin material 
Comes in beautiful giftable packaging 
Lovely greeting card also included
11. Party ornament keepsake
There will definitely be a party to celebrate the couple's anniversary. This party ornament with "10 years as Mr and Mrs" printed on it, will add a dash of floral romance to the decor of the party. Express your love for the couple with 10 year wedding anniversary gifts for couples like these.
Includes one circle ceramic ornament, 1 gold ribbon, 1 beautiful greeting card and 1 gift box
Ornament is made of high quality, white, ceramic 
Lightweight and won't fade easily
Both, front and back, is printed with vivid color patterns 
12. Metal snowflake
This uniquely handcrafted metal snowflake makes one of the prettiest 10 year anniversary gift ideas for couples. The snowflake has "10 years" cut out in the middle. A really lovely gift for couples who had a winter wedding just before Christmas.
Handcrafted in the UK and polished to a shine
Features cut out snowflake design and the words "10 years" in the center of the snowflake
Comes in black, velvet pouch with red ribbon
Made of solid, quality metal 
Tin and aluminum are the perfect for representing a couple who have completed 10 years together. They don't rust and keep on shining for years and years to come. Be a part of their celebration and get them the best, unique and most thoughtful 10th wedding anniversary gifts for couples.