An anniversary is a celebration of a couple's love. Everyone has a different way of expressing appreciation for their partner and women seem to do a fantastic job of marking this milestone. Men, on the other hand, find themselves circling back to the same-old cliched gifts. And this might be passable on the first anniversary when the honeymoon phase is intact, but two years are enough to know your better half's preferences well. So, here are 30 unique 2-year anniversary gifts for girlfriend that will sweep her off her feet.
Gone are the days of flowers and chocolates – we now live in an era of customized gifting and utility-based presents. We have curated this list of 30 gifts that will carry the sentiment perfectly. And they cater to a range of tastes too. Budget-friendly? Yes. Practical? Yes. Aesthetically pleasing? Yes. We're certain that you'll find something for your lady love. So without any further ado, let's get started on Mission GIG (Gift Ideas for Girlfriend)!
Best 2-Year Anniversary Gifts For Girlfriend To Impress Her
When you really think about it, cute 2-year anniversary ideas for girlfriend aren't that hard to come up with. The only problem is that most ideas have gone stale. But that doesn't mean we discard the classics altogether. The trick is to improvise and adapt; the most old-fashioned gift ideas for girlfriend can be revamped with elegance. A little bit of ingenuity, coupled with a dash of romance can do wonders for your love life.
You should do something special for your two years of togetherness. And don't get us wrong, 'special' does not mean grand. It's possible to drop an aww-bomb without pageantry and fanfare. We want to make things easier for you by pointing you in the right direction. Use these ideas as a jump-off point and personalize them as per your significant other's taste. Don't be preoccupied with popular opinion and don't succumb to too much pressure – just think of your girlfriend and trust your gut.
Roll out the red carpet because here comes the most coveted list of 2022…the best 2-year anniversary gifts for girlfriend!
1. An engraved bracelet
You can never go wrong with jewelry when it comes to top gift ideas for girlfriend. But it's always good to add a dash of novelty to this classic present. An engraved bracelet can be the perfect present for your sweetheart. A personalized message, both your initials or a date special to you both can be scribed upon this delicate ornament. It's ideal for daily wear, reflects thoughtfulness and is very beautiful. Reasonable in price and high in emotional value, this bracelet makes for a lovely gift.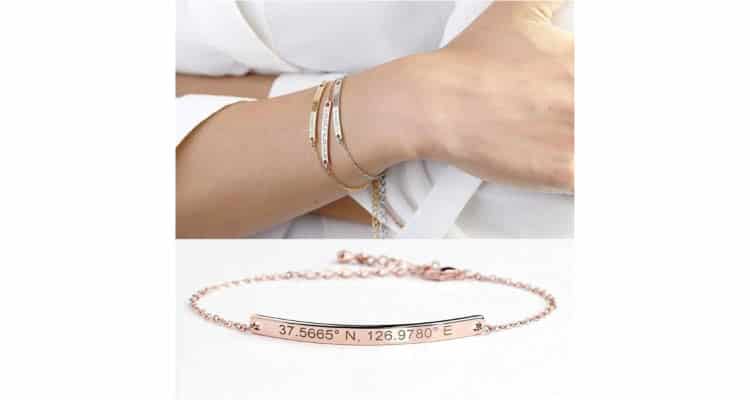 2. A photo album   
There's something incredibly affectionate about photo gifts. They're a reminder of the most cherished times in a person's life. One of the best 2-year anniversary gifts for girlfriend is a photo album you've curated. You could choose your best memories and organize them in this chic album. With 600 pockets and a variety of color options, you can tailor the look as you like. Your girl will see the effort you've put into the gift very clearly.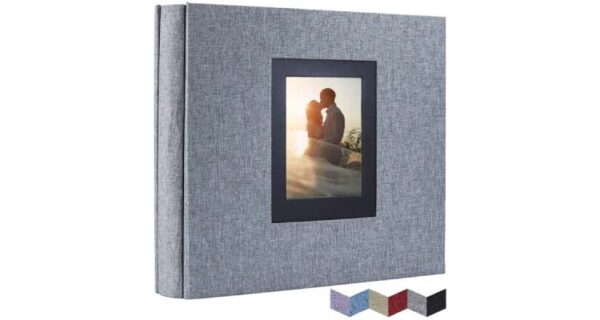 3. A love map
Don't think we forgot the long-distance love stories out there. A love map of your respective states along with your names can be a beautiful present – a reminder of the special bond you share. Hitting the two-year mark in an LDR is very commendable; you should get a present that commemorates the effort and time you have put into nurturing the connection. Moreover, this map is super-duper customizable and looks amazing with the frame. Such gift ideas for girlfriend are bound to floor her!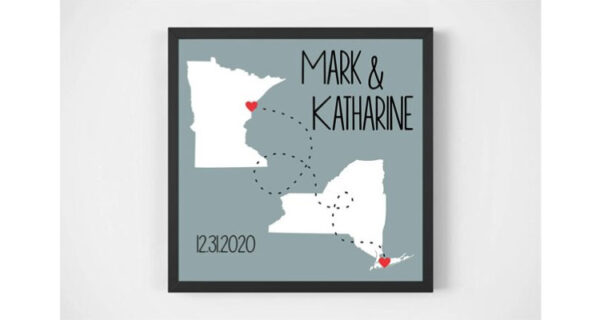 4. A bookmark
If your girl is a book-lover, there is no better present out there. This artistic bookmark is an incredibly sweet gesture that takes into account what she likes doing.  With its stunning tree of life design and colored crystals, it is minimal yet impactful. The vintage appeal is the cherry on top of the cake. And here's the best part – it shows how you pay attention to the different aspects of her life and respect them. Can it get any better?
5. A dinner date at home – Best 2-year anniversary gifts for girlfriend
Sophia Loren said, "Cooking is an act of love, a gift, a way of sharing with others the little secrets — 'piccoli segreti' — that are simmering on the burners." And doesn't this ring true for 2-year dating anniversary gifts for girlfriend too? A home-cooked meal by you in the comfort of your living space is the most intimate setting we can think of. A menu of her favorite dishes, a few candles, some wine or champagne, and you're all set for a romantic evening with your lady love.
Related Reading: 21 Gifts For Your Girlfriend's Parents & In-laws | Under Budget Gift Ideas
6. A music box
What's one of the finest anniversary gifts for her? This charming wooden music box that conveys all you need! The lyrics of You Are My Sunshine will make your girlfriend's jaw drop as she opens the box. And don't we all agree that music boxes need to be brought back into fashion? There's something so retro and attractive about them. And besides the apt choice of song, this box is just lovely to behold. It's a big YES from us; what do you think?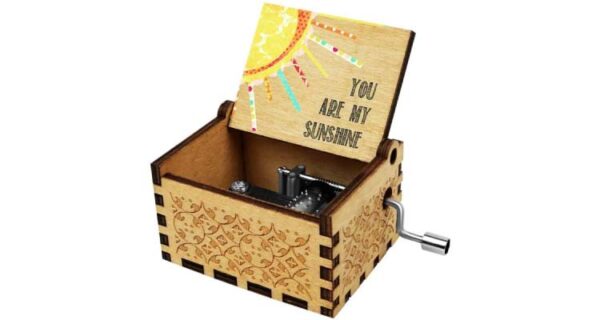 7. A coffee flask
Remember what we said about utility gifting? While romantic and cheesy presents are flattering in the moment, they end up becoming showpieces on a desk or shelf. Why not look at 2-year anniversary gifts for girlfriend that can be put to use every day? This coffee flask is the ultimate present that fits into your girlfriend's daily routine. Insulated, travel-friendly, and leak-proof, it is the ideal companion for a busy bee like her. And we like the range of colors it's available in too.
8. What are the top cute 2-year anniversary ideas for girlfriend? A mini-vacation
Yes, this will amp up your budget by a few notches but can you really put a price on love? Travel for two is becoming quite popular with many couples choosing to globe-trot together. And a vacation need not be elaborate, you can plan a weekend trip somewhere close to home. The goal is to get away from the everyday schedule and spend some quality time together. We think this tops the list of 2-year dating anniversary gifts for girlfriend for sure.
9. A vanity organizer
Is your girlfriend into makeup? Does she love trying new beauty products? Are her things a little all over the place? Well, we've got just what she needs. This vintage, wooden vanity organizer can be a marvelous gift. It not only helps your girl out, but also makes for a very adorable addition to her couture. No more will her brushes or jewelry lie around scattered about – she'll have 99 problems but makeup won't be one. Cute gifts for girlfriend are not that hard to find after all.
10. Monogrammed towels
Adulting makes us appreciate the little things in life. What wouldn't we give for comfort at home? These cotton towels are a small luxury that will go a long way for your significant other. Thick-spun, highly absorbent and monogrammed, they top the list in mature anniversary gifts for her. Better than a one-time spa appointment and more prudent too. She'll certainly feel like a queen with this sophisticated present.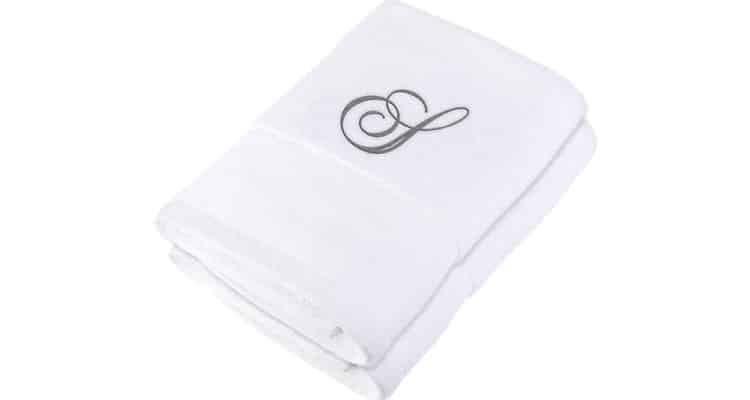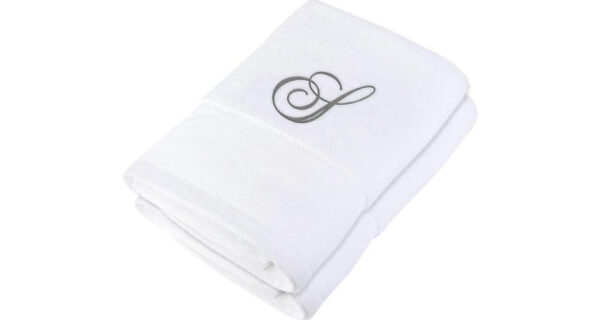 11. Recreate a childhood favorite
Allow us to explain. As children, we've all cherished something or the other. A cartoon character, a specific play area, a book, or a toy. Recreating this memory or gifting a copy of much-loved memorabilia can make for cute gifts for girlfriend. Ask her parents what she used to love or think back to your conversations. Remember how Chandler Bing gifted Kathy a copy of The Velveteen Rabbit? Yes, precisely that.
12. What I Love About You Book
This is definitely one of the most unique 2-year anniversary gifts for girlfriend. Being loved is wonderful and knowing why one is loved makes it extra-wonderful. You can fill out the blanks in this little book that describe what you like most about your partner. For instance, "You have the greatest taste in _________" or, "If you wanted to, you could easily ________". Besides being a good exercise in gratitude for you, it will make for a cheesy and funny gift for her. Like they say, there's no such thing as too many compliments for your girlfriend.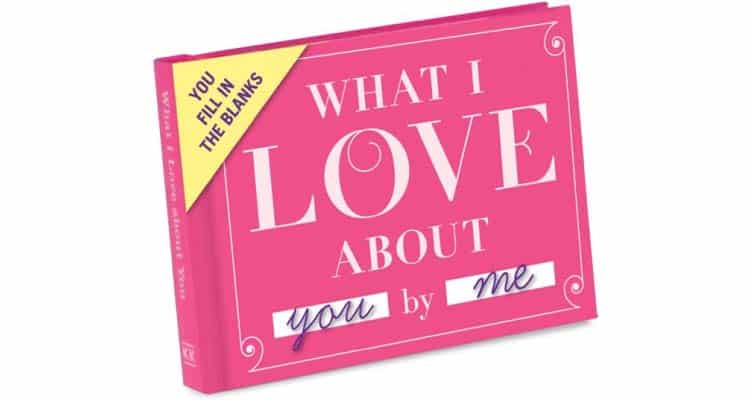 13. Personalized wine glass
Did you say you were looking for elegance? Look no further because this personalized wine glass exudes panache and grace. If your woman is a wine aficionado, this gift will leave a mark. You can get her name engraved on the glass in a variety of styles and patterns. She might not be able to use it on a regular basis, but it's a special present nonetheless. Drinking together, late into the night, with candles around you sounds lovely, doesn't it?
14. A membership
Is there something your girlfriend has been meaning to do for a while? Going to the gym, learning a new language, taking up a hobby, subscribing to a newsletter, etc.? Gifting her a membership to any one of these is a genius idea. It will help her explore a new area and make her grow as a person. Contrary to popular belief, anniversary gifts for her don't always have to be romantic. They just have to be thoughtful – what's more thoughtful than keeping her well-being at heart?
Related Reading: 21 Romantic Gifts For Him [Sentimental Christmas Gift For Men] 2022
15. Scented candles
Many people across the world swear by the difference a good candle makes. Besides enhancing the ambiance, it has a calming effect on everyone in the room. As Mehmet Murat İldan said, "What distinguishes a candle from other lights is that it appeals to our soul, not our eyes!" Gifting your girlfriend this high-quality scented candle seems perfect. The aroma of balsam and cedar will melt any stress away instantly. Needless to say, the glass jar will be a great addition to the room's décor. Keep reading for more 2-year dating anniversary gifts for girlfriend.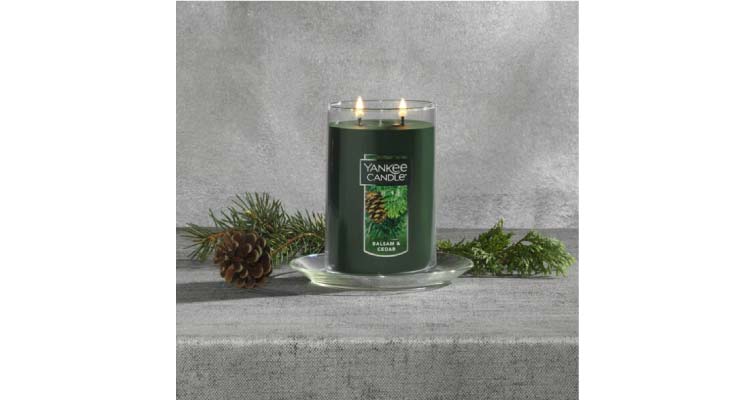 16. A cozy comforter
What are some cute gifts for girlfriend, you ask? A warm and cozy comforter that's cuddle-friendly! This fluffy, quilted, reversible duvet is an ideal gift as it can be the beginning of many snuggly nights on the couch. And in our times of lockdowns and quarantines, we can't really think of a more apt present. Make your girlfriend's life comfier on your second anniversary with bedding like this. It's available in multiple sizes and colors so you can have your pick.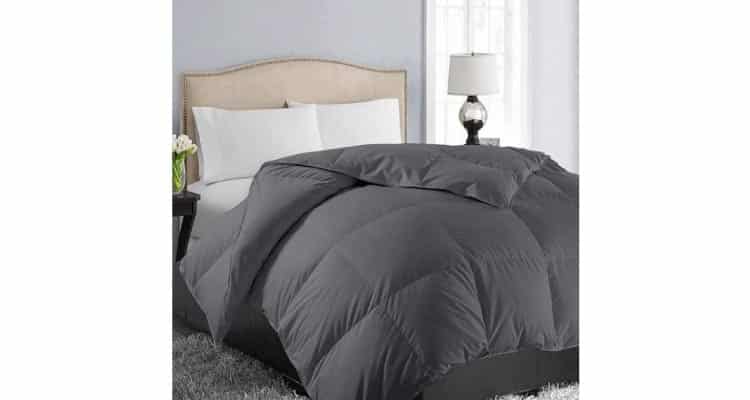 17. A personalized face mask
A gift suited to the pandemic-monium around us. This face mask is more on the utilitarian side of the gifting spectrum, but if your girl's job puts her in contact with a lot of people, this is a sweet reminder to stay safe by masking up. Having her name on it is an added bonus. For all the gents whose partners work in healthcare, here's a gift to mark your appreciation, concern and love.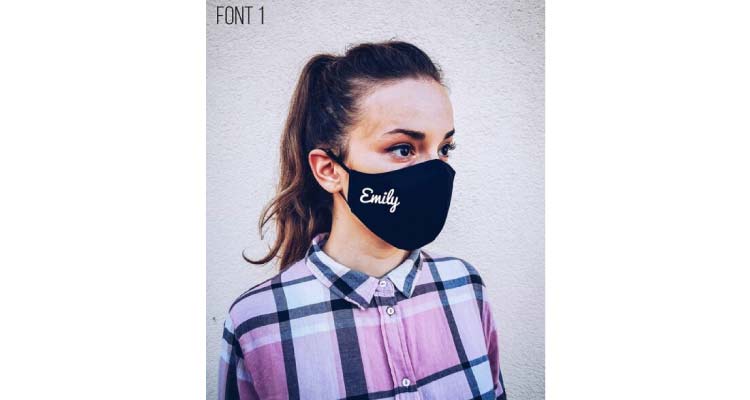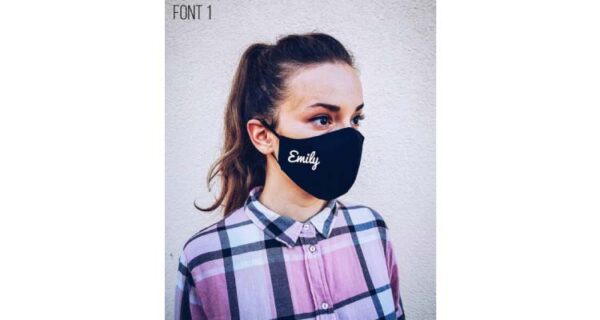 18. A painting of you two – Anniversary gifts for her
Self-made presents are all about love, and art is the best medium to convey how you feel. Painting a picture of you two (or even a portrait of her) is one of the best 2-year anniversary gifts for girlfriend. If you don't have an artistic bone in your body, it's very easy to commission painters these days. LinkedIn and Instagram are at your disposal to scout for budding artists. And if there's a friend who can paint – that's an added personal touch.
19. A gift for yourself…
It sounds counterproductive but it really isn't. This gift will put a huge smile on your girl's face, because it's enormously cheesy and cringe. This 'I *heart* My Girlfriend' tee is a ridiculously adorable gift for your anniversary. You could wear this tee and put on a jacket over it. Surprise her at dinner by unzipping the jacket and proclaiming your love for her. No one ever thinks of such cute gifts for girlfriend – PDA is not that bad after all.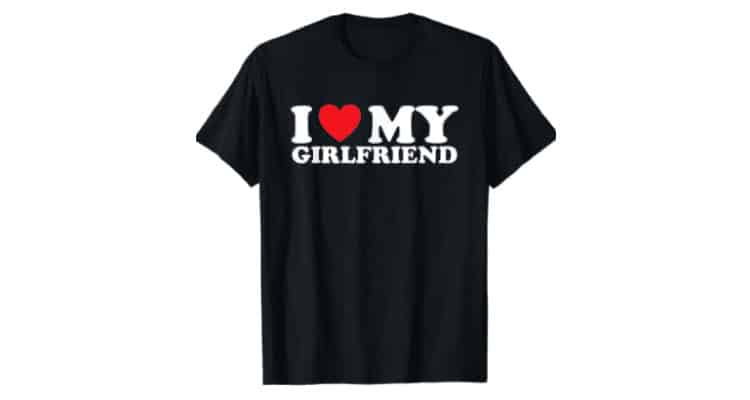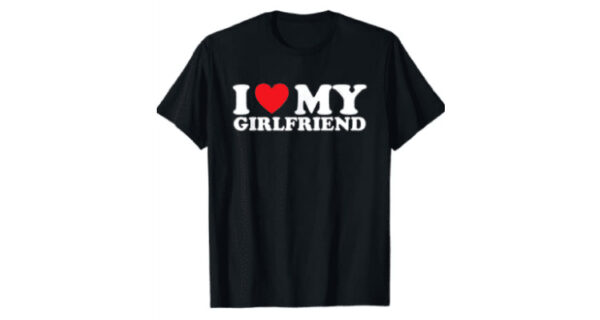 20. A custom star map
These maps are becoming increasingly popular with couples. People want to capture the sky on a date and location special to them. You could get such a star map for your lady love and frame it. The print will have your names written along with the date you want. There will also be the coordinates of your location accompanied with a starry map of the same. Whoever said unique 2-year anniversary gifts for girlfriend are difficult to find?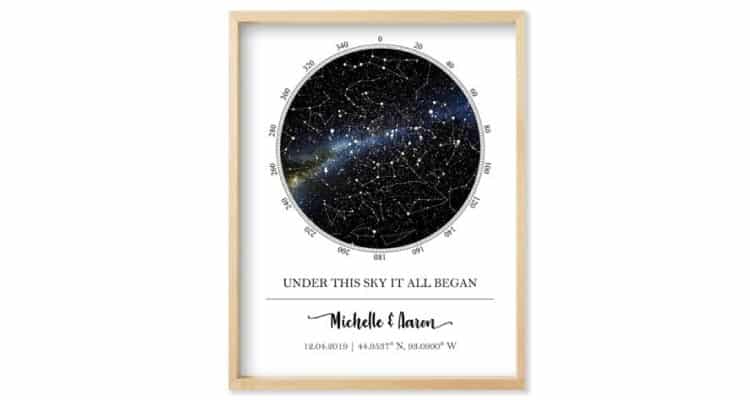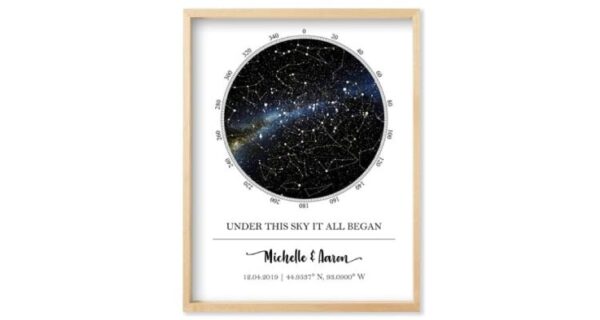 21. Yin-Yang bracelets
Here's a pocket-friendly gift that's got a lot of sentimental value attached to it. While matching bracelets are an overused concept, this one puts a spin on things by incorporating the Yin-Yang concept. They make for interesting 2-year anniversary gifts for girlfriend by bringing spiritual harmony to the relationship. They will be a constant reminder of the ancient Chinese philosophy that encourages you to strike the balance in your relationship. This gift becomes sweeter if you're a long-distance couple.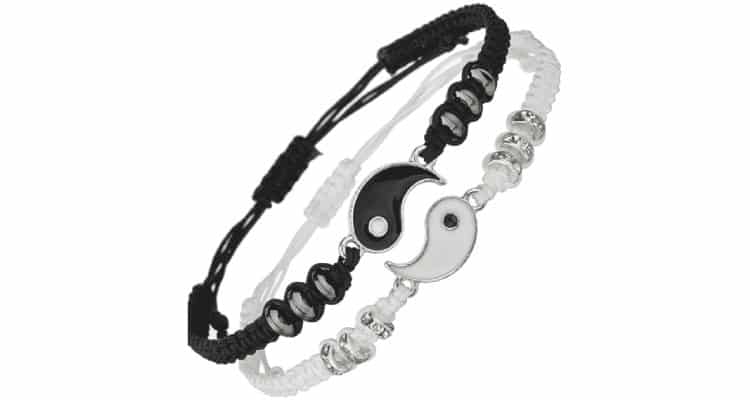 22. A date night idea box
Pledge to spend more time with your girlfriend by gifting a date night idea box. This box has 100 (yes, 100!) ideas for some one-on-one time with your lady love. Winter dates, dinner dates, outdoor dates, double dates and so much more. Just pick a chit and do what it says. Imagine the memories you could make with this. A gift like this will bring you both closer and build intimacy. We think it's perfect for your relationship's health.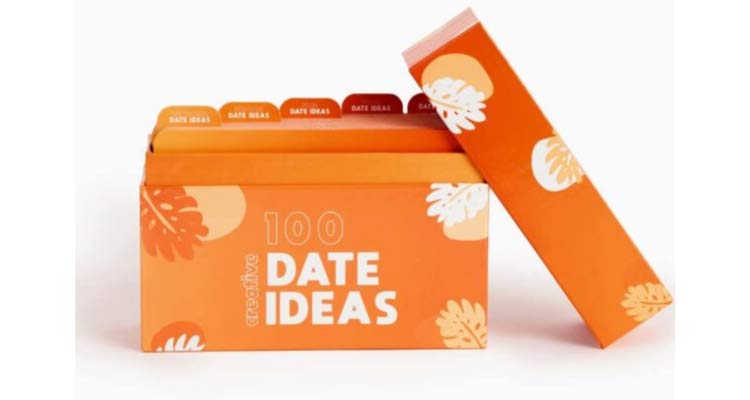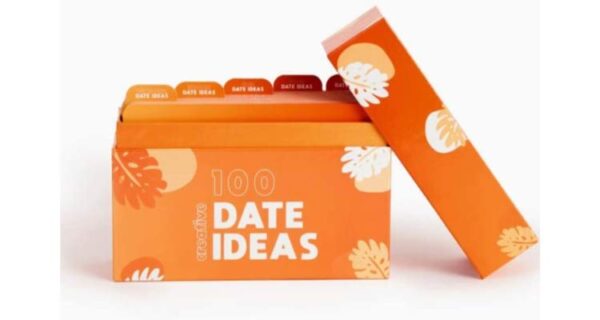 23. The key to your apartment
Jean-Paul Sartre said, "Commitment is an act, not a word." A second anniversary is a good time to make a gesture of commitment in one form or another. You could introduce her to your parents, give her the key to your apartment, ask her to move in with you, and so on. Naturally, this depends on the pace and timeline of your relationship and what you're both comfortable with. Don't do it under any pressure, it has to come from the heart.
24. Luxury perfume
Perfume is such an important part of a person's style and presentation. Gifting your girlfriend this luxury perfume by Vera Wang is a phenomenal idea. It embodies utility, aesthetics and a sense of opulence about it. Its heart-shaped, purple bottle is simply stunning to behold and the cap looks like a crown – this 'princess' perfume is made for your sweetheart. It is available in 2 sizes and in a combo pack with a body mist too.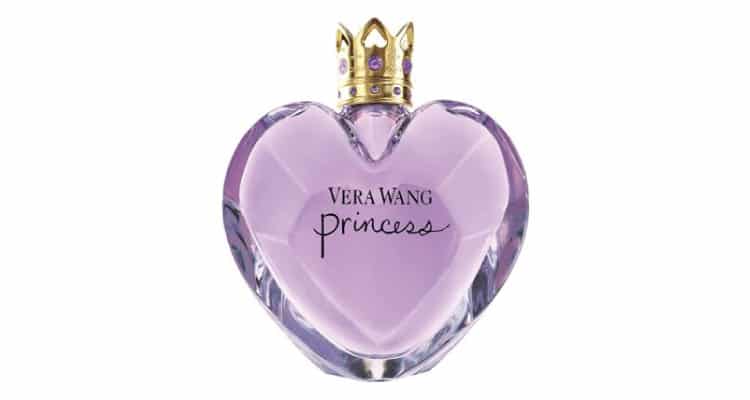 25. A DIY soap kit
Is your girlfriend a fan of those DIY craft videos on Instagram? If yes, then this DIY soap-making kit is a wonderful present for her. She's probably already considered buying something similar herself, but ordering the ingredient separately is a huge hassle. This kit makes things so much simpler by providing the soap base, silicon containers, essential oils and liquid dyes. And don't worry about instructions – the manual given inside is a good guide for beginners.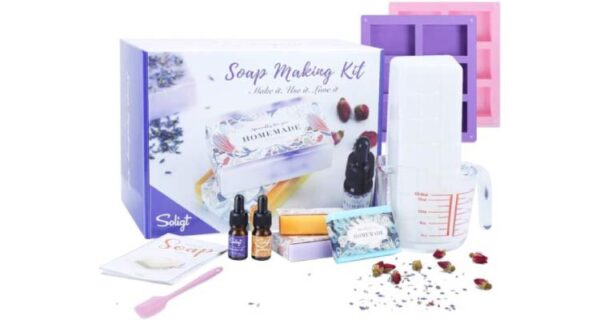 26. Shot-glass roulette
If you and your girl are the wild couple that enjoys drunken fun, this shot-glass roulette set is a genius present. Drinking games like these are the perfect recipe for a night of craziness. You can fill the shot-glasses with a drink you both like (we're thinking vodka or tequila, what say you?) and start the game. Add in an element of stripping with each shot if you're feeling particularly adventurous. A second anniversary calls for some serious excitement, right?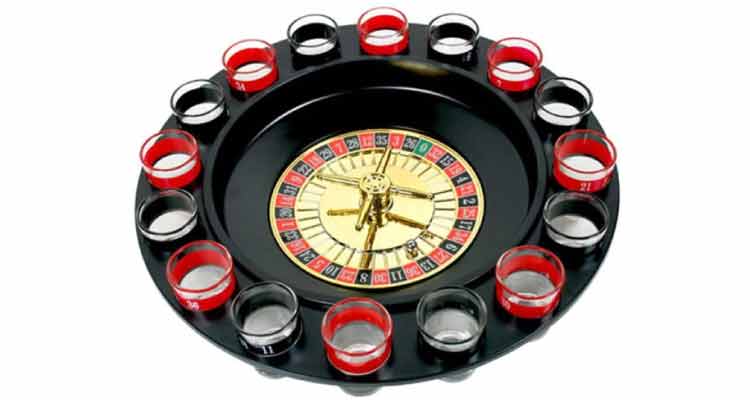 27. Polaroid fridge magnets
Yes, here comes another personalized gift. Picture frame fridge magnets are cute gifts for girlfriend because they're great fixtures in the house. You can think of them as sweet, everyday reminders of the bond you share. Pick your three most fun pictures – those taken at a photo booth or gaming arcade perhaps – and submit them for the magnets. Your girl will be glad to have these around.
28. A couple's project
Painting a wall or renovating an area in the house, taking a class together, planting trees in the garden, etc. are fabulous ideas for some bonding time. You'll have fun working on an activity together and the outcome will also be advantageous. Not enough couples do something productive – a celebration can come in all shapes and sizes after all. Feel free to strike things off your bucket list or to-do list as a 2-year anniversary gift for girlfriend!
29. A personalized bobblehead
Remember the bobblehead Angela gifted to Dwight in The Office? Now THAT was a cool present. Anniversary gifts for her can be on the fun side too. This clay figure will look amazing on her desk or office shelf – she'll get full bragging rights about her awesome boyfriend and his gift-giving skills. While we agree that a custom bobblehead is heavy on the pockets, it is truly one of a kind. But that being said, don't go out of the way to get it.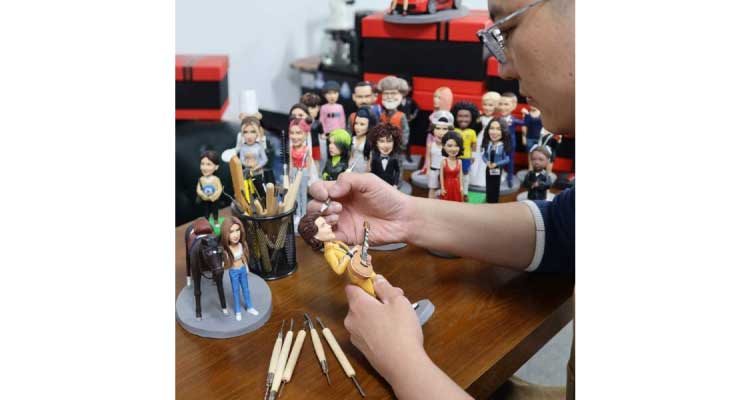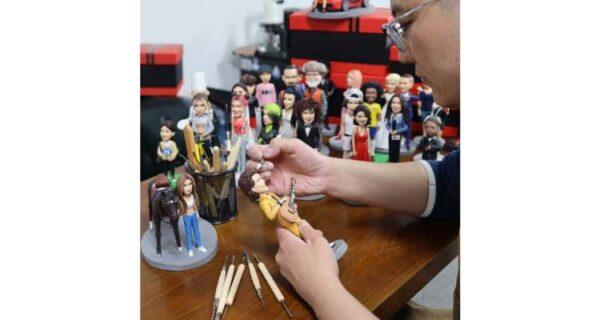 30. A USB mixtape
We've saved the best for the last with this USB mixtape that revamps a classic gift. With its retro look and super-cute design, it is a great gift for your girlfriend. Load all her favorite songs on the drive and add a few of yours too. The 16 GB storage allows for a LOT of tracks! The music will work its magic and make your second anniversary extra special.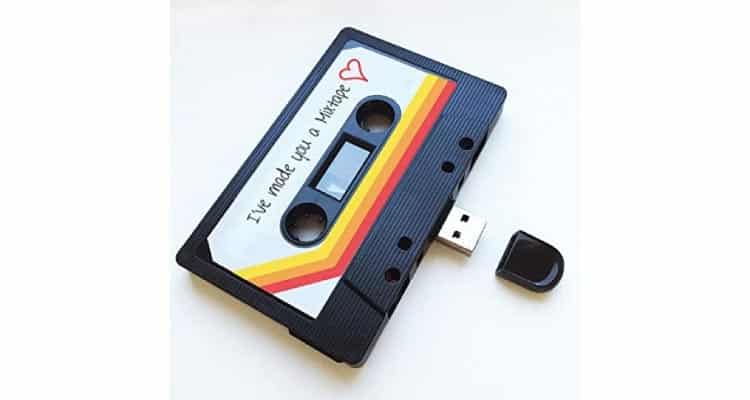 Phew! That was some list. So, how'd it go? Did you find anything you like? We bet one of these gift ideas for girlfriend struck a chord. Be sure to let us know how things went with your better half in the comments below. Also, tell us if we've missed any ideas for 2-year anniversary gifts for girlfriend – hearing from you is always wonderful!
FAQs
1. How do you celebrate a low budget anniversary?

It's quite easy to celebrate a pocket-friendly anniversary. Instead of buying a present, you can do something personal like cook her a meal, make a painting, write a poem, etc. Use your creative gifts; it'll be more sentimental and less expensive. But if you want a commercial present, there are options like scented candles, bookmarks, matching bracelets and fridge magnets.
2. What can I do at home for my anniversary?

There are many stay-at-home date ideas – a meal cooked by you, game night, drinking games, a double date, movie night, and so on and so forth. Make it personal, cozy, and romantic!
3. What do you do on a dating anniversary?

A dating anniversary is a sweet milestone in a relationship's trajectory. People often celebrate these anniversaries by exchanging gifts and going on a date. But there is no fixed formula – you can do what you like with your partner. Each couple has a personal style and way of doing things.
11 Cozy Gifts for Your Girlfriend | Thoughtful and Unique Gifts for Her | 2022
21 Christmas Gifts For New Moms | Unique Motherhood Gift List [2022]
Ask Our Expert
You must be Logged in to ask a question.