When you first start dating, the first few weeks are amazing. You hang out a few times. Exchange messages back and forth. Your dopamine levels are high and life is beautiful. Then one day he goes AWOL. That one day soon becomes a week and you have given up all hope. Until one night your phone lights up. It's him again. And you stare at your phone wondering why do guys stop texting and then start again?
Exasperating, right? What can I say… "Men!! Can't live with them, can't live without…" actually we can very well live without them, but that's not the issue here ladies, is it? What we really want to know is why do they exhibit this peculiar trait? Don't they realize that they are this close to being swatted at? With a rolled-up newspaper?
Why Do Guys Stop Texting And Then Start Again – 12 Real And True Reasons
As much as you would like to ignore him for ignoring you, it's essential to find out the reason behind this behavior. Here are a few reasons why this might be happening to you. And what you can do about it.
1. His mind is preoccupied or in a dark place
When a guy stops texting you all of a sudden, it could simply mean he is going through some issues in his life. He might feel that if he does talk to you, he will not be able to give you the proper attention you deserve. And so, he decides to come back to you once he is in a better frame of mind. It might seem a little unfair to you at the moment. You might even feel hurt that he is not sharing all his problems with you.
However, you must remember that men and women function differently. While most women are better at communicating their feelings, men have a harder time talking about things. Even though more and more men are getting better at expressing themselves, quite a lot of them still happen to be struggling. So wait patiently, he will open up to you when he feels the time is right.
2. Why do guys stop texting and then start again? To slow things down
Kiara was trying to reach for a book that was placed high up on the shelves. Mike, who was nearby, helped her out. It almost felt like love at first sight. The attraction was instant, drawing them to each other. Unable to help himself he started talking to Kiara within the hour they had exchanged numbers and promised to meet up for coffee the next day.
At coffee, they realized they had a lot in common. Mike was very impressed by her intelligence and she found him extremely funny. The coffee date went very well and they began hanging out quite often and kept texting each other till late at night.
Kiara was giddy with happiness. Every morning the first thing that she did was check her phone for a message from him and every day it would be there. Until one morning she had no messages. So she texted him to find out if he was alright. He told her he was busy and would text back once he had the time. Except he didn't text back for days.
Related Reading: 21 Serious Relationship Questions To Know Where You Stand
When he finally did text back, Kiara was beyond angry. Mike let have her say and then he explained his side of the story. Mike said he had started to develop feelings for her. He kept thinking of her all the time and it had freaked him out. He thought he was getting into an addictive relationship with Kiara and wanted some time apart to figure out his feelings.
Kiara and Mike got hitched within the year. And remain very much in love 10 years later.
3. He is trying to figure out where you stand
You two have been texting for a while now and things have been going well. Then suddenly all communication stops and just as suddenly, he starts talking again. I know. This break in communication has left you rather confused, wondering why do guys stop texting for a few days? "Did I do or say something I shouldn't have?" Believe me, you are not alone. A lot of women are wondering the same thing.
Chances are your man is testing you. He wants to know how deep your feelings for him run. How do you react to his absence, do you text him a lot asking if he is ok, do you immediately respond when he finally does text? All these are hints that will help him understand what's in your heart.
4. When a guy stops texting you every day, there could be another woman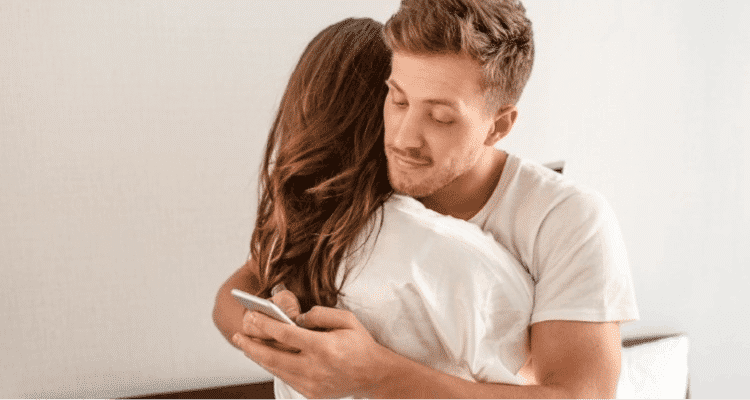 This is one of the worst reasons, but it also happens quite frequently. Sometimes when the texts start to taper off it means you are not the only woman, he is texting. There could be someone else who has his interests.
If you have not been texting for a long time and are not exclusive, then you can't really fault him. Painful as it might be right now you will eventually get over it. On the other hand, if you have been exclusive just ask him. It's always better to know. If he has developed feelings for another woman while in a relationship with you, you are better off without him.
5. He wants to keep you on your toes
Pamela was smitten with Dave. She would talk about how awesome he was to anyone willing to listen. However, one fine day he just stopped talking to her. Assuming something must have come up she tried to be understanding about it. But he wouldn't even respond to her texts. Heartbroken she confided in her best friend Kate.
"We went from texting every day to nothing. One moment we were flirting, talking about things, laughing, everything was going great. And then just like that, he was gone", said Pamela. Kate pointed out that it's a possibility that Dave was playing hard to get. Some guys like to be mysterious so you keep thinking about them. And just as she finished saying that, Pamela got a text from Dave asking her to meet up for a date.
6. Maybe he thinks it will not work out
Sometimes a guy will stop talking to you or slow down communications with you because he might feel that it might not work out between you two. Instead of directly talking to their partner they try to soften the blow by reducing contact or making none at all.
When a guy stops texting you every day, it might be his way of getting out of a situation. While it would have been best, if he had just talked to you, some people are just not good with confrontations. They try their best to avoid sticky situations. Unfortunately for you, that might mean you have to move on without closure. Sometimes it's simply not possible.
Related Reading: Is Caspering Less Brutal Than Ghosting?
7. You have offended him
Did you think you were having a good discussion and he just left the conversation midway? There's a huge chance you might have offended him. It might not have necessarily been something you said. Maybe the way you said it triggered an unpleasant memory for him.
Are you wondering what to do when he stops texting mid-conversation? Give him time. He needs a little space right now to compose himself. I am sure he will come back to resume the conversation soon.
8. He is playing games
We all have dated a bad boy at least once in our lives. And the thing about these bad boys is that they like to play games. If your guy stops texting all of a sudden, and you realize it has become a trend, it's a sign that your guy is a player. And you are his target.
Players want a girl to think about them all the time. He will chase you and charm you till you feel like a princess. And then, out of the blue, completely ghost you. He wants you to develop feelings for him. He wants your attention and concern. In short, he is trying to manipulate you. There's a reason our mothers warned us against such men.
9. He is really into you and that scares him
When you hang out a lot with a person you like, you are bound to develop some feelings. However, the mere thought of developing feelings can freak some people out. To them, emotions are like a hand grenade and they have to avoid pulling out the pin.
So, your guy randomly pulled the disappearing act on you while you guys were talking about a possible future and now you are thinking about what to do when he stops texting mid-conversation. The answer is nothing. Wait patiently and he will return. Allow him the time to sort out his priorities. And then you can continue planning.
Related Reading: 15 Signs He Is Ready To Settle Down With You
10. Why would a guy stop texting for a few days? Your indifference
It had just been 2 weeks since Misa had exchanged numbers with Steve and already, he was always on her mind. Misa felt she had to keep her cool or she might freak Steve out. So she tried to play hard to get. Misa didn't text him often, being non-committal to all their plans. And her game backfired majorly.
You see Steve genuinely liked Misa. He was as into her as she was into him. He liked the fact they talked all day long till late at night and hung out often. So, when Misa started behaving indifferently to him, he was heartbroken. He felt that Misa was not into him. He decided to stop texting her entirely.
But fortunately for Misa, he decided not to give up on her entirely and upped his game. Misa and Steve have been together for 2 years now.
11. You ran out of things to talk about
When you have been dating someone for a long time it is natural for the frequency of the conversations to go down. And there is nothing more annoying than being asked "so how are things?" five times in a row. By now you have run out of things to talk about.
So, if you are thinking "we went from texting every day to nothing", do not be so hard on him or yourself. Instead, you can focus on how to bring back the spark to your relationship and strengthen your bond.
12. Why do guys stop texting and then start again? He is not a texter
As hard as it is to believe, there are some people who don't like to text or talk over the phone. They are not playing hard to get or trying to be mysterious. They are just not very big on phones. If a guy who hates texting is trying to keep up a conversation throughout the day, it's a herculean task for him and he deserves all the praise he can get.
So, if you wonder where your man keeps running off to, then don't worry. He is right there. At home searching the internet for "Tips on talking to an attractive girl."
Dating is all about testing the waters. There are going to be challenges and miscommunications. There will be things you don't understand about your man. It is best to talk it out with your partner. Most importantly, it is imperative to implement boundaries. Talk to your partner about what is acceptable and what is a deal-breaker. This one conversation will go a long way for your relationships.
Expert Tips On How To Make A Man Fall Deeply In Love With You