Virginity is not dignity, it is lack of opportunity. Judging the purity of mind, body and soul depending on penetrative sex is old-fashioned and outdated. But what is still important is whether your mind and body are ready for such a change. A bad sexual experience can impact every other relationship you encounter.
Sex is a process, not a moment
Be brave and try out new things but also be cautious about understanding what you want. Remember you saying 'no' matters and you can withdraw at any point when you are not comfortable. Just because your partner is aroused, you don't owe them anything. Pleasure should be spontaneous, not constructed and compromised. Go ahead, have your adventure. We are all living for the first time without an instruction manual. We are bound to make mistakes. It is best that we learn from them and never look back.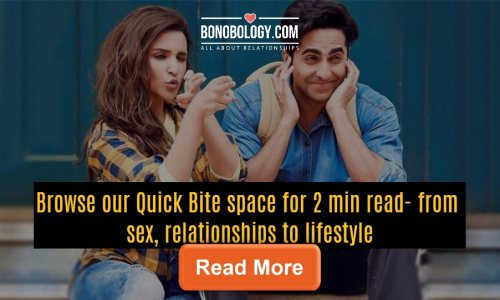 Related reading: You don't miss your ex, you just miss being in love
With the right partner
Dating is a tricky business. We show up in our best clothes and put up our best behaviour. They say you don't really know a person unless you wake up beside them but by then it might just be too late. Try to know the person beyond the facade. See how he behaves with other people, especially with subordinates. Talk to them more about their outlook towards life and evaluate your compatibility. You don't have to be with the person you had sex with for the first time for the rest of your life but trust me when I say that the person who takes your cherry will forever be in your memories. Don't choose someone with whom you will regret having spent such a special memory of your life.