The chill is in the air and what could be a better Sunday activity than snuggling your partner and sipping on some delicious warm Moroccan chicken harira soup? Spend some time in the kitchen with your partner and whip up this bowl of winter delight! Scroll down for recipe by acclaimed chef Manu Chandra
Moroccan Chicken Harira Soup – Serves 2
Ingredients:
Chickpeas (soaked overnight, and skinned) ¼ cup
Lentil, Whole Masoor works well (washed and Soaked) ¼ cup
Chicken Thigh meat cut into small pieces ½ cup
Cooked Rice 1 cup
Chicken Stock or water 4 cups
Tomato Puree ½ cup
Fresh Chopped Coriander ¼ cup
Onion Grated 2-heaped tbsp
Finely Chopped Celery 2 tbsp
Fresh Chopped Parsley Leaves 1 tbsp
Turmeric Powder 1/4 tsp
Ginger Powder or Fresh ½ tsp
Black Pepper ¼ tsp
Dried Thyme ¼ tsp
Coriander Seeds ½ tsp
Cinnamon Powder ¼ tsp
Salt to taste
Oil 3 tbsp
Butter 1 tbsp
Method:
Heat the oil and butter in a pressure cooker and add the chicken meat to it.
Stir it till the meat browns. Add chickpeas, spices, fresh herbs, onions,
tomatoes, lentils and stock. Bring to a boil and then cover. Pressure cook
for about 15 minutes.
Release pressure and stir in the cooked rice. Simmer for another 30
minutes stirring occasionally till the soup is thick. Season according to taste.
The soup should be thick, the meat cooked through and quite aromatic.
Serve hot garnished with some fresh coriander leaves and with a wedge of
lemon.
Note: You can do a vegetarian version as well. Also if you feel the need for
this dish to be spicy, then a half a tsp. of chili powder in the beginning
works well.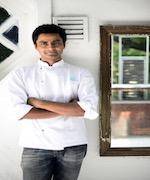 Bio: Manu Chandra is the Chef Partner, responsible for the hugely fun and first of its kind Gastropub brand – Monkey Bar in Mumbai, Bangalore and Delhi; the trendy Asian Gastro Bar The Fatty Bao in Mumbai, Delhi and Bangalore and more recently Toast & Tonic- the East Village inspired International restaurant and bar in Bangalore. He is also Executive Chef of the multi award winning and critically acclaimed Olive Beach in Bangalore. In 2007, he was selected as one of the top 10 Best Young Chefs in the Country by Taste and Travel Magazine. Times and Food and Nightlife also rated Manu one of India's 10 best chefs and he has been awarded the Golden Star Award for the Most Admired Chef in India 2011.