Repeating the same old 'How was your day' or 'Have you eaten yet' questions while conversing with your partner can often be boring. However, one can never get enough of chit-chatting with their special someone. So why not spice your relationship with some quirky, flirty, and creative conversation games for couples? Be it a decade-long relationship or one that is a day old, a healthy conversation is the most important aspect of it. Ranging from flirty games to play over text to deep conversation games, you can choose your type of game and build your compatibility like never before!
Games are proven to impact your relationships positively as per a survey conducted in June 2020. Chatting games for couples are potentially an amazing conversation starter that helps you collect new insights about your significant other. These romantic games are a brilliant idea to start bonding on the first date with your crush. You will surely spend quality time playing a fun question game, bombarding each other with random questions, and can even get naughty with your questions.
7 Flirty Games To Play Over Text With Your 'Boo'
For people who prefer texting over calls, late-night flirty text games can be the easiest way to spice things up. There are a bunch of intimacy games for couples, offering a fun time and allowing exploration of sexual desires. You can explore your darkest fantasies as these games let you know the unfiltered side of your lover. Chatting games for couples are indeed the best couple ice-breaker games, leading to a heated romance over texts. And sometimes, such games can create a deeper connection too.
Even in times when you don't know what to say when the conversation dies between you and your sweetheart, a game night will be your savior. All that you will need to rekindle that lost spark in your relationship is a smartphone for texting and a list of romantic games. A list of exciting conversation games for couples is just a scroll away in this article:
1. The classic: Would You Rather (WYR) 
Games similar to 'would you rather' top the list of talking games for couples that can be made flirty and juicy, or even funny and bizarre. You may ask questions like, "Would you rather date someone with good cooking skills or good kissing skills?"
WYR is the classic couple bonding game of all time. So, you can take a step forward and tune into some nail-biting questions like "WYR lose your friends or lose your love?" This might put you in hot takes but will definitely attach you with your partner on a deeper level.
Related Reading: 155 Deep, Sexy, Funny, Romantic, And Gross Would You Rather Questions
2. Who's most likely to (couples)
Another game that comes under a similar category as the 'would you rather' game is 'Who's most likely to'. This game can be really entertaining for couples, as it tests how they perceive each other. A correct answer means both have named the same person.
Simple questions like "Who is most likely to forget our anniversary?" are exciting when you play with your 'boo'. With every different answer, you can make room to make your partner aware of your thought process behind the answer.
3. Truth or Dare
Truth or Dare is the most popular date night couples game to get to know each other. This is a meaningful game where opting for 'truth' will let your partner share their secrets, while putting forth bold dares would spice things up. The questions can be racy, such as "What is the most unusual erogenous zone of your body?" or something on a deeper level, such as "What importance do your friends hold in your life?" The dares, on the other hand, can be even naughtier, such as "Narrate an erotic story in the most sensual voice possible."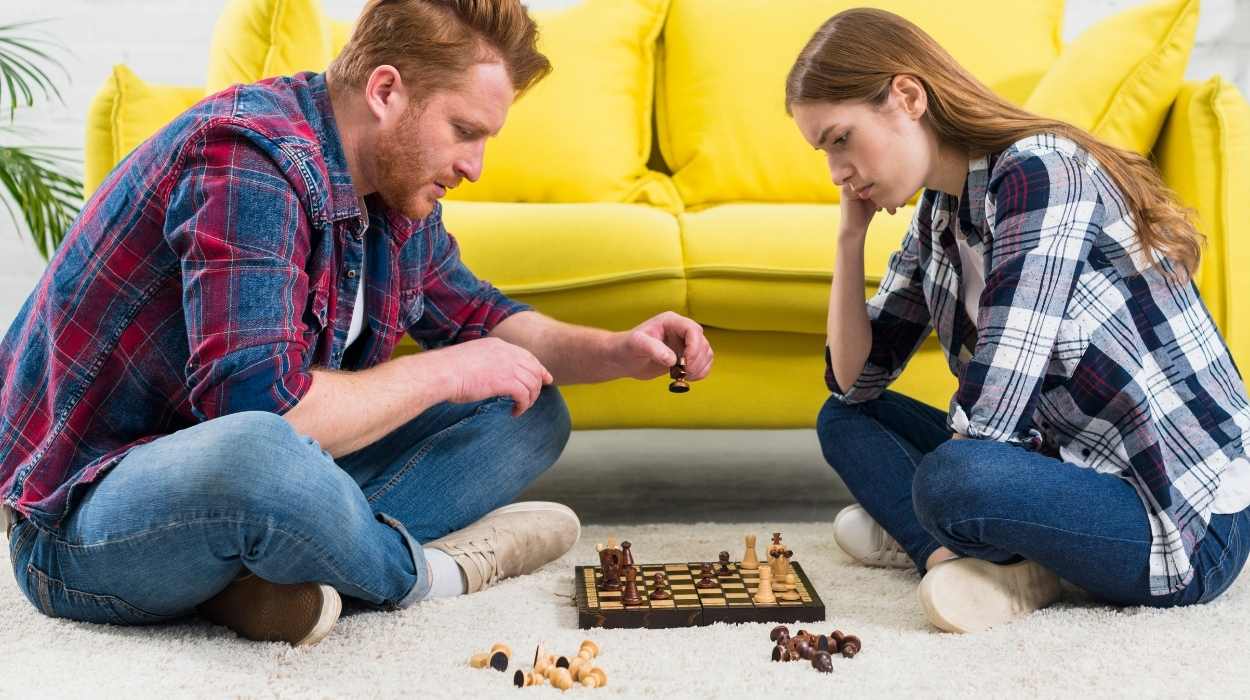 4. Confession game
The Confession game is one of the finest talking games for couples to confess feelings, guilt, lies, and all sorts of expressions to the other person. The first person starts by saying, "I confess that I'm madly in love with the way you smile" and the other person called repeats, "I confess that I am well aware."
This game is organically included on the list of the best romantic games for couples, as it allows you to speak confidently about your heart's desires. You can play a couple edition of the game or even sit with a group of friends at a dinner party to play the confession game.
Related Reading: 15 Signs He Wants To Confess His Feelings For You
5. Word game
There are several word games for couples, but the one we'll be introducing now is the best of the lot. The ground rule for playing it is pretty simple: repeat the last word and add another to the flow. The first person starts, for example, with "juice." The next player says, "juice, homework…" and then it passes to the former player.
The key is to keep remembering the last words and add new words to the chain. This game can be one of the most magical conversation starter games for couples on a date night.
6. Love, Like, Leave
The game of 'love, like, or, leave' is as engrossing as it sounds. You can try picking some fictional characters, such as Harry Potter, Prince Eric, or Iron Man, as options to play this romantic game. These fun games for couples to play at home will make you understand your partner better. You are free to create random combos of choices, such as yourself or a hypothetical person, or even use someone else's name — a colleague's or a common friend's. Conversation games for couples like this one ensure strong bonds. For example:
If your options are Robert Pattinson, Zayn Malik, and Harry Styles, you need to assign tags to each of them
It could go like this: Love- Harry Styles, Like- Zayn Malik, and Leave- Robert Pattinson.
Related Reading: 160 Ultimate What If Questions About Love For Couples
7. Hot Takes

Hot Takes is a game that refers to an unpopular opinion that one has on different topics. This game can be played over text by taking chances to express niche opinions that have been a crucial part of your personality. For example, you can start with, "I love pineapples on my pizza."
These kinds of chatting games for couples are meant for a deeper level of connection where you can handle sensitive topics and acknowledge the differences in your ideas. But you should avoid politics if you are in the initial stage of your relationship, as it might come out as a deal breaker.
7 Conversation Games For Long-Distance Couples (LDR)
Conversation is the most vital support pillar of a long-distance relationship. Couples in long-distance relationships run out of ideas for discussion over text or calls frequently. Similarly, a couple separated physically by distance is prone to tearful communication sessions. Hence, to keep the playfulness intact, couple games come into play.
Playing games over chat helps in the exploration of a couple's sense of humor, mischief, and competitive spirit. Games for long-distance couples give them another outlook on each other. Above all, conversation games for couples are an impressive method to feel less distant, decrease conflicts, and break the monotony of your relationship. You would beat all the challenges of an LDR and intensify your emotional closeness even when you are far apart physically. So let's take a look at all the awesome romantic games available for long-distance couples:
1. A must-try: Two Truths and a Lie
This is a game of three sentences wherein you have two truths and one lie. You will take turns to speak the sentences, and the other person has to guess the correct answers and point out the lie. You can pull some creative strings of your brain and fabricate unreal sentences that sound true, just to trick your opponent. If you plan a date night on a call, make sure to play two truths and one lie. It will be a crazy experience!
2. Play with your lover: Never Have I Ever
Topping the list of conversation starter games for couples is Never Have I Ever. This can be played more enthusiastically with your beloved over a video call or even on text. With each thing that one has never done ever, one needs to take a sip of a drink.
To illustrate, if you say, "Never have I ever fallen for someone older than 5 years from me" and your partner has, they sip a drink as a penalty. The penalty can be something as simple as sending a pouty picture or something wild, such as stripping.
3. Never let the playfulness fade: Play charades
Dumb Charades is hands down the best game to play over video chat with your sweetheart. The best aspect is that the game needs no prior planning. Just choose a movie, enact it with hand movements, and enjoy a fun-filled evening together.
Set timers for the competition and unleash the mime inside you. You can keep track of points, and the winner can be rewarded with a prepaid coffee from the loser the next morning.
Related Reading: 35 Long-Distance Relationship Activities To Bond Over
4. Play over a chat: This or That
Bombarding your partner with long-form questions over text or video chat can be tiresome for both parties. Thus, we have 'This or That' — a shorter version of Would You Rather. This or That is popular among word games for couples, as it gives the best opportunity to know the likes and dislikes of your companion. Here are a few ideas on how this romantic game is played:
Tea or coffee?
Love or money?
Kiss or hug?
Bono Tip: Avoid heated discussions like politics while playing this game, as it might lead to an argument or a fight in a relationship, which defeats the purpose of such fun game.
5. Tickle your brains with online games
Get in the zone of fierce online competition with your love and sprinkle the spice of liveliness in your bland relationship. Classic games like Ludo, Uno, Scrabble, and other board and card games offer you the go-to technique for lightening the mood. There are a number of free couple games to play at home. Pick your favorite from the lot and begin! You can play in teams against other online players or you can opt to play against each other. The bond that builds over games is perhaps superior to every other bond.
6. Don't let your eyes rest: It's a staring contest
Yet another cheesy game for a long-distance couple is a staring contest over a video call. Staring can lead to an internal fire, one that warms your heart and lets you delve into the world of your 'bae'. Lock your eyes and try to feel the physical distance fade away.
To enhance the impact of the game, you can add punishments too. The last person who keeps staring without blinking wins evidently. Try it, and you won't regret it.
7. I like you because…
This romantic game is especially for those sitting away from each other and bearing the rage of distance and time. The fragile thread of a long-distance relationship can be held strong only by confessing, communicating, and prioritizing your love. 'I like you because' is an effortless trick to appreciate the other person.
You can recollect all the traits of your significant other and convey them via this game. It can ignite a deeper level of affection in both individuals. For example, you can say something such as, "I like you because you made me feel worthy."
7 Romantic Games For Couples That Stir-up Deep Conversions
The longevity of your relationship is ensured if you inculcate days of goofiness amid the sincerity of your love. These little gestures of creativity can never go in vain because they'll give you a bucket full of happy memories and help you engage with your partner on a deeper level.
You can spice things up, build better understanding, foster stronger connections, and remain closely attached with your partner just by playing these simple yet profound conversation games for couples.
Related Reading: 100 Deep Conversation Topics For Couples: Questions About Love And Life
The date nights spent knowing your 'baby boo' better will become a golden memory if you look back the memory lane ever.
There are tons of free couple games to play at home, including relationship card games, games like 21 Questions, and other excitement-packed plays. Here is a list of deep conversation games for couples:
1. Our Moments card game
Card games can't be forgotten if we discuss games for couples! Some of the best card games are available in the market and online stores. This card game is an ice-breaker that helps you to start a fresh relationship or to reconnect with your partner on a deeper level.
You get a deck of 100 cards consisting of engaging questions that are perfect for a slow-paced conversation with your lovely mate. These pre-made questions are surprising, as both of you won't know what pops up next.
Relationship card games like the Actually Curious deck of 52 cards, the Our Moments card game, and the Kinky Confession card game are some of the top card games to play with your beloved.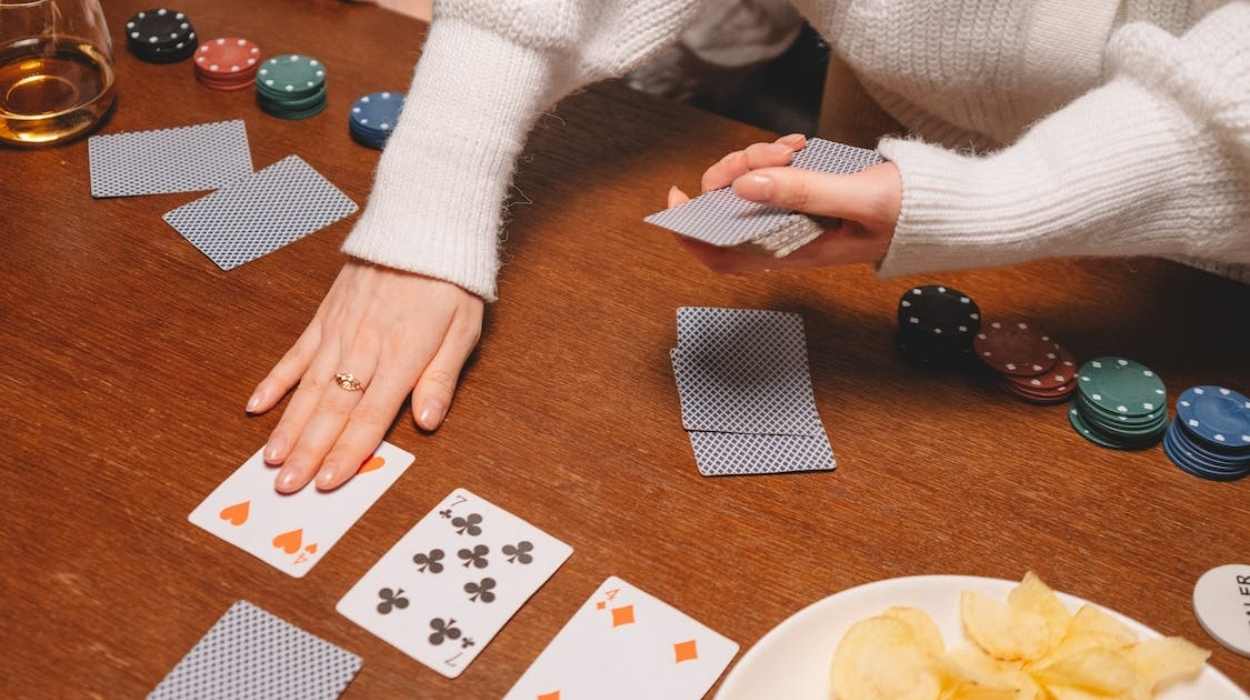 2. 21 Questions
Ask 21 intimate, psychological, and intense questions that lead toward better bonding as partners. The questions can be related to love, life, and dreams.
For instance, "If you could change something about yourself, what would it be?" or "Have you experienced a heartbreak? if yes, describe." Prepare a list of 21 questions and take turns to answer each separately.
Related Reading: 100 Questions To Ask Your Boyfriend
3. Ask Me Anything
This is a perfect game for a road trip with friends. But you can play the couple's edition for 'Ask Me Anything' too. A penalty is decided before the game begins. Opting for skipping the question would mean acting out the penalty, such as drinking a shot of vinegar. You can ask the questions you have been waiting to ask for a long time playing such fun conversation games for couples.
4. The One Line Game
Curate a story with the help of collective thinking by building one line at a time. This game will amplify your compatibility as a couple and will provide the satisfaction of creating something together.
You can start with, "Once upon a time, a girl named (your name) was sitting in a park." Your partner might add, "She was as beautiful as the moonflower" and continue. The game would be even more interesting with a group of couples competing against each other. You can also try road trip questions for couples for the same.
5. Three Thank You
Three Thank You is listed among the best fun games for couples to play at home. The most profound communication game on the list, it works powerfully if you indulge in a habitual routine of taking 10 minutes every day. Tell your partner about three things for which you are thankful to them and take turns doing so.
Related Reading: 50 Wonderful Compliments For Men That Make Them Happy
6. High-Low-Buffalo
The name might sound weird but the game is the most meaningful one. You get to share one high, one low, and one random thing from your day with your partner. When accounting for conversation games for couples, this one is the star of the show.
For instance High- "I was able to make breakfast on time today."
Low- "It turned out a little too salty though."
Buffalo- "My best friend was wearing a weird orange shirt with black polka dots today."
7. The Rating Game
The most flawlessly entertaining method to get to know what your partner perceives about a particular character trait is by playing this game. Here's how to go about it:
You can start by saying, "They are a 10 but never apologize."
Next, your partner will rate the hypothetical person out of 10 according to their preference, say 4, since an unapologetic person is a red flag according to them
You are free to rate higher than 10 or lower than it
It is said that communication makes or breaks any relationship. So, dig for chances to improve your communication with your sweetheart, be it via conversation games or by a simple 'Hello baby' text. Keep a balance of fun, sincerity, commitment, and flirtation. Use these amazing games and keep the playfulness alive!
How Do Guys Know When They've Met The One? With These 17 Signs
Ask Our Expert
You must be Logged in to ask a question.