Even as the distinction in gender roles is getting blurred in the progressive 21st century, women still have an innate want of being dominated and 'taken' in bed by their macho men. But there are many men who do the exact opposite. While women may wonder why it is that they have to nudge their man to take charge, especially in bed, it will help if women understood their man better. There are reasons why some guys don't take charge in the bedroom.
Related reading: Why men like the dominating woman when it comes to sex
Why won't he take charge sometimes?
There are a number of reasons for men not taking charge in the bedroom. We talk about 6 reasons why they don't.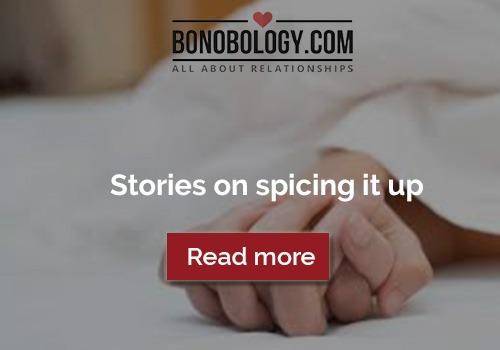 1. They like to watch you enjoy it
If he wants you to be on top and ride him, then the only reason for that is that he wants to see you enjoy it. He wants to have all the fun while also letting you have fun with his body and more. For most men, it is super sexy to have the woman on top and taking control. Men want to see a woman's expressions while she rides him.
It turns them on and gives them immense joy to see that their tool has the power to please their lady.
2. They are lazy
Some men are just too lazy to do all the work. No wonder they just simply lie back and give full control to their partner in bad. Many men also do not take the effort to undress. Women have to do them the honour of unzipping them and then unhooking their own bra. Women always want the man to initiate the love making session, but with such lazy men, if women waited, they'd be only waiting.
3. Giving control helps them see what you can do to him
If men have been doing all the work in bed and have reached a certain level of predictability, it is best that they give women the control while having sex. This way, men can explore the wild side of the lady and also break the monotony. Men want the ladies to treat them like kings and what better place than in bed? They enjoy watching ladies go wild and playing around with their body. It is super sexy and turns them on.
Related reading: Why both men and women must be generous in sex
4. They want to feel wanted
If a guy takes the initiative every time for sex, they begin to feel that it is only they who want it. Many times men also want to feel like they are needed and wanted.
Many times men also want to feel like they are needed and wanted.
In such cases, they let their ladylove take control in bed. Moreover, when women take the lead and start the foreplay, men feel the energy and perhaps later in the act do not mind taking control. They see how much the woman needs them and that desire in them makes men go crazy.
5. He gets bored doing all the work each time
After a few years into a relationship, when sex becomes more like a routine, men start looking at it like a cardio session. It is a must that women also take charge at times. If that does not happen, it is natural for a man to feel bored and think of sex as some task rather than pleasure. Additionally, after a long day at work, if women expect the man to take control and do all the work, it is only going to put him off.
6. They enjoy it more
Submitting themselves to the woman is something that men have started liking. They want to feel the passion, aggression and domination of women. Simply put, men like ready made things and when it comes to sex they want to enjoy the same. Women might want to start learning the tactics of making men feel excited at first, seducing them and then giving them control during intercourse. Even if he does not take charge, women should not feel shy to go right for his tool. Men love it to the absolute core!
The cowgirl position is exciting for both men and women because men can have a good view at a woman's boobs and women can have good eye contact with them. Whatever the reason, if a couple takes turns in taking control during sex, you are assured of making your sex lives less boring and breaking the monotony.
https://www.bonobology.com/ride-man-like-pro/
https://www.bonobology.com/romantic-things-men-love-nothing-sex/
https://www.bonobology.com/social-media-and-relationships-have-we-isolated-ourselves-to-find-company/