Research has shown that men think about sex 19 times a day. Men love sex, and they crave for it more and more. While a flash of skin is enough to get him all hard and aroused when you are new as a couple, after a few years you may start finding sex monotonous. That's where experimenting with new positions and new techniques come into play.
Lovemaking is quite essential for a couple, but as we get used to it, it's important to add some spice. And it is no-one's fault if sex becomes more like a routine – it is just what happens when a couple gets comfortable with each other. Well, we all do add some changes to our morning tea- making plain one day and masala the other and ginger or lemon some other day. So why should sex be the same every time? You should change your sex positions and then there are sex positions that men enjoy and you need to try those to enjoy sex to the hilt
So let's take a sneak peek into sex positions that men like, a quick guide on sex positions which will equip you to surprise him and make your nights hotter.
15 sex positions that men love
Sex is a physical act, but it also has a deeper, emotional connection. Intimate positions help you feel closer to each other, and the ones that make you both feel goodwill top the charts. Yet, if you are looking to unleash the sex-goddess in you to please your man, these are the 15 positions that are on every man's list of fantasies. Take your pick!
1. The classic missionary
This goes without saying that this position is a classic. It is easy and intimate. You lay flat with your back and the man faces you. It gives enough eye contact and you are free to use your hands. Though he is in charge you are in a comfortable position too.
2. Your legs on his shoulders
This is a variation to the humble missionary position. With your legs spread over his shoulders, he gets deeper access and support. You can reach his hips with your legs and lock him and enjoy while he rocks you. Add a pillow under the hips to get better support and penetration. You both can see each other enjoying the passionate moments together. This sex position guys just love.
3. Woman on top
This one is every man's favourite. He likes to see you confident and full in control and drive the sex. He also enjoys the view that he gets. And it is you who sets the pace for the action. If he feels lazy just put a pillow under his back and ride him. This gives an extra penetration without much effort from the guy's side. This is one of the best sex positions for men.
4. Reverse woman on top
This is a slight variation to the woman on top. You sit on the top but not facing him. He gets to see and feel your hips. He can squeeze your cheeks there and have extra fun. Giving him a bonus.
5. The intimate feeling – spooning
You lay together with your back facing the guy's front. You can lift one leg and allow him to push himself between your legs and close your legs. You can go a little up and down together. Let him cuddle you from behind and have gentle slow-motion sex and quickly fall asleep. This is a very relaxing sex position for the guy.
6. Do the doggy style
He is in full control in this position and unleashes the animal in you. Every man loves this sex position. Though he might enjoy it more as he has full control and deeper penetration. As he touches your clitoris, it can bring you to orgasm soon. You enjoy it equally as you are just resting with your breast and shoulder on the bed while he does all the work. Some women do not like this pose. But whatever it is one should always be vocal in sharing the likes and dislikes.
7. Standing pose
In this position, he comes close to you from behind and kisses your neck holding your breasts. Touch him down there, you are sure to have an erection and let him press you harder. This position puts a lot of pressure on a man's legs and requires a lot of strength so have it in small servings.
8. Sitting on couch
As the name suggests the man sits on the edge of the couch while you sit on his lap and wrap your legs around his waist. You can get cuddly and have some kissing sessions while he finds your spot you both can enjoy the intimacy.
9. Sitting on his lap
You sit on his lap, back facing him. Take the support of the chair you both are seated on or press your leg to the ground for extra support. This is a variation to the doggy style where he is dominative. You can control the angle by rotating a little and pressing your hips. You can reach out to his penis as well as scrotal while he can hold your breasts.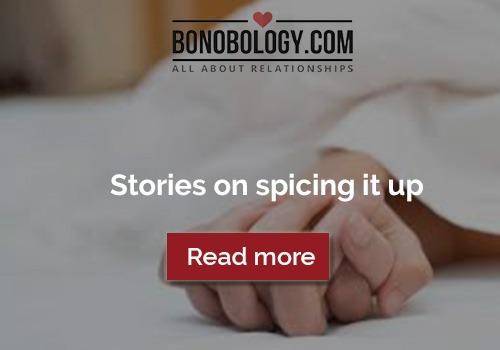 10. The sexy shower sex
There would be hardly a few couples who would not enjoy bathing together. And nothing could be better than having sexy shower sex. So pull him into the bathroom and have a shower together. Both can loofah soap on each other and enjoy the soapy touch and feel of the body together. You are sure to turn him on. Just loofah with soap or your hand on the right areas and the bathroom walls are all yours to explore each other. While bathing this way can be fun too if you guys like to be playful.
11. Standing in the corridor
Find a side in your house where two walls are close to each other. This can be near your corridor or your doorway. You stand on different walls facing each other or you facing the wall. He penetrates you using the wall for support. This way you both can get the support you want.
12. Cress cross
You both lie on the bed and the girl wraps her legs on his waist. While the guy supports her with his shoulders. This position gives a deeper penetration and she can create your back with her legs.
13. Sixty-nine
Well, this is an oral stimulator. You both and make out sucking each other. The guys kiss your lopes and play with his fingers near your vagina. Ending up fingering your ad leading to a high which results in an orgasm. Go ahead and suck his muscle while playing with his testicles and scrotal sac gets cum oozing out too. It's a win-win situation for the couple. Get into a spoon, doggy or a missionary whichever comforts you guys.
14. A quickie here and there
You can enjoy the passion flowing while getting ready near the bathroom basin, dressing table or the kitchen slab. Bend a little and have him penetrate from behind. While in the act you both can enjoy looking at each other in the mirror.
15. Corner of the sofa
As the name suggests you can have fun on the sofa. Well, this might come up while watching a romantic movie or something. The girl lies on the side of the sofa and the guy penetrates her from behind. She can lean on the hand of the sofa while resting her breasts and shoulder on the sofa. The cushions can come to support.
In this position, you can just lie down and enjoy while your guy penetrates you. A guy just loves this sex position.
When it comes to sex be creative and do things which fit you guys the best. Go as per your moods and desires. Explore new places if you are bored with the bedroom. Kitchen counter, bathroom, your swimming pool, staircase, corridor or in a restroom of a hotel during a party. You can bite each other at the right places or nibble a piece of strawberry or chocolate while kissing each other. You can give a flavoured kiss or a smooch. So when it comes to lovemaking with your guy sky is the limit. Be creative and sexy you both are sure to go head over heels.
Things to remember when you are having steamy shower sex with your partner
The Body Language Mistakes Women Make at the Workplace (and How To Correct Those)