Research has shown that men think about sex 19 times a day. Whether that's true or not is up for debate, the fact still remains that men love sex. While a budding romance may be enjoying its fair share of bedroom shenanigans, playing it safe by sticking to tried and tested positions quickly goes from exciting to rather monotonous. Then, you find yourself complaining that the erotic spark in the relationship has died down. Before you two end up checking your phone mid-session, a few sex positions that men love will definitely help bring the spark back.
Lovemaking is quite essential for a couple, but as we get used to it, it's important to add a few new things ever so often. It isn't really anybody's fault is sex becomes more like a routine – it is just what happens when a couple gets comfortable with each other. You don't really stick to the same tea, so why must sex always be in those same two positions?
The sex positions that men enjoy will definitely help bring harmony into your bedroom, much like that cup of ginger tea brought satisfaction to your morning. So let's take a sneak peek into sex positions that men like, prepare to surprise him and make your nights steamier.
Try These 15 Sex Positions That Guys Enjoy
Tired of the same old easy sex positions? Perhaps you're not even really looking forward to sex, since before you even walk into the bedroom, you know exactly what you're in for. Where's the fun in that? When you employ the sex moves that make a man happy, there's no doubt in our mind that you're going to get happier because of them as well.
After all, sex isn't really a one-man show. When both partners feel good, there really isn't any way the sex might end up disappointing, unless you run out of condoms. Every sex position brings with it it's own possibilities, but when you find the one's that truly work for you, you're going to regret not having tried them sooner. After all, you can't clap with one hand.
Sex is a physical act, but it also has a deeper, emotional connection. Intimacy is as important as sex. Intimate positions help you feel closer to each other, and the ones that make you both feel good will top the charts.
If you are looking to unleash the sex-goddess in you to please your man, these are the 15 positions that are on every man's list of fantasies. These are the sex positions guys absolutely enjoy. Take your pick!
Related Reading: 5 Sex Positions For The Supremely Fit
1. The classic missionary
This goes without saying that this position is a classic. It is easy and intimate and almost everyone can get the hang of it easily. You lay flat with your back and the man faces you. It gives enough eye contact and you are free to use your hands. Though he is in charge you are in a comfortable position too. Provided you tweak it a little by plopping a few pillows under your butt, it can be a pleasurable position for women too.
The ol' reliable, the vanilla position, the dependable position, call it what you want, there's no denying the fact that missionary feels good. Granted, it's one of the easy sex positions, but don't let it's simpleness fool you. There's still plenty room for discovery whilst in missionary, all you have to do is play around with each others bodies.
Psst, the intense eye contact you make is going to lead to better emotional connection during sex, if that's something you're into.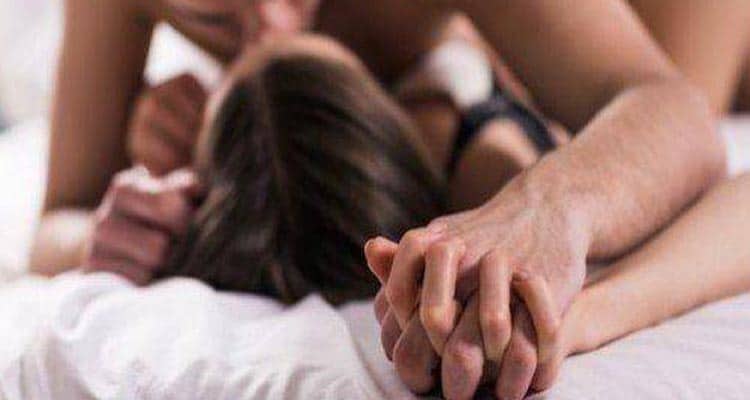 2. Your legs on his shoulders
This is a variation to the humble missionary position. With your legs spread over his shoulders, he gets support and gets to reach a few places he might not have been able to before. You can reach his hips with your legs and lock him in, if you're looking to get a bit kinky.
Add a pillow under the hips to get better support and penetration. You both can see each other enjoying the passionate moments together. Men love this position as women are also actively participating and it gives them a boost.
3. Looking for sex moves that makes a man happy? Get on top of him!
This one is every man's favorite. He likes to see you confident and full in control and drive the sex, riding him and taking control. Even though a man might say every sex position feels great, who wouldn't like to just chill out, lay on their back and let their woman do the work for them?
Return the favour for all that missionary, ride him by getting on top and taking control. If he feels lazy just put a pillow under his back and ride him. This gives extra penetration without much effort from the guy's side. Undoubtedly, this is one of the best sex positions for men.
4. The cowgirl position
This is a slight variation to the woman on top. You sit on the top but not facing him. Much like the woman on top, this is a sex position men love since it means they're not doing most of the work. Plus, to put it mildly, the view they get is rather enticing as well.
Related Reading: Top 5 Sex Positions For Lazy People
5. The intimate feeling – spooning
You lay together with your back facing the guy's front. You can lift one leg and allow him to push himself between your legs and close your legs. You can go a little up and down together. Let him cuddle you from behind and have gentle slow-motion sex and quickly fall asleep. This is a very relaxing sex position for the guy.
6. Do the doggy style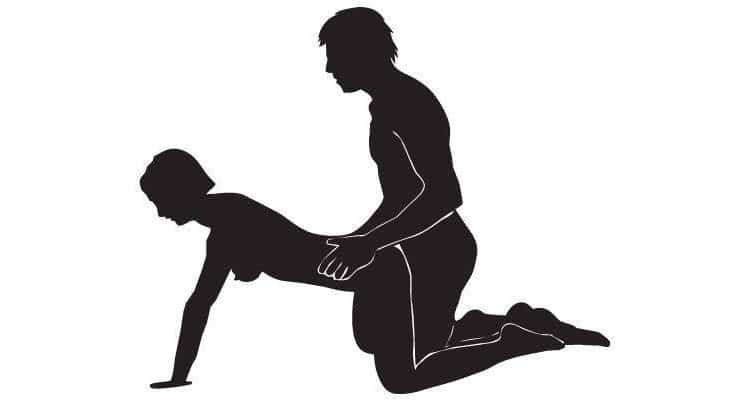 What is the sex position men enjoy the most? It has to be doggy style. He is in full control in this position and unleashes the animal in you. Every man loves this sex position. Though he might enjoy it more as he has full control and deeper penetration.
For some reason, men pride themselves in how well they maneuver during the doggy style position. In the list of sex moves that makes a man happy, the way the navigate in a doggy style has to rank high up. Plus, it's one of the positions that feel best for the man, since he's completely in control and gets to penetrate deeper.
7. Standing pose
Essentialy, this not-so-easy sex position requires you two to be standing up while doing the deed. Perhaps you can put your legs on his arms and he can lift you up, and pin you against a wall. This does require a bit of strength, so unless he hits the gym regularly, don't expect him to keep at this position for too long.
8. Sitting on couch
As the name suggests the man sits on the edge of the couch while you sit on his lap and wrap your legs around his waist. You can get cuddly and have some kissing sessions while he can live out his sexual fantasy. He will look to find your G-spot you both can enjoy the intimacy.
9. Sitting on his lap
You sit on his lap, back facing him. Take the support of the chair you both are seated on or press your leg to the ground for extra support. This is a variation to the doggy style where he is dominant. You can control the angle by rotating a little and pressing your hips.
10. The steamy shower sex
There would be hardly a few couples who would not enjoy bathing together. Steamy shower sex is another level of passionate, isn't it? Pull him into the bathroom and have a shower together. Both can loofah soap on each other and enjoy the soapy touch and feel of the body together.
You are sure to turn him on. Just loofah with soap or your hand on the right areas and the bathroom walls are all yours to explore each other. While bathing this way can be fun too if you guys like to be playful.
11. Standing in the corridor
Find a side in your house where two walls are close to each other. This can be near your corridor or your doorway. You stand on different walls facing each other or you facing the wall. He penetrates you using the wall for support. This way you both can get the support you want.
Related Reading: 10 reasons why guys love to go down on their women
12. One of the more exploratory positions: The criss cross
Imagine two opened up scissors, rotating in a way to make their centres meet with each other. Now do that with your partner. Keep a leg on his shoulder and another under him while he does the same with his, and have at it. Granted, it's not really an easy sex position, but hey, who said sex always has to be easy? Try it out, the result might surprise you.
13. Sixty-nine
The age-old oral stimulator that's been around in pop culture forever. We doubt you don't know this one, but it essentially is you putting your rear end on his face while you go down on him. The sixty nine is one of the most famous sex positions and for good reason too.
14. A quickie here and there
You can enjoy the passion flowing while getting ready near the bathroom basin, dressing table, or the kitchen slab. Bend a little and have him penetrate from behind. While in the act you both can enjoy looking at each other in the mirror. This is a sex position men just love, since it basically means they're getting more sex.
15. Corner of the sofa
As the name suggests you can have fun on the sofa. Well, this might come up while watching a romantic movie or something. Also, for some great daytime sex. The girl lies on the side of the sofa and the guy penetrates her from behind.
She can lean on the hand of the sofa while resting her breasts and shoulder on the sofa. The cushions can come to support. There's no doubt guys love this sex position. Sex while watching TV? Yes please!
When it comes to sex, be creative and do things that fit you guys the best. Go as per your moods and desires. Explore new places if you are bored with the bedroom. Kitchen counter, bathroom, swimming pool, staircase, corridor, or in a restroom of a hotel during a party.
You can bite each other at the right places or nibble a piece of strawberry or chocolate while kissing each other. You can give a flavored kiss or a smooch. So when it comes to lovemaking with your guy, the sky's the limit. Be creative and sexy you both are sure to go head over heels.