A romantic relationship enjoys its fair share of bedroom shenanigans, but if you're stuck in a rut of the tried-and-tested positions, things can get predictable very quickly. Understandably, "predictable" is the last thing you'd want to describe your sex life as. So, if you're looking for a way to break the monotony and spice things up or just want to make sure the passion you feel for each other stays alive, experimenting with sex positions that men love might help. 
Whether you're at the stage where sex becomes a one or two-position affair at best or are just starting a new dalliance and want to keep the flame of passion burning, you need to know how to blow your man's mind in bed instead of just letting him take the lead all the time. That means acquainting yourself with the best sexual techniques for pleasing your man.
As always, we're here to help. These sex positions that men love will give you all you're looking for and then some. Let's get that electrifying sexual energy throbbing.
15 Sex Positions That Guys Enjoy – Your Guide To Pleasing Your Man
Want to make your husband happy in bed? Want to show your boyfriend a good time? Or perhaps, you want to try out different sex positions to please your man in bed so that you can both experience the pinnacles of pleasure and feel more bonded and connected. First of all, good on you because the importance of sex in a relationship just cannot be discounted.
Now, whatever the objective, know that you don't need to straight up hardcore Kamasutra positions or explore kinky sex positions to try to fire up your intimate moments with your partner. You can get the right results even with some good old easy sex positions, provided you know how to play your cards right.
Besides, you can try all the bendy sex positions men enjoy from the pages of Kamasutra but the experience won't be pleasurable and satisfying for you and your partner unless you connect on a non-physical level. Once you throw passion into the mix, you will find yourself enjoying the novelty of the act. So, if you are looking to unleash the sex goddess in you to please your man, you ought to experiment with these 15 sex positions that men love:
Related Reading: Foreplay: More Than Just a Warm-Up 
1. The classic missionary
It goes without saying that this position is a classic. If you're looking for intimate positions to make love in, you've got to give the good old missionary a try. The dynamics are simple and almost anyone can get the hang of it – you lay flat with your back and the man faces you. It creates enough scope for eye contact and you are free to use your hands. If you make the most of this hands-free experience, you can elevate your pleasure quotient to the next level. Though the man is in charge, it is also a pleasurable position for women.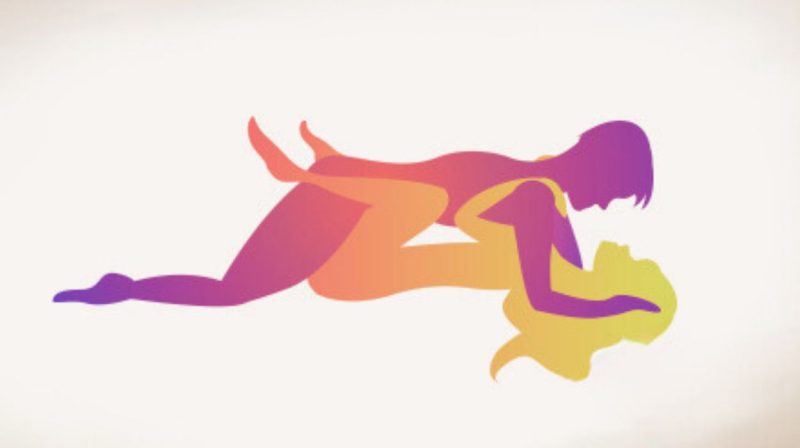 Why does he like missionary when it is so routine, you ask? The ol' reliable, the vanilla, the dependable, call it what you want, there's no denying the fact that missionary feels good. Granted, it's one of the easy sex positions, but don't let its simplicity fool you. There's still plenty of room for discovery during missionary and so many ways you can give it a wild spin. All you have to do is play around with each other's bodies and experiment to see what works best for you and your partner. Psst, the intense eye contact you make is going to lead to better emotional connection during sex if that's something you're into.
2. Your legs on his shoulders
This is a variation of the humble missionary position. With your legs spread over his shoulders, he gets support and gets to reach a few places he might not have been able to before. It is undoubtedly one of the best sex positions for men because it creates scope for deeper and up close penetration. With your man on top and facing you, there is still enough room for eye contact and staying connected with your partner.
As you rock back and forth, the intensity of the movements makes it just right to warm up your bodies with some hot action after a chilly winter date night. Alternatively, you can reach for his hips with your legs and lock him in if the idea is not just satisfying your man but also taking him by surprise with some crazy sex moves he will love. When you watch each other writhe in pleasure and passion, you'd see how a simple twist can turn the classic missionary into one of the most wild sex positions.
Related Reading: What Is The Difference Between Making Love And Having Sex?
3. Looking for sex moves that make a man happy? Get on top, cowgirl!
Do guys like cowgirl position? Hell, yes! In fact, it is a hot favorite sex act for most. And why is that? Simply because your man likes to see you in control. You're in the driver's seat, riding him and taking control. Not to mention the amazing view he gets watching you move and moan with pleasure. So, go ahead, return the favor for all that missionary action, put those pelvic floor muscles to good use, and ride him to an orgasm. Undoubtedly, this is one of the most stimulating sexual positions.
4. The reverse cowgirl position
This is a slight variation of the woman on top cowgirl position. You're on top but do not face him. Instead, you sit with your back toward him, bend forward, and move. We think this pretty much answers the question, why do guys like reverse cowgirl? Because, hello, the full view of the act, watching you move like that is bound to blow his mind and how. Men get the utmost pleasure when you are taking control and they get to touch you all over and observe you in motion – so sensual and flattering.
There are so many different ways you can execute the reverse cowgirl, but we can assure you, each variation will be just as fun for your man. So, whether you want to make your husband happy in bed, blow your boyfriend's mind with your moves, or are looking for the best sex positions for new partners, this is one you can't go wrong with.
Related Reading: Sexual Compatibility – Meaning, Importance And Signs
5. The spooning position
Seriously, is there anything more loving and comforting than spooning with your partner? When you can have sex while spooning, why not give it a go? It is one of the romantic sex positions for both partners and helps foster emotional intimacy on another level because your man can hold you in his arms during the act and there is near-complete body contact.
How to have sex spooning, you ask? Well, we hear you. It can take some time to get your sexual maneuvers right for this one but once you do, it can be one of the most intimate positions for penetration. Here's how you can approach it: you lay together with your back toward the guy. You can lift one leg and allow him to push himself between your legs and close your legs. You can move along with him to make the experience more rhythmic and pleasurable. Let him cuddle you from behind and have gentle slow-motion sex.
6. Do the doggy style
What is the sex position men enjoy the most? If you're a sexually active woman, you know there is only one right answer to this question, and it is the doggy style. And why do men love doggy style so much? For a number of reasons. In this position, your man is in full control, he can achieve deeper penetration and can thrust with everything he's got.
As far as men are concerned, this is the best rear-entry position. And you may have noticed, men pride themselves on how well they maneuver the doggy-style sex. In the list of sex moves that make a man happy, this position ranks right on top. So if you've been wondering, what is the secret to satisfying your man in bed, perhaps suggest doing it doggy style and watch his excitement levels soar.
7. Standing pose
You won't even think about certain positions men like until you both slide into it spontaneously in the heat of the moment. You may as well propose this if you are looking for new sex moves to try to impress your man. Essentially, this not-so-easy sex position requires you two to be standing up while doing the deed.
You can wrap your legs around his waist and he can lift you up, and pin you against a wall – you know the whole urgent got to have you here and now routine popularized by pop culture. This requires some strength, so unless he hits the gym regularly, don't expect him to stay in this position for too long. But hey, in the interest of exploring different lovemaking styles, you should definitely give this a try.
Related Reading: Signs He Has Sex With You But Doesn't Love You Anymore
8. Sitting up
As the name suggests, the man sits up, either on the edge of a couch or the bed, while you sit on his lap and wrap your legs around his waist. You can get cuddly and have a kissing session while living your sexual fantasy. Since this results in deeper penetration in a position like this, this is also one of the best positions for her pleasure. Who knows you might just end up making this your go-to position!
If you want to drift farther into the fantasy land and take up the experimentation quotient, you can sit on his lap, back facing him. Take the support of the chair you both are seated on or press your leg to the ground for extra support, and take control. This is a variation of the doggy style where he is dominant. You can control the angle by rotating a little and pressing your hips. Definitely, our top pick for the best position to get wild in bed.
9. The steamy shower sex
There would hardly be a couple who doesn't enjoy bathing together. Steamy shower sex brings about a different level of intimacy, don't you think? It will any day top the list of romantic sex positions men enjoy. Pull him into the bathroom and get in the shower together. You'll surely turn him on. Rub a foamy loofah on him or get your hand moving in the right areas, maintain eye contact as your bodies grind against each other and things are bound to get intense. There is no end to how much you can explore within those bathroom walls.
10. One of the more exploratory positions: The criss-cross
Imagine two opened-up scissors, rotating in a way to make their centers meet with each other. Now do that with your partner. Keep a leg on his shoulder and another under him while he does the same with his, and have at it. Granted, it's not really an easy sex position, but hey, who said sex always has to be easy? Try it out, the result might surprise you.
11. The peg sex position
Wondering, how to have the best sex ever with your man? Well, variety is truly the spice of life when it comes to keeping the sexual fire burning. If you want to blow your man's mind with your sexual moves, you need to step out of your comfort zone every once in a while. In the interest of pushing the boundaries of pleasure, we strongly recommend you try the peg sex position.
This is a variation of the criss-cross position, except here you are both lying sideways with your bodies facing each other, your legs hugging his butt and your arms around his legs. Even though you're facing away from each other, this position can promote intimacy and a sense of connection, and not to forget, breath-taking orgasms.
12. Butterfly position
What's the butterfly position? Your gateway to intense lovemaking. For this position, the woman needs to be at the edge of the bed (or any other surface) with her legs on her partner's shoulder, allowing for optimal access and deep penetration. If you like your man going full throttle, making full, hard strokes, this needs to be your go-to position.
Related Reading: The 4 Bases In Relationships That We Unanimously Agree On
13. Sixty-nine
The age-old oral stimulator that's been around, we doubt you don't know this one, but it essentially entails putting your rear end on his face while you go down on him. The sixty-nine is one of the most famous sex positions and for good reason too. In fact, it wouldn't be an exaggeration to call it the best oral sex position that both men and women love in equal measure. And why do men love 69 so much? Because what could be better than pleasuring each other at the same time and climaxing together?
This position is proof that you don't always need penetrative sex to orgasm. As long as you know your way around your partner's body and take your time exploring it, you can make them experience toe-curling pleasure with your fingers and tongue. Now there are different 69 techniques, and there is no right or wrong way of doing it. Be open to experimenting and see what feels most pleasurable to you and your partner. This is the perfect pick if you've been trying to spice up a vanilla relationship.
14. A quickie here and there
Any sex position can turn into a sex position men love, simply because the thrill of a "quickie" is unparalleled. A quickie by the kitchen slab, or maybe while you're getting ready to go somewhere, or if you're feeling especially kinky, in the parking lot of that party you've got to attend can leave your man wanting you even more. So, go ahead and take the lead, get naughty with your partner, let him feel that you hunger for him just as much as he does for you, and indulge in a quick round of sex when he is least expecting it. It will work wonders for your sex life.
15. Corner of the sofa
Certainly one of the best sex positions for men on a lazy day when they may not be up for all the crisscrossing. You can give this a try while watching a romantic movie that has got your libido going. Or during an at-home date night. The girl lies on the side of the sofa and the guy penetrates her from behind. She can lean on the armrest while resting her breasts and shoulders on the sofa. The cushions can be used for added support. There's no doubt guys love this sex position. Sex while watching TV? Yes, please!
Key Pointers
Creativity, experimentation, and letting go of your inhibitions are the secrets to a good sex life
Every once in a while, take the lead and indulge in the sex positions that men love to blow your partner's mind
From the classic missionary to doggy style, and more experimental positions like criss-cross and peg position, there is just so many options to work with
Surprise your man with your moves and watch him go the extra mile in focusing on your pleasure
The key to good sex is being creative, letting go of your inhibitions, but at the same time, not putting too much pressure on yourself by always thinking about sex positions that men love. Just go with the flow and do what comes naturally to you in the moment. Explore new places if you are bored with the bedroom. Kitchen counter, bathroom, swimming pool, staircase, corridor, or in a restroom of a hotel during a party.