Shopping for your SO is never easy. You have to be creative and use your imagination to come up with a gift that is not only romantic but also useful to him. So, tell me, is it his birthday, your first anniversary, or any other special occasion that you are celebrating? Well, n matter the occasion, the bottom line is you need to find the most romantic gifts for him to show your love and heart-felt appreciation for his presence in your life.
Romantic gifts for guys doesn't necessarily mean candlelit dinners or boxes of chocolates. Every gift should serve a special purpose; it should have a meaningful significance to touch your soulmate's heart. Only then can you expect all your gift hunting efforts to be successful. To help lift the weight off your shoulder, we are here with a long catalog of sentimental gifts for him.
Creative and unique romantic gifts for him
We know that not only women but men can be complex creatures too and each of them has their own share of likes and dislikes. Keeping that in mind, we have come up with a list of gifts ranging from waffle makers, and Star Wars posters to wallets, blankets, and cocktail shakers. It doesn't matter if your geeky partner prefers cool gadget gifts or if he is a connoisseur of alcohol or someone who is obsessed with his thick beard. This curated list of romantic gifts for him ensures that there is something for every man. Take a look:
1. Classic initial cufflinks
Affordable personalized romantic gift for a special someone? Yes please! Get him these durable cufflinks made from high polished brass and metal. Your partner's initials will definitely be noticeable thanks to the shiny and glossy finished surface. This cufflink which comes in a black box is ideal for men who love that classy look, dig surprises and love gifts with a personal touch.
Cufflink size: 17 mm
Metal electroplating process makes it durable
Sleek and smooth finish with no toxic element
Customization available to print first letter of your SO's name
Ideal for both, special occasions and everyday wear, this cufflink can be a testament of your love. When customized with his initials, it's a really fabulous gift for your guy.
Related Reading: 32 Birthday Gifts For Fiancé – Romantic Gifts For Him And Her
2. Waffle maker
Great for a man who is usually traveling and has a pretty hectic life. He probably needs something easy to prepare for breakfast because that Excel sheet won't let him cook something elaborate! Open the door and welcome this cute, compact, lightweight waffle maker which will produce cute little waffles for your man. Super easy to use and clean – this waffle maker doesn't take up much space which means it's convenient to carry if you are out camping or on a vacation or even on a work trip. 
Compact 4 in cooking tray
Dual non-stick surface spreads heat evenly inside appliance
Ideal for small apartments as it takes up very little place
Cleaning up is hassle-free
This waffle maker is too good to be true as it also makes paninis, hash browns, and even biscuit pizzas. Go with this as a romantic Christmas gift for him and this holiday season would be a festival of baking goods at your happy home!
3. Cocktail shaker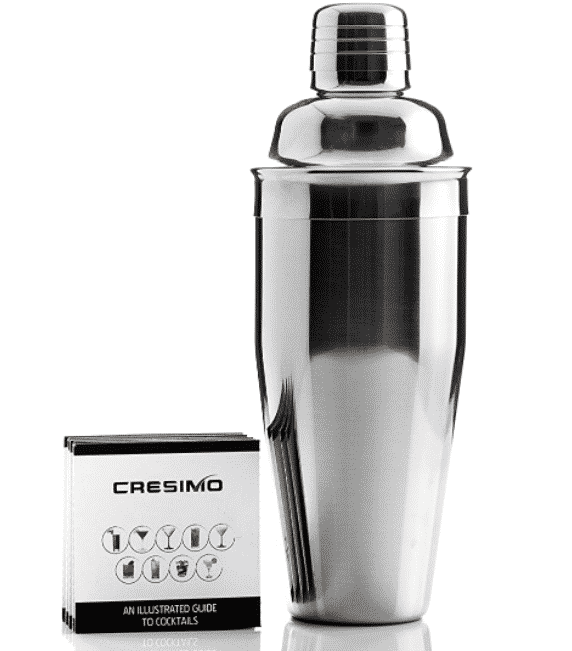 If you are looking for unique romantic gifts for him, this high-quality cocktail shaker will work like a charm. It doesn't leak and it comes with a stirring spoon too. Made of premium stainless steel, this is one attractive cocktail shaker that comes with a perfectly well-illustrated guide of various cocktail recipes. Invite friends over, sit back and let your man impress them with his creations – Long Island Ice tea, Margaritas, Cosmopolitans and more.
18/8 grade superior quality stainless steel, resists rust or discoloring
Watertight seal makes it entirely spill-proof
Gorgeous mirror finish and comes with built-in strainer
Dishwasher friendly
Let him experiment with vodkas, rums and other kinds of exotic alcohol to make some interesting creations. This stylish-looking cocktail shaker is suited for both beginners and experienced.
4. Travel & grooming kit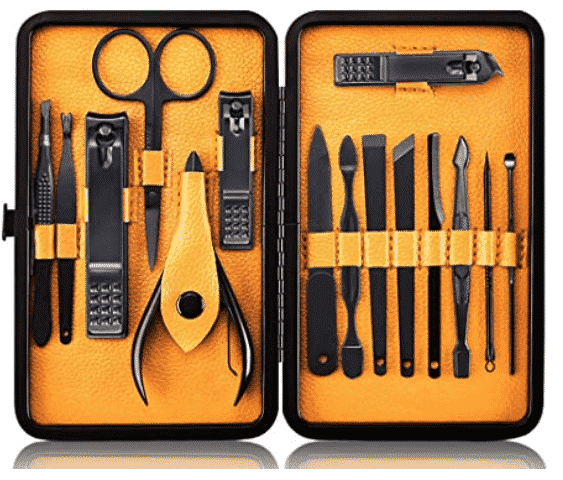 It's 2022 and our men are always open to effective grooming tips to look dapper. That well-groomed appearance starts with having trimmed nails! If your significant other is picky about his nails, then look no further. We have this stainless steel nail clipper for grooming which is easily portable and carries all the tools you would need for facial as well as hand and foot care. This new generation of black polished, anti-skid technology makes it unique and the premium quality black steel won't rust.
Made of extremely hard material
Complete manicure and pedicure set including 15 essential tools
Comes in aesthetically pleasing leather case
Pamper your darling boyfriend with this all-in-one grooming kit.
5. Phone docking station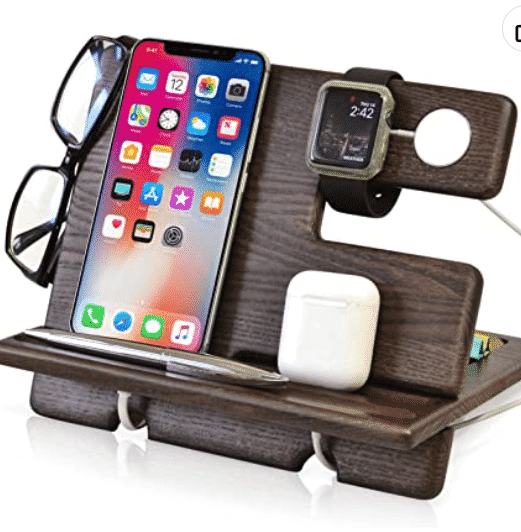 In every relationship, there's usually one neat freak and one disorganized mess. In case you guys end up arguing over your partner's lack of organizational skills and he loses his head while looking for his keys, wallet and phone every morning before work, do yourself a favor and gift him this pretty and elegant-looking phone docking station. Here, he can easily keep his small valuables like glasses, pens, keys, and phone among other things. Who knows, he might actually get better at keeping things organized from now on thanks to such a romantic gift for him!
3-in-1 charging station to charge your phone, Apple Watch and AirPods
Made from natural and sustainable material
Non-toxic protective coating makes it long-lasting
Easy to assemble with wire-friendly cutouts
Made of recycled materials and solid ash-tree wood, this is one super-stylish, utility gift.
Related Reading: 35 Useful Travel Gift Ideas For Men – Best Gifts That He Will Love
6. Wooden hanging planter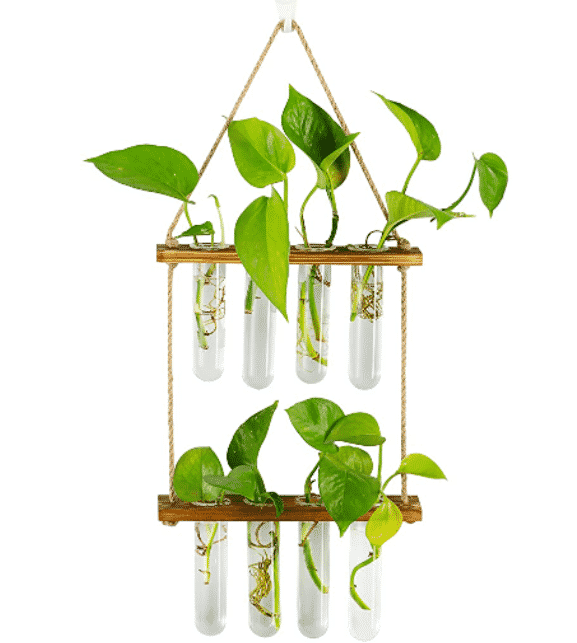 Is your partner a plant dad? Then your search for romantic gifts for men ends with this statement gift to get him started on a new set of plant babies. He can display this beautiful plant terrarium studded with fresh flowers, cuttings, lucky bamboo, or moss. Hang it in an airy corner of your house, be it the living room or the open hallways. You can either use it to show off a pretty flower arrangement or use it for water propagation.
Includes 8 transparent test tubes hung from 2 wooden panels
Tubes are made of borosilicate, highly resistant glass material
Comes with hook and sturdy rope for easy hanging
Cleaning brush included
This handmade, wooden, hanging planter features long test tubes to provide enough space for the plant cuttings to grow and get plenty of water and air.
7. Men's wallet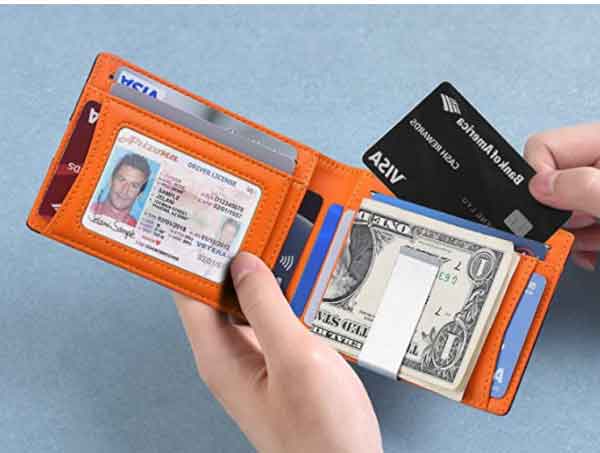 Did you know that with a little knowledge of essential men's fashion accessories, you can easily impress your boyfriend? This slim yet extremely practical wallet can easily become the one-stop solution to him never having enough space and card slots in the regular wallets. With its industry-tested security, stylish and classy appearance, and functional abilities, he'll be switching over to this immediately. And, he will have no issue pushing out the cards thanks to the outside notch. It has a leather lining and a magnetic closure to easily safeguard your bills, cards and photo!
12 card slots with money clip
RFID secure technology protects valuable information from unauthorized scan
Made of pure vegan leather with lifetime warranty
The dimensions of the slim wallet have been kept to 4in x 3.5in so that it fits your pocket perfectly without making it look awkward. 
8. Pizza stone ​pan ​and pizza cutter wheelset​
Does your SO dig pizzas with a crispy crust? Then, this is undoubtedly one of the most unique romantic gifts for him. Perfect for making pizzas and baked biscuits, the product is accompanied by a pizza cutter as well which is smooth and cuts without making a mess. Not only is it indifferent to grease or burnt crust, but it's also fast. It pre-heats up to 2 times faster than most pizza stones and the icing on the cake is that it is completely odorless.
Pre-heated stone leaves no softness at the bottom of your pizza
Non-sticky glaze finish to avoid any mess of dough sticking to pan
Easy to wash with soapy sponge
Multipurpose stone produced from black ceramic, covered by heat-resistant coating
So if you are surprising someone with a well-made pizza, this will be your loyal friend. And each time you wash it, it looks brand new!
9. Portable campfire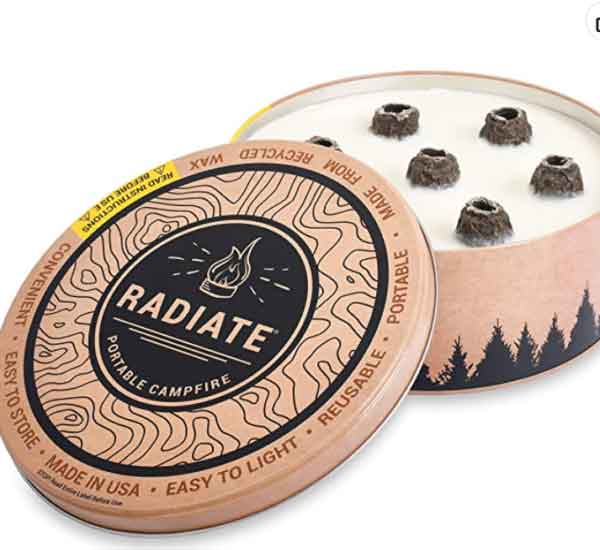 If your boyfriend does not enjoy really long camp/bonfires, or the smoke hitting his eyes due to a sudden wind change, or he wants to avoid the hassle of putting out fires and dealing with embers, then this portable campfire is well worth a try. Best suited for people who love camping with their loved ones – this portable campfire cone made from recycled soy wax comes with a sleek look and has 3-5 hours of burn time. It can even be a great gift for beach lovers too as you can use it on a beach picnic day.
Recycled soy wax and paper briquettes make it eco-friendly and reusable
No need to collect firewood to light this – use a light or a match
Burns for minimum of 3 hours
Putting lid back on will extinguish fire
Don't worry about the smoky smell and low soot – the creators have worked magic with this one. You will get the authentic warm campfire feel with this.
Related Reading: 35 Best Gift Ideas For Music Lovers And Musicians In Your Life
10. Three-in-one charging stand
If he is tired of docking his phone on your side of the bed, then it's time to get him this 3-in-1 charging stand. The three-pebbles design is impressive as it lets you place the phone horizontally without scratching the edges of the device; it also doesn't come in the way of the contents of your phone, hurray for a full-screen view. It is compatible with iPhones and the iWatch series and stands out due to its old-world, synced-shaped, design.
Foldable and convenient for carrying in backpack
Adjustable phone stand to suitable angle between 0-90 degree
1 cable to charge 3 devices, keeps your desk neat and clean
Charges your AirPods with or without the case
This gift makes your stuff look more organized with all the electronics in one place. Your boyfriend will definitely appreciate these types of functional and romantic gifts for him!
11. The smart photo manager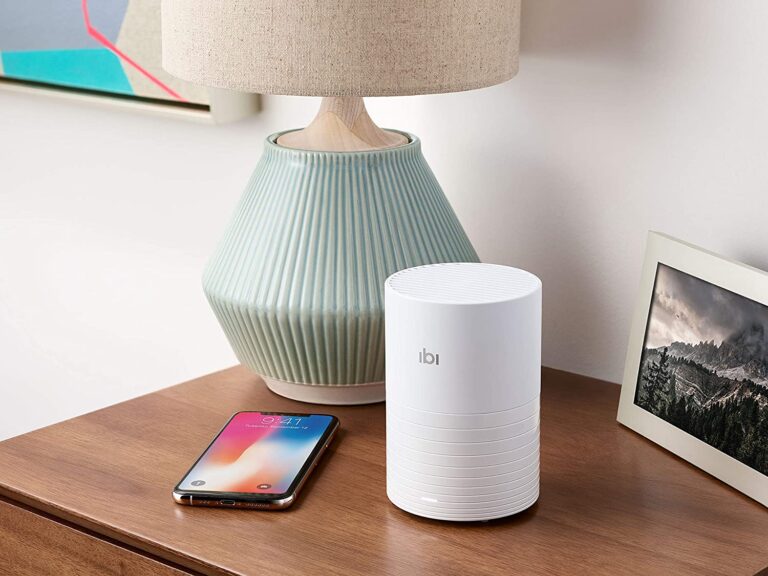 With this smart photo manager, gather all your private and romantic couple photos under one roof, or rather, in one device! You have the freedom to transfer photos from your phone, computers, USB drives, social media accounts and, last but not least, clouds. This gift is perfect to give on an anniversary or birthday –  whether you two are having an intimate party together or have invited friends and relatives to witness your relationship from day one to the present.
Collecting and organizing your pictures is a cakewalk with this device
Install easy-to-use app to get started
Privately share pictures and videos with people who are close to you
Create an inner circle where everyone can upload their pictures
Stream from ibi to your TV with Fire TV, Google Chromecast, or Roku, and watch your inner circle beam at your lovey-dovey photos!
12. Weighted blanket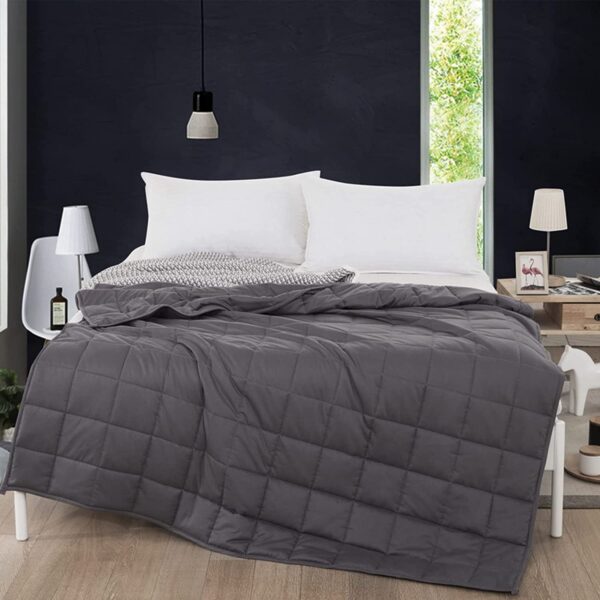 Neither too light, nor too heavy, this blanket could be one the most perfect romantic Christmas gifts for him if he likes sleeping under a lot layers. Snuggle with him under this blanket for a night of better sleep. High stitching sewing technology and the two-layer microfiber have been added to create this blanket to ensure longevity and its cotton fabric ensures that you don't feel overly hot.
Unique 7-layer design to maintain breathability and temperature
Stitched into small compartments for even distribution of weight
Suitable for machine washing but hand-cleaning is recommended
Ideally, cover it before using
Choose one which weighs under 10% of your body weight and if you get hot easily, we recommend the cooling bamboo weighted blanket. So, spoon together all you want!
13. Beer opener survival credit card tool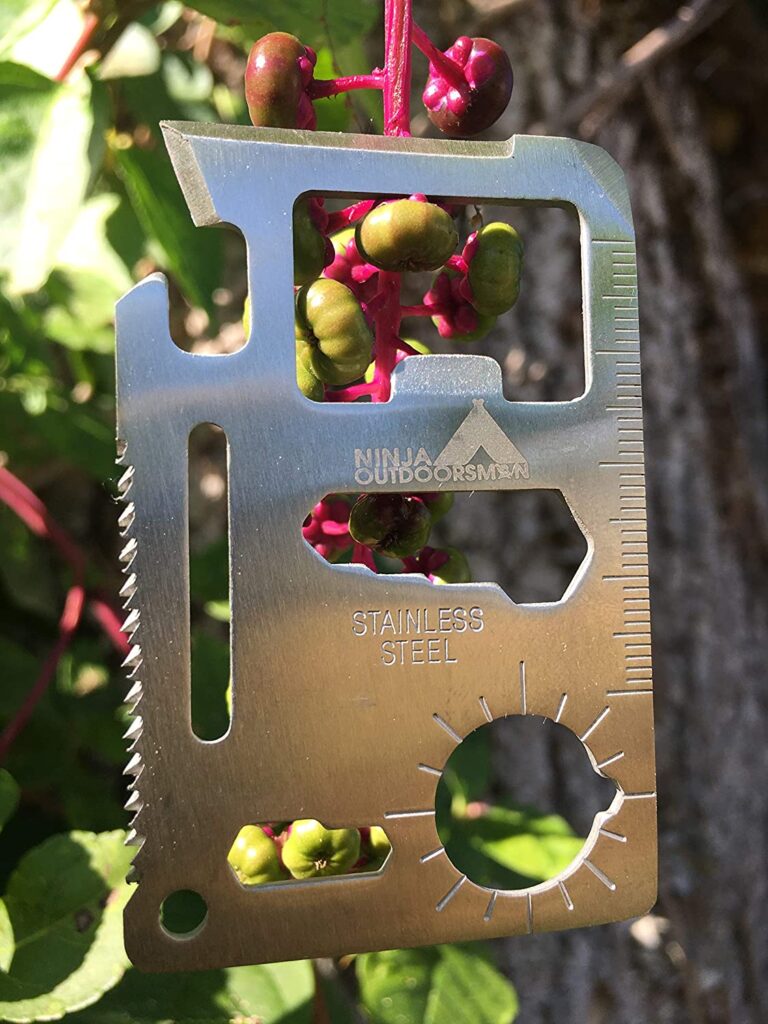 Trust us when we say you don't need a pocket knife if you've got this beer opener cum survival kit. This opener has 10 different tools/functions which will fulfill pretty much any requirement. It's the size of a credit card. You get it in a little pouch thus making it easy to fit in a wallet without making an awkward bulge, plus, the smooth edges make sure you don't have an issue while taking it out.
Can be used as a flat screwdriver, bottle or can opener, for cutting edges, as saw blade, key chain and more
Made of premium stainless steel material
Incredibly sturdy — break-proof and rust-proof
As this multi-tool card serves as a survival kit, your man can carry it around with him, especially on outdoor activities like camping and trekking.
Related Reading: 11 Best Cavitation Machines To Get In Shape This Year | 2022
14. Star Wars poster set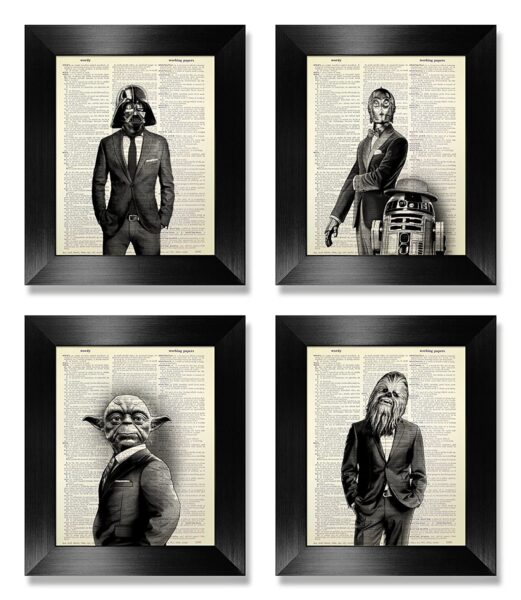 Choosing this out of all the creative romantic gifts for him will show your man that you care about his interests. He will definitely appreciate that you got him this Star Wars poster featuring the most iconic characters – Darth Vader, Yoda, R2-D2 and Chewbacca. And the makers have taken extra care to ensure they are not damaged during shipping. A clear plastic sleeve will protect the print and an inserted cardboard will safeguard the print as well.
One of a kind original artwork
Printed on 80+ year-old vintage dictionary page
Pages are 8in x 10in — perfect to fit in an 11in x 17in frame
Display them as unique décor pieces at home or office
 Watch him show off your token of appreciation a.k.a. this fun and quirky gift to his envious friends. They'll be super jealous of him because of his amazing girlfriend!
15. Pizza socks box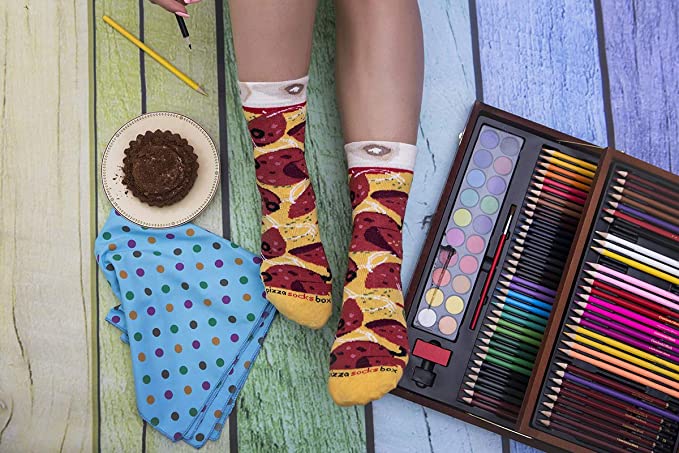 Talking about unique romantic gifts for guys and here's the winner! Show him that when it comes to gifts, you can think out of the box! You can impress your man with this pizza socks box – these socks come in a box and resemble an actual pizza. Easily the best surprise ever for people who love pizzas, and fun and quirky gifts. These colorful socks complement everyday jeans and jackets and the best part is all these pepperoni and capriccioso will not put one single calorie in your belly!
Cotton blend material certified by OEKO-TEX 
Exceptional design, pattern and vibrant colors
Made from scratch in a small home production in Europe
Soft and breathable socks
You can make him extra happy by making him pose in these socks, clicking cute and adorable photos of him, and sharing them with your friends' circle. Happy feet indeed!
16. Hands casting kit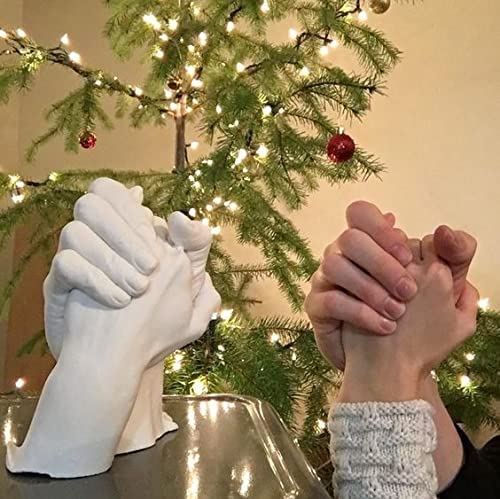 Do you love holding hands with him? Then this heartfelt gift, the hand-casting gift, will definitely remind him of that. The mold which you can create yourself catches all the fine lines and makes it the ultimate cherished gift. It is super easy to create your very own hand casting – dip your hands into the molding material and later, fill the hollow space with the casting powder. If you want to give it that extra bit of shine, you can use the sandpapers and acrylic paint also included in the box.
The package comes with everything to safely create a molding of your hands – bucket, premium quality molding and casting stone powder, wooden base, table cloth and bonus practice kit
Luna Bean's 'Create-A-Mold' molding gel formula is of supreme quality
Detailed instruction manual and video for better understanding
The best part is if you don't like how your casting has turned out, you can send a photo to Luna Bean and they will help you with a solution! 
17. Date night box set
If you and your SO regularly go out for road trips or spend a lot of time on trains and at airports, then he'll be delighted to receive this date night box set. Instead of indulging in small talk or driving for hours in silence, this gift can entertain him and (you too) with the Flirt and Dare games. This can also be a great way to initiate conversation around things he doesn't normally discuss with you. It's up to you, if you want to have engaging and meaningful conversations, the Talk cards will help.
Pick a card, answer the question or fulfill the dare – it's as simple as that!
If you want a little intimacy, then go for the Flirt cards
For a bit of fun and kink, choose the Dare cards
Compact and cute packaging, easily portable
So, tell me, can you think of any better romantic gifts for men right now? Isn't this just perfect?
18. Da Vinci Code mini cryptex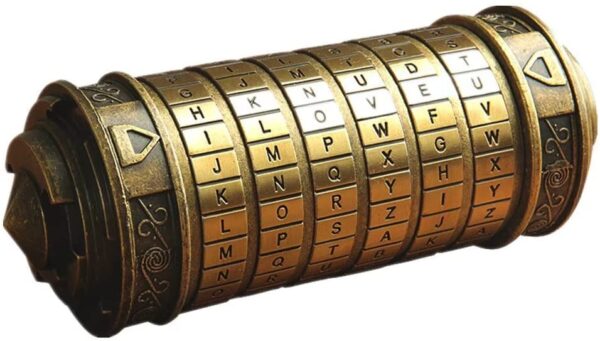 The Da Vinci Code mini cryptex can be the most romantic gift for your partner not just because he's a fan of the Dan Brown book/movie, but also because the default password is none other than iloveu! This quirky gift's code is easily customizable – so if you are planning to propose to him in a unique way, you already know how this gift can help! Since you have the option to reprogram the phrase to open it, put any gift inside to make it extra special for him.
Exquisite design with hidden compartment
Change the password easily by turning the screws and changing the sequence of the letters
Solid build and comes with smooth dials
Also, there are plastic LOTR rings (one gold and one silver) that are included with the gift – so if he is a fan, he'll be all the more pleased! 
Related Reading: 21 Gift Ideas For Basketball Players [Boyfriend Loves Basketball]
19. Neck massage pillow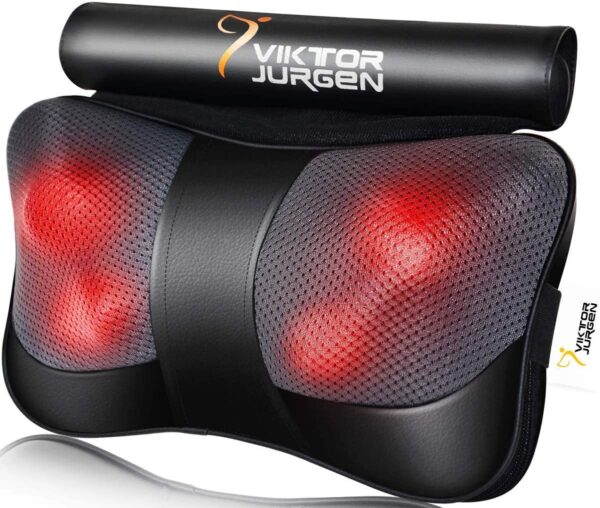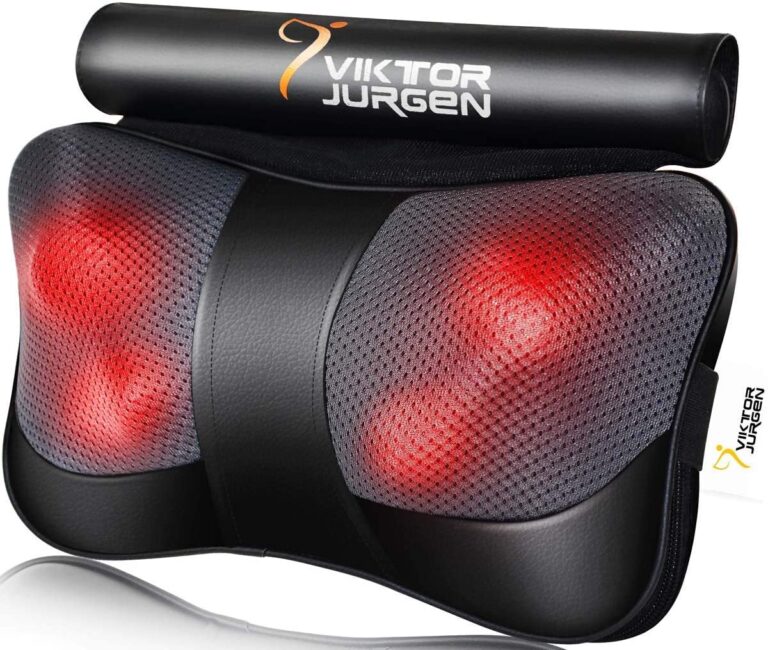 This ergonomically designed massage pillow is the best gift ever if your partner works long shifts and his back hurts a lot. Thanks to professional etiquette you can't go and massage him at work, but you can definitely ensure that this gift does your job well! Wherever needed it will massage the tension right out — lower and upper back, behind the neck, and body contours of shoulder, calf and thigh regions too. 
Additional dust cloth to wrap the part which comes in contact with the body to shield the skin from friction
Powerful 3D rotating massage nodes to relax tight muscles
Use it at home, at your desk, or in the car
Comes with free car adapter
Just put it down when the heated region becomes too warm. And don't worry, it's super easy to clean!
20. Drive safe keychain
This thoughtful gift shows that you care for his safety and can be a constant reminder to him that he needs to slow down when he is on the highway and driving super fast. This present also works if you have a partner in a highly dangerous profession. It's one of THE BEST sentimental gifts for him that you can find. Also, its clean and simple design makes it a great gift for a minimalist as well.
Made of stainless steel, not flimsy at all
Well-built with a high-quality polished finish
Free of toxic lead and nickel material
Comes in a pretty gift box
Whenever he is stuck in heavy traffic and feeling irritated, one look at this nice and shiny keychain will remind him of all the love he has waiting for him back home.
21. Beard apron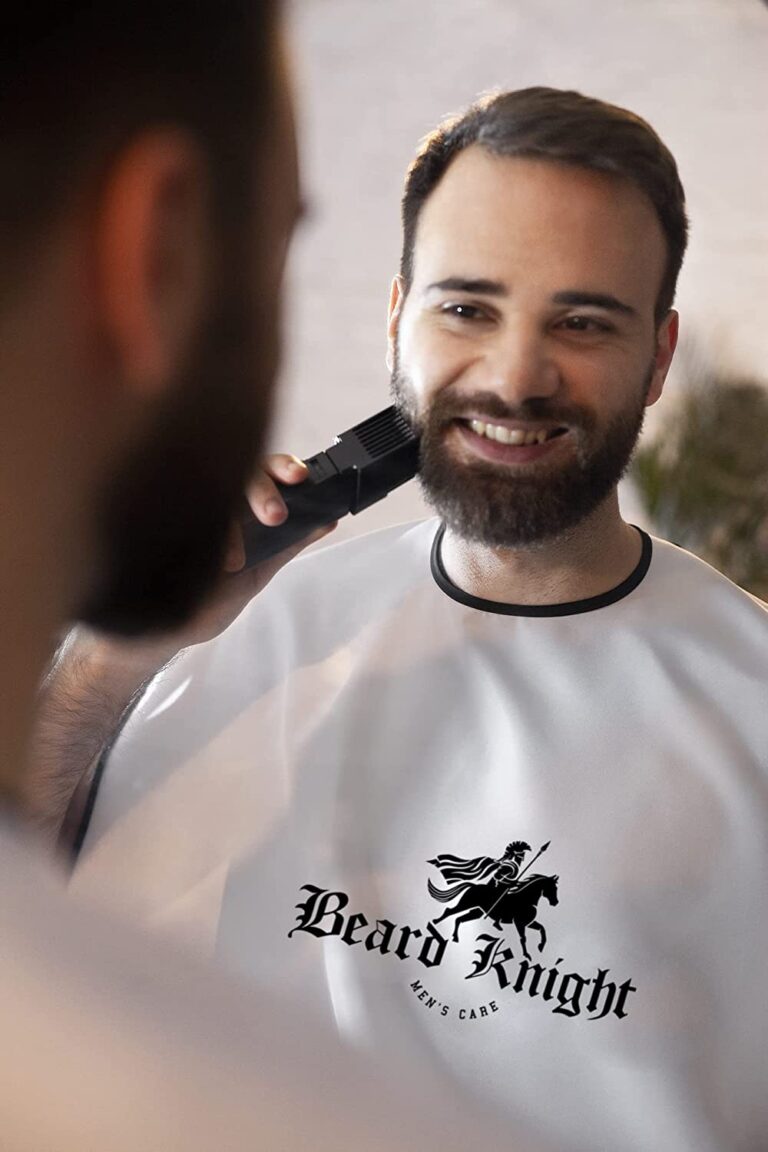 This gift is a reflection of your sense of humor and also your understanding of how to make love and not war with your guy! If you guys want to avoid bickering over keeping the washroom basin clean, then this beard apron will come to your rescue. Get this for him and you will thank us later for this mind-blowing idea!
Made of polyester fiber, has waterproof coating
Super easy to clean, wash and dry
Velcro straps will adjust easily around his neck and catch all the clippings without making a mess
Comes with travel-friendly zipper bag
Irrespective of where he is, this beard catcher apron with zero elastic will be your guy's best friend. After he's done trimming, he just has to throw away all that extra beard hair without any hassle.
Related Reading: 12 Gifts For People Going Through Breakup
22. Elegant pocket watch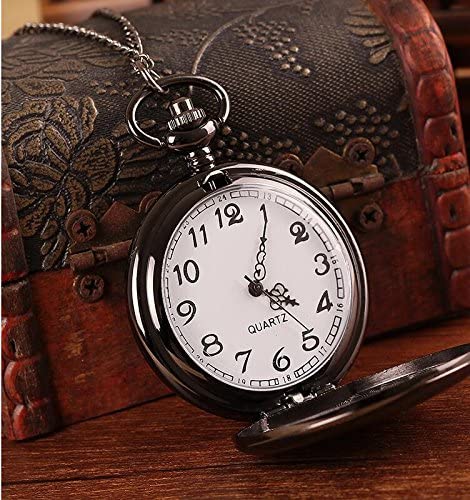 We know just how difficult it is to find a gift for someone who literally has everything. It's no wonder you ended up here looking for ideas for some unique romantic gifts for him. Do you think this exquisite vintage pocket watch is something he would like to have? On the top, it says, 'To my king, never forget that I love you forever'. This would make such a touching Valentine's day gift for your husband.
Comes with 2 types of chains and instruction card
Made of premium quality zinc alloy metal with sleek finish
Very precise quartz movement
Opens easily at the press of a button
Think about it, this extraordinary item can stay in your family for years and you can pass it on as an heirloom to your children.
23. Vintage bottle opener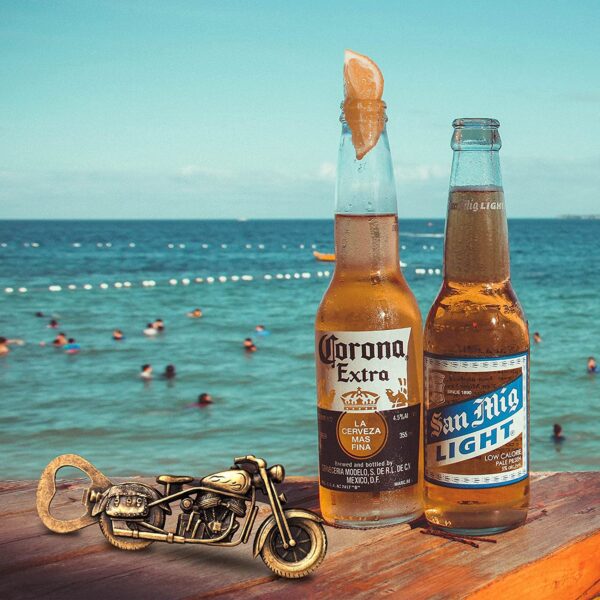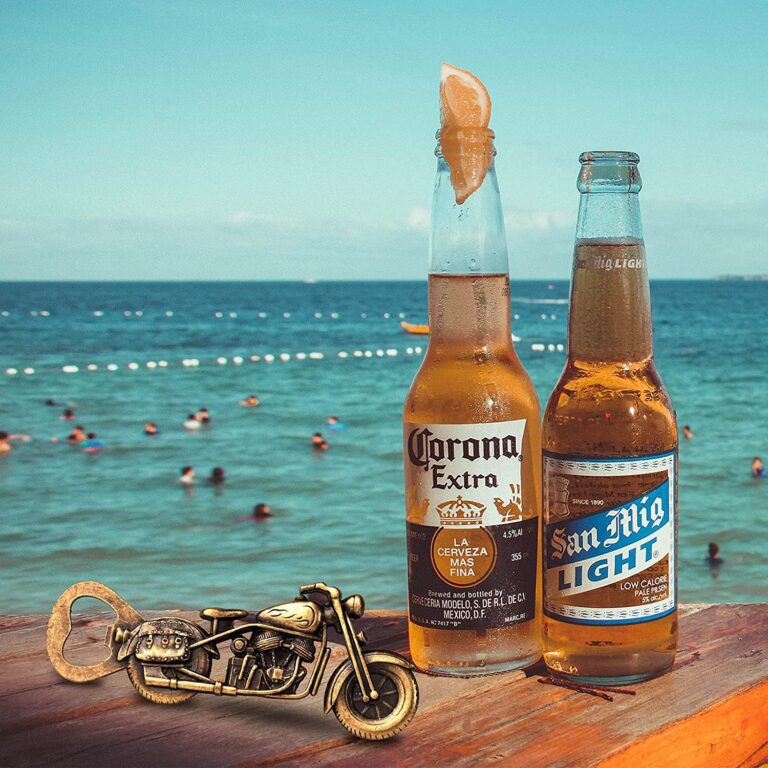 You know my friend Paul is an ale drinker. He would probably finish 5-6 cans of Bud Light if he didn't have to go to work. For the last few months, his girlfriend was looking for creative romantic gifts for him that complemented his love for beer. And finally, she found the perfect one –  this gorgeous bottle opener that looks like a vintage motorcycle.
Unique design with intricate details of real motorcycle
Made of zinc alloy, very well-built, and durable
Small and compact size, easy to carry around
Doesn't slip while opening bottles
One more thing, if your boyfriend is an ardent motorbike enthusiast, this gift will doubly impress him!
24. Whiskey glass set
When it comes to finding romantic gifts for him, whiskey glasses can never go wrong. Especially if they come in a classic, wooden, keepsake box, it's all the more perfect for gift giving. Just take a look at the heart-warming lines written on the box for your handsome man! He will fall in love with you all over again, believe you me.
Includes 8 'Ace of Hearts' stones to maintain temperature
Contains 2 crystal-cut glasses along with 2 vintage slate coasters
Specially handcrafted for maximum clarity and durability with fine details
Includes tongs to pick up and add ice to your drink
The coolest part is he gets to enjoy his drink undiluted at the optimal temperature as these steel cubes won't melt away easily like regular ice.
25. Scented candles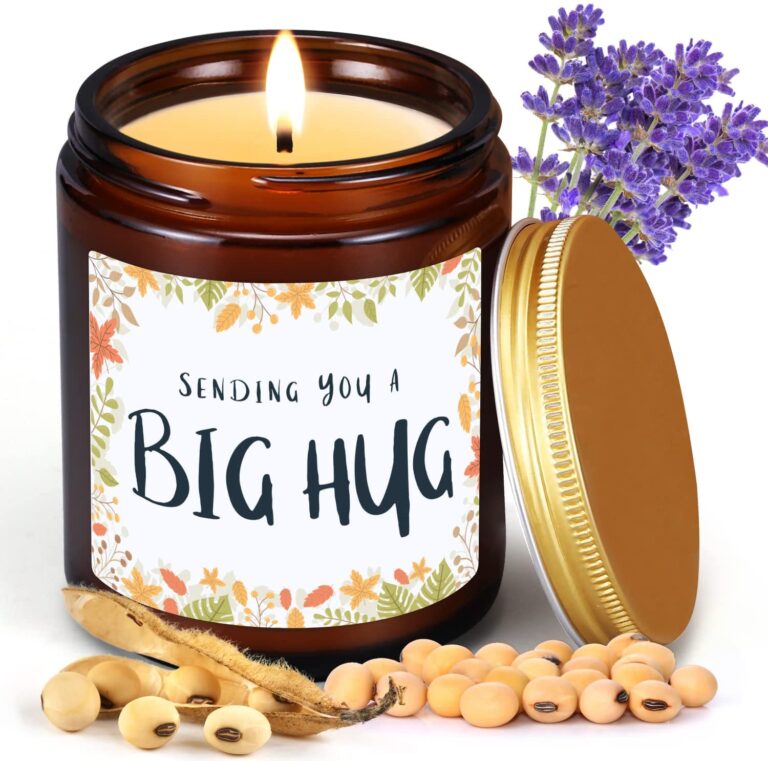 Are you and your partner trying to make this long-distance relationship work at any cost? We know how those pangs can stab you suddenly in the middle of the night when you start to miss them so bad. Send him a cute aromatic candle on his birthday with a 'big hug'. He will realize how close you two are even though there is a huge physical distance.
50 hours burning time without any soot
Made from environment-friendly, pure, soy wax
Soothing fragrance from blend of lavender and eucalyptus essential oils
Comes in cute reusable jar packed inside gift box
This is beyond doubt one of the best romantic gifts for men. Next time when he is taking a bubble bath or having a lonely dinner miles away from you, he can light this candle and lose himself in your thoughts.
26. Deadpool beer mug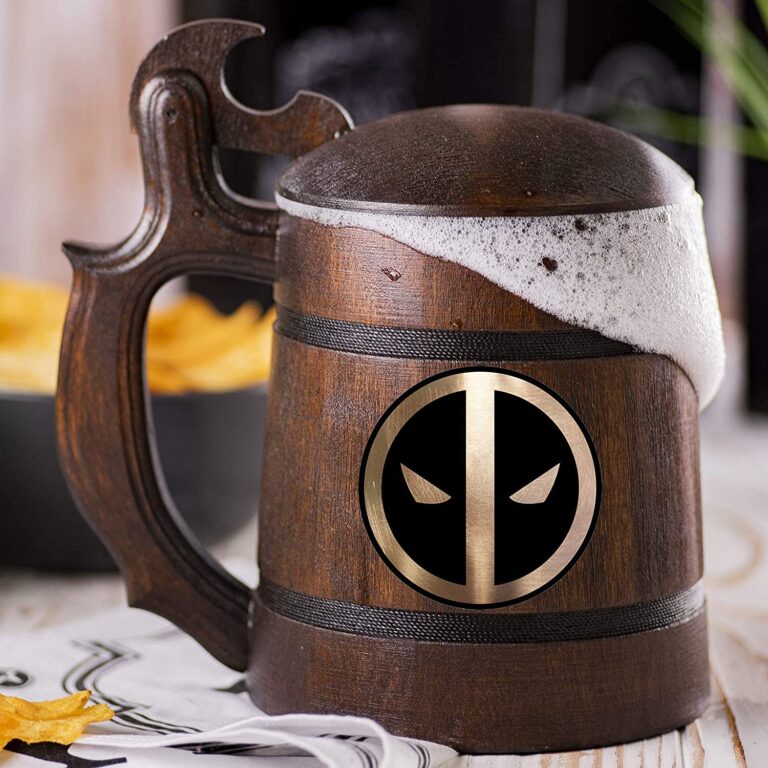 It's not a big secret that a Marvel fan will go absolutely crazy simply looking at this Deadpool beer mug. Has your boyfriend wish-listed it already? Let's do one thing, secretly shift it from his cart to yours and surprise him this holiday with one of much-wished-for items. Take my words for it, these romantic Christmas gifts for him will definitely appeal to the Marvelite in him.
Wooden beer mug with stainless steel interior
Keeps beer chilled for a long time during summer
Store it away from excessive heat or sunlight to assure longevity
Comes with wooden lid and has 17 oz capacity
You just earned yourself some brownie points and sweet loving on Christmas night with this surprisingly romantic gift for him.
Related Reading: 30 Practical 2-Year Anniversary Gifts For Boyfriend To Impress Him
27. Beard comb for your handsome man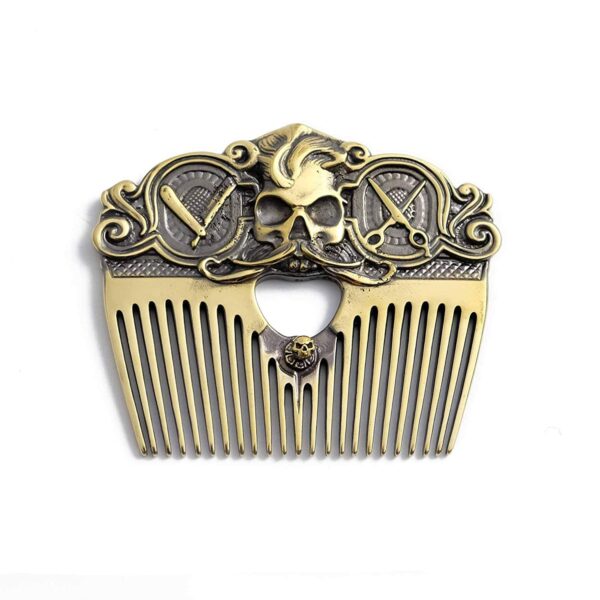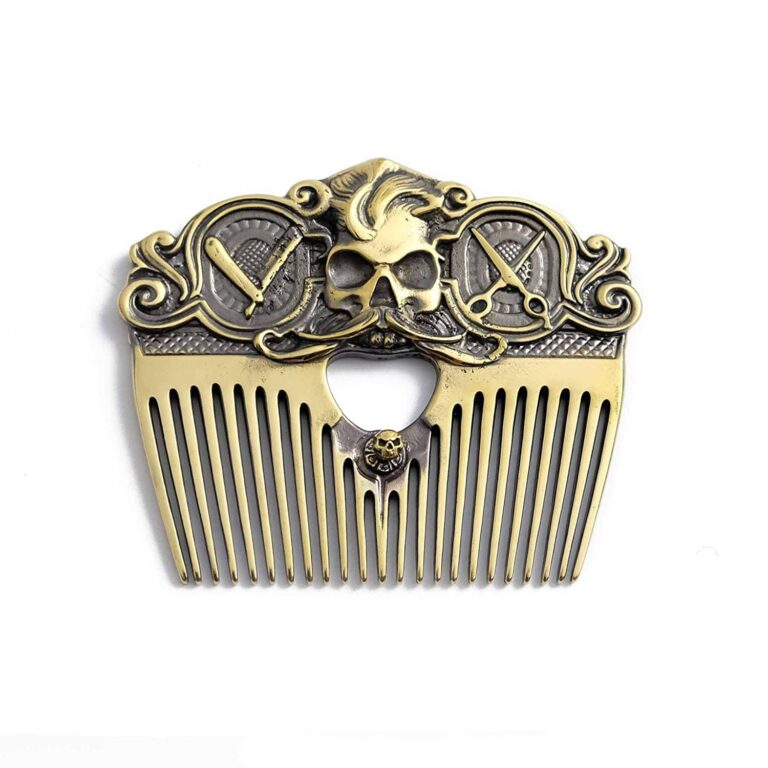 Is your husband obsessed with his carefully trimmed fancy beard? Is he always shopping for beard oils, gels and grooming kits? Does he run his fingers down his beard every time he passes a mirror. If this is the scenario at home, we think an exceptionally beautiful beard comb will make him super happy!
Cute and small pocket size comb
This hypoallergenic comb is made of solid brass
Won't scratch your skin; helps to stimulate hair follicles
Comes in an excellent leather pouch
An elegant gift that he will love to show off to his friends and declare how lucky he is to have you in his life.
28. Grilling spice set
Not sure if grilling spices count as romantic gifts for him but if delicious food on a barbeque night with your sweetheart is romantic, then so is this gift. Are you a couple who loves to cook together? Do you happily become each other's guinea pigs to try out all the weird foodie experiments in the kitchen? Just kidding! Order this ultimate spice set before your next house party and see the look on his face.
Pack of 20 special barbeque rubs and spices
Bottles capacity is 0.21 oz
Comes in a gorgeous box, perfect for gifting
Classics, staples, out-of-the ordinary, adventurous – you name the flavor you're going for and it'll be a part of this set. Spice up your meat with chipotle, chili parsley, black cajun, rosemary — literally any kind of seasoning you want.
Related Reading: 12 Thoughtful First-Night Wedding Gifts For Your Husband
29. Camera lens coffee mug
If your SO is a fabulous photographer, we have found a beautiful sentimental gift for him. I bet you nag him all the time to take that perfect picture for Instagram. And he does, with a smile on his face. Now it's your turn to show him some appreciation for his efforts (and for putting up with all your demands and instructions to get the perfect angle!) What are your thoughts about this very unique camera lens-like coffee mug?
Insulated, stainless-steel mug to maintain the temperature of your beverage for a long time
External body is made of food-grade plastic
Completely spill-proof screw-on lid
Can also be used as a flower vase or pen holder if you want
Trust me, as he enters his office sipping coffee from this super cool tumbler, everyone will come up to appreciate the taste of the person who found him this amazing gift!
30. Leather travel bag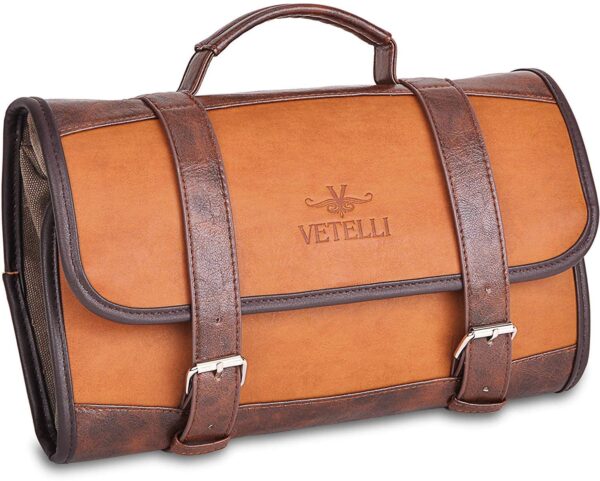 Do you plan exotic couple trips with your boyfriend quite frequently? Then here's a classic romantic gift for guys that you can get him for your next journey. This functional leather bag is perfect for packing all your toiletries in one place. Especially if he is the messy partner in the relationship who loses his stuff every now and then; in that case, this bag is tailor-made for him.
Features 2 zipper and 2 snap-fastened square-shaped pockets
Made of cruelty-free and water-resistant leather
Heavy-duty canvas material on the inner side of the bag makes it leakproof
Zippers and buckles are sturdy and long-lasting
The best part about this foldable leather bag is that when you reach the hotel, you can just unfold it and hang it in the bathroom to access all the compartments very easily.
Things To Consider while buying gifts for him
Buying the right gifts for your SO could also test your understanding of what he truly needs. Is he someone who loves word games? Or is into movie memorabilia? Then you know that the Da Vinci Code Mini Cryptex is the ideal gift for him. Does your special someone hate when his things get cluttered or grow anxious and agitated when he can't find any item? Then gift him the 3-in-1 charging stand. In case the inner child in him still comes out and he loves quirky things, do consider the pizza socks! If he is a workaholic, the neck massage pillow would work like magic for him. Ultimately, knowing his needs will help you to buy that perfect gift for him and win his heart all over again!
FAQs
1. What can I buy my boyfriend to show appreciation?
To show how much you appreciate his presence in your life, you can get your boyfriend a personalized star map print, a handmade couples portrait, future planning journals for couples, or maybe a gift to boost his passion in life.
2. What do guys like to receive as gifts?
Guys usually prefer practical gift items that they can use frequently such as grooming kits, fashion accessories, camping tools, bar cabinet items, coffee tumblers, watches, and so on.
3. What can I gift my boyfriend to make him feel special?
To make your boyfriend feel very special you can gift him a unique experience like a visit to his dream museum or tickets to a concert by his favorite artist. You can also book a weekend spa getaway to spend some quality time with him.
20 Funny Gifts For Boyfriend That'll Put A Smile On His Face
21 Cool Tech Gift Ideas For Couples Madly In Love And Passionate About Gadgets | 2022