birthday gift ideas for husband
So, it is that special time of the year again and your husband is another year older, another year wiser. If you are looking for the best birthday gift ideas for your husband, this is the right place to be. In our opinion, birthday gifts do not fully really hit the spot if they do not have any functional use.
Of course, there are gifts that have a lot of emotional value. However, when birthday ideas for the husband consist mainly of gifts that he can use on a daily basis, it is the ideal way to go. Today, we list 20 such useful and creative birthday gifts for your husband that he won't just keep on the shelf. Without any further ado, let's jump right in!
Creative And Thoughtful Birthday Gifts For Husband
There may be a multitude of different things flooding your mind when it comes to birthday ideas for your husband. It is always better to narrow things down to make choosing one easier. Else, it will be like finding a needle in a haystack. Now, we definitely don't want that. So, to make things easy, we have compiled the best birthday gift ideas for your husband. Here's the list:
1. 12-in-1 survival kit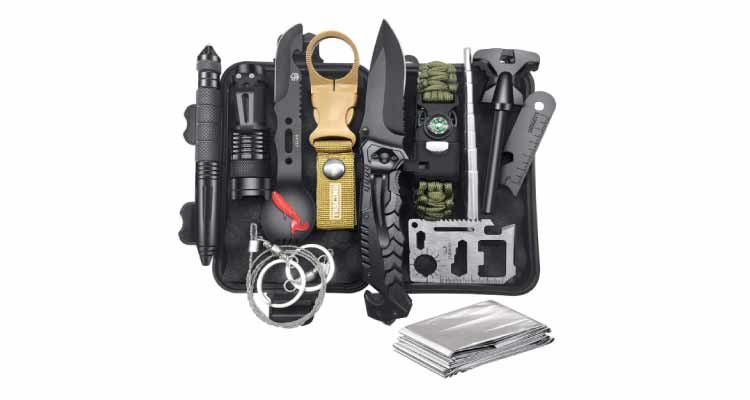 If your husband loves doing activities outdoors, he will love this 12-in-1 survival kit. This is easily one of the most useful gifts for camping lovers and outdoorsy people. The kit contains all the much-needed accessories that your husband will require for any of his favorite outdoor activities. It will certainly bring a broad smile to his face and is one of the best birthday gift ideas for the outdoor-loving husband.
Contains wire saw, water bottle clip, emergency blanket, flint stone scraper, flashlight, credit card, multi-use spoon fork, and waterproof box
Comes with all camping accessories
Contains accessories for fishing too
Related Reading: 28 Romantic Valentine's Day Gifts For Husband
2. Best husband t-shirt
Is your husband a Marvel fan? Then, he will totally dig this t-shirt that says "best husband in the galaxy". If you are a Marvel fan as well, the reference will become even more special. Marvel fan or not, your husband will love this t-shirt. It's funky, cool and is surely one of the most wholesome birthday gift ideas for the husband.
Multiple color options to choose from
Machine and hand washable
Made using cotton and polyester
3. Funny socks for men
Socks are adorable. They keep the feet warm and protect them from getting cracked. Besides, if someone is into running and jogging, socks give their feet an extra layer of protective cushioning too. With the kind of versatility socks have, they often give off the "I care for you" vibe. Socks are surely one of the best birthday gift ideas for your husband. Moreover, if you are looking for funny gifts to put a smile on his face, this should do the trick!
Made of 90% cotton, 7% polyester and 3% spandex
Available in US sizes 6-12
Environment-friendly white glue used for lettering
4. Lavender candle with romantic quote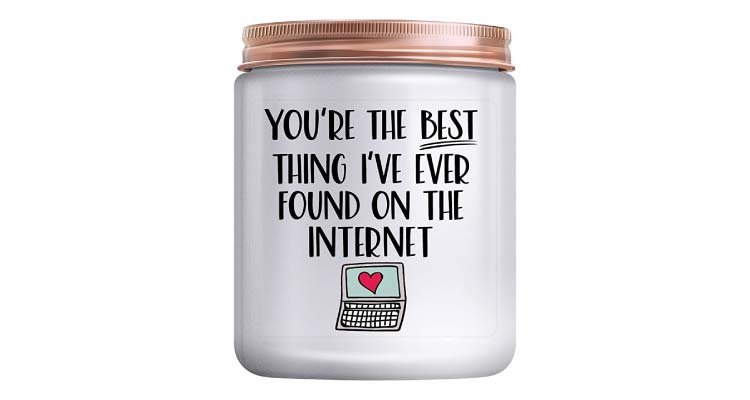 Aromatherapeutic candles have a lot of benefits. When such a candle is infused with lavender essence, the benefits become more effective. These include relieving stress, depression and anxiety. The cherry on top is the lovely quote that it comes with. This romantic birthday present for your husband will definitely make his day.
Made of soy wax
Candle measures 2.75 in x 3.45 in
It can burn for up to 50 hours
Related Reading: 15 Last-Minute Valentine's Day Gift Ideas For Your Dear Husband
5. Phone docking station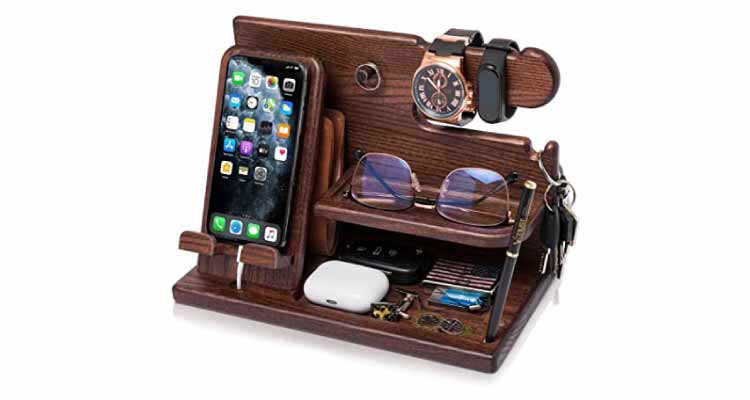 Phone docking stations have become very popular accessories in the contemporary world. You can place them on your desk or anywhere else you please to get easy access to everyday items that you need the most. This docking station comes with a mobile stand, watch stand, and additional slots to keep your sunglasses, wallet, etc. This useful accessory is, no doubt, one of the best birthday gift ideas for your husband.
Made of solid ash wood
Easy to assemble
Measures 5.9 in x 10.4 in x 7.4 in after assembling
6. Flashlight gloves for men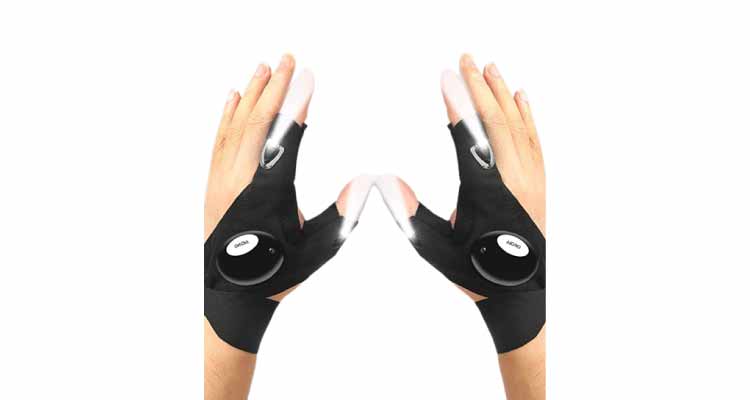 Flashlight gloves are yet another underrated but super-useful accessory to have. From camping and hiking to fishing or repairing cars, these gloves can come in handy when travelling. The kind of utilities they have makes them one of the best birthday gift ideas for your husband. Most importantly, both of you can do these activities together. Such amazing outdoor date ideas are a great way to rekindle lost love.
Made of skin-friendly and breathable fabric
Batteries are pre-installed
Also comes with a rechargeable variant
Related Reading: 12 Thoughtful First-Night Wedding Gifts For Your Husband
7. Apron with funky quote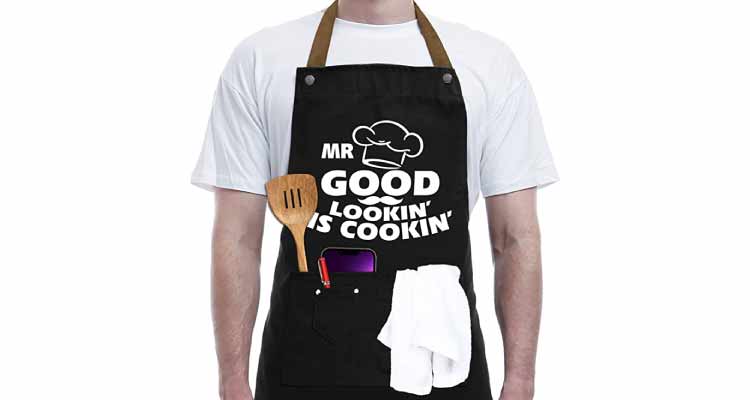 Whether your husband is a cook or is trying to be one, this apron is going to be such a great mood-booster. The kind of spacing it has will allow your husband to keep multiple tools ready with him. Additionally, it comes with an adorable quote that says, "Mr Good Lookin' is Cooking". All-in-all, a great birthday present for your husband, indeed.
Comes with 2 large and 1 small size pocket
The apron is 30 in wide and 31 in long
Includes 35 in extra-long ties
8. Beard grooming kit
This kit will come in handy for your husband, especially if he loves his beard. Beard grooming takes quite some time and accuracy. With the right accessories, it will get easier for him to maintain it. Hands down, a very thoughtful birthday present for the husband. Beware! This is for those who do not run into problems of having a bearded boyfriend or husband.
Suitable for all hair types
Made of 100% natural ingredients
Features an extra bonus ebook
9. High-capacity men's wallet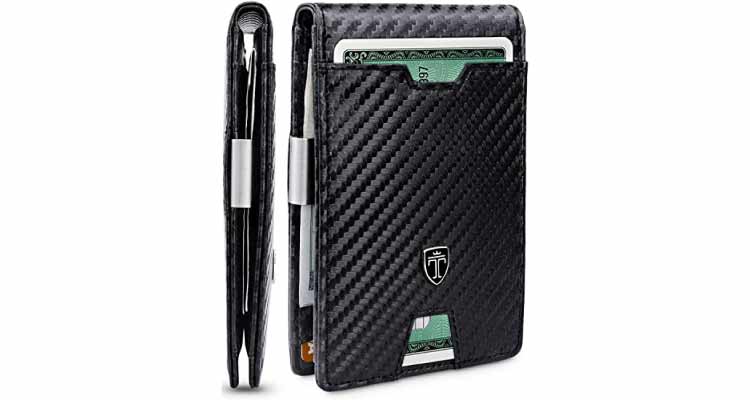 Men and wallets go hand in hand, just like a woman and her purse. From money to bank cards and driver's licenses, a wallet is that super compact holder that every man needs on a daily basis. Men can't leave their homes without their wallets and when you gift a high-capacity wallet like this to your hubby, he will surely love it! This is easily one of the most useful birthday gift ideas for your husband.
Features a bifold closure
Made of faux leather
Comes with a gift box, money clip, RFID blocking, thumb notch
Related Reading: 35 Useful Travel Gift Ideas For Men – Best Gifts That He Will Love
10. 'To my husband' tumbler
Tumblers are a no-brainer when it comes to travelling or going on a vacation. They can keep your husband's favorite beverages cold or warm for hours on end. The icing on the cake is the romantic quote. Once he gives it a read, it will instantly make him feel special on his birthday. It goes without saying that this is one of the most romantic and useful birthday gifts for your husband.
20 oz capacity
Stainless steel
BPA-free clear lid
11. Advanced pocket knife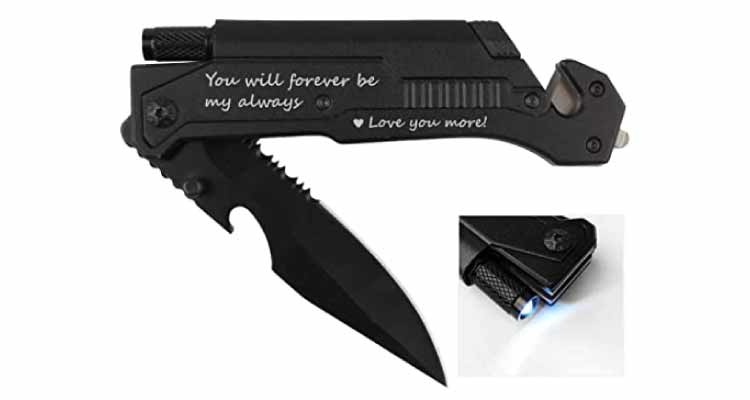 From opening boxes to cutting through unnecessary obstacles and more, pocket knives are a man's best companion. They are so handy and easy to carry that you do not need to make extra space to carry them. Just sliding them into your pocket is enough.
This pocket knife takes it a step further and offers a lot of additional tools that are exceptionally useful on a day-to-day basis. Definitely, one of the best birthday gifts for husband from the wife.
Made of stainless steel
Comes with LED light, fire starter, bottle opener, seat belt cutter, glass breaker
Handle is made of wood
Related Reading: 30 Romantic Gifts For Him [Sentimental Gifts For Men] 2022
12. Trophy husband t-shirt
Calling your partner a "trophy husband" is such a funny yet romantic way of showing your love for him. This t-shirt is such an excellent, funny and not-so-subtle way of showing your husband off that it is definitely going to crack him up. It is one of the more hilariously romantic birthday gifts for your husband.
Made of cotton and polyester blend
Not boxy; true-to-fit
High-quality ink used for letter
13. Mobile stand with wireless speaker
Whether your husband is driving or working at his desk, this mobile stand is super useful. It comes with a wireless speaker that allows you to not just place your phone but also play some music anytime, anywhere. The portability of this mobile stand plus Bluetooth speaker is off-the-charts, making it one of the best birthday gift ideas for your husband.
Can fit almost any smartphone and tablet
Bluetooth speaker comes with in-built microphone
Speaker uses Bluetooth 5.0 for connectivity
Related Reading: 15 Best Zodiac Gifts For Him And Her – Astrology-Themed Gift Ideas
14. Muscle massage gun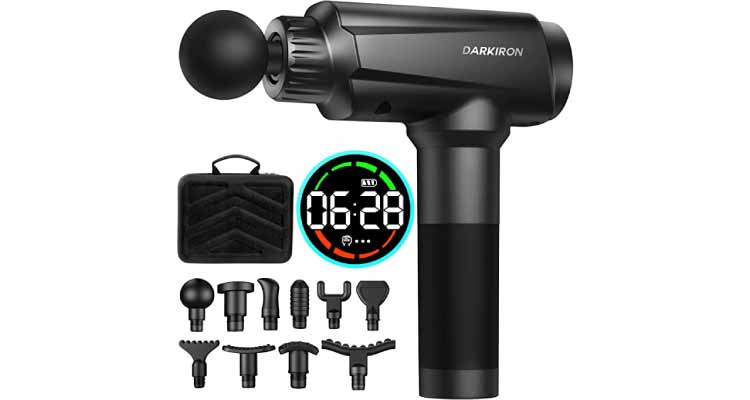 This massage gun is an ultra-portable massager that has endless utilities. Whether it is your neck that hurts after a long day at work or your legs, just use this massage gun to get instant relief. It is such a wonderful way of telling someone that you care for them. This massage gun is genuinely one of the best birthday gift ideas for the husband. Besides, this is one of the most useful gifts that keep on giving.
Comes with 10 massage heads
Up to 6 hours of battery life
4-speed levels to switch in between
Comes inside a high-quality storage case
15. Engraved wooden watch
It goes without saying that, just like a wallet, a man is incomplete without his watch. Most men love collecting watches and this engraved wooden watch is going to be such a unique entry to their collection. It is going to be extra special due to the "To My Husband" quote at the back which makes it one of the most romantic birthday gifts for your husband.
Permanently engraved lettering
Made of 100% natural wood
Completely hand-made
16. Motorcycle bottle opener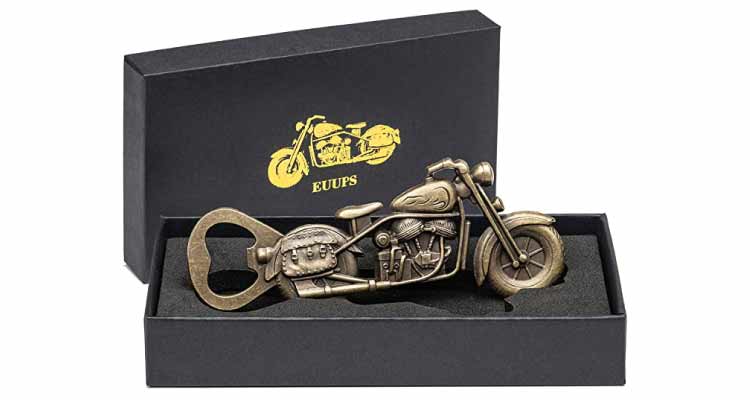 So, your man is out with his bros having an incredible boy's night out. Well, he will definitely need a bottle opener on those nights. Besides, not everyone can open bottles with their teeth and neither is it a healthy practice. Not only is this bottle opener going to be very useful for him, it will also be an added bonus if your husband is into motorcycles. If you are running out of birthday ideas for your husband, this bottle opener is a great option!
Very portable
Made of zinc alloy
Comes in an attractive package
Related Reading: 30 Matching Couples Gifts – Cute Matching Gifts For Him And Her
17. Heated knee pad
Knee pads are a great way to soothe arthritis and runner's knee. If your husband has been a hardcore running enthusiast, he can often feel pain in his knees. These heated knee pads are such saviors when something like this comes your husband's way.
Not only do they bring relief but also increase blood circulation to the knees and reduce joint stiffness. An extremely useful birthday gift for the husband, for sure. The kind of comfort this knee pad offers makes it one of the easiest ways to make your husband happy after a long day.
Offers two adjustable heat levels to choose from
4 massage motors
5 massage modes
Made of soft velvet fabric
18. Soulmate keyring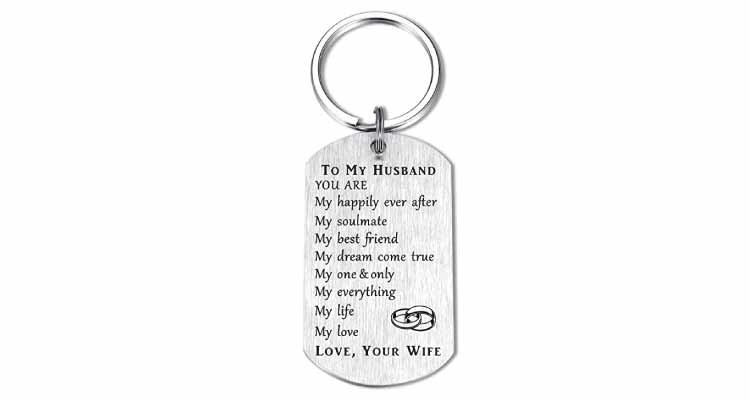 Yes, a keyring may sound way too underwhelming a gift at first. However, this is not your regular keyring. It comes engraved with a very beautiful "To My Husband" lettering. This will not only make him feel special on his birthday but also be an excellent way to show your love for him. In addition, keyrings have very underrated utilities in our day-to-day lives. They are the best way to keep those super important keys secure.
Anti-rust
Anti-fade
Measures 2 in x 1.1 in
Related Reading: 30 Cool Gadget Gift For Men [Best Gadget For Him]
19. Home gym set
If your partner is a fitness freak or has been planning on becoming one, this home gyming set is the perfect birthday gift for your husband. The variety of different equipment will allow him to be versatile with his sets. Definitely, one of the more creative and thoughtful birthday gifts for your husband. Besides, both of you can figure out some easy and fun workout ideas using this set! It will definitely provide the much-needed motivation for working out.
25 pieces of equipment
Burnout board can take up to a whopping 600 kgs
Comes with 3 packaging bags to make it easy to carry
20. Premium laptop bag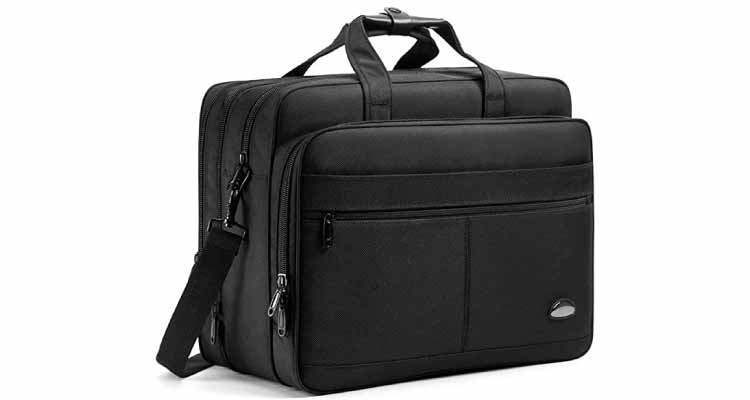 Who wouldn't want a quality laptop bag that has enough space to carry all their necessary accessories to the office? It is definitely a luxury to own a laptop bag that doesn't give you terrible neck pain. If that is the case with your husband, you should totally get him this bag. Not only can it house a laptop of literally any size, but it also has adequate space left for other things. This includes your files, umbrella, clothes, and more. Hands down one of the best birthday gifts for a husband from a wife.
18.5 in laptop bag
Waterproof
Made using environment-friendly oxford cloth
These were some of the best birthday gift ideas for your husband that you can choose from. Moreover, these gifts are not just showpieces but are actually very useful on a day-to-day basis. Gifts that can be of such usage are always the best kinds of gifts. Think about what your husband would like and choose the right option from the list, we are certain it will make your husband's day.
13 Gifts For Gay Men – Gift Ideas For Gay Boyfriend And Husband