What does coffee smell like? Freshly ground heaven. It's difficult to not love coffee, as caffeine is an instant mood and energy booster. It's the perfect brew that helps you start the day. Most people can't go a day without having at least two cups of coffee. Gifting coffee sets to such people is nothing short of exquisite. So if you are looking for gift ideas for coffee lovers, you have arrived at the right place. 
From mug sets and cups to coffee accessories and lush coffee beans, we have compiled a list of everything coffee lovers would love to receive as a gift. 
Personalized Gift Ideas For Coffee Lovers
Scroll down and find the perfect coffee gift ideas for your friend, partner, siblings, and even grandparents. 
1. Starbucks dark roast ground coffee
Save your friend their daily trip to Starbucks by giving them this pack of dark roast ground coffee. Starbucks is widely famous for its exceptional and rich coffee flavors. 
It has 3 types of ground coffee: Sumatra, French Roast, and Caffè Verona dark roast coffee
Each ground coffee bag is 12 oz
Starbucks coffee is carefully ground to be ideal for a variety of brewing methods, including drip brewer, coffee press, pour-over, and Moka pot
2. Death Wish coffee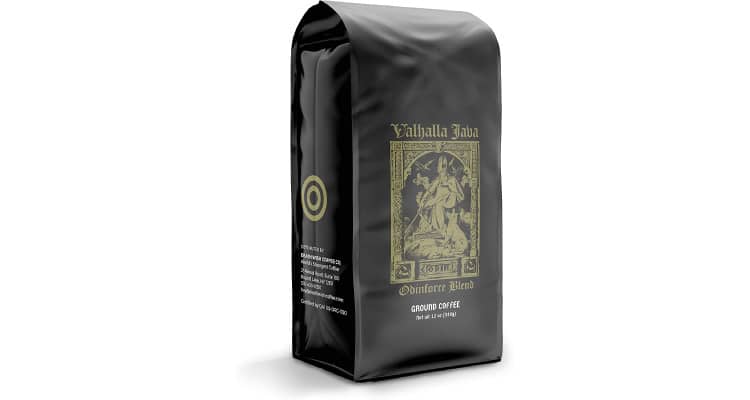 If you are a coffee lover and haven't heard of the Valhalla Java Death Wish Coffee dark roast grounds, then you have been living under a rock. This is one of the perfect gifts for coffee snobs as it is the ultimate gourmet coffee with powerful caffeine that wakes up your senses. 
This dark coffee is made of robust bold flavors
Made with premium Arabica and robusta beans 
Has earthy notes of nuts melted into an indulgent chocolate
3. Milk frother
This is one of the best presents for coffee lovers that screams luxury. This milk frother does the job of whisking coffee in a hassle-free way. If the friend you are gifting this to loves their coffee creamy and frothy, then this premium milk frother is the one to go for. 
Creates creamy froth in seconds
Gives that professional finishing touch to your latte
Powered by two AA batteries with a compact electric design
4. Coffee mug warmer
Use it at your home, office, shop, den, kitchen, anywhere at all. This cute coffee warmer cup will become your new favorite home accessory. Place your favorite cup of joe, tea, or cocoa on the plate, and it'll keep it nice and hot for hours so you can enjoy it at your leisure.
Just place your mug on it, and it will automatically turn on, no need to turn it on/off manually
The heating area is covered with a layer of thermal conductive glass without the need for security concerns for the occasional spill and it is easy to clean
Comes with a 13 oz ceramic cup
5. Kentucky bourbon barrel-aged coffee gift set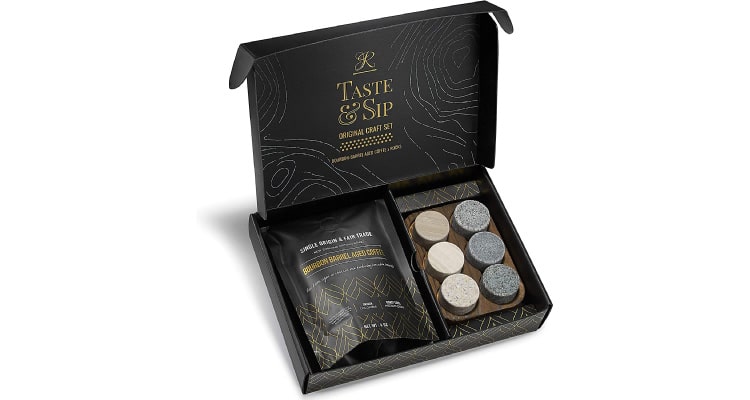 If they love bourbon and drink coffee every day, then this is one of the most unique gifts for coffee snobs. This rare and specialty coffee features delicious bourbon sensory aromas along with six handcrafted granite chilling stones.
Tasting notes of chocolate hazelnut, sweet plums, and roasted nuts with a bourbon finish
Roasted to a medium-dark, the natural profile of the grade 1 bean paired with bourbon is extremely smooth
Offers a truly amazing yet subtle scent
Related Reading: 20 Romantic Dating Anniversary Gifts For Him And Her
6. Gourmet coffee syrup
With the help of these delicious coffee syrups, your friend can add their favorite flavor to their mochas and lattes without any guilt. 
Sugar and gluten-free
Keto friendly
Comes in 3 flavors: salted caramel, mocha, and vanilla
7. Coffee espresso machine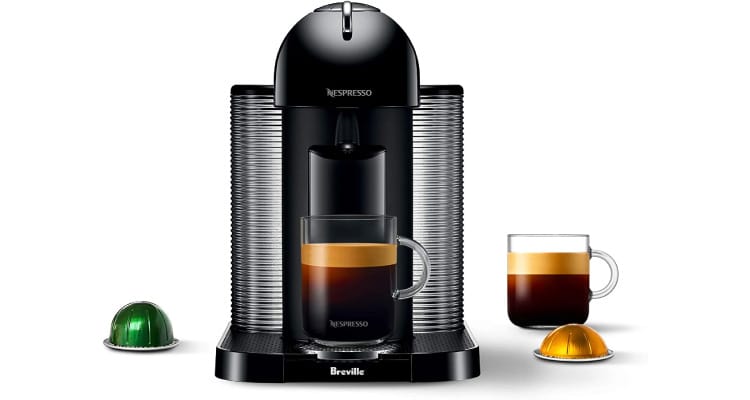 If you are an extravagant spender and the person you are giving this to is quite special, then this is one of the last-minute gift ideas for coffee lovers. It is luxurious, looks posh, and brews four different cup sizes at the touch of a button. 
Includes 4 sizes: espresso, double espresso, Gran Lungo, and coffee
Fast heat-up time of only 15 seconds
Automatically ejects capsules after brewing
8. K-cup pods
Wondering what K-cup pods are? It's a dream for coffee lovers. It has coffee sachets from various coffee shops with different flavors for you to sample. 
Includes light, medium, and dark-roast 
Has 20 popular varieties
Includes Gloria Jean's, Krispy Kreme, and Tully's coffee samples as well
9. Air-tight coffee containers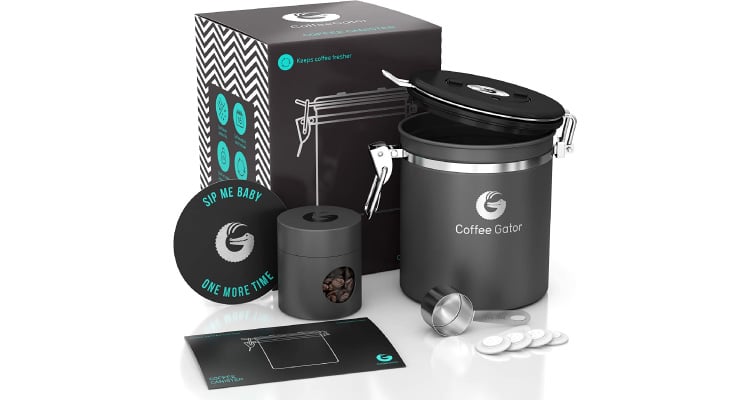 With these air-tight coffee containers, you can have the perfect brew at your kitchen counter, at the office, or in the great outdoors. This is one of the cool gifts for coffee lovers as the air-tight seal of the canister will ensure that their coffee time is never disappointing. 
A practical way to preserve ground coffee
Features a date tracker so you can always keep track of your coffee's freshness
BPA-free and crafted from durable stainless steel
10. A gift box for coffee lovers
Looking for good gift ideas for coffee lovers? Here's a gift box that won't cost you a fortune, yet will put a smile on the receiver's face. The items in this gift set include a pair of socks, a wooden measuring scoop and bag clip, and a custom ceramic red cup. 
The ceramic cup holds 12 oz of coffee
The combination of coffee clip and scoop is the perfect choice for anyone serious about fine coffee
Each pair is printed with the saying "If you can read this, bring me coffee"
Related Reading: 16 DIY Gifts For Girlfriends — Homemade Gift Ideas To Impress Her
11. La Colombe variety-pack draft latte
If the person you are gifting this to loves their coffee creamy and frothy, then this is one of the best gift ideas for coffee lovers. This draft latte contains nutrient-rich, gluten-free, and lactose-free milk in every can. 
Hormone-free milk sourced from local Michigan farms
Expertly roasted, cold-pressed Nizza espresso
Infused with food-grade nitrous oxide for a distinctive café-style frothed and creamy texture
12. Turkish coffee pot with mugs
This Turkish tea set and Turkish coffee cup have smooth lines and exquisite carvings, retro elegance, and noble temperament, and a real luxurious style. It's a sight for sore eyes and makes one of the best coffee lover gifts for him and her.
This 8-piece Turkish coffee set includes 6 coffee cups/tea cups, 1 coffee pot/teapot, and 1 serving tea tray
Perfect way to enjoy your favorite coffee, tea, wine, whiskey, brandy, blends, cocktails, etc.
Turkish coffee set can be put on wine cabinet, bar counter, coffee table, etc, also can be placed as an independent decoration
13. Kitchen towel set
Towels are essential in the kitchen and can be used to quickly dry hands, utensils, or countertops on a daily basis. And four fun kitchen towel sets for coffee lovers are essential in their kitchen, dining table, or anywhere in their home.
A great value set of four
Towels are made of a durable, polyester microfiber blend
The material is absorbent, easy to clean, and machine washable
14. Reusable insulator sleeve
Made from durable 4 mm thick neoprene and sturdy stitching, this drink holder can take anything life throws at it. This is one of the cool gifts for coffee lovers as the drink sleeve will protect their desk from messy puddles and keep their hands warm and dry. 
The high-density neoprene keeps the iced coffee cold for a longer period 
The unique covered bottoms and stretchy fit reduce and capture condensation
Budget-friendly, eco-friendly, and easily washable
15. Coffee teaspoon dish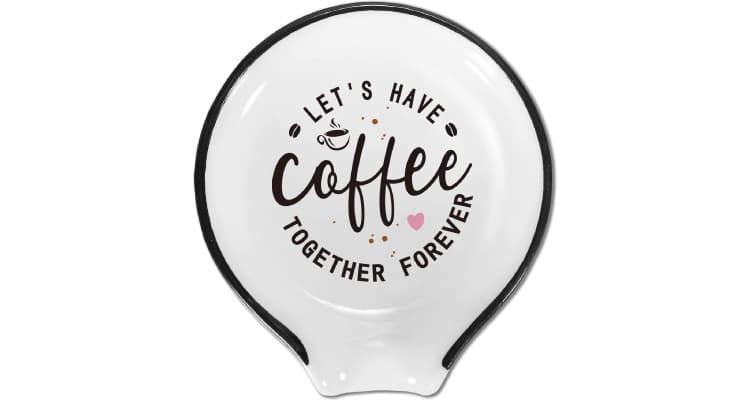 This is a perfect decor and functional addition to any coffee bar, no matter if your space embraces a modern, classic, or farmhouse aesthetic. These dishes are cute gift ideas for coffee lovers that will elevate the look of their kitchen. 
Glazed with lead-free and non-toxic glazes
This coffee spoon rester has a smooth surface
Easy to clean and dishwasher safe
Related Reading: 20 Funny Gifts For Couples – Wedding Anniversary Fun Gift Ideas
16. Godiva Chocolatier assorted ground coffee bag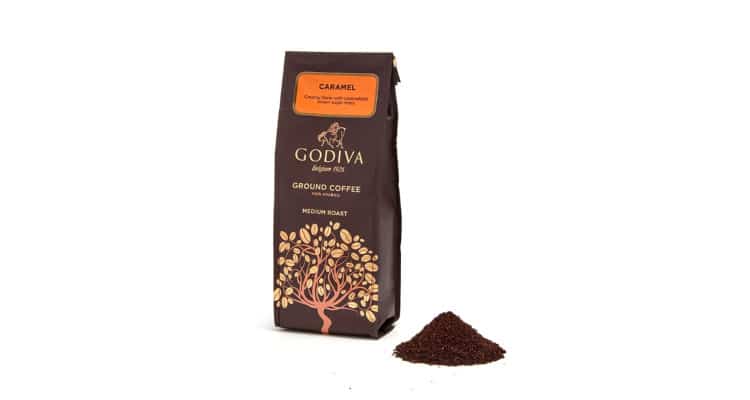 Godiva is a gourmet chocolate brand that is famous for its rich and high-quality chocolates. This is one of the perfect presents for coffee lovers as they can start their morning with sips of rich and flavorful medium-bodied Godiva coffee beans. Godiva carefully selects the finest coffee beans in the world for exceptional quality and taste, which are precision-ground at the peak of freshness, and then sealed instantly.
10 oz of delicious medium-roasted ground coffee
Comes in 3 flavors: hazelnut, caramel, and chocolate truffle
17. Nespresso capsules – pack of three
This Nespresso coffee assortment offers 30 Nespresso pods in three best-selling coffee blends for the Nespresso VertuoLine System. This is one of the cool gifts for coffee lovers that like their coffee lush and decadent. 
The Nespresso capsules include 10 packets of each: Stormio, Odacio, Melozio
Nespresso aluminum capsules are fully recyclable 
18. Autumn favorites variety pack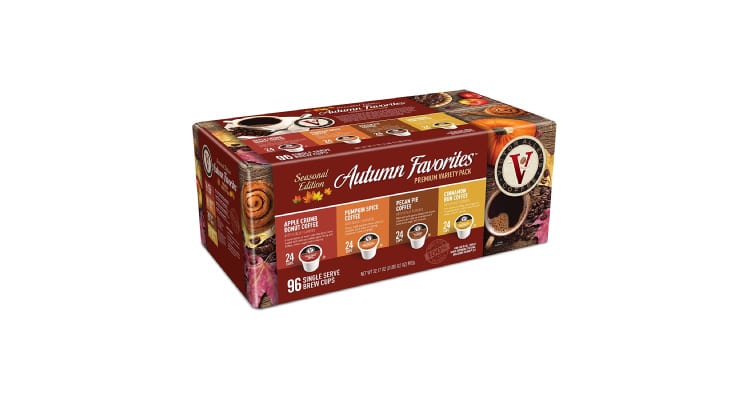 Give this gift to your loved ones and watch them cozy up with this Autumn Select variety pack featuring flavors that will take the chill out of any autumn day. One of the best coffee lover gifts for him and her that will relieve their stress after a hectic day.
Features both traditional and innovative new flavors
Includes 96 single-serving coffee pods
Gluten-free
19. Tim Hortons Coffee Melange original blend
Now your friend doesn't have to run to Tim Hortons to get their favorite cup of coffee. They can have it at the leisure of their home. Selected from the world's most renowned growing regions of coffee, their beans are blended and roasted to perfection.
Created by using 100% Arabica beans
Medium-roast
20. South Indian filter coffee maker
If your friend is a coffee lover and hasn't tried filter coffee yet, then they are missing out on one of the creamiest coffees ever. It's perfectly bitter and smells heavenly. 
Makes authentic south Indian coffee filter
Easy to wash with soap and water, dishwasher safe
Makes about 260 ml of thick coffee decoction
Related Reading: First Date Gift Ideas And Tips For A Lasting Impression
21. Cooper Moon single-serve coffee pods
Sourced from 17 different countries, this is the perfect caffeine boost to start your friend's day. Their green coffee beans go through a delicate, small batch roasting process to ensure they bring out the best aroma and flavor in every coffee.
There are 4 flavors: Bean Me Up blend, Stargazer blend, Dark Sky, and Blast Off blend
Gluten-free
Designed for compatibility with most K-cup coffee makers
22. 'Game over' coffee mug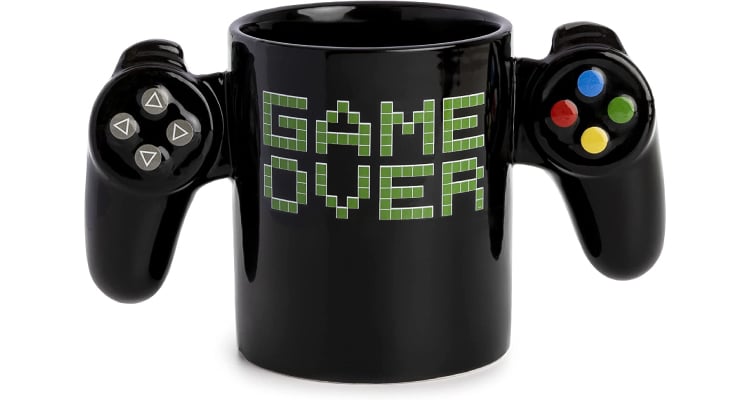 If the person you are gifting this to is a big gamer and loves caffeine, then you should add this to your list of gift ideas for coffee lovers. It is designed to imitate the look of a gaming controller and is the ultimate gift for gamers and coffee lovers. 
This mug comes in a decorative box for gifting
Hand wash only
Not safe for microwave use
23. Gooseneck electric kettle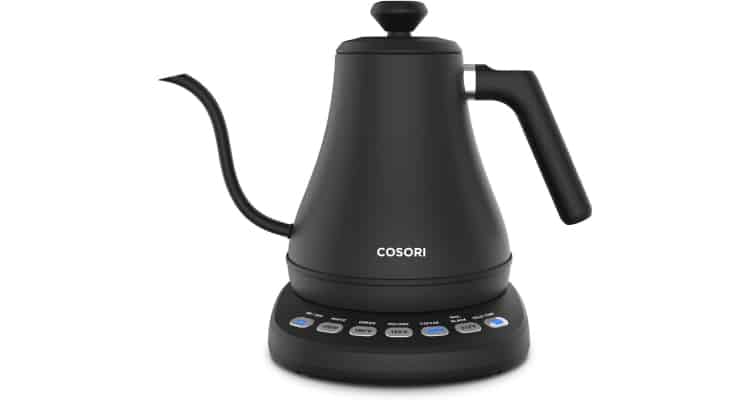 With this electric kettle in your friend's kitchen, they will spend much less time making coffee and more time enjoying a cup with you and others. This gooseneck spout provides a waterfall flow of water with full control at all pouring angles. 
The electric kettle is constructed with food-grade 304 stainless steel
Comes with a BPA-free plastic handle
It should just take around 5 minutes to get pour-over coffee 
24. Wooden coffee station organizer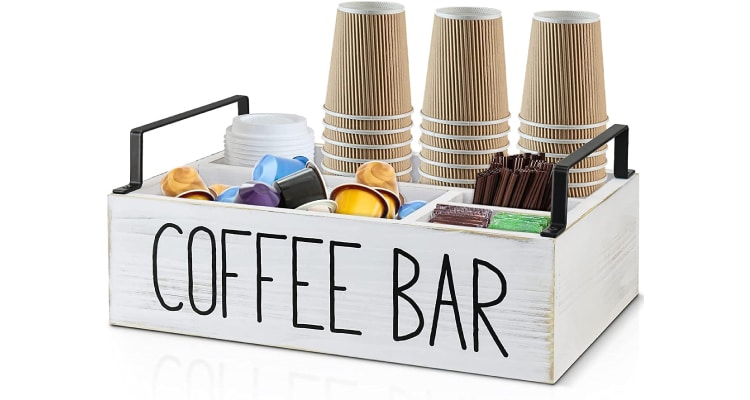 This coffee storage caddy can be placed anywhere including the kitchen, office, and bedroom desk. This coffee bar organizer is strategically designed with four organizational compartments. It can be used to store K-cups, sugar packets, tea bags, coffee mixers, creamers, napkins, and cups for coffee, tea, and water. This is also one of the best personalized gifts for coffee lovers as you can customize the wood with their name or birth date. 
Easily restockable as needed
Comes with small screws for handles that can be installed easily in 2 minutes 
25. Mug for book lovers
Delight a book lover with a cozy ceramic mug with the snarky statement "Bookmarks Are For Quitters". It's the perfect sentiment for someone who loves to cuddle up with a book and powers through to the last page. This is one of the best gift ideas for coffee lovers who are book nerds and like to stay up late reading while sipping coffee.
Holds 15 oz of coffee
Suitable for both hot and cold drinks and can even be used to serve ice cream and other snacks
Eco-friendly and made of non-toxic ink
26. Dark chocolate-covered espresso beans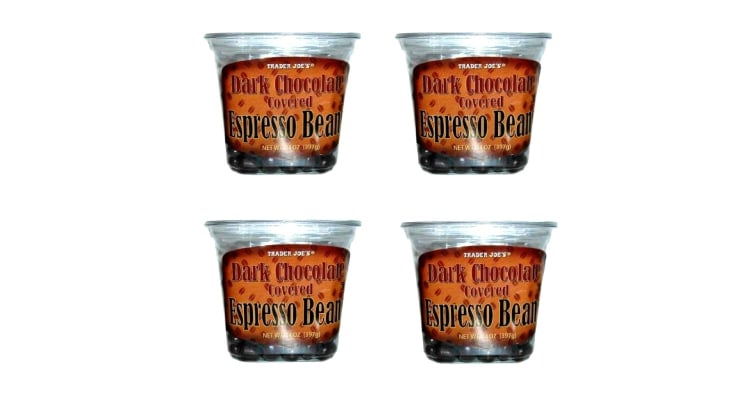 These chocolate-covered beans are bitter, chocolaty, and extremely addictive. You can't stop at one. That's guaranteed. This is one of the food gift ideas that you can give to your friend who loves coffee.
Comes in 4 containers
Made with fine, roasted, whole espresso beans
27. Arabica coffee scrub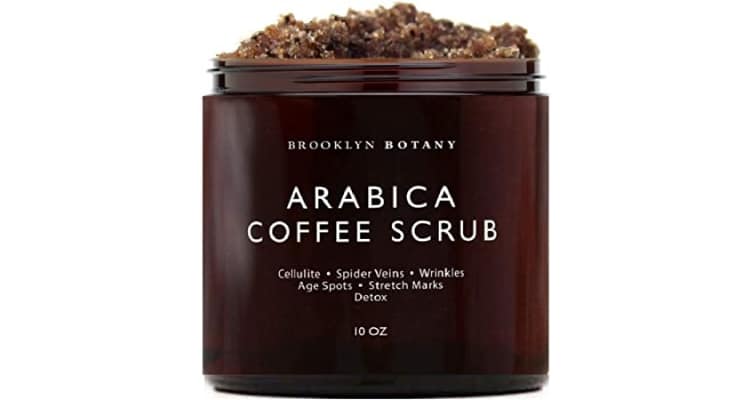 This is one of the cool gifts for coffee lovers who love to take care of their skin. This exfoliator body scrub can gently exfoliate the skin and remove dry and dead skin cells. 
The rich and precious oils contained in this hand, foot, and face scrub are invigorating and nourishing
Great moisturizer for skin and can act as a cleanser for oily and acne-prone skin
Anti-aging moisturizer scrub that can help soften the skin and fight wrinkles, fine lines, and dark spots
28. Coffee canister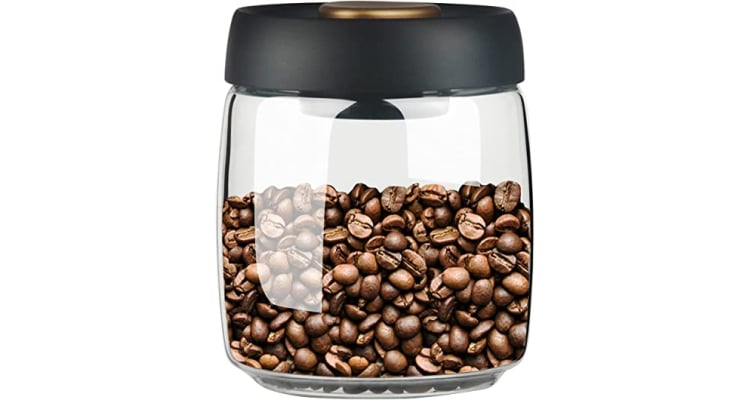 This is one of the most thoughtful gifts for coffee lovers. Coffee beans could lose flavor simply by being exposed to oxygen. This coffee canister keeps the coffee beans away from oxygen and preserves the integrity and quality of the whole coffee bean. 
The lid of this coffee canister comes with a built-in vacuum valve which helps to keep the goods inside fresh and long-lasting
The food-grade silicone ring in the lid will also greatly enhance the sealing
Can withstand high and low temperatures
29. Coffee mug holder
With clean and smooth lines, this coffee mug holder is one of the best gift ideas for coffee lovers. It inspires a fresh and contemporary look. A simple leaf shape paired with classic wooden finishes creates a traditional appearance with a modern flair.
The look complements a variety of kitchen styles and color schemes
The cups are hung on this mug tree by their handles
Can be kept anywhere
30. Coffee-scented candle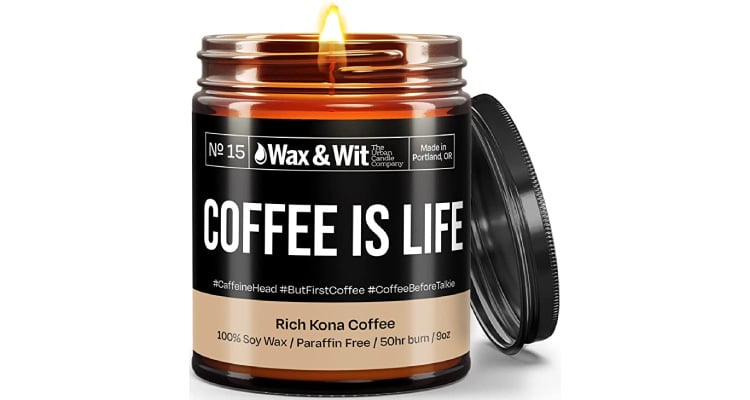 Infused with Kona coffee, this scented candle is one of the cool gifts for him and her. These aromatherapy jar candles are made with 100% natural soy wax for a clean, non–toxic, long-burning candle. These are great gifts for minimalists who love to keep it simple.
100% soy, hand-poured candles
Made with a pure cotton wick
Cruelty-free
31. Cold brew maker and dispenser
This is one of the cool gifts for him and her as it's designed for busy kitchens and bars. The NitroPress combines pressure and nitrogen to create exceptional drinks. Nitrogen micro bubbles add a unique velvety texture to your beverages that make them perfect for coffee lovers.
An elegant way to infuse nitrogen into any cold brew, coffee, tea, beer, milk and anything else you can think of
No plugs needed
Fully stainless steel and dishwasher safe 
32. Electric coffee grinder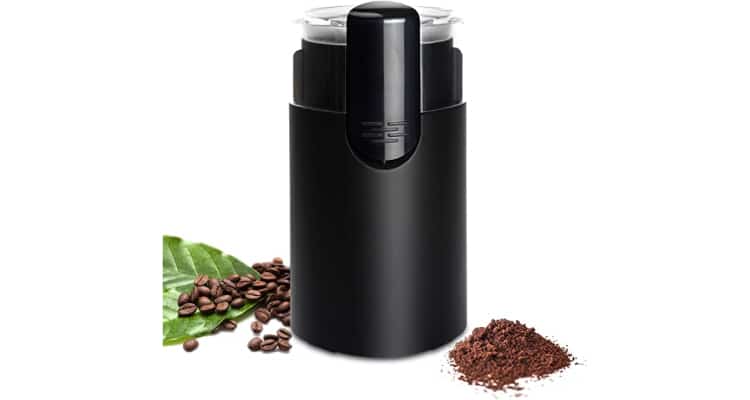 Coffee drinkers are well aware that grinding coffee is a task. That's why you can get this coffee grinder for your friend that features 200 W of power. The stainless steel blades yield even and fine powder quickly. 
Press the button for seconds to get the required grind consistency (coarse or fine coffee powder)
The compact design takes up minimal space on your countertop
The clear cover allows you to easily see the consistency of grinds
33. Coffee art wall decor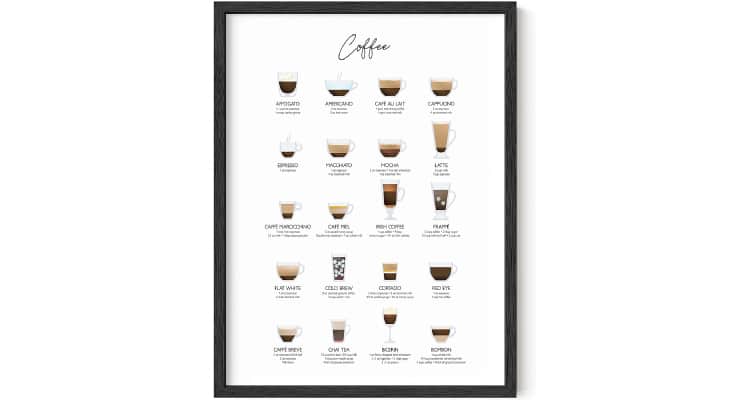 If your friend is an art lover, then a well-selected piece of art can be the focal point of their living space. It's a poster that serves as an ultimate guide to all coffee drinks. 
High-end art piece
Perfect addition to your wall
Made with glossy poster paper
34. Espresso machine
This piece would be incomplete without the OG espresso machine, latte, and cappuccino maker. It's the perfect addition to your modern kitchen countertop, without taking up too much space, plus it's easy to clean.
Robust design
The durable construction of this boiler is engineered to last longer and work for years with consistent performance
Includes portafilter and 2 filters
Coffee is the best thing to start your morning with. So, go ahead and select a gift from this list and surprise your loved one with your thoughtfulness.
18 Long-Distance Birthday Gifts To Make Your Partner's Birthday Special