Women deserve all the best things in the world. Don't ask why. They just do. It's not possible to give the woman in your life all the things which her heart desires but you can get something nice once in a while to appreciate her. You can thank her for always being there for you by getting the best gifts for her that makes her smile wide. And to let her know that she is loved and valued.
It's not easy being a woman. To juggle personal life, work, and expectations of society. But women are no less than magicians. They pull it all off with finesse, style, and grace. Shower the woman you love by getting only the best gifts for her.
25 Gift Ideas For Women — Special And Unique Gifts For Her
It doesn't matter if you are buying gifts for your wife, mother, sister, niece, or your girlfriend. These gifts fit the bill for all women out there and for any kind of occasion and purpose. Take a look at some of the best gifts for women. These gift ideas for her are sure to brighten their day. 
1. Hand cream gift set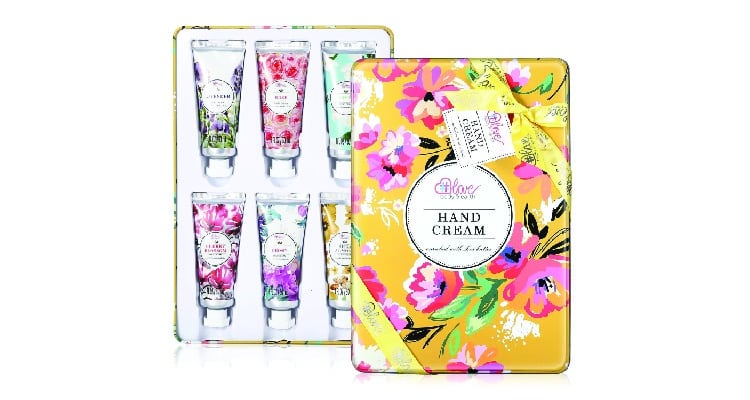 This hand cream gift set comes with beautiful fragrances for the most beautiful woman in your life. These hand creams are created with natural-scented fragrances and effective formulas to provide her hands with the ultimate skin care treatment. She can use these hand creams to soothe and nourish dry skin. This is one of the most thoughtful and unique gift ideas for women. 
Especially suitable for dry lines
Available in 6 fresh fragrances: cherry blossom, lavender, shea almond, rose, jasmine, and peony
The fragrant aromatherapy will lift your spirit and nurture your soul
Made from cruelty-free formula, enriched with shea butter and natural glycerin
Related Reading: 15 Cool, Popular And Best Gift Ideas For Women
2. Bangle, watch, and bracelet set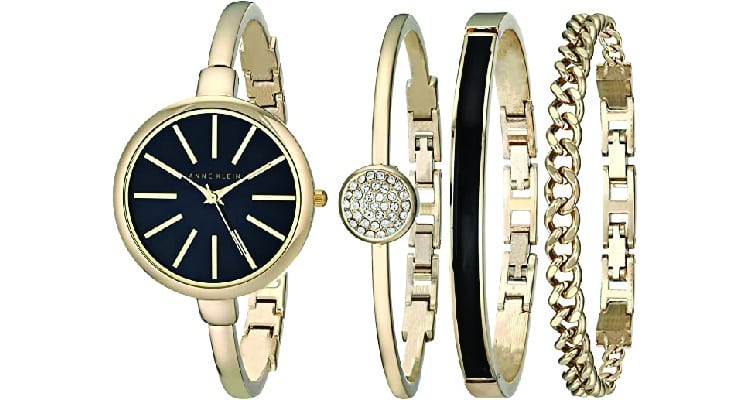 This bangle, watch, and bracelet set is the best way to convey your love. Whether it's your mother, sister, or girlfriend – make her feel special and chic with this elegant watch and bracelet set. Each set includes coordinating watches, bracelets, and bangles to curate the perfect look.
Round watch features black glossy dial with gold-tone hands and stick markers
Set includes a chain bracelet, a bangle with enamel inlay, and a bangle accented with 36 premium crystals
32 mm alloy case with mineral dial window
Japanese quartz movement with analog display
3. One-piece swimsuit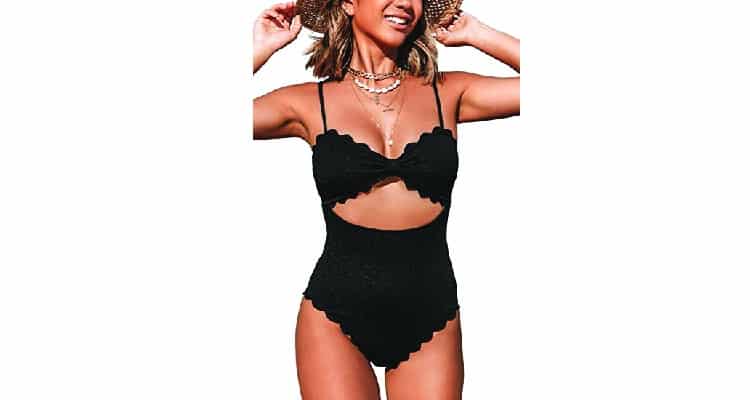 If you are looking to buy a great gift for your girlfriend, this one-piece sexy beachwear should definitely be on your list. Crafted with perfection, this swimsuit is designed to fit all body shapes and sizes. The cutout design adds a little flirtiness to the swimsuit. This is one of the best gifts for her as it is stylish, comfortable, and affordable. 
Made of 90% polyester and 10% spandex
Comes with a hook and eye closure
The cups are removable
4. Personalized 16K gold bracelet
It has been proven time and again that women love jewelry. This personalized bracelet comes in gold, silver, and rose gold options. This is one of the best gifts for her as you can customize it as per your wishes. You can have names or initials engraved or hand-stamped on it. 
These smooth and polished 16 K bracelets feature an engravable ID tag for engraving
It's a delicate bracelet with an extender chain to adjust the length to fit your wrist
Comes with an adjustable clasp and a jewelry case
Keep the bracelet away from water and soap
5. Handbag set
Handbags are an essential item in every woman's closet. If she believes in a cruelty-free lifestyle, then these handbags make the best gift ideas for her as they're made of faux leather. It's a 4-piece set which can be used for daily purposes and can also be your travel buddy.
4 pieces include one large handbag, one messenger bag, one wallet clutch, and one card holder
The tote bag has one main zipper compartment with one inner zipper pocket and two slot pockets
Made of polyester and synthetic leather
You can choose from a variety of colors
Related Reading: 15 Ways A Woman Wants To Be Treated
6. Running shoes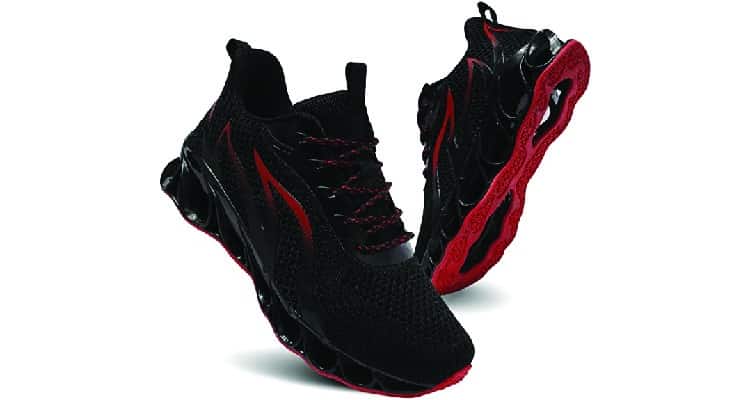 If she is a fitness freak, these cool sneakers make the best birthday gifts for her. They are a good fit for road running and jogging, walking, daily wear, gym, training, light trekking, theme park travel, urban recreation, basketball, cycling, workout, camping, and other outdoor multisport.
The rubber outsole offers impact cushioning, anti-twist, abrasion-resistant, and anti-slip performance
Mesh vamp is soft and comfortable
It is air-permeable and keeps your feet cool and dry
It is soft and protective to cushion your every step
7. Metal leaf bookmark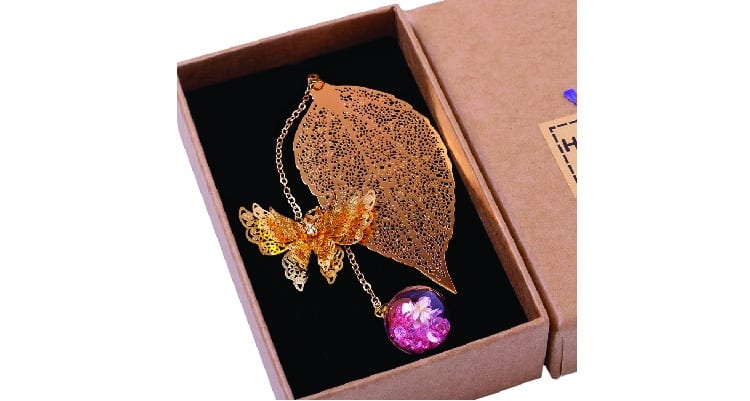 This metal leaf bookmark is perfect for the woman in your life who is an avid reader and a book lover. A royal bookmark for the ones who love to be lost in a good book. This is one of the best gifts for her if she loves reading. Every bookmark is made from pure, fade-proof copper; including the leaves, butterflies, and chains. The metal stamping process achieves the intricate detailing found in the leaves and 3D butterflies.
Each elegant leaf and striking 3D butterfly pendant is connected with a pure metal chain
Finished with a glass bead filled with genuine rhinestones and real flowers in a range of natural colors
The copper is electroplated in gold or silver
Resists corrosion, maintains color and gloss, protects your books from wear and tear
8. Dyson Airwrap styler for volume and shape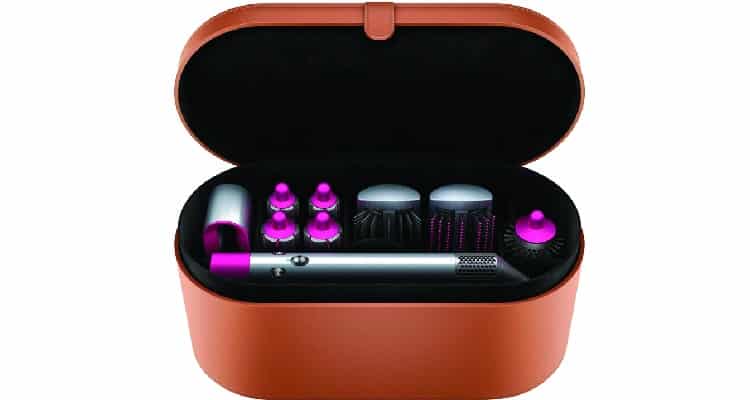 Okay, so this is a little on the 'burn a hole in your pocket' side, but trust us, this is hands down one of the best gifts for women. If you are someone who is looking for unique gift ideas for women and can afford to spend a little extra, gift her this amazing product from Dyson and watch her go weak in her knees.

This unique invention by Dyson comes with intelligent heat control which doesn't exceed beyond 150 degrees C
It styles and wraps your hair using air, not heat. Comes with one-click attachments and cool-touch tips
The product is meant for fine, flat hair
Its soft smooth ring brush is gentle on the scalp and creates a smooth, blow-dry finish
It also comes with a round volumizing brush to give you that bouncy look
9. Mini fridge
Who said gifts can't look expensive if those are gifts under $50 for her? She can store her favorite serums, cleansers, and creams or a tin of her favorite beverage in her bedroom or at her workplace with this mini fridge. This is one of the most unique gift ideas for women as it is affordable yet useful. 
Can store 6 cans of 12 oz with ease. It comes with a removable shelf
Inner dimensions are 5.5 in x 5.3 in x 8.07 in. You can connect the compact refrigerator to a 100-120 V home power supply, or you can connect to a 12 V car power supply
Semiconductor refrigeration chip is freon-free and environmentally friendly
Can store makeup, skincare, breast milk, beer, and snacks
 10. Spa gifts
These are some of the best gifts for her as it is impossible to go wrong with spa products. Whether you're shopping for a workaholic girlfriend or a new mother or your annoying sister, these make for great Christmas gift ideas for her. She can have a relaxing day all by herself while imagining she's at the beach with these ocean-scented gifts. 
Infused with a relaxing ocean scent, these products are bound to put you into a state of relaxation and bliss as if you were at the beach
The bath set is infused with essential oils that are blended to create the perfect scent of the ocean
These products are rich in antioxidants and repair the skin's natural barriers, promoting smooth, nourished skin
Includes all the essentials for the ultimate spa experience without leaving your home. It includes scented candle, body butter, hand cream, bath bar and bath bomb 
Related Reading: 30 Gift Ideas For Women Who Have Everything – Unique Gifts For Her
11. Donut maker
Of course you've heard of waffle makers before, but have you heard of donut makers? Yes, these things exist and you can get them for her. With this donut maker, you don't have to run to Dunkin' Donuts every time she has a craving for these delightful confectionaries. These are great gifts for people who love desserts.
Has 7 rings which make 7 mini donuts at once
The handle lifts easily so you don't have to worry about burning your fingers
The non-stick surface makes sure the batter doesn't stick on the donut maker
Comes with a recipe guide which includes 50 combinations of cakes and glazes
12. Spider claw hair clip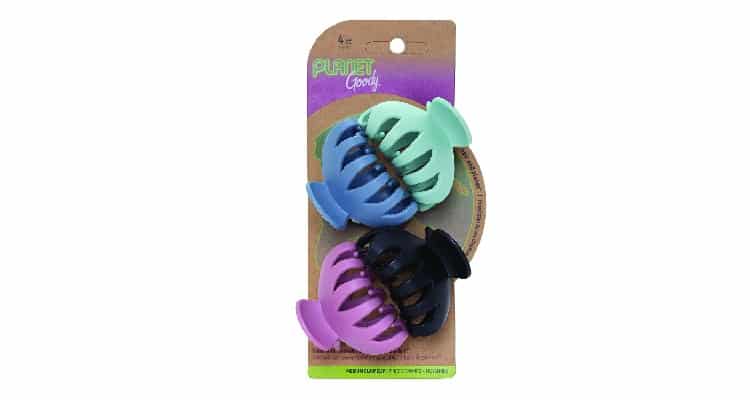 Help your woman be kind to her hair and the earth with sustainable gifts for her such as these spider clip hair accessories. This is one of the best gifts for women as it's the first-of-its-kind accessory line from Goody and made with materials such as ocean-bound recycled plastic, and plant-based or renewable materials like bamboo. 
Slide-proof grip for all-day wear
Small size for versatile styles. Pack includes 4 clips in different colors 
Packaged with recyclable kraft paper, and zip ties made with plant-based materials
Affordable, high-impact style with low impact on the environment
13. Strap sandals with rhinestones
Fashion meets comfort in this pair of lovely sandals. Sandals are a summer essential for all the women out there who prefer walking comfortably in the scorching heat. This is one of the best gifts for her as these sandals are stylish and it will add a touch of glamor to her outfit. She can match these with skirts, jeans, dresses, and even swimsuits. 
Has a rubber sole
The latex sole is soft and comfortable
Founded with the vision to empower women
Smooth zipper closure makes it easy to slip it on and take it off
 14. La Reina sunglasses
You can get these stylish sunglasses to protect her eyes from harmful UV rays. These sunglasses are one of the best gift ideas for women as they fit faces of all shapes and sizes. These are perfect gifts for beach lovers. It was designed by badass women, for badass women. Elevate her entire look with these lightweight sunglasses.
Premium polarized lenses show the details that hide beneath the surface and create a color-rich experience that is more descriptive than the naked eye
Most lenses only protect you from UV rays. Native lenses deflect harmful cataract-causing, eye-cooking rays from ultraviolet to infrared
These lenses are constructed from impact-resistant material to protect your eyes
State-of-the-art vacuum bonding is used to apply long-lasting, scratch-resistant coatings for durability
15. Panasonic LUMIX S5 full-frame mirrorless camera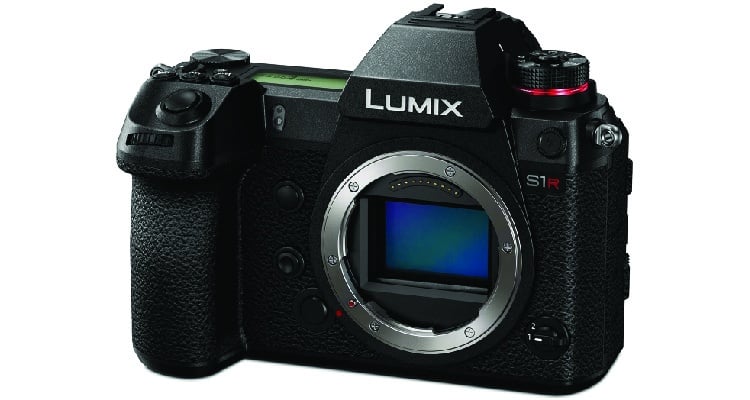 Panasonic is a household name for all appliances and consumer electronics. This is one of the best birthday gifts for her as she can capture all her birthday party memories using this camera. If she has a passion for wildlife photography, then make her life experiences more memorable with this full-frame mirrorless camera. 
It is lightweight, well-rounded, and sleek
It comes with detailed photo and video quality which is sure to leave you delighted
It comes with a slow motion option as well
Improved, high-precision autofocus and powerful image stabilization
Live View Composite mode enables you to instantly create an astonishing image out of multiple live shots like fireworks or a bonfire or a starry sky
16. Hand-blown Italian-style crystal bordeaux wine glasses
JBHO is a professional hand-made glassware manufacturer. Their wine glasses are made up of 100% craftsmanship spirit. They have an exquisite collection of glasses to suit your needs and spirits. These thin, clear, and sturdy glasses will make the best anniversary gifts for her. Pop open a bottle with her and get drunk on happiness and liquor.
JBHO wine glasses are magnificently luxurious and are of Italian style
They are made of lead-free premium crystal glass.
Classy and reusable packaging. 
These wine glasses are environmentally friendly and high grade which allows its buyers to use it outdoors.
Easy to wash and dishwasher safe
Related Reading: 24 Food Gift Ideas For Foodie Couples Who Love To Cook
 17. Decorative candle holder
Set the mood of her room by gifting her this elegant set of candle holders. These stands look great in any room to set an intimate mood for your parties and dinner dates. These are great gifts for women as they can be enjoyed and admired without worrying about hot wax damaging the furniture. 
Illuminate your area with your favorite candles
Each of the 3 tall candle holders comes in 9.84 in x 11.81 in x 13.78 in 
Each one can fit tapered, thick, and LED candles
Each taper candle holder is crafted using durable metal to ensure that it won't break or warp easily 
18. Wine decanter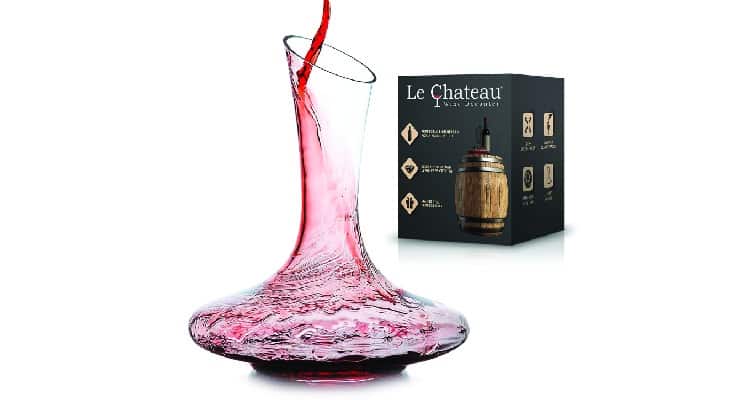 Women love wine and wine needs to breathe. This super sleek and stylish decanter will make her wine gatherings a lot more special. These Christmas gift ideas for her are sure to snowball her merry and joy. 
Slanted spout makes it easier to pour
It has a large surface area
It provides maximum aeration
Made of 100% lead-free crystal
 19. Bose noise-canceling headphones
Who doesn't love listening to good music and getting lost in the beats of their favorite song! That's exactly why these noise-canceling headphones are one of the best gifts for Women's Day. She can use them while running or working out at the gym. What's more, these are wireless headphones, which means you get the right mix of quality and convenience.
It has high-fidelity audio and comes with the perfect balance of quiet, comfort, and sound
Bose uses tiny mics to measure, compare, and react to outside noise, canceling it with opposite signals
You can choose from two modes – Aware mode or Quiet mode. The former to bring outside noise into your ears and the latter to cancel outside noise
It comes with 24-hour battery life. With just a quick charge for 15 minutes, these can last for three hours on the go
The bluetooth pairing can work for a distance of 30 ft between the paired devices 
20. Pet portrait necklace
If the woman you are gifting this to has a pet, then she will absolutely adore this necklace. This is one of the best gifts for pet parents. Help her memorialize her beloved companion with the help of a cute engraved necklace. Personalize this necklace with a portrait of her pet's face with their name underneath. Such best gifts for her as she can have her pet stay with her forever. She will treasure this gift for years to come. 
Its delicate yet stunning design makes it perfect for everyday wear
Made of better quality brass and alloy materials
Built to last and made of tarnish-resistant materials
Avoid direct contact with perfumes and lotions
Related Reading: 12 Creative Gifts For People You Don't Know Well
21. Gourmet sea salt gift pack
Before you go on and assume that gourmet sea salt is just a fancy name for salts, then let me shatter that assumption for you. Yes, it is certainly more expensive than your regular table salt because these salts are hand-made. It is harvested by hand which helps in retaining its original qualities. These are great gifts for women who are mindful about what they eat.
6 x 1.1 oz jars of award-winning Casina Rossa gourmet salts
An excellent introduction to one of the world's finest lines of condiment-style salts that go beyond simple salts and rubs
Set contains one each of Truffle & Salt, Fennel & Salt, Saffron & Salt, Fiori & Salt, Porcini & Salt, and new Herb & Salt
Imported by Ritrovo Italian Regional Foods
 22. Zodiac constellation necklace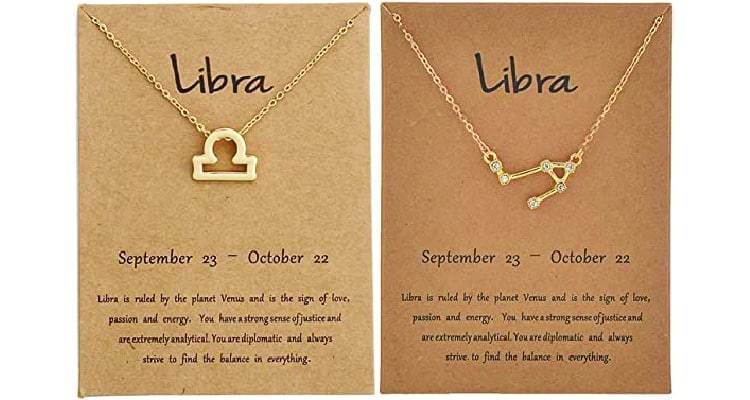 If she loves all things zodiac, horoscopes, and astrology, these are the best gifts for her. She will love these pendant necklaces. This is one of the best anniversary gifts for her as each constellation has a different personality and expresses different characteristics. 
Necklace is available in all 12 signs
Before placing an order, select her zodiac sign and add it to the cart
Comes with an adjustable chain for length
23. UGG women's coquette slippers
These UGG slippers scream luxury. You are sure to sweep her off her feet with these soft and utterly comfy coquette slippers. Made from soft sheepskin, this is one of the best Christmas gift ideas for her as these slippers have a lightweight sole and can easily be worn both indoors and outdoors.
Dyed sheep fur 
Synthetic sole
Available in whole sizes only
24. Mug warmer
Does she enjoy a good cup of coffee or tea every morning? Then look no further than this coffee mug warmer which is a mini-sized mug warmer, almost the size of an iPhone. She can take this to work and enjoy her warm beverage anywhere at all. This is one of the best gifts for Women's Day and she can have a warm beverage any time she wants.
This mug warmer is small and stylish
This comes with an automatic switch with heating and constant temperature function 
It has three temperature settings, ranging from warm to hot, and reaches up to 167 degrees F
This cup warmer comes with an auto shut-off function, which turns off the heat after 4 hours
 25. High heels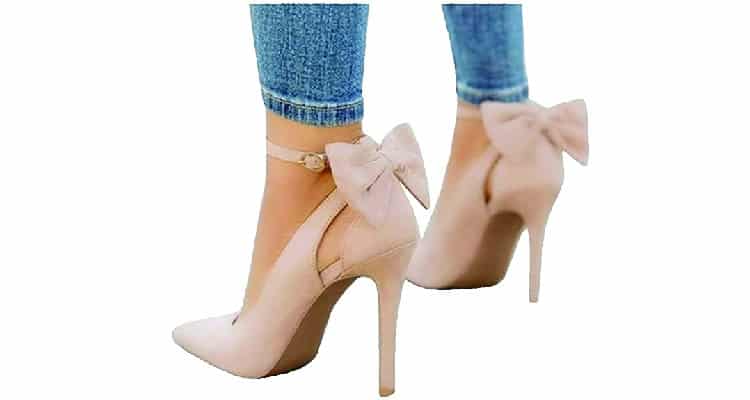 The OG fashion queen Marilyn Monroe once said, "I don't know who invented heels, but women owe him a lot." How true is that! Women do love a stunning pair of heels. They have mastered the art of matching them with jeans, skirts, and dresses. Get these heels as a birthday gift for her and she will be grateful to you for a long time.
These sexy stilettos feature pointed toe and a soft ankle strap with buckle closure
You can also wear them without the strap for a varied style
It comes with a back bowknot decoration
These faux suede pumps are easy to slip into and comfortable to wear all day
It's not easy shopping for a woman but the above list of gifts is sure to make it easier for you. These would make great birthday gifts for her, or we'd say – surprise her on any occasion at all. After all, she deserves it, doesn't she? 
12 Best 10 Year Anniversary Gift Ideas For Couple To Celebrate Decade Of Togetherness
15 Bracelets For Long-Distance Couples To Strengthen The Bond