It is always an exciting time when someone you know is getting married, even if it is their second marriage! However, thinking of wedding gifts for second marriage is not as easy. In most cases, the two people entering a second marriage blend their households instead of creating a new home for themselves. This means you can bid adieu to common wedding gifts such as appliances and bedding.
Don't be puzzled by overthinking about wedding gifts for second marriage, because we've got our thinking caps on to do the task for you! Here are some gift ideas for second marriage that are not common, and definitely not similar to the first wedding gift ideas.
Best Wedding Gift Ideas For A Second Marriage
When it comes to wedding gifts for second marriage, eliminate any first thoughts you may have. We're certain that the new couple's bathroom is already stocked with linens and towels, and their kitchen has no more space for pots and pans.
This is your chance to get creative with your wedding gifts for second marriage and make the happy couple happier! Let us walk you through the best wedding gift ideas for a second marriage.
1. Wine caddies that portray timeless elegance
When you're thinking of wedding gift ideas for second marriage, a wine caddy will not fail you. A rustic, handcrafted wooden 4-pack holder fashioned in a vintage style is just what your wine connoisseur friends will love.
A wooden, collapsible wine crate that can hold two bottles of wine along with a magnetic corkscrew holder
It can also be used as a wine glass drying rack
It can alternate as beer carriers as well
Easy assembly with no glue, screws, or nails
Glazed with protective stain-resistant teak oil
It celebrates the newly engaged couple beautifully
Related Reading:  18 Best Gift Ideas For Any Newly Engaged Couple
2. Innovative charcuterie board to welcome guests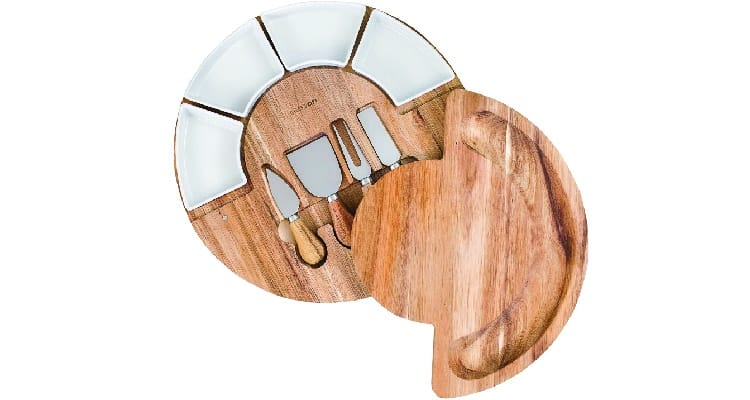 Let the happy couple flaunt their cheese collection and be the hosts that are appreciated for their presentation skills with this beautiful cheese board that makes one of the best gifts for second marriage.
A complete set with four bowls and four knives to hold and seamlessly slice all kinds of cheese
Wide, 13-inches board made of acacia wood to accommodate crackers, serving utensils, and cutlery for cheese and meat
Includes four ceramic bowls for side dishes
Knives made of heavy-duty stainless steel to seamlessly cut cheeses while retaining their shape
3. A Himalayan salt diffuser for them to feel rejuvenated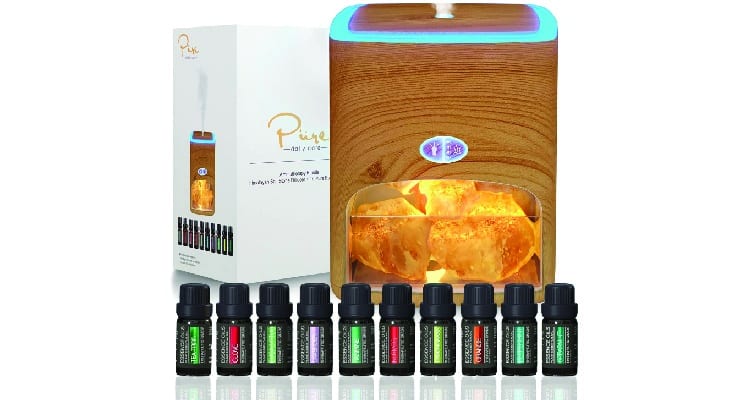 We have sorted the wedding gifts for second marriage conundrum for you! The power of aromatherapy needs no explanation. It is one of our favorite gifts for second marriage. This Himalayan pink salt diffuser with 10 essential oils is just what your friends would need after hectic days of the wedding and reception.
Includes two natural healing therapies: a heatless ultrasonic diffuser and a separate chamber with raw Himalayan salt crystals to provide natural air ionization and purification
Naturally extracted and distilled lavender, eucalyptus, tea tree, orange, peppermint, lemongrass, jasmine, nutmeg, clove, and spearmint essential oils
Atomizes water and oils through ultrasonic vibrations to preserve the integrity and original therapeutic properties of the oils
Consists of over 2 pounds of raw, unrefined, unprocessed, hand-carved Himalayan pink salt crystals containing over 70+ trace minerals
4. A coffee maker for the promise of a fresh morning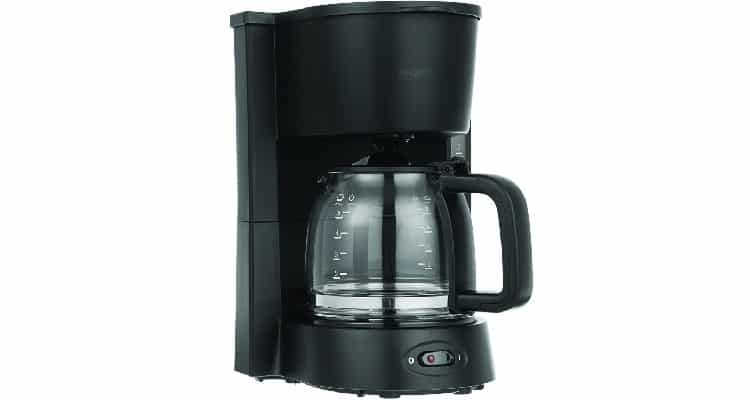 Did you go all out during your friend's first wedding, and now you've run out of money and thoughts for wedding gift ideas for second marriage? Don't worry, the affordable and simple-yet-timeless gift of a coffee maker will not let you down.
Brews up to 5 cups of coffee at a time for your morning shot of caffeine
Removable filter basket with reusable soft mesh filter
Anti-drip function for easy pouring while the coffee is brewing
Auto-shutoff feature in case the carafe becomes too hot
Compact and easy to clean
Related Reading: Top 14 Best Practical Gifts For Couples
5. A vinyl record to dance the blues away
Be remembered on your favorite couple's date nights as they dance along to the romantic vibe of the legend, Nina Simone, in this dedicated vinyl record made for lovers. Gift ideas for second marriage cannot get any better than this!
Date nights will turn vintage and beautiful with this vinyl record
Includes Sinatra's romantic masterpieces, arranged and conducted by Nelson Riddle
Features classics and signature Sinatra recordings including I've Got You Under My Skin, Love Is Here To Stay and You Make Me Feel So Young
One of Sinatra's first albums, originally released in 1956
6. A U-Shaped Wine Decanter to Add Richness to Wine and Life
When it comes to gifts for second marriage, a little something related to wine can never go wrong. This gorgeous, hand-blown, U-shaped wine decanter is just as functional as it is classy. Wedding gifts for second marriage sorted, don't you think?
Thickened cut edges and a flat bottom to ensure stability and safety
It has the shape of a natural handle and a slanted top to avoid spillage
Increased durability with a thick sidewall
Stylish and safe packaging that make it a fantastic gift
7. Unique bookends to add a decorative touch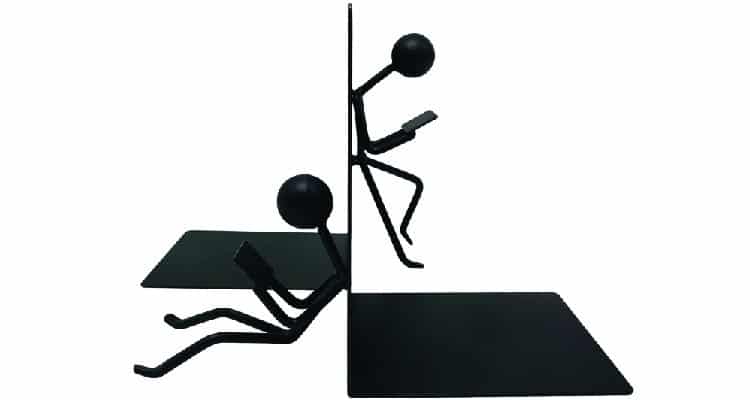 When the houses blend, libraries also blend. This means many more books than what the couple would have expected initially. This unique bookend is one of the best second wedding gift ideas, making it an uncommon but useful gift for book hoarders!
Premium handcrafted bookends to add a decorative touch to bookshelves
Powder-coated for long-lasting protection
Unique design to accentuate the bookshelves
Functional with 1.5mm thick metal and four rubber stoppers to prevent sliding
It comes with a printed box design to make a beautiful gift for a couple
Related Reading: 12 Creative Gifts For People You Don't Know Well
8. A couples' cookbook to spread the love with food
Did your friend once slyly mention to you how she would love to cook with her husband? Then your search for second wedding gift ideas ends right here. This complete cookbook for couples has over 650 recipes that your friend can make with their partner and cherish a date night at home.
650 of the best recipes to serve just two people
Consists of alternative methods if you're running short on time
Over 150 recipes that can be on the table in 30 minutes or less
Includes chapters on slow cooking, grilling, and baking pies, quick bread, cakes, and cookies
Also has a 25-page manual that teaches the basics of cooking for two, including clever shopping strategies to reduce waste, smart storage tricks that help extend the freshness of key ingredients, and the most useful kitchen equipment
9. Couple bathrobes to enjoy a spa-like comfort at home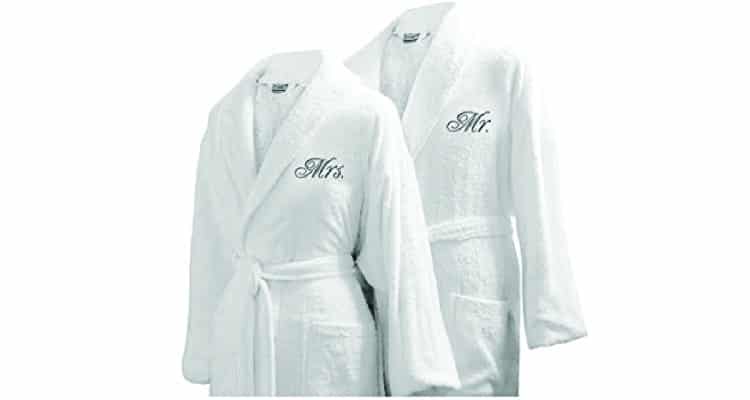 Focus on luxury with your wedding gift ideas for second marriage as you get the newly-wed a pair of couple bathrobes for them to enjoy the experience of a spa right in the comfort of their new home.
Made with Egyptian cotton that feels soft and smooth on the skin
It is durable and absorbent due to its textured and waffled weave
Marked as Mr and Mrs to add a feeling of belongingness
Plush and elegant in appearance
Related Reading: 30 Matching Couples Gifts – Cute Matching Gifts For Him And Her
10. A barbecue grill accessories set for outdoor dates
The best thing about wedding gifts for second marriage is that they are fun and candid. Get your friends this detailed barbecue grill set and push them to have fun nights in the backyard of their home and cook up delicious BBQ food!
It is a complete grill accessory set with 23 pieces in total
Includes a spatula, fork, tongs, basting brush, meat thermometer, grill brush, 2 grill brush heads, 2 grill mats, 8 corn holders, 4 skewers, and an aluminum case
Superior and durable grill utensils made from professional-grade stainless steel that resists heat
It is a compact-sized kit, lightweight to carry, perfect for camping, picnics, and urban dwellers
11. An ice cream maker for absolute indulgence
This is one of the most creative gift ideas for second marriage if one or both the people getting married have children. Gift them the joy of frozen indulgence with a machine that makes frozen yogurt, ice cream, and sorbet, all in one machine!
An innovative mixing paddle that makes frozen treats in 20 minutes or less
It has a double-insulated freezer bowl that eliminates the need for ice
Includes an easy-lock transparent lid with a large spout to add ingredients with absolute ease
It makes up to 1-½ quarts of your favorite ice cream or frozen yogurt
Related Reading: 24 Food Gift Ideas For Foodie Couples Who Love To Cook
12. Champagne flutes to celebrate the joy of togetherness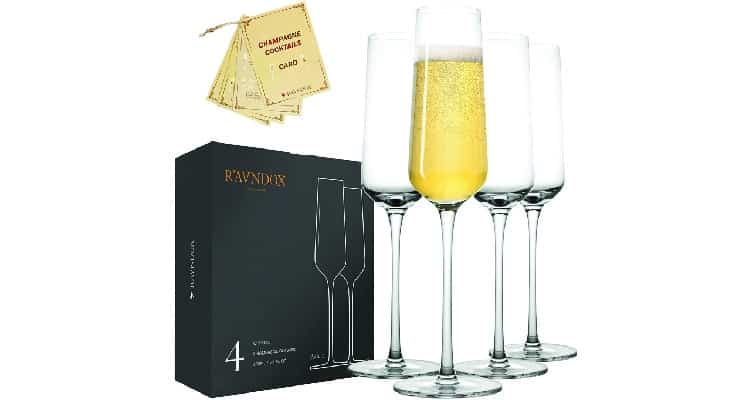 You're thinking about wedding gifts for second marriage. Well, nothing speaks of celebration better than clinking two glasses of champagne. Why not celebrate the togetherness of the new couple with champagne flutes, then? Moreover, this gift is an absolute no-brainer that would certainly impress anybody.
Modern, crystal-shaped bowl with perfect lines that add a sense of elegance to the enjoyment of drinking champagne
It is dishwasher-safe and easy to clean up after a toast
100% lead-free and handmade
Comes with strong and protective gift box packaging
13. Mr. and Mrs. doormat for a funny welcome home
If you are best friends with the new couple, they would certainly tell you that this is one of the funniest second wedding gift ideas. Not only is this gift fun, but it is also artistic and adds a personal touch to the new home of the newlyweds.
It is a set of 2 doormats
Can be used indoors as well as outdoors
Made of durable polyester on top with heavy recycled rubber backing
It is non-slip and water-absorbent
14. Cushion covers with quotes to turn a house into a home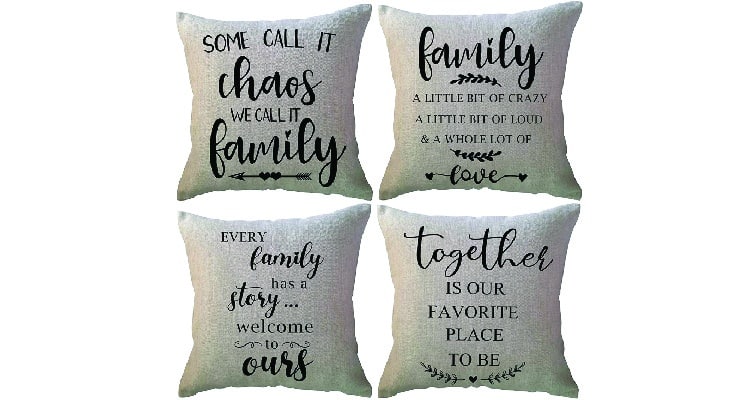 This set of 4 cushion covers adds a beautiful personal touch to a newly married couple's home. After all, cute items that turn a house into a home are what make the best wedding gifts for second marriage.
Funny quotes that add more life and fun to the throw pillows
It is durable for indoor as well as outdoor seating places
High-quality design, sewing, and printing
Related Reading: 18 Best Gift Ideas For Any Newly Engaged Couple
15. An Adventure Challenge book to add some spice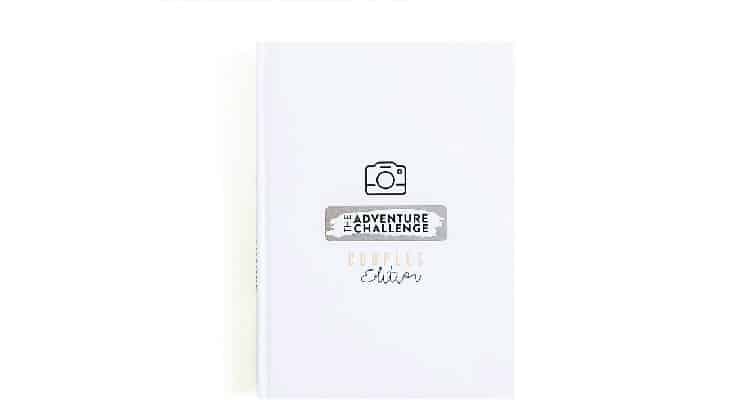 Getting married again comes with its own set of adventures. We think you should make that experience even more adventurous by gifting the couple this Adventure Challenge book with 50 scratch-off date night games.
It has games that add spontaneity and romance to the relationship
Includes 50 exciting challenges ranging from baking an apple pie blindfolded to painting on a unique canvas
Each challenge includes a time and budget guide for easy decision-making
It is just the perfect gift for couples to connect on a deeper level
Now that you have 15 options at your disposal, pick the one that you think speaks to the couple personally and you are good to go. Remember, a second marriage is just as special as the first wedding, and therefore, we recommend that you do not take wedding gifts for second marriage lightly.
FAQs
1.  What to give as a wedding gift for second marriage older couple?
The gift options for an older couple getting married again are not that different from gift options for younger couples. However, you can eliminate the funky ideas and stick to timeless and classy gifts such as a wine caddy, serving boards, and cookbooks. 
2.  Do second marriages have bridal showers?
Well, why not? There is no rule against having a bridal shower in a second marriage. However, we would advise that you check in with the bride first. Certain brides prefer to keep their parties smaller the second time around, and they might want to steer clear of bachelorette parties and showers.
36 Sentimental Gifts For Best Friends – Thoughtful Gift Ideas
Online Gifts For Her – Gift Ideas For Women That She Will Love
12 Best 10 Year Anniversary Gift Ideas For Couple To Celebrate Decade Of Togetherness
Ask Our Expert
You must be Logged in to ask a question.