It's not exactly a common practice to buy gifts for counselors because it could be seen as overstepping the boundaries or violating the relationship between a therapist and their clients. Sometimes, counselors or therapists themselves don't prefer their clients to buy them gifts because it might make them look unprofessional. Having said that, buying gifts for therapists or getting a warm gift for a marriage counselor isn't forbidden as long as you don't make it too personal, and have their consent in place.
There are several gift ideas for counselors you can explore and choose from to show your appreciation and gratitude. Your therapist isn't expecting you to give them something, but will definitely appreciate your gesture. After all, it's the thought that counts. So, go ahead and get them something that shows your appreciation for what they do and how their guidance has impacted your overall well-being.
Thoughtful Gifts For Marriage Counselors And Therapists To Show Appreciation
Giving gifts might come naturally to you but when it comes to your therapist, it gets tricky since there are a certain set of rules and etiquette that you need to keep in mind. You can't cross certain boundaries as that will seem inappropriate. If you're looking for counselor appreciation ideas or thank you gifts for therapists, please remember that it's better to not surprise them with a gift. Ask them beforehand if you can get them a small present.
When you're buying gifts for therapists, make sure you don't get anything that's too expensive because it'll come across as improper and unethical. There's a possibility that your therapist might firmly refuse to accept the gift. Respect that and don't push it. But if they do give consent, always keep in mind that a small, thoughtful, consensual gift can do the trick – it'll make them feel comfortable accepting the present and will not violate any kind of boundary. Here are a few thank you gift ideas you can explore if you're planning to buy something for your therapist:
1. Coffee mug
This gift idea never gets old. Coffee mugs make for inexpensive and appropriate gifts for counselors. Look out for mugs that have some really nice and sweet quotes written on them like the one here. If your therapist likes to have a hot cup of tea or coffee in the morning, or during or after sessions, then what can be a better gift than a counselor appreciation mug?
It's an 11 oz ceramic mug with a C-shaped handle for a firm grip
There's a 15 oz ceramic mug available as well
The mug is microwave and dishwasher safe
You can rest assured that the design will not fade
Related Reading: 32 Gifts For Yoga Lovers – Unique Gift Ideas For Yogis
2. Personalized office desk nameplate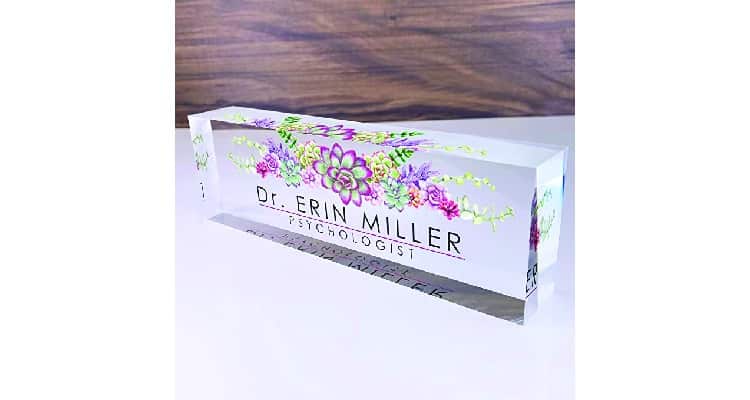 This one makes for a great gift for a marriage counselor. Get your therapist a personalized nameplate for their office desk. Mind you, this is not like the ones you get in the market. It's made of high quality acrylic glass with succulents designed on it. It's appropriate and will look elegant on your counselor's office desk.
It's a 3D personalized nameplate that measures 8 x 2.5 x 1.25 in
It's made of acrylic glass
You can add your name, designation, or any credential or message that you want
3. Gifts for counselors – 'wheel of feelings' cushion cover
The Wheel of Feelings sofa cushion cover is one of the best counselor appreciation gifts you can give to your therapist. If you're in therapy, you would probably know about the wheel of feelings – a circle that gives words to most of the basic as well as complex emotions that a human being experiences in life.
The cushion cover has the wheel of feelings printed on both sides
The cover is made of soft cotton and is child-friendly
The print will not fade
4. Set of assorted teas
Narrow down your 'gifts for counselors' search with this one. Well, if your therapist is a tea lover, then there cannot be a better gift than an assortment of teas. This tea sampler gift set comes with different varieties of tea blends that are diverse and subtle in flavor – Black Currant, White Ambrosia, Organic Jasmine Green Tea, White Ginger Pear, African Solstice, Organic Earl Grey Tea, and Organic Green Mango Peach, to name a few.
The gift set contains 20 varieties of gourmet teas blended with fruits, herbs, and spices
The pyramid tea bag infusers are all handcrafted
The gift box also includes a tea tasting menu with blend descriptions
5. Plant terrarium
Looking for gifts for therapists with a green thumb? Well, a plant terrarium is one of the most thoughtful and appropriate counselor appreciation gifts. It looks simple yet modern, sophisticated, and elegant – making it ideal for your therapist's home or clinic. The terrarium comes in 3 shapes – globe, bowl and triangle teardrop – and can hold plants like succulents, fern, moss, and other air and artificial plants.
The geometric planters are made of glass blocks and metal frames
The planters are not water-tight. We suggest you fill the bottom of the planters with small stones, and water the plant using a spray bottle
The package does not include plants or other decorative items
The planters are ideal for small or young plants
6. Chocolate box
Who doesn't like chocolate! There cannot be a sweeter end to your sessions than this. An assorted chocolate box is one of the best thank you gift ideas for your therapist. This box contains 12 mini gourmet chocolate bars of different flavors that are a tasty mix of savory, sweet, and salty.
The chocolates are free of artificial preservatives, colors, and flavors
The flavors are subject to availability
Each chocolate bar contains only 60 cal
Related Reading: Top 31 Best Gift Ideas For Beer Lovers And Brewers
7. Gifts for therapists – a reusable travel mug
A reusable travel mug is again one of the most appropriate counselor appreciation gifts that you can give to your therapist. This 16 oz stainless steel mug will keep any beverage hot or cold for hours without taking up too much space in their bags. Isn't it one of the most useful gifts for your therapist?
It's a durable mug with a 18/8 stainless steel interior
It's made of BPA-free plastic
It has a wide mouth to fit full-sized ice cubes
8. Hourglass timer
This is again one of the most appropriate and amazing gifts for counselors. Besides being a great decorative item, this black sand hourglass timer offers a traditional feel of what professionalism meant in the old days. It'll give a sense of how much session time has passed. It's a great way to show appreciation for what your therapist has done for you and the amount of time they've invested to make you feel like yourself again.
This 8.1 in tall timer stands on a nickel base
You can get the plate engraved with your therapist's name or any other message that you would like to convey without an additional charge
It's made of glass
9. Scented candles
A scented candle can really change the atmosphere of any space it's placed in. They can really uplift your therapist's and their client's mood. These candles come in different fragrances that are created using a blend of premium essential oils. Doesn't it make for one of the most thoughtful gifts for counselors?
The candles are made of vegan soy wax – a paraben-free and non-toxic alternative to the normal wax formulations found in the market
All the candles are hand-poured in the US
Only 100% cotton wicks were used to ensure that the candles burn for a longer period of time
10. A hardcover journal
Still looking for gifts for therapists or counselor appreciation ideas? Well, a notebook is a great option and one of the most useful and appropriate gift ideas for counselors. This durable hardcover journal is a great way for your therapist to keep track of their sessions or to jot down their own feelings. They can also make notes of the client sessions they've conducted.
This 180-page notebook is made of high quality, thick paper
It comes with page dividers and a pocket to keep all your cards, receipts, and important notes
There's also an elastic loop available to keep your pen
You don't have to worry about pages getting peeled thanks to the firm binding
Related Reading: Top 10 Gift Ideas For Each Of The 5 Love Languages
11. Himalayan Salt lamp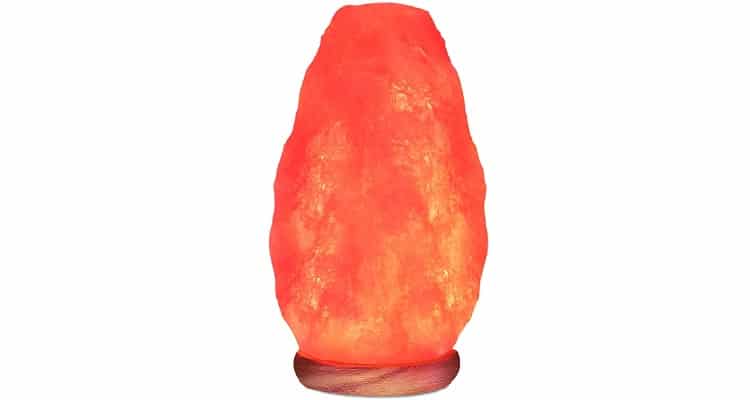 Besides being absolutely stunning to look at, Himalayan Salt lamps create a very relaxing atmosphere in any room or space they are lit in. They're all handcrafted, 100% natural, and come with a switch that allows you to control the brightness level. It sits on a Neem wooden base and exudes a warm amber glow that can create a romantic or relaxed atmosphere as well as lull you to sleep. Still wondering why these lamps make for amazing gifts for counselors?
Size, shape, and color may differ due to the natural variation of the salt
A 15 W bulb is included in the package
The salt crystals are mined by hand in the Himalayas
12. A book on understanding trauma
Still looking for thank you gift ideas? Well, you've heard the saying that books are a person's best friend, which is why they make for great gifts for therapists. You can give your bibliophile counselor a book related to their field, like The Body Keeps the Score.
It's available in hardcover, paperback, and spiral-bound
Only those who are 18 years of age or above can read the book
It's a New York Bestseller
Therapists act as catalysts for change. If this gift is for your marriage counselor, then they probably helped you understand yourself and your partner better so that you are able to work through your issues and build a healthy relationship. If you're planning to give your therapist something, don't hesitate. It's a nice way of showing that you appreciate all that they've done for you. We hope the above options have made your task of finding a gift for your counselor easier. Good luck!
30 Matching Couples Gifts – Cute Matching Gifts For Him And Her
30 Self-Care And Wellbeing Gift Ideas – Because You Deserve The Best