There are a handful of moments in every girl's life that deserve to be treated with utmost grandiose. One of those moments is your friend saying "yes" to the man of her dreams. Your friend is flaunting her solitaire and now here you are, searching the internet for engagement gifts for best friend.
If you are confused about the best engagement gifts for friends, your friendly neighborhood writer is here to offer you some assistance in this quest. Finding a gift for a newly engaged friend will seem like a cakewalk with these stellar suggestions. 
15 Gift Ideas For Your Best Friend Who Just Got Engaged
Finding the right engagement gifts for best friend can be puzzling, especially when you know your friend inside out and how picky they are about their choices. Getting your friend something special and useful can be difficult.
You can give them something fun and useful or the gift can be something simple yet thoughtful. The gift can also be something personal and meaningful. Take a look at the list below and find the best engagement gifts for best friend.
1. Panasonic LUMIX S5 full frame mirrorless camera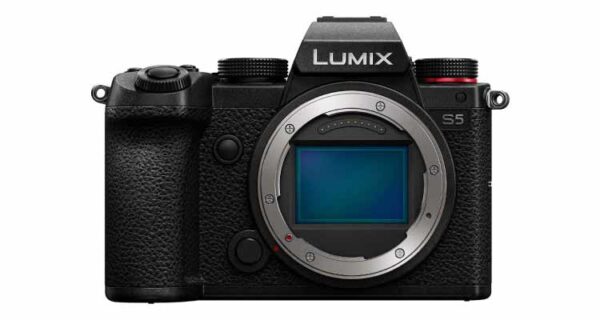 Panasonic is a household name for all appliances and consumer electronics. Make your friend's courtship period memorable with this full-frame mirrorless camera.
It is lightweight, well-rounded and sleek
Vivid photo and video quality is sure to leave your friend delighted
It comes with a Slow Motion option as well
Improved, high-precision autofocus and powerful image stabilization
Live View Composite mode enables you to instantly create an astonishing image out of multiple live shots like fireworks or a bonfire or a starry sky
This is one of the perfect engagement gifts for best friend. A newly engaged person would want to capture memories with their significant other. There is no better way to preserve those memories than with a Panasonic LUMIX Camera.
Related Reading: Your Guide To How Not To Pick Gifts For Your Coworkers
2. Mikasa Harmony 65 piece silver set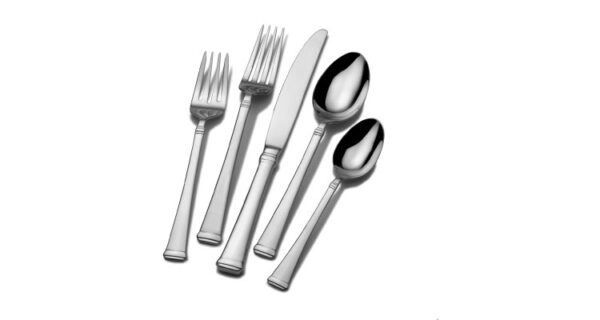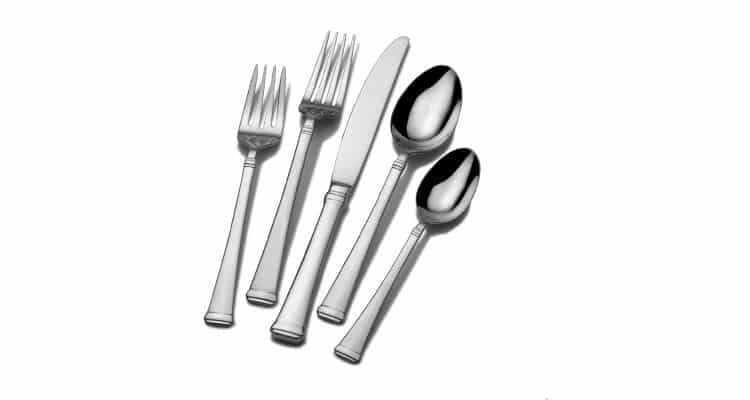 Mikasa's silverware and flatware are for every occasion. It's high time we stop limiting ourselves from gifting cutlery sets to only housewarming ceremonies. 
Mikasa's silverware sets are dishwasher safe and tarnish-resistant
They come with an elegant timeless design that highlights their narrow neck and wide tips
From formal affairs to brunches to family dinners, it can be used for any occasion
They are strong and durable
They are 18/10 stainless steel, which means they do not require any special care and they do not need to be polished
Your friend is newly engaged and all set to move into a new place with their fiancé. I can't think of better engagement gifts for friends than a stylish flatware set. Go ahead and buy this for your friend and make her day even more special
3. Beautiful wedding planner book and organizer
This wedding planner book by Zicoto is one of the best engagement gift ideas for friends. It will be a perfect companion for your newly engaged friend in the wedding planning phase.
It is for both bride and groom-to-be to cover all the topics you have in mind and also those which you haven't had the time to think of yet
It has an excellent structure with tabbed sections and pockets
132 pages full of thematic tabs, Magazine cut-outs, guest lists and other important things
It comes with a beautiful greenery design. You can carry it to all the appointments you have with wedding vendors or caterers and plan your wedding in style
It also has a beautiful cover with a golden spiral wire. It also has golden edges as corner protectors
This gift to your newly engaged friend will make their wedding planning easier. It will help them to stay on track with all the arrangements they would need for their dream wedding.
4. ZQMUTB flower vase with warm light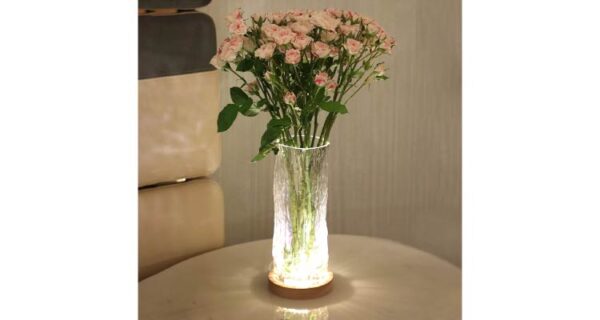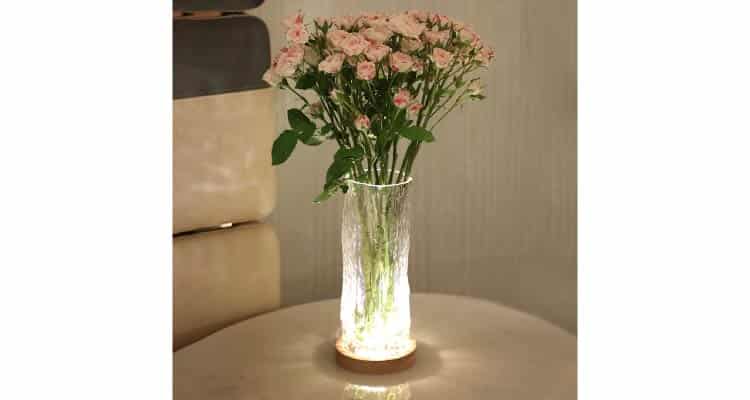 Your friend who just said yes to tying the knot will obviously receive love and wishes from not just her fiancé but her family and friends. Get your friend a crystal clear glass flower vase where they can put all the love they receive on display.
Thanks to ergonomic design, this night light can sit anywhere. At the center of their teapoy or at the dining table or near their nightstand
It is sure to light up the charm of the room immediately with a romantic warm light
It is made of high-quality material and lead-free crystal glass
It's sleek look is elegant and stable
It can be used to fill any wet or dry flowers, bunches or bouquets
A crystal clear glass vase is nothing extraordinary or an outside-of-the-box gifting idea, but a crystal clear glass vase with warm light will be sure to grab everyone's attention.
Related Reading: Girls Night Out With Friends — A True Story
5. Sweet Water Decor ring jewelry dish tray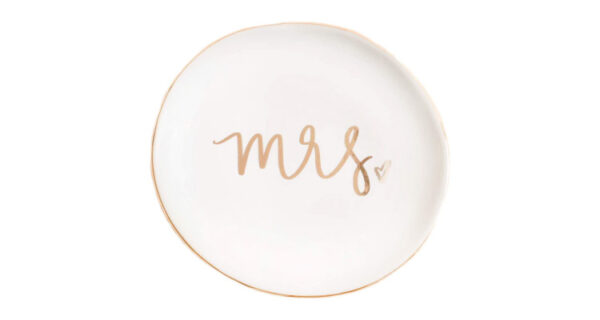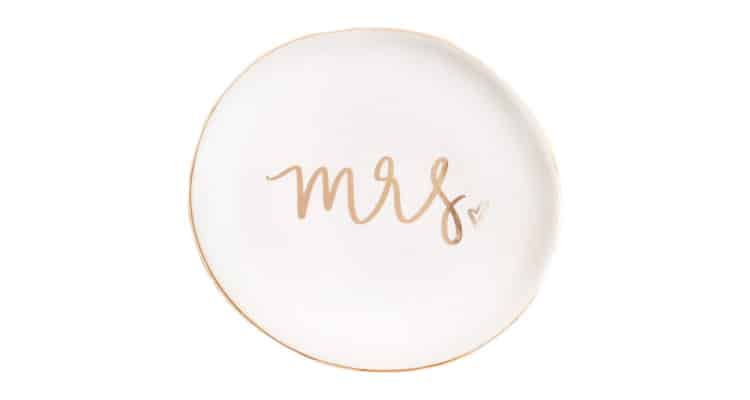 Sweet Water has a jewelry dish for all occasions. From bridal showers to engagement gifts for best friend, they are at the top of their game. They also have gifts to celebrate Mother's Day and graduation day.

The details on the ceramic jewelry dish are simple yet cute
They are hand-drawn designs with gold foil
It's an ideal holder for rings or any accessories
The jewelry dishes are made of high quality ceramic and gold details that won't fade over time
They are tiny, portable and versatile. Can be used to keep not just rings but also coins or keys. Can be kept anywhere, in the bedroom or kitchen or living room
This could easily be one of the most treasured engagement gifts for friends as this will be the one to hold her most prized possession. 
6. Hand blown Italian style crystal Bordeaux wine glasses
JBHO is a professional hand-made glassware manufacturer. Their wine glasses are a hallmark of finesse and craftsmanship. You can find an exquisite collection of glasses to suit every taste and style.
JBHO wine glasses are magnificently luxurious 
These Italian style glasses are made from lead-free premium crystal glass
It has a classy and reusable packaging
These wine glasses are environmentally friendly and made from high-grade glass
Easy to wash. They are dishwasher safe
These thin, clear and sturdy glasses will make one hell of a gift for your friend who said yes to the man or woman of their dreams. Pop open a bottle with your newly engaged friend. Propose a toast in their honor and clink the glasses. 
7. DELUXY Mr and Mrs cheese board
DELUXY is a brand known for its range of memorable gifts for couples. They have a variety of options, from cheese boards to Mr and Mrs aprons and picnic bags.
The award-winning Mr and Mrs cheese board is moisture-resistant and waterproof
It is a unique and memorable gift suitable for all occasions relating to a couple
It promises premium quality craftsmanship
It is hand-made from a high-end wooden board 
Easy to clean and maintain as it is made of natural, premium-quality sustainable bamboo
This will make one of the best engagement gifts for best friend if they and their fiancé are sworn cheese lovers.
8. SmoothToast personalized night sky star map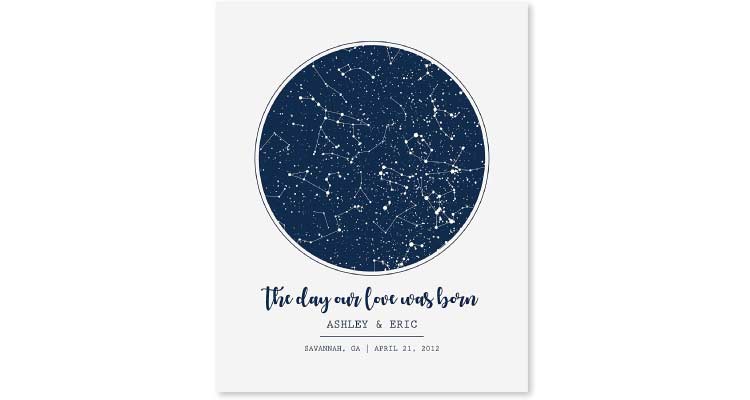 SmoothToast's star maps make the best engagement gifts for best friend. If you want to give something personal and valuable, then star maps are the way to go about it. Select the time and date of the event and it will give you the image of the sky at that exact moment.
It is available in four colors. You can choose whichever one you like
It is printed on a smooth matte paper using the selected color's ink
You can customize it with any location and any time of the day
It is crafted from premium grade materials and archival ink
You can also add a tagline above the map to give it a more thoughtful touch
If your friend appreciates thoughtful, personalized presents, then this star map will make the perfect gift.
Related Reading: 10 Things To Do With Your Girl Gang Today!
9. The Mine Company – wedding cake candle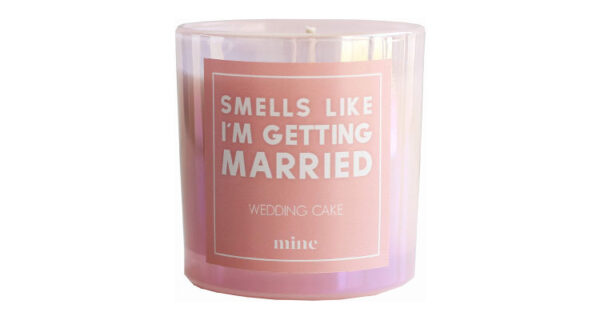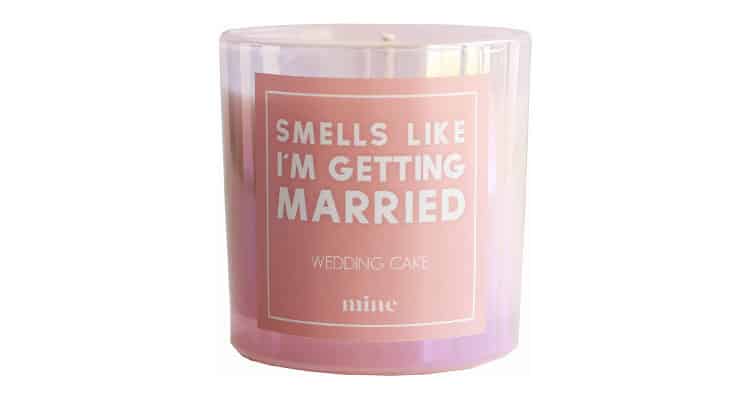 The Mine Company is all about making wedding planning a little less stressful for all the brides-to-be. Mine provides brides with non-toxic wellness products.
Candle with the I'm Getting Married fragrance smells like the wedding cake of your dreams
It is 7 ounces and made up of 100% Natural Soy Wax
Its fragrance consists of premium buttercream and vanilla
It has a 50-hour burn time
It can be used both indoors and outdoors
A sensory treat, The Mine Company's Smells Like I'm Getting Married scented candle is surely going to help set in the wedding vibes and drive away the cold feet. We can't think of a better gift for a newly engaged friend.  
10. Kate Spade New York bridal insulated tumbler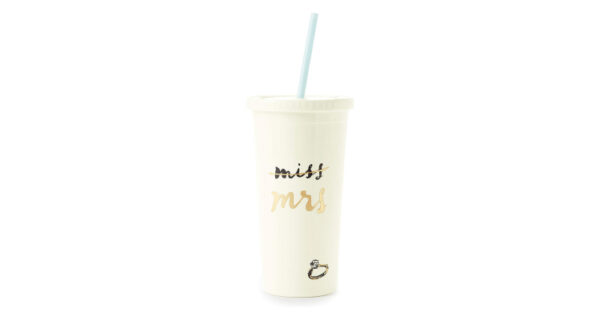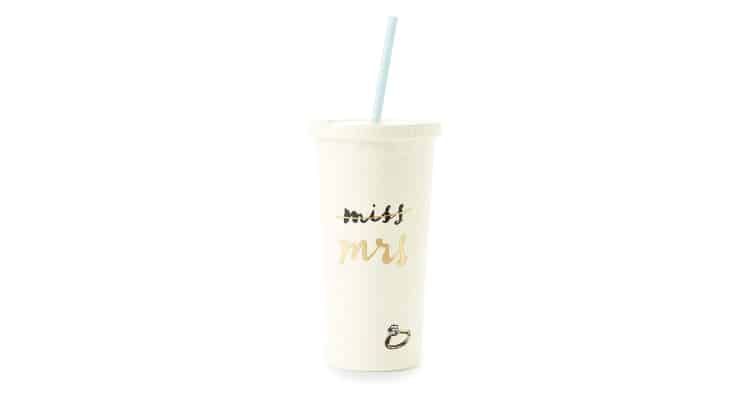 Since its launch in 1993, Kate Spade has stood for optimistic femininity. They have products catering to women's every conceivable need. Clothes, shoes, jewelry, you name it and they have it. Their tumbler Miss to Mrs tumbler is one of the best engagement gifts for best friend.
This white tumbler has double-wall insulation suitable only for cold beverages
It comes with a non-breakable and reusable straw
It is made up of premium design in white with metallic gold accents
The base will fit well with most cup holders
It is extremely stylish and elegant looking
Kate Spade New York's bridal collection will help your friend transition from Miss to Mrs in style. They have a variety of options you can choose from such as luggage tag, journal and wine tumbler.
11. Amazon.com eGift card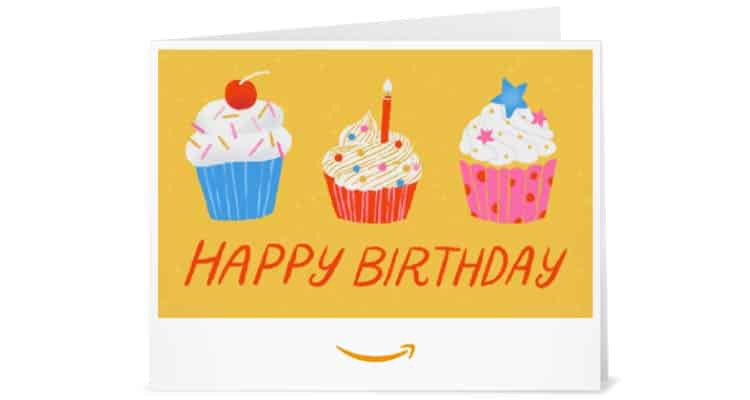 Do you have a Rachel in your life and is she the one who got engaged? Yes, we're talking about that one friend who is never pleased with the gifts they get and have a compulsive need to get them exchanged. Since you know well that no matter what you get them, it's not going to be good enough, an Amazon's gift card is your best bet. There are 3 different types of cards available: physical, eGift cards shared via e-mail or as a link and Anytime Gifts. You can choose the one that fits your friend's needs the best. 
They come in multiple designs. You can choose from three options – standard, animated and photo/video 
You can choose any amount according to your budget. The card ranges from $25 to any desired amount
These gift cards do not have an expiration date or fees
These are prepaid gift instruments that have no returns and refunds
Amazon gift cards can be redeemed only on Amazon or certain affiliated websites
If you are totally clueless about engagement gifts for friends, then Amazon.com eGift cards are the way to go about it.
12. Nomsum Mr. and Mrs. Right apron set
Nomsum's funny, practical and great for any occasion apron sets will put a smile on your friend and their fiancé's face. It's humorous and ideal for any occasion. Your friend and their significant other can have a bonding experience in the kitchen as they cook together, sporting the quirky yet cute gift you got them.
These aprons are 100% polyester and made up of extra-durable fabrics which are guaranteed to last a long time
Aprons are an essential kitchen accessory. These Nomsum ones come with adjustable necks
They also have broad coverage to fit perfectly for people of all sizes
They are durable, cotton blend and can be washed in the machine
Made up of premium quality materials, these aprons won't shrink or wrinkle if handled properly
These silly gifts for an engaged friend are apt if it's a close personal friend who has the same sense of humor as you. 
Related Reading: 21 Gifts For Your Co-Workers | Gift Like Star Performer
13. Relationship deck by BestSelf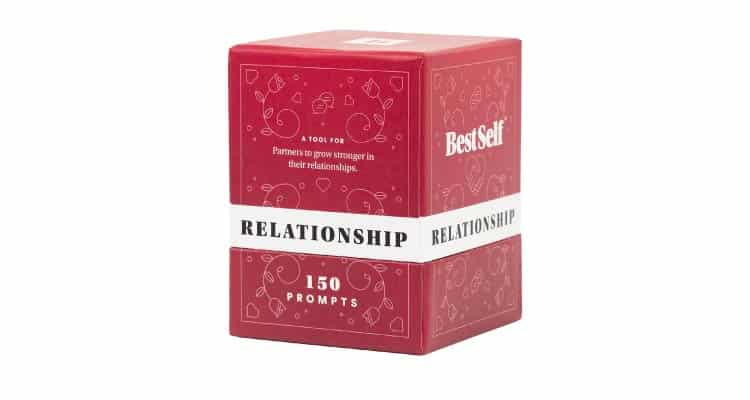 This relationship ship deck is a perfect tool for your friend and their partner to grow stronger in their relationship. This gift falls under one of the most thoughtful engagement gifts for best friends.
It's a practical, interactive and effective relationship tool that will help you dig deep into your relationship
Each card will have a discussion topic that will evoke engaging, tough and thoughtful conversations
The decks are backed up by relationship psychology
It also includes topics on health, finances and personal growth
It will help you commit to a long-term relationship
Agreeing to spend the rest of your life with someone isn't a decision you make in an instant. But if you love that person, then the decision becomes easy. Gift this relationship deck to your friend and witness their growth as a couple.
14. Isaac Jacobs vintage style picture frame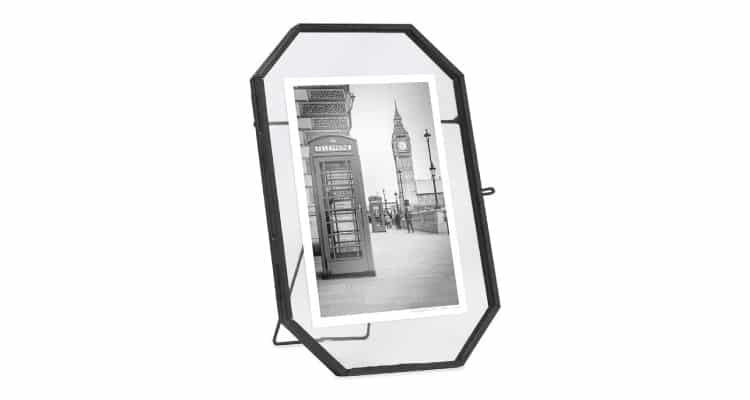 Make your friend's house stylish by gifting them an Isaac Jacobs photo frame. They have an assortment of frames, organizers, LED neon signs, besides other houseware products. With picture frame options in acrylic, easel, mirror and resin, you can choose the one that perfectly blends in with the interiors at your friend's place or appeal to their aesthetic sensibilities. But my personal favorite is their vintage-style picture frame.
Its finishing is in gold, metallic, brass and antiqued
It comes in two colors – antique gold and black
The frame comes with both options: wall mount and tabletop
It comes in four sizes. Make sure to measure the size of the picture before selecting the size of the frame
Its vintage appeal and geometric design is eye-catching
Cherish your friend's big moment by gifting them this stunning frame. Look no further than this frame if you are searching for engagement gifts for friends. To crack things up a notch, add your favorite picture of the couple in the frame. 
15. Jo Piazza's How to be Married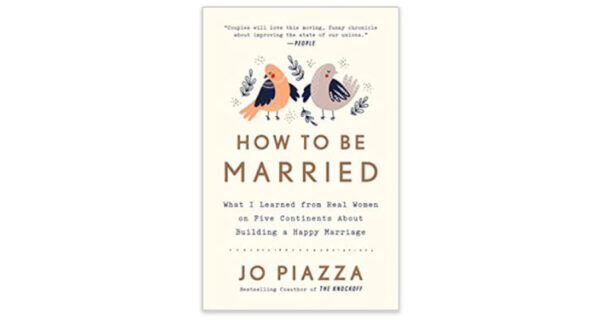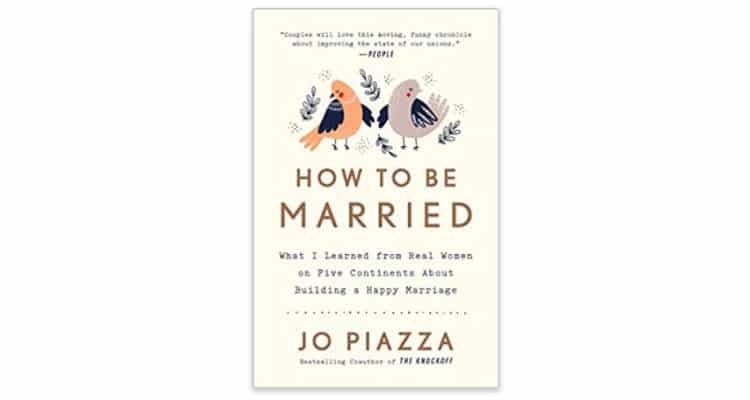 Is there any other gift in the world that is better and more wholesome than a book? Your newly engaged friend is in dire need of a book like this. 
Get a hardcover or paperback depending upon your budget
The book is light, funny and talks as a provocative memoir of her first year of marriage
The author is a travel editor constantly on the move. She travels to twenty countries on five continents to figure out what modern marriage means.
The book is written with refreshing candor, elegant prose, astute reporting, and hilarious insight into the human psyche which makes the perfect just engaged gifts 
How to Be Married offers an honest portrait of an utterly charming couple.
This journey in the book will help your friend to know which path to take if they are confused about any decisions in the soon-to-happen marriage. 
These engagement gifts for friends are sure to give you an idea of what to get for a friend who is going to step into a new and wonderful life with their partner. Now that that's taken care of, go be the awesome friend you are and help them with their wedding prep. 
How Spending Time With Friends Helps Improve Your Relationship
10 Thoughts You Will Have When Your Bestie Finds Herself A Boyfriend