So, another holiday season is here and it's time for the office Secret Santa conundrum again. Are you already worried about the budget and the whole pressure of finding the right gifts for co-workers? You might spend hours on end, every day with these people (sometimes even more time than you spend with family) and yet while choosing a gift, you feel completely clueless. This uncertainty and the fact that you don't always know your co-workers leads to ultra-boring gifts like an Amazon or Starbucks gift card.
You need to realize that your co-workers are not really your family members who will put up with those weird gifts every year and won't mind the fact that you messed up their gifts, yet again. You shouldn't be surprised then if they don't hold the elevator door open or save the last donut in the cafeteria for you.
Okay, okay, take a deep breath. Nothing as awful as that is going to happen. As always, we are here to the rescue with our list of the coolest gift ideas for co-workers at the office. Stay tuned!
30 Best Gifts For Every Type Of Co-worker
You know what, though it might have seemed petty at first, gifting a wrong gift to your co-worker can have dire consequences. But, on the other hand, if they like your gift, you are sure to get your paperwork done by the other department in the blink of an eye. Maybe, they will even cover for you in front of the boss when you enter the office at half-day.
But we also know that these perks don't come easy, and you probably already have your hands too full to worry about what color socks Miss Martha would like, right? So, here we are to take this burden off your shoulders and present you with a gifting guide that will ensure that you make everyone in the office feel appreciated and sun-shiney happy with your gifts.
Check out our catalog of the top 30 best gifts for co-workers:
1. Foot hammock
Our feet are the workhorses of our bodies and sadly, at most times, we tend to be most ruthless to them. However, they do deserve a good rest, especially after a long day at work, and sometimes in between. This foot hammock helps to keep the legs up, so your colleague can sit more comfortably while typing away for hours on the keyboard.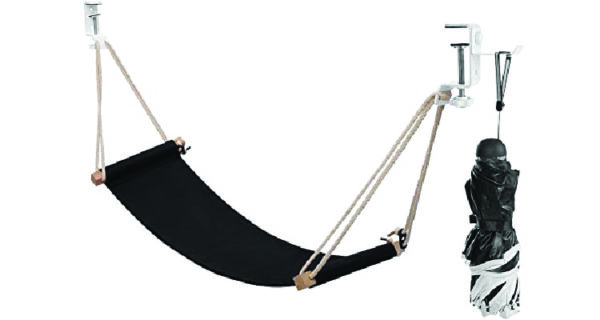 Happy feet make a happy person. This portable desk, feet hammock with an additional headphone holder is undoubtedly one of the best inexpensive gifts for co-workers to show them you care.
Related Reading: 12 Things To Consider While Gifting At The Workplace | Christmas Gift For Coworkers
2.Walk-by scrabble board
This is a great gift not just for any one individual, but for all your co-workers and people you share your office space with. You can mount this scrabble board on the wall, and every time someone passes by it, they could try their hand at putting up the longest word on the board. It's a fun game and makes you rack your brain at the same time.
This board from Winning Solutions comes with a tin-playing surface and magnetic letters that make sure to stay where they are. Not only that, it even has a dry erase surface to keep notes and high scores. If you owe someone big time for covering your shift, this scrabble could be a great choice as a thank you gift for coworkers.
3. White cable organizer
As obvious as it may seem, such gifts are the most practical and useful. The state of your office desk gives a picture of how neat and well-ordered you are as a person. So, if you see that your co-worker has a desk that's on the verge of turning into a modern art of twisted cords, you better help him before it's too late.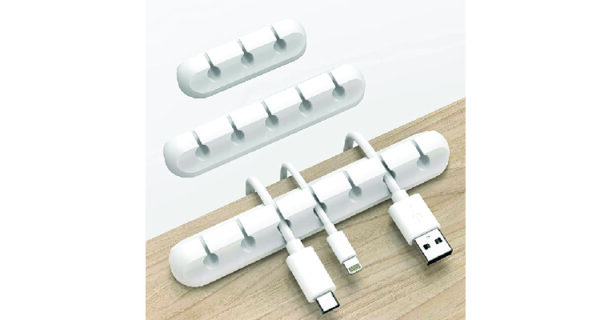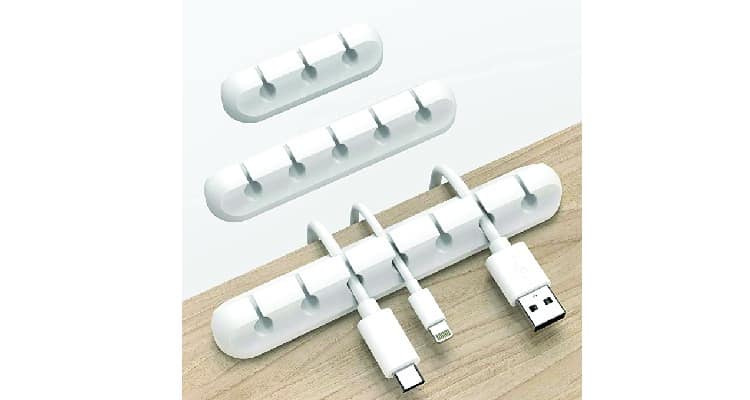 This handy yet affordable cable organizer from Inchor is going to be light on your pocket as well as help your colleague take good care of their chargers and wires, along with the ones inside their head. Just in case, you are on a tight budget, it won't be the worst idea to pick some up as Christmas gifts for co-workers.
4. Temperature control ceramic mug
Are you still wondering which 'co-worker jokes' printed coffee mug to gift your colleague this year…again? Well, we hate to be the ones to say it, but it's time you change your century-old gift idea and show your entire office how with-it you are when it comes to cool gadgets and tech. To solve your dilemma regarding gift ideas for co-workers, we found this battery-operated, temperature control, ceramic mug which can keep their coffee hot for up to 1.5 hours.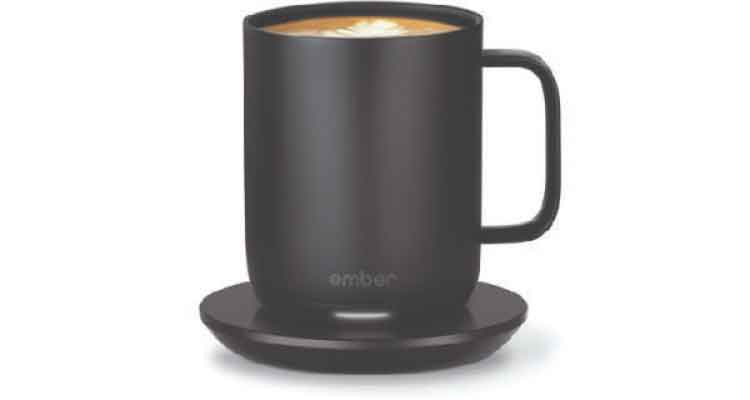 This mug from Ember goes into sleep mode when empty, and wakes up when it senses movement or liquid. And the coolest part is you can install the Ember app to control the temperature from your smartphone!
5. Retirement countdown clock
Yes, we know offices are all about meeting sky-high targets and working toward unrealistic deadlines. But retirement is the kind of finish line that each one of your co-workers is highly keen to cross. This countdown clock to the golden years of retirement is a thoughtful example of going away gifts for coworkers. This digital ticker will help your colleague keep their eyes on the big prize — endless days of golfing! Or traveling! Or just sitting at home in shorts…the list is endless.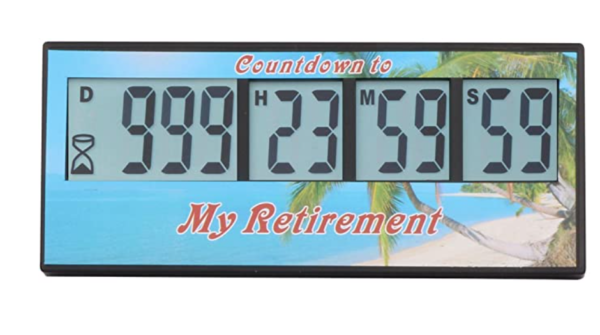 In this unique countdown clock, you can set an alarm for up to 999 days, 23 hours, and 59 seconds. I bet, a co-worker who is about to retire will savor the last few days of excitement at his workplace with this fun timer.
Related Reading: 32 Best Gifts For Movie Lovers And Film Fans
6. Laser-cut wood journal
We know it seems weird to hand over a plain journal or diary to your co-worker, but trust me it's one of the most useful things one can have at an office desk. And to take care of the 'unique factor', we have an option that takes it a few notches higher — this cool laser-cut wood journal that has such a beautiful front design. Now this is one book that you will want others to judge by its cover.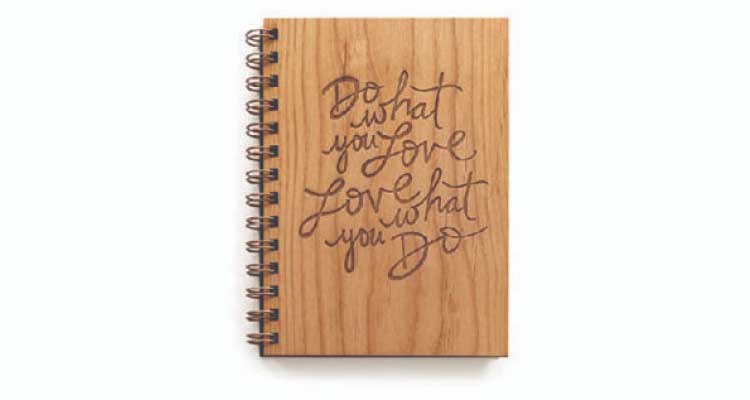 This stunning journal from Hereafter has an engraving that says, 'Do what you love, love what you do.' Is it meant for a nicely decorated office desk. No wonder your co-worker will proudly display this work-of-art journal at their own space.
7. Keyboard cleaner
Though this might look just like a toy, it's far more useful than you can imagine. We all know how easily dust and grime settle into the nooks and crannies of our keyboards and get picked up by our tireless fingers working on it all day. But, not anymore as you gift your co-worker this great, reusable keyboard cleaner. It will fully remove all that disgusting debris from their workstation surfaces.
All your co-worker has to do is use this mini vacuum cleaner over the surface and the flat nozzles will take care of the rest. Just in case you are in search of thank you gifts for co-workers to return a favor, this could be a nice choice.
8. Echo smart pen
Did you ever wish for a magic wand that would make your life much easier almost as if you were in a Harry Potter movie? Well, we all did at some point in our lives, but with this gift, you can definitely fulfill the wishes of your co-workers. This pen comes in handy to recording voice notes and meetings, while also writing on a page with a normal pen. Since this high-tech pen is fairly expensive, you might save it for a colleague who is really special to you.
This 2 GB echo smartpen from Livescribe helps to record everything. Now, the user can jot down notes later, replay important meetings, and save audio recordings and notes on the computer.
9. Cleankey by Keysmart
One of the biggest issues faced in public places, especially offices, is that there are countless dirty surfaces that one may need to touch over the course of a day, like door handles, touchscreens, press buttons, etc. And especially in the current pandemic scenario, we all know how dangerous and hazardous germs can be. So, this keychain multi-tool will help your co-workers access all such surfaces without any direct physical contact with them.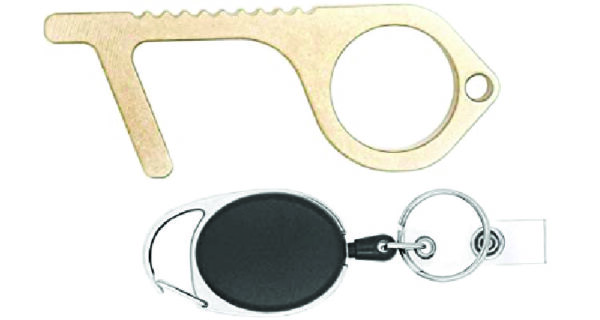 This keychain multi-tool has an ergonomic design that efficiently cuts short the point of contact area by almost 99%. It is practically a blessing in disguise that will have your co-worker thanking you as profusely as you will be thanking us after you try it yourself.
Related Reading: 13 Gifts Don't You Dare Give To Your Co-Workers [Must Read Guide]
10. Eye strain reducing glasses
While science may not have confirmed the fact that we are better off viewing this world through rose-colored lenses, but it has said that we need blue-blocking ones. In that case, these glasses are the superhero that prevents the harmful blue light emitted by digital screens from reaching our brain cells to avoid any unwanted neurological havoc.
So, if you want your colleague's precious eyes to be shielded from the terrible blue-light of laptops and phones, and induce sleep-enhancing benefits, then this is one of the best gifts for coworkers.
11. Concrete desktop planter
We all have that co-worker who has a desk as barren as the Sahara desert. This gift is the perfect choice if you want to add a little life to their surroundings in the most effortless way. This concrete desktop planter has a modern, utilitarian design. You can bring in some greenery to your co-worker's line of sight as well as provide them with a small organizing space.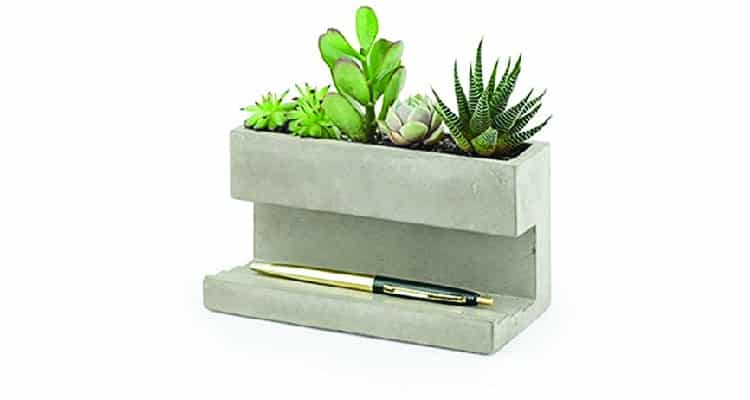 The base of this planter helps to hold pens, business cards, and other small, office stationery. This accent desk décor piece will serve as great office Christmas gifts for coworkers.
12. Bourbon infused coffee
Do you know any co-worker who will ever refuse a nice, stiff drink after-work? I hardly think so. But sometimes, hitting the pub after work, swearing at strangers, breathing in musty-sweaty air is not exactly the kind of evening you want. That's when your good ol' boy at the office can stir up a drink that not only has the power of caffeine, but also that sweet Kentucky nectar, i.e. bourbon.
Try the Bourbon and Whiskey, barrel-aged, coffee set by Cooper's Cask as thank you gifts for coworkers. It will come in real handy, especially on those days when your co-worker needs that special kick to start the day.
13. Desktop aquatic ecosystem
Can you imagine, someone just went and leveled up the concept of a fishbowl, and merged it with a full-blown aquarium! This is a perfect gift for your co-worker who is too lazy to keep a pet that requires high maintenance and will add some much-needed beauty to his/her work desk. The organisms in this sphere take care of one another and continue to maintain an aquatic harmony so perfect that a poem could be written on it.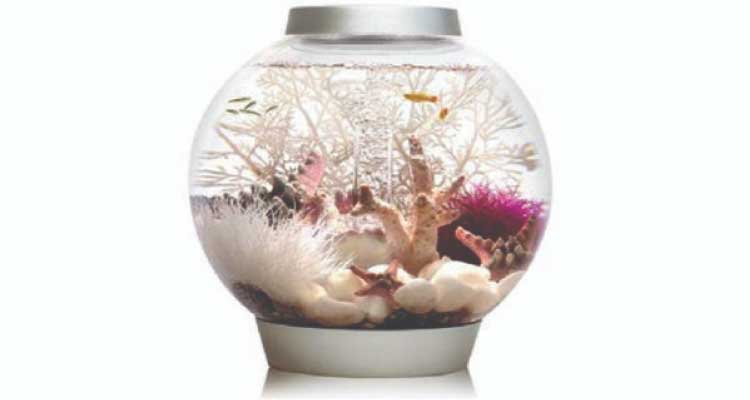 One just needs to add water and some tiny fish and you got yourself a personal aquarium. Your search for ultimate going away gifts for coworkers ends right here. Your colleague will be so happy to display this bowl on the desk of their new office. At the same time, it serve as a small token of friendship, something to remember you by.
14. Under-desk elliptical
Are you tired of your office best friend constantly cribbing about how they want to hit the gym after work every single day, but don't ever get to actually do. Well, here, help them to save some time with this under-desk elliptical from Sunny Health. Now, your co-worker can effortlessly pedal their way to fitness. This low-profile elliptical can fit in the smallest of spaces. Plus, you can track time, calories, and speed using a digital monitor.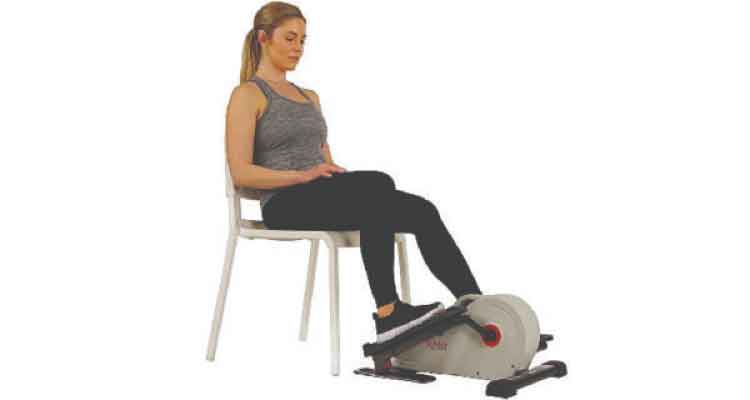 Also, wouldn't it be a great sight to see them take to this just like a duck treading water…continuously pedaling below while meeting targets above the surface. Think how productive their office hours are going to be!
Related Reading: 40 Best Valentine's Day Gifts For Him | Gift Ideas For Boyfriend
15.Wireless smartphone charging mouse pad
Is your co-worker one of those people who's a tech junkies and is always on the lookout for new gadgets? Well, this mouse pad doubles up as a wireless smartphone charger and is perfect for the workplace desk. This is not as weird as it sounds, more so because, at current times, we tend to live through our smartphones more than we live through our brains. Trust us, it's a gadget worth proudly showcasing, especially in the office.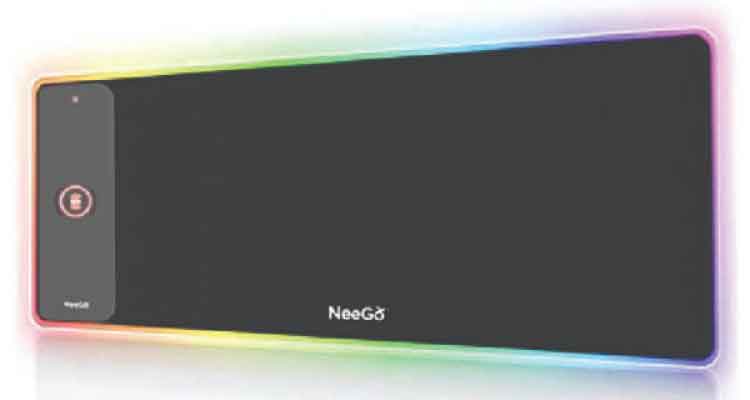 So, this spacious mouse pad is compatible with a wide range of keyboard and mouse types. And, then there's the coolest feature ever of adjustable lighting modes like red, orange, pink, green, cyan, yellow, etc.
16. Life hacks desk calendar
You know how our elder siblings have always been there by our side with amazing life hacks, no matter what kind of mess we're in? Very similarly, this calendar will do the same for your co-worker, all from the comfort of their work desk. This calendar by author Keith Bradford is a treasure trove of little tips and tricks that you wish someone had told you years back, to make life easier.
Unfortunately, it does not tell you where your elder brother hid your favorite G.I. Joe soldier back in fifth grade. But, it gives you solutions to some real toughies, like what to do when someone has gum stuck in their hair.
17. Portable ping pong set
This gift is going to be an ode to all those co-workers who sacrificed their promising career in sports and had to take a 9 to 5 job for a living. Here's a fun gift idea to make their work-life a little easier. This set has a portable, retractable ping pong net that can be set up over any table to transform it into a table-tennis court within minutes. Of course, the ping pong paddles and balls complete the entire set.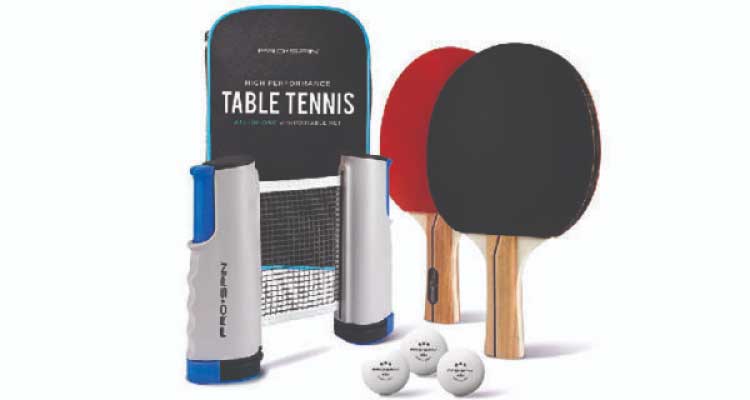 Did you know table-tennis is also an Olympic sport! If ever that day comes, when your co-worker is standing on that podium with glistening eyes, you should know it's all thanks to you. 
18. CTRL ALT DEL coffee cups
Does your coworker keep saying that he wishes he could press Ctrl, Alt, Del on his job, reboot and spend the rest of his life on a sunny, exotic beach, sipping on tropical drinks far, far away. This gift is a match made in heaven for that particular someone. Well, while you can't make this wish come true, you can provide the next best alternative, which is comforting. hot coffee served in one of these quirky coffee cups.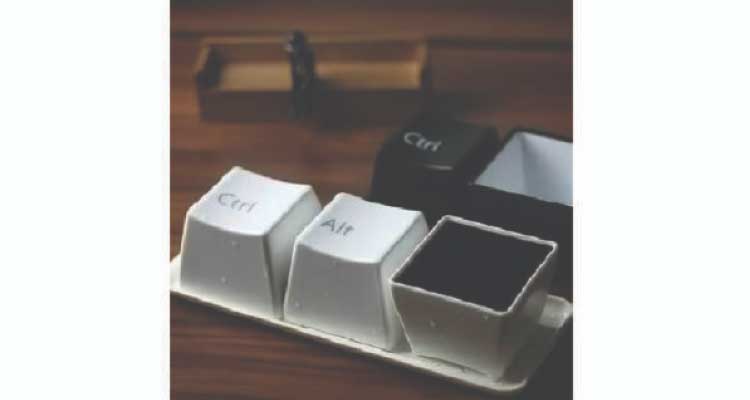 Also, you can choose your colleague's preferred color — pure white or classic black. I am telling you, these mugs are the ideal farewell gifts for coworkers.
Related Reading: 30 Practical 2-Year Anniversary Gifts For Boyfriend To Impress Him
19. Knight pen holder
When you take a look at the next gift option, you will agree that there can be no better or literal way of saying that the 'Pen is mightier than the sword'. It has a dashing knight bowing down and offering your co-worker the pen that is going to be the most loyal crusader in all their clerical crusades. 
This super fun pen stand will keep their trusted pen ready for all their word wars and their personal knight is more than happy to hold things like toothbrush, grocery list, spork, razor, etc. What an amazing accent piece to bring some character to your colleague's work desk!
20. Thumb flash drive
I am sure, we don't need to sell you the importance of having a good quality flash drive in which to transfer and store your digital data. Just so you know, this gift item has a big thumbs up from our side. It works as efficiently as a USB should. Plus its quirky look can be a conversation starter with a new colleague.
This thumb USB drive is lightweight, easily portable, and comes with high reading/writing speed. Trust me, you are not going to find any better inexpensive gifts for coworkers.
21. Scalp massager
This massager might essentially look like a strange metal spider. But, this gift is actually going to provide your co-worker with a heavenly feeling at the end of a long day of work. Who doesn't like a good head massage after all?
This spine-tingly scalp massager is going to be loved by even the most arachnophobe co-worker friend as these are pretty effective in helping one to unwind after a long day.
Related Reading: 21 Amazing Gift Ideas to Impress Your Crush who is a Big Instagram Influencer
22. Hand-repairing moisturizer
At some point or other, we all complain about how the chilled AC in the office leaves our poor skin all high and dry at the end of the day. Does your lady coworker never stop nagging about the same from the adjoining table? It will be an amazingly sweet gesture to get her a gift set of 3 hand-repairing moisturizers with almond milk, shea butter, and lemon butter.
These creams are excellent for softening rough cuticles and hydrating dry skin, especially during the cold winter months. It contains natural ingredients such as Vitamin E, aloe vera, and botanical oils to revive your dull skin with an extra bit of glow.
23. Affirmation cards
It's really not that easy to survive and climb the corporate ladder in flying colors. The regular pressure of deadlines, overtimes, harsh words from the seniors — everything takes a toll on our mental health. So, whenever you get a chance, try to remind your colleagues that they are hardworking, talented, and really precious to you.
The best way to do it is with this gift pack of 50 affirmation cards to boost their energy and self-esteem. If you are in search of inexpensive gifts for coworkers, take a look at this. As they draw out one card every day and read out loud the beautiful affirmation, they'll also be affirming that they are glad to have you in their life!
24. Neck and back massager
After surviving a couple of years in the modern work culture, stress has become our middle name — be it physical or financial stress. Don't you agree? Aching back and strained eyes are like part and parcel of our lives now. How about you try and alleviate this problem for your next-desk colleague? Neck massagers are undoubtedly the best gifts for coworkers these days.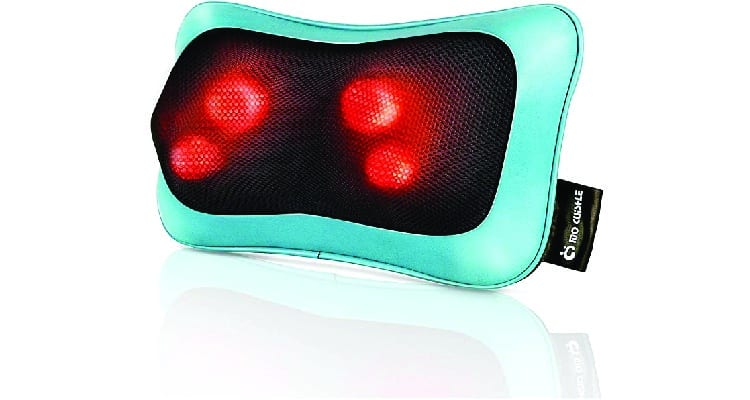 They can enjoy a relaxing full-body massage at the office or even in the car as this massager comes in the shape of a pillow with straps to fit in a car seat. The user has total control over different modes like clockwise or anti-clockwise and various heating options.
25. Scented candles
Who can say 'No' to an aromatic candle? Scented candles are actually great Christmas gifts for coworkers. Take a look at this lovely gift basket of 9 candles in 9 different fragrances. They include lemon, rose, magnolia, jasmine, lavender, and more. The candles are made of 100% natural soy wax and lead-free cotton wicks.
The best part about these candles is that they come in beautifully printed metal containers so that you can easily carry them around. This Christmas, gift your colleague a fragrant, cozy workspace.
26. Set of disposable face masks
Given the current post-covid situation, one of the most essential commodities in our life is a face mask. And let's admit it, we lose one almost every other day. If any of your coworkers is that absent-minded, get them a pack of 50 printed masks so that they don't have to worry for the time being.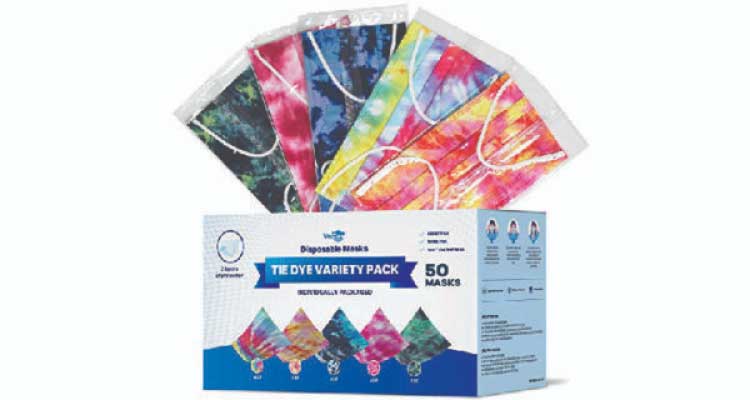 These face masks by We Care are specially designed for your comfort. They are breathable and gentle on your skin. Each mask is packed individually and comes in 3 protective layers for safety. How nice is that!
Related Reading: 21 Christmas Gifts For Parents [2022]
27. Good bye mugs
When a very close colleague is switching jobs, it's going to be very difficult to say goodbye to them. The fact that you are not going to see them every day and have a chat over chai is heart-breaking. To wave away the gloom, you can get them this funny travel mug to make the mood lighter. They'll always have a smile on their lips when they drink their coffee and think about you. Now isn't that how you'd like to be remembered by them?
The quote on the mug 'Good luck finding better coworkers than us' makes it a perfect farewell gift for coworkers. The tumbler is made of unbreakable, stainless steel material with a BPA-free lid. Its double-wall feature keeps your drink warm or chilled for long hours.
28. Shower steamers
How about you give your favorite coworker the experience of a relaxing spa at home itself? Yes, it's possible with this pack of 30 piece shower steamers in different soothing fragrances. After a long day at work, your colleague can pick a mood-altering aroma and enjoy a stress-free evening spa right in the comfort of their own home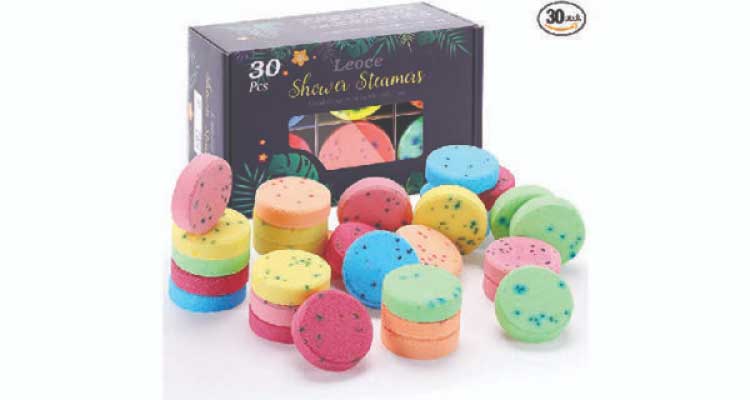 These steamers are specially designed with a moisture-proof layer so that they last longer in the shower. You can get yourself a set too if you want to enjoy the aromatic goodness of natural essential oils.
29. Seat cushions
No, our office chairs don't exactly provide the softness of rosy petals. But sadly, we spend the larger chunk of our day sitting on them, uncomfortably so. When you are planning to buy your coworkers something nice, how about if you can make this particular situation any better for them? Well then — voila! These orthopedic seat cushions come to your rescue!
We found these great, foamy cushions that are non-slippery and help to reduce any bad odor. They maintain a comforting warm temperature throughout the day, so your colleagues can power through the working day despite all the stress.
30. Essential oil roll-on
As the last pick in our list of 30 gift ideas for coworkers comes a soothing roll-on for utmost relief and calmness of mind. This roll-on is a blend of multiple essential oils such as peppermint, cardamom, ginger, and so on.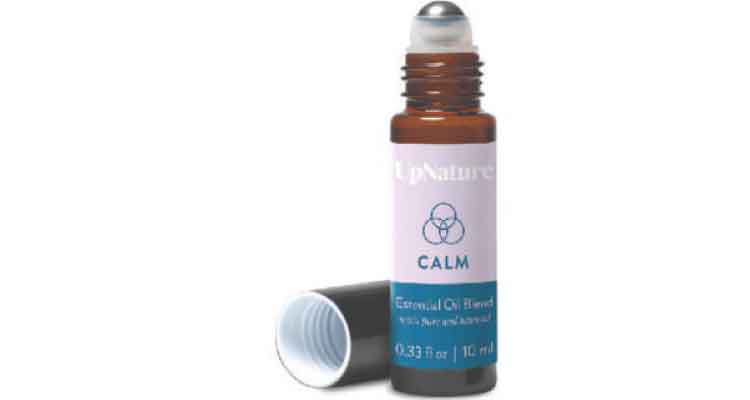 I am sure your lady colleagues in the office will absolutely love and appreciate this thoughtful gift for the rejuvenation of their soul and calming of their mind. You can instantly feel the refreshing vibe as you roll it gently on the neck, back of your ears, and wrist. Smell the aroma and sail off on a therapeutic journey.
Related Reading: Your Guide To How Not To Pick Gifts For Your Coworkers
Gifting Tips And Tricks
So, if you are soon to be wading through tricky corporate gift-giving waters, this gifting guide will surely be a knight in shining armor. We all know how shopping gifts for co-workers each year mostly means a plethora of scented candles and desk toys which they will probably end up re-gifting while switching jobs.
But, not this time, as the above-mentioned gift options are surely going to make your colleagues happy. However, when you are digging for gift ideas for coworkers, there are certain dos and don'ts to keep in mind, and here they are:
Do decide who's on the list: It's not practically possible to arrange for gifts for all your co-workers, especially during the holiday season. But a token of appreciation to everyone in your department, or at least the people with whom you interact everyday will definitely earn you some brownie points
Don't exchange gifts in front of others who did not make your list: We know you can't possibly give a gift to every co-worker. If you have a close circle in your list, make sure you do it in a low-key manner, when not many people are around. It will ensure nobody feels jealous, hurt or left out
Do stick to a budget: Now, many a time, we tend to go astray when we are shopping for many co-workers at once, and seem to lose track of a set budget. Always determine the budget beforehand for each co-worker and it will help to narrow down your gift choices efficiently
Don't be too personal: Even if you are super excited to get the best gifts for co-workers, don't neglect certain social guidelines and etiquettes. Avoid such items that might be too intimate or embarrassing for the receiver in front of a room full of people. Go for more neutral, fun things.
Do try to be thoughtful: Bringing the perfect gifts for co-workers on a special occasion is one of the best ways to tell them that you actually consider them family, and have put in a lot of effort to find something that they will actually enjoy. No matter what you choose, it should show that effort, and better not be too generic like a basic mug or a T-shirt. 
Don't feel pressured: Now, don't ruin your night's sleep thinking about how to afford and get gifts to anyone and everyone in the office. Office gifts should never be mandatory or expected, and you have nothing to feel guilty about if you can't get one for everyone. Do not let office competition get to you or your wallet too much, and you don't have to match up to somebody else giving an expensive gift to their co-workers. You do what is feasible for you 
So, now you no longer need to turn into Uncle Scrooge and can just be your jolly good old self when thinking about gift ideas for co-workers. We have given you plenty of choices. Just be sure to consider the habits and hobbies of your co-worker while deciding upon the gift and it will be a complete success.
11 Last-Minute Hostess Gifts Ideas | Inexpensive Hostess Thank You Gifts | 2022