This is my Ask our ExpertThis is my Ask our Expert
For Jewish singles looking for a partner, JDate is a wonderful platform to be at. And if you're looking up JDate reviews to decide whether to sign up on the platform or not, you've come to just the right place! Religious singles often find it difficult to find a partner who aligns with their belief systems. Unless it's through family and friends or religious congregations, it's hard to meet someone in this multi-ethnic and multicultural world out there. That's where exclusive dating sites, such as JDate com, come to your rescue.
If you're Jewish, single, and looking for a Jewish partner who shares your beliefs, this is one of the best platforms for you. Through these jdate reviews, you'll be able to see for yourself if the platform is something you want to become a member of. We'll provide you with all the details regarding its cost, features, and success rate so that by the end of it, you'll know the answer to: is JDate worth the money? Without any more delay, let's look at the different aspects of this app.
What Is JDate?
For the uninitiated, that would probably be the first question: What is jdate? In one sentence, JDate is the most popular dating platform for Jewish singles across the globe. Whether you're searching for friendship, fun, or marriage, you can find it here. The platform boasts of numerous success stories, and there are good chances that you've come across a couple who met through this site if you are Jewish. Created back in 1997, the j date app has come a long way. 
Because of the years of experience in building a community and running a platform, JDate is a lucrative option for Jewish singles out there. It has undergone several changes over time which has resulted in the premier website that it is today. It helps bring together compatible Jewish individuals, and the many JDate reviews only further prove that claim. As one user said, "It was so easy and fun to use. I think it's the greatest app in the world."
How To Sign Up On JDate
The signing up process on jdate com is fairly simple. As one member states, "The website was very easy to use and navigate. I understood how to set up my profile and message other members easily." In this section, we're going to take you through each step of the sign-up process at the j date app so you don't face any issues while trying to become a member.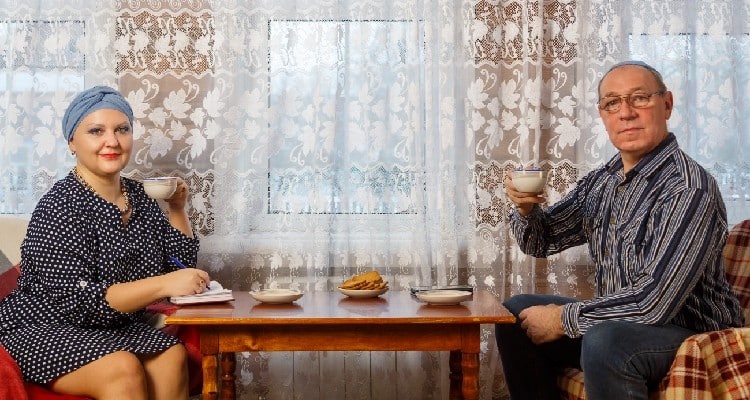 The platform asks you for several details. All of them are either for verifying your identity or helping you create a more detailed profile so you can be matched to relevant profiles. Let's look at the different steps now:
You'll first have to create your own profile. You have the option to create a JDate profile via Facebook or email – the former option will not require you to enter basic details such as your name and email address
You're then asked to upload at least one of your pictures, and you're not allowed to proceed until you complete this step. This is done to ensure that only verified accounts stay on the platform. All uploaded pictures are to be approved first and it takes about 1-2 days for the same. You can, in the meanwhile, create the rest of your profile
In this step, you have to choose your display name. It can be either your real name or a made-up one, it's up to you
Then you have to fill in some other basic details such as your religion (if you're non-Jewish, you have to mention if you're willing to convert), your Jewish denomination, your synagogue attendance, your height, education, occupation, whether you want kids or not, and more. These details help you get more relevant matches
In the next section, you're asked to write a short summary of yourself which will act as a description of you for other users. Showcasing some of your best qualities casually is always the best way to go about it, but it's also important to highlight your personality and a sense of self here
Next, you have to select your hobbies and interests from a range of topics in sports, arts, music, food, and more. You can choose as many of these as you'd like, though we'll advise you not to overdo it
You can also fill in a few optional details such as your smoking and drinking habits, your willingness to relocate, etc. These questions help create a more detailed profile, which is more attractive to potential matches
In the final step, you can select your discovery preferences i.e. the kind of profiles you want to be shown. These include details such as gender, distance, location, age-range, etc. There are advanced preferences as well like level of education, willingness to have kids, and synagogue attendance. These details will be then used as filters to show you only the relevant profiles
Your account is fully set up and you can browse the platform
Related Reading: OkCupid Review – Is It Worth It
Pros And Cons
Easily one of the most important sections of the JDate reviews, we are going to show you both sides of the platform here. You'll be able to use this information to decide if you wish to proceed with the site to find a partner for yourself or not. So, is JDate worth the money? To know this, let's look at the upsides and downsides of the j date app.
| | |
| --- | --- |
| Pros | Cons |
| Has a diverse and comprehensive listing of quality Jewish profiles | Low number of active profiles on a regular basis |
| Is a great place for people across ages and sexual orientations to find their partner | Lots of profiles are non-Jewish, but they can be filtered out |
| Is responsible for a large fraction of Jewish marriages where the couple met on the app, which implies it's trustworthy | Monthly subscription prices are higher than usual rates |
| The site design is decluttered and very user-friendly | Photos take time to be approved |
Quality Of Profiles And Success Rate In JDate
When you're searching for JDate reviews, one of the most important things to look for is the quality of matches that you're going to get here. You want to know whether you'll find relevant profiles that suit your preferences and whose preferences you, in turn, match. Once you sign up for the website, you can easily see that it has a large number of verified, real Jewish single accounts that you can navigate and communicate with. "The website is easy to use and it also asks you important questions, like if you have an STD. The women on the app are quite open and honest with you," one user said.
While the volume of users might not be as much as some of the larger dating platforms, it's expected for a niche dating app like JDate com. However, the quality of j date profiles is better than average. The platform is run by Spark Network which has years of experience in how to effectively operate a dating platform, and the efficiency can be seen here as well. There are several ways to filter the profiles and find those that match your preferences.
After looking at the jdate profiles, let's turn our attention to the success rate of the platform. A survey that used 1000 married Jewish internet users as their subjects found that j date is responsible for almost 52% of the marriages that were initiated online. Now, these are great numbers and only serve to reflect that the platform is genuine – it helps Jewish singles find their partner easily and effectively. Another user mentioned, "It's easy to use and navigate through matches, and I have never had any problems with their quality of service during the time I used the site."
Related Reading: SilverSingles Review (2022) – What You Need To Know
Best Features
If you're still wondering if you should use this site or not, you can make up your mind after going through this section of JDate reviews. Here, we are going to list all the features of this platform that make it unique and lucrative to all the Jewish singles out there. Some of the best features of JDate are:
1. Activity Tab
This section helps in neatly organizing all the profiles that you've directly or indirectly come in contact with. The JDate profiles are separated into several categories such as those who've looked at your profile, those whose profiles you looked at, and the matches curated for you. 
2. Offline meetings
One of the best features of this platform is the community created around it. A part of that is the offline activities and meetings that are organized every month. This is a feature reserved for the premium members and allows for Jewish singles to meet their potential partners outside a virtual setting. The platform also lists opportunities for volunteering or other ways to help your community.
3. Communication tools
The JDate site has numerous tools for communicating including chat rooms, customizable cards, message boards, a secret admirer button, and live video. For example, the secret admirer feature allows you to mark a profile you're interested in, and the j date app would find out secretly if the feelings are mutual. These flexible communication tools help make the process of searching for a partner easier. As per one user, "I found an amazing guy there. He makes me so happy! I would still be alone if it wasn't for the site."
4. Kitbitz corner
Under this feature, users of JDate profiles can answer interesting questions that are created by the platform. Other members can read your answers and you can read their answers in turn. This helps create a better sense of community and can help you find people you're interested in.
5. Customer support
The site has the option to submit a request for all your queries. Before you contact the customer center, you can first go through the FAQ section that addresses a large number of issues the site users might face. If it doesn't satisfy your query, you can contact them by submitting a request. However, as per a few JDate complaints, customer support can take a while to revert which can be an issue in situations of emergency. 
Related Reading: HUD App Review – The Full Truth
Subscription Pricing
In this section of the article, we're going to look at the different JDate cost options which will help you decide whether or not to upgrade. The website doesn't offer different premium packages, but rather the same package in three different ways based on the duration. The packages with their latest prices are given below:
| | |
| --- | --- |
| Package | Price |
| 1-month premium membership | $59.99 |
| 3-month premium membership | $134.97 (comes to $44.99 per month) |
| 6-month premium membership | $179.94 (comes to $29.99 per month) |
Is The Subscription Worth It?
And is jdate free? Let us explain. While you can browse the site even with a free membership, it's nigh impossible to fully utilize it without a paid subscription. The free membership allows you to respond to messages by premium members, but you won't be able to send the first message to anyone. There's no JDate free trial here and you can use the free features for as long as you want. 
On purchasing an upgrade, plenty of features get unlocked for you, including being able to browse profiles privately, hide your online status, and get read receipts for messages. You can also send and receive messages, and see all the pictures shared by a user (the free members can only see the primary picture). You can also see everyone who has seen or liked your profile, and message them if you'd like to.
If you're serious about finding a partner on JDate, taking a subscription is completely worth it as it provides you with an optimal and seamless experience on the platform. 
Related Reading: 11 Best Dating Sites For Nerds, Geeks, And Other Sci-Fi Lovers
JDate Alternatives
On one hand, you'll indeed be hard-pressed to find another dating website exclusively created for Jewish people with as many years of experience and as large a community as JDate. On the other hand, it's also correct that the platform has far fewer members than several of its competitors. You can always go through all the pros and cons and decide which platform you want to choose accordingly.
1. Elite Singles
For a smooth and intelligent dating experience, Elite Singles is a great platform. It aims to create a professional dating community for educated individuals. Not surprisingly, most of the profiles you'll meet here are well-off, both financially and academically. It also has a large number of Jewish members, though it doesn't take religious preference seriously, the way JDate does.
2. eharmony
eharmony uses advanced algorithms to find you highly compatible singles as per your preferences and details. With a vast community of singles on this site, you can easily find a lot of Jewish singles on this platform as well.
3. Match.com
With its compatibility tests and questionnaires, Match.com is a great way to meet new people and find compatible partners. One of the oldest dating sites, the platform has a large community of singles looking for a serious relationship.
Our Verdict
Whatever be the kind of relationship you're looking for in the Jewish community, you can find it here on the j date app. The majority of the profiles here are looking for a serious, long-term relationship, and if you're looking for something similar, you're bound to have a more meaningful experience. Through this JDate review, we've taken you through every aspect of this platform that should inform your decision on whether to become a member of this site or not. 
As we've seen in the JDate reviews here, the j date price includes a high subscription fee, but if you're serious about finding a Jewish partner who aligns with your beliefs, the subscription is a good choice to make. Besides, if you go for a longer plan, you get the membership at a lower monthly price. The site is a great place for Jewish singles no matter what your gender or sexual orientation, and carries a long list of success stories. "I'm not Jewish, but a few friends that are, love using JDate to find like-minded individuals that share their values," says one reviewer.
Final score: 9/10
FAQs
1. Which is the safest dating website for seniors over 60?
eharmony is the safest dating website when it comes to seniors over 60. It has a large number of members to find a partner from, and its advanced matching features help you find profiles with high compatibility.
2. Does jdate have fake profiles?
While a large part of the membership is composed of Jewish singles looking for a partner, there are some fake profiles as well. However, you can report any account that you find suspicious and the platform takes immediate action.
3. Is jdate free?
Yes and no. There's no JDate free trial available on the site, however, you can browse the profiles and respond to any messages via a free account for as long as you want. You won't be able to send the first message though. To get the full experience, you'll need to upgrade.
4. How much does jdate cost?
JDate cost varies depending on the duration of the subscription you purchase. It starts from $29.99 per month and goes all the way up to $50.99 per month.
5. Jdate vs eharmony, which is better?
Unless you're specific about choosing a platform with only Jewish people in it, eharmony is a better choice than JDate. The former has a much larger user base while also offering subscription models that are more feasible than the ones on JDate.
Zoosk Reviews: A Balanced Analysis Of The Popular Dating App
Ask Our Expert
You must be logged in to post a comment.