If your life has become mostly about attending office, sitting with the kids homework in the evening, cooking meals, doing chores, visiting in-laws and planning weekends and holidays with the children, then this article is meant for you. We have some romantic ideas for parents that would make you bond as a couple all over again.
Never let romance die because of your duty towards your children. Having a child in your life is the greatest joy: but it takes all your time and energy to rear and nurture your child. Don't let that be. Take some time to pamper yourself, save up some time for your partner.
The strain of having a child often makes a relationship brittle. Work on your relationship while you still have a chance. That's why we have some date night ideas for parents.
Never forget, your partner is the reason for the pleasure of having the child, so make your partner feel the love and care they deserve. We need to be most careful about the closest of our relationships: they get hurt and feel abandoned most easily. Here are some easy ways to bring back romance after kids.
Parent and child behavioral coach Riddhi Doshi Patel says, "When you have a baby everything goes haywire starting from your sleep schedules to your couple routine. As they grow up, you tend to align your life according to their needs. So it is important to step out of the house and schedule dates to reconnect as a couple. A great idea would be to surprise your spouse by booking a room in a resort for a weekend perhaps."
How Do You Plan Your Parents Date Night?
This is some fun you can really look forward to. It must have been years that you have stopped toying with date night ideas for parents. It's high time you should start again and we are here to help you out.
There is no doubt that romance with a baby around goes out of the window and marriage after kids becomes an unending journey of responsibilities, exams, bills, investments and you start losing yourself as a couple in the midst of all this.
So what do you do then? Start by working on some date night ideas for parents at home. Instead of slumping into bed right after dinner put the kids to bed and Netflix and chill a bit. This would help you relax and connect with your partner at a deeper level.
This would help you also to resume the physical intimacy that is waning in your relationship and bring back the spark in your marriage.
From no romance after kids start talking about couple time after the kids. Yes, we know it's not that easy though.
As a couple you could just rush out for a drive in the rain or make last-minute movie plans or simply stay up all night partying with friends. Now you have to make some prior planning and arrangement if we have to work on our romantic ideas for parents, because you have to be responsible parents first.
Take the following steps if you want to plan date nights as parents:
Have an arrangement with a friend that you can leave your kid(s) at their place when you go out and they can do the same when they go out
If your child is too small have a professional baby sitter over or a friend or family member whom you trust can be around them
If you have children, who are not used to their parents going out on their own and start creating tantrums if they do, make sure you spend quality time with them at the park or even at the backyard before you leave on a date with your spouse
Arrange for your child's needs. Ensure there are enough food and snack, emergency medicines and toys and plays tuff to keep them engaged when you are away
If your child is not used to both parents being out in the evenings or on weekends, take off for short time spans initially but ensure that you go. That's most important
Related Reading: 60 Ways To Celebrate Spouses Day
10 Romantic Ideas For Parents – You Must Try
To bring back romance after kids it's not really that you have to make a lot of effort to plan a date night. It's only that you have to be mentally up to it. If as parents you are spending most of your day away from your child at work, then often you feel reluctant to leave them again and go on a date.
That's normal. But as partners you need some me-time too so there is no reason to feel guilty. Your child will get used to their parents going out for dates.
So what are the best date night ideas for parents? Here are our suggestions.
1. Find a new coffee shop
When you were dating, remember how you used to spend hours at the coffee shop, chatting, reading or even working at the laptop. Check out the reviews on some new places and see if you can find a romantic one with special lighting, music or terrace seating. In other words a café with a romantic ambience.
Take your spouse to this new place and take a corner seat and chat over coffee. This way you would get to spend a wonderful evening with each other and at the same time you are not worrying if the baby sitter has put your child to sleep. You are actually back before bedtime and kiss your kid goodnight. Like our date night ideas?
2. Weekend date night idea for parents
After a child comes to the scene, weekends become time for the family. The spots for family outings become kid-friendly, like the zoo, amusement parks or water parks. However you plan, you can't have a whole weekend to yourselves.
But at least try and get one night. When your kids are tired and satisfied with all the fun you had all day, let them sleep in the other room. Don't go blatantly to the dessert itself; spend some time with each other first.
Open a bottle of wine, put on light music, dim the lights and just sit together and talk. Sometimes catching up on what you have been doing all week can be more satisfying than sex. This is the great weekend date night idea at home you must try.
You make the kids happy, neither do you feel the pressure to dress up and go out again. But you make space for some great romance.
3. Plan a quick lunch from work
Both of you could be working or one of you could be a homemaker but if you can plan a quick lunch on a work day then it can actually feel like an adventurous escapade. It's not hard to be romantic, is it?
In fact, this is the best time to plan a date because your children could be in school then and you won't need to make extra arrangements to ensure they are looked after.
Venus and Jay often meet over lunch on a less busy work day. Sometimes it's a restaurant near Venus's office or sometimes Venus takes the Path Train to be at an eatery near Jay's office. "We try to do this at least once a month. It's like we are dating in secret. The kids don't know about this," laughs Venus.
4. Plan a double date
This is a lot of fun. You can plan a double date with a like-minded couple. Having another couple to talk to can be a lot of fun.
You can actually become more adventurous if you are with another couple. Betty Anderson, a communication specialist, says, "When we go on a double date its a lot more fun. Last time we ended up at a fair and all four of us went up on a roller coaster and enjoyed like teenagers. If it had been only my husband and I, we would have probably never visited a fair in the first place."
Double date can be a lot of fun indeed. And there are lots of things two couples can do at home too, playing innovative games, trying cooking new recipes and stirring up cocktails.
Related reading: 50 Double Date Ideas That Are Fun
5. Go on a staycation – Romantic ideas for parents
Book a weekend at a luxury resort. You can actually take your kids along because they would have a ball at the beach and by the pool. Most luxury resorts have kids clubs or baby sitters. So you can leave the children with them and indulge in some adventure as you go jet skiing or para gliding.
Tiara Patel, a New York based businesswoman says, "My fave is the swim-up bar. While the kids keep playing in the children's pool my husband and I have beer sitting in the pool. I think it's the best dating idea for parents. I really look forward to my swim-up bar dates with my hubby."
6. Go on a walk or a hike
If you are looking for romantic date ideas for parents then consider going for a long walk in the evening. This is a great way to steal some time with each other.
A half an hour walk would be good exercise too. You can hold hands and lean on each other or sit on a park bench for some looking at the stars. Love after marriage is different but the romance can be beautiful.
It's a simple thing but it's a great way to spend some couple time after kids. If you want to bring back the romance after kids then go out for a walk at least 2-3 times a week. If you have more time on your hands and a hiking trail near your house then you can hit the hiking trail as well.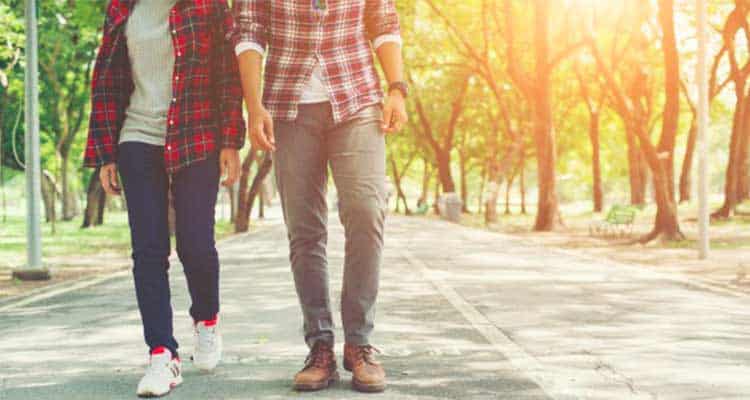 7. Meet your parents
This might not seem like a great romantic idea but trust us it is. When you are going to meet your parents – they might be living close by or far away – work on a schedule so that you can get yourself some couple time after kids.
Grandparents love to dote on their grandchildren and the children won't even miss you with them around. So let them be, stop fretting about the kids and take off on a long drive, go for a candle light dinner or just have a picnic under the stars.
Related Reading: 7 Non-Sexual Couple Things To Do Over A Weekend
8. Go shopping
When was the last time you picked up clothes and accessories for each other? Chances are you don't really remember but you did enjoy your day out at the mall when you were just a couple.
Resume that. Try to find some time when kids are in the school or take a day off from work and spend shopping at the mall all day. Grab lunch and shop till you drop. Retail therapy along with couple time together can prove to be really relaxing and enjoyable.
Couple time is necessary after having a child. If you are saying you don't have time for a date night because you are so exhausted after a long day, then you are just not willing to give that extra effort. But a marriage is a work in progress and date nights and romantic ideas will keep your bond strong and healthy, so don't ever ignore it.
When To Walk Away From A Sexless Marriage – Know These 11 Signs