Escape everyday life as we send you and your special someone to the most ideal romantic escapes that make you laugh and connect intimately. These romantic picnic ideas will compel you to take in the splendor of the outdoors as well as build memories that will stay with you forever.
Imagine a secluded garden adorned with vibrant flowers, and a gentle breeze carrying the fragrance of blooming roses. As you lay down, the world fades away, leaving only the two of you immersed in each other's company. Inspired? Then let's plan your next outdoor couple activities, whether it be a quiet picnic or an impromptu trip into the wilderness. Without further delay, here is our list of 17 picnic ideas to make the perfect formula for an amazing evening.
How To Plan A Romantic Picnic
Before we talk about your romantic picnic menu, let's ensure you're fully equipped for an outdoor adventure with your beloved. Whether you're seeking outdoor romantic picnic ideas for couples in love or planning a surprise picnic for your boyfriend or girlfriend, here's a list of essential gear and supplies to make your experience unforgettable:
Picnic basket: A charming wicker basket to hold your culinary delights and create a delightful presentation
Cooler: Keep your beverages and perishable food fresh with a sturdy cooler
Ice packs: Essential for keeping your drinks and perishables cool throughout the day
Blankets: Soft blankets to create a comfortable seating area
Pillows or cushions: Add extra comfort and relaxation to your picnic spot
Towels: Handy for wiping away spills or drying off after a dip in the lake
Umbrella: Provide shade on sunny days or shelter from unexpected rain showers
Insect repellent: Keep those pesky mosquitoes and flies at bay
Sunscreen: Protect yourselves from harmful UV rays and keep your skin healthy
Sun hats and sunglasses: Stay stylish while shielding your eyes and face from the sun
Related Reading: 51 Non-Cliched Second Date Ideas That Will Lead To A Third
Rain jacket: Be prepared for unexpected rain and stay dry
Hoodie: Cozy layers for when the temperature drops
Binoculars: For birdwatching or observing the scenic views around you
Napkins: Essential for wiping hands and cleaning up spills
Wet wipes: Keep your hands and surfaces clean and fresh
Small trash bag: Pack one to ensure you leave the picnic area tidy
Forks, knives, spoons: Utensils for enjoying your delicious meal
Plates, bowls, cups: Serve your picnic food with style and convenience
Sharp knife: Handy for cutting fruits, cheeses, or bread
Band-Aids: Just in case of any minor mishaps or blisters
Corkscrew and/or bottle opener: Don't forget these tools to enjoy your favorite beverages
Phone/camera: Capture the beautiful moments of your romantic picnic and click some couple selfies
Romantic Picnic Food
Now that you're equipped for the perfect picnic, let's dive into the mouthwatering selection of picnic foods that will delight your taste buds and set the mood for romance. If you're looking for intimate picnic ideas, here are some delectable options to consider.
Sandwiches or wraps: Easy to eat and customizable to your liking
Egg rolls: A tasty finger food with a satisfying crunch
Taquitos: Bite-sized Mexican treats filled with deliciousness
Kebabs: Skewered delights with a variety of meat, veggies, and marinades
Chicken fingers: Crispy and succulent, a picnic classic
Falafels: Flavorful and vegetarian-friendly options for a satisfying meal
Chips and dip: Crunchy chips paired with a variety of tasty dips
Vegetables and dip: Fresh and healthy options for a lighter picnic
Pastries: Sweet or savory pastries to indulge in for an outdoor or indoor romantic date setup
Cheese and crackers: A classic combination of flavors and textures
Fruit: Sliced or whole fruits for a refreshing and romantic touch
Salads: Toss up a vibrant salad with fresh greens, veggies, and dressings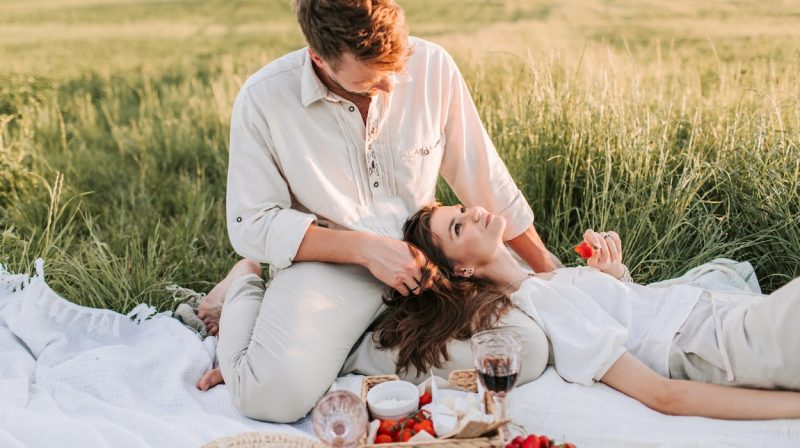 Cookies: Sweet treats to satisfy your sweet tooth
Muffins: Easy to pack and enjoy, with a variety of flavors to choose from
Rice crispy treats: Chewy and indulgent, a nostalgic picnic delight
Pie tarts: Miniature pies filled with fruity goodness
Soft pretzels: Warm and delicious, perfect for dipping
Fresh bread or rolls: Pair with butter, fancy jams, or honey butter
Iced tea or coffee: Refreshing beverages to quench your thirst
Wine: Raise a glass to romance with your favorite vino
Beer: For beer enthusiasts, a chilled brew is always a great choice
Mimosas: A classic brunch drink with a bubbly twist
Lemonade or hard lemonade: Refreshing and tangy, perfect for a picnic
Chocolate milk: A nostalgic and indulgent beverage to sweeten your picnic
Water: Stay hydrated with nature's most essential drink
These delicious options offer something for every taste and preference, allowing you to create a memorable culinary experience during your picnic escapade. Enjoy the flavors of love as you indulge in these delightful treats amidst the beauty of nature.
Related Reading: 101 Heart-Melting Romantic Ideas for Her – Sweep Her Off Her Feet
17 Intimate Picnic Ideas For Couples 
Get ready to ignite the flames of romance. From sun-soaked beach escapes to park rendezvous, the possibilities for a romantic picnic are endless. Whether you choose an indoor romantic setup or wish to be surrounded by nature's beauty, every moment will be infused with connection and joy. And if you're seeking the comfort of your own haven, let your park transform into a cozy paradise where you can indulge in a romantic feast for two. 
With romantic picnic food and activities that strengthen your bond, every picnic date will be an unforgettable experience. Even if this is your first date picnic, what are you waiting for? Grab your date's hand, and let the magic of a romantic picnic whisk you away into a world of pure bliss.
1. A beach picnic is one of the most popular and cheap picnic ideas for couples
Enjoy a special day filled with sun, sand, and delicious food. If you are a beach lover, this picnic idea allows you to bask in the warmth of the sun, listen to the soothing sound of the waves, watch the vast sea, and indulge in a delightful feast. 
Here's one of the most memorable romantic beach picnic ideas at night: Grab a blanket and face the sea while engaging in a deep, meaningful conversation
Have a spectacular beach date set up with a cozy picnic blanket. Enjoy the sunset while sipping sparkling wine
Don't forget sunscreen, beach towels, and a beach umbrella for shade to make such romantic beach picnic ideas truly successful
2. Relive your childhoods at an amusement park
Throw a surprise picnic for boyfriend or girlfriend and experience the thrill of rides and the joy of delicious snacks with this unique picnic idea. Not only can you enjoy a scrumptious meal amidst the lively atmosphere of an amusement park, but you can also take breaks from the adrenaline-pumping rides to relax and savor your picnic spread.
Check if the amusement park allows outside food and beverages
Pack a picnic basket filled with snacks, sandwiches, and refreshing drinks
Find a picnic table or a shaded area within the park to enjoy your meal
3. Engage in meaningful conversations at a museum
Combine culture and culinary delights by embarking on one of the most popular and romantic picnic ideas for couples. This allows you to immerse yourself in art, history, or science and lets your taste buds be equally entertained. Moreover, it's one of the fun things to do as a couple that you shouldn't miss!
Visit a museum with beautiful outdoor grounds
Appreciate the exhibits and artwork, and then enjoy a delectable meal amidst the serene atmosphere of a museum or at a scenic spot within the museum grounds 
Have an amazing picnic with a variety of finger foods, including charcuterie board items
Lay down a blanket and enjoy your meal while talking about the museum experience, whether it's art, science, etc.
Related Reading: 101 Hobbies For Couples – Make Quality Time Count
4. Plan a daytime picnic at a local park
Escape the hustle and bustle of everyday life. Whether you're seeking solitude or planning a gathering with friends, this is one of the most refreshing outdoor romantic picnic ideas for couples. It offers the perfect setting for relaxation, fun activities, and indulging in a variety of snacks. 
Choose a picturesque park with picnic tables or bring your own foldable picnic table
If you are wondering what to pack for a romantic picnic at a park, don't forget tissues and water
Playing with a frisbee, volleyball, or badminton are some picnic activities for couples you can indulge in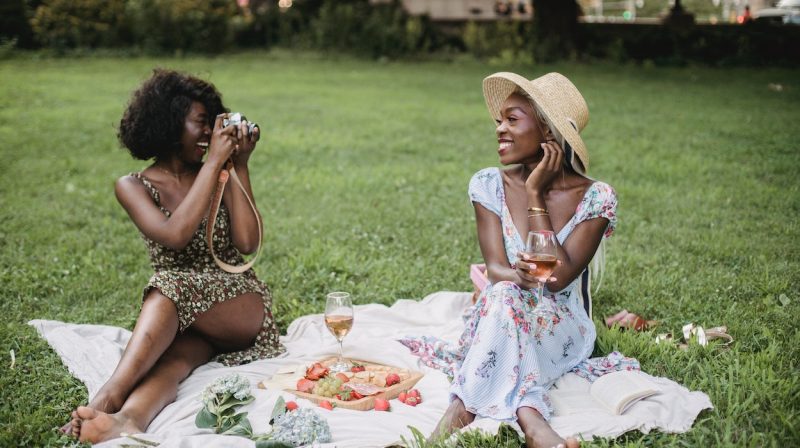 5. A botanical garden visit for all your senses
Immerse yourself in a world of fragrant aromas with a picnic in a garden. Such fun outdoor date ideas allow you to enjoy a peaceful setting while savoring a delightful meal. Unwind with your partner on a weekend and rejuvenate your senses in this idyllic picnic spot.
Plan a romantic outing to a botanical garden with lush greenery and fresh flowers
Pack gourmet sandwiches, cheese, and a bottle of sparkling champagne
Enjoy a leisurely picnic on a cozy blanket 
6. Create starry memories with a romantic date night
Set the stage for a magical evening filled with love and romance. These picnic ideas for couples are perfect for those looking to create an intimate and memorable experience. With soft candlelight, blankets, and a delectable spread of gourmet food, you can enjoy each other's company under the starry sky, making cherished memories that will last a lifetime.
One of the cheap picnic ideas for couples is to set up a romantic picnic in a secluded area of your backyard or balcony
Use a picnic blanket, fairy lights, and candles to create a cozy ambiance
Prepare a gourmet meal with wine, charcuterie board, decadent treats like dark chocolate, and a variety of drinks
7. Savor exquisite drinks at a wine tasting
Indulge in the finer things of life with a wine-tasting surprise picnic for boyfriend/girlfriend. This idea combines the pleasures of gourmet cuisine and exquisite wines. Set against a backdrop of rolling vineyards or a picturesque winery, you can explore a variety of flavors, sip on elegant wines, and pair them with delicious artisanal snacks. This picnic is a sensory journey that will delight wine enthusiasts and foodie partners alike.
Choose a vineyard or winery with picnic facilities
For a classy couple picnic, bring a selection of cheeses, bread, and fruits that pair well with red wine
Bring wine glasses, a wine opener, and a wooden board for a wine-tasting experience
Related Reading: 50 Rainy Day Date Ideas To Feel Close To Each Other
8. A picnic at a scenic location is one of the most fun outdoor date ideas
Escape to a breathtaking location and create a picture-perfect picnic experience. It could be a secluded spot overlooking a stunning mountain range or a serene lakeside setting. Enjoy the serenity, some outdoor couple activities, capture stunning photographs, and savor a delicious spread of treats, making it truly one of the best romantic picnic ideas.
Research and find a scenic location such as a mountaintop, lakeside, or meadow
Pack your favorite foods and drinks, including a charcuterie board with a variety of cured meats, cheeses, and bread
Bring a cozy blanket, good company, and enjoy the breathtaking views as you spend quality time together
9. Curate a fun picnic at an adventure park
Embrace your adventurous spirit with fun-filled couple camping activities at an adventure park. This idea offers a thrilling combination of outdoor activities, adrenaline-pumping rides, and mouthwatering snacks. From zip-lining and rock climbing to go-karting and roller coasters, you can take breaks from the excitement to refuel and recharge with a picnic spread that will keep your energy levels high.
Choose an adventure park that allows picnicking on their premises
Pack easy-to-eat finger foods, sandwiches, and refreshing drinks
Look for romantic couple camping activities that both of you can participate in and then relax 
10. Turn rainy days into cozy delights with an indoor picnic
Wondering what to do on a picnic date if it's raining? Need some romantic living room picnic ideas? When it's pouring outside, you can still indulge in some romantic escapes for you and your bae. Simply turn a gloomy day into a cozy and delightful indoor picnic. It's the perfect opportunity to relax, bond, and create cherished memories, all while staying dry and cozy.
Set up an inviting and cozy indoor picnic in your living room – lay out a blanket and a few cushions, and light some candles
Prepare comfort foods like sandwiches, warm drinks, and a variety of snacks
Play board games or watch movies to make it a fun time indoors
11. Tune into the symphony of a waterfall
One of the most serene picnic ideas for couples – experience the enchantment of nature's beauty as you plan a romantic picnic by a cascading waterfall. The lush greenery and the mist in the air set the stage for a magical and intimate picnic. Enjoy a gourmet meal, feel the spray of the waterfall on your skin, and make new memories that will forever be etched in your hearts.
Plan a picnic near a scenic waterfall or a flowing river
Pack light and refreshing foods like salads, sandwiches, and fruits
Enjoy the soothing sound of water while spending quality time with your partner
Make sure you leave the area as you found it
Related Reading: 20 Beautiful Summer Date Ideas For Couples
12. Experience some countryside peace with a rustic picnic date
Looking for picnic date ideas in the countryside? Escape the city and immerse yourself in the charm of a rustic setting. Surrounded by rolling hills, picturesque meadows, and quaint farmhouses, this idea will offer you both an idyllic atmosphere. Breathe in the fresh country air, savor homemade treats, and take leisurely strolls, embracing the simple yet extraordinary beauty of the countryside.
Find a quiet and picturesque countryside location with open fields and rolling hills
Pack locally sourced-food and drinks, including a bottle of red wine
Bring a blanket and take a leisurely walk after your meal to enjoy the peaceful surroundings
13. Plan a memorable evening by a bonfire 
Get your romantic juices flowing with a bonfire picnic set amidst a camp. Surrounded by green grass and picturesque pathways, the mesmerizing flames will cast a romantic spell. Snuggle with each other a cozy blanket and savor the treats and fine wine as the bonfire illuminates the night, creating an unforgettable picnic under the stars. Just the ideal setup for a round of Truth or Drink, don't you think?
Look for a campsite with a bonfire setup, or take permission from the local authorities to set it up at your local park
Prepare s'mores with marshmallows, chocolate, and graham crackers for sweet indulgence
Take a leisurely stroll hand in hand, basking in the beauty of nature, before settling down for your bonfire picnic
14. Burrow into a warm and intimate cabin
Escape to a cozy cabin in the woods and indulge in a charming picnic experience. Surrounded by towering trees, crisp air, and the crackling sound of a fireplace, this idea offers a snug and intimate atmosphere. Snuggle up with blankets and savor comfort food as you create cherished moments in the warmth and comfort of your cabin retreat. Tell me, have you got any better winter date ideas?
Rent a cozy cabin in the mountains or by a lake
Cook some delicious, hearty sandwiches and pair them with drinks and comforting treats
Enjoy the serene surroundings, have a picnic on the cabin's porch, or set up a picnic inside by the fireplace
15. Travel through time at a historical garden
This is one of the most delightful picnic date ideas for history nerds. Immerse yourself in the rich heritage of a historical garden – Well-preserved architecture, ornate fountains, and meticulously manicured landscapes. Discover the stories behind the garden, appreciate the artistry, and relish in a delicious spread amidst the historical charm, making it one of the most enriching romantic picnic ideas.
Visit a historical site with well-maintained gardens to combine the beauty of nature with a touch of history
Pack a selection of gourmet sandwiches, fresh fruit, cheeses, and a bottle of wine
Take a guided tour of the site, learn more about its past, and enjoy a picnic discussing the facts you just discovered
Related Reading: How To Date Yourself? 13 Solo Date Ideas To Try
16. Find the perfect spot for a scenic sunset 
Witness the breathtaking beauty of a sunset while enjoying a picnic at a scenic overlook. As the sun paints the sky with vibrant hues, you and your loved one can relax and soak in the awe-inspiring view. Whether it's atop a hill, a cliffside, or a rooftop, this idea provides the perfect vantage point where you can indulge in a delightful meal and be captivated by nature's stunning display.
Find a spot with a panoramic view of the city or nature
Don't forget to pack delicious snacks, sandwiches, and a bottle of champagne
Arrive early to secure a good location and witness the breathtaking sunset together
Take a photo as a souvenir especially if it is your first date
17. One of the most intimate picnic ideas is to plan a surprise picnic at your partner's favorite spot
Show your thoughtfulness and love by surprising your partner with a picnic at their favorite spot. It could be a park, a beach, or even a rooftop with a stunning view. This idea is all about personalization and creating a memorable experience tailored to your partner's preferences. Pack their favorite foods, set up a cozy picnic spot, and let them feel truly appreciated and cherished – this surprise will speak straight to their heart.
Choose a location that holds sentimental value for your partner such as where you had your first date or a place they love
Pack their favorite foods and drinks, along with some romantic surprises for them
Set up a cozy picnic and enjoy each other's company. Maybe even make it an anniversary ritual?
Key Pointers
Choose a picturesque location for your date that sets the stage for one of the most romantic picnic ideas like a beach, park, museum, or botanical garden
Curate a delicious food menu with refreshing drinks, sandwiches, salads, fruits, and indulgent treats
Create a cozy and romantic ambiance with items like blankets, fairy lights, candles, and personal touches to make the experience extra special for your partner
Engage in bonding activities and enjoy quality time together, whether it's playing outdoor games, taking leisurely walks, watching the sunset, or simply cherishing each other's company in the beautiful setting you've chosen
As you reflect on the delightful picnic menus, the joy of picnic activities, the perfect natural setting, and the excitement of surprise picnic dates, remember to always pack with care and thoughtfulness, with just a touch of spontaneity. Let each date be a celebration of your love and an opportunity to connect. May your future picnics be filled with unforgettable experiences as you continue to explore new locations, try new picnic recipes, and enjoy the simple pleasure of each other's company. 
23 Virtual Date Ideas For Long-Distance Couples To Feel Closer