Are you under the impression that wedding anniversary gifts have to be meaningful and traditional? You couldn't be more wrong. You can opt for some funny gifts for couples to elicit laughter and joy between the couple. We'll introduce you to some useful gag gifts for couples which your favorite duo will absolutely love.
Gifting requires a lot of thinking, especially if the person is close to you. It becomes even more difficult if you are shopping for a couple as you have to make sure that the gift is loved by both of them. The best way to choose a gift in such a scenario is by going for something humorous, light, and that relieves tension for a while.
Best Funny Gifts For Couples That'll Make Them LOL
If the couple is close to you, then you can look at all kinds of funny gift ideas for couples without being cautious about offending them. We are sure you're bored of giving the same gifts over and over. The same old jewelry, perfume, and watch set. You can skip such boring, sentimental gifts and replace them with the below list of funny anniversary gifts for couples.
1. Reversible pillow cover 
This pillow cover is one of the best gag gifts for couples or white elephant gifts that they will love. It's for the times when one of them isn't in the mood for sex. With the help of this pillow cover, they now have a quirky way to say this to their partner. One side of the pillow says "Tonight (whoohoo)" in excitement and the other side says "Not tonight (sorry)" along with a broken heart emoji. It's so cool, isn't it?
Made of high quality, soft, and durable polyester
Perfect decoration for sofa, couch, bedroom, living room, office, club, etc.
Machine wash/hand wash in cold water
Comes with an invisible zipper opening 
Related Reading: 32 Best Gifts For Movie Lovers & Film Fans
2. Couple's apron set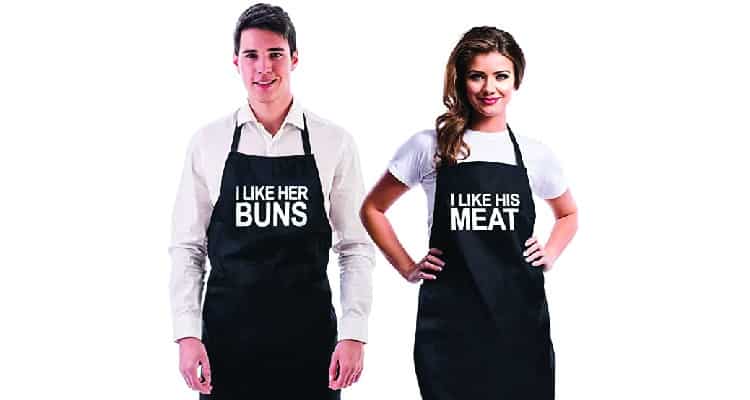 Share a good laugh with the couple when you give them this printed couple apron set. The aprons read "I like her buns" and "I like his meat". It's one of the most inappropriate and funny wedding gifts for couples whom you've known for a long time. The couple will spend quality time in the kitchen cooking their favorite dishes. Such funny gift ideas for couples will help them add some fun and romance in their newly married life. 
Protects from spills, grease, and food stains 
The aprons are made of high quality, polyester cotton material
Has two large pockets to keep your kitchen weapons ready
Both aprons come with an adjustable neck tie and a long waist tie for all body shapes and sizes
3. Couple's card game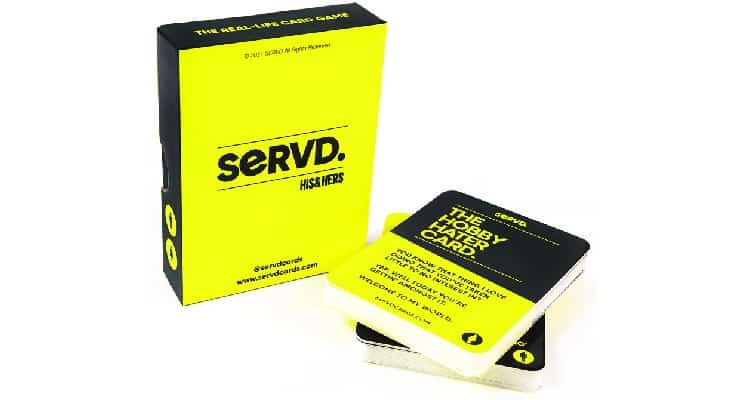 This game is a raging success and has amazed the people at Buzzfeed, Glamour, and Refinery 29. This is a game played between a heterosexual couple. It takes scenarios that come up between you and your partner, turns them into hilarious actions in this card game, and injects some fun, cheekiness, and strategy into all types of situations. Such gag gifts for couples can bring adventure and spontaneity into any couple's life. 
2 players only, 18+ advised
54 life-changing relationship-based cards
Gives players 27 chances to force each other into doing a variety of wonderful things
4. Toilet timer
Seen on the famous show Shark Tank, this toilet timer does what the name says. The sand timer runs for about 5 minutes. No more 40-minute bathroom breaks. It's the perfect gift for those who tend to linger in the bathroom even after the job is done. 
To set the timer, rotate the device 360 degrees clockwise, set it down, do your business, and get out 
Has a sturdy construction
It's time to go or get off the pot before legs fall asleep
Unique mechanism resets instantly without needing to be held upside down
5. The 'kiss me' desk bell
Add a little zing back into the couple's relationship with this purple 'ring for a kiss' front desk bell. This is one of the best funny anniversary gifts for couples as the bright purple bell will create a distinct, loud ringing sound to announce the time to smooch. 
The 'kiss me' bell can also be used as a table centerpiece at an engagement party or a wedding to encourage the newlyweds to flaunt their eternal love with a kiss
The desk bell creates a loud, crisp sound 
This small purple desk bell is made of alloy steel and a black base
It features bold black letters printed on the front that read "Ring for a KISS"
6. Coaster set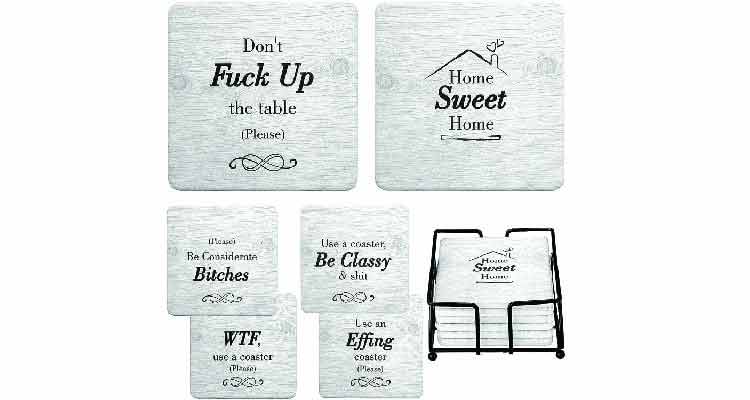 This is one of the best gag gifts for couples who keep throwing in-house parties. Their table will never be boring when they are entertaining guests with these coasters. They can play 'Never have I ever' and have a blast. It's a hilarious way to remind people to keep their drinks off the table and get a few free laughs too.
These set of 6 ceramic coasters are super-absorbent to all the moisture from your glasses and mugs
This keeps your table stain-free all the time
Each decorative coaster is lined with non-slip cork backing to protect furniture tops
These rustic coasters will accommodate all sizes of cups and glasses
Related Reading: 15 Custom-Made Personalized Couple Gifts
7. Adult drinking game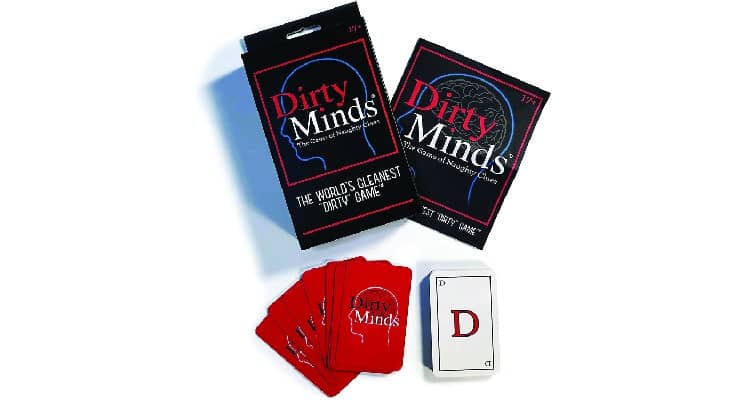 When the couple has had a hectic day at work, this gift will ensure they let loose and end the day on a good note. The language is clean, the answers are also clean, but it's their mind which is dirty. With its easy rules and quick gameplay, it'll get their party started in no time. Such couple gift ideas will help them get to know each other better while having a great time. It can also be played with friends and family. 
The world's cleanest dirty game
Set includes 112 total cards in a convenient travel pack
56 game cards (5 naughty clues and one clean answer per card) plus 56 scoring cards
Comes with 2 decks of cards – for clues, answers, and scoring
8. Personalized bobbleheads
This is one of the best gag gifts for couples as you can create their miniature versions in a funny way. These bobbleheads display every small detail. They have a remarkable resemblance, exquisite facial features, precision painting, pretty decorations, and delicate hairstyle. A really fun and thoughtful gift that is not only eye-catching, but also a conversation-starter.
Click the 'customize now' button, then provide photos and further information
After the figure's head is finished, they will send you the photo for confirmation
Once you are happy with the complete bobblehead, it will be shipped with care to your address
100% handmade
9. The Love Mop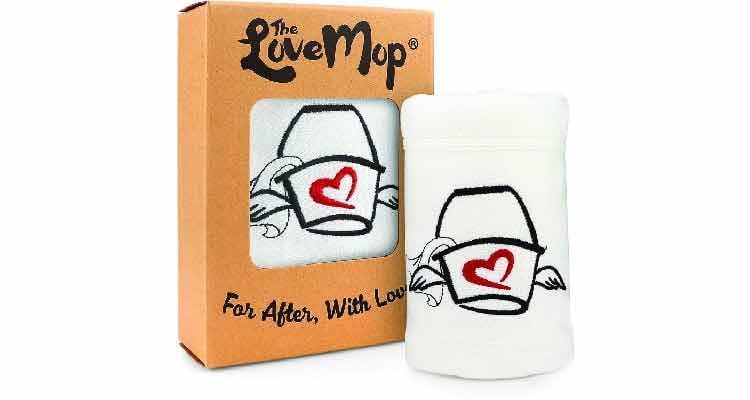 This is one of the best funny gifts for couples as it does what the name suggests. The Love Mop is purposely created to clean up after sex. You don't want to be using some random thing – underwear, baby wipes, tissues. Washcloth? Too small. Hand towel? Too big. Most importantly, those things are made to absorb water, not you-know-what. 
It is soft, fluffy, and absorbent enough for any situation
Embroidered with the 'love bucket' logo to add sexy playfulness, you will never confuse it with any of your other towels
Comes in a kraft paper gift box, ready to be given as a cute and fun sexy gift
Thick and plush double-yarn terry is super absorbent, leaving you comfortable and dry, ready for more fun
10. Shot glasses
Guaranteed to make everyone laugh, this is one of the best funny Christmas gifts for couples. The shot glasses have a thick glass and a sheer rim. One of the shot glasses reads "I like her buns" and the other reads "I like his guns". Picture the moment they open the box, read the hilarious text, and have a good laugh. As they always say, couples that drink together, stay together. It's time you stop settling for boring and generic gifts and move on to crazy gag gifts for couples.
This clear shot glass can hold up to 1.75 oz of your alcohol of choice
Dishwasher-safe
The imprinted design will display on the front of the shot glass as pictured
The durable imprint creates a vibrant, long-lasting, and lead-free design
11. Kitchen towel set
Running out of ideas for funny Christmas gifts for couples? Here is another great one which will hilariously elevate the look of their kitchen. Kitchen towels are a staple cleaning accessory in every house. Why not give them something which they can look and laugh at while cleaning the spillage? It's a kitchen towel that'll make the couple smile.
All the towels are made of 100% cotton
Features beautiful and humorous prints on all 4 towels
Easy clean with machine-wash
12. Citrus and lavender-scented candle
A candle with a funny saying makes for a unique way to make the couple laugh out loud. This is one of the best funny wedding gifts for couple as the print on it says: "When this candle is lit, give me that d*ck".
The scented candle is handmade with high-quality soy wax and fragrant oils
The soy wax burns nice and clean and is eco-friendly
Wax can be easily cleaned out of the jar with hot soapy water, and the jar can be reused or recycled
Approximately 35 hours of burning time
13. Wine glass set
Couples who drink together stay together, right? These are hilarious gifts for couples who are sloppy drunks. These wine glasses are amusing and funny gifts for couples as each of them is printed with the saying: "Let's keep the dumbf*ckery to a minimum today". 
Holds 15 oz of cocktails
Dishwasher-safe
Made of high quality glass
Not microwave-safe
14. Swear jar
These jars are candid and fun couple gift ideas for the couple who swear a lot. Imagine they are watching a football match and their favorite team is losing. They will save a fortune overnight. Every Cottage Creek piggy bank stands over 5 inches tall and is perfect for holding small office supplies, candies, and loose change from when they swear a lot.
Crafted from premium, stoneware ceramic materials
This swear jar is twice fired, ensuring the durability to withstand daily use at home or at work for years to come
Standing 6 in tall and 5 in wide
Completely dishwasher-safe, ensures a quick cleanup
15. Burrito blanket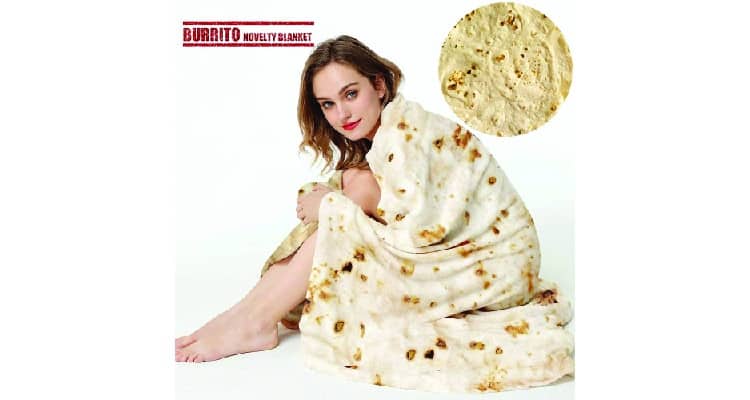 If the couple loves Mexican food and snuggling up with each other under a cushy blanket, then get such funny gifts for couples and help them get cozy on movie nights as movie date ideas keep the romance alive.
Premium quality 285 GSM ultra-soft flannel blanket that is super thin and breathable
Feels relaxing to use even during the summer
Soft to the touch, it is a lightweight blanket suitable for all ages, people, and pets
Comes in multiple sizes and colors
Related Reading: The Ultimate Bucket List For Couples – 71 Fun And Romantic Things To Do
16. Plant pot set
"Say Aloe to my little friend" is cheekily printed on the planted pot which also comes with another that says "Little friend". These succulent planters are supremely cute and make great funny gifts for couples who love to garden. 
The decorative planter pot with a farmhouse style font fits most home decors and can be paired with a variety of plants
Package includes 2 ceramic pots and 2 bamboo trays
"Say Aloe" pot measures 4.7 in H x 4.7 in W. "Little friend" pot measures 3.1 in H x 3.1 in W
Made of premium quality ceramic material 
17. Mug set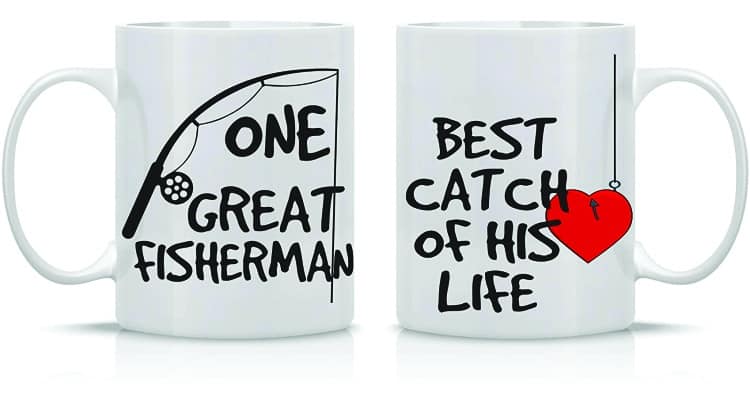 These perfect, funny gifts for couples are heartwarming and witty at the same time. One of the mugs is printed with the saying "One great fisherman" and the other one reads "Best catch of his life". 
Made from premium, smooth, scratch-resistant quality stoneware ceramic for outstanding durability
Printex on both sides of the mugs which make it a great option for left or right-handed use
Holds 11 oz liquid 
Dishwasher and microwave-safe
 18. Pooping pooches calendar
Do they love dogs a little too much? Then here are some funny gifts for couples who are into dogs as much as they are into each other. This 12-month calendar of pooping dogs will be one of the funniest gifts they have ever received and they will never forget it.
Each month reveals a beautiful pooch answering nature's call 
The calendar is 8.5 in x 11 in when closed and 17 in x 11 in when open
$1 from each sale is donated to help a dog in need
Has U.S. holidays 
 19. Wall-mounted bottle opener
Are there any funny gifts for couples who are beer lovers? There sure are. This wall-mounted magnet bottle opener is useful as well as amusing. It is made of carefully selected black walnut and alloy. The retro texture looks noble and elegant. It is also fadeless and corrosion-resistant. This basketball-shaped bottle opener coupled with a handmade basket to collect the caps is a creative, cool, and unique gift for beer lovers and brewers.  
You only need one hand to open the bottle
After opening the bottle, the bottle cap will be automatically collected into the basketball net, which saves you the time to clean up
The bottle opener has a strong magnetic and rubber pad on the back, which can be attached directly to the refrigerator or a smooth metal surface
You can also use double-sided tape to attach it wherever you want to decorate, or install expansion screws on the walls
20. Undies for two
This is hands down the funniest gift on this list. This underwear has four leg holes for two people. This 'fundie' is one of the most creatively funny gifts for couples as they can wear this at their house party and have a good laugh with their friends. 
Cotton-made with a stretchy elastic band and four leg holes
Lightweight, sturdy, and offers a great fit – one size fits most teens and adults
Has a long-lasting stretchy elastic band
Funny gifts are trending these days. So, what are you waiting for? Go over the above list of couple gift ideas and have a great time choosing some of them for your favorite couple. 
15 Best Zodiac Gifts For Him And Her – Astrology-Themed Gift Ideas