The quote 'first impression is the best impression' has led all first dates to become quite nerve-racking. Along with looking your best self, there is an added pressure to impress your date by being charming and acting nonchalantly. If you are going on a first date with someone you met recently, then here's the first tip to ace the date — get them a gift. First date gifts will definitely lessen your stress and worries about making the right impression.
Feeling nervous before the first date is quite normal. You have done your thorough research about the person you are going on a date with. You have even picked out your favorite outfit to dazzle them. Now it's time to get the best first date gifts. But before that, let's take you through some tips to keep in mind before heading out for the date.
Tips For First Date
You have butterflies in your stomach, your mind is racing, adrenaline rushing in your veins, and you don't know what to talk about. You are suddenly conscious about how you look, sit and eat. All of the aforementioned things are normal.
To reduce this pressure, you will have to learn a few things to not do on a first date like don't show up late or don't be arrogant about your looks. The best tip is to look at first date gifts and select the best one; we will get to that in a minute. Before that, we have some tips for you so you can leave a lasting impression on your date. 
1. Choose a place where you are comfortable 
Always select the right place for a first date. If loud music and large crowds bother you, then never go to a pub on the first date. If you like a calm and relaxing atmosphere, select a cafe with a cozy ambience. 
Related Reading: 20 Valuable Tips For A First Date After Meeting Online
2. Keep the conversation going
The purpose of any conversation is to get to know the other person and understand them better. Don't keep the focus on yourself and go on prattling. Make it a two-way conversation. Ask good questions. Keep it interactive and interesting. There are many topics to impress your date. use those topics to keep them engaged.
3. Be mindful about touching them
Some people think that touching your date a lot will let them know that you are mighty interested in them. That could be true in a few rare cases. It is a major turnoff for most people. Always keep the touching to a minimum. 
4. Compliment them
Everyone loves to receive compliments. But don't start off with a creepy compliment. Say something nice like "you look great" or "I like your hair color". You can also compliment them on their taste in music or their career choice. 
5. Don't use curse words
While it may be cool to casually throw the F word around your friends, some people find it extremely abhorrent when people start throwing abusive words around on the first date. So, always keep cuss words to a minimum. 
Those are some of the first date tips to keep in mind. If your date wants to split the bill, there's no harm there. Go for it. Don't get too excited and shoot yourself in the foot. Go with the flow, be present in the moment and have a great time getting to know a new person. 
Top 12 First Date Gift Ideas For Him And Her
Gifts on first dates are in fact the best icebreakers and as promised, below are some of the best and unique first date gifts which will warm your date's heart and ensure the date goes smoothly. 
Related Reading: 55+ Flirty First Date Questions | Jaw-Dropping List of 2022
1. Preserved roses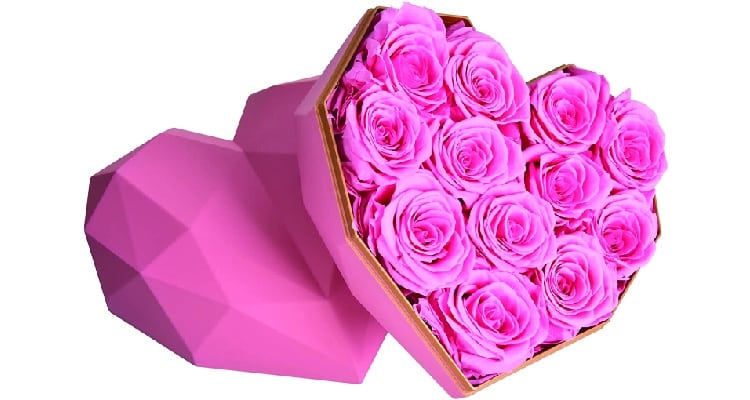 Flowers on first date are a classic way to impress someone, and roses are never a bad idea. What's even more special about this gift is that these roses can be preserved for over a year. These preserved roses are made up of fresh and real flowers and they come in a heart-shaped gift box.
This is one of the most beautiful first date gifts for her as the roses are hand-picked at peak freshness after which they undergo an intricate process to preserve the quality and integrity of the petals. The roses are then placed in a pink, heart-shaped, diamond-esque box.
Composed of 12 large roses
Each rose undergoes a unique preservation technique allowing it to maintain its color, beauty and freshness for over a year
No watering and no need for sunlight
Related Reading: 18 Best Eco-Friendly And Sustainable Gifts For Her
2. Cufflinks
No man's accessories collection is considered complete without the addition of some sleek cufflinks. This is one of the most thoughtful first date gifts for him which will sweep him off his feet. He'll be surprised that you went out of your way to get such a thoughtful gift for him. 
Advanced polishing technique and complex production processes to keep the surface glistening
Has smooth edges and made of sturdy and durable stainless steel
Perfect size for daily outfits
These are easy to use as they come with a bullet back closure
3. Lindt Creation Dessert
First date nerves are normal. Curb those nerves with a box of the finest assorted chocolates. This special Lindt assorted chocolate box features an indulgent array of mouth-watering milk chocolate and rich dark chocolate candies carefully crafted using only the finest ingredients. This is one of the best first date gifts for her as it comes with a wide variety of chocolates. Make your first date special by adding a touch of elegance with these gourmet chocolates. 
40 pieces of chocolates in this gift box
Varieties include chocolate fondant, brownie, caramel eclair, tiramisu and more
Comes with gourmet packaging which is perfect for gifting purposes
4. Glass Anemone paperweight ball
How about first date gift ideas which scream luxury? This paperweight looks nothing short of an underwater dream. It is inspired by the design of the anemones. It is life-like and full of vitality. It is the perfect gift for first date: it comes with a three-dimensional pattern which makes the crystal clear beauty of the glass material more prominent.
The overall spherical design of the gift has a dreamy atmosphere
It's made of high-quality glass that is translucent and elegant
It has a realistic shape and vivid imagery
The paperweight is purely hand-made
5. Jasmine scented candle
Jasmine essential oils are touted as a natural remedy for stress that is sure to fill your date's home with a strong, relaxing, long-lasting scent. It will help them unwind at the end of the day and it will remind them of you. The reason why this scented candle makes for one of the best first date gift ideas is because the candle is packaged in a high-quality, white-tinted heavy glass in an exclusive signature box with cream, black and gold detailing.
Made using lead-free cotton wicks
Made of premium, soft, highly-refined perfume-grade fragrance oils and pure soy wax
It is a biodegradable and eco-friendly product that gives a clean burn and long-lasting hours of aromatic bliss
Paraben and cruelty free. Burn time of 50-65 hours is guaranteed 
6. Tie and pocket square gift set
This is one of the safest first date gifts for him if you aren't inclined toward gifting something romantic. If you get something too romantic on the first date, you might come across as desperate. Save those gifts for later when you have developed a rapport with your date. For now, go with this tie and pocket square gift set and charm him with your confidence. 
You can choose from two options: 3 piece gift set or 5 piece gift set
The patterns in both the set include paisley, flower, stripes and plaid
They come in various colors. Pick the color that you think he will love the most
The necktie and pocket squares are made of silk. The stitching and threading is jacquard woven which will assure durability and wearability
Related Reading: Top 14 Best Practical Gifts For Couples
7. YETI Rambler 20 oz Tumbler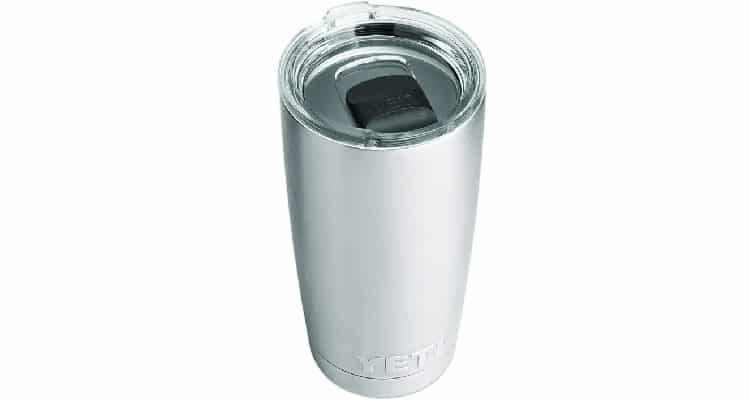 You don't have to know a person too well to gift them a coffee or tea tumbler. They are always a hit and most of us need our morning coffee to begin our day with positivity and good vibes. This is one of the best first date memory gifts which will remind them of you every time they take a sip from the tumbler. YETI manufactures not just tumblers but also mugs and jugs that will keep your drinks hot or cold.
This tumbler is BPA-free and dishwasher-safe
It comes with MagSlider Lids, which won't allow your beverage to spill
It is made of stainless steel making them puncture-resistant and rust-resistant
It will keep your drink hot till the last sip because of the double-wall vacuum insulation feature
8. Hoop earrings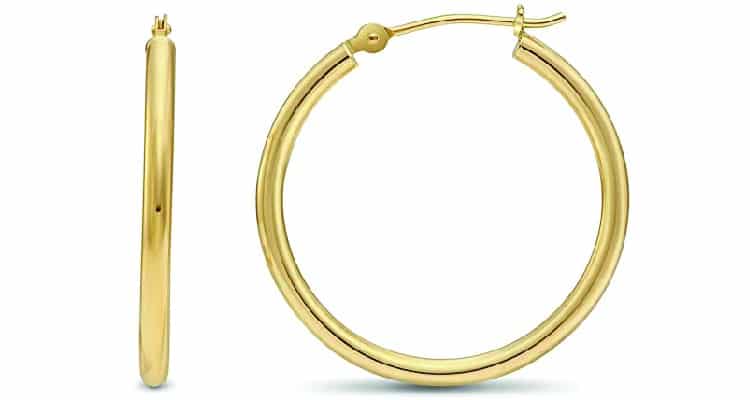 Minimalist jewelry is here to stay. These everyday-wear, round, hoop earrings are a must in every woman's jewelry box. These gold hoops are as understated as can be. They are easy to put on and are elegant and classy. This is one of the best ways to impress a girl on a first date. Such first date gifts for her will guarantee you have a great date.

14k yellow gold or rose gold; available in various sizes
Polished, shiny, classic hoop earrings with sturdy click-top closure 
30-day money-back guarantee ensuring complete customer satisfaction
9. Slim pocket card holder
These wallet cum card holders are great first date gifts for him as they are designed to have convenience, elegance and plenty of room at the same time. It is well-suited to daily use as it is sturdy and light, making it ideal for travel.
Made of superior cowhide leather
Masterfully sewed with durable and polyester fabric ensuring long-lasting durability
Equipped with advance RFID Blocking technology which protects your valuable information stored on RFID chips from unauthorized scans while you are on the go
10. Faux succulent arrangement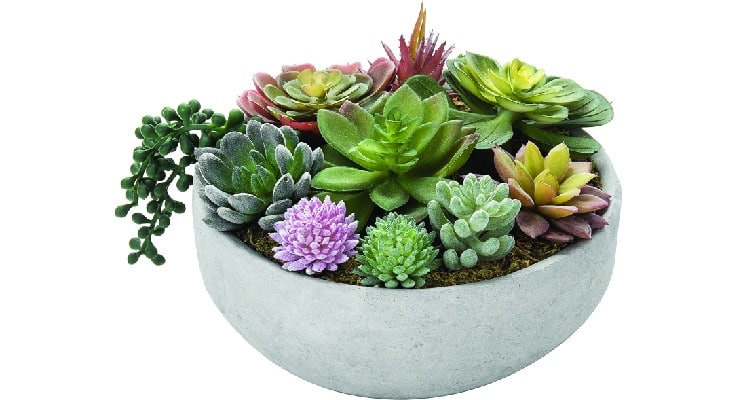 This is one of the best first date gift ideas as your date can enjoy all the pleasing benefits of succulent plants without the mess and maintenance required from the real thing. These artificial, faux succulents look so real, her guests won't notice the difference.
Variety of different succulents creates an intriguing texture that adds shape and dimension to any room
Arrangement of mixed artificial plants with moss fill up the concrete planter
Beautiful faux succulents potted in simple gray concrete pot gives a sleek industrial look; perfect for contemporary decor
 11. Mulberry silk scarf
You can never go wrong when choosing a scarf for someone. All you have to do is select a neutral color that almost everyone will love. Choose a scarf like this, which is of good quality and at the same time, is not overly expensive either as it is only your first date together. These affordable gifts will surely elevate your date's mood.
Made of 100% mulberry silk
It is super soft and comfortable 
It is lightweight and features a colorful print
Perfect for any kind of outfit
12. Persian grove journal
A journal is one of the best unisex first date gift ideas which your date can use later to write down the memories of the date. This journal is so exquisite, the cover binding gives off mystical 16th-century Persian poetry vibes. It features lacquer painting with gold and pearl dust. 
160 lightly-lined writing pages 
Made of acid-free, archival quality paper
Comes with a gilded-golden page edging and an elegant ribbon bookmark 
Has a sturdy sewn binding, which will make the hardcover volume last longer
Learn all the dating etiquettes and charm your first date. Always keep in mind that gifts on first dates need not be romantic. They just have to be thoughtful. Just flowers on first date also do the trick of lessening the awkwardness. But if you can afford to spend a few extra bucks, then put in some thought to get them one of the best first date gifts and show them how endearing you are.
FAQs
1. How can I make my first date special?
You can make your first date special by getting the best first date memory gift which will be cherished later. You can be courteous and warm and indulge in a good conversation. 
2. What should happen after the first date?
After the first date, if both parties are interested, you can plan for another date. You can text them and see if they are interested in meeting you again. Just don't act creepy and bombard them with messages.
3. How do you end a first date?
If you want to pay the bill, then you can go ahead and do that. But if you or your date wants to split the bill, there's no harm in that either. You can casually bring up the topic of another date. Don't assume that they want to have sex just because you had a good time together. After you reach home, send them a text and let them know you had a good time. 
12 Best 10 Year Anniversary Gift Ideas For Couple To Celebrate Decade Of Togetherness