Looking for some unique gifts for sisters so you can take home the best sister award? You've come to the right place. Sisters are your best friends right from birth. They never leave your side. They are your secret keepers and protectors.
A sister is a forever BFF. There is no expiry date in this friendship. Not everybody is lucky to be blessed with one. If you are fortunate to have a best friend cum sister and want to let her know that she is loved and appreciated, then go through this list of gifts for sister that we've put together for you.
Thoughtful Gifts For Sister – 40 Best Sister Gifts
Sure, as a kid the two of you fought a lot, but now you're both as thick as thieves. You share every little detail about the events in your lives with each other, both major and trivial. You tell them about your work life, college life and dating life. Over time, a sister becomes your personal diary. This list has all kinds of gifts. Expensive gifts and also simple yet practical gifts.
They've put up with your tantrums and squabbles as you grew up and also helped you get out of difficult situations multiple times. They've stood by you in times of difficulty and now it's time you thank them for being there for you by getting her some special sister gifts. 
1. Sleeveless bodysuit tanktop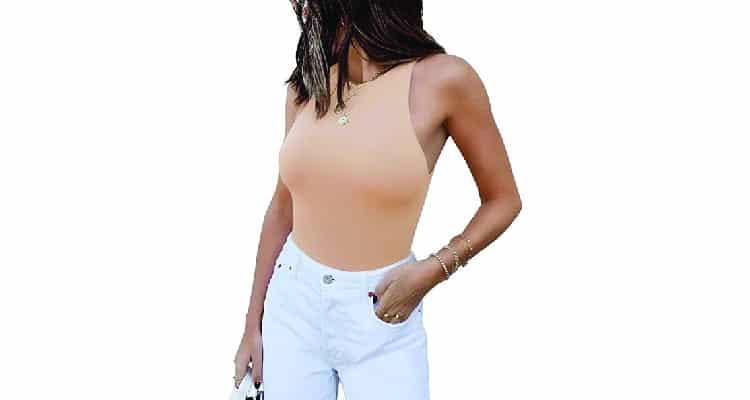 If your sister's a fashionista and loves to show her curves then this smooth silhouette racer back bodysuit is one of the unusual gifts for sisters. Perfect for everyday fashion and an essential in every woman's wardrobe, your sis is definitely gonna be turning heads in this one.
Double lined
Built-in support for breasts so can be worn without a bra 
Silhouette dips for some subtle side-boob action 
Material is 75% Nylon and 25% Spandex
Related Reading: 35 Funny Gag Gifts For Women | Best Gift Ideas For 2022
2. Ten piece gift package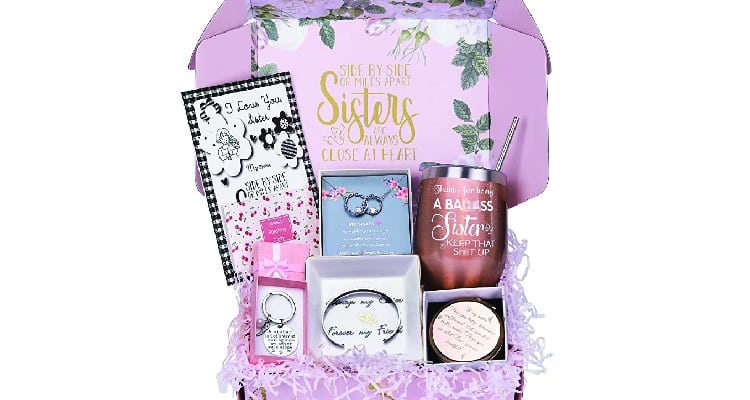 This package is a great birthday gift for sister who has everything. This gift box is filled with lovely gifts, including 2 interlocking circles sister necklace, an original double-sided sister tumbler, a trinket dish, rose gold compact mirror, sister inspirational bracelet, keychain and greeting card. Each item is carefully selected for this gift package making it to our list as unique gifts for sister.
Necklace is 925 sterling silver
Suitable for sensitive skin
Tumbler has a funny saying printed
3. Sisterhood sayings throw blanket
This blanket is one of the perfect Christmas gifts for sisters as it radiates the Christmassy mood. Printed all over with phrases celebrating sisterhood, such as "Because I have a sister, I will always have a friend" and "Love you to the moon and back", this blanket is one of those special sister gifts. It is a practical, soft and warm gift, as well as a daily reminder of your love and appreciation for your sister which she can see and wrap herself up in every day.
Rich and fluffy feel
Perfect for snuggling on the couch
Made from super soft Sherpa on one side and colored fleece on the other
Lightweight and breathable: 460grams only 
4. Engraved rose gold compact mirror
One of the most thoughtful gifts for sister is this exquisite compact mirror in rose gold color which has a heartwarming message engraved on it. "To my beautiful sister. Never forget that I love you. As you look in the mirror, I hope you see what I see". These are unique gift ideas for women who have everything.
Can be carried anywhere
Double-sided folding mirror
Made of quality alloy
One side is a standard mirror, other side is a mirror magnified twice
5. Engraved wooden cheese board
Such unique gifts for sister are designed to be used at parties or family dinners, this cheeseboard will really boost your sister's house party decor. It has a meaningful message which will always be on display – "World's Best Sister. You Are Amazing", so even the party guests can't help but go "Awww!"
Has two hidden draws
Drawers can double up as plates
Made of 100% natural bamboo
Strong and durable
6. Lavender scented candles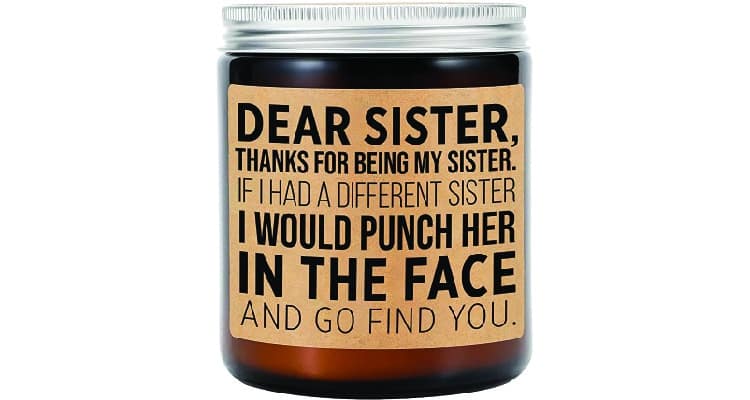 The lavender scented candle has a message on the outside of the bottle which says, "Dear sister, thanks for being my sister. If I had a different sister I would punch her in the face and go find you". Sweet, quirky and funny, this can be presented on any occasion…be it as a birthday gift for sister or as Christmas gifts for sister. 
50 hours burning time
Relaxes the body and promotes good sleep
9 oz cotton wick scented candle
100% natural soy wax
7. Engraved cuff bangle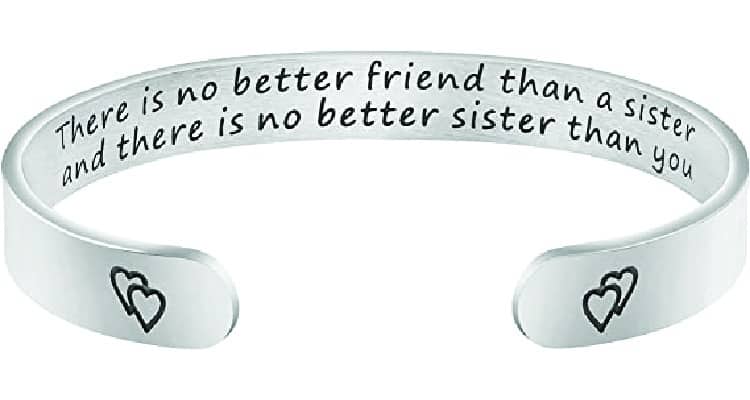 If your sister loves minimal jewelry, she will love this bangle. It comes with an uplifting message engraved on the inside of the cuff bangle. "There is no better friend than a sister and there is no better sister than you." 
Adjustable and will fit most wrist sizes
Exquisite quality and so affordable
Polished and also very smooth around edges
Related Reading: 21 Wedding Anniversary Gifts For Parents
8. Sentimental sisters figurine
This is one of the most unique gifts for sisters as it is an artistic representation of the sentiment "Walk with me and along the way we will share everything." These are unusual sentimental gifts for best friends and sisters as they celebrate the act of being supportive and encouraging toward one another. 
8.5 inches in height
Hand-painted resin figure of two women
One in a cream dress and another one in gray standing next to each other with arms and hands connected.
Cast from Susan's original carving and painted by hand
9. Unique coffee mug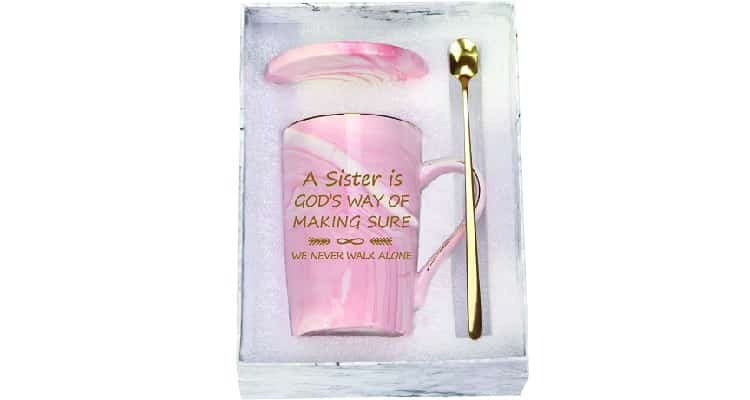 Looking for Christmas gifts for sister that will show her exactly how much you love and adore her? Then look no further than this elegant looking mug which comes with a pretty spoon and coaster. It has these lovely, warm words printed on it – "A sister is God's way of making sure we never walk alone".
Mugs are all handmade
No two mugs will have the same print
Smooth and easy to clean
Microwave safe
10. Tell time racks
These are unusual gifts for sister which highlights the bond the two of you share. This rustic gift will look great in her kitchen. The gift box includes all the high quality materials required to set up the racks, including all the hooks and screws.
Includes all materials needed for assembly
Made of strong, safe and sturdy quality wood
Racks are 16.5 inches tall and 12.6 inches wide
Can easily fit onto any wall 
11. Birthstone necklace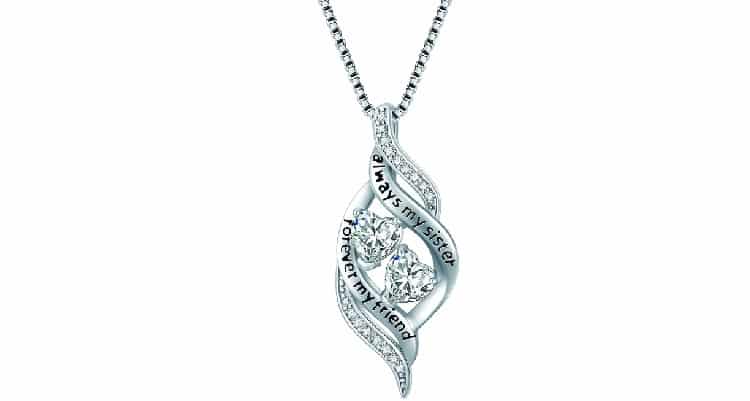 Celebrate the beautiful bond of sisterhood by giving her with these elegant and thoughtful gifts for sister. This will assure her that no matter where you go, no matter what you do, she will always have you by her side. 
12 gemstones to choose from according to birthday month
Chains made of 925 silver
Nickel-free, lead-free and hypoallergenic
12. Stemless wine glass
This is a birthday gift for sister who has everything and if the two of you live away from each other then you can be sure that whenever she is having a sip from this wine glass, she will surely remember to text you.
Buy sets of 2, 4, 6, 8
15 oz stemless wine cup
Can also be used to hold candles
13. Ceramic ring dish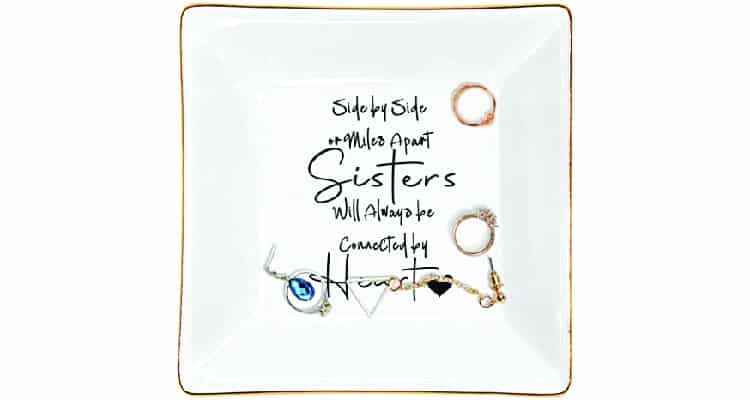 Such unique gifts for sister will make her adore you even more. She can use this ring dish to hold  her jewelry. She can keep this on her nightstand or on the kitchen counter. It has a lovely quote printed on it too – "Side by side or miles apart sisters will always be connected by heart". These are affordable gifts under $50 that she will absolutely adore.
Crafted from high quality glazed ceramic
Approximately 4″ x 4″
Perfect for holding several rings or a necklace or bracelet
14. Themed tote bag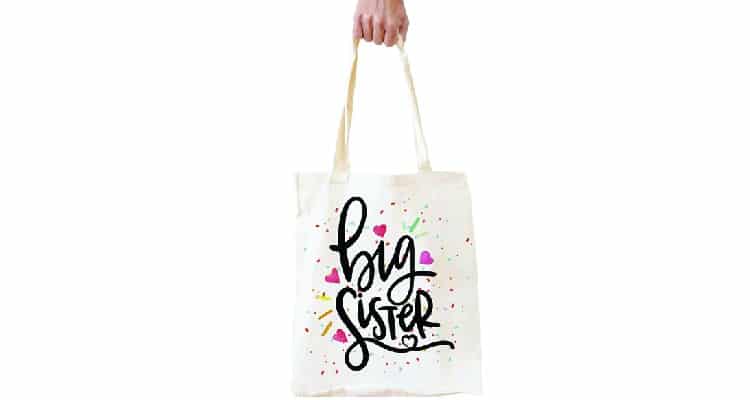 This tote bag with interesting theme patterns will definitely grab her eyeballs as well as her heart. This birthday gift for sister will add fun and color to her life. She can take this to brunch with her friends, on a coffee date or even while running errands.
100% cotton material
Softer than canvas and also durable
Each bag is approximately 16 x 14 inches in size
Related Reading: 25 Unique Wedding Gifts For Bride From Groom
15. Best sister hoodie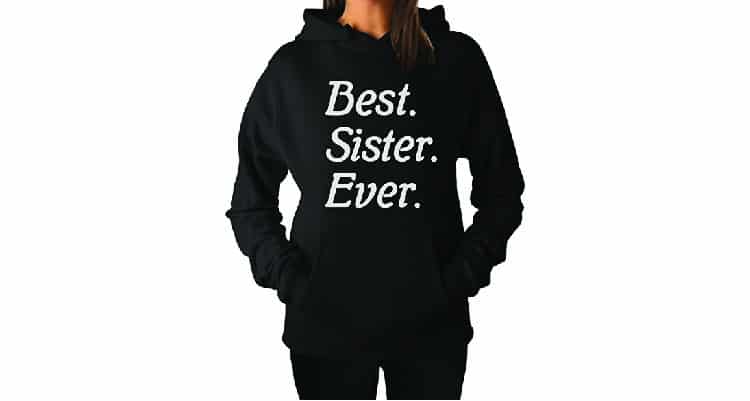 This soft and warm sister hoodie gift is one of the most thoughtful gifts for sister ever. Seriously! When something says Best Sister Ever, isn't that just the most thoughtful thing?
Comes in 3 colors
Fun way to show your love
Relaxed, roomy and comfy
Drawstring hood
16. Toiletry bag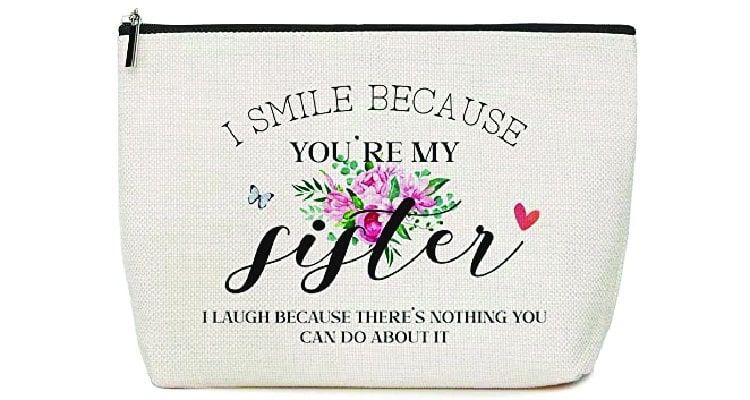 She can take this when she is traveling or trekking with her girl gang. This is one of the most useful and unique gifts for sister as she can use this toiletry bag to carry her essentials such as cosmetics, tampons and everything else that she will need on a trip.
Pack of one
10*7*2 inches
Crisp, clear, vibrant design
New waterproof fabric
17. Ceramic succulent pots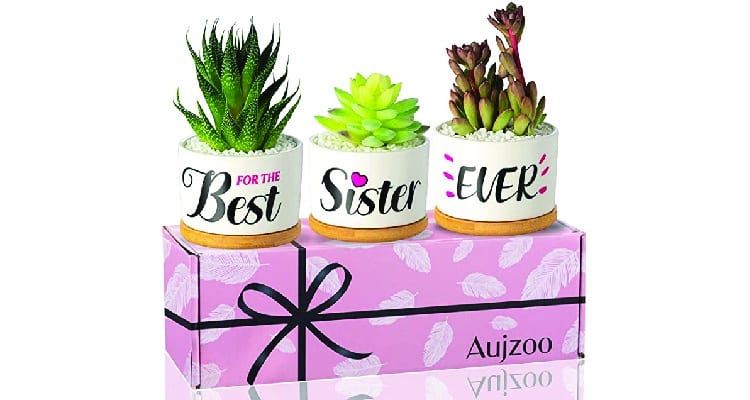 This is a birthday gift for sister who has everything and who loves all things nature. These succulent plants are tenacious, vigorous plants with low-moisture needs. They have evolved to thrive in some of the world's harshest conditions, so it won't be a hassle for your sister to take care of them. 
Securely set in foam to ensure they are in perfect condition on arrival
Moderate size: height is 5.6cm, diameter is 8cm
Suitable for decorating desk, bookshelf and window sill
Pots made of elegant high-grade ceramic materials
18. 3 piece leaf print sleepwear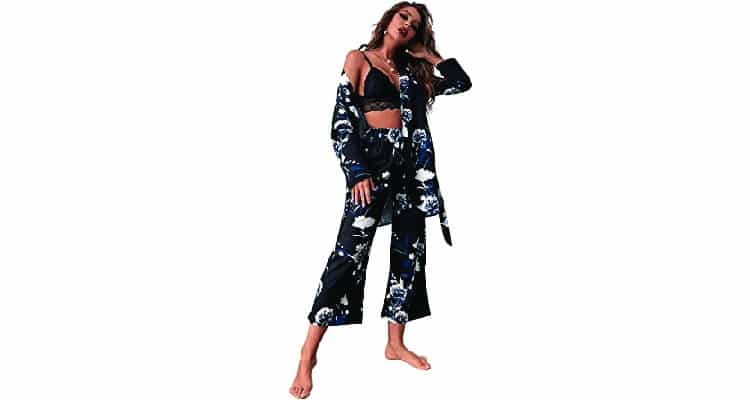 A super-luxe pajama set for your sister who can take a selfie and post it on her Instagram with the caption "I woke up like this". She will definitely love these special sister gifts.
Pull on closure
Fabric has no stretch, but is soft and comfortable
Floral print cami top and pants, with long sleeve robe pajama set
19. Water resistant hooded puffer coat
A winter essential for your sister which is also useful and stylish. This definitely makes our list as great Christmas gifts for sister. These are also great gift ideas for college girls.
Coat can be easily layered over your favorite tops and t-shirts
Can be worn to work
Zip-up, waterproof
20. One-step hair dryer and volumizer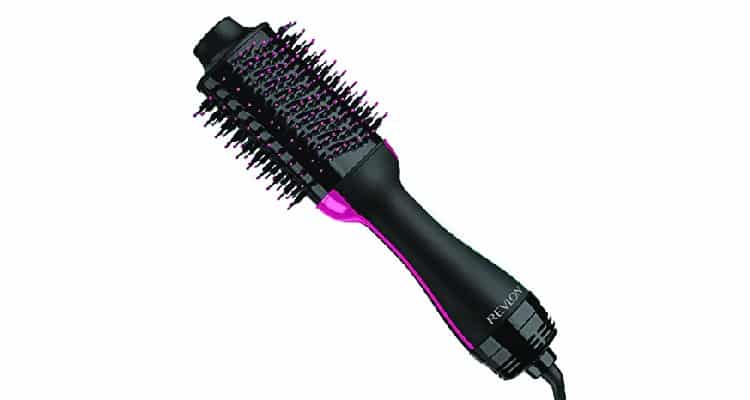 This salon-like, 2-in-1 hair dryer and volumizer is a game-changer. A woman's crowning jewel is always her hair. Gift her this amazing styling necessity and make her the happiest girl on the planet. If she's the best, then doesn't she deserve special sister gifts?
Style, dry and volumize hair in one step with 30% less frizz and damage
Unique, non-detachable, oval brush design with nylon pin and tufted bristles 
Heat/Speed Settings with cool option for styling flexibility
Volumizer 1.0 Original meets U.S. safety requirements and features
Related Reading: 25 Gifts For Beach Lovers [Gifts For People Who Love The Beach]
21. Luxurious kimono robes
This kimono robe is an indulgent luxury at an affordable price. Such special sister gifts are suitable for all occasions. 
Premium quality robe
Lingerie robe has wide V-shaped neckline and loose flowing sleeves
Comes with matching belt, belt loops and inside ties
Comes in 16 vividly stunning colors
22. Ocean scented spa gifts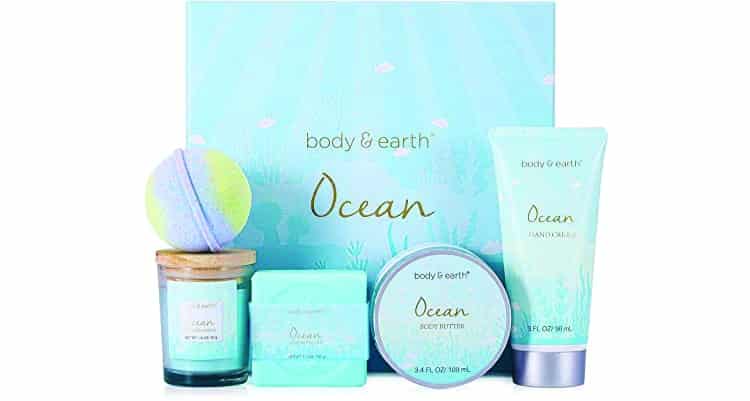 It's impossible to go wrong with spa gifts. When you're shopping for a workaholic, these thoughtful gifts for sister are a great way to relieve her stress and pamper her and also to leather know that you're looking out for her .
Infused with relaxing ocean scent 
Bath set is infused with essential oils blended to create perfect scent of the ocean
Products are rich in antioxidants and repair the skin damage, leaving it smooth, and nourished
Deluxe 5 piece spa gift set: includes essentials for ultimate spa experience
Includes scented candle, body butter, hand cream, bath bar and bath bomb
23. Ring light and tripod kit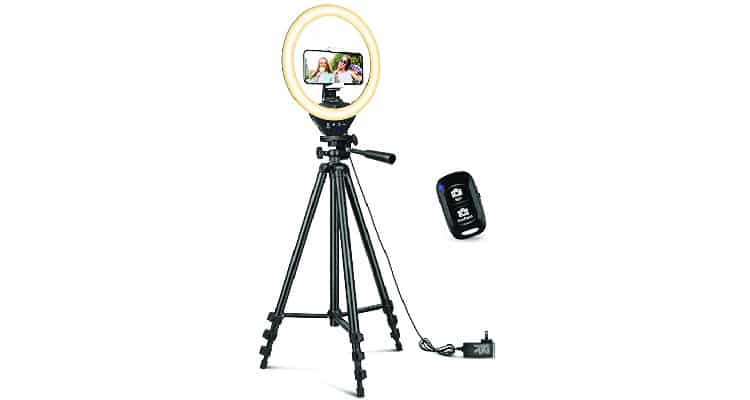 Has your sister recently turned to blogging or vlogging? Has she started making reels on Instagram or loves to follow trends on TikTok? Help her film her next viral video using this ring light and tripod kit.
Features high sensitivity touch panel design that has a longer life than traditional mechanical buttons
Provides full control to easily adjust 3 color modes – cool white, warm yellow and daylight
10 brightness levels to meet different needs
Pocket-sized Bluetooth remote allows you to take selfies or group photos easily from a distance up to 30 feet
24. Rainbow colored wine decanter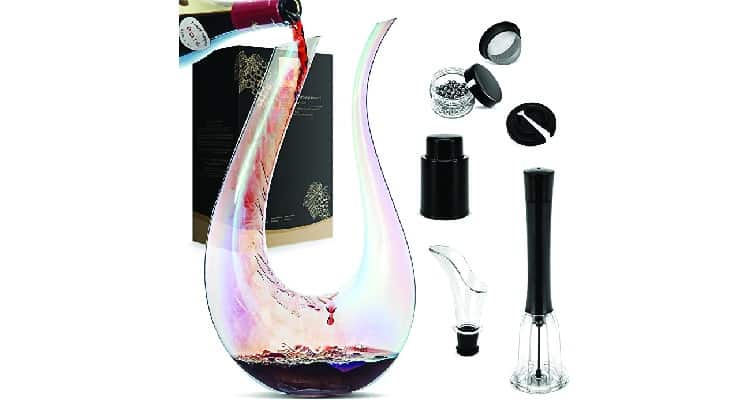 Wine needs to breathe and this super sleek and stylish decanter will make her wine gatherings a lot more special. Improve the flavor of her wine and glam up her soirees with these unique gifts for sister. These are perfect graduation gift ideas for her as the two of you can celebrate her achievements.
Slanted spout makes it easier to pour
Has large surface area
Provides maximum aeration
Rainbow color
25. Waterproof portable speaker
Music is a great way to let loose. To feel good about yourself and calm your mind. This waterproof speaker which she can carry while camping or hiking or even take in the shower, is definitely a special sister gift.. 
Delivers powerful stereo sound
Wirelessly connect up to 2 smartphones or tablets to speaker 
Waterproof and durable
Access Siri or Google Now from speaker with a simple button press
26. Bath bombs gift set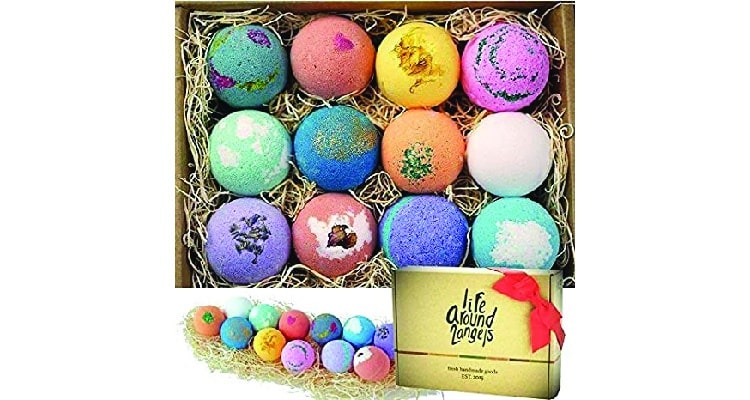 These bath bomb gift sets by LifeAround2Angels are uniquely designed, handcrafted in USA and made in a pristine environment. Girls love to smell good and feel good, which makes these bath bombs one of the more thoughtful gifts for sister. It'll help her relax and unwind too, thus making it one of the useful gifts for sister, as well.
12 handcrafted bath bombs in 12 different scents, each about 3 oz and 2 inches in diameter
Made in special clean rooms with sterilized equipment, hygiene is guaranteed 
Bacteria-free bath bombs
Handcrafted with flower petals, pearls and flakes
27. Cat decorative bookend
For your dear sissy beans who is a bibliophile and a cat lover, this makes one of the most thoughtful gifts for sister. These ambipolar cat bookends will definitely bring her bookshelf to life.
Can also be used to decorate your garden
Perfect for organizing books, DVDs, old magazines or anything else 
Vintage textured finish
Durable, long lasting and comes with black patina anti-rust finish
28. French press coffee maker
If your sister is a coffee lover, then she will be over the moon with this gift. This elegant and easy to use French press coffee maker is one of our top thoughtful gifts for sister. And now, thanks to your gift, you're guaranteed a great cup of coffee whenever you visit!
Made from top quality 18/10 stainless steel, both interior and exterior
Made to outlast other coffee makers.
3 layered stainless steel filter structure traps the smallest coffee grounds to produce exceptional full-bodied flavor
Comes with cool touch handle and knob for comfortable and safe pouring
Related Reading: 15 Cool, Popular And Best Gift Ideas For Women
29. Personalized wrap ring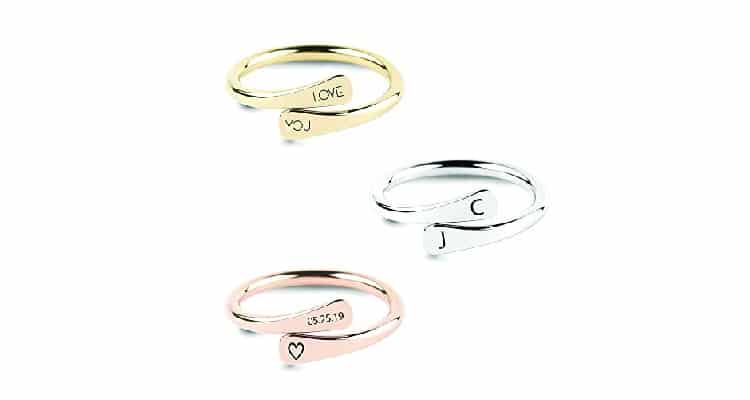 Each of these rings are made-to-order which makes it one of our suggestions for pretty great Christmas gifts for sister. This elegant and classic accessory will complement all types of clothing, thus becoming a part of your sister's everyday wardrobe.
Customize it with choice of metal finish varying from gold, silver, to rose gold
Engrave the initials of name or a cute heart to make it even more special
Easily adjustable due to its wrapped design. 
30. LED neon sign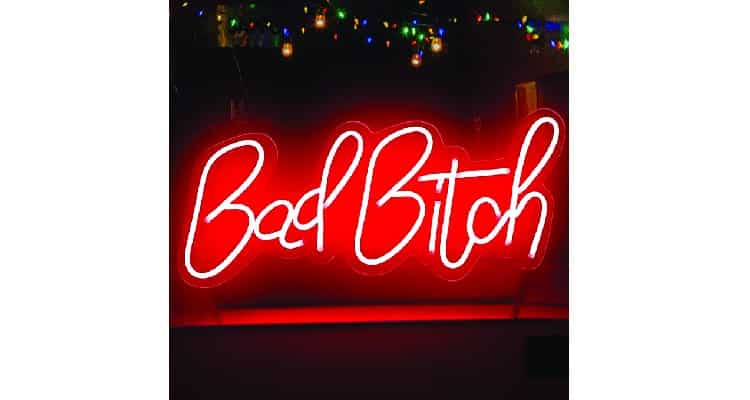 This "bad bitch" neon sign is one of those unique gifts for sisters. She can decorate her space with this bright LED neon sign and the vibes she gets from this gift will always give her the go-get-'em mojo she needs to do anything she sets her mind to. This sign is basically you cheering her on every day.
Red in color; 5V voltage, plug into USB for charging 
16.54" W x 7.48" H in size
Comes with on and off press switch hence easy to use 
Long press to adjust brightness 
31. Long distance touch bracelets
These long distance connection bracelets are so thoughtful and sweet that it will make your sister melt into a puddle. This pair of bracelets will keep you both connected even if you two are miles apart. And you know what makes this one of the more heartfelt and unique gifts for sister? Well, it mimics the natural vibration of your sis's touch. 
Share your status with her by downloading the Bond Touch App on App Store or Google Play 
Has an in-built private chat where you can talk about anything you want 
Comes with customizable straps and swap accessories
Includes two USB chargers with a silver loop for both bracelets
32. Le Creuset dutch oven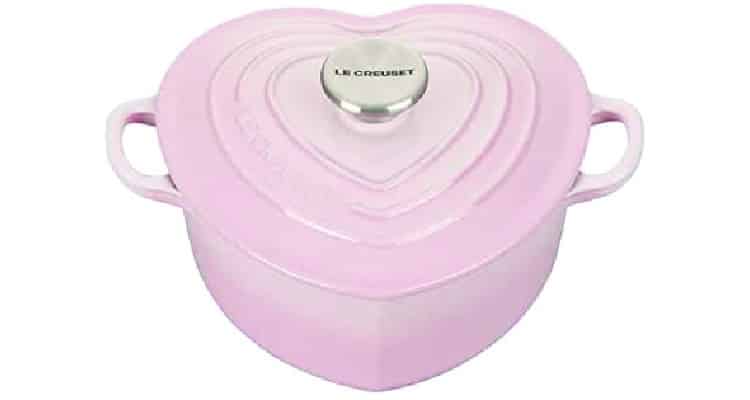 Is your sis a fabulous cook? Are you always over at her place so that she can feed you her delicious creations? This new heart collection from Le Creuset will make a great birthday gift for sister who has everything. She can lift this with ease too as it is the lightest weight cast iron on the market. This also makes one of the best gift ideas for people going through breakup cooking and baking will calm their mind.
Enameled cast iron delivers superior heat distribution and retention
Easy-to-clean and durable enamel resists dulling, staining, chipping and cracking
Ready to use, requires no seasoning
Tight-fitting lids, specially designed to circulate steam and return moisture back to food
33. Sunrise alarm clock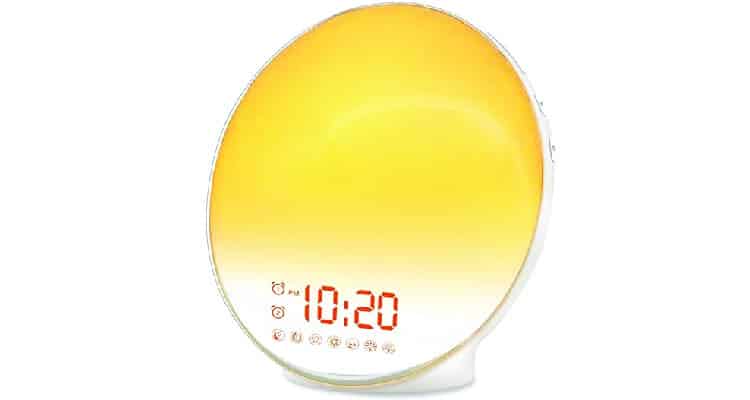 Are you wondering what's so special and unique about an alarm clock? Well, this Sleep Aid digital alarm clock is designed for everyone, especially for heavy sleepers and kids. It has a sunrise simulation light with 7 natural sounds. If your sister is a heavy sleeper, then this is one of the most practical as well as best unusual gifts for sisters.
Goes gradually from 10% brightness to 100% by 30 minutes before alarm setting time
If 30 minutes is too long, can set process to 20 minutes or 10 minutes before alarm rings 
7 color changing lights – blue, indigo, purple, red, orange, yellow, green
Comes with 3 level LED time display brightness and 20 level, adjustable, lighting brightness 
34. Ultrasonic jewelry cleaner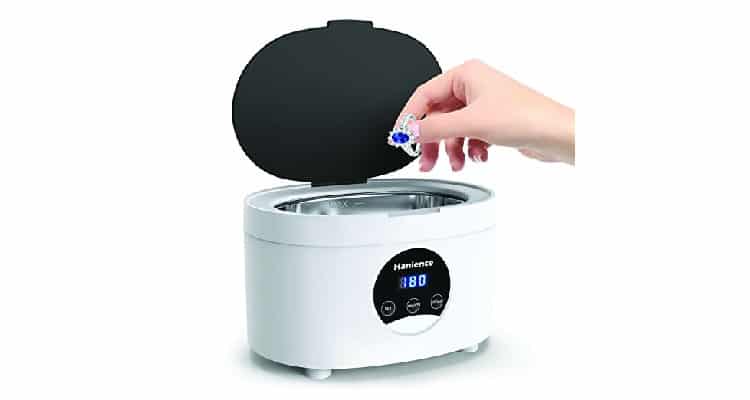 Does your sister have a lot of jewelry but she's running busy and has no time to clean them? That's every woman on earth. Taking care of jewelry is a must. This is one of the more useful and special Christmas gifts for sister. This jewelry cleaner removes dirt and grime in minutes using water only.
Powerful 43,000 Hz ultrasonic sound waves together with the 35W ultrasonic transducers easily removes stains on hard-to-reach spots of your valuables
Perfect to clean jewelry, dentures, eyeglasses, watches, dentures and other things
Won't damage your valuables while making them as good as new
Has touch screen which makes it super easy to operate
Related Reading: What Men Notice About Women On Their First Date
35. Amazon Echo Dot
These speakers are absolutely top quality and your sister can use her voice to play a song, artist, or genre through Amazon Music, Apple Music, Spotify, Pandora, and others. What's more? Alexa Guard will help her be safe when she's alone at home. These unique gifts for sister will have her singing to you her 'Thank you!'
Most popular smart speaker with Alexa
Sleek, compact design delivers crisp vocals and balanced bass for full sound
Stream songs from Amazon Music, Apple Music, Spotify, SiriusXM, and others 
Play music, audiobooks and podcasts throughout your home with multi-room music
Use voice to turn on lights, adjust thermostats and lock doors with compatible devices
36. Open front long cardigan coat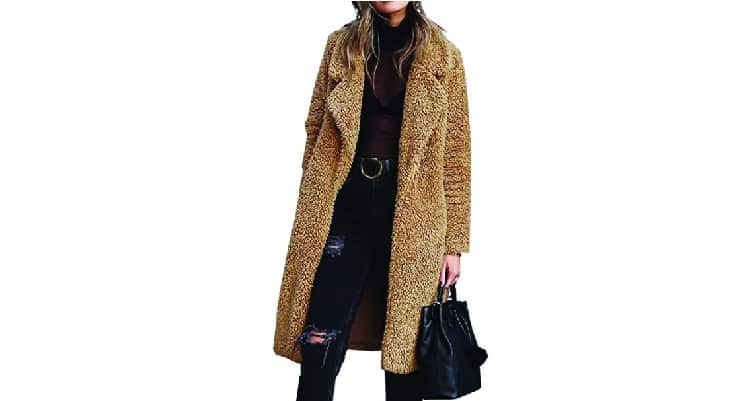 This is such a stylish cardigan that your sister's gonna love. It doesn't have a button or a zipper and it will be perfect for her to pair with a sweater or turtle-neck and high waisted pants. 
85% Polyester and 15% Spandex  
Wrinkle free
Soft, cozy and warm enough for the north weather in winter when worn with wool sweaters or thermal underwear inside
37. Sisters' Christmas ornament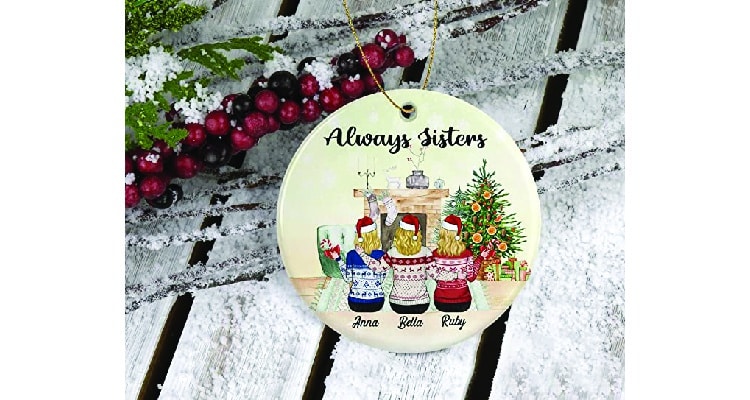 Add a personal touch to your sister's Christmas with this remarkable photo ornament. The two of you can have eggnog while enjoying the holidays and sing your favorite carols from childhood while sitting around admiring the CHristmas tree.
High quality, personalized, Christmas ornaments
3″ inches in size and made from ceramic
Printed in USA
38. Cream colored warmies slipper
What can you give as a birthday gift for sister who has everything? Give her the unique gift of comfort with these slippers. Your sister's toesies will be as snug as a bug in a rug with this thoughtful gifts for sister.
Fully microwavable, plush, soft slippers
Manufactured using highest quality, super soft fabrics 
Filled with specially treated millet grains and dried lavender flower
Wipe with damp cloth to clean
39. Shakespeare insults poster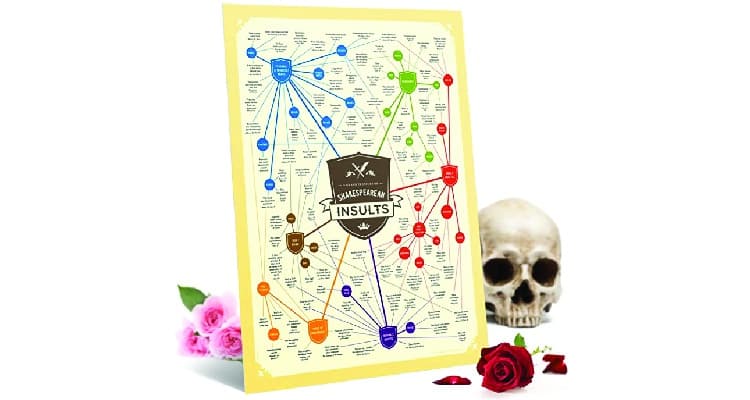 This poster, choc-a-bloc full of insults inspired by one of the greatest wordsmiths ever, will be one of the most unique gifts for sister. It will represent the playful bond that you share with her. The next time she curses, make sure you have a dictionary in hand to understand what she means. 
Makes a funny conversation piece with friends at home, school, or office
Has 100 insults; teachers and librarians use it to spark interest in literature and Shakespeare
Printed on heavy, archival quality paper that's built to last
40. Personalized acrylic lamp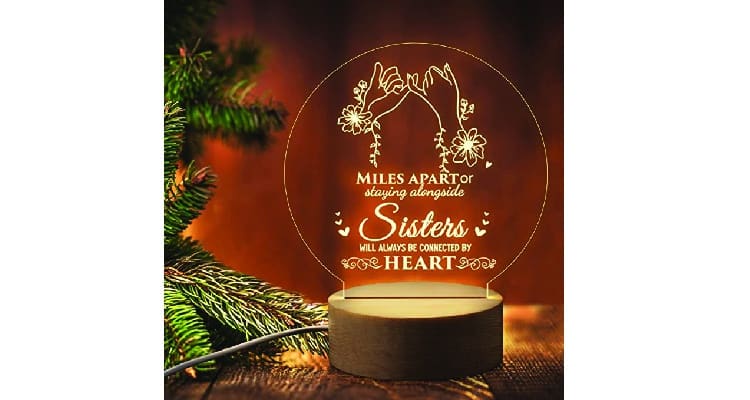 This engraved night light will remind your sister that she can never be alone in this world. With this message, "Miles apart or staying alongside, sisters will always be connected by heart", you can be sure that you'll light up her heart and room with such a thoughtful gift for sister.
Made of acrylic with wooden base
Product is beautiful and durable
Soft light will not harm eyes even if used for long time
We hope we've been able to give you some great ideas with this list of unique gifts for sister. Any one of these gifts will let her know just how much you cherish your bond. Go ahead and select whichever gift might fit into her tastes and surprise her. Here's to sisterhood!
20 Bridesmaid Proposal Box Ideas – Ultimate List Of Things To Include
Ask Our Expert
You must be Logged in to ask a question.