Cooking is a melting pot of both art and science. It engages all the senses — a medley of smell, taste, touch, visual aesthetics and the sounds at the various stages of cooking followed by the appreciative chomping, chewing, slurping and belching (the ultimate compliment of a satisfied stomach, if you think about it). Hence it is considered one of the most versatile art forms. The workings and implementation of bringing together all the ingredients in perfect measurements, the amount of heat required, the tools needed – there are the parts where science is involved.
How many of us love to cook and how many of us love to eat? Doesn't matter. This list has gifts for all. Whether you are browsing for food gift ideas for an aspiring chef who is just starting at culinary school or a sous chef or a home baker or a homemaker who loves to cook, this list of gifts for foodies is sure to impress all food lovers. 
Best Food Gift Ideas That Every Foodie Couple Will Love
Shopping for food lovers and those who love to cook can be a little difficult because you might be unaware of what they already own in their kitchen and what they could be in need of. If they are just a foodie couple or whether they are couple couple food bloggers, this list of food gift ideas will fit any and everyone's requirements. Those who don't have that item or commodity, will be thrilled to have it and those who already own it, will accept it because who said less is more? In the case of gifts, it is so not true.
1. Meat and cheese gift box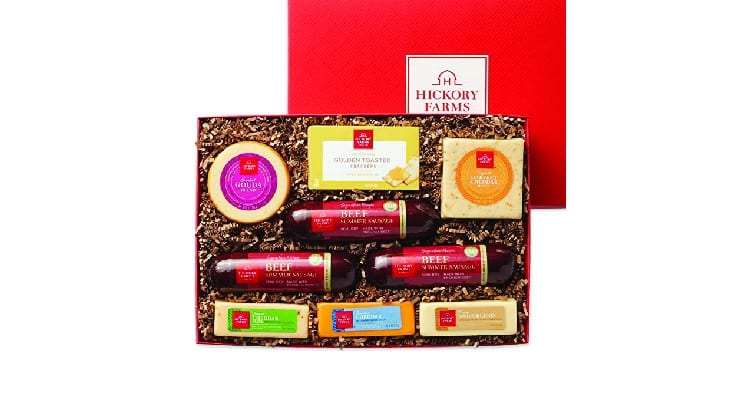 For the foodie couple who love meat and cheese, this is one of the best food gift ideas. This Hickory Farms gift package is absolutely delicious, drool-worthy and really impressive. We all know that the combination of cheese and meat is a sure shot win – from burgers to pizzas, meat and cheese are soul food. This is a great food gift basket idea.
Smoked Gouda Blend, Harvest Cheddar Blend, Jalapeño Cheddar Blend, and Creamy Swiss Blend cheeses all pair perfectly with their Signature Beef Summer Sausage stacked up on Golden Toasted Crackers for a delicious bite
10 oz Signature Beef Summer Sausages, 6 oz Smoked Gouda Blend, 6 oz Harvest Cheddar Blend, 4 oz Farmhouse Cheddar, 4 oz Jalapeño Cheddar Blend, 4 oz Creamy Swiss Blend and 1 oz Golden Toasted Crackers
Shelf-stable summer sausage and cheese. Feeds a crowd, good for small gatherings and parties
Great for business or corporate gifting, family, birthdays, watch parties, entertaining, snacking and more
2. Pasta maker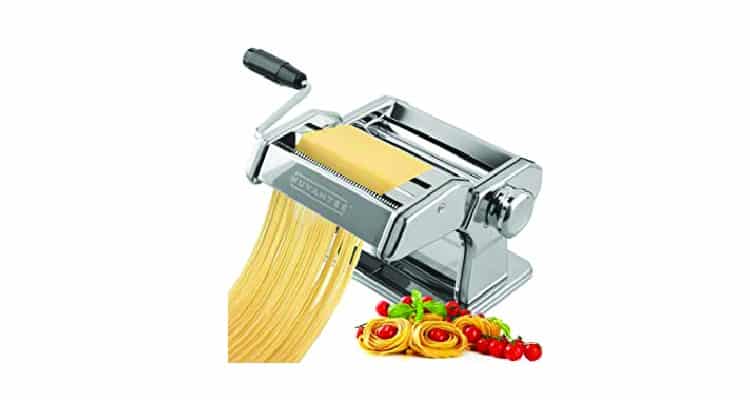 Let's be honest, pasta is comfort food. Everyone loves a good plate of pasta. And some even love making pasta from scratch – the dough making, kneading, cutting…I've heard friends describe it as therapeutic. As they say, couples that cook together, stay together. And this brilliant food lover gift idea is certainly something foodie couples can bond over.
Comes with seven ranges of thickness option 
Super sleek, strong built and made of stainless steel 
Can be used to make other items such as dumpling skin and more
Comes with pasta cutter attachments to make your pasta of choice 
3. Hot sauce gift set
Chosen as Oprah Winfrey's favorite things, this hot sauce set makes for a unique food gift for home cooks. The exquisite flavors are sure to elevate the meal at a foodie couples' home, especially a couple that likes it hot!  
Includes 7 different hot sauces
Inspired by different peppers and exotic flavors from all around the world
Flavors in this kit include: Garlic Herb, Smoky Bourbon, Garlic Pepper, Chipotle Pepper, Cayenne Pepper, Whiskey Habanero, and Ghost Pepper
Hot sauces range from mild for those who just want a little bit of a kick, to blazing hot for the bravest of hot sauce lovers
Related Reading: 30 Best First Wedding Anniversary Gift Ideas For Couples
4. Automatic pot stirrer
Imagine leaving the pot on the gas stove without having to worry about burning your food. Now you can leave your pot unattended without having to worry about it! These are food gift ideas that revolutionize cooking. This pot is an auto-stirring, fully adjustable electric kitchen gadget. It comes with 2 self-stirring speeds and is such an easy-to-use accessory. It's your ticket to a carefree cooking experience.
The Saki Electric Stirrer is not a regular stirring tool or stirring machine
Adjustable arms designed to easily fit a wide range of pans
BPA free, cordless and rechargeable. Best for smart and healthy cooking 
Hands-free stirring and 2 speeds for extra peace of mind
5. Air fryer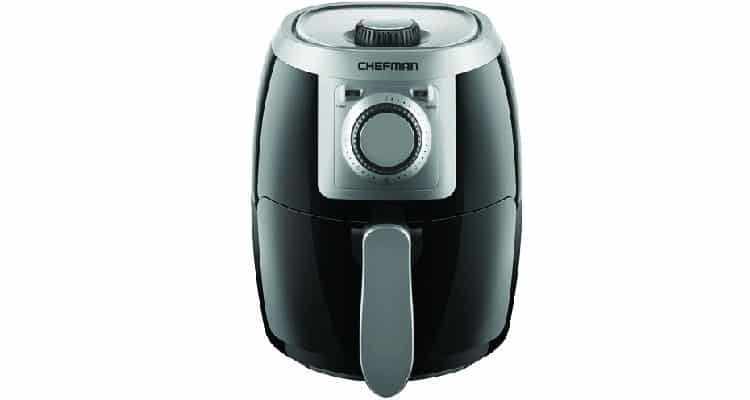 If you're dating a gym goer who enjoys healthy but delicious food, an air fryer is one of the best food gifts for men. Would you believe me if I said these food gift ideas are extremely budget friendly? Well, believe it. This versatile air fryer comes with an option of frying, roasting, cooking or baking delicious healthy dishes. Definitely worth every penny. 
Perfect fried results with little or even no oil
Temperature ranges from 200°F – 400°F. Personal size – saves space on counter and in cabinet
Comes with detachable BPA-free basket and cool touch exterior
Auto-shutoff ensures added safety and security
6. Multi-colored ramekins
These small cylindrical dishes are the perfect gifts for home cooks, especially those who love making desserts. If you have a foodie partner, then they will love serving their souffles or crème brulées in these multi-colored ramekins.  
Can weather the most extreme temperatures of any oven or freezer
Free from Volatile Organic Compounds and other harmful chemicals
Made with eco and food friendly porcelains
Innovatively designed with ultra-hardened and glazed porcelain 
7. Gourmet sea salt gift pack
Gourmet sea salt? That's just a fancy name for salt, right? Well…not exactly. Yes, it's certainly more expensive than your regular table salt, but there's a good reason for that – these salts are hand-made. It is harvested by hand which helps in retaining its original qualities. A true blue gourmet will really appreciate this salt pack. If you're looking for food gift basket ideas, then this is an essential item.
6 x 1.1 Oz. jars of award winning Casina Rossa gourmet salts
Excellent introduction to one of the world's finest lines of condiment-style salts that go beyond simple salts and rubs
Set contains one each of Truffle & Salt, Fennel & Salt, Saffron & Salt, Fiori & Salt, Porcini & Salt and new Herb & Salt
Imported by Ritrovo Italian Regional Foods
8. Dutch oven
This new heart collection from Le Creuset will make great gifts for home cooks. They can bake sweet treats in this cocotte. They can also lift this with ease as it is the lightest weight cast iron on the market. 
Enameled cast iron delivers superior heat distribution and retention
Easy-to-clean and durable enamel resists dulling, staining, chipping and cracking
Ready to use, requires no seasoning
Tight-fitting lids specially designed to circulate steam and retain moisture in the food
Related Reading: 15 Best Engagement Gifts For Newly Engaged Friend
9. Mr and Mrs cheese board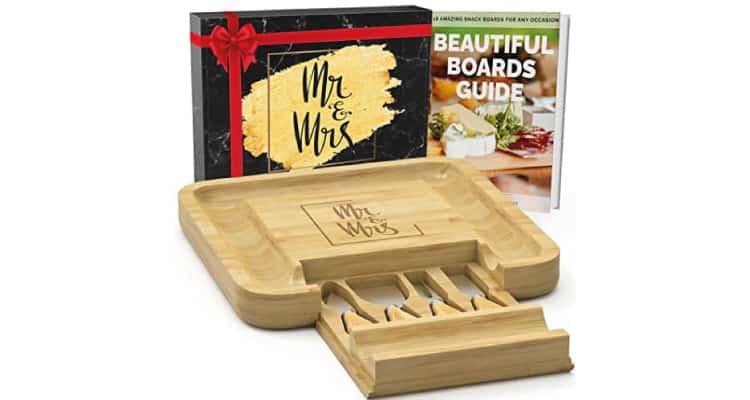 DELUXY is a brand known for its range of memorable gifts for couples. This is one of the best food gift ideas for a foodie couple. They have a variety of options, from Mr and Mrs cheese boards to Mr and Mrs aprons and picnic bags.
Award-winning product
Mr and Mrs cheese board is moisture-resistant and waterproof
Hand-made from natural, premium-quality sustainable bamboo 
Premium quality craftsmanship, easy to clean and maintain 
10. Sous vide
What a fancy little kitchen utility to gift a foodie couple! A sous vide works by circulating heated water in a pot at a very precise temperature according to the desired doneness of your food, holding it there for the duration of your cooking for exceptional results. If your man is quite the experiment chef at home, this is one of the best food gifts for men and it is true what they say, men who cook make the best lovers.
Perfect cooking every time, from chicken to fish, vegetables, eggs, beef, lamb, pork, and more 
Ability to lock in flavor and moisture in texture and taste that is second to none
12.8″ Anova Precision Cooker Nano can be stored in any kitchen drawer 
11. Apron set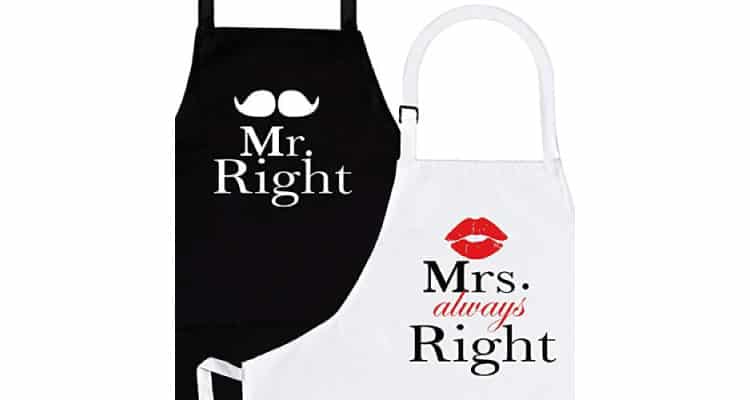 Nomsum's funny, practical and great for any occasion apron sets will put a smile on your foodie couple's faces. It's humorous and ideal for any occasion. Your friend and their significant other can have a bonding experience in the kitchen as they cook together, sporting the quirky yet cute gift you got them.
These aprons are 100% polyester and made up of extra-durable fabrics which are guaranteed to last a long time
They also have broad coverage to fit perfectly for people of all sizes
They are durable, cotton blend and can be washed in the machine
Made up of premium quality materials, these aprons won't shrink or wrinkle if handled properly
12. Bread making kit
You know folks are serious about cooking when they start making bread from scratch! Now it's very important for a sourdough baker to have a banneton basket and bread making tools. This is one of the best food gifts for a foodie couple; order them one so they can spend quality time together making bread. And then they'll invite you over for lunch so that you can break bread – win-win!
Set of 2 round, bread proofing baskets
Holds up to 2 pounds of dough
Ideal for proving wet consistency dough
100% handmade brotform that has no splinter due to 2 step polishing process
13. Electric kettle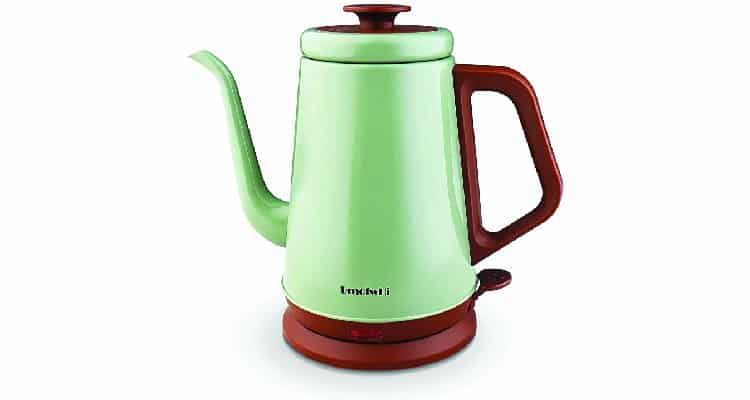 With this electric kettle in their kitchen, they will spend their time making tea and lots of memories. Whether it's to start the day with or to unwind after a long day, a good cup of tea is always welcome.
Gooseneck spout provides a waterfall flow of water with full control at all pouring angles. 
Made from 304 stainless
Comes with a BPA-free plastic handle
Takes just around 5 minutes to get pour-over coffee 
14. Iron skillet
One of the most essential tools in the kitchen is an iron skillet. It offers an abundance of possibilities such as searing, sautéing, frying and grilling, all of which make it one of the best food gift ideas. Look up some simple and fun recipes to cook together for the foodie couple and send it their way.
Lodge 10.25" cast iron skillet
Unparalleled heat retention and even heating
Pre-seasoned with 100% natural vegetable oil
Use in the oven, on the stove, on the grill, or over a campfire
Related Reading: 36 Sentimental Gifts For Best Friends – Thoughtful Gift Ideas
15. All in one vegetable chopper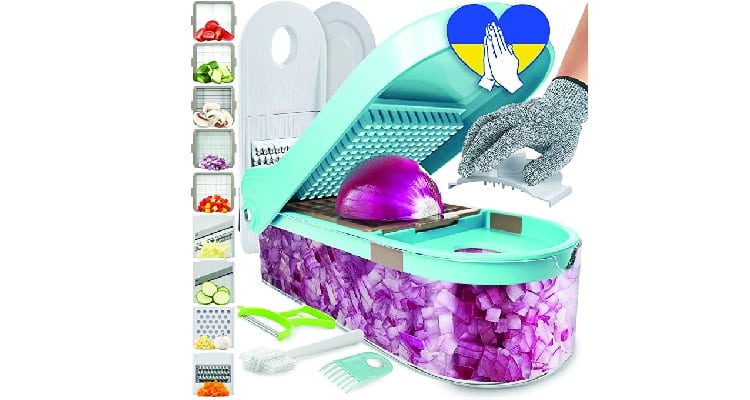 Chopping vegetables is a chore. Chopping onions is especially a tear jerker. Pun intended there. Get this gift for home cooks and slash their food preparation efforts in half with precise, perfect cuts every single time. 
Designed to maximize comfort and efficiency
Cut, slice, and grate with ease, getting the perfect size and shape for your meals
Equipped with 9, heavy-duty, durable stainless steel blades that won't rust or bend, and are built to endure the test of time
Comes with spacious container made using high quality material
16. Food huggers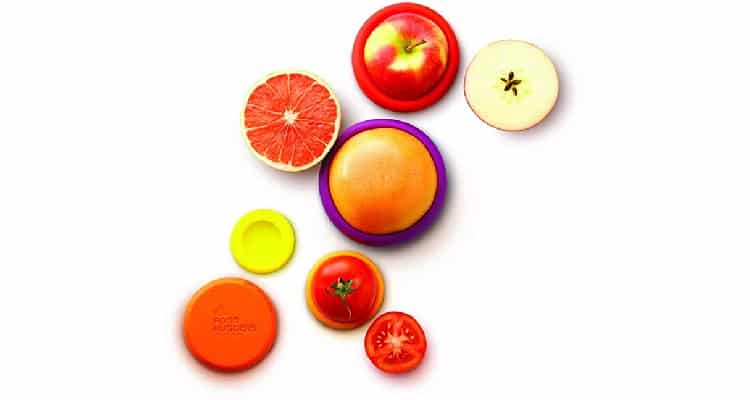 Designed to help reduce waste at home, food huggers help in keeping your food fresh and to last a longer time. These reusable wraps are one of the best food gift ideas as they help in preserving leftover fruits and vegetables.
Stretch to fit around sliced fruits, veggies and other food
Superior replacement for zip top bags, plastic food storage containers, plastic wrap and wax paper alternatives
Fun kitchen gadgets but also eco-friendly, produced with zero plastic and made to last
17. Baker's dusting wand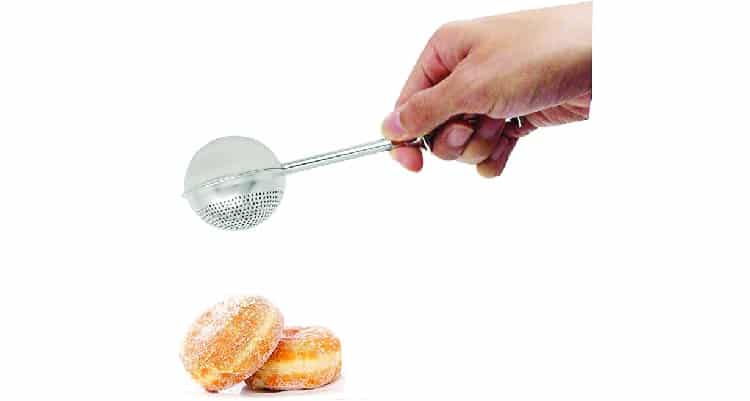 A dusting want is definitely one of the best food gifts for those who love to bake. It will help bakers dust their baked desserts delicately and artistically. One half of the wand is perforated for even distribution, and the other half is solid so you can scoop the flour. A foodie couple can beautifully garnish their food with powdered cocoa, sugar, cinnamon and other food condiments. 
Great for dusting cocoa powder or powdered sugar on desserts, and for dusting flour on the counter for baking
Easy one-handed operation, never comes apart during use
Made of 18/8 Stainless Steel
Dishwasher safe
18. Nonstick 3 sided splatter guard
This kitchen gadget is a must-have for every foodie. Prevents the oil from spitting out of the pan and splattering all over the kitchen floor. Definitely a must-have and one of the best food gift ideas for someone who likes their kitchen spic-and-span.
Protect your walls, counters and cooking area easily
Efficiently shields much of your stove and its surrounding environment
Eliminates mess of splattered food
Panels fold down for easy storage
19. Stovetop popcorn popper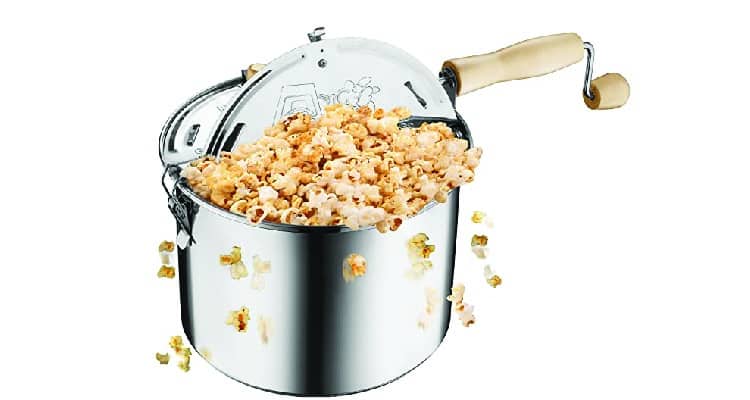 Date night? Movie night? Family night? Well, you'll definitely want popcorn to go with that so here's a unique food gift idea. And for the guy who loves to entertain, this is one of the best food gifts for men. The foodie couple can enjoy a yummy bowl of popcorn while watching a movie or spend some quality time together by asking some serious relationship questions.
Makes 5 quarts of popcorn in just minutes
Comes with a unique spinner stirring mechanism, prevents burning
Handles and knob made of real wood
Easy to clean – just wipe with a paper towel and store for later use
Related Reading: 21 Cool Tech Gift Ideas For Couples Madly In Love And Passionate About Gadgets | 2022
20. Oven mitts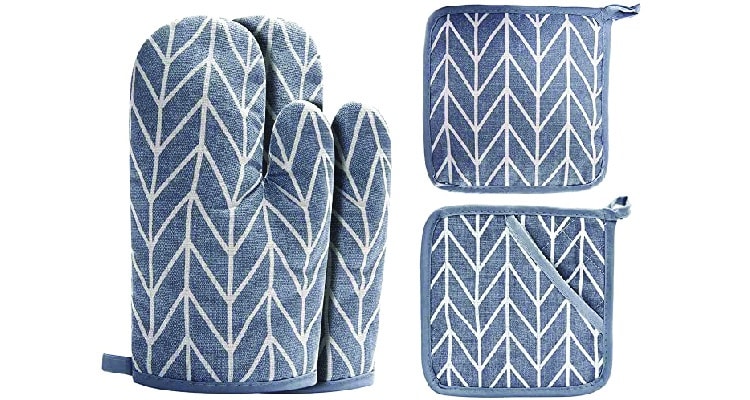 Oven mitts are the best food gift ideas for foodie couples who are always entertaining and whipping up delicious food and desserts in the oven. 
Features 2 oven mitt (9.6 in x 6.7 in) and 2 pot holders (7 in x 7 in)
Made of durable, 100% cotton shell with 100% cotton fill
Heat resistant up to 392 F/ 200C
Printed silicone design on oven mitt and pot holders provide secure, non-slip grip 
21. Mortar and pestle
I know it's a tool from the Stone Ages but a few people still like to prepare their paste by using this. It's also great for cracking open walnuts, crushing garlic or peppercorn, or pretty much anything that needs crushing or breaking open. The mortar is the bowl which comes in many styles and shapes. It holds the food ingredient. The pestle is the blunt club-shaped object which is used to crush or grind the ingredients which are contained in the mortar. This is ultimate food gift ideas for true foodies.
Perfect for grinding herbs, spices, nuts and seeds to release natural flavors and aromas
All pieces constructed from solid white marble with gray accents
Pestle provides ideal size and grip with the best natural friction
22. Marble rolling pin
This one is for the foodie couple that enjoys baking cookies or rolling out their pizza dough together. Make pizza from scratch and connect with your partner on a deeper level. These extremely stylish gifts for foodies will definitely upgrade their kitchen look a notch. 
Length: 10″ 
Nylon ball bearings for smooth rolling
Wooden handles for easy grip and a wooden base for rest
Marble helps keep the dough cool while rolling 
23. Magnetic knife block holder
This modern design knife block holder is a great food lover gift idea. It will save kitchen space as all the knives can be stacked in one holder. Knives are used every day. Hence this is the best food gift ideas gift that can be given to someone who likes everything in its place. 
Dual-sided, magnetic, universal knife block
Features two long, deep sides that make it easier to hang up your cooking, food-prep, steak and paring knives for quick, easy access
Holds knives vertically and made of 304 food-grade safe steel 
Stronger, more resilient, and rust and corrosion resistant
24. Digital kitchen scale
This kitchen scale is the perfect introduction to measuring food for better cooking and portioning at home. It makes for the best food gifts for men who are learning how to measure their food. A scale that does everything you need, and it does it so well that it is one of the best food gift ideas.
Readings are down to the gram
Eleven pound capacity, four units of measurement
Easy to clean, smooth surface
High-contrast LCD screen shows grams, lbs. and oz, fl oz, or ml
So there you go! A list of food gift ideas for the foodie couple who love to cook together, and cook for and feed others. These gifts are useful, stylish and essential for everyday use. 
FAQs
1. What gifts are good for couples?
The choices become limited when you are looking for gifts for couples. But there are many gifts out there which will suit their needs. From his-and-her watches to apron sets to personalized cheese boards, or tools and appliances for the kitchen, they're all great gifts for couples.
2. Can you give food as a gift?
Of course you can. Everyone loves food and food gifts show you care about them. Food gift baskets are a fun and thoughtful way to show them that you are thinking about them. And if they love their food and are gourmands, a food gift basket is a great way to give them something they enjoy.
3. What are good gift basket items?
Most gift baskets include fresh fruits and vegetables. Some also include an assortment of cheese and meat. Chocolate boxes are great food gift ideas for chocolate lovers. Other good gift basket items include coffee, munchies and homemade biscuits. Put in some gourmet salts or sauces and you have a winner!
11 Cozy Gifts for Your Girlfriend | Thoughtful and Unique Gifts for Her | 2022
Ask Our Expert
You must be Logged in to ask a question.