For those who are not exactly aware of this terminology, minimalism is a humble choice, a clutter-free way of life. A minimalist gives away any extra piece of clothing, furniture, utensil, or any item at home that is not absolutely essential to living satisfactorily. Even in their social life, they cut short all unnecessary encounters and relationships with people who don't bring them joy. I guess you've already figured out why it's so difficult to find gifts for minimalists.
Why would a person who tries to get rid of all their belongings to simplify their life want a present? The first trick to great gift ideas for minimalists is that you have to know them inside out. They are not always against receiving a present. But, unless you know their exact requirements, your extravagant gift might make them uncomfortable. 
Perhaps they are not so close to you in person. Well, have a conversation with them and find out if they are open to accepting physical gifts. If not, you can always go for gift vouchers, membership cards, tickets to their favorite games – something that will not clutter their living space. 
To minimize the whole gift-giving confusion, we have chosen the 24 best gifts for minimalists that will surely brighten up their neat and tidy homes. Stay tuned!
Best Minimalist Gifts For Him
Has your boyfriend or brother or a male friend recently started practicing minimalism? And now you are at a loss on how to find the right minimalist gifts for him. Our top picks can solve your problem. Take a look:
1. Bamboo wine shelf 
So your boyfriend has got rid of the wooden liquor cabinet. Now his wine bottles and glasses are stacked in a corner in the kitchen. Why don't you step up and help him organize? This hassle-free one slice bamboo shelf is an ideal example of gifts for minimalist boyfriend.
Has a sleek and contemporary design 
Includes 3 wall anchors and 3 screws to mount it properly 
Ecofriendly choice as it's made of sturdy bamboo wood
Holds up to 4 bottles and 4 glasses comfortably 
This shelf is an excellent item to smartly create and manage space in your kitchen. 
 Related Reading: Gifts You Can Get For People You Have Just Started Dating
2. Metal hanging planter 
You and your husband are both plant lovers. But as you have chosen the minimalist life, you don't like having an abundance of pots and planters laying around on the balcony. Hanging planters will save you all the arranging and rearranging of pots to keep the place clean. Plus it brings a dash of greenery to your home.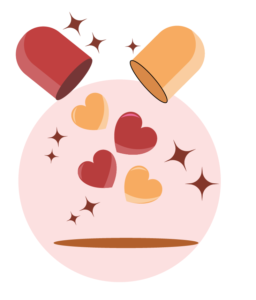 Get your dose of relationship advice from Bonobology right in your inbox
Set of two planters in bowl and cone shape 
Strong metal pots; durable 
Ideal size for a couple of ferns or succulents
Not too heavy; easy to clean
These pretty planters are suitable gifts for minimalists for both indoor and outdoor usages such as in the living room, balcony, or the patio. 
3. Minimalist art sculpture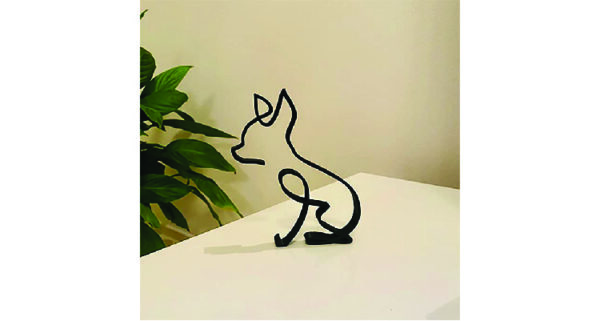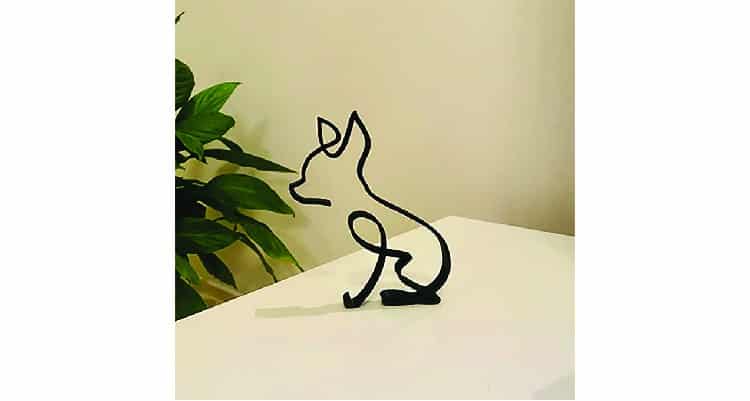 Yes, it's true that you can't go overboard with home decor items like a bigshot vintage record player. I think your minimalist friend won't object to having a cute little metal sculpture. Especially if he is a dog person, this iron dog art will make his living room so much livelier. As a matter of fact, you can explore similar sculptures of different dog species as well as cats.
 
A single-line art painting made of iron 
You can place it on top of a table or a cabinet or hang it on the wall 
Goes well with any kind of home decoration – bohemian, retro, or modern
It may remind him of an old furry friend and he will love you for such a thoughtful minimalist gift for him. 
4. Wooden phone holder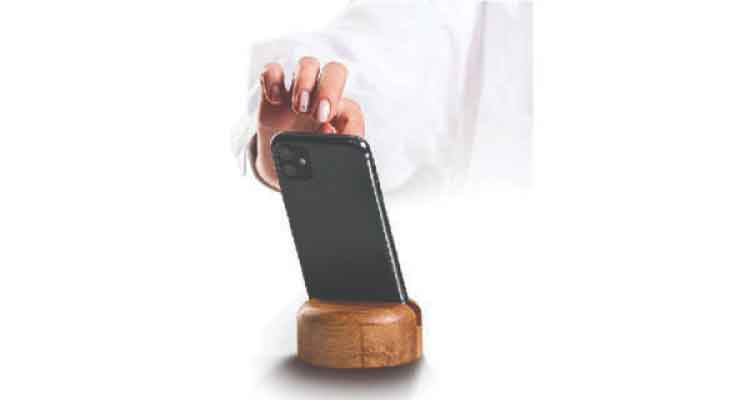 The tiniest yet most utilitarian things are quite appropriate for a minimalistic home. Keeping that thought in mind, we have chosen this small phone stand as gifts for minimalists. You can get this wooden stand for your minimalist brother to place on their nightstand or office table maybe. Good deal, right?
Crafted from real oak wood
Beautifully polished with a fine varnished finish 
Can accommodate any device up to 3.5 inches
Eco friendly and safe in a home with children and pets
You could use this wooden piece as a stand for charging your phone or simply to place it there while watching a video or speaking over a call while cooking. 
Related Reading: 21 Long Distance Family Gifts They Will Actually Want To Use
5. Gooseneck kettle 
For someone who cannot get over their eternal love for a cup of coffee, yet had to give up their coffeemaker in the process, an electric kettle could be a savior. Your search for gifts for minimalist boyfriend ends here. Close your eyes and pick this Brewista Gooseneck kettle to give him the best brewing experience at home.

Features an ergonomic goose-tail handle with a nice grip
Gooseneck spout for more precise pouring 
2 heat setting options are available depending on the requirements
LCD panel shows temperature in F or C
Any minimalist would instantly fall in love with the simplistic classy design of the matte black kettle. 
6. Acrylic calendar
Not only an un-messy home, but minimalists also try to keep their schedule and daily life as straightened up as possible. If you find your friend going through a tough time managing their commitments on time, a monthly calendar can be a very helpful gift for minimalists. Check this out:
Acrylic board with rose gold mounting, quite strong and sturdy
Big enough to give 2" x 2" square space for all the days 
Comes with two chalk ink pens that don't leave stains
Slim and minimalist design
 This board is a great way to balance your daily and monthly to-do list and special reminders so you don't miss anything. 
7. Flower vase
Is your boyfriend's place looking dull and gloomy after he's cut down all his stuff? There's a simple way to bring some colors into the apartment without creating a big change. Flat ceramic flower vases could be amazing birthday gifts for minimalists because birthdays are incomplete without bouquets. Don't you agree?
Handcrafted from ceramic 
Durable and water-proof 
Available in different colors and shapes
With a bunch of tulips or white lilies and any flower of your choice, this pretty vase will create an aesthetically pleasing sight. See for yourself!
 Related Reading: 21 Wedding Anniversary Gifts For Parents
8. Travel toiletry bag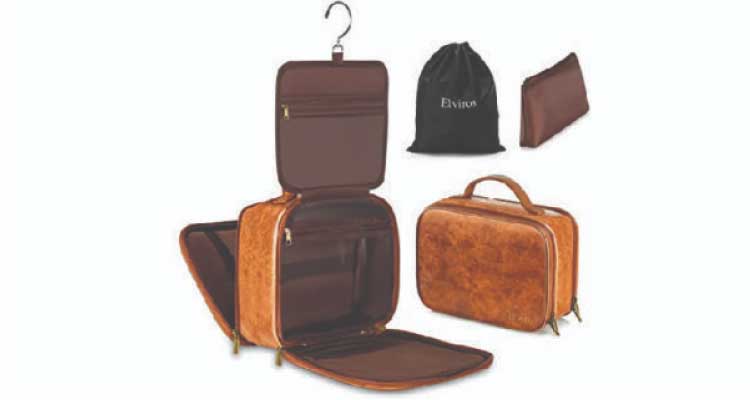 Travel-friendly toiletry bags are hands down the most practical and useful choice of gifts for minimalists. One bag fits all necessary articles and they don't have to carry more than one pouch to organize things. Why don't you give it a go?
Spacious bag with 3 separate compartments
360-degree non-slip metal hook to hang in the washroom for easy access 
Includes water-proof shoe bag and detachable inner bag
Made of water-resistant PU leather to ensure durability  
This bag is enough to carry all your toiletries for a seven days business trip which makes it a perfect travel gift.
9. All-in-one liquid soap
So, my brother has recently gotten into minimizing his life. And he keeps complaining about using 3 different soaps for face, body, and hair. I did a little research and discovered that a single cleanser that can be used as shampoo, shower gel, and face wash is indeed available. How cool is that?
Maintains fine balance between oily and dry skin
Has an amazing fragrance of oak and spicy bergamot combined 
Deep cleanses your body and hydrates hair and beard with vitamin B-5
Rich in organic white birch extract and Brazilian yerba mate extract
I would highly recommend such items as gifts for minimalist boyfriend. 
10. Floor lamp
Is your colleague going through a massive decluttering at home? Wow! What will you buy for his birthday then? It's a real pickle. If he has gotten rid of pretty much every lamps shade at home, you may try to brighten up his drawing-room sitting space with a metal floor lamp. Very sleek, very modern design – he just can't say no to this.

This lamp checks safety standards for daily usage
Choose any E26 base light bulb to fit in the built-in socket 
Strong metal base to keep it stable on the floor
So, tell me, do you think you will find more practical yet stylish birthday gifts for minimalists? I don't think so!
Related Reading: 32 Best Gifts For Movie Lovers And Film Fans
11. Echo dot device 
I gather you are exploring gifts for your husband. If he is a gadget-freak, always investing in new devices, the Echo dot will be one of the most exciting minimalist gifts for him. This popular smart speaker with Alexa can literally take any voice orders like your own, personal digital assistant. You won't get a chance to make any slight complaint about this device.

You can play music, audiobooks, or podcasts
Take Alexa's assistance for tasks like checking temperature, answering questions or playing music, giving news updates
Control your smart home with voice instructions
Connect with other hands-free devices 
Its balanced bass and clear vocal sound reach you anywhere around the house. You can create a happy and rounded smart home with echo dot right now!
12. Slim wallet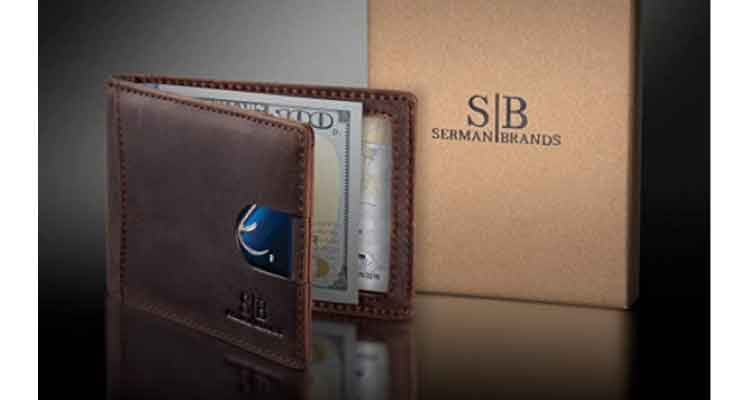 A man can go as minimal as he wants in his lifestyle, but he is going to need a wallet no matter what. Except, instead of a heavy fat wallet, he can shift to a slim and simple one. These basic uncomplicated wallets are actually great gifts for minimalists. You can see why:

Features pull tab to hold up to 10 cards and yet remain thin
Money clip in the center to accommodate 10-15 bills 
Made of high-quality microfiber leather 
Equipped with RFID technology to protect against any theft 
You can guarantee that this wallet will be in a functioning state for a long, long time. So your guy is all sorted without having to worry about changing wallets frequently. 
Related Reading: 15 Best Engagement Gifts For Newly Engaged Friend
Best Minimalist Gifts For Her
In continuation to the previous category, here go our top suggestions about gifts for a minimalist woman. 
13. Crystal wine glasses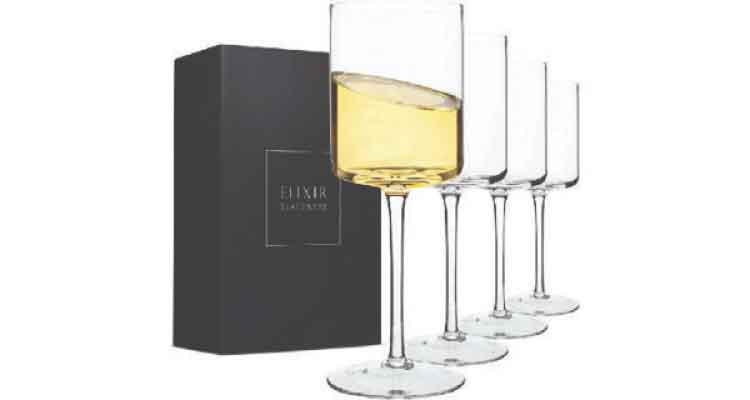 Minimalist or not, wine glasses never go out of fashion for a woman who hosts intimate dinner parties with friends and family. Perhaps she unwinds after a long day at work with a glass of Pinot Noir and some mild music. As minimalist gifts for her, you can get a set of 4 wine glasses in a super sleek design. 
Contemporary design – cylindrical body and slender stems
Elixir uses 100% lead-free crystal for perfect clarity and precision
Excellent craftsmanship by traditional artisans
Raise your glasses to celebrate simplistic living and the sheer joy of minimalism!
14. Metal wire planter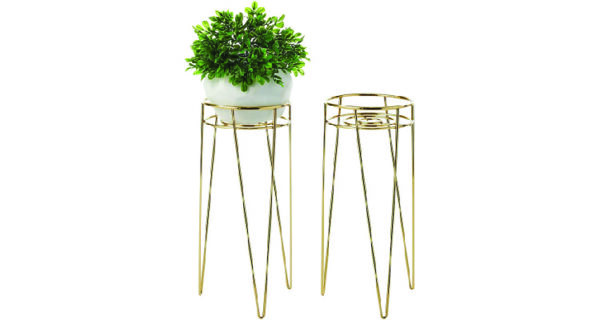 Women love a nicely decorated home, more so if it is a neat, minimalist place. And to make your space look vibrant with the bare minimum, you are going to need some fancy planters. These golden metal planters with hairpin legs are perfect gifts for minimalists. Check it out:
Compact design to fit in any little corner 
Made of strong metal wire
Won't rust if you clean them with a wet cloth
Wire basket on top of the stand to hold any pot comfortably 
Place these planters somewhere around the drawing-room with a nice bushy fern or a bunch of hanging money plant leaves. It will change the entire vibe of the room!
15. 10-in-1 kitchen accessory
If your mom and dad are trying to do some decluttering in the house, you can send some minimalist gifts for her to support their new journey. All-in-one kitchen tools will save her a lot of time, space, and valuable energy. Take a look at everything this multipurpose accessory can perform:
Has 3 types of chopper blades
5 interchangeable blades to slice, grate, shred or julienne vegetables
Quality stainless steel and food-grade, BPA-free material used to make this tool
Includes multiple safety holders and cleaning tools to make the whole process more efficient
This is undoubtedly one of the most functional and practical minimalist gifts for a woman. Give it a go!
Related Reading: 30 Practical 2-Year Anniversary Gifts For Boyfriend To Impress Him
16. Table lamp with USB port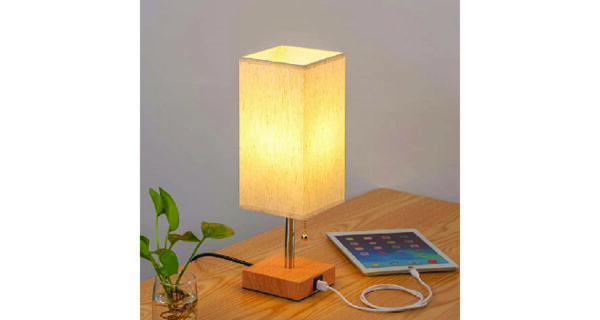 Before you run out of gift ideas for minimalists, let us introduce another exciting item on the list. The more utility you can merge in one single item, the better for a simplistic person. Here we have found an elegant bedside lamp that can also serve as a cell phone charger. 
This lamp works in a pull chain system 
The lampshade is made of linen fabric to soften the light 
2 high-quality USB ports are attached to a wooden base
Comes with an LED bulb
Turn on your sweet night lamp, put your iPad on charge, and have a peaceful sleep. No risk of forgetting to switch the charger on anymore. 
17. Scented candle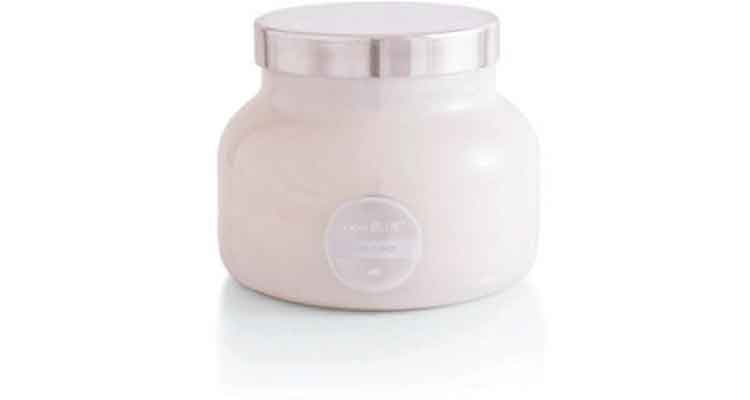 Can we go by without a relaxing, aromatic candle in our house? During a morning meditation session with your partner or a nice bubble bath, these candles always create the right mood. It is no wonder that a minimalist person would enjoy a sober soothing candle with clean packaging. What do you think about this one by Capri blue?
Lasts up to 85 hours
The aroma is a blend of citrus and sugar notes
Comes in a classy white glass jar with a silver lid
Quality wax and cotton wick are assured 
As your friend believes that less is more, she can put out a simple, summer, dinner spread with wine and a bit of this fruity fragrance. 
18. Customized jewelry box 
You are probably already aware that your super strict, minimalist girlfriend owns very little jewelry. She doesn't require any over-the-top, multi-layer jewelry box or wooden chest to keep her ornaments safe and together. While you are at it, looking for gifts for minimalists, you can grab a small, leather, jewelry box for her to organize her possessions.
A small, square-shaped case made of faux leather 
Includes necklace hooks, ring holder, four square pockets, and an elastic pocket 
Available in 3 colors – rose, rustic and white 
You know you can turn this pretty box into a birthday gift for minimalists friends with a personal touch. Add the name of your friend and her birth month flower and it will be special and unique, just for her.  
Related Reading: 21 Gifts For Your Girlfriend's Parents And In-laws | Under Budget Gift Ideas
19. All-in-one planner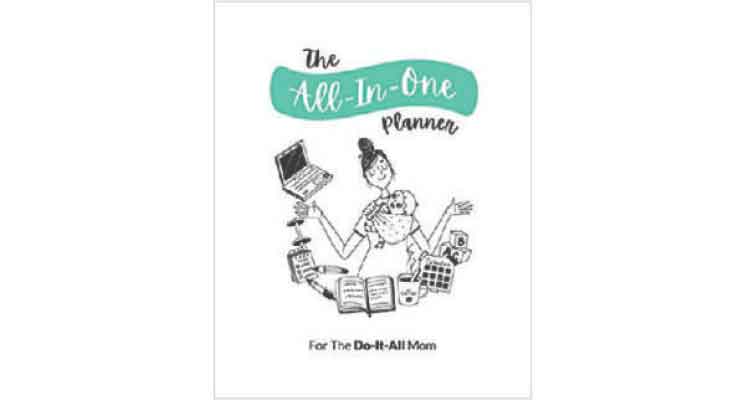 You see your next-door neighbor who is a working mom, rushing through her hectic schedule every day. As a minimalist, she wouldn't want to keep ten different journals and planners to track her tasks. This is exactly why one of the best gifts for minimalists is an all-in-one planner. Take a look:
226-page planner for daily and weekly tasks and views
Includes section for meal plan, goal setting, habit tracking
Motivational quotes are spread throughout
Space to write daily affirmation, gratitude, and more 
This planner is more like a book, beautifully put together by another mom and career woman Mandy Dunn. Trust me, your neighbor, friend or colleague,  will really thank you later for this wonderful present! 
20. Minimalist bookshelf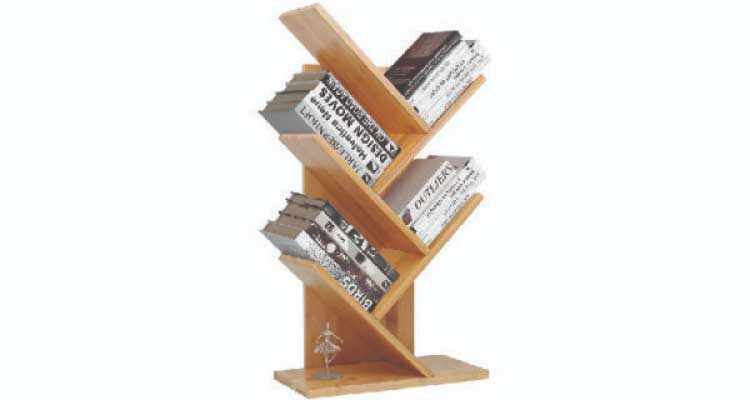 Minimalists usually prefer to donate or resell their books. But again, it's an individual's way of life. There's no hard and fast rulebook. So if your bookworm sister chose to keep a few books in her study, a free-standing wooden bookcase can be of great use to her.
Artistic, tree-style bookcase, made of bamboo wood
Easy to display and reach all the books as it's open
Eco friendly and much more durable than maple or beech wood
Very stable and lightweight which makes it portable 
Not just books, you can use it to store CDs, magazines or files. The little space at the bottom is great to display a minimalistic decor piece. 
21. Abstract sculpture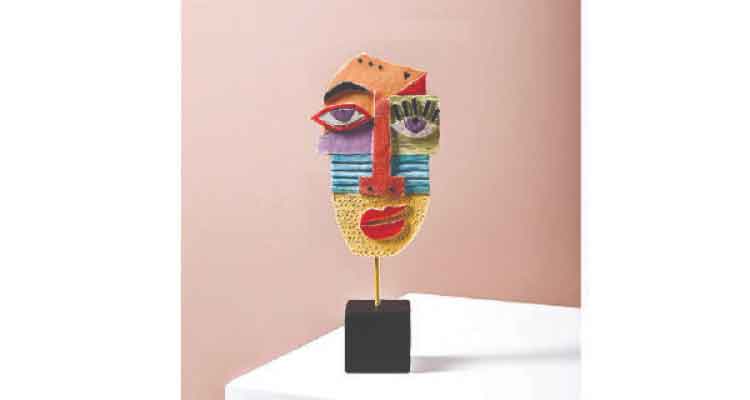 Artists who also believe in minimalism will be thrilled with the idea of having one statement, sculpture piece at the center of their drawing-room. Not only will it not take up a lot of space, but it will enhance the beauty of the room too. We have collected this stunning resin abstract art which you can count as a perfect gift for a minimalist woman.
Entirely handmade from the resin material 
Stands on a stable, black cube pedestal 
Suitable for display on tabletops, cabinets, nightstands, and so on
Any woman with an aesthetic mind would adore this piece of art!
22. Eyeglass holder cum planter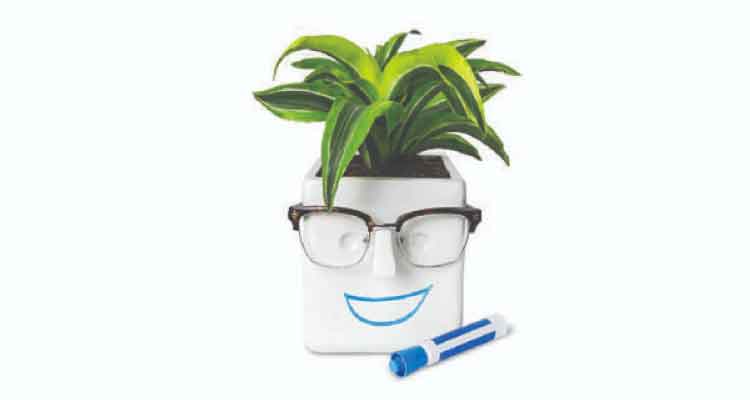 You know, every 5 minutes, my mom forgets where she kept her glasses. I think it's a relatable situation and we can actually find the perfect minimalist gift for her to make this situation easier. Like any minimalist woman's choice, here's a cute, face-shaped, ceramic vase that is also meant to be a glass holder.
Ceramic planters come with a drainage hole at the bottom
Built-in nose and ears hold your glasses perfectly 
Once placed, your favorite plant will look like hair 
The fun part is that the vase comes like a blank canvas. So your mom can draw any smiley face on it depending on her mood for the day. 
 Related Reading: 21 Harry Potter Gifts For Adults [Choices For Die Hard Fans Only] | 2022
23. Natural bar soap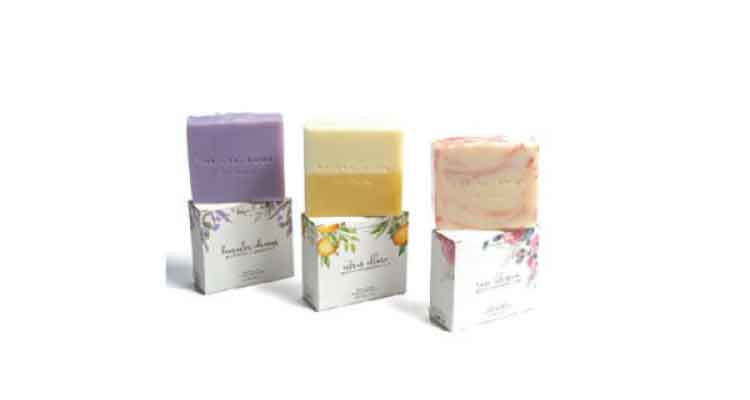 Picking up the right gifts for minimalists who are also vegan is a tricky job. By any chance are you acquainted with someone whose way of living is a lot different than ours? Don't need to wrack your brain – natural vegan soap bars are a quick choice to win her heart.
Ingredients include organic shea butter, and an abundance of coconut, castor, and olive oil
Creamy texture and lathers well 
Hand-crafted in a cold process to extract the utmost benefits of ingredients
100% cruelty-free with zero preservatives, paraben, or chemicals
These highly moisturizing soap bars are infused with fragrances of rose, citrus, and lavender. They deep cleanse your skin and leave it fresh and hydrated. 
24. Stop Overthinking book  
Let's end our long list of gift ideas for minimalists with a thoughtful option. Just like a minimalist prefers a clutter-free home, they also try to keep their mind devoid of any stressful situations or negative thoughts. To guide them in the process, give them this book that discusses different ways to stop negative thinking and focus on things that truly matter. 
Full of instructions and practice exercises to put an end to overthinking and negative thinking
Different techniques of breathing and ways to build a non-toxic mindset 
Coaches you about self-love and accepting yourself
Paperback in 178 pages
Let's not restrict this into any one category like gifts for a minimalist woman or man. This book will greatly benefit everyone dealing with mental health issues. So, go ahead and pick this up without thinking twice. In other words – don't overthink it!
We hope now you are feeling a lot more confident with this complete guide on how to find the best gifts for minimalists. Dig around a little bit about the requirements of the recipient and choose the closest item from our list. They will definitely appreciate your effort in this!
FAQs
1. What do you get a minimalist for Christmas?
You can choose from this list here to get Christmas gifts for a minimalist – candles, flower vases, fruit baskets, baked goods or essential baking items, Christmas ornaments, gift cards, subscription plans, all-expense-paid trips, or dinner treats.
2. What should I get my minimalist husband for his birthday?
Here are some birthday gift ideas for your minimalist husband – important necessary items like personal care products, consumable items like snack packs or treat baskets, fashion accessories in a clean design, or gift them an experience like a concert ticket or a museum tour. 
35 Best Gift Ideas For Music Lovers And Musicians In Your Life
21 Wedding Gift Ideas For Couple Already Living Together | 2022