If you are here today, you are most likely either looking for destination wedding gifts to give to the newlyweds or are the couple themselves looking to gift amazing destination wedding gift bags to their guests. Either way, you are in the right place. Oftentimes, destination wedding gift bags and wedding favors beat the dust. This is primarily because they do not meet the utilities of the guests. We are here to change that today.
As the uber-popular saying goes, "The best gifts come from the heart, not the store," do not decide your gift by its price tag. Rather, go for destination wedding party favors or destination wedding gift ideas that are thoughtful. When it comes to inviting guests to your destination wedding, think about adding some really useful mini gifts coupled with the beautiful destination wedding gift bags.
Most importantly, make sure to add something "personal" in nature, like a handwritten note. That makes a world of a difference when gifting something to the newlywed.
With all that being said, what are we waiting for? Let's read on and discover what's in store in this list of best destination wedding gifts to make the newlywed's special day, extra-special!
Personalized Wedding Welcome Bags And Gift Ideas
It goes without saying that personalized and customized gifts are the way to go. It adds a unique touch to your gifts and a feeling of belongingness to the person receiving it. When gifting destination wedding welcome bags to guests, add both of your names in a stylized fashion on the bags. That always does the trick.
On the other hand, if you are a guest attending the wedding, try to gift personalized gifts that will come in super handy for the couple. Pssst! Take our word on this; ibuprofen tablets and hangover kits are very thoughtful gifts.
1. Bride and Groom set of sunglasses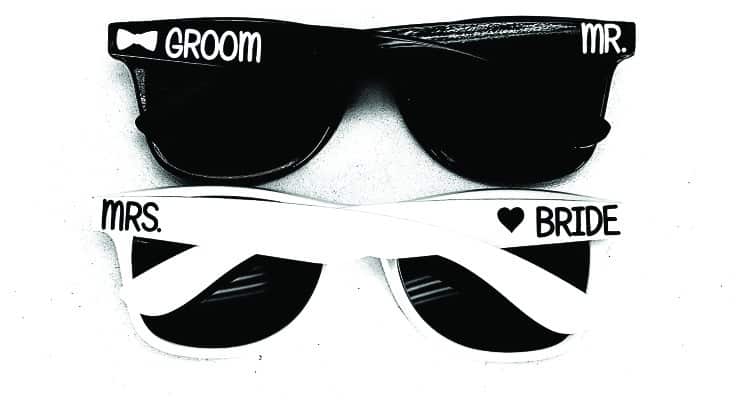 If you are looking for the best destination wedding gifts, this bride and groom sunglass set is surely your way to go. There are two sunglasses that are distinctly styled for the bride and groom. While the bride's sunglasses come in the white color option with black lettering, the groom's shades come in the black with white lettering.
All-in-all, surely one of the best destination wedding gift ideas. What's more, you can add a funny letter or note for the newlyweds to make their day extra special!
Made of polycarbonate
Provide 100% UVA and UVB protection
Stylish look
Related Reading: 21 Wedding Gift Ideas For Couple Already Living Together | 2022
2. Can cooler set
You know you are on the right track when one of your destination wedding gifts refers to the groom as "Mr. Right" and the bride as "Mrs. Always Right". More so when this is etched onto a super handy drink cooler. Now that's called maximum utility paired with quirky comedic relief.
Pair this up with one of those amazing destination wedding welcome bags and you are all set to make the newlywed's day. Like they say; couples who drink together, stay together.
Funky and appealing design
Can be used for beer, soda and any drink out there
Affordable cooler set
3. Bride tote travel bag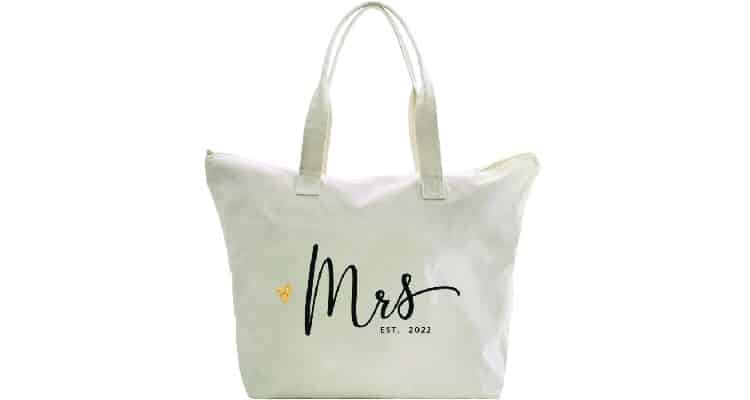 If you are looking to gift destination wedding gift bags to the newly married couple, this travel bag will bring a broad smile to the bride's beautiful face! The beautiful lettering and the golden heart further add to its beauty. And the tons of space this tote bag offers is icing on the cake.
Measures 20.5″ wide + 14.8″ tall + 5.5″ bottom
Comes with 23" fabric handle
Made of eco-friendly canvas
Highly durable
Related Reading: 25 Unique Wedding Gifts For Bride From Groom
4. Personalized handmade cutting board
Received one of those stunning destination wedding welcome bags from the couple? It is time to make their day as well. You can stop looking as this personalized handmade cutting board is just as wholesome as it can quite possibly get. Have it customized by getting their initials and wedding date engraved on it, or go for something more elaborate like their names or a message. This is indeed one of the best custom-made personalized couple gifts!
Made using natural, solid, high-end FSC certified environment-friendly hardwood hardwood
No chemicals or lacquers used, only food-grade mineral oil and glue
Can easily be personalized
5. Swimsuit bag
Destination beach weddings are always extra fun. However, they can get extra wet too and you may want to keep this waterproof swimsuit bag handy. It can be used in multiple ways, which makes it an essential item to carry around with you. This is exactly why giving this as a gift to your bridesmaids is a very badass gift idea!
Not only will it protect their phones, sunglasses, wallets and similar belongings from getting soaked in water, it will allow them to keep their wet bikinis and swimwear in it, away from the dry clothes. So, if you are thinking about thanking your gorgeous sidekicks with something, this swimsuit bag is one of the cooler destination wedding gifts for them.
Measures 11.8 X 9 X 0.3 in
Comes with wrist wrap made using soft fabric
Reusable and thus, eco-friendly
6. Destination wedding travel gift set
This is the perfect all-in-one gift set for any couple going for a honeymoon after their destination wedding. It contains pretty much everything that they would require for their lovely trip for two. From luggage tags to wine glasses and more, there's a total of 10 items in this gift set. Overall, just the perfect honeymoon essential and one of the most thoughtful destination wedding gifts out there.
Includes 2 passport holders, 2 luggage tags, 2 wine glasses, 1 gold lavender candle of 2.8oz, 2 rose bath bombs and 1 greeting card
Comes packed in exquisite, marbled, gift box
Items are made using cruelty-free material
Related Reading: 15 Unique And Useful Wedding Gifts For Older Couples
7. Hangover survival kit
Talking about thoughtful destination wedding gift ideas, a simple hangover survival kit is EVERYTHING that folks at a destination wedding need. This hangover survival kit bag is one of the most useful destination wedding gift bags as well as wedding favors for destination weddings.
Include a couple of things in it like ibuprofen and aspirin tablets to ensure that the guests have a smooth sailing post the swinging and wild bachelor/bachelorette parties. This is one of the best tips to avoid a hangover and it extends to everyone who hates hangovers.
Not to mention the quote on the bags that reads as, "Hangovers only last a day, memories last forever." Just one of the more thoughtful destination wedding gifts and destination wedding party favors.
Total of 10 pieces
Each bag measures 4" x 6"
Made of cotton
8. Destination wedding welcome bags
If you are going for a destination wedding, it is of utmost priority that you provide destination wedding welcome bags to your guests. This is your own way of warmly thanking your guests for coming. That is exactly what these beautiful wedding bags convey with their "thanks for celebrating with us" quote.
Total of 25 destination wedding welcome bags
Measures 8" in length, 4.5" in width and 10" in height
Comes with matching tissues and ribbons
Related Reading: 21 Gifts For Lesbian Couples – Best Wedding, Engagement Gift Ideas
9. Wedding and honeymoon sand keepsake jar
If you want to go with a highly thoughtful destination wedding gift, this keepsake jar is probably what you are looking for. Whether the couple want to immortalize their honeymoon or destination wedding memories, this keepsake jar has the room. It is a beautiful way of keeping a part of the most special day of their lives in a cute little heart-shaped jar. Definitely one of the best honeymoon gifts for couples.
Comes with a capacity of 40ml
Measures 8" in length, 4.5" in width and 10" in height
Made of glass
10. Scented candles gift set
After a long day at the wedding, these scented candles are going to be a major life saver for the newlyweds as they finally spend some romantic time together. Besides, the aromatherapeutic properties of these candles are an added plus to put the couple at ease as they offer much-needed relaxation.
Pack of 4 candles, 4.4 oz each
Each candle can last up to 30 hours
Comes in four distinct fragrances, namely, relaxing lavender, sweet rosemary with pine wood scent, gentle orange blossom & vetiver, and fresh freesia
Related Reading: 12 Gifts For Gay Couples – Gay Wedding, Anniversary, Engagement Gift Ideas
11. Microfiber beach towel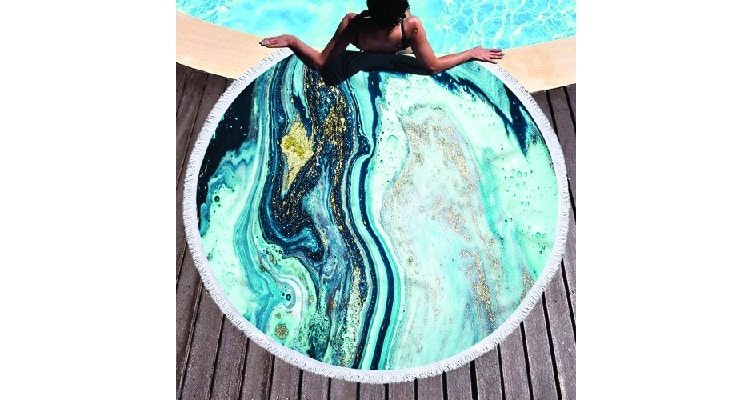 If we are talking about a tropical beach kind of destination wedding, this is going to be an underrated life-saver. This is not just any ordinary towel. This oversized towel is made of microfiber cloth.
It is sand proof and makes drying yourself after a swim super easy. If you want the newlyweds to have a hassle-free swim at the beach or resort, this is hands down a very thoughtful destination wedding gift idea. Moreover, this is one of the best gifts for beach lovers.
Dimensions: 59.06 x 59.06 in
Beautiful color options to choose from
Multipurpose and can be used for activities like yoga too
12. Flip flop bottle opener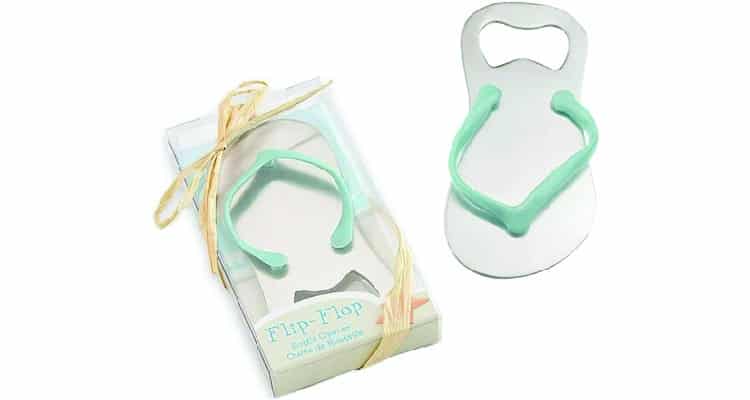 Bottle openers are the most criminally underrated destination wedding gifts ever. These are little gadgets that will turn out to be handier than you could quite possibly imagine during the wedding. The newlyweds are going to be in dire need of this for sure – what will all the partying that's in store!
Available in sets of 24 and 12 to choose from
Comes in pretty, blue color
Measures 10 cm x 5.5 cm x 2 cm
13. Mini suitcase wedding favor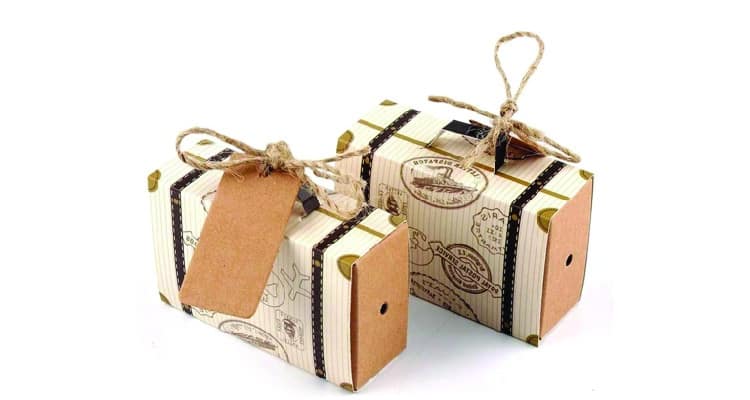 This mini suitcase is probably one of the cutest wedding favors for a destination wedding! These cute little toy-like cases have enough room to store a couple of candies. Besides, if you are looking for destination wedding gift bags, they don't necessarily have to be huge in size.
Gifting these suitcases to your guests can also be a really sweet gesture. You are thanking your guests for taking some time off, packing up their lives for a few days, and being a part of the biggest day of your life! Couldn't get any better now, could it?
Comes with dimensions of 3" x 2" x 1.2"
These mini suitcases are made using high-quality cardboard
150 piece set
Related Reading: 12 Trendy Wedding Gifts Your Groom To Be Will Love
14. Bride's survival kit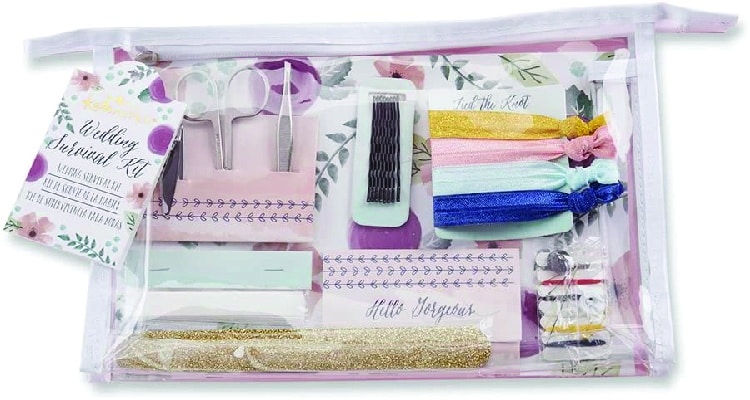 If you want to come across as someone who's put a lot of thought into their destination wedding gift, go with this one. It features every item that may come in handy during a wedding emergency situation. This manicure set is just the thing that will save the bride's day. Surely one of the best destination wedding gift ideas. Additionally, being prepared is one of the best ways to fight pre-wedding blues too!
Includes nail clippers, scissors, tweezers, 4 hair ties, nail files, 8 bobby pins, 12 oil absorbing wipes, paper clothing tape, and a mini sewing kit
Comes with a width of 10.2" x 6.7" x 2.1"
Features a beautiful floral pattern design all over
15. Mr and Mrs buttermints wedding gift bag
Who doesn't like buttermints?! These are literally the best possible destination wedding gift ideas to go with. On top of that, the whole packaging as well as the wrappers of these buttermints scream "congratulations!" like nothing else. This should definitely be on your list as destination wedding party favors – your guests will love them!
Candies come in 7 ounce bags
Pack of 6 containing 55 candies each
Feature Mr and Mrs theme
Related Reading: 12 Thoughtful First-Night Wedding Gifts For Your Husband
16. Personalized mint tins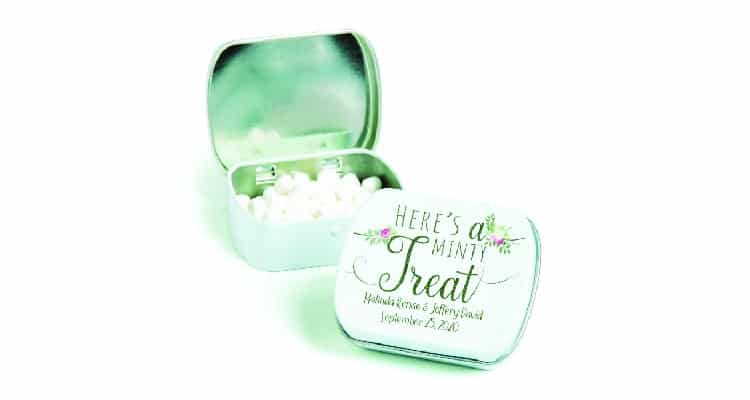 Talking about mints, if you want to go with something more customized and personal, this is it. These mint tins are not just a delight to look at, the customized lettering on them takes it to another level altogether. You can personalize 2 lines of text and that is more than enough to make this one of the best destination wedding party favors.
Weddings can get very hectic on the couple and with that, it may be quite hard to keep their breaths fresh for the special moments. This personalized mint tin will come in super handy during such scenarios and help the newlywed kiss like pros!
You get 24 metal tins
There are approximately 60 mints per metal tin
Mints are both gluten-free and fat-free
17. Sunscreen Lotion
When you are planning on carrying out a destination wedding, especially beachside, a sunscreen lotion is a must for the guests. The Banana Sport sunscreen lotion is a fan favorite and one of the best wedding favors for a destination wedding.
A piece of advice? Pair it up with a wonderful note welcoming the guests along with a bag of buttermints. The guests will absolutely love it. Besides, it comes in an adorable travel packet which makes it very easy to carry around as well.
Offers SPF 30 protection
Pack of 24
Comes in a 0.4 oz travel packet
Related Reading: 12 Adorable Wedding Gifts For Disney Fans
18. Personalized shot glasses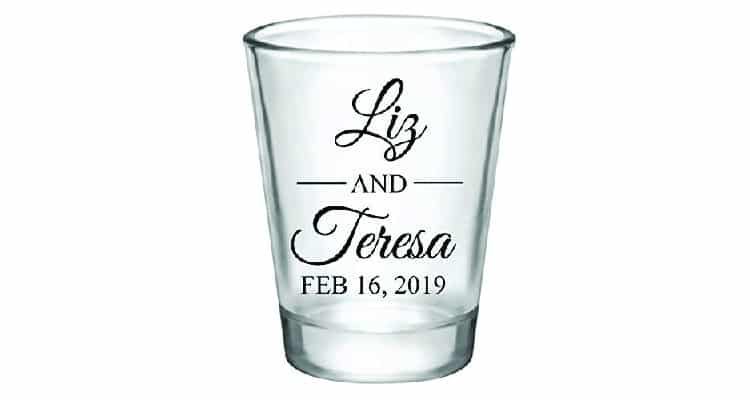 Time for a toast! No wedding is ever complete without the mandatory honorary toast to the couple. Getting personalized toast glasses that have both the name of the bride and groom along with the wedding date is a very funky way to celebrate.
Even if it is a virtual wedding that you are holding, send these out to the guests for when they take their virtual toasts. Be it that or a big in-person event, the guests will surely dig these customized glasses.
Get these shot glasses if you want to purchase them in bulk. Makes it very convenient and is easily customizable too. If you are looking for good wedding favors for your destination wedding, go for these glasses.
Choose from 6 different design options
You can order for up to 204 glasses in one go
Multiple ink options to choose from
So, this was our list of some of the best destination wedding gifts that you can go for. We most certainly do hope that you find what you are looking for from this list. And have a blast!
FAQs
1. Do out of town wedding guests give a gift?
It is not a crime to not give the couple anything, especially if you are already spending a lot to get to the destination wedding. However, it is the etiquette when attending such weddings that makes it important for you to give something to the newlywed. You do not have to go all out on the gift. You can choose something that fits your budget. It's also okay to give money – just give whatever amount you are comfortable with.
2. Is it OK to ship wedding gifts to the couple?
It is definitely more convenient to order the gift online and get it shipped instead of carrying it all the way to the wedding. This mostly applies to gifts that are not gift cards and the like. It is just a more convenient and hassle-free process to ship it to the couple rather than carry it along all the way to the wedding and then have them carry it all the way back. Plus, you need to think about the extra baggage charges that the newlyweds might incur if they have to come back with so many gifts. The best thing to do would be to ask them what they would prefer.
21 Cool Tech Gift Ideas For Couples Madly In Love And Passionate About Gadgets | 2022