This is my Ask our ExpertThis is my Ask our Expert
Weddings, as we all know, can be majestic, surreal and simply beautiful. However, they are also often filled with stress, anxiety and the constant fear that something will go wrong. Maybe the cake won't be delivered on time or the bride's veil will have an ugly stain on it or the florists got the color of the roses wrong or the worst of all – it starts to rain. In the midst of all this beautiful chaos and craziness, you really can only depend on your wedding squad. Hence, a wedding party gift is the perfect idea with which to thank them.
The bride and the groom's squad made sure that everything was exactly the way it was supposed to be. Not just on the big day, but everything prior to that – the bridal shower, the bachelor/bachelorette parties, the rehearsal dinner. Just listing all this down makes me feel tired from all the work they must have had to do – phew!
If the bride and the groom are looking for a way to show how their hearts are filled with gratitude, here's an idea – a wedding party gift. It's your time to give back, show them how much you truly appreciate their help and more importantly, their friendship. Without them, you probably would have ended up having cold feet or worse – panic attacks, when you thought you would end up cutting a pizza on the big day instead of the 4-tier snow frosting, Belgian chocolate cake.
What Makes A Good Wedding Party Gift?
Any gift thoughtfully chosen with care will always be appreciated and acknowledged. However, you need to make sure that it's not a last-minute present or that you aren't stingy, especially when it concerns friends and family. 
A wedding party gift need not be extravagant, but definitely requires a lot of thought, and emotions behind it. Friends like these are the strong pillars that support you when the ground beneath your feet seems shaky. Which is precisely why you need to be meticulous when giving them a wedding party gift.
Best Wedding Party Gift Ideas For Bridesmaids And Groomsmen
In our list below, we have made sure to include gifts that work individually for the bride squad and the groom squad. Plus, we have also added gifts that work for both the squads just in case the happy couple decided on one gift altogether. We assure you that this list of wedding party gift ideas is bound to make your friends very happy.
1. Gift bags
All the happy couple wants is to express your gratitude to your loving friends and family. The people who made sure you had your dream wedding without any major chaos occurring. These gift bags that say "Thank you from Mr. and Mrs. " can be filled with whatever you desire – chocolates, toiletries, or even wine.
Set of 12 gift bags 
Embossed gold foil letters on double side
Easy to decorate with ribbons 
Dimensions: 8 in x 10 in
Related Reading: Top Wedding Registry Must Haves – Budget Friendly Items For Couples
2. Bridesmaid's robes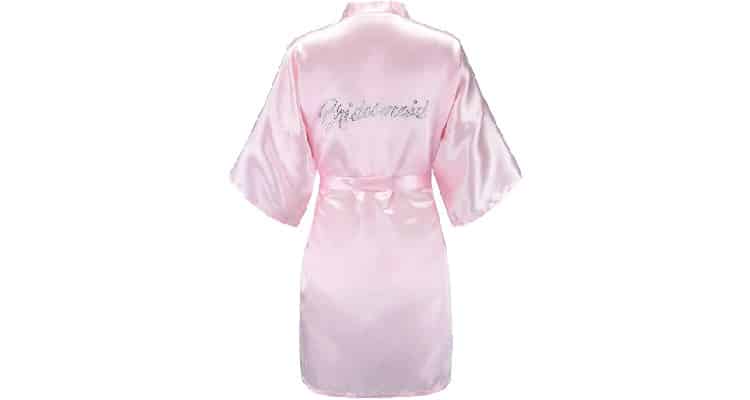 Bridesmaid robes are classic gift items when it comes to wedding party gifts for bridesmaids! You see it in every movie – all of your girlfriends in robes which spell out 'bridesmaids', popping champagne bottles, and getting nostalgic after every glass. I can already imagine the thousand different photos the bride and her girlfriends will click with her gang posing in these beautiful robes.
Available in multiple colors 
One size fits most 
Features belted kimono robe design, lightweight and breathable material
Comfortable, yet stylish
3. Monogrammed beer glass
Everyone loves beer, but you know what they'll love even more? Beer glasses with their initials monogrammed on them. These kinds of personalized wedding party gifts show your squad that you really did go the extra mile to make sure they love their gifts. I can already imagine everyone sitting together, reminiscing about good times while chugging beer from their new glasses.
Capacity: 16 oz 
Customer reviews: 4.7/5 stars 
Dimensions: 6.38 x 4.76 x 4.29 in
Sturdy and durable
4. Leather flask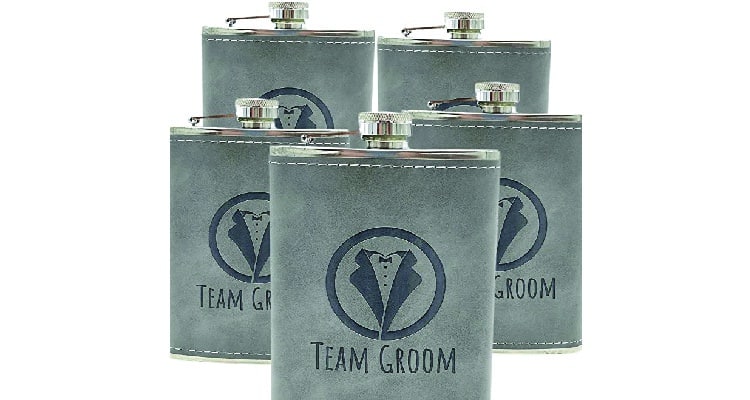 Wedding party gifts for groomsmen need to have one major element – practicality. There is a big chance that they will love the gift more if they can use it. Once the groom presents this to his boys, there's a good probability that you will see them carry these flasks throughout the wedding.
Available to purchase individually or in a pack of 5
Made from strong stainless steel material; highly polished 
Leak proof built-in cap
Gift box included and 100% guaranteed
Related Reading: Wedding Planning Tips And Ideas For The Perfect Wedding
5. Slim wallet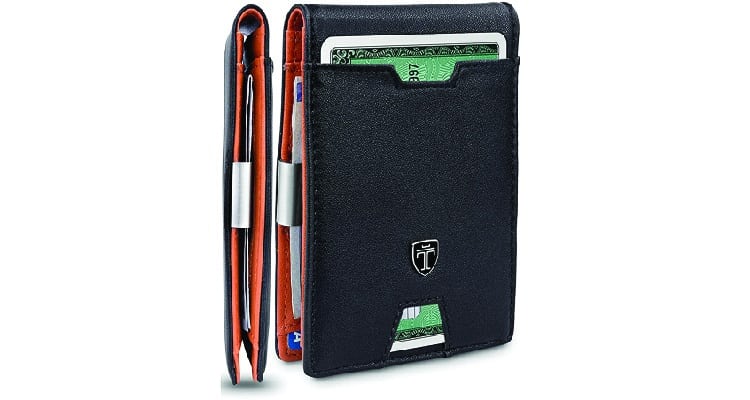 Here's another idea if the groom is looking to buy wedding party gifts for guys! What better way to thank a closest friend and confidant than with a great wallet? Besides, guys tend to use their worn-out wallets until threads start coming loose. We are sure they will be more than ecstatic to receive such a quality gift.
RFID protected lining
Bifold closure
Integrated money clip 
Available in multiple colors
6. Minibar kit
A minibar kit is the way to go if you're looking to give back for all the wedding party favors your friends have provided. This bomb gift will ensure that wherever your friends go, they will always have a good time! It's like carrying a party with you wherever you go.
Contains 10 small bar tool pockets, 2 big foldaway pockets, 3 removable inserts, 1 big long mesh zipper pocket and 1 big zipper pocket on back side
Ice tongs also included
Durable 
Dimensions: 12.5 x 13.8 x 4.7 in
7. Scrunchies
Your bridesmaids are going to need something to hold their hair back by the end of the bachelorette party. These fluffy scrunchies will make such cute bridal party gifts that your girlfriends are sure to adore them. Plus, they can also be a great addition for your gift basket if you're missing just one last item! And if you have a color theme in mind for any of your pre-wedding parties, see if you can match the scrunchie to the theme!
12 pieces in one set 
Lightweight and comfortable 
Available in 12 different colors 
Trendy enough to go with anything they choose to wear
8. Witty scented candles
Candles are a lovely, affordable wedding party gift that everyone will enjoy. The 'friendly' message on the bottle is just an added bonus. A great gift for the friends to use once they put their feet up and relax after all the wedding madness is over – one whiff of its calming aroma and you're set for the day. 
Vanilla soy candles 
Made with high quality proprietary soy wax blend 
Environmental friendly – natural cotton wick used 
Candle burn time approximately 40-50 hours
Related Reading: 36 Sentimental Gifts For Best Friends – Thoughtful Gift Ideas
9. Ceramic coaster
Weddings are expensive. We know it, you know it and so do all of your friends. These ceramic coasters make the most affordable wedding party gift, especially if you're running a little tight on the budget. They're cute, they're classy and they really do make very aesthetic home décor.
Includes stain-resistant metal holder 
Ceramic materials keep condensation from leaving annoying rings on any surface
Anti-slip cork backing for protection
Dimensions: 4 x 4 x 0.28 in
10. Ground coffee
Your squad is undoubtedly in need of some amazing and refreshing coffee, especially after all those late nights of planning seating arrangements, the wedding menu, rehearsal dinner venue and whatnot. Give the squad this dark roast ground coffee as their wedding party gift and watch how they feel instantly rejuvenated. 
100% Arabica Coffee
Weight: 18 Oz 
Perfect to make drip or pour over in your coffeemaker
Freshly roasted 
11. Printed t-shirt
Is there going to be some heavy lifting involved in the wedding preps? Or, do you have an outdoorsy party planned for the boys? If yes, then these t-shirts are definitely some great wedding party gifts for guys. And if any of the guys happen to be a gym-freak, then he can easily flex his muscles in this tee and grab a few appreciative glances. 
Available in 8 different colors 
Sizes from S – 3XL 
Blend of cotton and polyester 
Perfect for summer
Related Reading: Couple Friends: 10 Ways To Make Friends As A Couple
12. Unisex jewelry box
Your squad will absolutely love these boxes as their wedding party gift to keep their cute necklaces, rings, cuffs, or chains and lockets safe and in one place. There's a good chance if you lose a delicate piece of jewelry in a wedding, you'll never see it again. Hence, this is just the right gift for all the clumsy friends who have a habit of misplacing things.
Shade: marble white 
25 boxes per order 
Travel size 
Prevents jewelry from scratches and breakage
13. Passport cases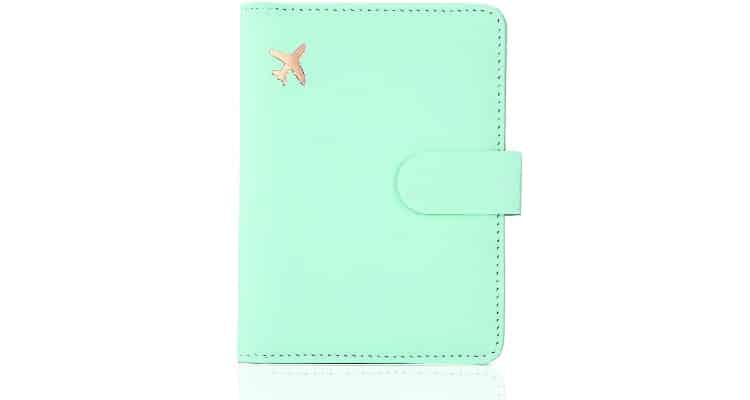 If your wedding party will be traveling for the ceremony, consider providing them with something practical in their gift bags. Your pals can keep their passports in these amusing passport holders, keeping them visible and safe from daily wear and tear all the while looking chic and different.
Leather material 
Dimensions: 5.9 x 3.9 x 0.6 in 
The passport cover is also a travel wallet; it can store documents, receipts, credit cards, pen, cash, ticket or boarding pass
Portable travel accessory
14. Heart sunglasses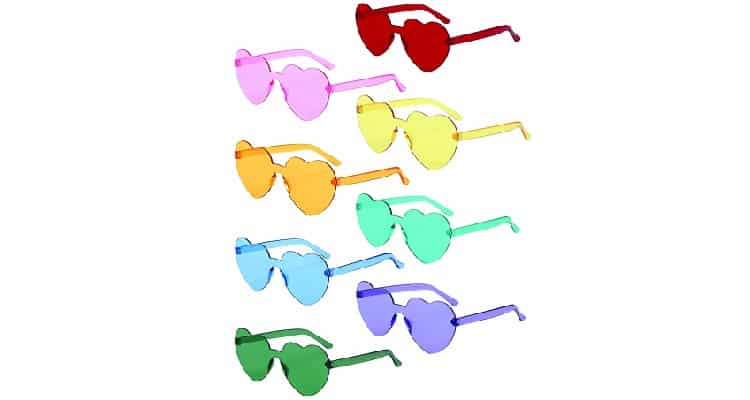 These sunglasses are there to set the vibe for the Big Day! Will the wedding be beautiful and majestic? Yes, but will it also be fun, charismatic, and memorable? Big yes. The heart sunglasses are fashionable and work great if there is a pool party. We suggest you get your hands on these babies fast before they sell out. 
Various colors available 
One size fits all 
Lightweight and skin friendly 
Durable
Related Reading: 15 Unique And Useful Wedding Gifts For Older Couples
15. Zodiac pendants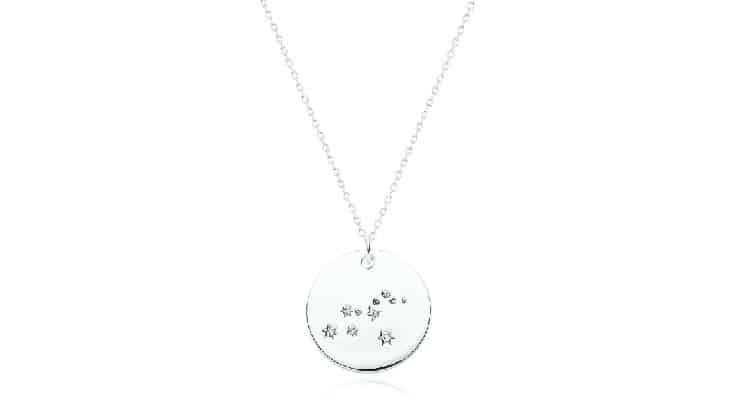 These ethereal pendants are a considerate gesture for any cosmology member of your squad if you want to go the jewelry way. The thought that you would have put into this in order to make sure everyone gets the pendant of their respective zodiac signs is bound to make some of your gang very teary-eyed.
100% lead and nickel free; hypoallergenic 
All zodiac signs pendants available 
Easy to wear and take off 
Suitable for sensitive skin
16. Personalized ring dishes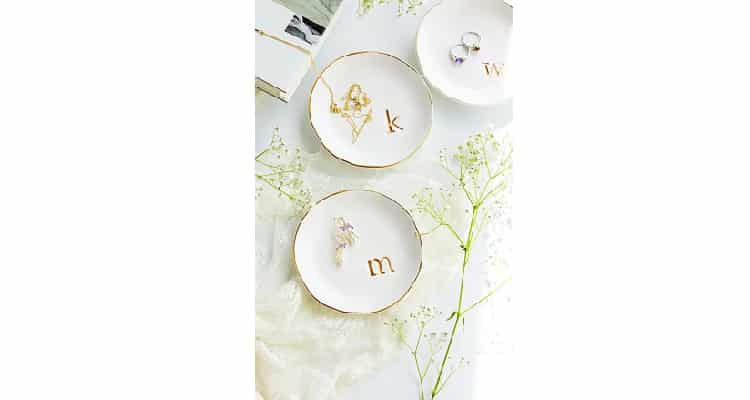 A monogram ring dish is a lovely way to keep jewelry and other trinkets. These wedding party presents for your bridesmaids would look wonderful in gift baskets. And if you want to go the extra mile, then you can give them pretty rings along with these lovely ceramic dishes.
Dimension: 4.75 x 4.75 in 
Made of lead-free, cadmium-free, high-quality ceramic
Each tray comes beautifully packaged in gift box
Works as home décor too
And with that, we come to the end of this list of wedding party gifts. Truth be told, making this list made us wish we had someone's wedding to go to, and that too soon! No matter what gift you choose from the list above, rest assured that both the squads are going to love them and use them at every opportunity.
FAQs
1. Are bridesmaids supposed to get the bride a gift? 
Yes, it is customary for bridesmaids to get the bride a present. All of them can choose to pitch in together to get the bride a big gift or they can each get her separate presents.
2. How much money do you give at a wedding party?
We believe based on the closeness and the bond you share with the couple, anywhere from $50 – $70 is deemed appropriate.
Does Living Together Before Marriage Mean You Are Ready For The Wedding?
12 Struggles You Will Go Through if You Are Single During the Indian Wedding Season
Ask Our Expert
You must be logged in to post a comment.