Do you love your family and don't think you get to see them enough? Are you sad about the long-distance relationship you're in, with your family? Are you constantly trying to find ideas for presents to send to them? You're in luck – you've reached the right place to try and understand how this distance can be shortened with the help of surprise presents.
Sending love over a long distance can be difficult – especially when you want to do it every now and then. How many times do you break your head looking for presents for a family that probably has everything?
Related Reading: 15 benefits of long distance relationships
Bonobology's List Of 21 Long Distance Family Gifts Ideas
Look no further, because we understand how important your family is to you – whether you're able to meet them or not, we understand the importance of you wanting to reach out to your family from time to time over the distance. Since the easiest way to do this is through presents, we have created the ultimate list of unique presents to send to your family members that live miles away.
This list contains not just any presents, but these present ideas are definitely going to make your family both emotionally happy as well as want to utilize the presents, and keep them occupied until you visit the next time!

1. Cheese Board
Does your family love their wine and cheese nights? Are they people that occasionally love to pop open a bottle of red wine and take out a little cheese and cracker plate?
In that case, this present will probably be the best idea for you (and make them think of you each time they use it). This Malvern Cheese Board has an array of features on its bamboo base – it has a broad serving area, and has a curve etched in all around the board for placing crackers.
The board comes equipped with a spreader, fork, cheese knives and cheese markers which are all made out of stainless steel, thus giving it a very premium and elegant finish and making it a hit for a small gathering or a large party alike. The tools are placed inside a little concealed drawer in the board and what's best – the board is easily washable and weighs just under 6 pounds – portable to carry around and easily manageable.
2. Hug Pillow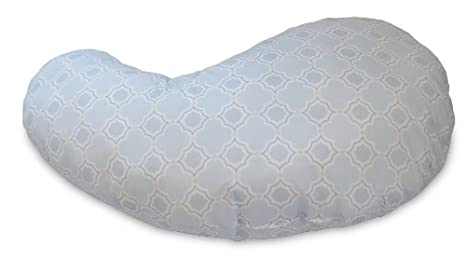 What do a long day, a tiring day or just a lazy day have in common? Comfort! Send your family a large hug in the form of this oversized fuzzy body pillow shaped like a fox (or there are other animal options too, such as a bear or a deer, depending on what your family would like best) and help them curl up into a ball and relax the day away.
This soft pillow is four feet long and crafted with ultra-soft polyester fibers.
The fox has a lot of personality and can be used as a home décor item as well – it looks like a small family pet with its beaded eyes, perky ears and nose and is great for spending a lazy day in reading a book, taking a nap or watching some Netflix. Each time your family misses you, all they need to do is give this pillow a nice big hug.
3. Personalised Map on a Wooden Block
Made of finely stained birchwood, this block of art is a wonderful keepsake to send a family member that lives a thousand miles away. This 'family map' is a lovely reminder to tell your family you love and miss them despite the miles – it showcases artwork of the map of a state or city of your choice, with names of your family members.
You can even have alternate text printed on the block. The block is eco-friendly and made with a mahogany finish to give it that elegant and warm touch, and can be either hung up on a wall, or put as a mantelpiece, or on a shelf. It's a great present for your parents or your grandparents.
Related Reading: 5 mistakes couples make in Long Distance Relationship
You can even customize the colours and the pattern and what makes each piece unique is that it is handmade.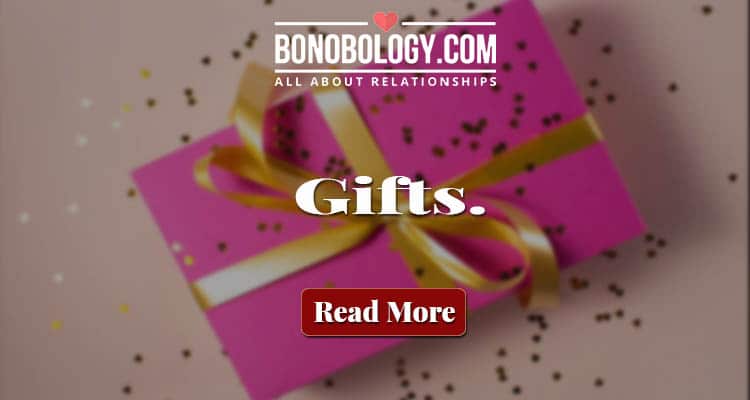 4. Nostalgic Coffee Mugs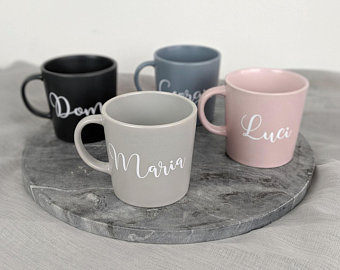 When's the best time of day to tell your family that you love and miss them and regret staying so far away? There's no right answer to this, but imagine how amazing it would be if your family was reminded first thing every morning that you missed them!
How about getting them a set of nostalgic coffee mugs to remind them of you every morning when they drink their coffee? Get your family personalised coffee mugs they can use in the morning, through the day, or even carry on road trips or use at campfires.
These mugs are made of metal and keep beverages warm for a long time because of their insulated insides – the mugs are durable and lightweight and can be customized to include the map of a city or a state in your favourite colour to share with a distant loved one.
5. Multiple Time Zone Clock
Choose from a wide range of pretty looking clocks to make the perfect gift for a family far away – while reminding them of your time zone.
These multiple time zone clocks add great value to household décor while giving your family real time updates on your time zone.
6. Scented Candles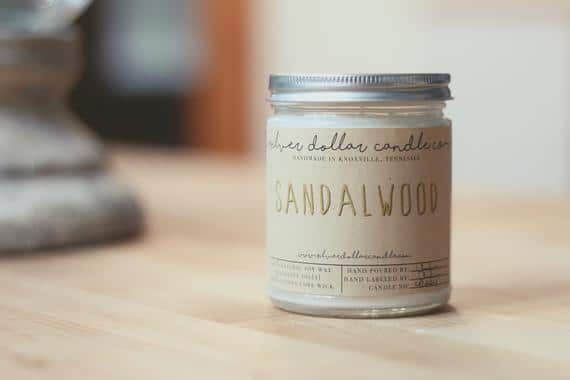 Made of parasoy wax, these scented candles are a lovely addition to any home and any person's life. They are gentle loving reminders to people that you miss them. These candles are available in 11 fragrances ranging from apple bourbon, pumpkin spice, and fireside to beach linen, fallen leaves, and gingerbread.
Perfect for any occasion, you can send individual pieces or a set of few different scents to your family.
Related Reading: 55 Unique Ways To Tell Someone You Love Them
The stickers on the candles say "light when you miss me", perfect for lighting up on a reminiscent or nostalgic evening when your family members are missing you and just need a little comfort or a hug from you.
7. Standees for tablets / iPads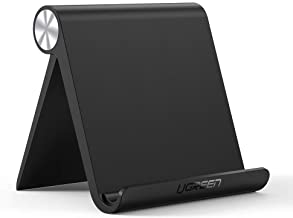 The one thing that bonds you and your family together through the distance is video calls – and what better way then to help your family through eased video calls. Gift them a standee for their tablet, iPad or phone and help them have video calls with ease. These standees are available in different colours and some even come equipped with charging cables.
Find the one that will look great as not just an item to pull out when they're getting ready for a video call, but something that can be used as a permanent stand on their shelf or mantel to hold their tablet or iPad.
8. Touch Lamps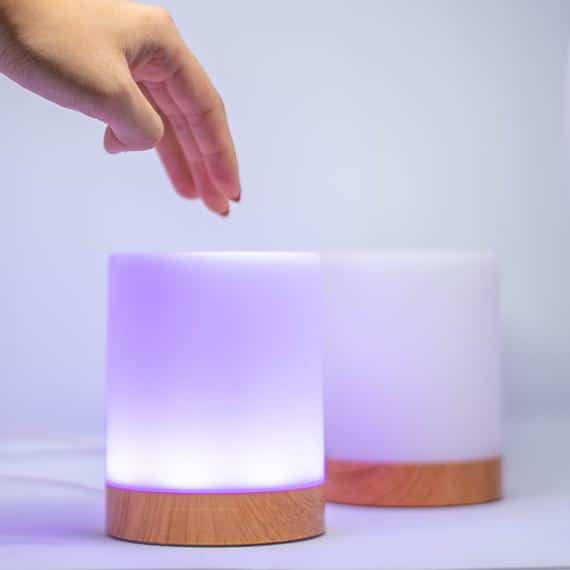 A bedside or table lamp is a great gifting item that has wonderful utility – and the best part is, each time you use it, you're reminded of the person that gave it to you. Give your family this wonderful touch lamp which simply has to be touched to control brightness.
They can put it on their bedside as a reading lamp and use the dim lighting to read before they go to bed, or use it as a night light or office desk lamp. This lamp has multiple uses and emits a warm LED light which doesn't strain the eyes. It has USB ports and does not take up a lot of room and is a great way to tell someone to help someone think of you every now and then.
Find the one that will look great as not just an item to pull out when they're getting ready for a video call, but something that can be used as a permanent stand on their shelf or mantel to hold their tablet or iPad.
9. Mini Photo Printer
As children with our film cameras, we had to wait days to finish a roll of film and send it out for development to see the photos, today in a world of instant digital photos here's a gift that will add a little twist and serve as a keepsake to (somewhat) remind us of how things used to be!
So, gift your family member this nifty and portable smartphone photo printer and travel down memory lane as you print photos right off your phone/tablet gallery.
Related Reading: 10 Proven Ways To Show Someone You Love Them
This photo printer can be easily connected to any phone via Bluetooth and you can immediately print photos to add to a scrapbook, to albums, print polaroid sized photos to brighten up walls, softboards or stick photos on your fridge – this gift makes for a perfect throwback to the good old days!
10. Luggage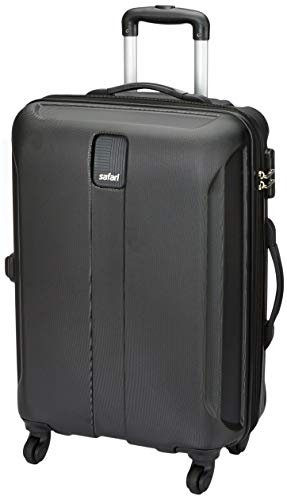 Want to send someone a subtle reminder to meet you soon? Send them a stylish carry on bag! With this TSA friendly travel bag, remind your loved one that it's time they took a trip and met you. The bag has easy to hold handles on either side and can be grabbed off the luggage carousel effortlessly.
It has a waterproof side pocket and can accommodate wet umbrellas/ water bottles. The bag is made with tough fabric and can be stowed away in an airplane seat or tight overhead compartment, as required. It also has a roller, so does not necessarily need to be slung on your back.
This statement luggage piece is a great way to ask someone to just pack a bag for the weekend and get ready to take a trip.
11. Greeting Cards / Notecards
Distance is hard especially when your timezones are polar opposites to each other so we found the perfect gift for when you'd want to give words of encouragement or love to your nearest and dearest. Write out fond memories of the fun times you have spent together or qualities you love about them on these quirky greeting cards or send a box of love notes to your loved ones.
Label them accordingly so they are opened and read when they miss you, when they need a quick pick me up or when they need a laugh – the memories are limitless, so write away and post them!
12. Long Distance Keychains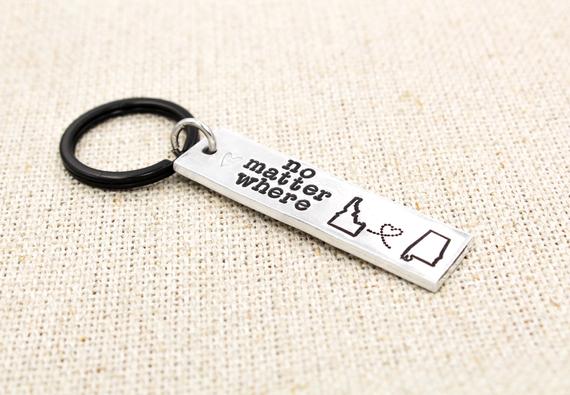 Personalised keychains with name charms and birthstones are a lovely present for family members – they can use the keychain for their car keys, home keys or to hang any other keys – whatever be the reason, they are sure to make use of this chain.
These personalised keychains allow you to etch in the names of all family members along with their birthstones on the metal – if you don't know their stone, simply send their birth date information.
The keychain is made of good quality aluminium and comes wrapped in a beautiful organza bag. The keychain is also an affordable present and a constant reminder to your family of not just you, but all other members whose names will be etched onto it.
13. Family Board Games – Kids Against Maturity
Is your family competitive and loves playing games when you get together? Does your family love to bond over a good set of games, even if they're not too great at them? Kids against maturity is a great party game for a family night in or a small party where the crowd is a mix of adults and kids.
The game has cards that have funny toilet humor as well as funny innuendos that adults can enjoy. This version comes equipped with an expansion pack for more card options to be played with larger groups of people, or just people that can't get enough and love playing every other weekend.
Related Reading: 50 Double Date Ideas That Are Fun
This is a game where amusing and hilarious responses win – each player gets a set of white answer cards and gets a turn at asking the blue question cards – the person asking the questions chooses the funniest fitting answer to the blue question card. This game is a perfect way to spend a lovely evening and bring the entire family together through laughs.
14. Indoor S'mores Maker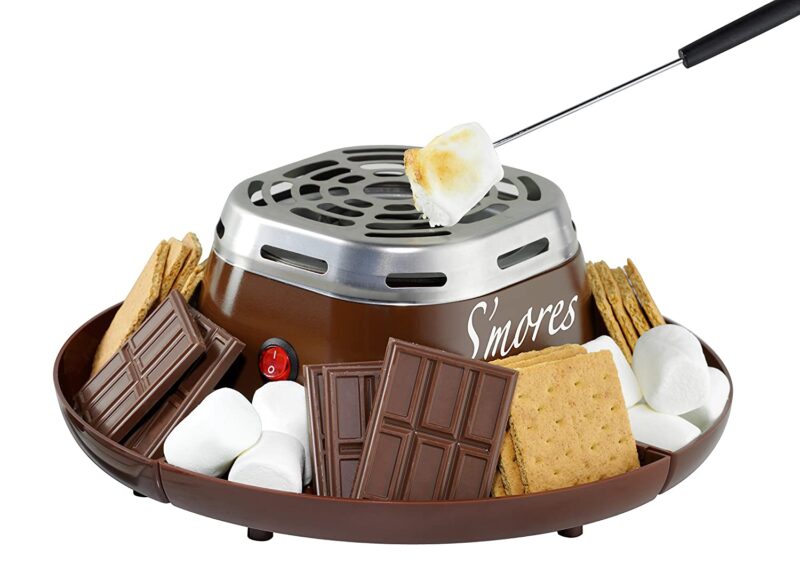 How do you bring good old outdoor family fun indoors? Easy – send your family an indoor s' more maker! Remind them of the wonderful times you had camping and going on road trips by gifting them this amazing, durable, and unique electric marshmallow and s'mores roaster. This flameless heater is easy to use and cuts out the hassle of finding firewood and building a campfire.
Ask your family to have a wonderful day indoors by plugging this heater into an electric outlet, putting on a nice movie, and getting cozy with the best snacks ever. This electric component includes two stainless steel roasting forks and comes equipped with trays that can be easily disassembled and cleaned. It is easy to store and can even be used at small parties or get togethers as a s'more station.
15. Hope you Brought Your Wine – Doormat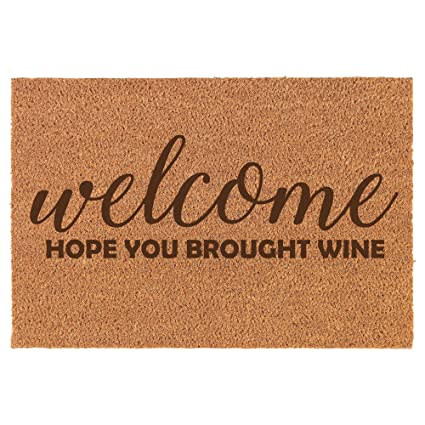 Looking to send your family a fun present to brighten up their day each time they walk into their door? Send them a fun doormat! This coir doormat is a wonderful peculiar and quirky item to add to any household – it's a great way to welcome people with the message, "Hope you brought wine".
The doormat is easily washable and the coir makes it long lasting and durable. It comes in a few colours and can be placed either outside the house, or make for a wonderful statement piece outside the kitchen or study.
The doormat is easily washable and the coir makes it long lasting and durable. It comes in a few colours and can be placed either outside the house, or make for a wonderful statement piece outside the kitchen or study.
16. Lightweight Hammock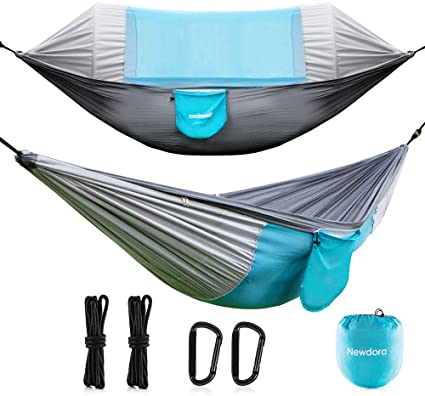 Looking to gift your family a comfortable day out at a budget? This lightweight backyard hammock fits the bill! If your family comprises members that love the outdoors but can't get out enough, this hammock is a great gift to remind them to take a little time off every now and then, even if it is just in their own backyard.
Easy to put together, this hammock can be strung between trees and comes with a set of tree saver straps and carabiners.
The cloth is made of a very snug and comfortable brushed nylon fabric and it can hold weight up to 400 pounds. Worried about storing it properly? This hammock is portable and can be packed into a small integrated stuff sack. So, no matter what the occasion, your family can easily take the hammock out, carry it on a road trip or even use it indoors if there are young kids around who want a novel playtime.
17. Sweet Choice Box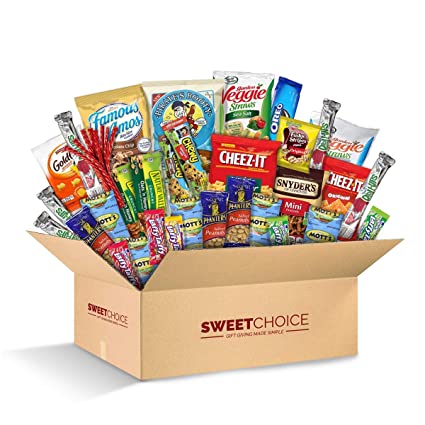 Looking to pamper your family with a huge care package? Look no further. This Sweet Choice Box is a lovely idea to send to someone that lives miles away and loves snacking on food items. This is a care package that fits any occasion – from holidays to just "I miss you days", give your family the gift of surprise with this variety pack they can indulge in.
Related Reading: 30 Interesting Questions To Ask A Girl To Know Her Better
With a mix of chewy bars, chips, granola bars, edible straws, pretzels, cookies and other snacking items, this Sweet Choice Box is a great gift for someone that has a sweet and savoury tooth! This assortment of flavours is sure to pack a punch and keep your loved ones occupied on their Netflix nights in!
18. Matching Pyjama sets
Nothing says ADORABLE better than matching pyjamas! Grab these adorable pyjama sets and ship them out to your closest family members! With a variety of designs and prints, one of the fun ways to bring a family together is through matching pyjamas.
Send your family a pair of personalised pyjamas and wear them together over a long-distance video call. You can choose the text, the images, the colours and the sizes – what's best, pyjamas are a great gift for any family member.
19. Cocktail Recipe Book
Do your family members love a good cocktail? Do you miss the vibe of the occasional cocktail evening with your closest family members? Look no further, we have the perfect gift for you. Explore the art of mixology, making cocktails and concoctions together on a video call – and beat out those long-distance blues, or simply put your family up to a fun activity on weekend afternoons.
Related Reading: 50 Rainy Day Date Ideas To Feel Close To Each Other
This interesting cocktail book by Kim Davies will guide your family on both contemporary and modern cocktails so gather your bar ingredients and get ready to learn the skills of a bespoke bartender to stir up a bar storm.
20. Face Plant Holder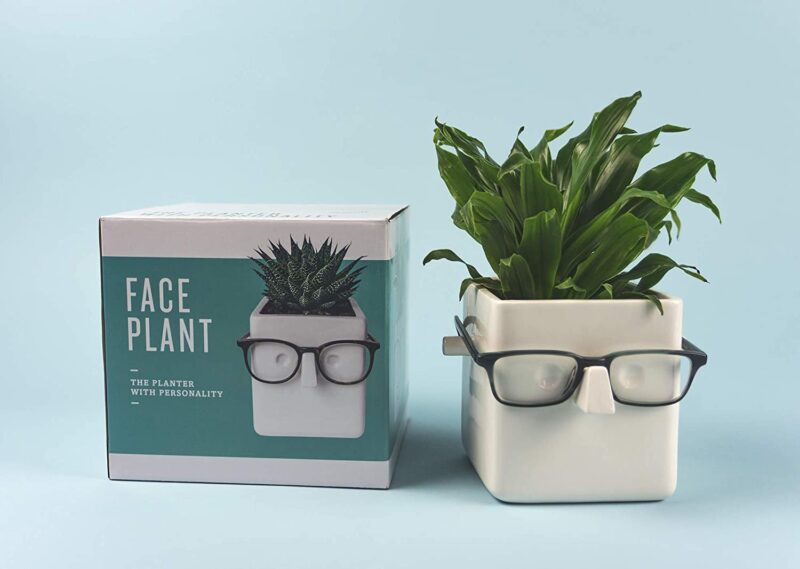 Got a family with a green thumb? This is a great and unusual present to remind your family that you don't just miss them, but miss their quirks and habits as well! This uber-cute planter is great for two items – succulents or small plants inside the pot, and your spectacles on the outside!
Made from durable ceramic, this planter has the shape of a face where one can hang their glasses or spectacles safe when not in use.
This planter is a great décor item for the living room or study and makes for both a great flowery friend as well as an eyeglass holder. The ceramic surface can also be drawn on with dry-erase markers – many people use this feature to write down daily notes and reminders on the planter. This is a unique and extremely useful, as well as aesthetic present your family is bound to go crazy for!
21. Custom Ornaments for the Holidays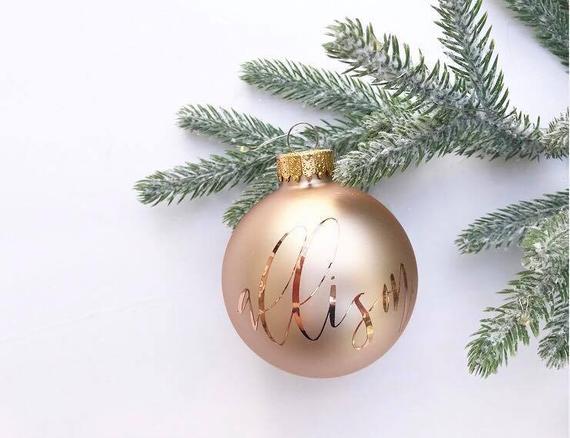 These custom calligraphy gold frosted tree ornaments will make the perfect gift for your family members – just in time for when you visit them for the holidays this year. Each orb is individually hand-lettered with words of your choosing which makes these ornaments a very unique and special keepsake.
The ornaments are made out of glass and are packaged in a box that is ready to add a little special spin to your visit back home. Send them with tons of love to your family to give them a little reminder of your visit and get them excited for the holidays.
So what are you waiting for just go ahead and get a unique gift for your family. We can already see them smiling and thanking you on your next video call

Team Bonobology