Everyone loves a gift. Even macho men love to be surprised with gifts from their girlfriends. Just like women, men too, need to be shown that they are loved and cared for. They deserve a little appreciation from their girlfriends. Instead of always opting for expensive gifts, this time around, why not try some sentimental gifts for a boyfriend?  
You don't need a special occasion like a birthday or an anniversary or Valentine's Day for you to shower your love on him. Get him something meaningful that he will cherish forever. To help you, we have curated the ultimate list of cute sentimental gift ideas for a boyfriend that is sure to sweep him off his feet. 
16 Thoughtful Sentimental Gift Ideas For A Boyfriend
These gifts are full of loving thoughts which will get you the 'Best Girlfriend Award'. Whether your boyfriend likes to cook or is a gamer, this is a list for every girl eager for sentimental gift ideas for a boyfriend. These sentimental presents for him will surely bring out his softer side.
1. Keepsake hands casting kit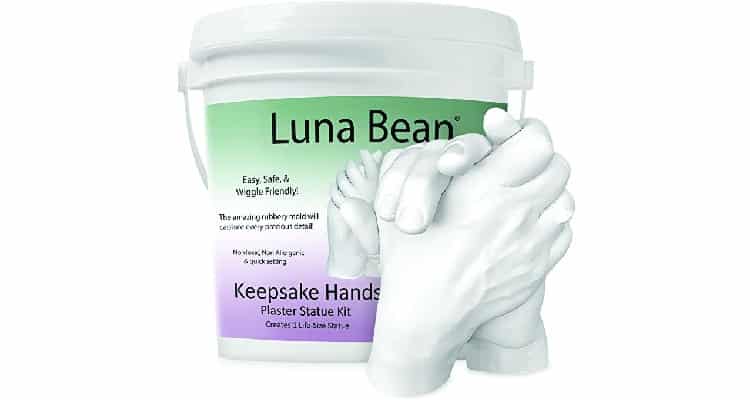 There is nothing more loving and affectionate than holding your boyfriend's hand. Make this special moment last a lifetime with such sentimental gifts for a boyfriend. It can be a task to find a gift that's original and shows how much you care. This hand casting is one-of-a-kind and a great activity to do together. This is one of the most romantic gifts for him. It will help you spend quality time and connect with your boyfriend on a deeper level. 
The unique rubbery cast captures every fine line and fingerprint for a perfectly treasured gift
Has more working time, forms a stronger cast, provides better detail and has bolder color-changing properties than other craft brands
A fun and memorable gift activity 
Lasts for a very long time
Related Reading: 32 Best Gifts For Dog Lovers And For Every Pet Parent
2. A heart-warming figurine
This could easily be the most poetic thing on this list of sentimental gift ideas for a boyfriend. This romantic figurine portrays a man and a woman sitting together, his palm and forehead touching hers gently. The expression of love that resonates in this figurine is "…just the nearness of you". How incredibly poetic is that!
5.5" resin cake topper cast from artist Susan Lordi's original carving and painted by hand
The base of carved flowers provides stability as well as beauty
Artist Susan Lordi hand carves the original of each Willow Tree piece from her studio in Kansas City, MO
This piece is cast based on Susan's original carving and painted by hand
3. Long distance touch bracelets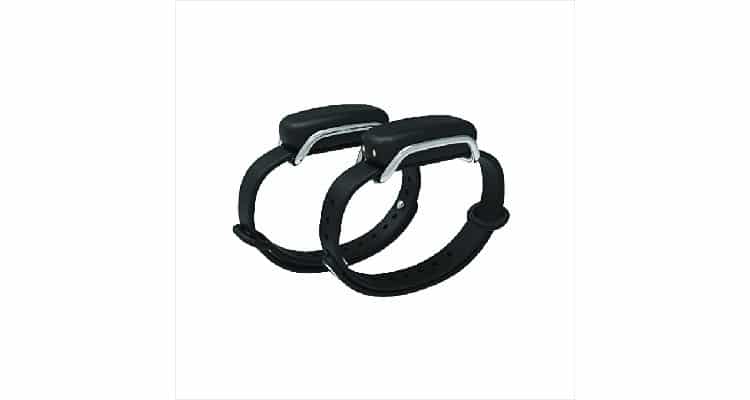 These long-distance connection bracelets are so thoughtful and sweet that they will melt your boyfriend's heart into a puddle. This pair of bracelets will keep you both connected even if you are miles apart. And do you know what makes this one of the more unique and sentimental birthday gifts for him? It mimics the natural vibration of your boyfriend's touch. 
Share your status with your boyfriend by downloading the Bond Touch App on App Store or Google Play 
Has an in-built private chat where you can gossip and talk about anything you want 
Comes with customizable straps and swap accessories
Includes two USB chargers for the two bracelets with a silver loop  
4. Personalized engraved photo crystal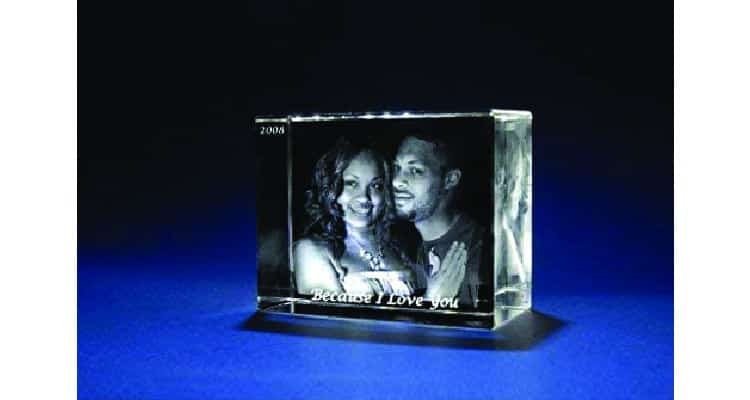 Why not impress him with some cute sentimental gift ideas for a boyfriend? This gift, for instance, is quite unique as your photo will be engraved in premium crystal. Let him know that you have the most thoughtful taste when it comes to gift-giving by getting him such charming gifts. This is one of the ways to shower appreciation on him.
Illuminate any of the 3D etched crystals with a uniquely designed wooden LED base light
The perfect way to display your cherished engraved crystal
Comes in many rectangular sizes
Invokes stunning memories and special moments
5. I love you soundwave art
He has heard the phrase `I love you' in your voice many times. But has he seen it? With this unique soundwave art, you can transform your voice into artwork. It's one of the most sentimental gifts for a boyfriend. It shows him how much thought and effort you have put into selecting his gift.
Soundwave art converts songs or any voice/sound into artwork
Uses unique soundwave and geometric shapes to create this abstract landscape illustration
Personalize your space with the beauty of nature
Every audio generates its own unique pattern, just as a fingerprint
6. Scented candle with a sweet message
This smells like campfire marshmallows and is the perfect scented candle to light when the two of you are getting intimate. This could be one of the special, thoughtful sentimental Christmas gifts for a boyfriend. Whenever he lights up the candle, it will remind him of your special moments together.
The label on it says "Baby, you're worth it"
Its burn time is 45+ hours
This aromatherapy candle is made of 100% natural soy wax, cotton wick and natural essential oil
Eco-friendly, no black smoke, and does not contain any harmful chemicals or additives
Related Reading: 13 Things A Guy Means When He Calls You Cute Or Beautiful
7. 3D deep sea sand art
This beautiful 3D quicksand art painting with the combination of colored sand and luminous glitter will create an ever-changing and unique sand landscape on your boyfriend's nightstand or his work desk. The circular design makes it different, not only modern but also shows a uniquely calm atmosphere. Help him enjoy the beauty of quicksand. It is one of the most sincere sentimental gifts for a boyfriend that he will treasure forever. 
When you look at the dynamic sand art, the grains of sand are falling slowly, making you feel that the whole world is becoming quieter, breathing slower and releasing pressure
Has three levels of brightness
Remote control makes it more convenient for you to use
360° Rotate, Every time you turn the sea sand art, you will get a different sand liquid motion vision
8. Watch organizer box
It's no secret how much men love watches. If your boyfriend falls into this category, he will need an organizer to keep all his watches together. Why not make this one of those sentimental birthday gifts for him that will make him even more grateful to have you in his life. It is one of the gifts that'll put a smile on his face.
It is constructed with solid wood construction and can hold 12 watches
It is made of black PU leather and has a display screen on the lid
It is a vintage style in design and it is fully lined in gray 
It comes with an additional feature: A lock and key for extra security
9. Vintage pocket watch
It's vintage, it's classic and it should be a part of every man's collectibles. It's a stylish accessory, fit for any casual environment or formal occasion. It's a memorable gift for the love of your life. It shows you put some thought into getting the best sentimental presents for him, letting him know how much you value him.
This classic pocket watch comes with Roman numerals scale
It is heavily engraved both in the front and back with exquisite patterns
It is made of alloy material. The dial is black with white Roman numerals scale and pointers which makes it easy to read 
Press the crown at the top of the watch and the front plate will open 
10. Personalized cufflinks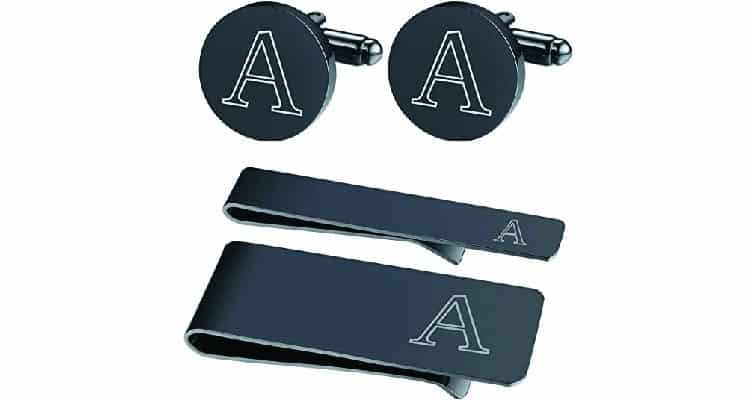 No boyfriend's accessories collection is considered complete without the addition of some sleek cufflinks, tie bar and money clip. Personalize these with his initials and add them to your list of cute sentimental gift ideas for a boyfriend. 
Each set includes a pair of cufflinks, a matching tie bar and a money clip with a letter engraved
Jewelry comes in black gift box with high-quality foam to hold each piece in place Cufflink Shape: Round: 0.6" x 0.6" . Height: 0.9" 
Closure type is bullet-back. Tie Bar Length: 1.9". Money Clip Length: 2.1"
High polished smooth surface makes this a perfect daily wear 
11. Engraved pocket wallet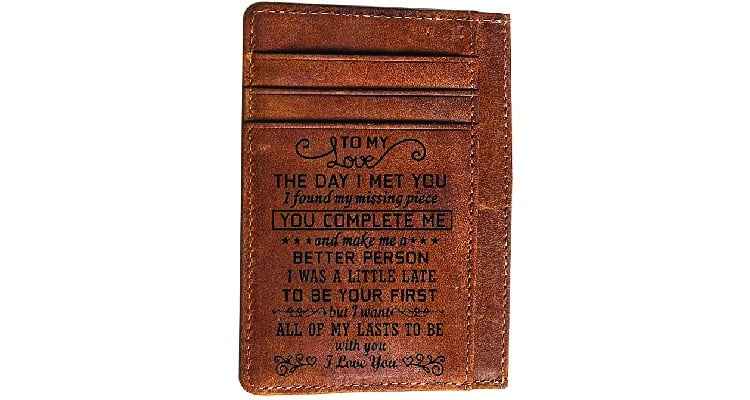 If you are too shy to express your love for him, then get such sentimental presents for him which  convey the message for you. The engraving on the wallet reads, "To my love, the day I met you, I found my missing piece. You complete me and make me a better person. I was a little late to be your first but I want all of my lasts to be with you. I love you." If someone gave that to me, my eyes would well up instantly.
The wallet is ideal for holding credit cards, debit cards, driver's license and ID cards 
This protects the valuable information stored on RFID chips from unauthorized scans and electronic pick-pocketing
Minimalist design, only 0.12″ thick, sizing 3.1″ X 4.3″ X 0.12″ extremely convenient to be carried around in your front or back pocket
6 card slots for you to place the most frequently used cards and 1 cash slot
12. Keepsake rock
When it comes to sentimental presents for him, this is a winner. It is quite a unique gift that your boyfriend probably doesn't have yet. It comes with a heartfelt message engraved on it. It is an everlasting beautifully polished engraved black stone with an  engraving that says, "No matter how far you are, every day, around the clock, always remember, that you are my rock". This could easily be one of the symbols of love.
It is a keepsake that can be carried with him or her in their pocket to remember how special you are, or placed on a nightstand or fireplace mantle
This Copyrighted2017 Poem by Sterlingclad LLC is a memorable item that will make a lasting impression, as he says, "Aww, that is so sweet"
Can also be used as a great stocking stuffer for relatives and friends
The stone is black and the engraving is done in gold
13. Abstract art through intimacy
This is one of the kinkiest gifts that will melt his heart as well as bring a naughty smile to his face. He will never forget a gift like this. The 'Love Is Art' kit includes everything you will need to craft a one-of-a-kind abstract painting while being intimate with your boyfriend.
You get a unique painting that represents that special moment. It can then be stretched, framed and hung on the wall. It is one of the best sentimental gifts for a boyfriend as it is a lasting reminder of the love and passion shared between the two of you. This gift will also help you spice things up in the bedroom.
Love is, indeed, art. It's meant to be shared, beheld and admired
Capture your special moments on canvas, and relive them whenever you pass your painting
Kit includes 10" x 12" plastic tarp to protect surfaces
Also includes two pairs of disposable slippers and a soft mesh body scrubber. Paint is washable and non-toxic
14. Personalized wooden docking station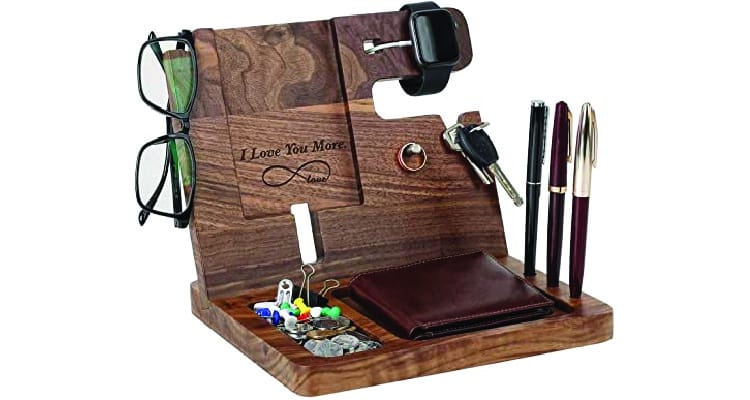 Aren't we all tired of our boyfriends screaming our name every morning while trying to collect all the things they need before heading to the office? I really am. This engraved wooden docking station will keep your boyfriend's stuff organized without you having to clean his mess every day. 
It is crafted with premium materials using resistant strong ebony wood. From phone to pen slots to wallet placements, these docking stations have everything your boyfriend will need to keep his things in an organized manner
The varnish finish will ensure high quality and durability. Its stylish design adds a nice aesthetic to  any space in the room 
It is lightweight, versatile and easy to assemble
You can engrave anything on the docking station. Be it his name or words or any specific date or words of love
15. Infinity bracelet for men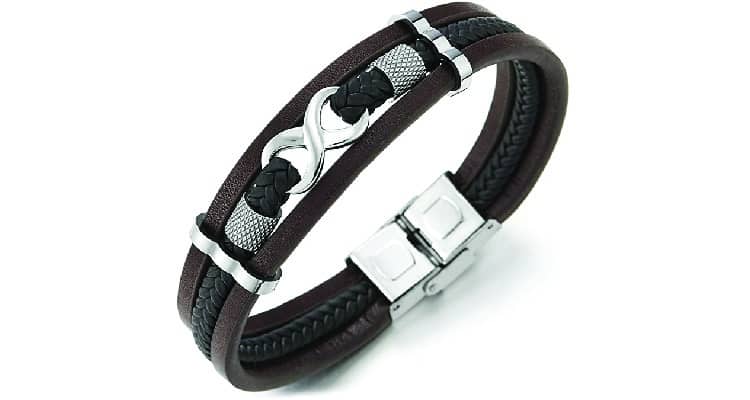 If you are looking for the perfect sentimental Christmas gifts for a boyfriend, then portray your timeless love by giving him this infinity bracelet. It is also stylish and he can wear this to accentuate his everyday looks. It has a simple design that would appeal to every man.
Metal is stainless steel
Material is black and brown leather
Polished and satin finishing
Length: 7.87", width: 0.55"; Weight: 17.2g
16. Reasons why I love you in a wooden box
This is one of the touching sentimental gifts for a boyfriend as the wooden box contains handmade wooden hearts with laser engraved love quotes on it. These love quotes will never fade, resembling the love you have for him. 
The wooden box is professionally laser printed
Filled with 12 reasons I love you, each of which is touching
Three blank heart-shaped wood chips
You can also write three more if you like
So there you go. 16 cute sentimental gift ideas for a boyfriend which are suitable for all occasions. And even if there isn't a special day coming up, you are good to go as you don't need a reason to celebrate your boyfriend and the love you both share. 
FAQs
1. What can I gift my boyfriend to make him feel special?
Anything which he has secretly been wanting will make him feel immensely special. If you want to go for the little things, then get something personalized such as personalized cufflinks or personalized cardholders. 
2. What meaningful present should I get for my boyfriend on Christmas?
Personalized socks or a watch organizer box. Don't forget to add a greeting card with a lovely message written on it. 
21 Last-Minute Gift Ideas For Someone Who Has Everything | 2022
34 Trending White Elephant Gifts Everyone Will Fight For | Best Fun Gift Ideas