The guy that claims all your attention, love, and care – yes, we are talking about husbands, who were you thinking of?! (wink) – has to be special, because he did get himself the best wife in the whole world! Are we right, ladies, or are we right? Now because he holds such a special nook in our hearts, birthday gift ideas for husbands ought to be equally special. Look beyond the ordinary when choosing gifts for husband's birthday and don't settle for the usual or the mundane.
But the question that now arises is, "What are the best birthday gift ideas for husband?" Well, the answer lies in your thoughtfulness and the gift's practicality. Go for some thoughtful birthday gifts for husband that he will use, love, and cherish. To help you with this, we have put on our thinking caps and compiled this list of birthday gifts for husband which will include everything that is unique, creative, and romantic.
20 Creative Birthday Gift Ideas For Husband
Creative gift ideas for husband's birthday require you to take some effort and ditch the cliches. You would obviously want to surprise your man with a gift that he can utilize and hold dear forever, something that he will remember as one of the best birthday gifts he has received from you. But, where is that ideal, exemplary gift hiding? Let us tell you, it's hiding in the ideas listed below! Take a look at our detailed list of the best gifts for husband's birthday, and you will be sorted.
1. Personalized leather wallet
Nothing spells unique better than personalized birthday gifts for husband. Just as your husband is unique and one-of-a-kind, so should the choice of gift be. Engrave it with an endearing message for him that will make him smile every time he opens his wallet. Can anything be sweeter or better than this?!
Related Reading: Will You Be My Best Man? 25 Groomsmen Proposal Gift Ideas
Leather wallet engraved with personal message inside
Made using high-quality leather with soft, beautiful texture outside
Features multiple pockets and slots for holding cash, cards, coins, receipts, tickets, and anything else that finds its way into a men's wallet
RFID blocking enabled wallet keeps important data safe and secured
2. Beard grooming kit
The face that stole your heart and swept your feet off the floor deserves extra special care and love. Pamper your man with one of the more thoughtful birthday gifts for husband such as this beard grooming kit. Your man's killer looks took your breath away; help him sharpen his cutting edge appearance with this all-in-one beard care kit.
Set of beard care products includes everything for your beard – shampoo, conditioner, oil, balm, brush, comb, scissors, all in a storage bag along with an e-book
100% natural products that boost growth, hydration and nourishment for beard
Beard oil and balm soften the beard and nourish it with essential nutrients
Bristle brush and wooden comb to remove dirt and tame beard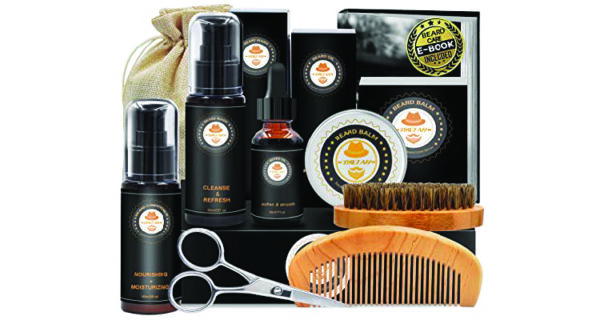 3. Funny greeting card
Looking for a unique birthday gift for husband? Go for this funny and creative greeting card that will tickle his funny bone yet fill him with love for you. This greeting card reflects upon the relatable stages of every relationship in a fun and witty way. Your man will definitely appreciate your sense of humor as you present him with this romantically funny take on relationships. Pair this card with any one of these gifts here and give him a hearty laugh.
Funny greeting card for husband's birthday
Clever card with five pages of humor and cute illustrations
Product dimension: 0.2 x 5.38 x 8.25 inches
Features sparkling glittery hearts all over
Includes envelope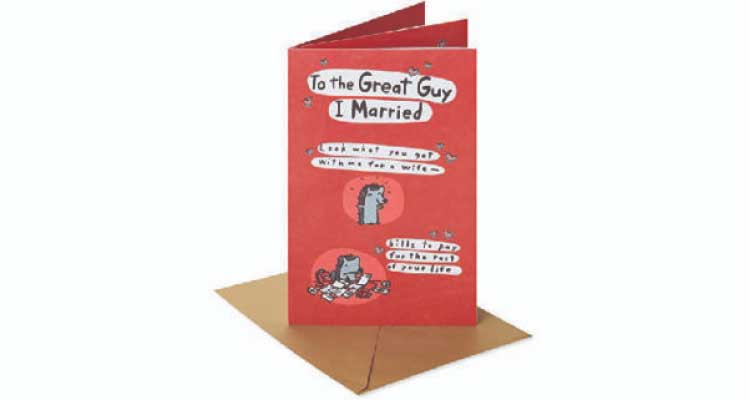 4, A useful T-shirt (and a gratifying compliment)
Birthday gift ideas for husband can be both delightful as well as practical. Take a look at this gift if you are still doubtful: a utilitarian t-shirt that compliments your husband. Let your man know how lucky you are to get him for he is the perfect partner to show off (and keep) forever! This t-shirt will have him chuckling for sure!
Cotton polyester blend
Comfortable and durable t-shirt in modern fit
Slogan on the t-shirt reads: "Trophy husband"
Printed using high-quality QCM screen-printing ink which is free from CFC and phthalate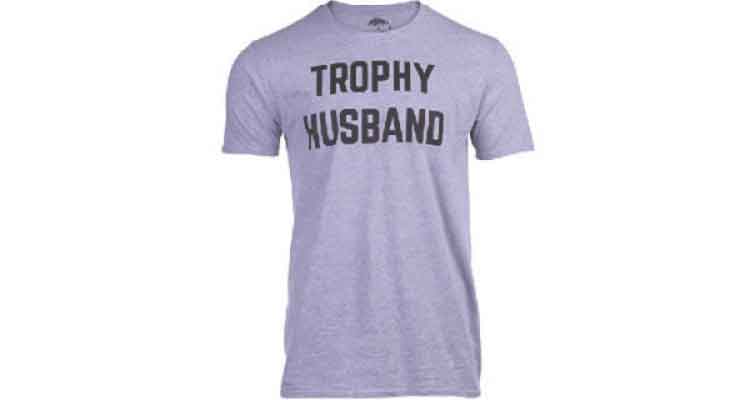 5. Whiskey set engraved with a message
One of the most romantic birthday gifts for husband would be this set of whiskey glasses engraved with a heartfelt message. Remind him of your love every time he raises a toast; let him drink from a cup brimming over with your affection. Surprise him as you celebrate his birthday together, by opening a bottle of his favorite Scotch and pouring it into these lovey-dovey glasses. Cheers to your love!
Related Reading: 35 Useful Travel Gift Ideas For Men – Best Gifts That He Will Love
Set of 2 crystal-cut whiskey glasses, 8 stainless steel stones, vintage slate coasters, stainless steel tong, velvet bag, and wooden box for storage
-25 F stainless steel stones engraved with Ace of Hearts
Odorless and tasteless stones for chilling drink without diluting it
Engraved pine box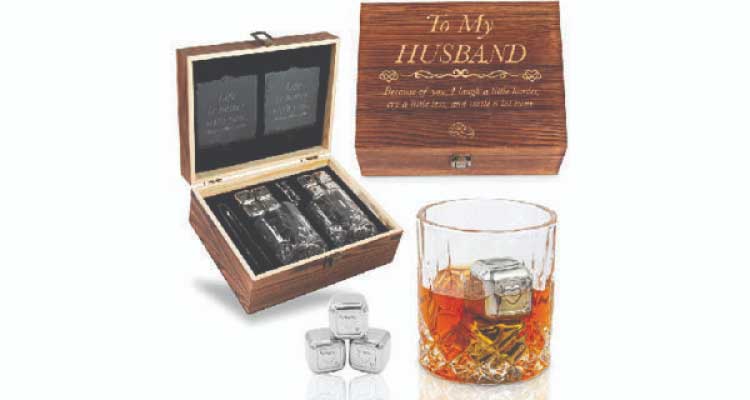 6. Amazon gift card
When you have too many birthday gift ideas for husband to choose from, you might feel a little confused. "When in doubt, leave it out" goes the adage, so when you are too unsure of gifts for husband birthday, simply leave it out. No, we don't mean to say don't get your husband anything. Rather, gift him something that he can later use to buy himself a present: like this Amazon gift card! If you want personalized birthday gifts for husband, then you can opt to get it customized too! One of our more clever suggestions!
Amazon gift card in a special gift box
Choose amount as per your budget
Redeemable on millions of products listed on Amazon.com
Customize with a personal message printed on the packing slip
No fees and no expiry date
No returns and no refunds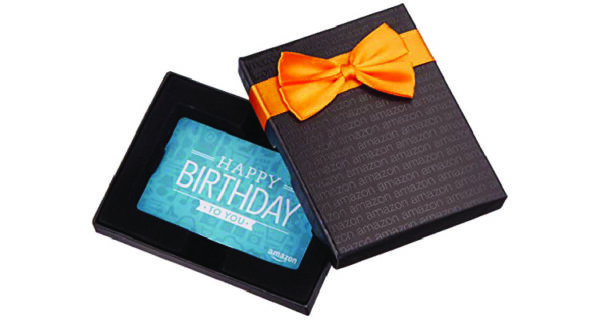 7. Gifts for husband birthday: Handheld frother
If your husband enjoys a frothy, hot chocolate on cold wintry nights or a cold, foaming milkshake on sultry afternoons, then this is one of the best birthday gifts for husband. Gift him this handheld frother to add mounds of froth to his cuppa. Celebrate the birthday eve snuggling together while sipping on a steaming, foamy cup of coffee and see the temperatures rising, wink!
Multi-functional milk frother that works for both hot and cold beverages
Travel-friendly milk frother with in-built rechargeable battery
Made of stainless steel, comes with 2 different detachable whisks for milk and egg
Ergonomically designed to suit all needs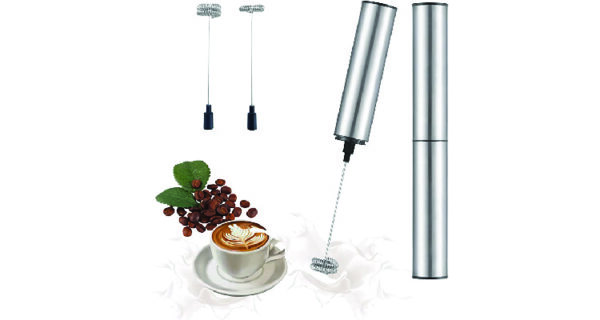 8. Personalized birthday gifts for husband: Watch
Personalized gifts always hold a special place in the receiver's heart, because they see the thought and care that has gone into the gift. Walk that extra mile to get personalized birthday gifts for husband, something which will stay close to him, reminding him of the love you harbor for him. How about gifting him this watch that is personalized with an engraved message of love? Watch + personal message = best husband birthday gift!
Handcrafted from stainless steel and 100% natural wood
Fade-resistant message "To my husband" engraved on the watch
Wooden parts make it unique – a conversation starter for sure
9. Kitchen apron for husband
If your man loves to whip up a storm in the kitchen, then this is one of the best creative gift ideas for husband birthday. A kitchen apron that scores well on the utilitarian front, along with a slogan that can tickle every couple's funny bones with its relatable humor. The witty apron is sure to bring a smile to your husband's face as he gears up to serve his meat (pun intended!). Undoubtedly, the best husband birthday gift ever!
Related Reading: 20 Funny Gifts For Boyfriend That'll Put A Smile On His Face
Apron made out of 100% cotton
Durable and thick material
Features 3 pockets in front to keep kitchen tools in
Adjustable strap
Product dimension: 27*29 inches
10. Scented candle for husband's birthday gift
Thoughtful birthday gifts for husband are those that are practical and yet naughty. A lot of thought goes into coming up with such a unique birthday gift for husband that will humor him with its naughtiness and win him over with its practicality, just as this scented candle does. Set up a romantic date on his birthday, present him with this scented candle, and let it work up a heady aroma as he gets into a sexy mood! Gift him this candle along with a few other naughty items and we guarantee this as one of the most romantic birthday gifts for husband ever!
Lavender scented candle that relieves stress and anxiety
Made with eco-friendly, natural soy wax
9 oz candle; burn time of 45-55 hours
Witty slogan: "I love you for your personality, but that dick is a huge bonus"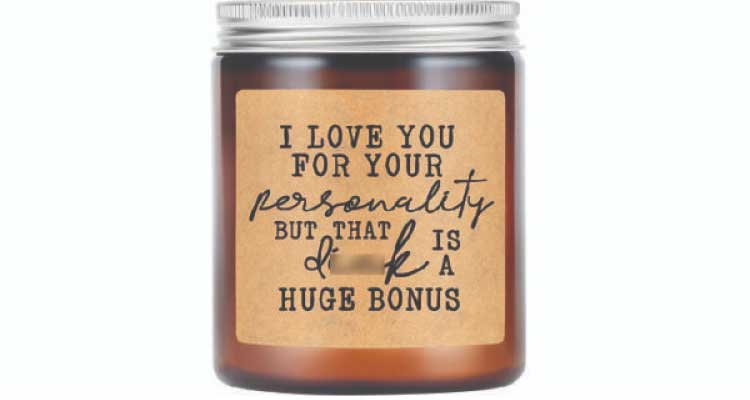 11. Super soft blanket
Struggling with birthday gift ideas for husband? You won't anymore when you see this! This ultra-soft blanket printed with a profound message will leave him speechless. It is practical, something that he will use almost every day, and romantic as well. We are sure you're thinking, "What an excellent list of gifts for husband birthday this is!"
Related Reading: 28 Romantic Valentine's Day Gifts For Husband
Perfect love blanket with a dedicated message "To my husband"
Microfleece fabric ensures utmost comfort
Suitable for both hand wash and machine wash
Product dimensions: 60″ L x 50″ W
12. Husband birthday gift: T-shirt
Because the best man in your life deserves the best birthday gifts for husband. Go all out and declare to the world how you've been blessed with the best husband, not just in the world, but in the galaxy! Show some appreciation to your guy with this t-shirt which is an absolutely win-win if he happens to be a movie buff too.
Comfortable and snug t-shirt in natural fibers
Available in different colors and sizes
Lightweight t-shirt in classic fit
Suitable for machine wash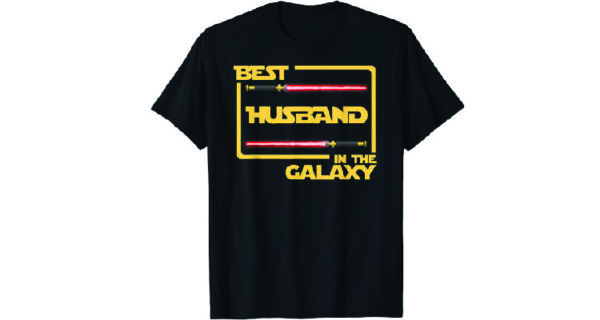 13. Insulated tumbler
Even though your husband knows how deeply you love him, it is time for you to show and express that unconditional love. Nothing can convey your profound love better than a message straight from the heart. So while you are trying to choose romantic birthday gifts for husband, why not go for this insulated tumbler that will stir up his emotions with its passionate expression of love?
BPA-free, food-grade stainless steel tumbler
Spill-proof and air-tight lid
Double-wall vacuum insulation that retains temperature of beverage
Light-weight, travel-friendly tumbler that fits most cup-holders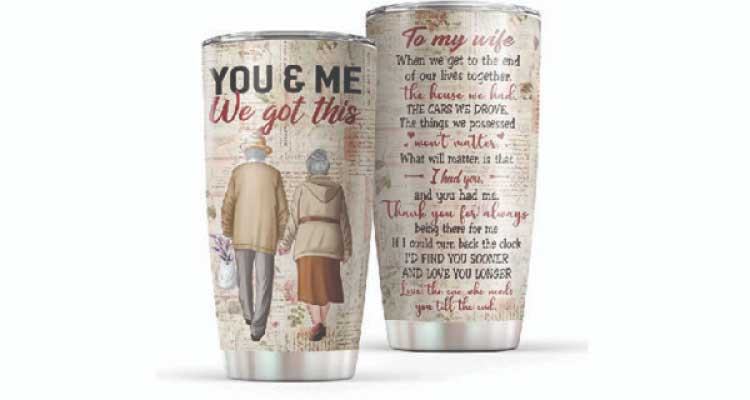 14. Snack attack
Husbands and their love for snacking – who doesn't know about this food phenomenon? Needless to say, birthday gift ideas for husbands who love to gorge on snacks has to do with food. Send him an assorted platter of snacks and see him grin from ear to ear as he relishes every last crumb. Alternatively, plan a movie night with your husband and dig into this platter together – his birthday celebration can't get better than this.
Related Reading: 30 Best First Wedding Anniversary Gift Ideas For Couples
Assortment of 12 beef jerky snack packs
Variety of flavors and tastes
100% premium USA beef for healthy snacking
Includes pork chops, jerky sticks, traditional jerky, epic pork rinds, chicken, ostrich, and beef bars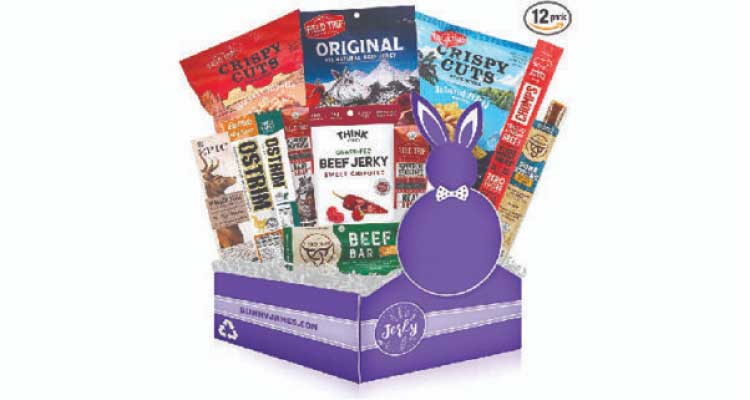 15. Multitool gift set
What is better than a birthday gift for husband? More birthday gifts! Because it is difficult to settle on just one gift for husband dearest, we are here with an entire gift set. And that too, a multitool gift set! A list of unique birthday gift for husband would be incomplete without a multitool gift set that all men swear by. See his eyes sparkle with child-like glee on getting this one!
Gift set includes 1 stainless steel coffee tumbler, 1 multitool pen gift set (along with box), pair of coffee socks, gift card and gift box
Vacuum insulated tumbler made of food-grade steel
Multitool pen works as a pen, screwdriver, bubble leveler, stylus and ruler
16. Husband birthday gift: Card game
Game nights with family and friends are all about fun and revelry. So if you're looking for creative gift ideas for husband birthday that can be used for entertaining game nights, consider this card game as an option. You'll both enjoy speaking this language of love, bonding over a game that brings you two closer than ever.
Card game for couples at all relationship stages
Includes 150 cards covering 5 different topics for you to bond over
Know your partner better with this game designed by couples' psychologists
High-quality paper used to make durable cards
17. Go for golf
Guys and their game of golf go hand-in-hand. Always. There is no separating them from their favorite game of putt and par. So go on and shower him with all the golfing-related birthday gift ideas for husband. He will be over the moon to receive gifts aligned with his likes and passions. We are sure you are loving these creative gift ideas for husband birthday.
Golf gift set includes ball marker, stroke counter, club groove cleaner, brush, cleat tightener, screwdriver, bottle opener, golf ball and golf tee holder
Compact, light-weight, easy-to-carry gift set
Made of high-quality stainless steel
18. Organizing station
We all know how men can never find their things on their own unless a superwoman arrives in a cape to save them from misery! Save him (and, yourself) from finding all the little things that apparently go missing from their places, and invest in this gift for husband birthday: a docking station that can keep all things in place – well, as long as they are kept on it!
Related Reading: 36 Sentimental Gifts For Best Friends – Thoughtful Gift Ideas
Docking station can be used to keep and charge up to 3 devices at a time
Features EDC tray and earphone holder
Can be used to keep keys, glasses, phones, earphones, watches and other everyday essentials
Sleek and compact design, doesn't occupy much space
19. Wristband tool belt
No list of birthday gifts for husband can be complete without including a handy tool belt. For all the DIY husbands, the jack of all trades, the in-house carpenters and technicians, the Mr. Fix-its, this is absolute bliss. It is not just a tool belt for men, it is an extended third hand they can use during all their mending and repairing jobs.
100% polyester magnetic tool belt that can be worn as a wristband
Comfortable and durable material; can hold gadgets, nuts, bolts, nails and other metal items
Furnished with 15 strong magnets, features 2 pockets
Product dimensions: 12.9" x 3.5" x 0.59"
20. Phone stand with speaker
Our hands are always working on the phones; whether watching different videos, listening to podcasts and music, talking to people, or simply scrolling social media platforms, they're always busy. Give your husband's hands some rest with this intelligent birthday gift idea for husband. This phone stand doubles up as a wireless speaker and is a great gifting option for all of us living in this digital era. Indeed a practical as well as unique birthday gift for husband!
Phone stand allows adjustable angles and views
Anti-skid silicon makes for utmost safety of your device
Bluetooth speaker delivers crystal-clear sound with high bass
Compatible with most phone models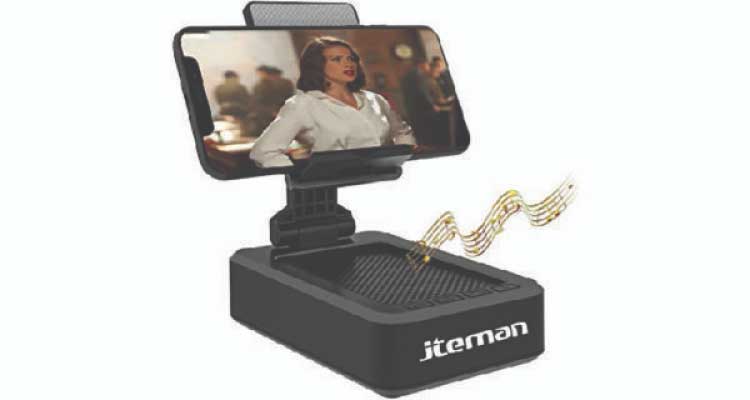 The list can go on and on, given there are so many options to choose from. But we are sure to have covered the best ones for you. Take your pick from any of the thoughtful birthday gifts for husband listed above and you are all set to give him a huge surprise! Happy shopping!
40 Best Valentine's Day Gifts For Him | Gift Ideas For Boyfriend
21 Gift Ideas For Basketball Players [Boyfriend Loves Basketball]
11 Last-Minute Gift Ideas For Someone Who Has Everything | 2022