Your boyfriend always makes you laugh. Now it's your turn to put a smile on his face. Go through this list of funny gifts for boyfriend and find the perfect one. Whether your boyfriend is a tech lover or a great chef, this list has gifts for all kinds of boyfriends. Gag gifts for boyfriends are not easy to find so we have done the legwork for you by rounding up the funniest gifts on the internet. 
Men are not easy to shop for. We always end up with just a handful of options – perfume, watches, shades, shoes, and shirts. Here's your chance to be creative and prove to your boyfriend that you're funnier than him. So, let's up your gifting game by helping you select funny presents for boyfriend. These are affordable and unique gift ideas that are sure to knock his socks off. 
20 Funny Gifts For Boyfriend That'll Make Him Laugh Out Loud
Laughter is the best medicine and a funny gift is all you need to cheer up your boyfriend who is feeling low and make your boyfriend happy. These funny gifts for boyfriend are suitable for all occasions. From thoughtful gifts on Valentine's Day and his birthday, to funny DIY gifts for boyfriend, these ideas will be a huge hit. 
1. Stress-relieving silicone boob
Gift him this funny decompression toy to relieve his stress, or to help him while away his time. This is one of the best funny gifts for boyfriend as he will laugh with every squeeze.
An interesting vent toy to reduce stress, avoid getting bored and stay focused
Lightweight and small size for convenient carrying
Soft rubber material brings a comfortable touch for easy squeezing
Can also be used as Halloween decoration prop
Related Reading: 24 Gifts For Minimalists – Simple Yet Practical Gift Ideas
2. Meat tenderizer
Yes, this is an actual gift. It is funny yet useful. Thor's iconic hammer, Mjolnir, as a meat tenderizer, will cause a lot of laughter when the two of you cook together. Cooking together is one of the best ways to rekindle romance in a relationship. Get these unique yet funny anniversary gifts for boyfriend if he is a Thor, Marvel or Avengers fan. 
Features a silicone grip handle and a double-sided stainless steel metal head
Metal head is engraved with the phrase "Whosoever holds this hammer, if they be worthy, shall possess the power of Thor"
Double-sided and ideal for tenderizing meat, steak, chicken, poultry, pork, etc
Officially licensed Marvel merchandise
3. Tabletop bowling set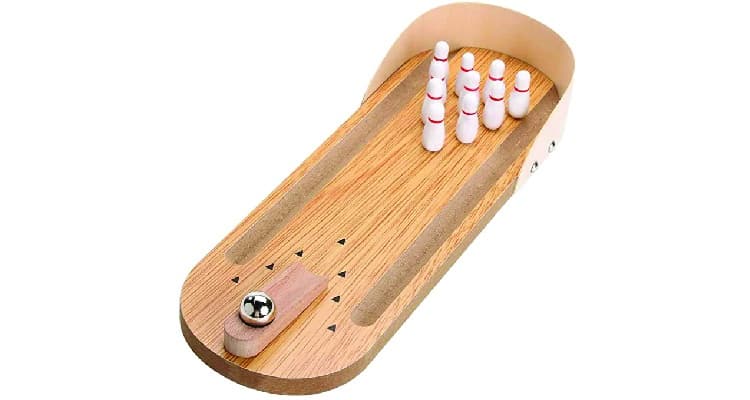 He doesn't have to be a gaming addict to love this mini bowling set. He can place this on his work desk, and think of you every time your gift helps him unwind during heavy work days. These kinds of gag gifts for boyfriend are fun and will help him manage stress. 
This tabletop bowling game is a stress-relief toy
Medium density fiberboard bowling lane
1 bowling launch ramp
1 steel mini bowling ball and 10 pins
4. Funny hand towel
If you think he has everything he needs, then think again. Does he have this funny and naughty hand towel? If he doesn't, then this has to be your pick from this list of funny gifts for boyfriend.
Material is soft and thick
100% cotton
Size is approximately 13 3/4″ x 13 3/4″
Reinforced edges to prevent unraveling
5. Funny sweatshirt
If you and your boyfriend share a playful equation with each other, then these hoodies make funny birthday gifts for boyfriend. The print on the hoodie reads, "Zombies eat brains. Don't worry, you're safe". You can get a similar hoodie and it easily becomes one of the best Halloween costumes for couples. This is a perfect gift for your fun-loving bond. 
It is machine-washable
Wash or iron inside out in cold water or in low heat
Available in all sizes including 3XL, 4XL, and 5XL 
6. Back scatcher
I am sure you've lost count of the number of times your boyfriend has asked you to scratch his back. You shall be forever free of back-scratching duty once you get him this back-scratcher. These items are practical yet funny presents for boyfriend.
Can telescope from 9 to 23 inches
Extend them to meet your itching needs and retract them for easy storage
Personalized gold-plated mechanical claw-shaped hand
Made from stainless steel and is not too sharp
Related Reading: Gifts You Can Get For People You Have Just Started Dating
7. Funny calendar
This is hands down one of the goofiest things on this list. This calendar has a collection of nature's finest shafts that will take you on a visually stimulating, 12-month photographic journey in the year of 2022.
The original Nature's D*ck P*cs 2022 Wall Calendar
11″ x 8.5″ when it's closed and 11″ x 17″ when it's opened 
12-month hilarious calendar of pics of shapely rocks
A little percentage of every sale will be donated toward national parks and prostate cancer research
8. Toilet golf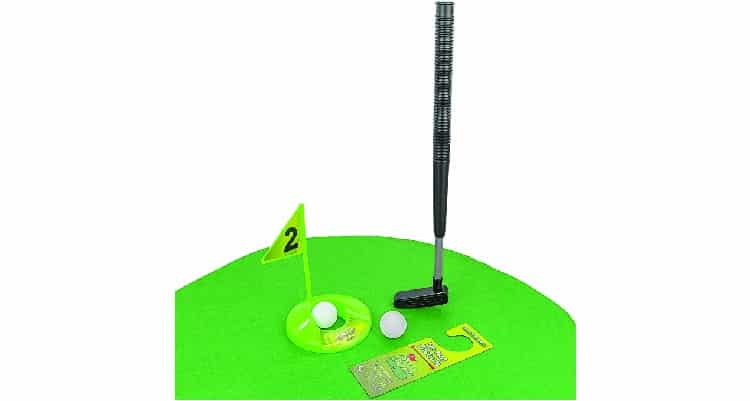 For the boyfriend who gets bored while attending nature's call. This golf game will let him practice while he does his business in the bathroom. Sure, these are funny birthday gifts for boyfriend, but it will also be useful for a golfer who just can't get enough of the game.
Helps even the crappiest golfer improve their putting game while answering nature's call
This set includes everything needed to start playing
If your short game needs work, then this is a must-have for your private time
This game set is perfect for beginners or experts alike
9. Table shot glasses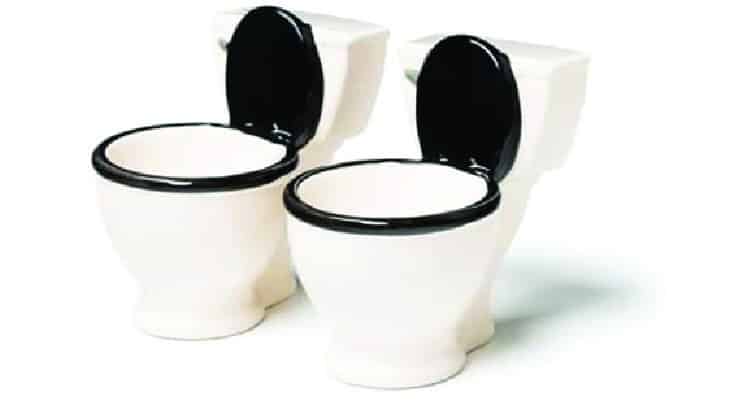 One of the fun things you can do as a couple is drinking. This set of 2 adorable mini toilet shot glasses will make your boyfriend's shots flush down easier. These are great for Jell-O shots too. Instead of your boyfriend's night ending with his head in the toilet, why not 'start' the night that way? This is one of those funny presents for boyfriend which will amuse him but also gross him out.
Made of ceramic
Set of two shot glasses
Great for Jell-O shots
Holds 2 ounces of liquid
10. Funny coasters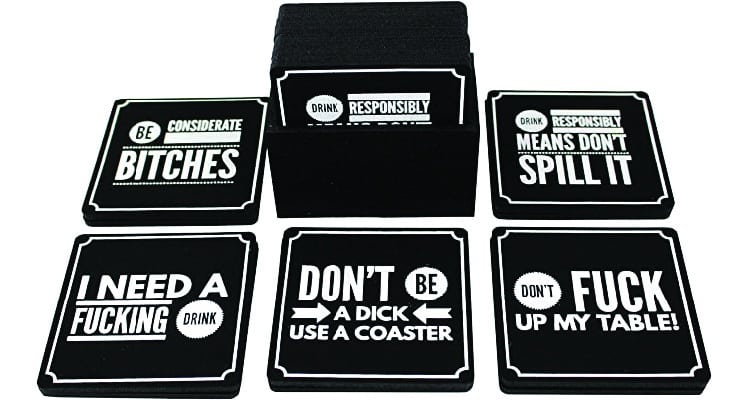 Protect your boyfriend's table with these, and have a good laugh with him and his friends. Life is too serious, so lighten up his living room with these funny coasters which are guaranteed to turn a frown into a smile. 
10-pack coasters provide superior and highly absorbent décor 
Each coaster is 4 inches round and 5 mm thick
Made from 100% felt, they will quickly absorb any spills or condensation
Thick, durable, sleek, and stylish
11. Bull paperclip holder
These holders are extremely cute yet funny gifts for boyfriend. This magnetic paperclip holder is a must-have accessory at your boyfriend's work desk. The daily hustle of life can be challenging. This paper clip holder will put a smile on his face.
Fun paper clip holder design, creates an organized desk space free of paperclip spills
Securely holds up to 100 paper clips, binder clips, push pins, safety pins, and more
Magnetic Bull beats the standard paper clip holders that cause challenges when releasing paperclips
Attractive packaging
12. Personalized face socks
Take your ugliest selfie and print it on these socks. Your boyfriend would love to see you looking like a dork on his feet. Choose such funny DIY gifts for boyfriend to express your love with fun and laughter.
Click on "Customize Now" and "Upload Your Photo"
It is custom-made for you so you can choose your favorite style and color
Made from high-quality polyester which will make your feet feel comfortable and soft
Vivid and realistic design
Related Reading: 12 Thoughtful First-Night Wedding Gifts For Your Husband
13. Swear jar
This is for the boyfriend who swears a lot. Imagine he is watching a football match and his favorite team is losing. You'll become an overnight millionaire. Every Cottage Creek piggy bank stands over 5 inches tall and is perfect for holding small office supplies, candies and loose change from when he swears a lot.
Crafted from premium stoneware ceramic materials
This swear jar is twice fired, ensuring the durability to withstand daily use at home or at the office for years to come
Standing 6 inches tall and 5 inches wide
Completely dishwasher-safe, ensures a quick cleanup
14. Mini wacky inflatable guy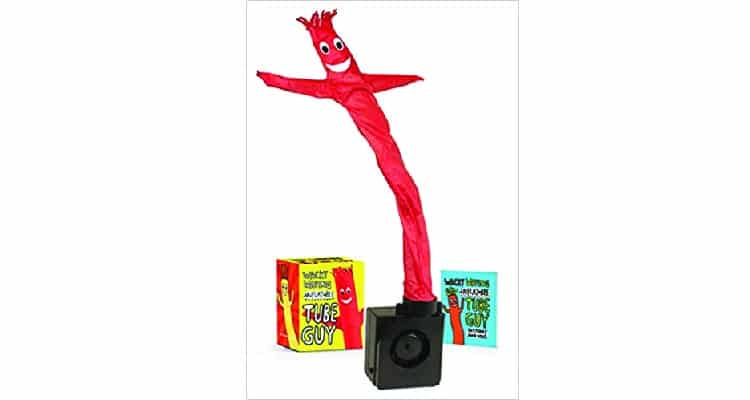 This is a first-of-its-kind Wacky Waving Inflatable Tube Guy. These will make the perfect desk companions, tiny marketing tools, or hilarious gag gifts for boyfriend.
18-inch waving tube man with a fan at the base to make him dance, wiggle, and shake just like the real thing 
Includes a 32-page mini book exploring the larger-than-life and utterly surprising origins of everyone's favorite flailing arm man
A rechargeable Ni-MH battery is recommended for the best performance 
Bring a little bit of joy to his desk, dorm room, or bedside table 
15. Tail blankets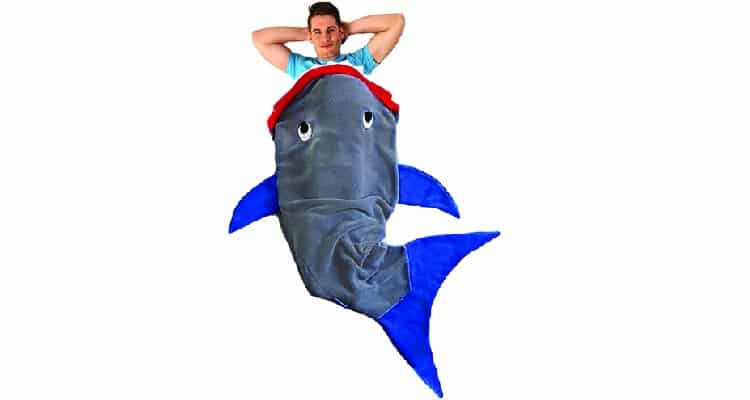 This shark blanket for adults takes a bite out of boring blankets, and takes relaxation to the next level. Choose such funny Valentine's Day gifts for him, and snuggle with your boyfriend while watching a movie. 
Each plush blanket is made from double-sided Minky fabric
Made of high-quality stitching and embroidered glow in the dark eye
The look and feel is super soft
It is machine-washable
16. Liquor gag gift
This liquor dispenser is guaranteed to get a laugh out of your boyfriend. It is practical, stylish, and sturdy. Such fun and funny birthday gifts for boyfriend will be great additions to his home bar.
Modeled after the Manneken Pis sculpture fountain in Belgium
Measures 13″ tall and holds 16 oz of any liquid
Press the liquor dispenser button and Bonny Boy fills up the glasses with your favorite spirit
Made of durable materials
17. Adults party game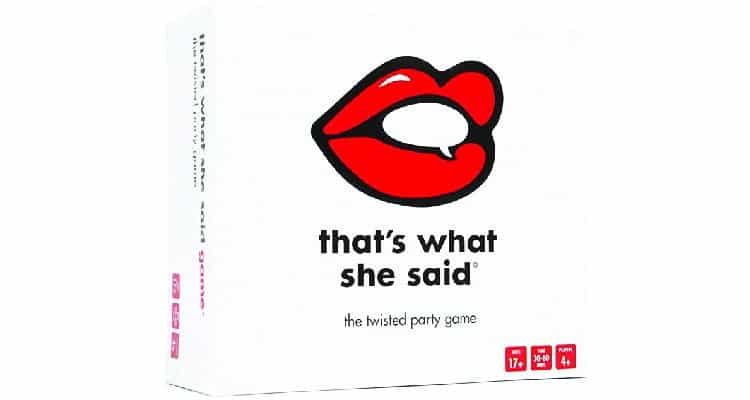 That's What She Said is the hilariously twisted adult party game where side-splitting laughter is the norm. You and your boyfriend may even wet your pants with this outrageous party in a box. These funny anniversary gifts for boyfriend are perfect for his next game night.
Contains mature content and is designed for ages 17+
Encouraged to be played with 4+ players
Fast-paced and hilarious at every turn
Game-play takes 30 minutes
Related Reading: 21 Long Distance Family Gifts They Will Actually Want To Use
18. Fish flip-flops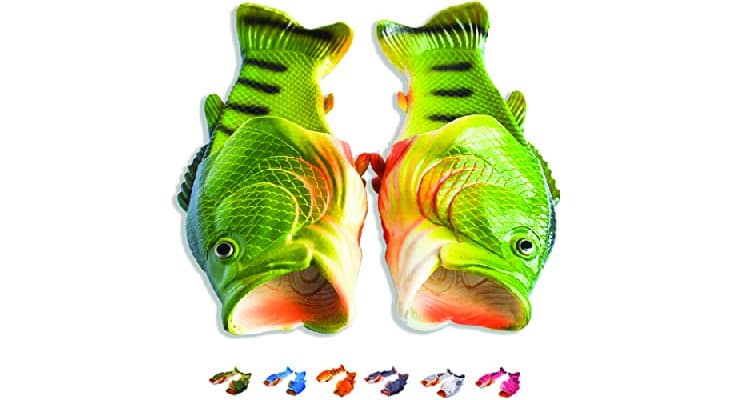 It is summer and the season of walking on the beach has officially arrived. These funny fish flip-flops are all the rage at the moment. It looks so funny that people have declared it the most bizarre shoe trend ever. Each flip-flop is in the shape of a fish that has its mouth open. They are hilarious, thus making it one of the best funny birthday gifts for boyfriend. 
Made from strong, lightweight, elastic, and shockproof material
No matter what you're doing, your feet can stay comfortable in these
They have high-density, anti-skid soles which makes them more wear-resistant and stops you from slipping around like a wet fish 
They are also made from just one piece which means there's no glue. They are tough, non-toxic and easy to wash
19. Funny apron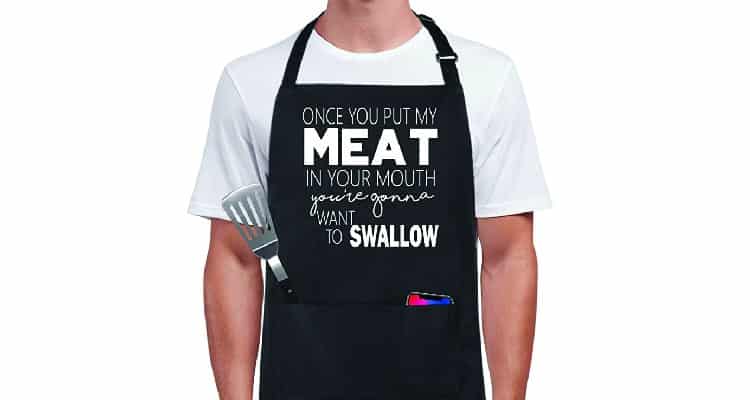 This one is for the boyfriend who loves to cook. If you two are one of those foodie couples who love to cook, then get this apron and protect his outfit from stains. The apron says, "Once You Put My Meat in Your Mouth, You're Gonna Want to Swallow". 
Made of pure cotton fabric
It is breathable, sweat-absorbent, and does not irritate the skin
Adjustable neck strap with double buckle
Two long-waist ties which makes it suitable for anyone to wear
20. Pizza pouch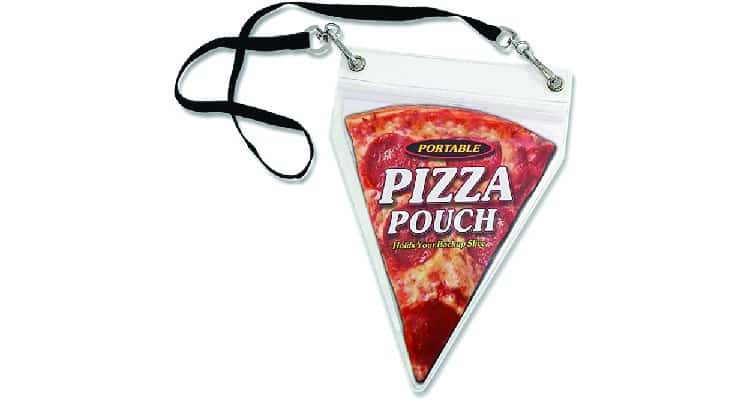 If he gets grumpy when he is hungry, then this is one of the best gag gifts for boyfriend. Hangry people deserve our love and support too! Such gifts are great for pizza lovers as well. 
This pizza-preserving necklace keeps America's favorite pseudo-Italian snack safe and toasty within a zip-lock pouch
A detachable lanyard lets you take the choicest slice with you instead of leaving it at home
Comes with a reusable ziplock seal
Not to be used with microwave or oven
All of these are silly, light-hearted, and the best funny gifts for boyfriend which will bring you closer to him with some jokes and a good laugh. We hope you found the one that's perfect for your boyfriend. 
Ask Our Expert
You must be Logged in to ask a question.