Going to a party and looking for white elephant gifts everyone will fight over? This list is about all things novelty gifts. Parties and games are two words that are synonymous with each other. It is true that games play an integral role in order to spice up the happy spirit of parties. Now here's a distinguished game that steals the topic of discussion –the white elephant gifts. It is a kind of a party game where inexpensive yet creative gifts are in display. However, the notion is to entertain the invitees and it takes places mostly during festivities. 
Remember, that you can choose anything as white elephant gifts, but it has to be inexpensive. At the same time, it should be something that will amuse guests to the tee. To be a part of this game, invitees need to bring their wrapped white elephant gifts and arrange those in numbers. With the announcement of a particular number, the attendees need to take that respective sealed gift from the pile.
Now if you are confused about where to pick the gifts, then you can either select from the unwrapped pile or from the wrapped ones.  But the whole point is that you need to continue the game unless you unwrap all the gifts from the pile. In that regard, you can understand that the gift has to be exciting and a real eyeball grabber. No need to hunt down the costliest ones in the market. But yes, of course, the gifts have to be an entertaining and singled out piece in a real sense. 
Best White Elephant Gifts That Everyone Will Fight For
Read on as we will shed light on the 21 trending white elephant gifts that everyone will fight for. Our effort is to search and research the plausible white elephant gift ideas so that you can pick the congenial one for all and sundry. We will endeavor to make your festive mood more enhanced and fun-filled with the exciting range of gift ideas. These can also be used as funny gag gifts for women. Therefore, no more wasting time and let's get straight to our countdown list.
To get that real idea, you need to follow the low down pointers at length. Go through the list of 21 items and select the right one as per taste and budget. Besides that, have a look through the buying tips for curious buyers.
1.    Bun and hot dog toaster 
The hot dog bun toaster is the best catch in the listing of trending white elephant gifts everyone will fight for. It gives you the best of both worlds. That means you can both enjoy the hot dogs as well as buns without getting delayed and without roasting your hands. Hats off to the cutting-edge design and easily adjustable heat- settings. The user-friendly toaster comes within an inbuilt cage that you can remove and adjust smoothly without hassle.
Toasts up to 2 delicious, regular-size or extra-plump hot dogs and 2 buns at the same time
Cord length is 34 Inches
Adjustable toasting timer and stop toasting button allows you to toast your hot dogs to your preferred doneness
Slide out the drip tray when done toasting for easy cleaning
2. Stainless steel tumbler
Are you still confused about what to select as the white elephant gifts everyone will fight for? Then this stainless steel made wine tumbler glass is a perfect add on to the list. The anti-slip tumbler with a double insulated layer ensures that the drink can retain its state either hot or cold for 3 hours at a stretch. The environmentally friendly lid makes handling hassle-free. In addition to that, you don't have to worry about spilling as the lid stays locked in its position offering extra protection from splash.
The advanced structure keeps drinks cold for 9+ hours and hot for 3+ hours
Made from high-quality 18/8 of 304 Grade stainless steel
It is conveniently light and lead-free with durable quality
Rust proof and sweat proof
Related Reading: 35 Useful Travel Gift Ideas For Men – Best Gifts That He Will Love
3. Scented candle
Are you looking for sweet and cute white elegant gifts everyone will fight for? then you can have this scented candle prepared from maple syrup butter. Of course, you can expect the best because it is made from high-quality scented soy- wax. It burns for long say 100 hours at the maximum. Talking about the aroma its sweetness will put you in a trance. At the same time, you don't have to worry about the wax getting accumulated at the top because it looks cleans. On top of that, the wick burns straight without drooping.
This triple-layer candle contains the great scents of Apple Pie, Cinnamon and Vanilla
You will love the way they blend together
13 oz mason jar of our specially blended soy and paraffin wax. Proudly made in the USA.
Lead-free wick with patented straightener to ensure proper burning every time
4. Magnetic stick blocks
While planning for the white elephant gift ideas it is always cool to add this type of funny yet innovative gift to the list. Like, now we have the magnetic block sticks and balls. It's the unconventional design and playing ideas will engross the players. It is one of the best white elephant gifts everyone will fight for as it is free of toxin, BPA, and artificial odors.
This building set include 220 pieces of Magnetic plastic bars and 88 pieces of non-magnetic steel balls
Magnetic sticks and balls allow to create more geometrical shapes including 3D forms numbers counts, magnetic polarities & architectural design.
Great stress reliever for adults
Designed to withstand rough play and durable use
5. Ferrero Rocher hamper
Who can say no to chocolates when asked as a treat? No one surely especially when the chocolate is your favorite Ferrero Rocher? Chocolate makes every relationship sweeter. A box of chocolate, creamy, luscious Ferro Rocher with hazelnuts will truly bewitch your eyes. The infilled layers of chocolate melting slowly give a mouthful taste every time you have it.
42 delicious Ferrero Rocher chocolate candies, presented in an impressive transparent gift box
One of the expensive white elephant gift ideas for him or her
A tempting combination of smooth chocolaty cream surrounding a whole hazelnut within a delicate, crisp wafer all enveloped in milk chocolate and finely chopped hazelnuts
A deliciously elegant confection, wrapped in glittery gold foil, loved, gifted, and appreciated all over the world
6. Soft bath mat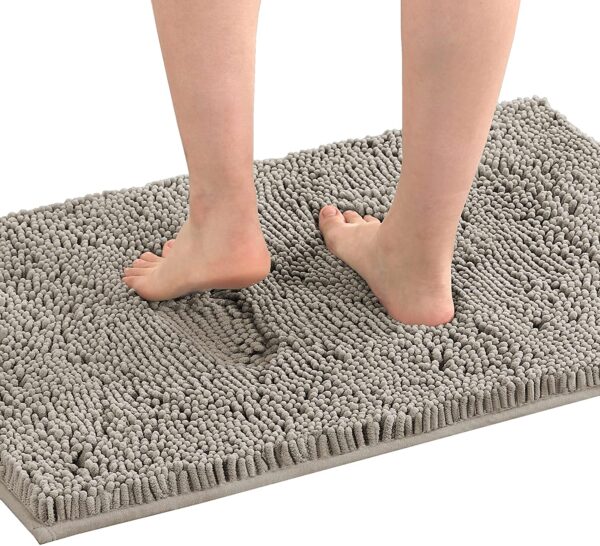 It is not an easy task to select the perfect gift for the white elephant game but a friend of yours suggested you a cushioned bath mat for the game. The idea is pretty good because the bath mat looks classic in that grey color. These are good white elephant gifts as it will give the feet the gift of exceptionally comfort and massage feeling, transform bathroom into a home spa oasis
Fuzzy Microfiber and imported
Crafted from thick and velvety microfiber chenille
With strong and durable PVC backing, helps keep mats airy and fresh and gentle to the floor
keep in space well when the floor is dry, perfect for stepping out of the shower or bath
7. Lavender bath salt 
After a long day, both your mind and body crave for a relaxing treatment. So getting a lavender bath salt is a cool idea. And you can add this bath salt to your best white elephant gifts everyone will fight for. Unfolding this particular thing in the game would make the recipient more than happy.
Lavender is powerful enough to balance both your mind and body
Singled out always for its amazing healing properties
Bring your being back to a state of equilibrium and your hectic life will seem much more manageable
The ultimate relax time
8. Travelling mug stainless steel
Everybody hates spills as much as you do whether it's a ruined new shirt or all over your new car interior, that's why get them such good white elephant gifts everyone will fight for as it comes with a spill and leak-proof design which eliminates the possibility of spilling whether you're at work, in the car, or at home.
Stays hot up to 5 hours. Stays cold up to 12 hours
Leak & spill proof. Non slip grip sleeve and bottom pad
Spout cover lock. Top rack dishwasher safe lid; Hand wash body
100% BPA free
Related Reading: 41 Gift Ideas For 15-Year-Old Boys [Choices For This New Year]
9. Ceramic coaster
Are you ready to roll up at the next week's white elephant game party? If yes, then it is time to get a worthy gift for that. In that regard, check out this ceramic coaster it is a lovely one with its high absorbent technology. It is great white elephant gifts everyone will fight for as you don't have to worry spills and stains as it won't allow the stains to rest there.
Ceramic coasters help you avoid long lasting stains in a elegant way
The ceramic top provides more absorbent than other coasters made of all-cork, leather, paper, cardboard, rubber
It can absorb spilled coffee and cola stains in 10-15 seconds
The bottom is made of cork, which won't scratch your tables and other surfaces and provides a non-slip surface
10. Exciting tarot cards
Unleash the desire to be a professional tarot card reader with this amazing set of tarot cards. Holding the 78 cards would be of great fun and shuffling those at once will give the urge of reading someone's destiny with passion. Talking about the design it is a perfect example of elegance and eclectic touch because of high-quality linen- finish edges.
Original tarot pattern design in 1910 by Pamela Colman Smith under the direction of Arthur Edward Waite
Compared with normal tarot card, use of high quality PVC material
Waterproof cards, unique embossed printing, clear details of the grain
Each card is like a fine gold foil artwork
11.  Silky roses
The white elephant game is fun-filled and gives you a lot of excitement, therefore to be a part of that bandwagon it's time for you to pick the perfect gift. And here comes the enigmatic silk roses. Though these are imitated roses the weaved high standard silk gave it a fantastic eye soothing appeal. Everything feels good when a loved one sends flowers.
Package includes 2 bouquets of 12 Champagne-colored Artificial roses
The total length is about 25cm/9.84″ and the bouquet diameter is about 18cm
The flowers and leaves are made of high-grade silk
The flower stem is wrapped in plastic wire and made by hand
12. Classic planter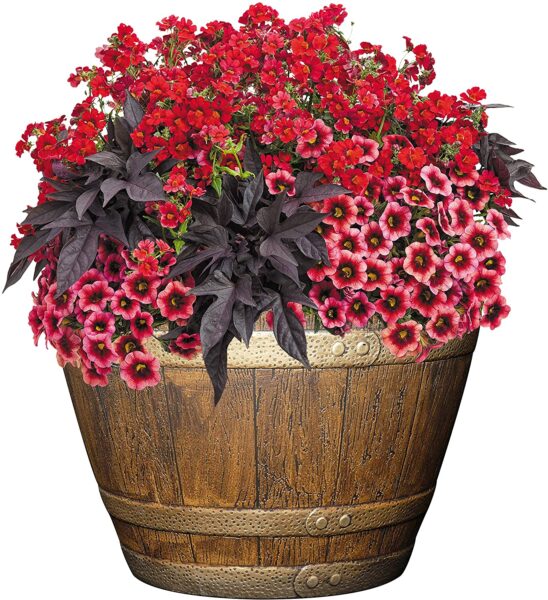 A mini home garden is a passion of many so why not select a chic planter as one of the white elephant gifts that everyone will fight for. Seeing the planter in the shape of a whiskey barrel can literally bring a smile on the face of other attendees of the white elephant game. It looks antique because of the combination of the oak as well as the brass. The planter is durable and easily movable.
Classic whiskey barrel planter in a Distressed Oak finish with antique pewter colored bands
UV coated finish protects color from fading
Lightweight and durable high density resin construction
Delivered with drainage holes for outdoor use
13. Cocktail set
Are you looking for a budget-friendly yet trendy white elephant gift? then the cocktail set can be an idyllic selection. It comes with 8 significant cocktail accessories such as a jigger, muddler, tongs for picking ice, strainer, alcohol pourer, shaker, etc. All of these items are particularly made of stainless steel. The best part of this set is that it rust free and you don't have to worry about cleaning as it is less confusing.
The 23-piece drink mixer set has all the bar tools you need to concoct a cocktail
A 24 oz Martini shaker set, jigger with markings, mojito muddler, Hawthorne strainer, bamboo stand and more
Made from 304 stainless steel
The cocktail set comes with high durability and aesthetic appeal
14. Bamboo chopping board
Are you up to add a smart kitchen product to your white elephant gift ideas list? if yes, then a chopping board will be the right answer for that. It is long-lasting because being crafted from organic bamboo it is split and crack free. It has the right dimension and thickness so that you can cut a large-sized vegetable without a doubt.
The assorted sizes cover all your cooking needs. Between the large and small chopping boards, you have one board just for meat or chicken and 3 others for produce
The groove in the largest board catches juice before your counter turns sticky and icky
Make double use of the wooden cutting boards by repurposing them as placemats, serving trays or charcuterie boards
The luxurious look is nice even if it's just for food chopping, especially when you take social media pics. You get great value at this good price
15. Cotton candy soy candle
It is true that planning for the white elephant gift ideas is a bit hectic task because you need to choose the gifts very mindfully. But to ease your job we are here with a fresh gift clue and that is a tub of cotton candy. The handpicked cotton candies are available in charismatic flavors like raspberry, cherry, and blueberry. But the most eye-striking part is the addition of the reusable and recyclable tubs.
Lidded jar candle makes a lovely gift or a wonderful addition to your table display
Sweet strawberry, blue raspberry, juicy peach, spun sugar, berry blossoms, and sugar crystals
Scented candle fills the room with a subtle aroma
Provides hours of ambient lighting to any room
16. Fleece blue color blanket
You are among those who always say that gift ideas have to be sophisticated as well as functional. By adhering to your thoughts, you selected the lightweight and breathable blanket. The fine and neat stitching makes it a worth buy indeed. Moreover, the design is exquisite and fresh. It will certainly protect the bed from spills and stains. Compared to blankets made from cotton, this one is prepared from microfiber which makes it last longer.
Made with premium micro-fleece yarns this blanket provides a velvety feel
The higher the GSM, the thicker and heavier the fleece blanket
The GSM in this blanket has been increased by 40 GSM
This fleece blanket is thicker than cotton and keeps you warm without being too heavy
Related Reading: 32 Best Gifts For Movie Lovers & Film Fans
17. Funny and cute socks
Cutest gifts always play a vital role in the white elephant gift ideas. They make each one ecstatic to the fullest. So this time you thought to buy a pair of cutest socks. The socks are light, breathable, and super durable with a cute squirrel meme on it. indeed it looked so pretty with the image of the squirrel holding the nuts.
he package contains 4 pairs of crew socks
Socks are made of 100% cotton, soft and elastic
Breathable, sweat-proof, and anti-deformation
Suitable for many kinds of shoes, such as sandals, sports shoes, boots, running shoes, dress shoes
18. Exotic bathing soap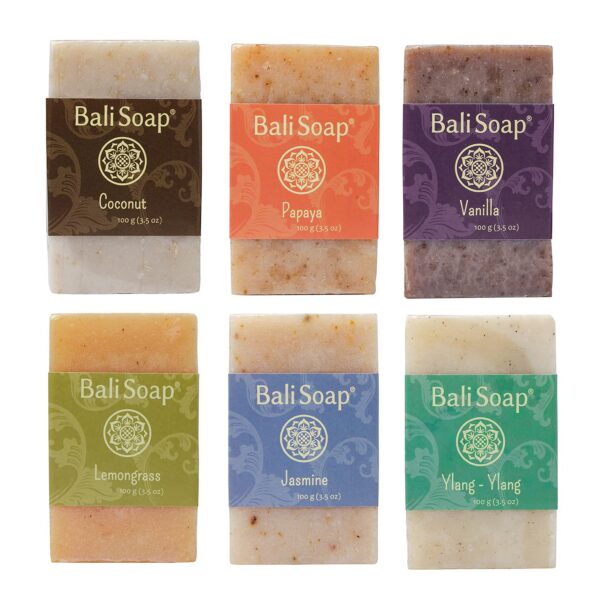 Handmade bathing soaps have always been the favorite of many. Therefore, this time it is one of the best picks for your white elephant gifts everyone will fight for. These exotic soaps are particularly from Bali. You got these in mind-blowing flavors such as coconut, vanilla, jasmine, lemongrass, papaya, etc. The soap is prepared from organic glycerin, which keeps the body supple and well- moisturized.
Long lasting bars that rinse off clean and leaves no soap residue behind
Natural glycerin promotes extra moisturizing which helps to prevent dry skin
An exotic blend of organic ingredients which results in an invigorating exfoliating scrub combined with a creamy lather
6 individually wrapped bars in a stylish gift box perfect for your home, wedding favors, office gifts, bridal showers, graduation or practically any gift giving occasion
19. Notepads with magnets
Notebooks can be a perfect gift for doodlers, so you can have this always without any ambiguity as one of the cheapest white elephant gifts. So, you thought to get a pair of notebooks from the online store. And this is pretty ravishing with a Japanese style origami print on the paper. On top of that, the wavy- themed look makes it more appealing. It is handy to use and comes with a magnet attached at the back. The recipient of this gift can write cute love notes to surprise her man everyday.
8 Large magnetic memo pads measure 9" Height x 3.5" Width in inches
Contains 60 sheets of quality uncoated paper with 8 realistic fruits themes, total 8 unique large note pads magnetic
Each memo pad booklet has a high-quality full magnetic strip as its back cover
Just place it on any flat metal surface and you're ready to take down notes in a blink
20. Friends coffee mug
It is time to startle your friends at the white elephant party game by adding this beautiful friend's coffee mug. The white colored coffee mug with imprinted cartoon designs will literally make you feel so touched. This unique piece looks so cool and pleasant. Talking about the material it is made of high-quality ceramic that ensures that the product looks lustrous and shiny.
Reminisce on your favorite TV show with this Friends slogans mug
Designed with the hilarious Friends comedy in mind, this mug is sure to make any fan of the series smile
This classic coffee cup features all the sayings you loved from the tv show, such as, "Unagi", "Moo point", "I got off the plane", "Bamboozle" and more
This quality collectible is a unique addition to any fan's set. Give this cool collector's merchandise to moms, dads, fans, grads, kids, guys, and gals who love pop culture fun
21. Collagen face sheet
Girl invitees to the white elephant party should be more than happy as you may get a surprise gift as a face mask sheet. The Korean sheet masks are 12 in number which includes collagen protection, aloe vera, charcoal, cucumber, etc. Each one of the face sheets comes with its own underlined benefits. Like, one would help to fight skin pigmentation while the other will provide hydration to the skin. The sheets will deeply nourish, revitalize, and add a glow to the skin texture. Moreover will firm up the skin and make it look well-toned. So be ready to enjoy the party and gift.
Our collagen face masks help create firmer, healthier, more balanced skin for radiant confidence
Infused with natural botanical ingredients like tea tree, cucumber, honey, charcoal, and avocado, it's gentle on dry, oily, or sensitive skin
A deeply-hydrating experience, our face mask sheets infuse your skin with vital moisture while helping improve overall tone and firmness
Celavi Korean sheet masks offer safe, natural support, include 24 total face mask packs, and come backed by a satisfaction guarantee you can trust
By now, you have got a complete hint regarding the white elephant gift ideas. You can choose anyone from the above list of 21 gifts. But make sure to choose it wisely so that you can get the right one according to your budget. But yes again you need to be pretty sure about the party attendees. Precisely, who they are and what type of fetishes they hold for a certain thing. All these things matter a lot so take note of all these at once.
22. Alarm clock
Are you asking what's so special and unique about an alarm clock? Well, this Sleep Aid digital alarm clock is designed for everyone, especially for heavy sleepers and kids. It has a sunrise simulation light with 7 natural sounds. These are useful and unique white elephant gifts everyone will fight for.
Moves gradually from 10% brightness to 100%, 30 minutes before alarm setting time
If you think 30 minutes is too long, you can set the process to 20 minutes or 10 minutes 
7 color changing lights, including blue, indigo, purple, red, orange, yellow, green
Comes with a 3 level LED time display brightness and adjustable 20 level lighting brightness 
23. Electric kettle
With this electric kettle in your friend's kitchen, they will spend much less time making tea and more time enjoying a cup with you or their friends. This electric kettle can be great white elephant gifts that everyone wants.
Gooseneck spout provides a waterfall flow of water with full control at all pouring angles. 
Constructed in 304 stainless
Comes with a BPA-free plastic handle
Takes 5 minutes to get pour-over coffee 
24. Rope bag
Perfect for trekking, commuting and traveling, this rope bag makes good white elephant gifts. If they love adventure and trekking then give them this sling bag to make their trekking day go smoother. 
Made from lightweight durable cotton canvas
Comes with a front pocket zip to keep mobile phones
 Two vertical compartments with inside zip pockets in the bag
Has nylon lining and made of high quality material
25. Cold brew coffee maker
This cold brew coffee maker can be used to brew coffee and can be kept for up to 2 weeks for both hot and iced coffees. They can bond with you over a cup of coffee, or they can bond with their family while sipping coffee.
Fine-mesh coffee filter keeps grounds out of your freshly brewed pot – differing from other coffee machines
Tritan plastic withstands hot temperatures if you want a hot cup of coffee. Fits in most refrigerator doors.
Bottles come in 18, 24, 32, 40, and 64 oz sizes, beverage makers and pitchers in 1 Qt and 2 Qt sizes.
These are BPA free hydration solutions 
26. Bluetooth banana phone
This unique Bluetooth banana phone can takes calls, makes calls and plays music all via one Bluetooth connection. You can easily pair with your cell phone and ask Siri to play your favorite song or ask any information from OK Google. It is one of the most unique white elephant gifts everyone will fight for.
Perfect wireless handset which has crystal clear audio
Connects to iPhone and Android devices
Comes with full voice assistant capabilities
Rechargeable via Micro USB
27. Shrimp neck pillow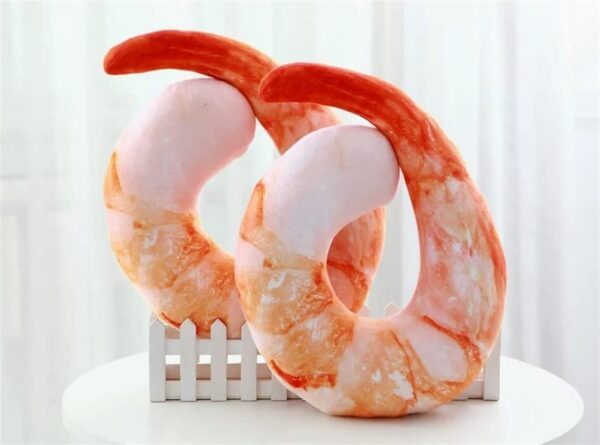 No, this isn't for eating. The lifelike 3D printing might make you want to bite on it and see if it tastes like an actual shrimp. Its delicious looking design makes it one hell of a white elephant gifts that everyone will fight for.
Soft,

comfortable and fun

Full circle of thick PP cotton to support you every time

Surface clean with mild soap and water
Hand wash only. No machine wash or air dry
28. Funny calender
This is hands down one of the goofiest things on the list which makes it one of the best unisex white elephant gifts. This calendar has a collection of nature's finest shafts that will take you on a visually stimulating, 12-month photographic journey in the year of 2022.
The original Nature's D*ck P*cs 2022 Wall Calendar
11″ x 8.5″ when it's closed and 11″ x 17″ when it's opened 
12 month hilariously funny calendar of pics of shapely rocks
% from every sale will be donated to help support national parks and prostate cancer research
Related Reading: 40 Best Valentine's Day Gifts For Him | Gift Ideas For Boyfriend
29. Boob scarf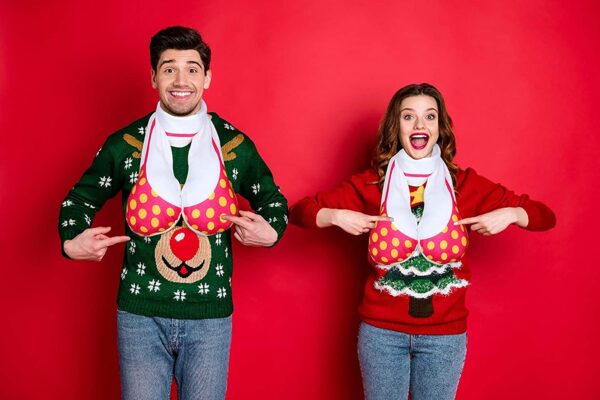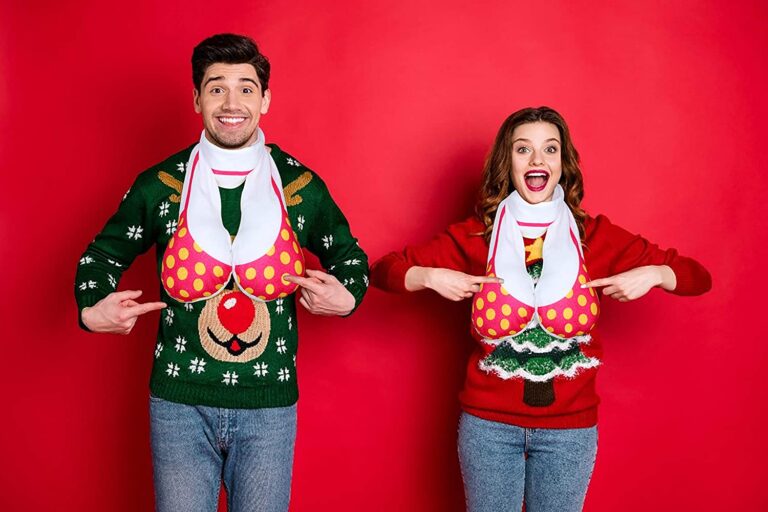 This is one of the best Christmas or white elephant gifts everyone will fight for. This creative prank gift will be an instant hit at a Christmas party. It is also a great gag gift for women who are looking for bachelorette party props. Gift it to your girlfriend or wear it yourself to a pajama party.
Made of polar fleece, soft and fluffy. Handmade product
Total length measures 64.56"
There is a fastener on the inner side to stick the scarf together
Item comes folded and secured with a plastic bag
30. Toilet night light
The only thing worse than being woken up by a bright and unrelenting overhead light during a midnight trip to the bathroom is keeping the lights off and being woken up by accidentally missing the toilet completely. If you're a man, or if you live with your husband, then you know exactly what we're talking about. Avoid accidental splashes and give this cool white elephant gifts everyone wants and become the star of the night.
Superior motion detection sensor detects movements within 5 feet and the nightlight glowing inside the toilet bowl in the dark
Automatically turns off after 2 minutes if no motion detected prolonging battery life.
Glows inside toilet bowl and makes potty training target
16 color changing that can work on a rotation or as a solid color decorating washroom
31. Trump bobblehead
Doesn't matter if she's a supporter or hater, this is one of the best gag gifts for women. The funny part is that it's not Trump's head that bobbles, but the middle finger. This will make a unique memento of one of America's craziest elections of the past 100 years. 
"Hey Sleepy Joy" is written on one side
"Hey Biden" on the other
You can keep this on your office desk or at your study desk at home
Comes in clear PVC packaging
32. Game of phones
This is a unique and hilarious party game. Such gag gifts will be useful for your friend when they are hosting a house party with their pals, and is looking forward to some chaos and laughter. 
Use apps and your smartphone's web browser to find the weirdest, funniest, and the most unexpected responses to game prompts
Easy to play and family-friendly
No two games are ever the same because the internet is endless and what's on your smartphone is always changing
For 3 or more players. Game contains 112 prompt cards and instructions
33. Cheese knives set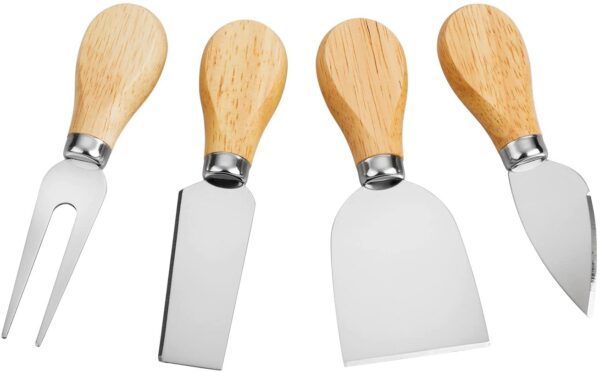 Make their cheese cutting experience fancier by gifting them the best white elephant gifts that everyone will fight for. Even if its just a block of cheddar cheese, they will love slicing it with these cute cheese knives set.
Made of professional gauge stainless steel and wooden handle
Perfect accessory for the cheese lover in your life
These cheese knives set can hold, cut, chuck, shave, slice, spread and serve all your favorite cheeses
Each cheese knife is good for hard, soft, crumble and fork cheese
34. Shock bubble gum
This brings back childhood memories, doesn't it? Oh the number of times we were pranked with this! Now you can use such unique white elephant gifts and bring back some nostalgic memories.
Looks just like a regular packet of chewing gum
Simply offer some gum and watch as they receive a harmless shock
It is battery-operated and the battery is included
Not suitable for children under 14 years of age, adults over 50 years old or people with any medical condition 
White elephant gifts are a way of incite laughter and have a great time with your loved ones. This mixed bag of gifts will be the ultimate list for you to go through and find the best white elephant gift that everyone will fight for.
30 Gift Ideas For Your Co-workers | Personalized, Inexpensive Gifts