When you tell someone, "I love dogs! Do you?", you already know the answer you're looking for. From telling crazy pet stories to sharing dog memes and photos – two people can bond deeply over their floof balls. So, if you are looking for the best gifts for dog lovers, we have some personalized and fun ideas for you.
Only those who love animals would understand that pets are precious to their owners. They are family. And like an esteemed member of the family, they deserve to be pampered with delicious treats, cool accessories, and anything they are fond of. You should see my sister's pictures of her dog in a matching bow tie and a headband. Hilarious! 
Naturally, gifts for pet lovers are always better if the gift items are more useful for their fur babies than themselves. If you too know one such crazy cat lady or a proud doggo daddy, surprise them with adorable pet-friendly presents. We are right behind you with a long list of ideas to choose from.
Best Gifts For Dog Lovers – Gift Ideas For Someone Who Loves Pets
Trust me, it's not that difficult to shop for pet parents. You can choose from a lot of categories like toys, accessories, treats, feeders, grooming supplies, beds, carrying backpacks, and so much more. 
While going through such unique gifts for dog lovers, you will discover items that you didn't know existed a minute ago. It's a super fun ride. We welcome you to take the ride with us, and check out our collection of 32 best gifts for dog lovers:
Related Reading: 20 Funny Gifts For Boyfriend That'll Put A Smile On His Face
1. Welcoming door sign 
'Beware of dogs!' Seriously, how belittling are these signs for your dog? You are certainly not welcoming your guests into the wild. So, let's change that narrative entirely with a warm greeting while expecting your guests to make friends with your baby. With the same hope, give this cute door sign to your favorite dog parents.
The sign says: Welcome, we hope you like dogs
Lovely color combination, written in a beautiful font with a paw in the middle
Realistic eucalyptus leaves and a jute bow make it a perfect wreath for the front door
Attached with a sturdy rope for easy mounting
2. Throw blanket for the dog parent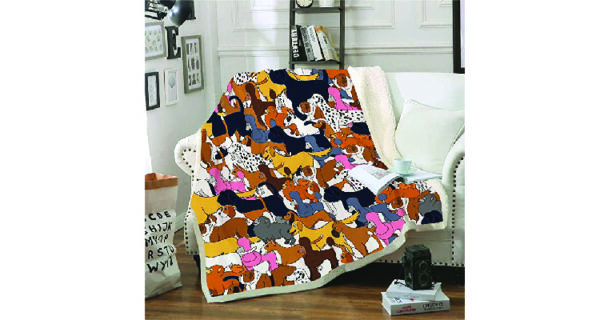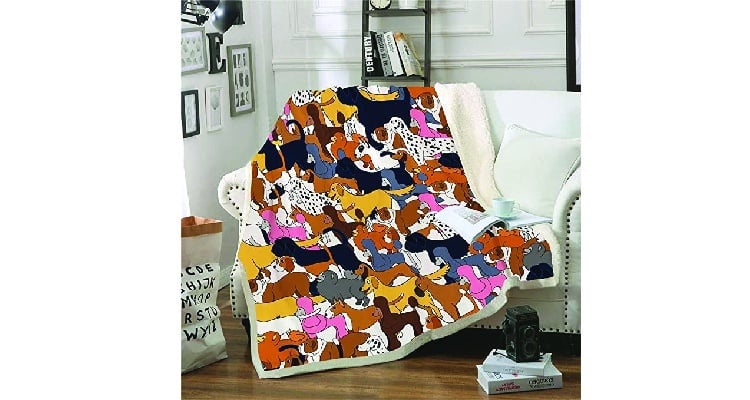 Only a pet parent knows how warm and comforting it is to cuddle with their furball on the couch. They will love you so much if you bring a soft throw blanket in this world of hugs and cuddles. And that too, one with dog prints all over it. A sharing blanket exclusively for the dog and the parent is no doubt the best gift for dog owners. Check it out:
This blanket is made of quality sherpa fleece material making it extra soft
The lightweight queen size blanket is easy to carry for outdoor travels
The dye used for the print is hypoallergenic and eco-friendly, suitable for people with sensitive skin
The dog illustration part won't fade away – long-lasting and wrinkle-free
3. Pawsitive vibes coasters
You come back home exhausted after a long day at work. The moment you enter through that door, your floof runs toward you, all happy and jumpy. Like magic, the tiredness vanishes! Dogs are the ultimate source of positive energy in your life. Another one of the awesome gift ideas for dog lovers is this pawsitive vibes car coaster. Keep these coasters in your car to remind you of the warm hug you'll receive as soon as you get back home.
Aesthetically pleasing design with dog pictures, and a notch to easily hold and place them
These coasters are meant for the glass holders in your car
Made of ceramic and highly absorbent
No more stains from spills in the car – it keeps the holders clean and dry
4. Cell phone purse with a paw design
Cell phone bags are useful accessories, especially if someone loves to keep their hands free on the streets. Look for a bag with a paw imprint and you can turn it into one of the best gifts for dog lovers. Paws are adorable. Ask any pet parent and they will tell you how their babies have pink and squeezy little paws. They will go "Aww!" receiving this very thoughtful present from you. 
The purse has a compact and modish outlook – neatly cut and sewn 
Crafted from a textured cruelty-free (of course!) leather 
There is an inside lining to save your mobile from any friction or damage
Two adjustable straps are included to fashion it however you want
Related Reading: 23 Best Gifts For Grandparents – Thoughtful Gift Ideas
5. Coffee mug with a quote
Let me tell you, my friend, being a dog parent is not a walk in the park. Food, medicine, vaccination, vet fees, pet-proofing the house – there is so much to deal with. It's just as serious as any other responsibility in relationships. Unless someone is confident and self-sufficient enough, they cannot provide a happy life to their four-legged buddies. If you know someone doing the job in flying colors, this coffee mug as a token of appreciation will be heartwarming. It will be a great gift for dog lovers as well. 
The mug has a lovely quote that says: 'I work hard so my dog can have a better life'
Crafted from high-quality ceramic – very sturdy and damage-proof
It is quite safe for the dishwasher 
Minimalistic clean design in a white body and black rim
6. Keepsake box
Has your friend recently lost her dearest pet? It is a kind of pain simply unmatched with any other. She is probably staying back home for days now with her pet's toys and pictures, crying whenever alone. It's nearly impossible to cheer someone up in this situation. But we have a few gift ideas for dog lovers if you are desperate to make her smile. This keepsake box with a cut-out of the doggo and his mommy hugging is just perfect and will help her save all her baby's memorabilia. 
The small box is hand-painted and made of resin
The figurines of the girl and her dog are carved on the lid, and not glued separately
'Truly a friend' is written on the floor of the box (inside)
Comes in a proper gift box with a notecard
7. The dogfather whiskey glass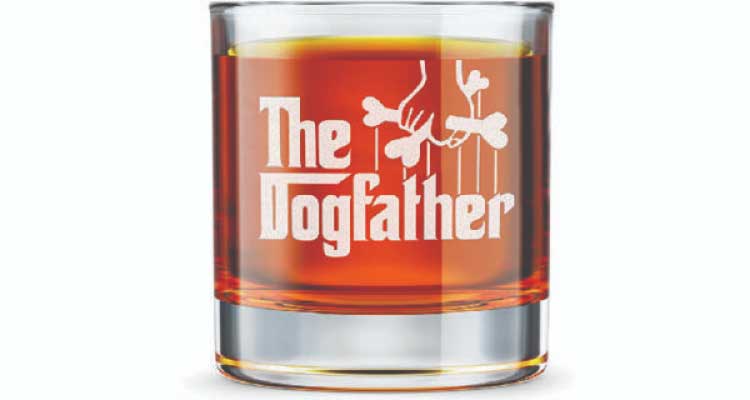 A proud dog parent would love to flaunt the bond with their fur boy in every possible way. Even at a party, all they can talk about is the mischievous acts of their dog. This statement dogfather whiskey glass could be a great conversation starter for them to slide into the topic more easily. We think it is the best gift for dog owners, especially for someone who likes The Godfather.
'The Dogfather' is a pun played on the movie name The Godfather and written in the same font and style
They used advanced laser technology to permanently engrave the words and the graphics
Thick high-quality glass with a capacity of 10.25 oz
Doesn't chip or crack and is dishwasher-safe
8. Paw-shaped cutting board
Household items in paw shapes and dog features are amazing gift ideas for dog lovers. Dog parents love to utilize such collectibles in their day-to-day life. Keeping that in mind, we found this cutting board that looks like a paw. It will definitely win you some extra points with a dog parent.
Crafted from flat-grain bamboo wood making it lightweight and handy
Thin juice panels surround all the pads of the paw to prevent any spill on the cabinet 
You can use it for both chopping and serving purposes 
Dishwasher-friendly and handles knife cuts well
Related Reading: Can Having A Dog Enhance Your Relationship? Woof!
9. Bunny flower vase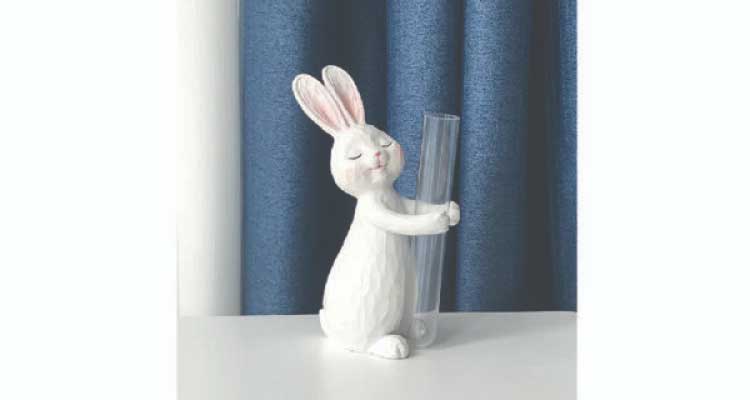 My aunt has three fluffy and milky bunnies at her place. And she is so in love with them that all her stuff either looks like a bunny or has a rabbit print. Naturally, while thinking about the best gift for animal lovers, my aunt, in this case, I looked for décor pieces with a bunny. Luckily, I found the cutest flower vase for her, and I wish for you to give it a go as well. Because of the neat design, it will be a great gift for minimalists too. 
It is a 6-inch tall resin figure of a rabbit holding a tube vase
This entirely hand-painted rabbit has a wooden texture, a blushing face, and a boopy little nose
You can easily clean it with a damp cloth or soft brush
Comes in a pretty gift box and includes a best wishes card
10. Funny novelty socks 
We found another option for the best gifts for animal lovers – cats to be more specific. You know, cat people are by nature warm and cuddly. You can get them this pair of novelty socks in bright colors and they would give you a long five-Mississippi hug. If your bestie is a Friends fan too, she will instantly get the reference of crazy cat lady which relates to Monica's hilarious plate incident. 
The socks look elegant in a pastel pink and light-green shade
Adorable cat illustrations and white paws are scattered all over it
Stretchy and breathable as they are made of cotton, polyamide, and spandex blend
Long-lasting – the colors won't fade away easily 
11. Dog parents cap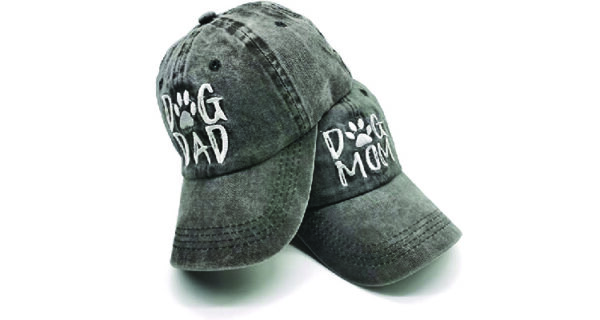 Did your wife surprise you with the tickets for the upcoming baseball match? It's time to set your looks straight for the stadium. Since you are about to tag along with your floof ball, some dog-themed accessories would set you apart as a dog family. We would say these baseball caps are the best gifts for dog lovers, but this time you get them for yourself. Sounds good?
Logo in embroidered lettering in front of the caps – Dog mom, Dog dad
Very thoughtfully, the dog mom cap has a ponytail hole in the back
100% cotton material makes it breathable and apt for daily use
Adjustable metal buckle closure
12. Paw pendant necklace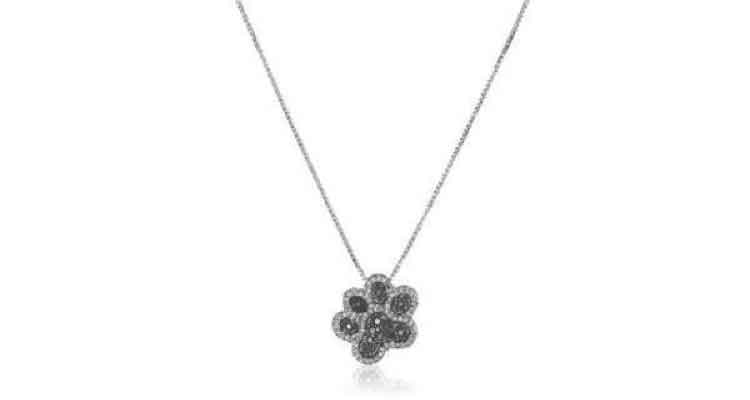 As you know, minimalistic pendants never lose their charm and never go out of trend. Sometimes, less is more and the same goes with fashion. If you know a fashionable person who tries to incorporate their eternal love for cats and dogs in their outfits and accessories, this paw pendant is exclusively made for them. 
Sterling silver necklace with spring ring clasp
Studded with black and white diamonds which comply with the Kimberley process
High-clarity, conflict-free diamonds collected from the worlds' largest sellers
Black diamonds are specially treated to enhance their look and durability
Related Reading: 32 Best Gifts For Movie Lovers & Film Fans
13. Dog-printed pajama for dad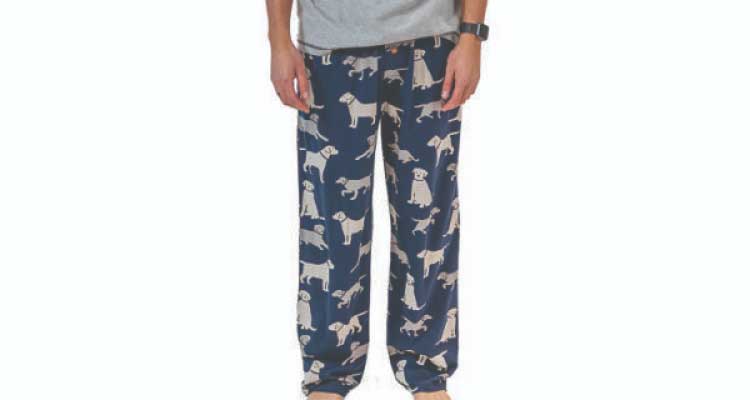 Dog dads are just as adorable and funny as their pups. There is a reason that couples with pets are happier. If you visit my place on a lazy Sunday afternoon, you will catch my boyfriend chilling with Coco in matching shirts – their sacred spa ritual! I know for sure he would be thrilled to get a dog-printed comfy pajama to wear at home. Give this a shot as one of the gifts for dog lovers, and you won't be disappointed. 
Humorous dog designs printed on a navy blue pair of pajamas
This super-soft pair of pants has two roomy pockets and a button closure
As they are already pre-shrunk, no need to worry about fitting after machine wash 
Available in a long range of waist sizes
14. Decorative throw pillow
Those days when you wake up to your dog's sweet kisses are precious, right? It brightens up your mood for the whole day. We have a gift idea for dog lovers which expresses just this very thought. Check out the quote on this throw pillowcase. It speaks the truth – Dog kisses fix everything!
Crafted from soft and comfortable linen fabric
Clean and clear design in a soothing cream color tone, doesn't fade easily
Features an invisible sliding zipper
If you want to machine wash, use cold water and a gentle cycle
15. Vintage bathroom poster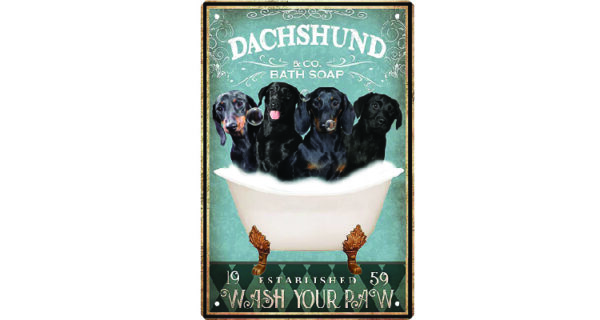 So, my friend Allen finally asked her girlfriend to move in with him. Both of them work extensively for the welfare of street animals and foster many dogs at home. Since then, I have been wondering what the best gift for dog owners could be, something suitable for a housewarming. After scrolling through the internet, I finally found 'the one'. This novelty sign poster for bathroom decoration will crack them up so hard. 
The design is retro-styled with a funny twist – it's a soap advertisement and the dogs ask you to wash your paw
This vintage sign is made of tin which is rust-free, non-toxic, and recyclable
4 pre-drilled holes are there to nail them to the wall 
16. Charm bracelet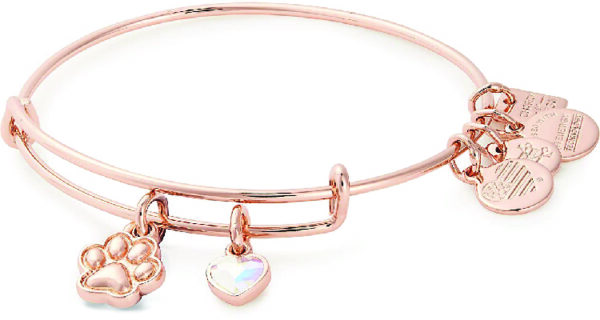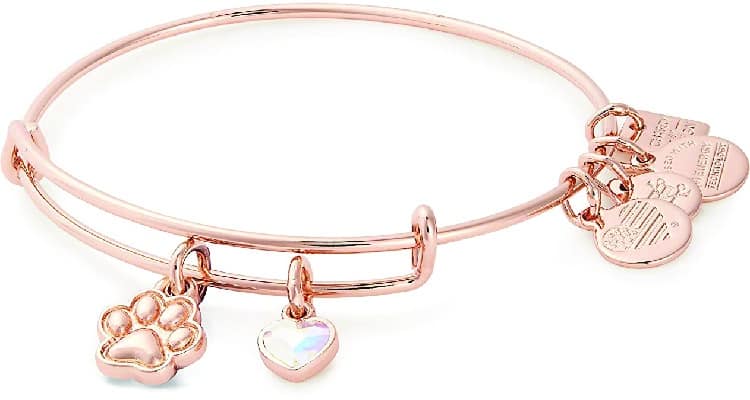 Amidst all the dog merchandise that there is, we need to talk more about jewelry for dog owners. Any dog mom would love a necklace or a bracelet with small bones and paws attached to it. What do you think of this gorgeous rose-gold charm bracelet which says that your heart belongs to your fur baby?
This bracelet is a combination of cute paw and heart charms
The gem on the heart is genuine Austrian crystal
A patent sliding clasp mechanism widens its range between 2-3.5 inches
The material is nickel-free brass and copper mix, suitable for sensitive skin
Related Reading: Spouse Versus Pet: The Clear Winner is…
17. Travel pouch and scrunchies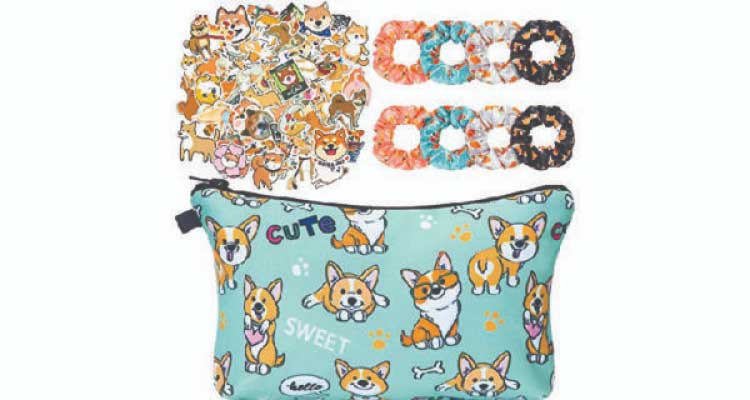 Are you in search of the best gifts for dog lovers, especially a few gifts for a teenage girl? Then, we have just the right choice for you. A cute makeup pouch, a bundle of scrunchies, and a whole bunch of corgi dog stickers – enough to win the heart of a young girl. What do you think?
There are 4 pairs of scrunchies in soft material to not cause any damage to the hair
The set includes 50 vinyl laptop stickers, easy to peel and reuse
The stickers are waterproof, safe to be used on bottles
The corgi-illustrated pouch has a lovely design in a soothing color, and it is travel-friendly too
18. Dog treats and cookies box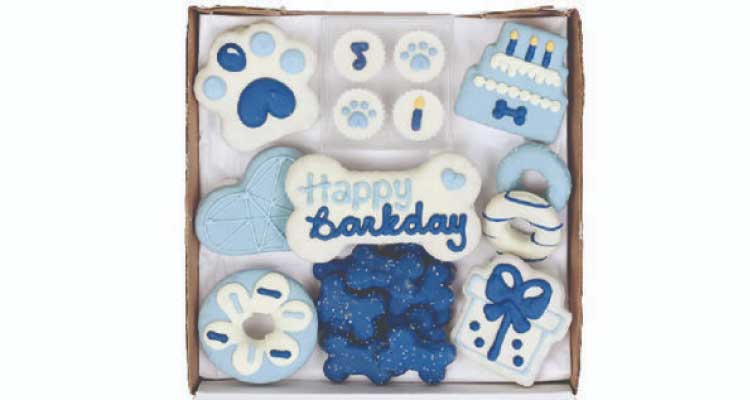 Your next-door neighbor, the good girl, is turning 5 this week. A big day for her and the family – it certainly calls for a celebration, right? Do it right with some sweet treats for your friendly pooch. Grab this tray full of freshly baked cookies. They look so yum, I wish I could have a bite! You will relish the look on her face as she can't stop slurping her tongue. 
There are more than 10 cookies in various shapes and sizes like donuts and bones
All the treats are hand-decorated and baked from human-grade ingredients
Each cookie is wrapped individually in recyclable bags to keep the shape intact after delivery
They are easy to digest, even for the dogs with sensitive stomachs
19. Candle with a quote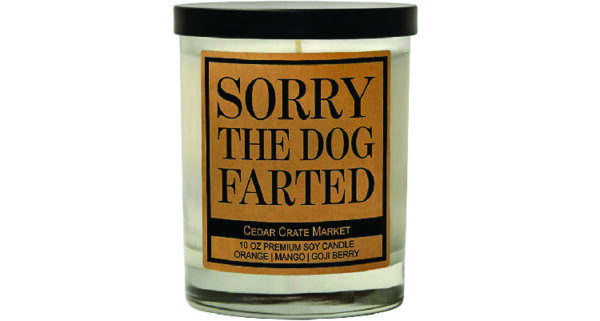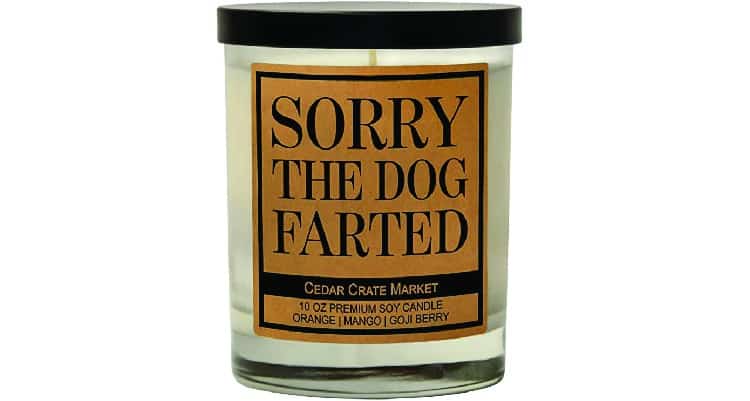 As I was doing my research for this article, I couldn't stop laughing seeing these hysterical quotes on various items. This candle, for instance, is labeled: 'Sorry the dog farted'. Tell me if these are not unique gifts for dog lovers, then what are? Grab a piece quickly before it goes out of stock!
It is a 10-ounce candle packed in a nice, reusable jar
The scent is infused with flavors of mango, orange, and goji berry
This candle is crafted from 100% natural soy, devoid of any toxic chemical
It will last for around 50-60 hours making it worth every penny
20. Cat and dog friendship wall art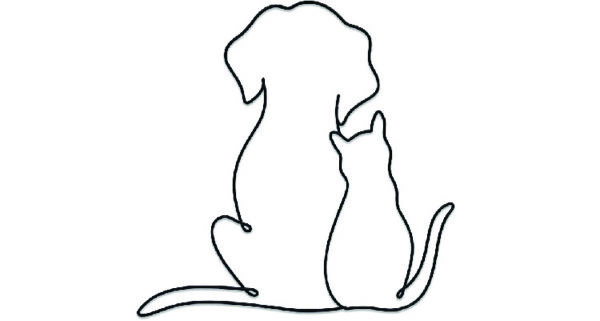 Do you also spend hours on Instagram watching the cat and dog friendship videos? The bond between your pets is beautiful, and it's worth capturing every bit of it. My colleague Sarah is blessed with these two exceptionally adorable fur balls who cannot spend a moment without each other. So, I thought she would love to have this cat and dog wall art for her living room. 
It's a minimalistic, one-line art drawing, outlining the structure of the two animals 
The art is made of quality yet lightweight black steel wire
You need to put two nails on the right ear of the cat and the left ear of the dog to hang it with proper balance
Very trendy wall décor for both indoors and outdoors
Related Reading: 38 Affordable Gifts Under $50 For Her That She Will Adore
21. Dog-printed tote bag 
In case you are thinking about where you can find a gift for a beach lover who is also a dog person, a spacious tote bag is your one-stop solution. Your friend can carry this cute floral bag with a peeping dog on beach days. They can also use it for grocery shopping or as a gym bag.
The front has the face of a Boston Terrier; the back and the inside have contrasting colors and paw prints
Large polyester, leather bag that closes with a zipper
This canvas bag is foldable and easy to carry
Long and sturdy carrier handle to comfortably sit on your shoulder 
22. Dog people's door mat 
If you know a dog person who is a bit of an introvert, we have just the right gift in store for them. It's a funny doormat that says, 'Dogs Welcome (People tolerated)'. I can vouch for it personally. Whenever I see someone I know in the streets, I dive into my phone screen to avoid any conversation. But I would never miss a chance to have a chat with a pup or a cat sitting on a wall. People like me surely think it is one of the best gifts for dog lovers. 
This coir doormat has a solid brown pattern
The lettering is woven in black, capital font
The embossed paw prints and the black border add more character to it
Avoid direct sunlight or wet washing techniques to maintain its longevity 
23. Bones and paw travel tumbler 
Imagine a dog lover receiving a travel tumbler with prints of bones and paws all over it. They'd love it! It's a simple way of telling others about your fondness for pet animals and making acquaintances with like-minded people wherever you take it. I suggest you go ahead with this unique gift for dog lovers. 
Flip opening for convenient use during driving also fits the car glass-holder well
Wide mouth to slide ice cubes in, and slip-proof rubber sole at the bottom
No risk of spills or leaks through the BPA-free lid
Better to hand wash – not appropriate for the dishwasher
24. Wooden sign plaque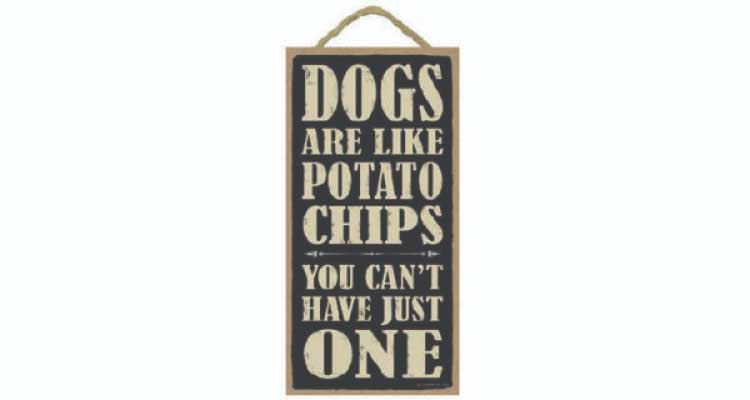 Is there a big fat dog family in your neighborhood who just cannot help adopting more and more dogs? They truly deserve applause for saving so many homeless lives. If you are looking for unique gifts for dog lovers, especially meant for someone who owns many dogs, this wall plaque suits your requirement perfectly.
Clean and elegant design featuring the quote: 'Dogs are like potato chips, you can't have just one'
The sign is made of sturdy MDF wood fiberboard (5″ x 10″)
A rope is stapled in the back for easy mounting 
Related Reading: 21 Harry Potter Gifts For Adults [Choices For Die Hard Fans Only] | 2022
25. Slat box sign 
This one is a beautiful home décor piece for ardent dog lovers. This table-top slat box sign that says 'We are dog people' will go so well with both modern and traditional home setups. It's really a great birthday gift idea for pet lovers. Check it out:
The wooden slat box has a unique rustic look 
The gray paw and the lettering contrast well with the striped white background
It is a free-standing piece to place on a cabinet or desk, or you may hang it as well
26. Dog lovers' dish towel
The best gifts for dog lovers ideally benefit either the dog or its owner in some way. A friend who loves to decorate their house with dog merchandise would prefer any home article with a dog quote or a dog picture on it. Tell me, could you find anything more perfect than these dog-themed kitchen towels for them?
Set of 3 tea towels with heartwarming dog quotes
Crafted from 100% cotton fabric, inclusive of excellent embroidery and stitched hem
Good for machine-wash and there's a sewn-in loop for easy hanging
Very absorbent, applicable as a dish towel or for drying hands as well
27. Doggo carrier backpack 
Does your friend go on frequent camping trips with their dog? They are probably always on the lookout for comfortable carrier backpacks to provide the best outdoor experience for their baby. We have found this stylish bag for gifting purposes and we think you should definitely get your hands on it. Your friend and the doggo will appreciate your sweet gesture.
It's available in 3 sizes, the medium one can carry up to 13 kg
This size is comfortable for the length of 17-20 inch
The backpack features a padded back panel and resting base, leg openings, and ergonomic shoulder straps
Quality vet-approved material with enough ventilation and safety measures 
28. Portable water dispenser 
When your dog is out on an exciting play date or a stroll in the park, they should stay hydrated, right? Here's a handy and extremely useful tool for that very purpose – a portable water dispenser. I must say this is a hell of an invention and a savior gift for pet lovers. Check out how this fancy bottle works: 
It's a combination of a cup and a trough to store and serve the water
You just have to press the button to get the water out and draw back the unused water again
High-quality, food-grade material ensures 100% safety
Features the silica gel seal ring, plus the lock-key design to make it entirely leak-proof
Related Reading: This Is How Your Breakup Affects Your Pet: A Dog's Point Of View
29. Dog travel kit bag 
When a pet owner is going on a vacation or a business tour, they can't bear the thought of leaving their baby at a créche for so long. Packing the essentials for the dog is itself a task before the trip. You can try to make it easier for them with a well-constructed dog travel bag that will accommodate everything necessary in one place. Indeed, this is a great choice and one of the best gifts for dog lovers. 
The whole set includes the main bag, along with two dog food carrier bags and a detachable strap
A roomy compartment in the middle, plus many side pockets with zipper
Features a poop-bag dispenser and treat pocket for quick access
Made from water-resistant polyester material 
30. Pet memorial wind chime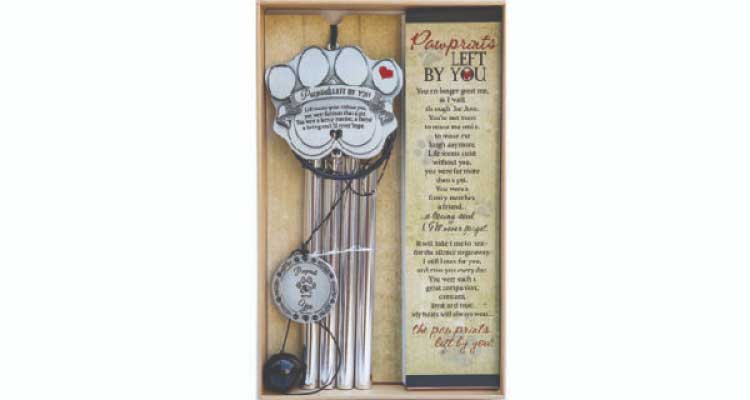 Losing a pet from your life is like losing your own child, a dearest family member. The grieving period is painful. We genuinely urge everyone to be more compassionate and sensitive toward the owner who is going through this phase. It would be a beautiful gesture to visit this parent with a memorial gift to express your empathy. This paw-print wind chime with a beautiful note is one of the most unique gifts for dog lovers that you can find.  
Sturdy metal wind chime with 4 musical tubes
The paw-shaped design also features the same on the drop pendant 
Comes in an elegant gift box including the poem Pawprints Left by You written inside
You can personalize and add the pet's name to the engraving
31. Treats and toys gift basket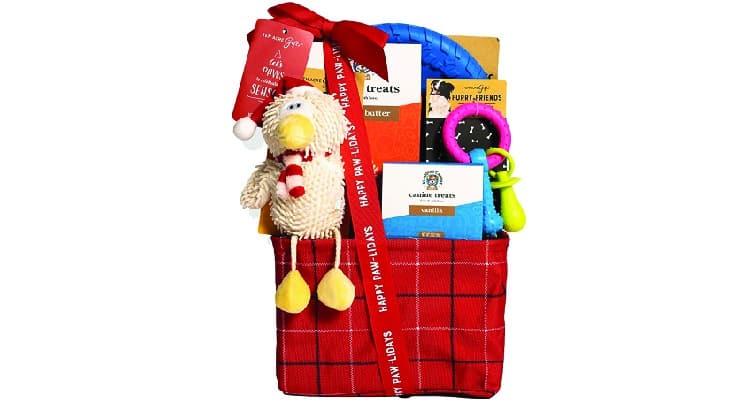 Is it the 1st birthday of your favorite puppy in the building? Or is it the holiday season? Either way, you can send a lovely gift basket to show your love. Any dog parent would be thrilled to receive this basket full of toys and yummy treats. And you are surely getting invited to the next play date after this gift!
The basket includes two packets of vanilla and peanut butter treats
The treats are produced from fresh, well-known ingredients with no fillers at all
The puppy would love the colorful frisbee and the chew toy
There's a squeaker chicken plush toy for the pup's leisure 
32. Funny dog calendar 
We saved one of the funniest and cutest gifts for dog lovers for the last. You know, unlike cats, dogs repent for their harmful actions. My friend's baby Freud once bit her boyfriend accidentally while playing. The little guy could not look in his eyes or even come in front of him for a week after that. Gift a dog lover this daily calendar with pictures of ashamed dogs. Every dog owner would relate to the images a lot, and laugh so hard as they turn a page over every day. 
Every page has a guilty pup face with an account of their mischievous acts
Fully-colored pages that you can tear off later
Widely known holidays are mentioned and weekends are combined 
FSC certified paper and soy-based ink are used in it
So, did you enjoy our comprehensive list of best gifts for animal lovers? I bet it takes the weight off your head about choosing the right gifts for dog lovers. Now there is an abundance of options just waiting for you to take the call. Let us know which one of the lot won the little guy's heart!
FAQs
1. What do you get a dog owner for Christmas?
A Christmas treat basket for the baby would be amazing, along with a red bow or a cute red cap. You can also go for a personalized tree ornament. Matching socks and mugs are also apt during the holidays for both the pet and the owner. 
2. What to get a girl who likes animals?
People who love animals often feed street pets, so plenty of dog and cat food packets would be very practical. You can also pick graphic t-shirts or wall plaques with animal quotes and pictures. A DVD of the film Hachi: A Dog's Tale could melt their heart all over again. 
21 Christmas Gifts For New Moms | Unique Motherhood Gift List [2022]
34 Trending White Elephant Gifts Everyone Will Fight For | Best Fun Gift Ideas