Choosing gifts for wedding presents for older couples is not an easy task. They could be a couple you might look up to with great admiration and fondness. Perhaps, their story has been an inspiration, guiding you on your own journey of love or maybe they're people who help you with advice on  how to tackle difficult situations in life.
As they gear up for a special milestone in their relationship, you'd want to do your bit to make it more memorable. That's why picking the right wedding present is so important. 
For many older people, falling in love with someone for the second time is like getting a second chance at life. They have established a new life for themselves despite their first marriage not working out. Or, perhaps their long-term partner has passed away and they have managed to move on in life and in love.
That's a commendable thing. If you know someone who is ready to settle down for the second time, then this list of wedding gifts for older couples is just what you need to choose the perfect gift for them.  
15 Best Gifts For Older People Second Marriage
Most older couples, whether they are marrying for the first or second time, are well-established in life and have everything they would need. Senior citizen intimacy is one of the cutest things ever. To match with their cuteness, buying wedding gifts for older couples becomes even more difficult. This compilation has gifts for all kinds of older couples. The romantics, the food lovers, the travel lovers and the ones who enjoy a quiet day at home. Scroll down to find your best and most unique wedding gifts for older couples.
Related Reading: 23 Best Gifts For Grandparents – Thoughtful Gift Ideas
1. Customized star map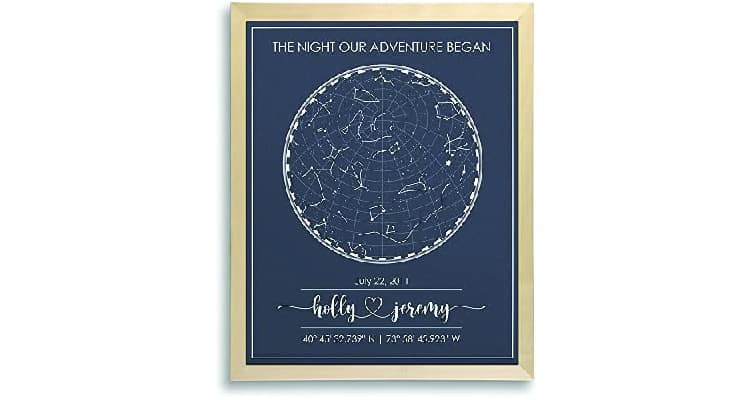 This gift is for the couple who has everything. This thoughtful star map will help them reminisce about how the sky looked on the night of their wedding. This is one of the best wedding gifts for older couple second marriages as it will be a perfect reminder of how their stars were aligned on that special day and remind them that they are made for each other.
Handmade in a North Carolina studio
Choose any location you want worldwide
Printed on beautiful linen paper
Ships in sturdy packaging to protect it during transit
2. Rustic and funny home wall sign
A rustic wall decor piece that says, "This home is built on love and shenanigans." A delightful and heartwarming sign showing   that the older couple lives happily and enjoys being together. If you are looking for funny wedding gifts for older couples, this could be the ideal pick. This cute decorative wood sign is a lovely reminder that every house is built upon care, love, tribulations and shenanigans that life has to offer.
This wooden home decor sign measures 10 in x 5 in
Made in the USA, boasts of craftsmanship and chic design
It will match perfectly with any home, kitchen, living room interior design
This home sign is sure to last and is easy to maintain. Just use a soft damp cloth to wipe it clean.
3. Personalized throw blanket
You have a wedding coming up soon and you can't figure out the right wedding gift for the older couple tying the knot. If you are asking does age really matter in love and romance, then their wedding will give you the answer that it doesn't.
If you are looking for some great wedding gifts for older couples ideas, then why not consider this large, cuddly blanket that is designed to offer warmth and comfort in equal measure. This is a wedding gift that  will show them you care as the  blanket is covered in thoughtful words and expresses your warmest sentiments. . 
Made with thick, rich and luxurious polyester plush
100% polyester material that guarantees durability 
The throw blankets are machine washable with reinforced borders to prevent fraying
50 in x 60 in throw blanket generously sized to cover you while watching TV, working from home or snuggling by the fire
4. Customized champagne flute glasses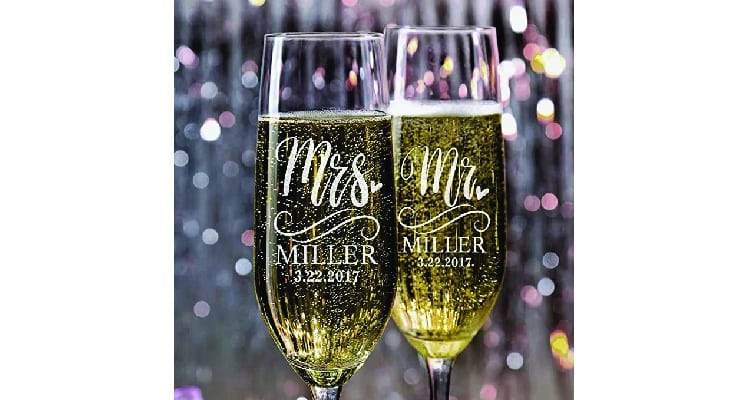 An ideal gift for couples who love to pop champagne  at every opportunity. These customized champagne flute glasses will  add a special touch to whatever they are celebrating. It is one of the unique wedding gifts for older couples as they will remember you while sipping champagne from these glasses.
Click "Customize Now" and create your own unique wedding champagne flutes
The top quality crystal design with a unique, elegant stem and standard fluted shape is an essential wedding day accessory with personal style shining through
Height: 9 in and can hold 7 oz of liquid 
Dishwasher safe and laser etched which will make the engraving last forever
Related Reading: 38 Best And Useful Gifts For Mom That She'll Actually Love
5. Alluring crystal candle holders
The modern design of this arch candle holder is inspired by an iron bridge and makes for one of the most elegant wedding gifts for older couples ideas. With an antique vibe that can be revamped for a modern feel, these are timeless, classy and oh-so-pretty. It is also one of the unique wedding gifts for older couples that can be customized with a DIY design. It can be used as a candle holder or a centerpiece to hold flowers.
The candle holder bowls are made of high quality octagonal K9 crystal beads which are shining and transparent
Hollow-carved design delivers a sense of dignity with natural freshness
The base is made through pressure casting, burnish, electroplating, polishing etc
Superior black flannel anti-skid floor mats to reduce friction and damage
6. Personalized whiskey decanter set
Enhance their drinking experience with this royal-looking and sophisticated whiskey decanter set. Age difference in relationships don't matter when the couple is madly in love. Likewise, it doesn't matter at which age you are giving love another chance. After all, age is just a number. If you are looking for the best wedding gift for older couples, this is a great idea. It can also be personalized with their name, date or initials. 
A 750 ml whiskey decanter (8.72 in) with 4 rocks glasses (3.8 in)
Can be customized with the initial letter of a first name, family name, favorite team, university, company or anything else you can imagine
It is topped with a square glass stopper and a solid base
Weighs in at almost 9lbs
7. Instant pot duo with 7-in-1 functionality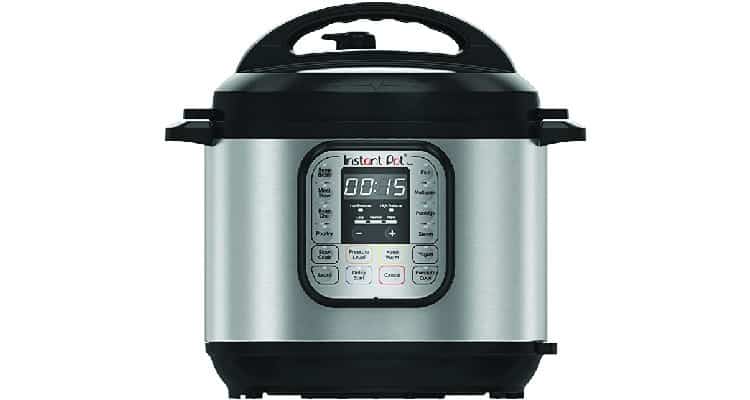 This is one of those wedding presents for older couples that is unique and thoughtful. This instant pot duo is for the foodie couple who loves to cook healthy and tasty meals together. It's a versatile 7-in-1 kitchen appliance and a must-have in every food lover's kitchen.
Pressure cook, slow cook, rice cooker, yogurt maker, steamer, sauté pan and food warmer, all in one
13 customizable smart programs for pressure cooking ribs, soups, beans, rice, poultry, yogurt, desserts and more
Finger-print resistant, stainless-steel sides and dishwasher-safe
Includes over 10 safety features
8. Personalized vinyl record song lyrics
This is hands down the best of this list's unique wedding gifts for older couples as it is a lyrical reminder of their love for each other that has stood the test of time. They can frame this in their bedroom or their living room. It will be one of the sweetest gifts ever, which they will always be thankful for.
Print comes set in a beautiful 13 in x 13 in x 1.5 in frame
Solid New Zealand Pine shadow box frame
Print design measures 12 in x 12in
The vinyl record poster comes in various colors and the frame comes in white and black
9. DIY terrarium kit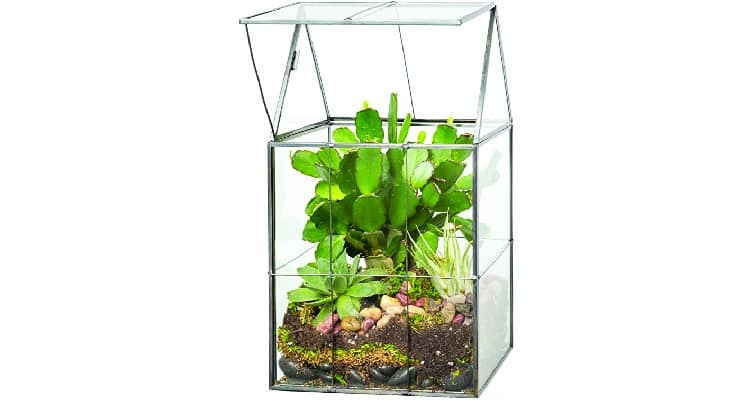 This is one of the best wedding presents for older couples who have  green thumbs. They can  use this DIY terrarium kit to grow microgreens, succulents, air plants, moss, cacti, and more. This DIY terrarium kit will help the couple have a calming afternoon while spending time with their indoor plants. It will help them to connect on a deeper level.
Has a glass-hinged roof 
Beautiful black brass accent and ventilation
Its dimensions are 5.9 in x 5.1 in x 11 in
The roof props open so your plants will get enough ventilation and sunlight
10. Pour over coffee maker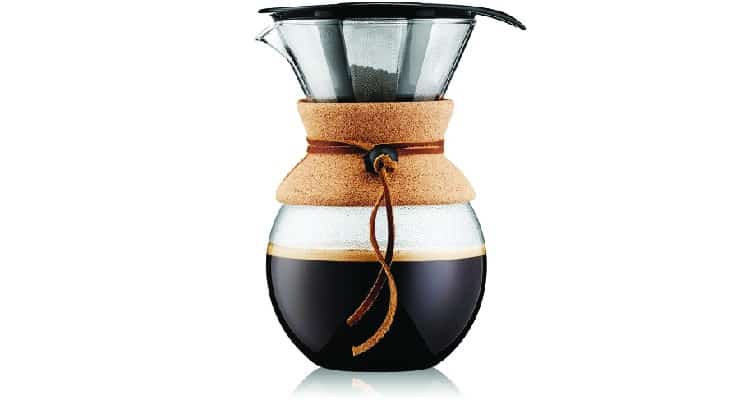 This wedding gift for older couple second marriages will ensure your favorite older couple has a good cup of coffee to start their day with. The coffee maker offers an excellent brew that is rich in taste and robust in aroma.
Manual pour-over coffee maker that brews an excellent cup of coffee in minutes
Includes a permanent, stainless steel mesh filter that helps extract coffee's aromatic oils and subtle flavors instead of being absorbed by a paper filter
Made of durable, heat-resistant borosilicate glass with a cork band 
Makes 8 cups of coffee, 4 oz each
Related Reading: 24 Gifts For Minimalists – Simple Yet Practical Gift Ideas
11. iRobot Roomba vacuum cleaner
Take vacuuming off their mind with Roomba 694 Robot Vacuum's personalized cleaning suggestions powered by the unique intelligence of iRobot Genius that learns your habits and your routines. This is one of those  unique wedding gifts for older couple ideas that will delight them and help them clean smarter. 
The 3-stage cleaning system lifts dirt, dust and debris from carpets and hard floors while an Edge-Sweeping brush takes care of corners and edges
iRobot's Patented Dirt Detect Technology allows the Roomba 694 robot vacuum to detect dirtier areas of your home and clean them more thoroughly
Simply use the iRobot Genius App or your voice assistant to tell the Roomba 694 robot to vacuum and consider it done
A full suite of advanced sensors allows this robot to navigate under and around furniture, and along edges, while Cliff Detect keeps it from falling down the stairs
12. Lighted magnifying makeup mirror
It is difficult for older people to be on their feet for too long. Ease their task of personal grooming by gifting them this magnifying mirror – the best of the best wedding gifts for older couples. They can look their best by using this mirror and make them find each other irresistible.
Natural daylight LED provides the most accurate natural light that you encounter throughout a day
Allows you to focus on a specific section of your face
360° rotation, fully adjustable to any desired angle or position
Airtight seal suction cup provides a secure attachment
13. Royal cake stand
Whether you are looking for something to spice up the couple's center table or to give them an appropriately elegant stand, then this white-painted, round wooden cake stand with collapsible legs fits the bill. This looks so royal and makes one of the best wedding gifts for older couples.
With its one-inch-thick round wooden top and four elegant little legs that fold inward
This 12-in diameter, 4.5-in tall wedding cupcake stand will grace all your events 
Whether it's spices, a plant, or a sumptuous cake, it can hold anything
It comes with foldable legs and is easy to clean
14. Wooden charcuterie board set
Give them this expensive-looking gift and they would be delighted to dazzle their friends whenever they're hosting a party.  The company specializes in cheese boards with a ton of beneficial features to make entertaining fun and easy.
Their serving board is the perfect size for displaying a variety of delicious delectable 
Can be used to serve meats, cheeses of various textures, crackers, veggies, fruit, jellies and jams, dips, and more
Charcuterie boards are an art form. You can design a unique and gorgeous platter for any festivity
Consider this bamboo cheese board a blank canvas on which you are the master artist 
15. Pyramid tea presentation box
When the couple is well established in life and has everything they could need, get them something you know they would  want. This ultimate tea set is not just one of those exquisite wedding gifts for older couples, it is useful as well. They will love having quiet evenings together while sipping on one of their new flavors of tea. This gift will help them enjoy each other's company. 
Black Forest is a curated collection of the brand's most popular flavored black teas
This extraordinary gourmet collection of highest-grade, small-lot, certified organic teas are a delight to sip
Contains 6 whole-leaf tea blends: Black Currant Nectar, Wild Cinnamon Chai, Caramel Almond Blossom, Vanilla Orchid Garden, Select Masala Chai, and Earl Gray Private Garden.
Sourced from one of the world's premier tea-growing regions, Black Forest Collection Loose Leaf Teas are produced in limited-quantity batches for a memorable, authentic tea drinking experience
At the end of the day, it doesn't matter if it's their first wedding or second. All that matters is that they have found love and that always calls for a celebration. This list has gifts for all kinds of couples. Just select the right one and surprise the bride and groom with such unique wedding gift ideas to  make their day even more special. 
FAQs
1. What to give an older couple who has everything?
Gift them anything which will stay close to their hearts. From engraved mugs to wall clocks to DIY terrarium kits or something expensive like a Roomba vacuum cleaner, you have a host of options to choose from. Just select something that you know they will appreciate. 
2. What do you give an older couple for Christmas?
A throw blanket seems like the perfect gift for a snowy season like Christmas. Personalized socks and bathrobes and towels are also great gifts for older couples.
Ask Our Expert
You must be Logged in to ask a question.