High heels, a tight dress, and an elaborate updo might look good on the front cover of a tabloid, but we all know that when it comes to real comfort, you need to go looking for the best silk pajamas for women. They are effortlessly fashionable and the perfect attire to dawn while working from home or simply lounging on a day off.
Also, let's not forget the importance of a relaxed deep sleep taking us far away from our worries. And this is where the soft silk satin pajamas make an entrance. Those fine and smooth silk fibers in different styles and sizes are ideal for sleeping like a baby.
So, if you are thinking of splurging on pajamas, take a look at the following list of the best silk pajamas for her in varied styles and designs. We are sure that this lot would inspire you to splurge some of that hard-earned money on something fine and smooth like silk and satin.
Tips To Choose Best Silk Pajamas
Choosing a pair of comfortable pajamas for women that meets your needs can be difficult because there are so many options available. Here are some handy tips to help you buy the best silk pajamas for women:
1. Pick what you like
It's crucial to purchase a pair of pajamas that also appeal to your taste. Comfortable and soothing silk or satin pajamas are available in many different designs and patterns. As a result, you can find pajama suits for women that suit your preferences.
2. Cost of the robe
The best silk pajamas for women are those which are within your budget. When it comes to silk and satin wear, the prices can vary from affordable to exuberant. Prefer buying online if you want affordable pajamas for women as you will get great discounts.
3. Comfort
Nobody wants to sleep on an uncomfortable surface, be it a silk bra's tight elastic, a stiff collar, or a button that keeps popping. So avoid purchasing anything with huge buttons that could damage you when looking for the best silk pajamas for women. In order to avoid tight elastic in your bra, use a no-bra dress pajama.
Best Affordable Silk & Satin Pajamas For Women
When it comes to buying the pajamas for women, you can trust us to curate a list that will meet all your needs. Not only are the designs super cute, but these pajamas will not burn a hole in your soft silk pocket. Stay in comfort and style with our awesome list. Some of these are personal favorites!
1. Fishers finery women's classic pure mulberry silk pajama set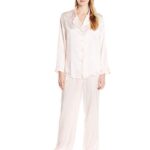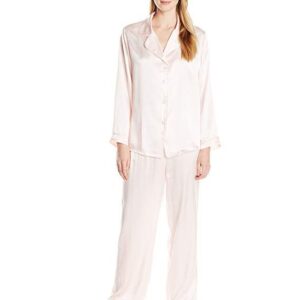 If you want to ditch satin and spoil yourself with a pajama that gives an old-school vibe and is also made of silk, we recommend Fishers Finery Women's Classic Pure Mulberry Silk Pajama Set. You can thank the elastic waist and silk drawstring for that! It is at the top of our list of sexy pajamas made silk
100% Mulberry Silk
Imported
Elastic closure
Worried about size? Well, don't be because this pajama set comes in various sizes and can fit a woman leaning toward the smaller side as well as a healthy woman. 
Related Reading: 9 Best Gift Cards For Your Spouse [Best Gift Cards for Couples] 2020 Updated
2. Ekouaer sleepwear women's sexy lingerie satin pajamas
Suppose you are petite, need something comfortable to sleep in during summer, and search for affordable silk pajamas. In that case, we suggest you try out Ekouaer Sleepwear Women's Sexy Lingerie Satin Pajamas. This silk lingerie pajama comes in a wide range of colors and sizes. If you are having a sexy time with your SO, and don't want a lot of clothes to come in between, we think this could suit the occasion!
This nightwear has tie-in shorts and the eco-friendly fabric is super light which means roaming around in it (even during sleepwalking) won't be a problem!
3. LONXU women's silk satin pajamas set button-down sleepwear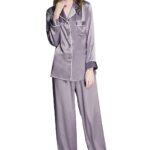 These silk satin pajamas are for ladies who get anxious about their pajamas running a little short in length. Say you are between 4'11 and 5'4 in height, then you should go for the small size, and so on and so forth. These soft women's silk-satin pajamas will be your best friend during sleep if you dig for comfort above everything else.
Satin
Button closure
Hand Wash Only
Lightweight
Elastic drawsting
Thanks to its look, this pajama set can be gifted to partners as well as family members.
4. Shein women's 7pcs pajama set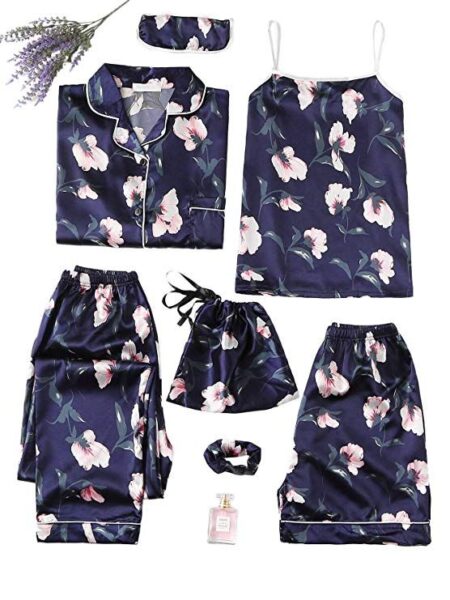 If you are searching for the best silk pajama sets for women, then look no further. Available in different colors and patterns like rose gold, and a beige one with flowers, this silkie nightwear is ideal for someone who loves to be girly. Plus this nightwear is comfortable, durable, and affordable.
Materials: 100% Polyester; Soft fabric
Pull-On closure
7 pieces included: a cami, a shirt, a pair of shorts, a pair of pants, a hair tie, a bag, and an eye mask/a hairband
Prevention is better than cure, so we suggest you hand sew the buttons yourself by adding some additional loops. This way the button won't fall off during a rigorous washing!
Related Reading: 21 Best Last Minute Christmas Gift Ideas That Will Receive On Time
5. Ekouaer pajamas set long sleeve sleepwear women's button down nightwear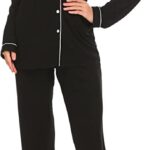 Buy these pajamas as one of the gifts for her to feel comfy in during date nights! Rest assured that these comfy sleep clothes will not make you itchy or scratchy during the night. These PJs are supreme in quality and will bounce instead of wrinkling.
95% viscose+5% elastane
Imported
Button closure
Hand wash only
Super comfortable
If you are craving a pajama that resembles a boyfriend's shirt during sleep, we suggest you get a larger size of this set.
6. Floerns women's notch collar palm leaf print sleepwear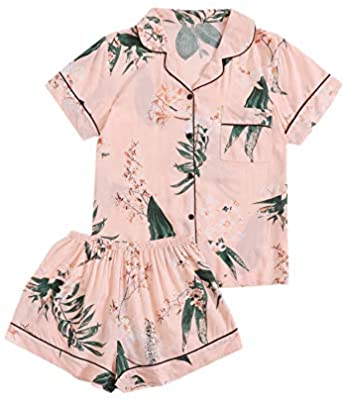 Are you planning a bachelorette party or going to one? Then get these Floerns Women's Notch Collar Palm Leaf Print Sleepwear Two-Piece Pajama Sets for all your girlfriends and pose for a selfie together! If you are tired of pajamas with long pants and want to replace them with cute short-legged ones, then consider this piece! It is one of the best gifts for her.
95% Polyester, 5% Spandex
Button closure
Do not bleach
Notice: fabric has no stretch, item runs small, recommend select one or two sizes up
Best suited for summer, it lasts longer if you wash it with cold water. No bleach, please! 
7. Serenedelicacy women's silky satin pajamas
Looking for a pajama that you can wear year-round? Get Serenedelicacy's silk satin pajamas with buttoned-up long sleeves for women. This particular pajama set might come with an elastic but it is loose fitting with a drawstring.
You get a top with a notch collar, chest pocket, and center front closure along with shell buttons. These silk satin pajamas give a super comfy feeling making them the perfect sleepwear for cuddling!
97% Polyester, 3% Spandex
Imported
Button closure
Machine Wash
Tip: If you find them wrinkled when they first arrive, all you need to do is…toss them in the dryer straight out of the bag, set them to high heat, get a washcloth and dryer sheet and watch the magic happen!
8. LilySilk pajamas for women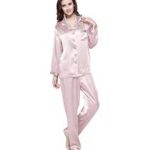 Crafted by durable 22 momme select mulberry silk of supreme quality with charmeuse luster, this LilySilk pajama is your answer if you want to avoid cheap satin, cotton, or polyester. This sleepwear comes with long sleeves and banded cuffs, one chest pocket on the left, silk-wrapped buttons with front closure, and an elastic waist with a drawstring. Now, aren't these the best?
Drawstring closure
Machine Wash
Queen fabric
Grade 6A Mulberry Silk
If you are someone who has trouble sleeping in winter, we recommend this particular pajama because this soft, gorgeous, high-end sleepwear is also comfortable besides being wrinkle-resistant and lightweight. 
9. Latuza women's V-neck sleepwear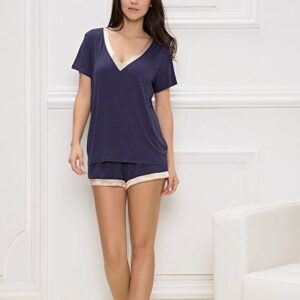 If you are a chronic night sweater, then get your hands on his Latuza Women's V-neck sleepwear! Made from 95% viscose and 5% spandex, this pajama comes with a neck collar, a short sleeve, boxer shorts, and a comfy elastic waist.  It is a super cool affordable satin pajama that is perfect for your girl.
If you are a hot-blooded person and need help cooling down, we can't recommend this one enough. It's an extremely sexy silk pajama set. Bear in mind that using bleach might ruin this one; use low heat while ironing and please avoid dry cleaning!
Soft and lightweight
Loose-fitting with ease
Top features v-neck collar, short sleeve; Boxer shorts with comfy elastic waist
Wide smooth satin trimmed at the collar and the leg open
For best results, avoid tumble drying and machine wash it in cold water. Be prepared to experience heaven in this pajama!
Related Reading: 12 Thoughtful First-Night Wedding Gifts For Your Husband
10. SIORO women's pajamas set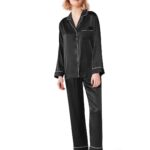 If you prefer the top to be roomier than the bottom, then this version of SIRO women's pajamas is your best bet! These pajama sets make use of the ergonomic H-shaped loose design and offer you the ultimate comfort.
 Made of high-quality imitation silk fabric( Polyester )
Button closure
Machine Wash
If you are craving something silk-like but are unable to get it for some reason, this will more than makeup for it with its high-quality imitation silk fabric.
11. Romanstii silk satin pajamas sleepwear set
If you want sexy lingerie pajamas with a flattering fit, then look no further. Romanstii silk satin pajamas found in vibrant colors like wine red, black, and royal blue are a great fit. The fabric is super silky and doesn't wrinkle and on top of that dries easily.
It's got a removable belt and adjustable straps. However, keep in mind that the waistband on the pants is sewn quite strongly as a result of which they will stretch as per the cut of the pants.
Breathable fabric
Lightweight
100% polyester
So, buy them according to your correct measurements! This soft, lightweight silky satin is skin-friendly and ensures that you feel sexy while getting a super relaxed sleep.
12. Alexander Del Rossa women's button down satin pajama set
One of the biggest advantages of buying Alexander Del Rossa's button-down satin pajama set with a sleep mask is that you have the option to return it in case you are not satisfied with it! Sounds like a catch, doesn't it? This soft and lightweight silk-satin pajama has an oxford style set with a long-sleeve top and is easy to put on and take off, thanks to the button-down front. The full-length bottoms with an elastic waist ensure comfort.
100% polyester
Button closure
Machine wash
Lightweight and comfy
This set comes with a sleeping mask which helps you to sleep comfortably without having to worry about the sun ruining your sleep. Great for women who have migraine headaches, insomnia, and dry eyes.
13. Just Love solid satin pajama short set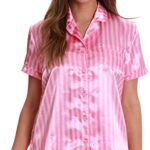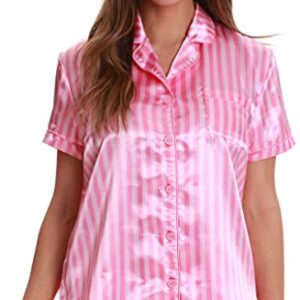 This silk satin pajama set is perfect for summer and works both as a nightwear and as loungewear for some couples to enjoy some Netflix and chilling. If you dig stripes, then we say go for this one – the short-sleeved top along with a classic notch collar and strip colors bring forward the sexiness and fun-loving nature of the wearer.
Soft fabric
Pull-On closure
The fabric has some stretch,
Soft and comfortable
 Don't worry about size – it has something for both petite and plus-sized women. The elastic waist and the satin drawstring are useful and ensure freedom of movement. 
14. HOUSEPLANT women's floral silk satin pajamas set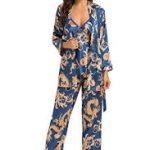 The gorgeous fabric and style of Houseplant's floral silk satin pajamas give them a premium look and feel.The robe looks really cute over the camisole and the straps are adjustable. In our opinion, this set is one of the best silk-satin pajamas for women.
Fabric: silky
Material: 95% polyester, 5% spandex
Hand wash only
Nicely tailored long sleeves 3 pieces women's pajama sets with pants
Soft and smooth 
This is ideal for women who love to vlog and need something cozy, homely but sophisticated and stylish while they are showing their viewers makeup and hair tips and tricks. 
15. NANJUN women's satin pajamas sleepwear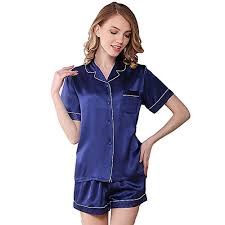 This silk-soft sexy silk pajama set is perfect for summer and ideal wear in case you are spending time with family and friends and need to stretch a lot. Made from supreme silk-like satin, this can be easily worn every day. The best part is that you get both long and short sleeves with it.
Polyester
Imported
Button closure
Hand wash only
If you feel like bonding with your girlfriends, you can get these in different colors like coral, pink, purple, royal blue, green, or wine and pose for some cute selfies together. 
Related Reading: 30 Gift Ideas For Your Co-workers | Personalized, Inexpensive Gifts
16. Tony And Candice women's classic satin pajama set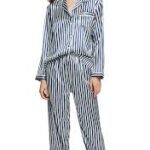 On the search for a silky satin comfortable pajama that can be roomy and allow you to breathe? Get your hands on this tailored satin pajama with a front pocket. The top is fully buttoned down accompanied by a notch collar, chest pocket, and elastic waist PJ pants.
The tailored cuffs look attractive, especially with the contrast piping which accentuates the details. For a supreme experience with this pajama set, make sure to wash them before wearing them for the first time.
100% polyester
Imported
Hand wash only
High-quality satin silk-like women's pajamas
Avoid soap and alkaline as these might not react well with your sleepwear and make them fade. Grab a neutral detergent and wash it individually below 30 Celsius degrees. Make sure to iron your lovelies on low heat.
17. Escalier women's silk satin pajamas
If you have a soft corner for unique floral prints, we say get this one as this particular silk-satin pajama is not only comfortable but stylish as well thanks to its dragon print and cami, pants, and robe! This one will be your friend both in summer and winter.
Fabric: silky
Material: 95% polyester, 5% spandex
Imported
Hand wash only
Tip: To feel like royalty, get your hands on this one and in case you have an hourglass figure, we recommend getting one size up for perfect fit and comfort.
18. SUNBABY women's sexy silk satin robe camisole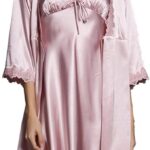 This is an ideal sleepwear for someone who wants something attractive but not too sexy. A combo of one chemise dress and one matching satin robe – this can be used both as sleepwear and loungewear. There is a belt for the waist and you have the freedom to adjust the size of your pajamas with the help of the straps.
100% polyester
Lace embroidery
Soft & breathable
To get the best experience, hand wash them and hang them to dry. Avoid the dryer as the heat might destroy the silky smooth fabric. It dries really fast anyway!
19. Lonxu women's satin pajama set
Fan of polka dots? Get your hands on Linxus women's satin pajamas with an elastic waist and a drawstring. The length will surely not disappoint you – even tall women who have a hard time with length can try this out. This lightweight satin pajama gives you that silky and smooth feeling while drifting away to dreamland.
The makers also send you a handwritten letter to give it a personalized touch! When it comes to the experience of the product, this is one of the best silk satin pajamas for women.
Satin
Button closure
Hand wash only
If you are conscious about your weight and want to play it safe get the black polka dots, otherwise have fun, and experiment with the green, wine red, blue, and the classic white!
20. AIRPJ satin pajamas set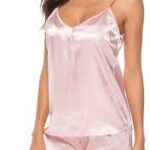 This pajama is true to its size and thus will not stretch, so if you desire a bit more fabric, we suggest you go one size up. This comes in two pieces – sensual cami tops and comfy soft shorts with an elastic waist. If you feel adventurous, you can also get some fantastic boudoir photos! It is one of the sexiest silk lingerie pajamas.
Soft
Breathable
Do not bleach
You can adjust the straps to your liking, and for best results wash and dry on a normal cycle to avoid shrinking.
Related Reading: 26 Christmas Gifts For New Moms | Unique Motherhood Gift List [2022]
21. Ladieshow women's silk-satin pajama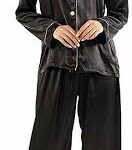 On the search for something elegant and classy? Consider Ladieshow's Women's Silk Satin Pajamas – these soft and comfortable pajamas comes in various colors – one of the most attractive being pink with black piped stitching. If you like your PJs roomy, then get one size bigger. They can work as maternity pajamas too and can be worn in summer, autumn and spring for spas, vacations, hotels, and swimming pools.
100% polyester
Button closure
Machine wash
Lightweight and comfy
These pajamas are made of special weaving technology which ensures that they feel skin-friendly. The silk satin is of high-quality imitation silk fabric and allows you a good drape and superb sleep.
That brings us to the end of our list of best silk pajamas for her. All of these are soft, and breathable and give you a luxurious feel when adorned. You can come home and ditch your sweaty clothes to slip into something so comfortable, that it feels like floating in clouds.
This article was updated in November 2022
FAQs
1. Is satin or silk better for pajamas?
Silk and satin both are soft and breathable fabrics and can be the perfect choice of material for pajamas.
2. Do silk pajamas make you sweat?
Yes. Silk can absorb a lot of moisture, and that means a lot of sweat if you tend to perspire at night
3. How do you wash silk pajamas?
Pajamas made of silk should be washes by hand in cold water using a soft fabric detergent to retain the shine of the fabric.
21 Last-Minute Gift Ideas For Someone Who Has Everything | 2022