Who doesn't want to give the love of their life the perfect present! All year round, you struggle to find the best and most perfect presents for your spouse, partners and loved ones – there are so many occasions to gift things for! From birthdays and anniversaries to holidays and other special occasions – gifts are the one constant thing that you can give your spouse.
Are they having a bad day? Light up their day by sending a small something their way! But do you however struggle to find the perfect gift especially when there are so many gift exchanges happening all year round? We thought as much. Don't stress – because the next best thing to gifts, are gift cards! Gift Cards are the perfect accessory to give to someone when you don't know what exactly to buy them.
Related Reading: 21 Amazing Gift Ideas To Impress Your Crush Who Is A Big Instagram Influencer
Gift cards come in handy with spouses because these are people who you are constantly giving things to each other and after a while, can burn out with the options. So, don't worry, and choose a gift card from this list! You can top up the card with a specific amount to your liking, and allow them to easily make a purchase of their choice online.
1. Target City Specific Gift Card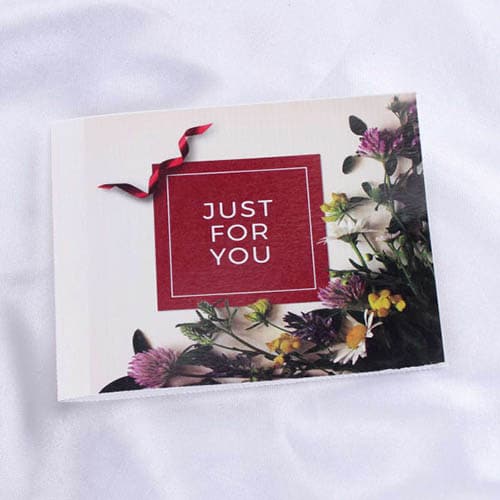 Gift cards are great presents – but they get even better if they are personalised. Target offers a huge range of personalised gift cards which have amazing graphics and illustrations of various cities and states across the United States of America. Where is your spouse from? Get a Target Gift Card with the name of that state. Has your spouse previously worked in some city or state that they really miss? Get them a card to act as a reminder of that precious time of their life! Are your spouse's parents from a different city or state? Get them a card that has the depiction of that place, to make them smile! Do you and your spouse share special memories of any trips you took together to a particular place?
Related Reading: 21 Christmas Gifts For Parents [2020]
You know what to do – get them a gift card that has the name of that city printed on it! Whatever be the location, Target has these quirky and fun designs to go with various cities and states – these cards are delivered physically to the recipient and once their value has been used up and the card has not been topped up further, we recommend using the card as a great keepsake by putting it on a softboard or fridge.
2. Starbucks Gift Card
We all have that spouse who is so immersed in their work schedule that they have no time for anything else. Your spouse may have so many tasks to take care of at work – other than their daily job routine! From covering up for colleagues, to smoothening things for the boss, life can get quite hectic and tricky!
Is your spouse into a great cup of coffee to get them through a long workday? Then it's time to gift your spouse a simple present that can make their heart extremely happy! This Starbucks Gift Card as a small gesture of your appreciation towards your spouse is guaranteed to go a long, long way with them.

Make this Starbucks gift card your go-to token: Whenever your spouse is having a bad or cranky day at work! We all know that coffee is the work version of a social lubricant. Starbucks coffee houses are a beacon for all coffee lovers and are conveniently available everywhere! Their rich cups of expertly roasted and brewed coffee are a staple morning routine and their merchandise is quite aesthetic as well! Hence, this gift card is absolutely perfect! All you have to do is purchase the gift card online for the amount you'd like to gift, choose from values of 15 Dollars to 50 Dollars, or even higher, it's completely up to you! Share your spouse's email address during purchase.
The card will be sent to them within a few hours and is redeemable instantly! Just in case you're wondering, the card does not expire and it can even be linked to their account. So, show your spouse how grateful you are for everything they've done for you, their guidance even while tackling tricky situations at work with this seemingly basic yet extremely thoughtful Starbucks Gift card and watch their eyes light up with the cup of coffee they can redeem with this Gift Card to brighten their regular work day!
3. Airbnb Gift Card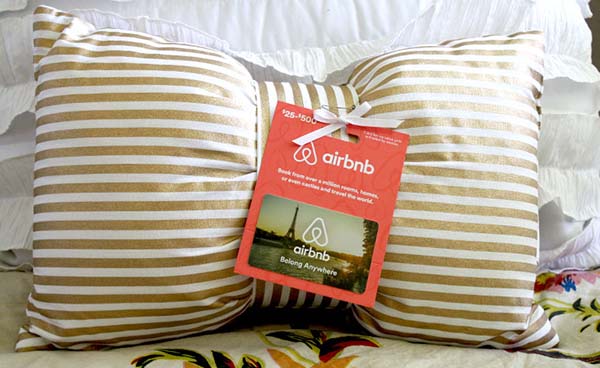 If you notice your spouse or special someone getting burnt out by the daily grind then The Airbnb Gift card is exactly what you need to get them! There is no better way to rejuvenate oneself to get back into the game than by going on a holiday. Gift them some time off from their everyday life along with the idea of a living in a picturesque cottage, beach front stay or even luxurious apartments in the middle of the hottest spots around the globe! AirBnB has millions of apartments literally for everyone everywhere.
A great way to whisk your spouse for a weekend: Take your loved one on a weekend getaway just outside the city or a trip across the continent, the Airbnb gift card can be used for exciting holidays just about across the world. Apart from the usual quaint homestays Airbnb also has a variety of quirky themed apartments for those who are deep divers of the fictional world, these spaces offer immersive experiences and you are guaranteed to make wonderful memories with your loved one here! From Harry Potter and Pirates of the Caribbean to Wes Anderson and Hobbit-themed properties, Airbnb's hosts have thought of it all. So, skip the old resort stay and instead, we recommend you get into character and pick one of these offbeat options to spend a wonderful weekend with your spouse. Treehouses that nestle you in in the midst of nature, Airstream trailers that showcase the true spirit of the American rebel, the themes are endless.
The gift card is valid on all purchases across the Airbnb website and can even be used separately for their merchandise or workshop and event experiences. It is time to gift your loved one some priceless memories to cherish for a lifetime. From choosing the property that excites you both the most to spending quality time exploring, this gift card is bound to make your loved one feel special!
4. Netflix Gift Card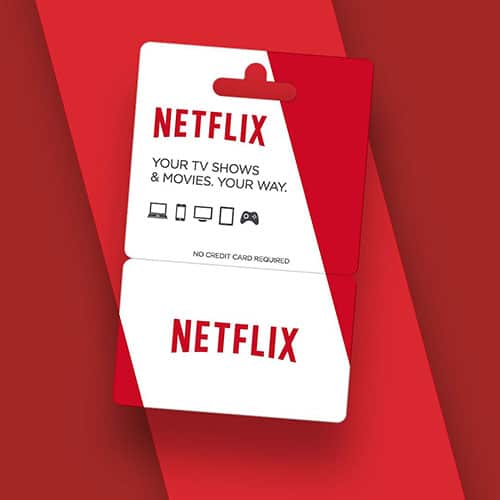 The shows you watch on Netflix today are the olden day equivalent of the music you were into. It is the new conversation starter – people don't talk about the weather anymore so, here is a fun treat for your spouse or loved one, because who does not use Netflix in this day and age?! It is a win – win situation for you especially if you and your spouse share Netflix accounts and sometimes watch things without each other as well! If you and your spouse travel a fair bit without each other and use Netflix separately while travelling, it's also a great idea to gift this card … it will also come back to you since you can share accounts! Better yet, if your spouse is someone who does not have a Netflix account as yet, lo and behold, it's the best present you can give them in today's day and age!
Related Reading: 21 Cool Tech Gift Ideas for Couples Madly in Love and Passionate About Gadgets | 2020
Why is this Netflix gift card the perfect gift? Because you are basically handing over a huge barrage of content to your spouse that they are going to absolutely love and immerse themselves into! Gift your spouse the beauty and comfort of the OTT world with this gift card. They will be able to access countless amazing commercial-free TV shows, movies, and documentaries via the app anytime and anywhere! Whether they prefer anime content, crime dramas, reality shows, stand-up comedian specials, or thrillers, Netflix's selection pool of visual content is constantly expanding especially since they release new content and add to their current content selection pool month on month
Netflix is known for dissolving language barriers with their insane collection of Foreign language films and TV shows that are available in both localised audio dubbing and subtitles in over 15+ languages. So, your spouse is sure to find something great to binge on whether they're watching via their laptop, TV, iPad or mobile device and with the ease of the e-mail delivery method, the Netflix gift card can be sent to anyone in the world! Just get them their much-awaited annual membership already.
5. H&M Gift Card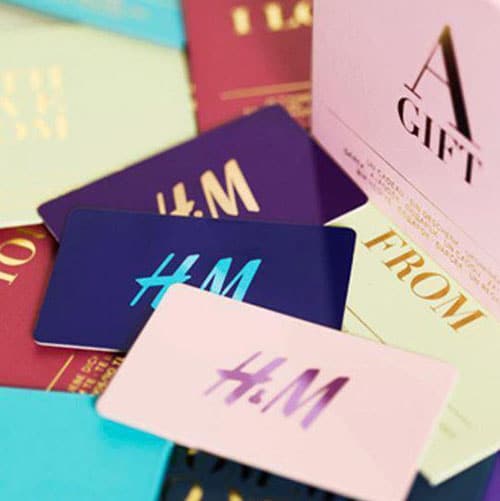 An article of clothing or an accessory makes great gifts but only when they are gifted in the correct size/ style! Can you imagine spending hours hunting for the perfect item for your special someone, and finally finding a powerful pantsuit that you think they would look absolutely stunning in only to find that it is 2 sizes too small! Oh, the horror! We are aiming to help you avoid these last-minute, unforeseen disasters by suggesting the perfect present, easy to gift, personal enough, and an absolute delight to receive.
The H&M Gift Card! H&M is a great global brand for quality and comfortable clothing. We all have staples from here in our wardrobe! With their ergonomic styles, sustainable production methods and constantly updated trends they are a brand that has something to offer for everyone whether its athleisure, corporate wear, classy minimal accessories, beachwear or even lounge wear, you can find it all here.
So, if you're unsure of what your spouse would like or would like to avoid the awkward moment where you've forgotten their size of clothing, then we suggest you gift them access to the latest fashion pieces and trends with the H&M Gift card and watch them get super excited! We are confident that they will surely put this card to great use. The H&M Gift Card can be redeemed up to its balance amount to buy goods or services at select H&M locations. Everyone loves a good shopping haul every once in a while so why don't you take them along with you and turn it into a fun filled day where you watch them choose threads that they love.
6. Amazon Gamestop Gift Card
Gamestop is a gamer's paradise! Is your spouse into video games and electronic products? Who isn't right?! Gamestop is a merchandising retailer for practically every game or consumer electronic in the market. It doesn't matter if your spouse does not like video games all that much because Gamestop has an amazing technology band to offer items from as well! Is there a new game or product your spouse has been hinting at wanting for a long time? This Gift card may just be the perfect solution to making them feel great! With the newest video game titles, deals, as well as amazing offers on pre-owned video game products with options on trading as well, your spouse can easily get lost in the Gamestop store, either online or retail, for hours!
Related Reading: 21 Amazing Gift Ideas To Impress Your Crush Who Is A Big Instagram Influencer
With a wide range of selection from video games, accessories, toys and collectibles, electronics to even clothing, it has a large selection of items that your spouse is going to have a blast choosing from and wishing his gift card had an endless limit!
7. Adidas Gift Card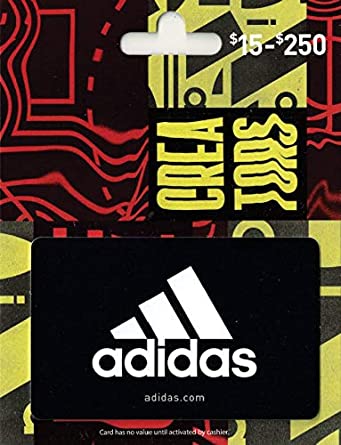 Has your spouse recently been talking about getting into a fitness routine? Are they thinking of including a sport to lifestyle to keep their fitness on track or are they someone who is super pumped up and loves a good workout. Either way, you can motivate them or feed their passion with the ADIDAS Gift card. Athleisure fashion is a trend that everyone loves and is even acceptable at many workplaces nowadays and the best part is, you do not need to justify wearing athleisure clothing even if you are not going to be fitting in a mid- day run in your schedule. Athleisure outfits give you the benefit of comfort while looking super chic when worn right and ADIDAS has some really trendy pieces that would definitely make a great addition to your spouse' wardrobe.
What does the card offer other than clothing and sportswear? Apart from the clothing they also have some pretty amazing shoes (duh!) and a variety of sports equipment crafted for success. Footballs, Basketballs, Tennis racquets, swimwear and accessories, dumbbells and weights, you name it, they have it! Constantly innovating and creating products and apparel designed for success, this Adidas Gift card will give your spouse access to their entire online or in-store collection! Every new piece added to the Adidas collection aims to promote creativity and motivates people to harness the power of sport in their life.
Encourage your spouse to add a little adrenalin to their sedentary life and help them do it with style by gifting them the Adidas gift card! The gift card is valid till the time the total value is depleted from the card yes, that means it can be used across multiple transactions and across multiple stores. All the remaining value is stored in the card up until your next transaction (Perfect, right?)
8. Apple Gift Card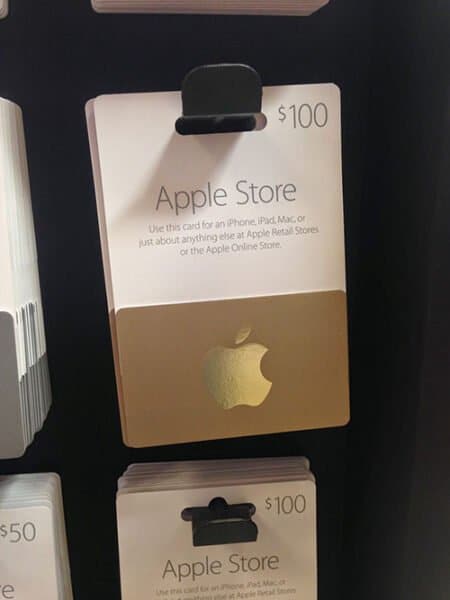 Who isn't into the latest Apple products? Is your spouse into keeping up with the latest technology and trends? And by that, we mean with the latest of offerings Apple has to provide? Apple makes a comeback year after year with newer launches and more sophisticated products. Usually the launches happen around September, but the world starts getting in a frenzy much before that! Is your spouse someone who is really into Apple products?
Does your spouse love upgrading their Apple products or even keeping up with the latest Apple accessories to fuel their Apple needs? Apple products are coveted by everyone, whether it's their cutting-edge laptops and latest phones or their side accessories like the Apple pen or the iPad if you are looking for a gift for a tech freak or an Apple fanatic then this gift card is the perfect gifting item for them.
So, get ready to feed your spouse's addiction instead fighting it. Regardless of your budget, they will surely find some great accessories and products from Apple's online or on ground stores. So, you can add to their laptop fund/ Apple watch fund because we know that these luxury products need some major saving up! Or maybe help them find the perfect phone case.
You just can't go wrong with this one. Apple has surpassed all boundaries when it comes to new technology and owning their latest products are a status symbol worldwide. So allow us to cut your gift buying time to less than half as we suggest this gift card which will show your loved one how much you mean to them! With this Apple gift card, your loved one can get whatever they want or need from the Apple store! What's more, a person can never feel sad when presented with an Apple gift card!
9. Amazon – Sephora Gift Card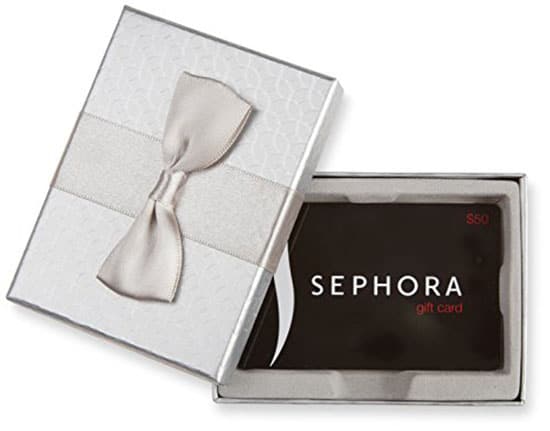 Personal care and beauty have always been something every one is deeply into. Whether you're a man or a woman, when it comes to personal care and grooming, everyone does their best! Sephora is one of the world's leading solutions to everything related to beauty. It offers the largest range of products under its online and retail stores in terms of cosmetics, skincare, fragrances, body colours, haircare and beauty tools.
Do you love treating your spouse and making sure they feel great about themselves? This is a great personal gift to help them understand you love them and would want them to indulge in a little personal beauty and grooming! This Sephora Gift card can be topped up with any amount and what's better, Sephora even offers a range of customised gift cards. You can make the gift card special by personalising it with the photo of your loved one! Sephora also has a rewards segment so your loved one can actually be motivated to not just spend once, but time and again on products from Sephora! The best part about this Gift card is the lack of expiration date – because there's never a bad time to treat yourself!
If your better half is a lady, well, Sephora is every woman's dream! If not, Sephora also has a huge range of men's products from skin care to perfumes. Men can also find some amazing deals and products under the Sephora line for their personal grooming.
Why choose a gift card for your spouse?
With all these gift card ideas, you are bound to be in excellent hands the next time you are up for gifting something to your spouse, and have run out of ideas. Just remembered an anniversary or important date and have no time to run out and get a present, or even order something online for the fear of it getting delivered later than the actual date? Worry not. The Gift card is the perfect solution for these situations.
Related Reading: 21 Gift Ideas For Teenage Girls | Checklist 2020
Amazon and Target have an amazing variety and selection of gift cards available for various stores! From groceries and food, to clothes, accessories, media and entertainment and electronics, gift cards can just easily be topped from time to time and gifted to your spouse. All you need to do is put in a little money, a cute note, and have the gift card delivered right into their email inbox.
Your spouse is sure to love you ten times more for gifting them these super special and quirkily designed gift cards, especially if they are picky about the gifts they receive (and often end up going through the exchange hassle process!) This list of Gift Cards for your Spouse is sure to have made your life much easier! What's better – you can choose from this list not once, but from time to time and make sure the smile on their face never fades!
21 Gifts For Sister-In-Law | What To Get Your Sister In Law for Christmas | 2020