Who doesn't want to give the love of their life the perfect present! All year round, you struggle to find the best and most perfect presents for your spouse or partners – after all, there are so many occasions to gift things for! When you actually run out of ideas for a thoughtful present, gift cards for couples from your favorite store may become your savior.
Are they having a bad day? Light up their day by sending a small something their way! But do you struggle to find the perfect gift especially when there are so many gift exchanges happening all year round? Don't stress – because the next best thing to a handful of gift products is a gift card! Gift cards are a smart, practical and great choice to give to someone when you don't know what exactly to buy for them.
Gift cards come in handy with spouses because you are constantly giving things to each other and after a while, you can burn out with the options. So, don't worry and choose the best gift card for couples from this list!
15 Useful Gift Cards For Couples
As you are planning to purchase a suitable gift card for your SO, think about the ones that they would really love to encash. And with a little luck, perhaps you can both enjoy the benefits of this card together. In that case, gift cards for married couples will do the trick. For instance, if your spouse is a huge fan of all Netflix original series, you should totally get them a gift card for a Netflix membership. Now, whenever you are looking for couply things to do at home, just Netflix and chill!
We have gathered all the amazing couple gift card ideas for your benefit. You can top up the card with a specific amount to your liking, and allow them to easily make a purchase of their choice online.
Related Reading: 25 Unique Wedding Gifts For Bride From Groom
1. Forever 21 gift card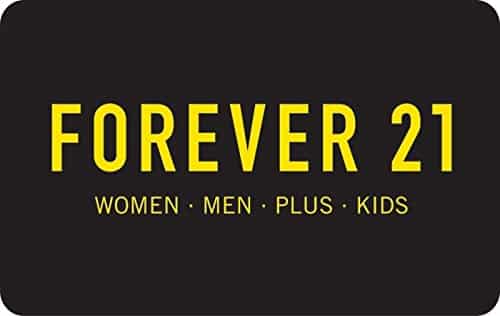 Is your wife the fashionista in the house? Then she just knows how to set the trend with her impeccable taste in clothing for every occasion. The way she owns any room that she walks into simply blows everyone's mind, right? If this is your reality, then we have one of the best gift card ideas for couples to impress their spouse.
What are your thoughts about Forever 21? Every trend-savvy shopaholic would be thrilled to receive a store gift card for this famous US fashion brand. Plus, as you know gift cards are great presents – but they get even better when they are personalized. So, add a loving note to your absolutely stunning and stylish wife and trust me, she will love you even more for this.
Add any amount between $25-$200
Quick and hassle-free email delivery
No return or refund on this gift card is allowed
You can't exchange this card for money
This is one such gift card which is appropriate for any occasion throughout the year, be it your spouse's birthday or your first anniversary. Forever 21 presents a wide range of men's and women's apparel, very fashionable accessories and a trendy footwear collection. Drop by any Forever 21, XXI Forever, For Love 21, or Heritage 1981 store near you and fill your cart with whatever catches your eyes!
2. Starbucks gift card
Does your spouse need a great cup of coffee to get them through a long workday? Then it's time to gift your spouse a simple present that can make them extremely happy! Did you know a person's coffee order can tell a lot about them? This Starbucks gift card as a small gesture of appreciation toward your partner is guaranteed to go a long way to win them over and at the same time, you get to know the love of your life a little better.

Make this Starbucks gift card your go-to token whenever your spouse is having a bad or cranky day at work! Starbucks coffee houses are a beacon for all coffee lovers and are conveniently available everywhere. Hence, this is one of the coolest gift card ideas for couples who enjoy their rich cups of expertly roasted and brewed coffee as a staple morning routine.
Redeemable at most Starbucks locations

Cannot expect any return or refund on gift cards
Cards are worth $25, $50 and $100
Available in various designs with different messages written on them
So, show your spouse how grateful you are for everything they've done for you and for their guidance even while tackling tricky situations at work, with this seemingly basic yet extremely thoughtful Starbucks gift card. And watch their eyes light up at the thought redeeming this gift card for their favorite coffee to brighten their regular workday!
3. Airbnb gift card
If you are planning to take your loved one on a weekend getaway just outside the city or a trip across the continent, this Airbnb gift card can be used for luxury couple vacations just about anywhere across the world. Apart from the usual quaint homestays Airbnb also has a variety of quirky themed apartments for those who are deep divers of the fictional world. These spaces offer immersive experiences and you are guaranteed to make wonderful memories with your loved one here!
From Harry Potter and Pirates of the Caribbean to Wes Anderson and Hobbit-themed properties, Airbnb's hosts have thought of it all. So, skip the old resort stay and instead, we recommend you get into character and pick one of these offbeat options to spend a wonderful weekend with your spouse.
Collect this gift card via email delivery from Amazon
Recharge multiple times with the amount you want
Card value never expires
But you cannot expect the card to be redeemed for cash, refunded or returned
I know what you are thinking – this gift card is beyond any doubt one of the best gift cards for newlyweds. It is valid on all purchases across the Airbnb website and can even be used separately for their merchandise or workshop and event experiences. It is time to gift your loved one some priceless memories to cherish for a lifetime. From choosing the property that excites you both the most to spending quality time exploring, this gift card is bound to make your loved one feel special!
Related Reading: Top 12 Gifts For New Boyfriend You Just Started Dating
4. Netflix gift card
Why is this Netflix gift card the perfect gift card for married couples? Because you are basically handing over a huge barrage of content to your spouse that they are going to absolutely love and immerse themselves into! Gift your spouse the beauty and comfort of the OTT world with this gift card.
Together you will be able to access countless Netflix series and shows for couples, along with other amazing documentaries via the app anytime and anywhere! Whether your spouse prefers anime content, crime dramas, reality shows, stand-up comedian specials, or thrillers, Netflix's selection pool of visual content is constantly expanding. Moreover, they release new content and add to their current content selection pool every month – so these kinds of gift cards for couples never really get irrelevant.
Send this gift card to anyone in the world with the ease of email delivery method
Amount will be added to your Netflix account as a gift code
Only redeemable via the online mode
Valid only in those countries where the app service is offered in US dollars
Netflix is known for dissolving language barriers with their insane collection of foreign language films and TV shows that are available in both localized audio dubbing and subtitles in over 15+ languages. So, your spouse is sure to find something great to binge on whether they're watching via their laptop, TV, iPad or mobile device! Just get them their much-awaited annual membership already.
5. H&M gift card
Can you imagine spending hours hunting for the perfect item for your special someone only to end up finding out that the pantsuit you got them is 2 sizes too small! Oh, the horror! We want to help you avoid these last-minute, unforeseen disasters by suggesting the perfect present, easy to gift, personal enough and an absolute delight to receive.
The H&M gift cards for couples! H&M is a great global brand for quality and comfortable clothing. Everyone has staples from here in their wardrobe. With their ergonomic styles, sustainable production methods and constantly updated trends, they are a brand that has something to offer for everyone whether it's athleisure, corporate wear, classy minimal accessories, beachwear or even loungewear.
You can use this gift card at H&M locations in the U.S., Puerto Rico and Canada
Also redeemable online only at hm.com in the US
Card available with different messages for different occasions like birthdays or holidays
Everyone loves a good shopping haul every once in a while so why don't you take them along with you and turn it into a fun-filled day where you watch them choose threads that they love.
6. GameStop gift card
Gamestop is a gamer's paradise! Is your spouse into video games and electronic products? Who isn't, right? Gamestop is a merchandising retailer for practically every game or consumer electronic in the market. It doesn't matter if your spouse does not like video games — all the better actually, because Gamestop has an amazing technology band to offer items as well!
Is there a new game or product your spouse has been hinting at for a long time? This gift card idea for couples may just be the perfect solution to making him feel happy! With the newest video game titles, deals, as well as amazing offers on pre-owned video game products, your spouse can easily get lost in the Gamestop store, either online or retail, for hours.
Buy stuff from over 6,100 stores located throughout the US
Redeem card at US GameStop, EB Games, Babbage's, Electronic Boutique, EBX and Planet X
Get either a $50 or $100 worth of gift card
No warranty on this card
With a wide range of products from video games, accessories, toys, collectibles and electronics to even clothing, it has a large selection of items that your spouse is going to have a blast choosing from, wishing his gift card had an endless limit!
Related Reading: 16 Sentimental Gifts For Your Boyfriend That Will Melt His Heart
7. Adidas gift card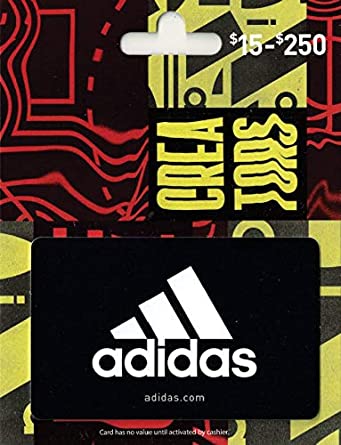 Has your spouse recently turned into a fitness freak? Are they thinking of including a sport in their lifestyle to keep their fitness on track or are they someone who has always been super pumped up and loves a good workout? Either way, you can motivate them or feed their passion with Adidas gift cards for couples.
Athleisure fashion is a trend that everyone loves and is even acceptable at many workplaces nowadays. And, the best part is that you do not need to justify wearing athleisure clothing even if you are not going to fit in a mid-day run in your schedule. Athleisure outfits give you the benefit of comfort while looking super chic when worn right and ADIDAS has some really trendy pieces that would definitely make a great addition to your spouse's wardrobe.
Gift card is valid till the time the total value is depleted from card
Can be used across multiple transactions and across multiple stores
Remaining value is stored in the card up until your next transaction
You can redeem this $50-$250 gift card at both online and offline Addidas outlets
What does the card offer other than clothing and sportswear? Apart from the clothing they also have some pretty amazing shoes (duh!) and a variety of excellent sports equipment — footballs, basketballs, tennis racquets, swimwear and accessories, dumbbells and weights, you name it, they have it! Constantly innovating and creating products and apparel designed for success, this Adidas gift card will give your spouse access to their entire online or in-store collection! If this is not one of the best gift cards for couples, I can't say what is!
8. Apple gift card
Is your spouse into keeping up with the latest technology and trends? And by that, we mean with the latest offerings Apple has to provide? Apple makes a comeback year after year with newer launches and more sophisticated products. Usually, the launches happen around September, but the world starts to go into a frenzy much before that!
Does your spouse love upgrading their Apple products or even keeping up with the latest Apple accessories to fuel their Apple needs? Apple products are coveted by everyone, whether it's their cutting-edge laptops and latest phones, or their side accessories like the Apple pen or the iPad. If you are looking for tech gift ideas for an Apple fanatic, then this gift card is the perfect gifting item for them.
Applicable on iPad, AirPods, Apple Watch, iPhone, MacBook, iCloud, accessories and more
Use this gift card on App Store to purchase games, apps, music and movies
Available in 3 denominations between $50-$200
You just can't go wrong with a couple gift card idea like this one. Apple has surpassed all boundaries when it comes to new technology. Owning their latest products is a status symbol worldwide. So, allow us to cut your gift buying time to less than half as we suggest this gift card for married couples which will show your loved ones how much they mean to you!
9. Sephora gift card
Personal care and beauty have always been something everyone is deeply into. Whether you're a man or a woman, when it comes to personal care and grooming, everyone does their best! Sephora is one of the world's leading solutions to everything related to beauty. It offers the largest range of products under its one-stop destination — whether online or retail stores — in terms of cosmetics, skincare, fragrances, body colors, haircare, and beauty tools.
This is a great personal gift to show your partner that you love them and that you've noticed how they enjoy indulging in their beauty regimes and grooming sessions. Sephora also has a rewards segment so your loved one can actually be motivated to not just spend once, but time and again on products from Sephora!
This Sephora gift card can be topped up with any amount
You can make the gift card special by personalizing it with a photo of your loved one
Best part about this gift card is the lack of expiration date
Redeemable at over 250 Sephora stores in the US and their online store as well
If your better half is a lady, well, Sephora is every woman's dream! If not, Sephora also has a huge range of men's products from skincare to perfumes. So, men can also find some amazing deals and products under the Sephora line for their personal grooming. The bottom line is you can go with Sephora gift cards for couples without a second thought.
Related Reading: 21 Amazing Gift Ideas To Impress Your Crush Who Is A Big Instagram Influencer
10. Amazon birthday gift card
So, it's his 40th and you can't set your mind on any thoughtful birthday gift ideas for your husband. Maybe he owns all the items you can think of and we know how frustrating it can get trying to buy something for someone who has everything.
Don't worry, we are here to resolve this predicament for you. Like always, Amazon has crafted a special gift card to celebrate the birthdays of the very special people in your life. And the best part is, it doesn't come in a boring credit card format. The one that we have chosen for you has a unique colorful design, carefully packed inside a cupcake-shaped tin box. As you can see, it's all set to bring out that heart-melting smile on your husband's face that you love so much.
Gift amounts can be selected from a wide range of $25-$2000
No extra charges are applied while shopping with Amazon gift cards
Amount is not printed on the card
You can opt to write a personalized message for your darling during check-out
It's no secret that Amazon is the ultimate online store to buy absolutely anything and everything you want. When you can't settle down on a particular gift item, perhaps it will be great for your husband to get this gift card as he may have a product in his mind that he's looking forward to buying for himself. Now, he can scan and redeem the gift card from the Amazon app via any smart device and explore a gazillion brands and merchandise on Amazon.com.
11. Victoria's Secret gift card
Did I tell you that we still have some of the best gift cards for newlyweds in our Pandora's box? The first one that we are about to reveal could easily make your list of wedding gifts for your beautiful bride.
A Victoria's Secret gift card – I guess the name says enough for itself. The suspense and excitement building up between the couple to turn their wedding night into an unforgettable and sexy memory are quite evident. Of course, she wants to look her sexiest and the most sensual self for you. This gift card will aid her endeavor of finding the perfect piece of lingerie to dazzle her husband on this very special night.
Redeemable at the online and offline Victoria's Secret stores in the U.S. and Puerto Rico
In case it's lost or destroyed the card can be replaced with the specific card number
Send this to her email inbox with a personalized message
So, if you're unsure of what your new bride would like or if you want to avoid the awkward moment where you've forgotten her size of clothing, then we suggest you gift her access to the latest collection of the most sensational lingerie brand of all time with this Victoria's Secret gift card and watch her get super excited! We are confident that she will definitely put this card to great use.
12. Spa Week gift card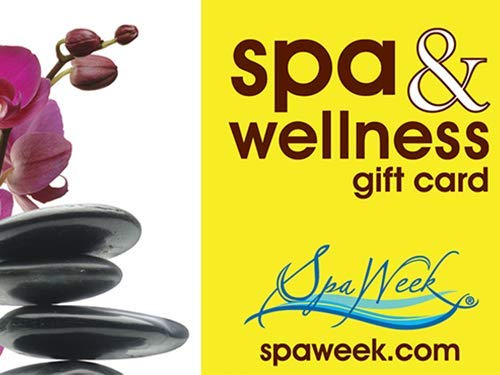 Can you think of better couple gift card ideas than a sustainable Spa Week gift card? If your spouse is a borderline workaholic, always rushing and stressing about business tasks, it's time you hold their hands and ask them to pause for a bit.
Remind them that it's okay to take a break and relax without constantly worrying about unproductivity with this amazing spa and wellness gift card from Spa Week, a US-based brand that features various wellness products and events to promote a healthy lifestyle.
Redeem this gift card only at the active spa & wellness facilities mentioned at the spaweek.com
Valid for one-time use only to buy products or avail of a service
You will receive the left-over balance as credit
Card is not rechargeable or replaceable
Sometimes it turns out to be a meaningful and considerate gesture when you present your spouse with a delightful experience which is worth more than any costly gift you could pick up from the market. This spa and wellness gift card serves just that very purpose for you. Think about it, you are also gifting your spouse quality time which you can spend together in a solitary spa facility.
Related Reading: 35 Useful Travel Gift Ideas For Men – Best Gifts That He Will Love
13. Bath & Body Works gift card 
Personal care and beauty products never lose their importance in our day-to-day life, do they? Be it for your husband or your wife, bath and body gift items will always be a big hit on the gift-giving front.
And so, here goes another one of the best gift cards for newlyweds that we have chosen for your dear spouse – a gift card from Bath & Body Works. This international brand holds a stellar reputation for bringing premium quality health and wellness products to your doorstep at a fairly reasonable price.
Card value is between $25-$100
You can use this card at all Bath & Body Works or White Barn stores in the US and on their website as well
Get your cash back when balance is under $10
With this gift card, your wife can explore the wide variety of body care items including bath and shower essentials, mind-blowing fragrances, moisturizers and aromatherapy gift sets – Bath & Body Works covers it all. In fact, you can pick a few of your favorite products from their huge men's collection to enjoy the utmost benefit of this gift card.
14. Applebee's gift card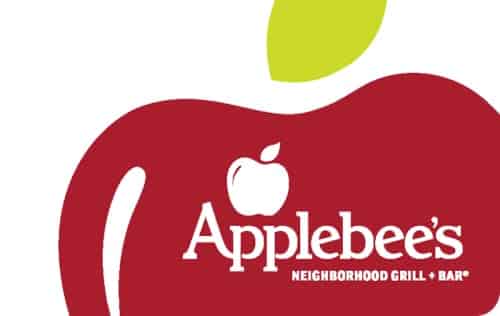 You will relate to this if your husband is a foodie — treating them with varied delicacies is one of the most delightful things in the world. Don't you just love how his face brightens up and his eyes sparkle when you prepare his favorite spaghetti with cut-up hot dogs?
Hold that thought because this Applebee's gift card is at your service to increase his happiness quotient ten times stronger than before. Applebee's, your very own neighborhood grill and bar restaurant franchise, offers mouthwatering appetizers, steaks and chicken, seafood dishes, salads, and much more. Give this gift card a shot and rest assured, you won't be disappointed.
Buy this gift card on Amazon to get a quick email delivery
Spend any amount between $25-$100
You cannot use this card to buy another gift card
Order food through both online and offline mode with this gift card
Take your dear hubby out on a date night at the closest Applebee's outlet and order all the yummy treats from their extensive menu. Good news for parents – as Applebee's presents a special segment in their menu for children, you don't have to drop the kids off at your parents and bring them along for a wholesome family evening.
15. Spotify gift card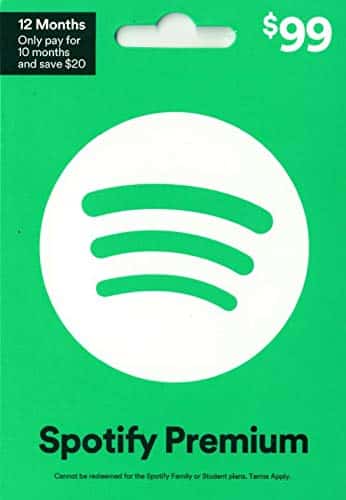 Last but certainly not least, we have a special something for the music lover in your life. There is no need to think twice before getting this amazing Spotify gift card for your spouse if they are a sucker for good music.
Spotify gift cards for couples are perfect for the musical partners whose mornings start with a soulful melody on the sound system. Spotify churns out tailor-made playlists to go with different moods and ambiances. Plus, you get to explore a huge range of artists, tracks and podcasts, and discover new songs that might stay in your playlist forever.
Spotify Family and Student plans are not accessible through this gift card
Can be only redeemed online
Get a full-priced premium subscription from Spotify.com
Play millions of songs and podcasts on-demand or offline, as you wish
Enjoy an uninterrupted, ad-free musical experience with this super useful gift card and that too in high-quality audio. Happy listening!
Related Reading: 28 Romantic Valentine's Day Gifts For Husband
Why choose a gift card for your spouse?
With all these gift card ideas for couples, you are bound to be in excellent hands the next time you are up for gifting something to your spouse and have run out of ideas. Just remembered an anniversary or important date and have no time to go to buy a present, or even order something online for the fear of it getting delivered later than the actual date? Well, don't you worry anymore. We have lined up the best gift cards for couples stuck in these situations.
For your convenience, we have picked all these gift cards from Amazon as they have an amazing variety and selection of gift cards for various stores. More importantly, you will receive most of them via email delivery in almost no time! From groceries and food to clothes, accessories, media and entertainment, and electronics, gift cards can just easily be topped up from time to time and gifted to your spouse. All you need to do is put in a little money, a cute note and have the gift card delivered right into their email inbox.
Your spouse is sure to love you ten times more for gifting them these super special and quirkily designed gift cards, especially if they are picky about the gifts they receive (and often end up going through the exchange process). This list of gift cards for your spouse is sure to have made your life much easier. What's better – you can choose from this list not once but several times and make sure the smile on their face never fades!
12 Gifts For Gay Couples – Gay Wedding, Anniversary, Engagement Gift Ideas